Color.Museum: Color NFTs that Entitles You to Royalties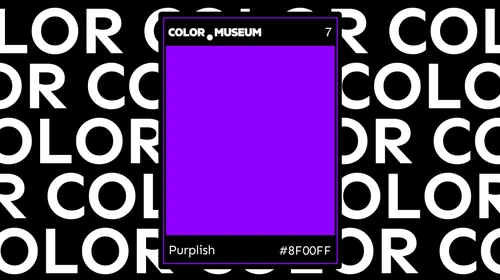 What if you could own color codes that entitled you to royalties whenever an NFT with that color was traded? That's what Color.Museum is trying to do, but I don't think it's a great idea. Coverage on this rather absurd idea has been done on multiple news sites like The Atlantic and Vice, but I think it's a good time to revisit this topic now that minting has started.
Owning a Color

For the price of 0.25 ETH (~$785), you get to mint one NFT that entitles you to future royalties on the Color.Museum marketplace. The selling point of these Color NFTs is that if a particular NFT on the marketplace blows up and sells for something like 250 ETH, just by holding the correct Color NFTs, you can make outsized returns. This is their example of how much you can earn by holding these Color NFTs should a certain Bored Ape get sold for 247.1 ETH: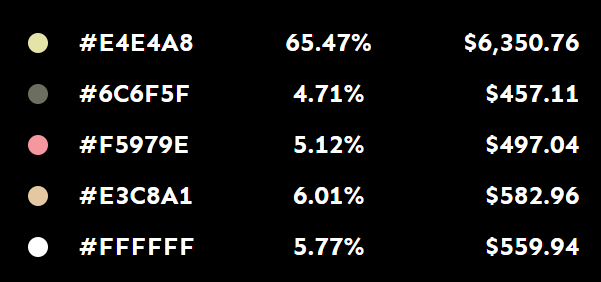 Pretty good, considering that this is only one trade and you'd be making bank if there were 10 of these trades in a day.
I don't think it's a good idea
The Color NFTs only get value if transactions are made on the future Color.Museum marketplace. There have been many purported OpenSea killers but most of them just simply can't compete with OpenSea in terms of volume. OpenSea has too big of an edge.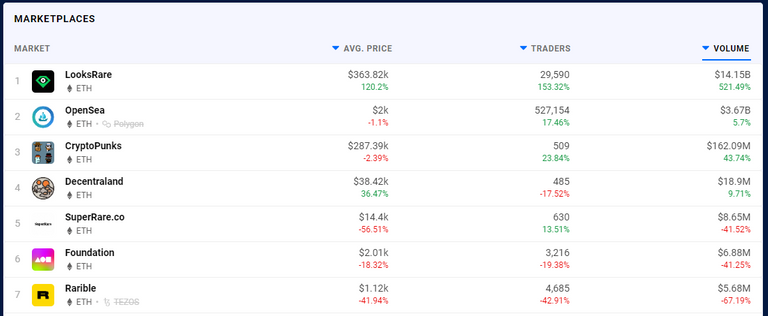 30 Day Volume of NFT Marketplaces on ETH. Source: DappRadar
Besides LooksRare (which only got huge amounts of wash trading due to their incentivized trading), all other marketplaces have way fewer users and way less volume than OpenSea. OpenSea has over 640x the volume of Rarible, a marketplace that has been around for quite a long time.
Let's say Color.Museum gets to the monthly volume of Rarible - $5.68 million. The future Color.Museum marketplace is promised to take 1.25% in transaction fees, only half of which will go to Color NFT owners as royalties. 0.625% of $5.68m is only $35.5k. Split among a maximum of 10,000 Color NFTs, each Color NFT can expect to return only $3.55 in a month. Sounds pretty bad? That's because it is. Even a 10x in volume will only increase this amount to $35.50 a month, which is not a lot given how much risk you are taking by buying this Color NFT.
And besides, there's really no extra incentive for anyone to trade on this new marketplace as opposed to trading on OpenSea, Rarible, or one of the many other smaller marketplaces out there. The only real incentive that is given is to Color NFT owners, but why would anyone without one want to trade on it? I don't think there's an NFT contract that can actually limit itself to being traded on a certain marketplace.
Minting Progress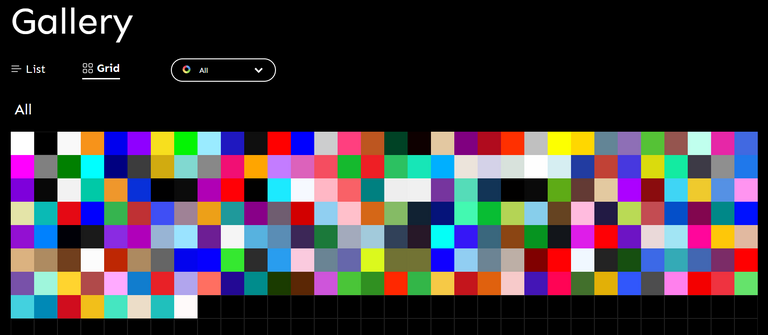 Minting started about 12 hours ago, and currently, there are only 225 of them minted out of a total possible 10,000. Pretty telling of what most people think of this idea, given how this project already tried to hype itself so much. Sales have pretty much slowed to a trickle - the last report from the sales bot on their Discord was 2 hours ago.
OpenSea Killers
The next time someone tries to sell an idea of another OpenSea killer to you, think hard about how many purported ETH killers came out in the last few years. Even with ETH being expensive and slow, no one has managed to dethrone it yet. With all the old money having a disproportionate amount of influence, I'm almost certain that barring a disaster happening on OpenSea's end, no OpenSea killer will actually come close to taking over it in the near future.
What do you think of Color.Museum? Do you think it has potential?
---
All Other Image Sources: Color.Museum
Posted Using LeoFinance Beta
---
---