After dedicating 5.5 years to Hive/Steem, I've been informed by KING ACIDYO that I added no value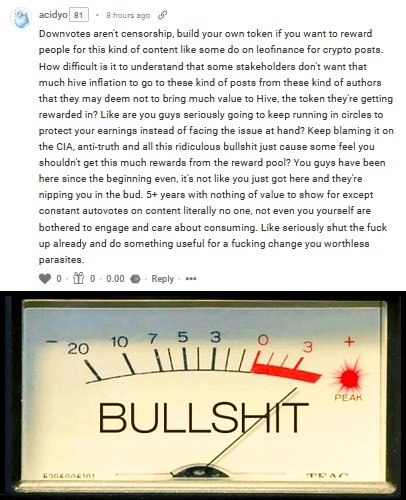 ---

---
Post Rewards Notice
For reasons that will become clear in this post (in order to help show the true colors of certain actors) I will be donating (via the beneficiary mechanism) 100% of the rewards on this post to various communities & projects on Hive.
In this case, the rewards have been split evenly (20% each) between the following projects: informationwar, theherbalhive, dynamichivers, crossculture, and hive.pizza
Edit: I have had to adjust this to declining the rewards moving forward instead of donating them, because the down-voters don't care WHERE/WHO the rewards are going to, they just want to make sure my content isn't seen - and if I accept rewards then their downvotes can eat away at my 76 reputation, and within a handful of posts I will be muted from almost ever Hive front-end.
---

---
Hello beautiful humans!
Coming to you from the magical Rocky Mountains, for the first time in a few days - after being provided with a ton of inspiration for new content, by the folks attempting to censor content & creators on Hive.
This is the first of what is most likely my last run of posts to Hive, after 65 months of dedicating myself to this blockchain.
There's a lot to cover before I go... so I'm going to start from the beginning.
---

---
5.5 Years on Hive/Steem - The TL;DR Version
It's 2016, and I just got to my buddy bruceb's house, after the National Rainbow Gathering, and my good friend churdtzu lets me know about this new platform called Steem[it].
Unlike FB, Twit, YT, this was a "decentralized blockchain" platform, censorship resistant, not run by Big Tech - something for and by anarchists.
At this time, I had been living out of my backpack, joyously wandering the planet going to festivals, gatherings, ceremonies, and intentionally communities, not using money at all, and lacking for nothing...

For just over a year, since I had quit my job, given away my belongings, and headed for the 2015 Gathering.
Needless to say, I was hooked pretty fast, both by the warm reception to my content (in terms of comments, follows, and rewards), and the level of intellectual conversation to be found on the platform.
I became a full-time writer. Those first few weeks & months I was playing with all sorts of content creation, all sorts of topics, and finding my voice.
Because, until this point, I had no blog, no vlog, not even social media. Hell, I started on Hive with a free laptop someone kicked me down, because I didn't even use a cell-phone at the time.
As the title alludes to, I dedicated the next 5+ years of my life to content creation, curation, and onboarding people to Hive.
I started @tribesteemup, which evolved into @abundance.tribe after the Hive HF, and through it have had the honor of supporting many of the people and projects creating world-change, and great content on Hive. Projects like informationwar, deepdives, naturalmedicine, ecotrain, homeedders, familyprotection, build-it, crossculture, and so on.
Sometimes I posted daily (very rarely more than that), sometimes I went months without posting at all, only commenting & curating, and promoting Steem/Hive out in the real world.
Sometimes I've posted 3000+ word research papers (I've hit Hive's character limit for a post many times), sometimes simple shorter videos to share important news.
Oh ya, ALL my written content has been exclusive to this Blockchain (videos being mirrored on Odysee/lbry for about a year now)
I took part in dozens of panels on crypto, social media, and cryptocurrency - always giving the best info I had, but focusing on the potential of this blockchain.
I have done hundreds of presentations and Q&As about this blockchain, in multiple countries - sometimes to a few people, sometimes to hundreds.
I led hands-on, hours-long classes to onboard people in dozens of cities, and offered 1-on-1 support to everyone who's ever asked me for help with the platform - from friends to random people on Discord.
Did I mention that every single one of those classes, consultations, workshops, presentations, and so on were all done 100% on the gift economy? (Meaning I never charge anyone for anything - not even "recommended donations")
I did multiple video series specifically to promote this blockchain and support the community, like my Steemians of Anarchapulco and 2 Minute Steemit Tips series. (40 & 37 episodes, respectively)
I have given away tens of thousands of Hive/Steem through various art contests, FundTheMusic, PayItForward, and various other initiatives I launched.
When the Justin Sun incident occurred, I covered it in-depth, and at a level normal people could grasp, I rallied for witness votes, did an interview with a friend who's a crypto YouTuber, was in the Discord town halls, and did everything I could to support the community and the blockchain.
In the last year, I fell in love with Splinterlands, and started spending more and more energy on that side of things, investing basically all my crypto that wasn't staked Hive into the game.
Through the gaming side of things, I became part of the hive.pizza community, and eventually co-leader of our PIZZA 1 guild
For many months now, I've been curating with my own large SPT & ONEUP stakes over on @kennysgaminglife, as well as being a curator for monster-curator.
The gaming side also allowed me to make a series of pack opening videos where I gave away thousands of dollars worth of Splinterlands assets, I launched the #BrawlReport initiative, I was able to support the launch of the #ONEUP token & platform, as well as the #SBT token, and I've gotten to connect with a whole different part of the Hive community.
Did I mention that since getting into Splinterlands, that one onboarding ramp has allowed me to bring in more than 2 dozen new people to Hive? All of whom are investing crypto in the project that is putting this blockchain on the map, and only a couple of whom have even approached the social media side.
---

---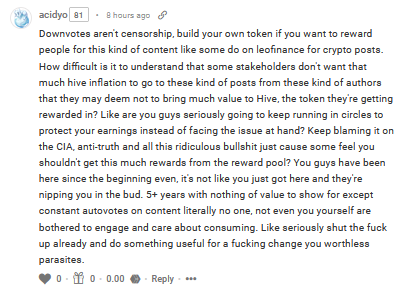 ---

---
Why the Background on Me?
Well, that's easy - because the basic concept behind all of these claims (and the justification for censoring my posts and taking away my rewards) is that I've never added anything to this blockchain or this community. You can see this in the comment pictured above (click the picture to go to the original comment.)
Question to the audience #1: In your opinion, have I "added no value to Hive."
Obviously, there's a lot of digging that any of you are free to do, into my history on this chain.
I was half-tempted to tag some people here to ask them the same question, rhetorically, but I figured there was no reason to unnecessarily make potential targets of others, especially without their consent.
---

---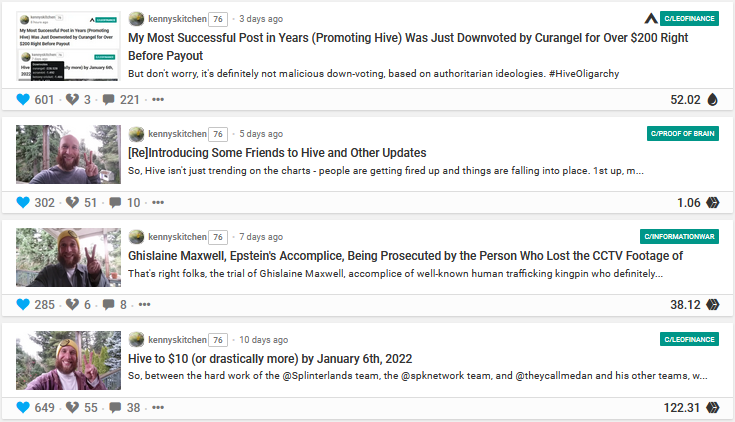 ---

---
The Censors Strike
Now here we are. It's November of 2021, and I've been feeling so bullish on Hive because of splinterlands, spknetwork, and various other things coming up.
Of course, at the same time, the malicious down-voting of content by the informationwar / deepdives community led to me making a big adjustment to the voting for @Abundance.Tribe / @tribevibes / @tribesteemup, mostly in an attempt to counter their attacks.
If you've been here for a while, then you know that power-abusing whales is nothing new, so I wasn't really concerned - just figured we were dealing with the current bad actor(s).
After days of telling all my friends about how Hive could totally make it to $10 by January 6th, or at least $5, and then the price spiking up over $2, I just had to make a video for Odysee & Telegram laying out my excitement for the blockchain, and letting people know about a bunch of awesome projects on the Hive.
That post blew up, receiving the most upvotes I've gotten in a LONG time, a bunch of comments (many adding other great projects I didn't know about), and over $300 in payout (much easier with $2+ Hive of course)
Payout day for that post comes, and goes - and I didn't even count the rewards (because I never do), I just reinvested them into HE tokens.
The next day, when I looked at my front page on peakd, I realized that my post had been downvoted right at the last minute, for over $230 by one account, curangel.
Now, I've received plenty of down-votes over the years, from belligerents, from random empty accounts, and more than once from whales that dislike seeing anything "controversial" on trending.
That's the kicker right there - almost every single time that I've been downvoted over the last 65 months has been because I posted about something that doesn't go along with the mainstream narrative.
Of course, those posts are always well-sourced, and no argument is ever made - just downvoting. Why defend your beliefs when you can simply silence the heretics. Most of the time I only address it by leaving the DVer a comment asking for explanation.
In this particular case, after seeing the coordinated attack on multiple high quality creators and long-time supporters of this blockchain, I had to say something more. What's the point of having a platform if you aren't going to use it to call out wrong-doing?
So, I made a post, with a somewhat click-baity title, with the massive curangel downvote in the thumbnail, and a walk-through of what happened to me, quickly shifting to an introduction to what's been happening across the platform over the past months.
That post was quickly up to dozens of comments, and over $200 in payout.
It was just as quickly zeroed out by 1 person.
Here's where it stands currently: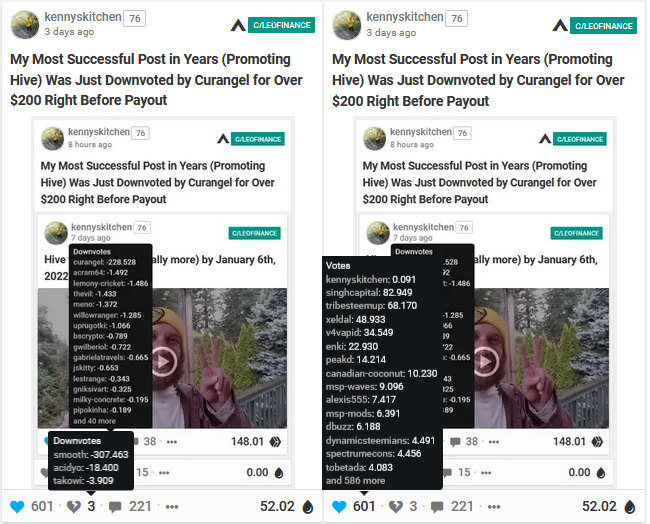 ---

---
Countering Non-Factual Claims - Making an Actual Argument
One of the most common excuses for this malicious downvoting that has been offered is because we're just a bunch of conspiracy theorists, or as king acidyo himself put it posting controversial no fact "truths"
Of course, none of these posts that are being downvoted have a single comment or response post attempting to challenge or refute a single claim being made, or any of the sources... Go ahead and check my posts that have been attacked, or those of jasonliberty, or ura-soul, or many others.
Just censorship. Without explanation or justification.
Sounds kind of like Facebook or Twitter, eh?
So, that first part of the post was something of an introduction to acidyo, and anyone else who doesn't know me - because his comments made it clear that he's never glanced at my content, and has literally no idea the ways I've been involved here.
Now, the rest of this post will be dedicated to sharing some of the conspiracy theories and outrageous, non-factual claims that acidyo has been making about me, and others, in the comments of my recent posts - with nice clear responses for him, and everyone else.
Since we've got this pile of comment threads where he throws accusations, ad hominems, and disrespect at me while ignoring my responses, or the reality that is available to the public, on the chain, we might as well explore and address, no?
---

---
Your Posts Get No Interaction!


One of acidyo's assertions today was that my content doesn't get any interaction, except for when I make a post about how they are maliciously down-voting people.
First, if that is the case that should tell you something about how much the community cares about this problem.
Secondly, I challenge his statement, for which no evidence was provided.
While yes, my most recent post about this downvoting problem does have WAY more comments than I usually get, I assert that his statements are blown out of proportion, in order to mislead the readers.
The following is simply a collection of my little vote-payout-comment things from all my posts in the last 30 days, with the top one being the aforementioned outlier post.
Let the data speak for itself, eh?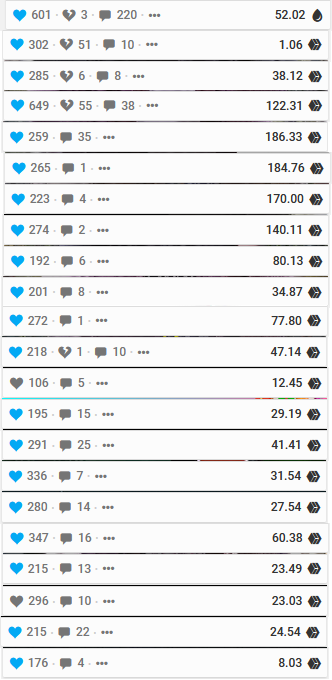 That's 22 posts.
Six of those posts have 5 or less comments.
Twelve of those posts have 10 or more comments.
Question to the audience #2: Are there "never comments" on my posts?
---

---
You're Just In It For The Rewards!



Another assertion that acidyo made about me today was that I'm just in Hive for the rewards, and that I'm a parasite on the system. Again, nothing has been given to back this claim, and it came in along with strings of childish verbal abuse.
Now, at the time, I had already explained some of my practices to reduce my impact on the rewards pool to him in this comment, a reply to his claims about me taking advantage of self-voting (another claim we'll address shortly.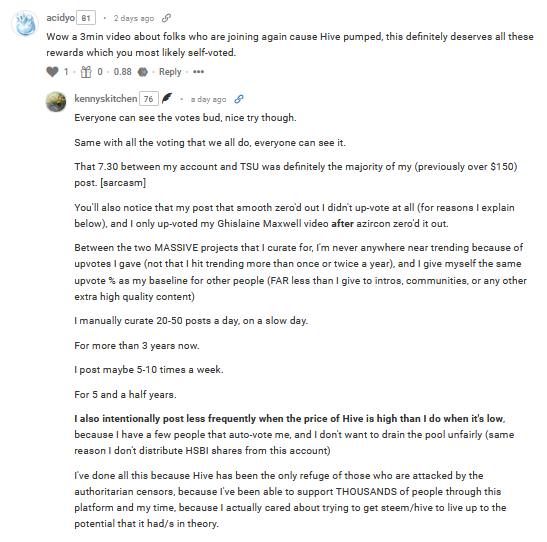 As I explained to him, I post less, intentionally, when prices go up, and I've posted consistently when I got $2 posts, $100 posts, and everywhere in between.
All of my claims here, as well as acidyo's are can be checked on the blockchain, by checking out the history on my accounts and/or using one of the block explorers like hiveblocks.com
I've also provided links to various things above that clearly counter his assertion, in my introduction portion.
Question to the audience #3: Am I just in it for the rewards?
---
Bonus Question: How much more or less successful do you think Hive/Steem would be than it is now, if it had never had financial rewards as an incentive for content creators?
---

---
You Just Vote For Yourself With Delegated Stake!




Acidyo's next assertion, and the last one I'm going to cover in this post, is that I just have a bunch of delegated stake, and I use it for nothing but up-voting myself.
Now, this one is a bit trickier to present evidence for (at my level of tech expertise and time availability) because we no longer have steemworld, and the replacement (hivetasks) never seems to work for me, so I don't have any easy way to present vote distribution charts like I used to.
I'm sure someone else can find an easy way to present that data.
I can guarantee you that I receive well under 1% of the total vote-weight given by @tribesteemup - regardless of how long of a time frame you want to look at. I don't have a chart, but I know it to be a fact, and anyone can attempt to disprove me by checking the records, if they so choose.
For now, I'll present the top upvoters from my last handful of posts. The two that were zero'd out will be separate at the bottom, because I did upvote them much more with @tribesteemup to fight the censorship attempt, as I laid out in my recent TSU update.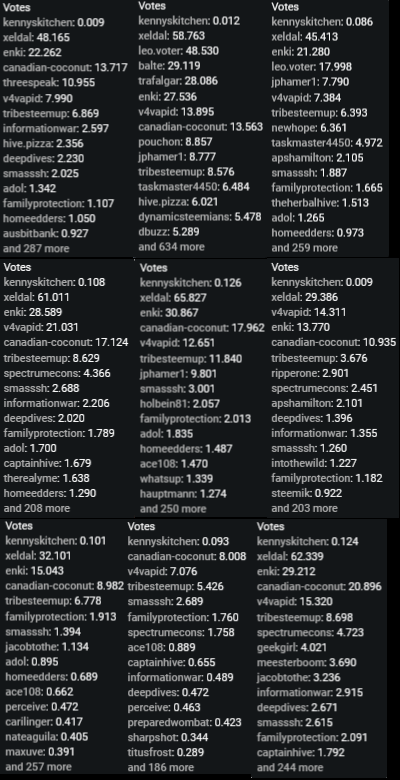 Now, as promised, the two recent posts where I did give myself 100% upvotes from @tribesteemup - just like I have been for all the other wrongfully zero'd out posts that I find.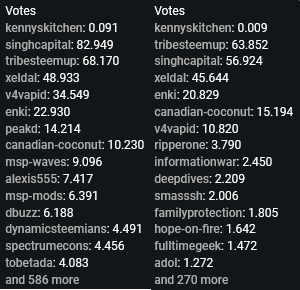 Obviously this is just a small sampling, and real due diligence would require y'all to do your own research into this (and I'll pay someone to! Scroll down just a bit more), but I'm going to do it anyway, to stay on theme...
Question to the audience #4: Do I just up-vote myself?
---

---
Bonus QUEST for the audience
I'll pay 10 Hive to the first person who can give us an visual breakdown of the incoming votes (by weight) on this account, as well as the outgoing accounts from @tribesteemup, where the delegated stake that has been entrusted to me lies. The farther back, the better. Thanks in advance!
---

---
Closing Thoughts
Don't worry, I didn't forget about the other malicious downvoters, like azircon, ocdb, altleft, smooth (and the aforementioned acidyo & curangel)
It's just that ocdb & curangel are "groups" that will never comment or respond to anything, smooth has remained relatively silent and has only downvoted content about downvoting, and azircon is already threatening people on the chain - so no need for me to address them.
Acidyo, however, came in acting like he was the mature, non-biased, righteous savior... and quickly went off the rails name-calling, wild conspiracy theories, and stating obvious lies as though they were fact (much of that being about who I am and how I live - hence the intro.)
I do recommend everyone go read through the comments on my last post if you've got the time. Very informative, in many many ways, and lots of great thoughts on the state of Hive, from two of the downvoters, and dozens of other users.
I've got just one or two more of these posts swirling around in my head - breaking down potential solutions & alternatives to the clusterf%@k of Hive, addressing the total lack of willingness to debate shown by that side of the authoritarian-libertarian spectrum, and how all this mess on hive is .
---

---
How Long After Posting Before They Zero This One Out?
I figure they're going to dog-pile on this one within minutes again, even though I'm not getting any rewards. Then I'll burn Hive to promote it up onto trending again.
Because I'm the one who just cares rewards, right King Acidyo?
---

---
Image Sources
The bullshit-meter portion of the cover image was taken from this page on thepointmag.com - came up in a PREsearch for bullshit.
Divider image available free from of @rqr4 - had to use something because the basic markdown dividers were just hideous.
---

---
Quick Edit
I just totally forgot to drop the screenshot of the part where acid revealed that all of the "controversial" content creators on Hive are just one person!
This is where the "conspiratorial" part of the sub-title came from - just too good to pass up.

Oh, and look, his basis for his conspiracy theory?
The claim that my posts get no interaction, which we already addressed above.
Thanks for tuning in, and TTFN!
---
Since I had to edit the post a couple times, I removed all of the tags and replaced them with links to people's blogs.
---

---
---
---