I buy again Pack at Rising Star / Vuelvo a comprar Pack en Rising Star [EN/ES]


Hello friends
Today I am going to write without any kind of structure I have time I do not write of rising star, when I have new or epic NFTs I will write again to improve or expand my collection, I have seen with much interest that even though time has passed and cryptocurrencies go up and down starbits has maintained its price, I do not know how long starbits can be maintained sincerely but of one thing I am sure the game will continue for a long time, I feel like a shareholder who receives compensation for keeping in my pocket NFTs while I play, and I think I will go back to accumulate as much as I can of instruments and fans, and slowly start to buy pack's and show them, also I want to find some Legendary NFTs that as you know, generally tend to be worth a lot as time goes by, because of its scarcity and rarity and although, the reality is that the NFTs is a second need item or that we don't need it tend to be worth a lot, and that makes the excitement to collect these NFTs grow, not knowing what will happen in the future.
Remember I only comment my experience, do not think that the NFTs will make many people rich just to buy them, but there is something very true is that the most interesting profession is the seller, because every time you sell you generate income, and that happens with the NFTs you buy them at a price and sell it at a higher price and generate money, so it is interesting to buy and sell NFTs and that's why I look for the legendary.
I went to the market to see the price of the legendary and very few are for sale, but I could find a reference card that is valued at more than 200$ seems great for a digital asset I have also seen that some users who ask for loans offer rare NFTs as collateral so it is not bad.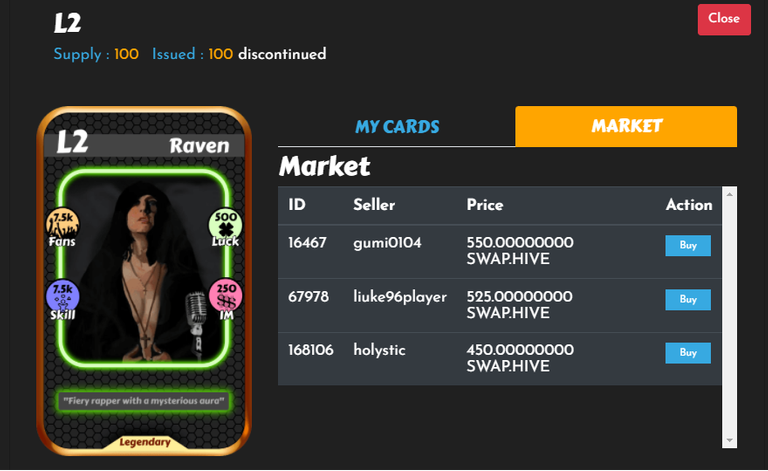 I'm ranked number 38 with these NFTs purchases I hope to climb back up the rankings,
Now I bought about 12 packs and these were the ones I liked and I will share them with you:
E38 Rosie is new NFTs for me and epic 2 of 2.
R89 Mouse I really like its fresh design.
R92 Desktop Mic I haven't had a mic for a long time, thanks for the mic, it's very useful for my singing missions.



Note: I try to make quality content, so if you want to add something I read you.
Translated with www.DeepL.com/Translator (free version)
Blockchain Gaming:
Follow me social network in English:

Hola amigos
Hoy voy a escribir sin ningún tipo de estructura tengo tiempo no escribo de rising star, cuando tenga NFTs nuevos o epicos volvere a escribir para mejorar o ampliar mi colección, he visto con mucho interes que a pesar de que ha pasado el tiempo y las criptomonedas suben y bajan el starbits ha mantenido su precio, no se cuanto tiempo pueda mantenerse el starbits sinceramente pero de algo estoy seguro el juego seguira por mucho tiempo, me siento como un accionista que recibe compensacion por mantener en mi bolsillo NFTs mientras juego, y creo que volvere a acumular lo maximo que pueda de instrumentos y fans, y comenzare lentamente a comprar pack's y mostrarlos, ademas quiero encontrar algún NFTs Legendario que como saben, generalmente tienden a valer mucho con el pasar del tiempo, por su escasez y rareza y aunque, la realidad es que el NFTs es un articulo de segunda necesidad o que no lo necesitamos tienden a valer mucho, y eso hace que la emoción por coleccionar estos NFTs crezca, sin saber que pasara en el futuro.
Recuerden solo comento mi experiencia no piensen que los NFTs harán rico a muchas personas solo por comprarlos, pero hay algo muy cierto es que la profesión mas interesante es la de vendedor, por que cada vez que vendes generas ingresos, y eso pasa con los NFTs los compras a un precio y lo vendes a un precio mayor y generas dinero, así que es interesante la compra y venta de NFTs y por eso busco la legendaria.
Fui al mercado a ver el precio de las legendarias y muy pocas están en venta, pero pude encontrar una tarjeta de referencia que esta valorada en mas de 200$ me parece genial para un activo digital he visto también que algunos usuarios que piden prestamos ofrecen NFTs raros como garantía así que no esta mal.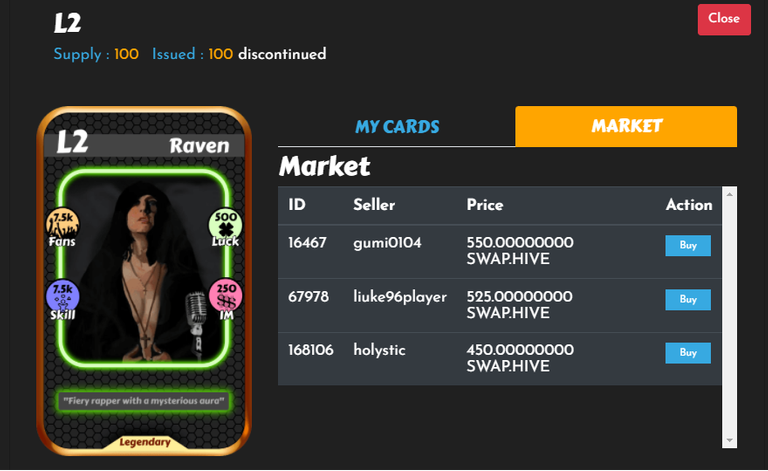 Estoy en el ranking numero 38 con estas compras de NFTs espero volver a subir de ranking,
Ahora compre unos 12 pack's y estos fueron los que me gustaron y se los comparto:
E38 Rosie es nueva NFTs para mi y epica 2 de 2.
R89 Mouse me gusta mucho su diseño fresco.
R92 Desktop Mic hace tiempo que no tenia un micro gracias por el mic me sirve para las misiones de canto.



Nota: Intento hacer contenido de calidad, así que si quieres añadir algo te leo.
Blockchain Gaming:
Sigueme red social en español:
---
---