Film Review || Something From Tiffany's (2022)
Most Christmas films are centred around cheesy and light-hearted rom-coms so families and friends can relax and watch during the holidays. I know this film fits the bill but what makes it irresistible to me is seeing Zoey Deutch, Kendrick Sampson and Shay Mitchell in the lineup of the cast. A film that features actors that I love is a winner for me.
But after watching it, I felt like the screenwriter, Tamara Chestna, and director of this film, Daryl Wein, betrayed me. You will get to know the reason for this in a little while. But first, a little rundown on this film.
Something From Tiffany's (2022) is an American rom-com that is based on a novel by author Melissa Hill. It focuses on a young widower, Gary, and his sharp-witted daughter's mission to get a befitting engagement ring from the popular jewellery store, Tiffany & Co.
As they step out of the store with a small teal bag containing the ring, a distracted young man, Gary, bumps into the daughter and enters the same store to buy a pair of earrings for his girlfriend, Rachel, who works at a bakery.
When Gary steps out of the store with his teal bag, he gets into an accident and Ethan rushes to help him. When Gary says he's okay, Ethan stands up and accidentally picks the wrong teal bag and goes home.
Rachel checks up on Gary at the hospital where she meets Ethan and his daughter and they bond. On Christmas morning while presenting gifts to their girlfriends, the two men realise their gifts have been unknowingly swapped. But their girlfriends do not know this. To save face, Gary proposes to Rachel. Will he do the right thing and return the ring to its rightful owner?
Source: YouTube
Review
No doubt, Something From Tiffany's is a charming and festive rom-com but the director fails to impress viewers including me with this production. One important part of filmmaking that determines its success is the cast. When you are familiar with the quality and genre of films your favourite actors appear in, you become disappointed when they feature in something beneath them.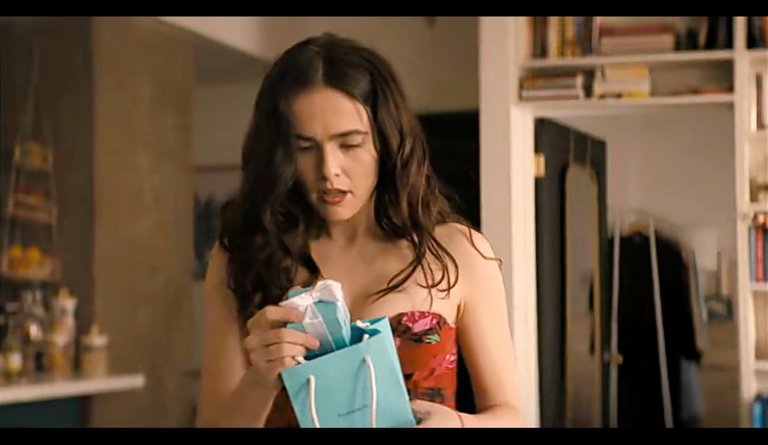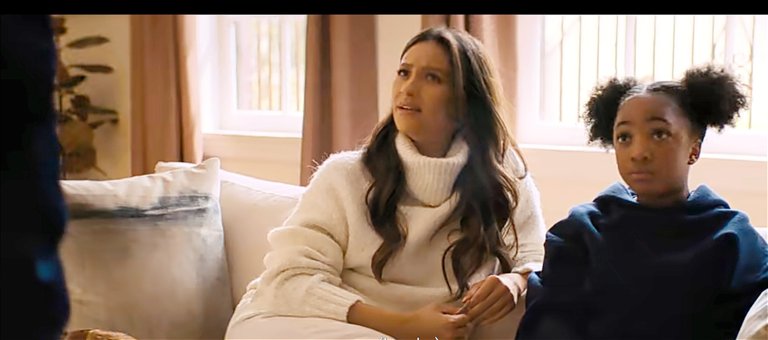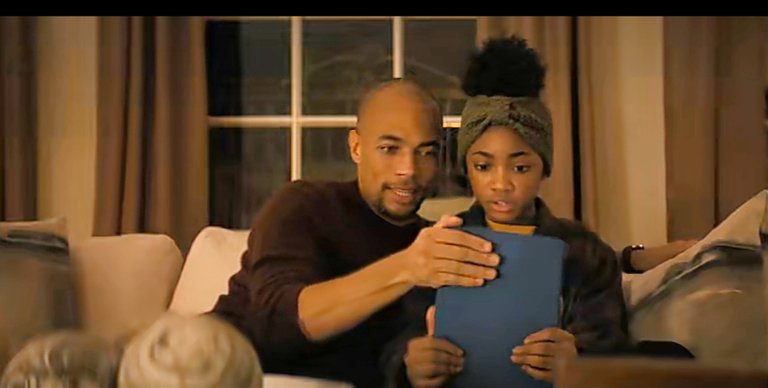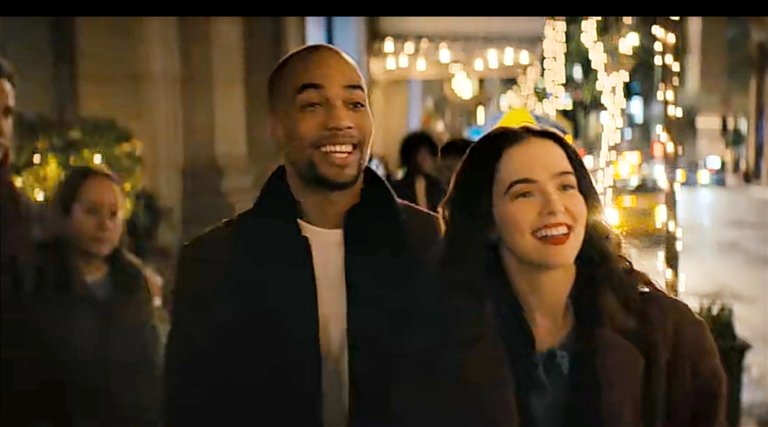 I've seen Zoey Deutch in fascinating films such as Vampire Academy (2014), Set It Up (2018), Not Okay (2022) among others and I can say she's a delight to watch. Her performance is always excellent. She brings her A-game, banter and that winning grin that reminds me of her mother, Lea Thompson, to each film. This spectacular young actress was severely undervalued in this rom-com.
Zoey and Kendrick Sampson's presence is what holds the film together leaving the gap wide open for a very poor supporting cast. The director is more interested in ensuring the film fits a good rom-com. Less attention is given to the other halves of the couples, Gary and Vanessa (played by Shay Mitchell) except to establish that they are conceited and unlikeable.
I've adored Shay Mitchell right from Pretty Little Liars series and must say she deserves better. Her character in this film has no depth and she has no chemistry with Kendrick. It was like the film wasn't interested in her. Why feature her at all?
Zoey Deutch and Kendrick Sampson are fantastic as a couple and their performances are outstanding enough that viewers fall in love with them and overlook the questionable parts of the film.
I enjoyed the scenes where the two couples open the gifts on Christmas day and discover the mistake. It was good editing to build anticipation and place the two scenes side by side rather than watch them one after another.
Overall, it's a fine festive film you can watch while curled up in bed with popcorn or some comfort food.
Thank you for visiting my blog.
Other images are screenshots from the movie
---
---