Something Special

Happy Thursday Hivers!
The rain fell gently as I woke up this morning and it was creating a peaceful lullaby. Honestly, it made me lazy to get up since the weather was cool. It's just nice lengthening my stay in bed and listening the soothing sounds of raindrops. The gentle rain was actually creating a soothing ambiance.
While staring at the ceiling, I slowly searching my phone using my 2 hands until my right hand had finally found it. I searched a nice music on youtube until I'd read a title "A Friend" by Keno, that's one of my favorite songs. Do you also like this song?
I've still been searching
And long have I waited
For someone to like me as me
To laugh with, to cry with
To be just beside with
A friend that's who I need
And while singing along I suddenly took a glimpse to a painting which was given by a friend last Christmas and a smile was suddenly painted on my face as I reminiscing the time we became friends. How our friendship started? Let me tell you how it started.
It was 24th day of December 2018 when my high school friend invited me at their house to have lunch with his family. It was my first time seeing his mother and his youngest sister Roni but not his younger sister Ludette. I've already seen his younger sister many times at school since we had attended the same school back in high school. However, we were not friends yet.
The exchanged of hi and hello as I arrived at their doorstep was a vivid memory. As far as I remember, that was my first close encounter with his younger sister.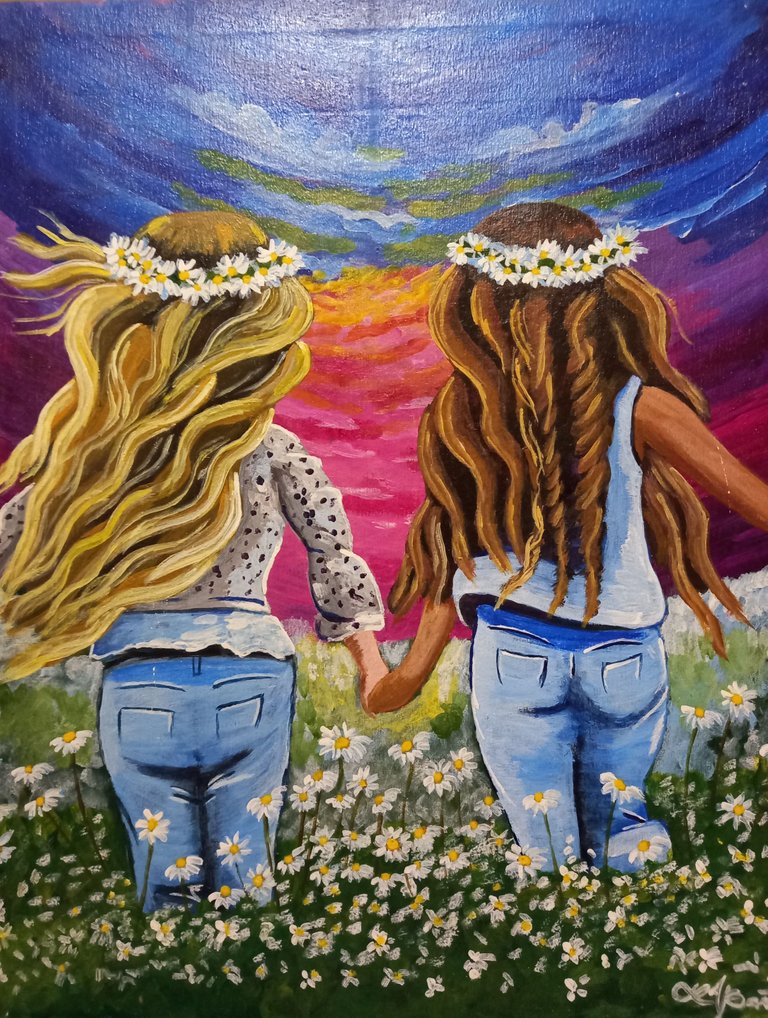 I've not seen her for long years so I felt shy to start a conversation with her. Fortunately, she was nice to me on our first close encounter. I couldn't help but notice her warm and friendly personality. I can still remember how she welcomed me at their house as I arrived. She gave me her sweetest smile. She helped me to become comfortable with them by discussing random topics over scrumptious food. And after that unforgetable lunch, there was a friendship that has slowly sprouted between us.
We started to communicate via messenger and started to share our experiences in life until such time that we became comfortable to discuss anything.
Who would have thought that after our first close encounter at their house lead to a strong friendship? I was grateful to his brother, if not because of him I would not be able to get to know her deeply. She's one of the most talented friends I ever have. She's the kind of friend that is worth keeping.
I placed this painting on my working table to remind myself that in this life I have someone who is willing to listen my crazy stories. This painting is very special to me so I wanted to see this everyday.
To Inday Ludette @labanez who is also a hiver, thank you so much for giving this beautiful piece of artwork. I will surely keep this painting as a memorabilia of our friendship.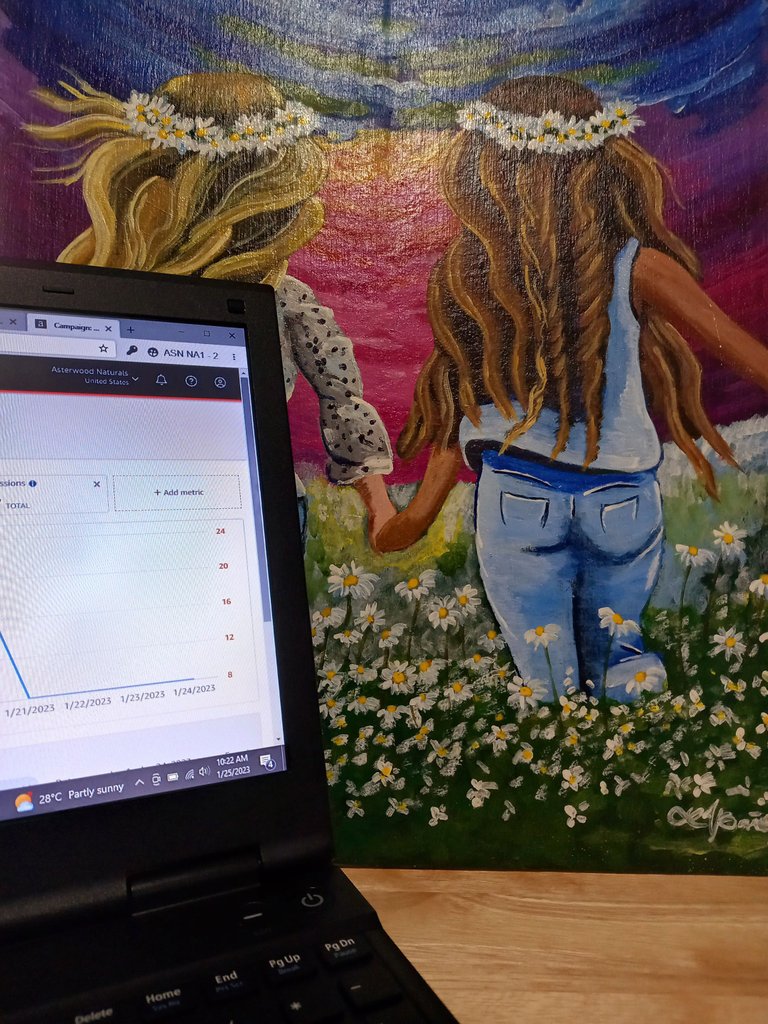 Thank you for reading and see you on my next blog. Cheers!
---
Watch with glittering eyes the whole world around you because the greatest secrets are always hidden in the most unlikely places.
Roald Dahl
---
Some photos were edited using Canva
---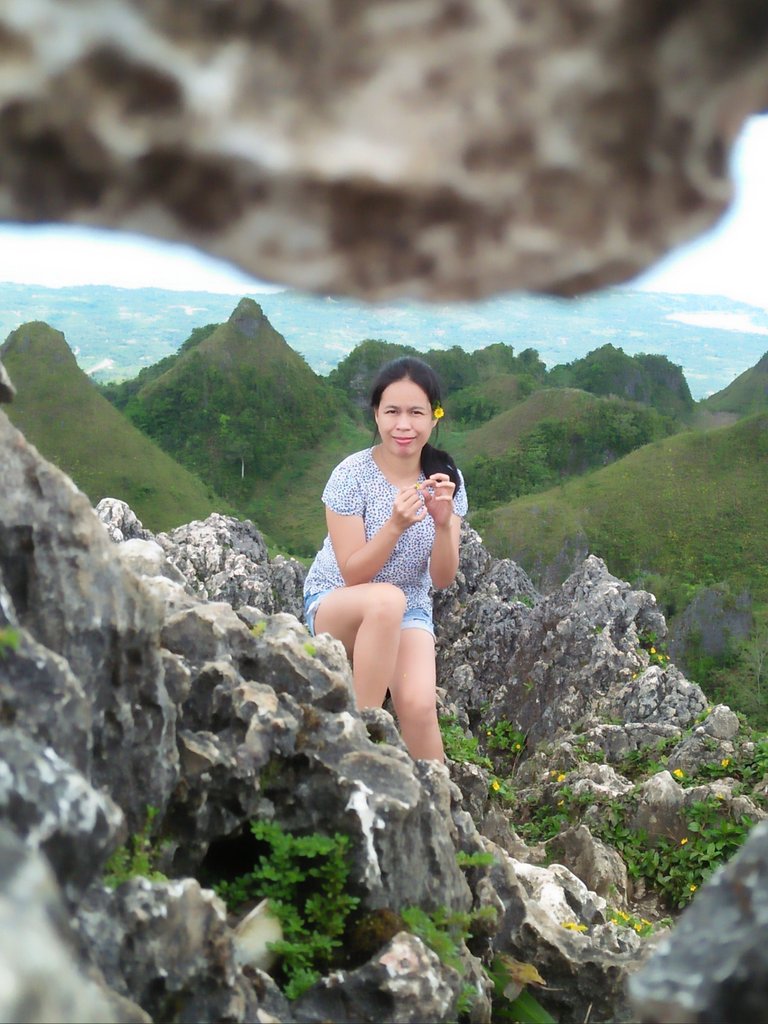 Namaste! I am fond of reading books, watching korean, american and filipino series/movies and I am also fond of gardening. I love listening to different life stories and I am always captivated with the beauty of nature so travel is my escape when life turns into blue. But hey, how could I forget my photography hobby? It is one of the best, so follow me as I will be featuring my experiences of the stuff that I am passionate with.
---
---