Stock Images || FREE Text Dividers About Food 🥗🍛🧁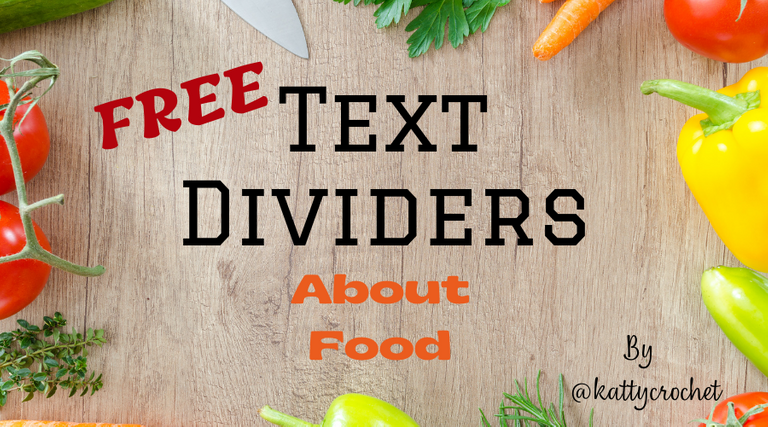 Bendecido día amigos hivers,espero se encuentren bien. Es un gusto voler a compartir con ustedes un poco de las cosas que me gustan hacer. Además de las manualidades, también me gusta crear de manera gráfica usando el programa Canvas. Con este programa suelo crear todo el paquete gráfico para mi blog: las portadas, banners y separadores de texto. Elaborar separadores de textos temáticos me relaja mucho, es una actividad que me entretiene e incentiva la creatividad.
Hoy les quiero compartir un set de separadores de textos referentes a comida.
En Hive existen comunidades dedicadas a la cocina y son muchos los Hivers con talento para la cocina que disfrutan de compartir sus deliciosas recetas con nosotros. Es por eso que se me ocurrió elaborar algunos divisores de texto con temática de alimentos.
Estos separadores se pueden usar para complementar el maquetado de publicaciones referentes a recetas de comidas y postres.
Me gustó mucho elaborar estos lindos separadores, espero que sean de utilidad para ustedes. Sólo recuerden dar los créditos al final de su publicación y usar la etiqueta freeimageshare si deciden usarlos.
Gracias por leer, saludos y bendiciones.
Blessed day hivers friends, I hope you are well. It's a pleasure to share with you again some of the things I like to do. Besides crafts, I also like to create in a graphic way using the program Canvas. With this program I usually create the whole graphic package for my blog: the covers, banners and text separators. Creating themed text dividers is very relaxing for me, it's an activity that entertains me and encourages creativity.

Today I want to share with you a set of text separators related to food.
In Hive there are communities dedicated to cooking and there are many Hivers with a talent for cooking who enjoy sharing their delicious recipes with us. That's why I came up with some food-themed text dividers.
These dividers can be used to complement the layout of food and dessert recipe posts.

I really enjoyed making these cute dividers, I hope they will be useful for you. Just remember to give credits at the end of your post and use the freeimageshare tag if you decide to use them.
Thanks for reading, greetings and blessings.
---

https://files.peakd.com/file/peakd-hive/kattycrochet/48Rtc72ZX5tFSnvn7htoGLRnkNrf7asDSCwdrLM4b5uDqiLkGc2yh5yuSeA5zeRUFz.png

---

https://files.peakd.com/file/peakd-hive/kattycrochet/48TLUz8jGQMNuE1wdm7pNJhcVeB2vFM1EVdYeCSy2V5iVNpcDLQvnPncuUdhVLQYGh.png


---

https://files.peakd.com/file/peakd-hive/kattycrochet/48SrXS8qyptA7SbhtfwEFXcEiwnu9rMJ3FtZnve8CWgiCE5mgLjHnZMBkYyubUyoqm.png


---

https://files.peakd.com/file/peakd-hive/kattycrochet/48JfEQXpTqnm3FQ214LwkaGXqu9LLD1snQJXEBfKPVfbkDJfmyVitrQfzR7zeewfDu.png


---

https://files.peakd.com/file/peakd-hive/kattycrochet/48Z7dHZkcPNByrtcE4QAoT79XsuKZGq73C7AV1yKtYbWey1doQamqv8KB5YVfCVdpt.png


---

https://files.peakd.com/file/peakd-hive/kattycrochet/48TLUygzYRqXKJoAG6EgeQwe9tnpjp4LJwu9mnbM2f4rBxPKESBMy2KtEmyVa8Zotb.png


---

https://files.peakd.com/file/peakd-hive/kattycrochet/48aZjd6YAm29RfFrqnTw6b9efGPpLchpYRe1LPSBfufuigsvYK1M8w5Pz1PizT8syK.png

---

https://files.peakd.com/file/peakd-hive/kattycrochet/48euTyNQH5ezcW4iNGNwas43yrogGfrd4Gv6YxyvFrd9Bu2A9LAWv3ZHJgYoFLzr8K.png


---

https://files.peakd.com/file/peakd-hive/kattycrochet/48UnTBAbCTgLR11JXF1svMUDtbgDDWgjEzhebCFbrPDfwzXWyeiaF8cfi9cnf95C5d.png


---

https://files.peakd.com/file/peakd-hive/kattycrochet/48UJQhZKgqh3neNe7W4MnWj5Y8oheZcgAMH6vXizXkwYLAHQi9tBnKSo1JXcqXVLGg.png


---

https://files.peakd.com/file/peakd-hive/kattycrochet/48TpS4ro8tt2tz9iuik7AZMPXRaXz8Y2v3jEs7U56yViQB3hJQgFQMQnVfwzavuh2A.png


---

https://files.peakd.com/file/peakd-hive/kattycrochet/48TLMsxc9jfhh6NtGLmDTWsNGuQ5WwnvZ2jsNK7HtN2uYQDstXGd8V8zrpdoTvXwSs.png


---

https://files.peakd.com/file/peakd-hive/kattycrochet/48K8RhScHwaL3vnySGFVEiLmfg21EKELV2esHrasSw3ErZKWyHyXrdBvbuGPVYNfYb.png


---

https://files.peakd.com/file/peakd-hive/kattycrochet/48XBUhceRov3Ubtscdhv2Hdi8f6eyDDuSwJQzKzAFZYkHLr2VzK3pVAXdH1GZ68Xpj.png


---

https://files.peakd.com/file/peakd-hive/kattycrochet/48PwNRFcUkGNXUdcvtMgZWg2GPt4Ar2Yc6Fp1tCyYjEdxeNY4Uncg4ekrWq9w3bshU.png


---

https://files.peakd.com/file/peakd-hive/kattycrochet/48RQXsKTCdLuNU4VDPhihmYvLGNBj6HtS6scaiZC3hW7tf9t4opDv4nqrymLaBzEoA.png


---

https://files.peakd.com/file/peakd-hive/kattycrochet/48Un7odw8E1cgRwAP7ujWDRpivx5pgEnnD2DEubEAL8M1MYmRpiLkWdtmpdrU8STAE.png


---

https://files.peakd.com/file/peakd-hive/kattycrochet/48RQY7fGMqXujGnxm42X2taEo4dauNnFcYiKUgXmM3asvECuhJNaNxVdD6BqeHAUJu.png


---


El banner de portada y los separadores de textos son diseñados por mi en Canva.com
La medida de los separadores de texto es de 800x80 px
Uso traductor Deepl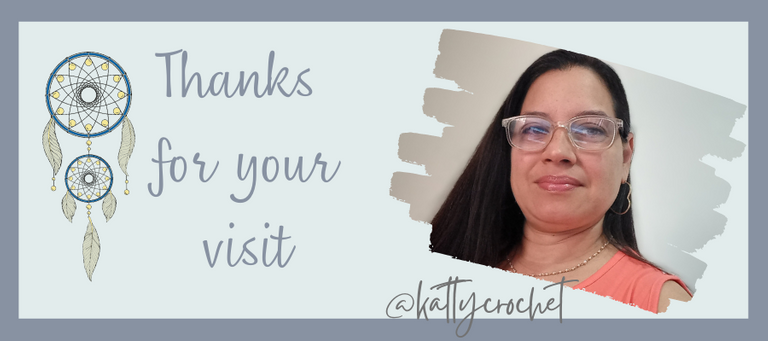 ---
---