NeedleWork || EL CROCHET Y YO, AMOR A PRIMERA VISTA 💗🧶💗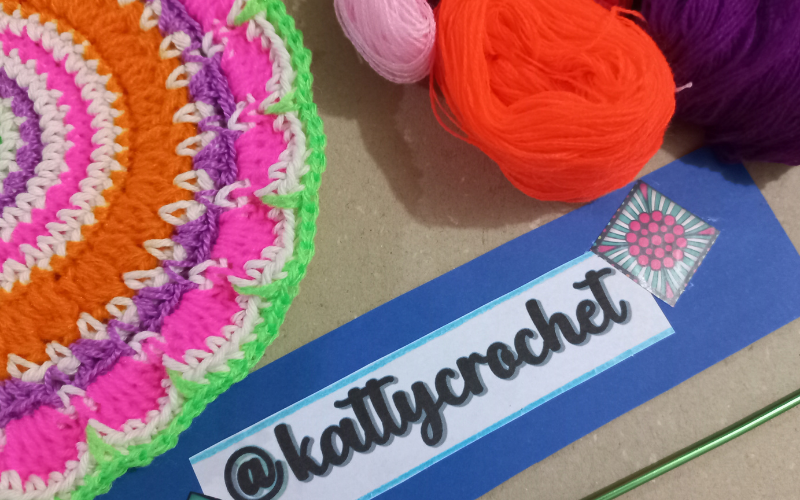 ---
La magia del crochet llegó a mi vida de una manera muy casual, sin embargo, haciendo una retrospectiva me doy cuenta de que fue más que una simple casualidad, que era lo que me hacía falta para darle un poco de equilibrio y serenidad a mi vida.
The magic of crochet came into my life in a very casual way, however, looking back I realize that it was more than a simple coincidence, it was what I needed to give some balance and serenity to my life.
---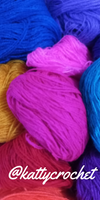 Recuerdo que cuando estaba en la universidad y aún no llegaba a los 20 años, era una joven muy activa y enérgica. Estudiaba en dos universidades al mismo tiempo y ocupaba mis fines de semana en actividades de teatro y voluntariado en una fundación que brindaba apoyo a niñas huérfanas. Tenía un afán exagerado por ocupar cada minuto de mi vida.
I remember when I was in college and not yet 20 years old, I was a very active and energetic young woman. I was studying at two universities at the same time and I spent my weekends doing theater activities and volunteering at a foundation that supported orphan girls. I had an exaggerated eagerness to occupy every minute of my life.
Aquel ritmo tan ocupado y atareado me produjo problemas de salud, por lo que tuve que dejar algunas actividades y decidirme por una sola carrera universitaria. Fue muy difícil adaptarme al nuevo ritmo un poco más calmado.
That busy and hectic pace caused me health problems, so I had to give up some activities and decide on a single university career. It was very difficult to adapt to the new, calmer rhythm.
---

Un día mientras ordenaba unas revistas de mi mamá, me encontré con las famosas revistas de Ganchillo". Fue un descubrimiento asombroso para mí, me emocionó ver todos esos gráficos. Recuerdo que la mayoría eran patrones para elaborar tapetes circulares. Junto a las revistas había algunos tapetes tejidos por mi madre y algunas agujas de metal muy delgadas. De inmediato le pedí a mi madre que me enseñara los puntos básicos y como leer los patrones.
One day while sorting through some of my mom's magazines, I came across the famous "Crochet" magazines. It was an amazing discovery for me, I was thrilled to see all those charts. I remember that most of them were patterns to make circular rugs. Next to the magazines were some rugs knitted by my mother and some very thin metal needles. I immediately asked my mother to teach me the basic stitches and how to read the patterns.
---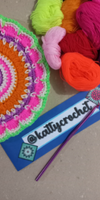 Desde ese día el crochet se convirtió en m nuevo reto y mi nueva adicción, pero lo más importante, se convirtió en la actividad que equilibro mis energías y me brindo serenidad. El crochet para mi es además de un hermoso arte, también es una maravillosa terapia.
Since that day crochet became my new challenge and my new addiction, but most importantly, it became the activity that balanced my energies and gave me serenity. Crochet for me is not only a beautiful art, but also a wonderful therapy.
---

En los momentos más difíciles de mi vida me he refugiado en la oración y en el crochet; ambas de la mano y no por separado. Tomé por practica orar mientras tejo proyectos grandes que ofrezco por alguna causa en particular. Esta combinación de las dos actividades me da mucha paz y serenidad.
In the most difficult moments of my life I have taken refuge in prayer and crochet; both hand in hand and not separately. I have made it a practice to pray while crocheting large projects that I offer for a particular cause. This combination of the two activities gives me a lot of peace and serenity.
---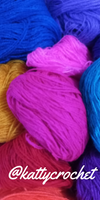 No obstante, desde que comencé a publicar mis tejidos en Hive, dejé a un poco de lado este ritual, ya que comencé a trabajar en proyectos más pequeños, prácticos y sencillos pues no tenía nada de experiencia haciendo tutoriales. Tomar fotos de cada uno de los pasos del proceso creativo toma tiempo e implica interrumpir cada cierto tiempo.
However, since I started publishing my fabrics on Hive, I left this ritual aside a bit, as I started working on smaller, more practical and simple projects, since I had no experience at all in making tutorials. Taking pictures of each step of the creative process takes time and involves interrupting every so often.

Por eso cuando leí el reto propuesto por la comunidad, en el que se propone hacer un proyecto de manera libre y sin patrones, me sentí liberada e inspirada. Sin embargo, por problemas con mi conexión de internet, no pude publicar mi proyecto para el concurso. Pero como dice el dicho "Nunca es tarde cuando llega el crochet", por eso hoy decidí compartir con ustedes mi linda mándala tejida a crochet.
That's why when I read the challenge proposed by the community, in which it is proposed to make a project in a free way and without patterns, I felt liberated and inspired. However, due to problems with my internet connection, I could not publish my project for the contest. But as the saying goes "It's never too late to crochet", so today I decided to share with you my beautiful crocheted mandala.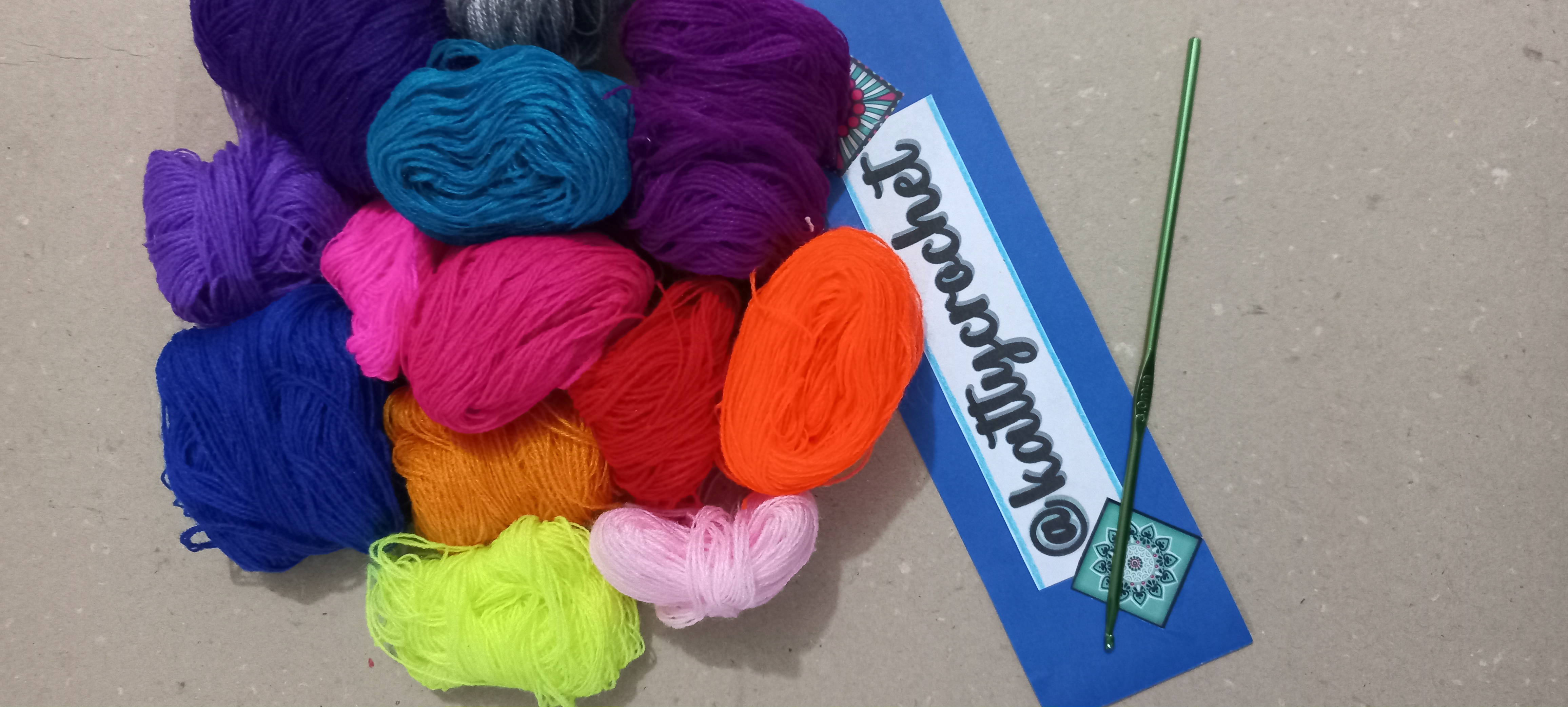 Cuando leí las pautas del concurso, de inmediato supe que quería hacer un tapete pues quería volver a mis inicios como crochetera. Al principio tejía guiándome con los gráficos de las revistas, pero después de un tiempo yo sentía la libertad de cambiar puntadas e incluir algunas diferentes al patrón original, hasta que llegué al punto de elaborar tapetes sin patrón. Me gustaba mucho esta experiencia creativa y de descubrimiento, de no saber cómo iba a terminar el tapete.
When I read the contest guidelines, I immediately knew I wanted to make a rug because I wanted to go back to my beginnings as a crocheter. At first I knitted guided by the charts in the magazines, but after a while I felt the freedom to change stitches and include some different ones to the original pattern, until I got to the point of making rugs without a pattern. I really enjoyed this creative experience of discovery, of not knowing how the rug was going to turn out.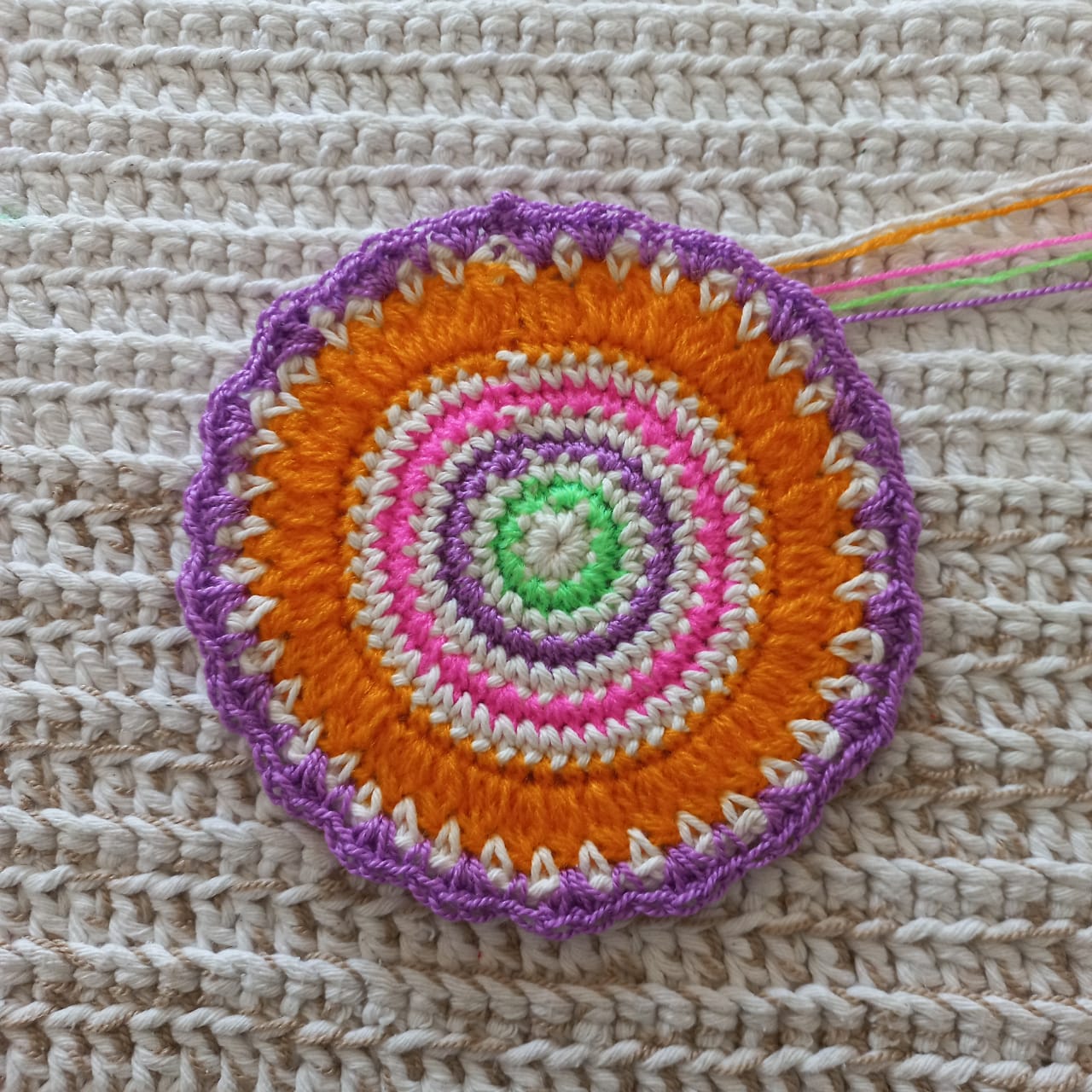 Quise revivir esos momentos tan emocionantes, pero esta vez estarían llenos de color pues decidí utilizar los restos de lana de proyectos anteriores. Al ver todos estos colores tan bonitos se me ocurrió hacer un pequeño tapete tipo mándala. Las mándalas también son muy recomendadas para la meditación así que me pareció super interesante.
El día sábado después de terminar con mis labores habituales, me puse cómoda en mi habitación y mientras escuchaba un audiolibro de meditación, comencé a tejer mezclando puntadas y colores.
I wanted to relive those exciting moments, but this time they would be full of color because I decided to use the leftover yarn from previous projects. Seeing all these beautiful colors I decided to make a small mandala mat. Mandalas are also highly recommended for meditation so I found it very interesting.

On Saturday after finishing my usual chores, I made myself comfortable in my room and while listening to a meditation audiobook, I started to knit mixing stitches and colors.

Fue una experiencia muy relajante y renovadora. Me reencontré con mi crochet y pude meditar mientras disfrutaba del tejido. Agradezco mucho a
@crosheille
por esta maravillosa iniciativa, lamento no haber podido entrar a tiempo, pero no podía dejar de compartir mi experiencia. Gracias por leer, saludos y bendiciones.
It was a very relaxing and renewing experience. I reconnected with my crochet and was able to meditate while enjoying knitting. I am very grateful to @crosheille for this wonderful initiative, sorry I couldn't get in on time, but I couldn't help but share my experience. Thanks for reading, greetings and blessings.
Todas las fotos fueron tomadas con mi teléfono celular Samsung A32 Imagen de portada y los separadores de texto son diseñados por mí en con Canva.com Uso traductor Deepl

---
---