When I Try to Change the World | NoLep Art #4

---
Hello! My name is Hira Karmachela a.k.a BABE ODED. In this post I will share my 4th NFT artwork for the #NoLepArt series. I made this work using frame by frame animation technique. The idea is to explore color in images created with line art techniques.
In this work, I made the character that don't form any figures but can create the illusion of meaningful gestures. One more thing, I really like processing letters and words, if you can read one stanza of the story in this work, it means you are a very observant person.
There are several marketplaces for NFT that are growing very fast this year. I try to choose a market that suits my art style. For this NFT work I chose to mint it at Hic et Nunc .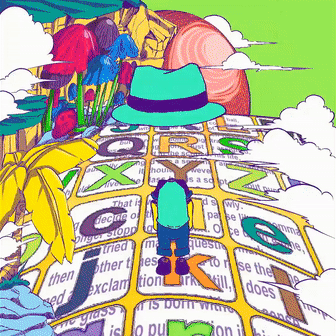 Title: When I Try to Change the World
Series: NoLep Art #4
Description: NoLep Art is a collection of artworks created by BABE ODED / @karmachela that depicts the life of inanimate objects. NoLep is a play on the words "No Life".
Technique: Illustration - Animation
Collect it at: Hic et Nunc
Chain: Tezos (XTZ)
Thank you for visiting this post. Look forward to my next work.
Visit My Gallery:
Twitter: babeoded
Instagram: babeoded
Henext: babeoded
Opensea: babeoded
---
▶️ 3Speak
---
---