[ESP/ENG]Cambios y sorpresas en las grandes ligas, MLB./Changes and surprises in the major leagues, MLB.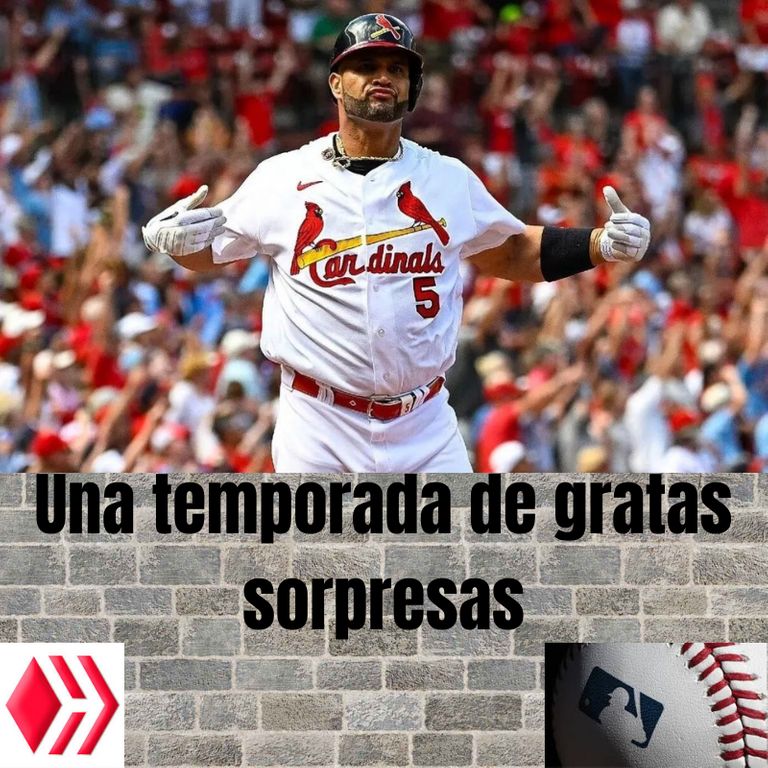 Fuente de la foto utilizada en la elaboración de la portada de esta publicación


La campaña del 2022 en el mejor béisbol del mundo, como es conocida la liga mayor que se juega en los Estados Unidos de América, ha sido completamente exitosa, ya que se han dado eventos esperados, pero también sorpresivos, de los eventos esperados por ejemplo, estaban los tres mil imparables de Miguel Cabrera, hecho que llego en el primer mes de temporada, contra el conjunto de la ciudad de Colorado, hecho que lleno de júbilo a Venezuela y toda Latinoamérica, de igual manera fue anunciado retiros de peloteros históricos, tales como el de Yadier Molina y de Albert Pujols.
El Venezolano Cabrera, el nacido en Puerto Rico, Yadier Molina y el Dominicano Albert Pujols, sin duda alguna son desde ya, si se puede decir miembros del salón de la fama, los últimos están en su última temporada como peloteros activos, pero cuando les hablo de gratas sorpresas en el título de esta publicación, sin duda alguna es lo que Pujols nos está brindando después del juego de las estrellas, a comienzos de campaña a duras penas, pudo firmar con el equipo que lo vio brillas por años, y son sus amados Cardenales de San Luis,
Llego a los pájaros rojos, prácticamente para poder retirarse y salir por la puerta grande, desde el comienzo de la temporada tenía claro que sus funciones en este equipo serian las de bateador emergente y en algunas oportunidades comenzar los juegos como titular, y así fue durante la primera mitad de temporada, en donde apenas conecto 4 cuadrangulares, cabe destacar que inicio la zafra con 680 cuadrangulares, es decir a 20 de la cifra redonda de los 700 jonrones, y a 16 de Alex Rodríguez, quien era el dueño absoluto del cuarto lugar histórico de las grandes ligas en el departamento de batazos de vuelta completa.

The 2022 campaign in the best baseball in the world, as is known the major league played in the United States of America, has been completely successful, as there have been expected events, but also surprises, of the expected events for example, were the three thousand unstoppable Miguel Cabrera, a fact that came in the first month of the season, against the set of the city of Colorado, a fact that filled with joy to Venezuela and all Latin America, likewise was announced retirements of historic players, such as Yadier Molina and Albert Pujols.

The Venezuelan Cabrera, the Puerto Rican-born Yadier Molina and the Dominican Albert Pujols, without a doubt, are already members of the Hall of Fame, the latter are in their last season as active players, but when I speak of pleasant surprises in the title of this publication, it is undoubtedly what Pujols is giving us after the All-Star game, at the beginning of the campaign he was able to sign with the team that saw him shine for years, and they are his beloved St. Louis Cardinals,

He arrived to the red birds, practically to be able to retire and leave through the big door, since the beginning of the season he had clear that his functions in this team would be those of emerging hitter and in some opportunities to start the games as a starter, and so it was during the first half of the season, It is worth mentioning that he started the season with 680 home runs, that is to say, 20 away from the round number of 700 home runs, and 16 away from Alex Rodriguez, who was the absolute owner of the fourth historical place in the major leagues in the complete round-trippers department.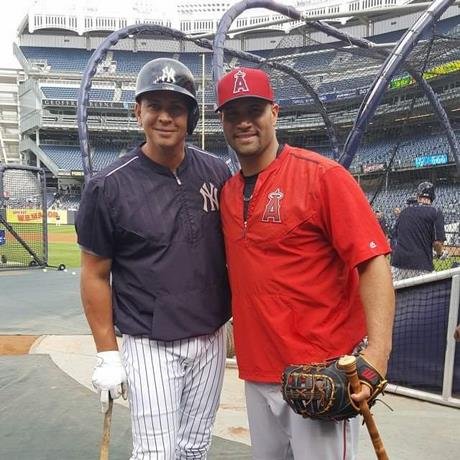 Fuente de la fotografía, Alex Rodriguez y Albert Pujols
Pujols pareciera vivir su mejor momento y nos hace recordar al pelotero de hace más de una década, que daba cuadrangulares de manera seguida y con una facilidad impresionante, un pelotero que tiene 42 años y que su bate conserva una rapidez para conectar envíos por encima de las 95 millas y de manera sólida, ni siquiera Alex Rodríguez pensaba en la primera quincena del mes de julio, que el veterano Pujols le daría alcance, y mucho menos que lo dejaría atrás y lo sacaría del top 4 de jonroneros de todos los tiempos, y es que eso se dio un abrir y cerrar de ojos.
Al Dominicano le hicieron falta solo 8 turnos para empatar y dejar a tras la marca del legendario pelotero de los Yankees, el día sábado Albert se fue de 4/3 incluido su jonrón 696 con el que empataba a Alex, pero sin perder mucho tiempo, y en el juego dominical, exactamente en su cuarto turno al bate, despacho el batazo 697 de su carrera, convirtiéndose así en el nuevo rey de jonrones y que representa al Caribe y a todos los Hispanohablantes, y aunque parezca mentira, le quedan 20 juegos por disputar y su oportunidad de llegar a los 700 es grande y muy probable.
Se puede decir que todo estará en manos del manager de los Cardenales de San Luis, ya que depende como lo utilice y los turnos que pueda consumir, el equipo de San Luis parece tener un pie dentro de las post-temporada y eso le abre mayor posibilidad a Pujols de estar iniciando una gran cantidad de encuentros, si por ejemplo, juega los 20 partidos y como mínimo toma 3 turnos al bate por juego, tendría unas 60 oportunidades de alcanzar la tan anhelada cifra, y eso va a redondear de manera significativa sus números a la hora del retiro.

Pujols seems to be living his best moment and reminds us of the player of more than a decade ago, who gave homers in a row and with an impressive ease, a player who is 42 years old and whose bat retains a speed to connect deliveries above 95 miles and in a solid way, not even Alex Rodriguez thought in the first fortnight of July that the veteran Pujols would catch up with him, much less that he would leave him behind and take him out of the top 4 home run hitters of all time, and that happened in the blink of an eye.

On Saturday Albert went 4/3, including his 696th home run to tie Alex, but without wasting much time, and in the Sunday game, exactly in his fourth at-bat, he hit the 697th home run of his career, He hit the 697th home run of his career, thus becoming the new home run king and representing the Caribbean and all Spanish speakers, and believe it or not, he has 20 games left to play and his chance to reach 700 is great and very likely.

It can be said that everything will be in the hands of the manager of the St. Louis Cardinals, since it depends on how he uses him and the turns he can consume, the St. Louis team seems to have one foot inside the post-season and that opens a greater possibility for Pujols to be starting a lot of games, if for example, he plays all 20 games and at least takes 3 turns at bat per game, he would have about 60 chances to reach the coveted figure, and that will significantly round up his numbers at the time of retirement.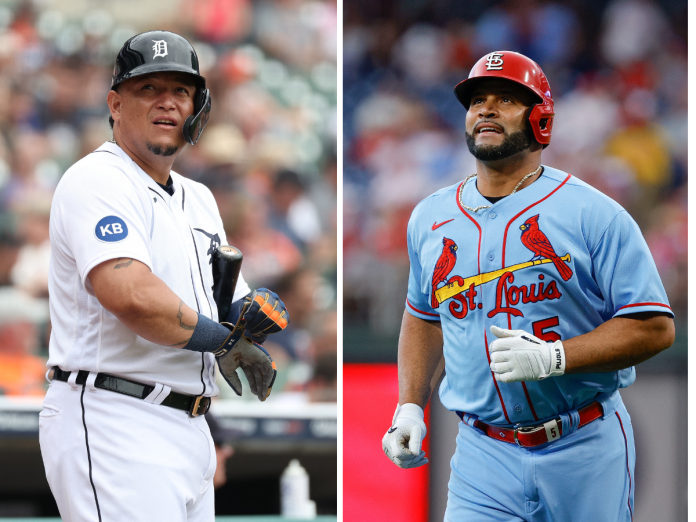 Fuente de la fotografia del blogs, Miguel Cabrera y Albert Pujols, futuros salon de la fama
Aunque ya las cosas con respecto a la clasificación están tomando un solo rumbo, como el caso de los Dodgers que serán campeones del Oeste, Cardenales en el centro y la posibilidad real de que los Mets, Bravos y Filis pasen a los play-off, quedaran intacto el interés de saber si el gran Dominicano llegara a los 700 jonrones, de seguros los ojos de la gran mayoría de los periodistas y de canales de televisión, se van a virar hacia la casa de los Cardenales de San Luis o a donde viaje este equipo, al parecer pasaran muchos años o hasta décadas para poder ver a otro pelotero llegar a la historicista cifra.
Es que Pujols dejara la vara bien alta para las nuevas generaciones que busquen tener dichos numeritos, definitivamente, jugadores como Miguel Cabrera y Albert Pujols, son difíciles de encontrar, y nosotros hemos tenido la dicha de ver, no solo a uno, sino que ambos peloteros nos han dejado ver su brillo y todo su esplendor, y seremos con el paso del tiempo testigos de su ingreso al salón de la fama, por ahora y en lo que reste de campaña, seguiremos turno a turno Albert buscar los 700 jonrones para que así se pueda retirar completamente a lo grande y con el mayo de los éxitos.

Although things regarding the standings are already taking a single course, as in the case of the Dodgers who will be champions of the West, Cardinals in the middle and the real possibility that the Mets, Braves and Phillies will go to the playoffs, the interest of knowing if the great Dominican will reach 700 home runs will remain intact, for sure the eyes of the vast majority of journalists and television channels will turn towards the home of the St. Louis Cardinals or wherever this team travels, it seems that many years or even decades will pass to see another player reach this historic figure.

It is that Pujols will leave the bar high for the new generations who seek to have such numbers, definitely, players like Miguel Cabrera and Albert Pujols, are hard to find, and we have had the joy of seeing, not only one, but both players have let us see their brilliance and all its splendor, And as time goes by, we will be witnesses of their entrance to the hall of fame, for now and for the rest of the season, we will follow Albert's turn by turn in search of the 700 home runs so that he can retire in style and with the greatest of successes.


---
---