[ESP/ENG] Un día de celebración entre amigos y familiares/A day of celebration among friends and family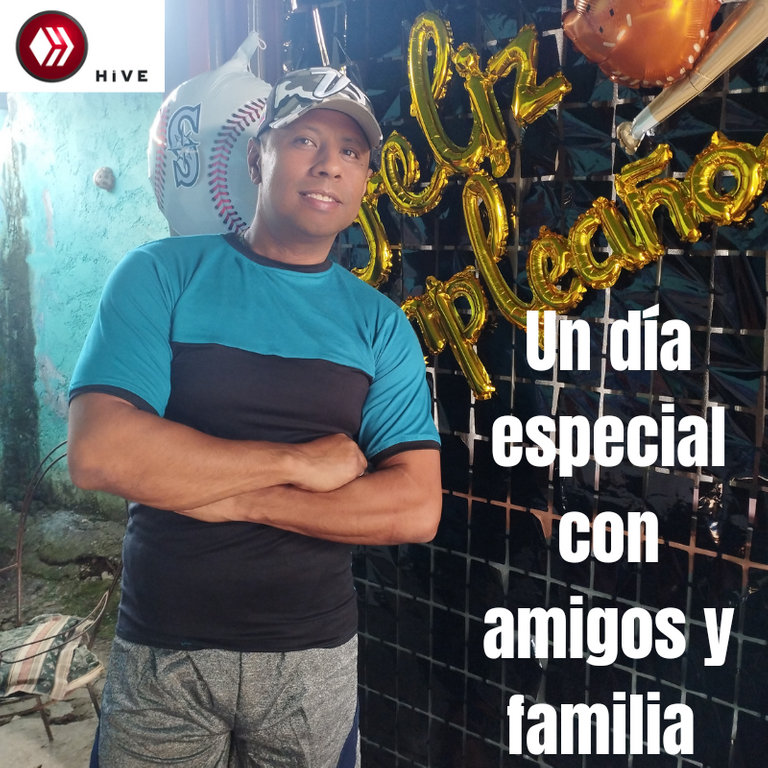 Hoy me estreno de manera oficial en esta gran comunidad, el día viernes 2 de septiembre del presente año, fue mi cumpleaños número 45, y tuve la fortuna de compartir con grandes amistades y con uno de los tesoros más grandes que tenemos en la vida, como lo es la familia, por eso quise compartir con ustedes en esta comunidad que es para amistades y familia, el movimiento para celebrar mi cumpleaños comenzó el día jueves cuando mi esposa y hermanos iniciaron con la realización de la torta y algunos pasapalos, un detalle que para mí es más valioso que los mismos regalos, ya que con sacrificio y esfuerzo físico terminaron la faena a eso de las 3 de la mañana.
Today I am officially making my debut in this great community, on Friday September 2nd of this year, it was my 45th birthday, and I was fortunate to share with great friends and with one of the greatest treasures we have in life, as it is the family, so I wanted to share with you in this community that is for friends and family, The movement to celebrate my birthday began on Thursday when my wife and brothers began with the realization of the cake and some pastries, a detail that for me is more valuable than the gifts themselves, because with sacrifice and physical effort they finished the task at about 3 o'clock in the morning.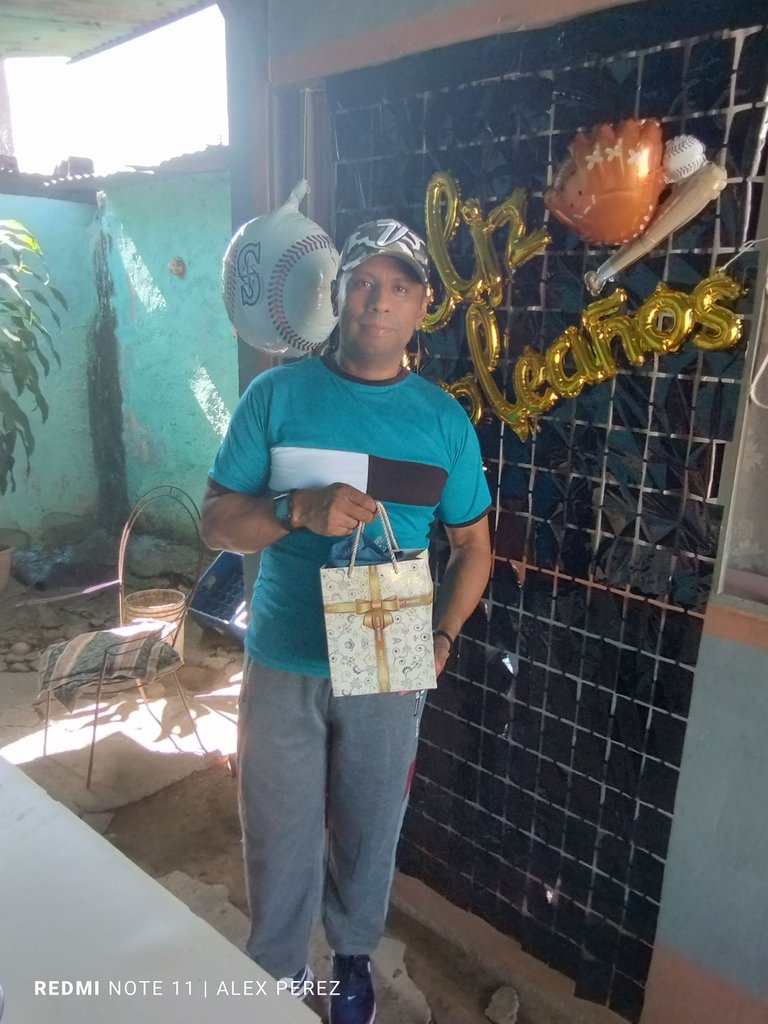 Iniciando el día lleno de regalos y con una hermosa decoración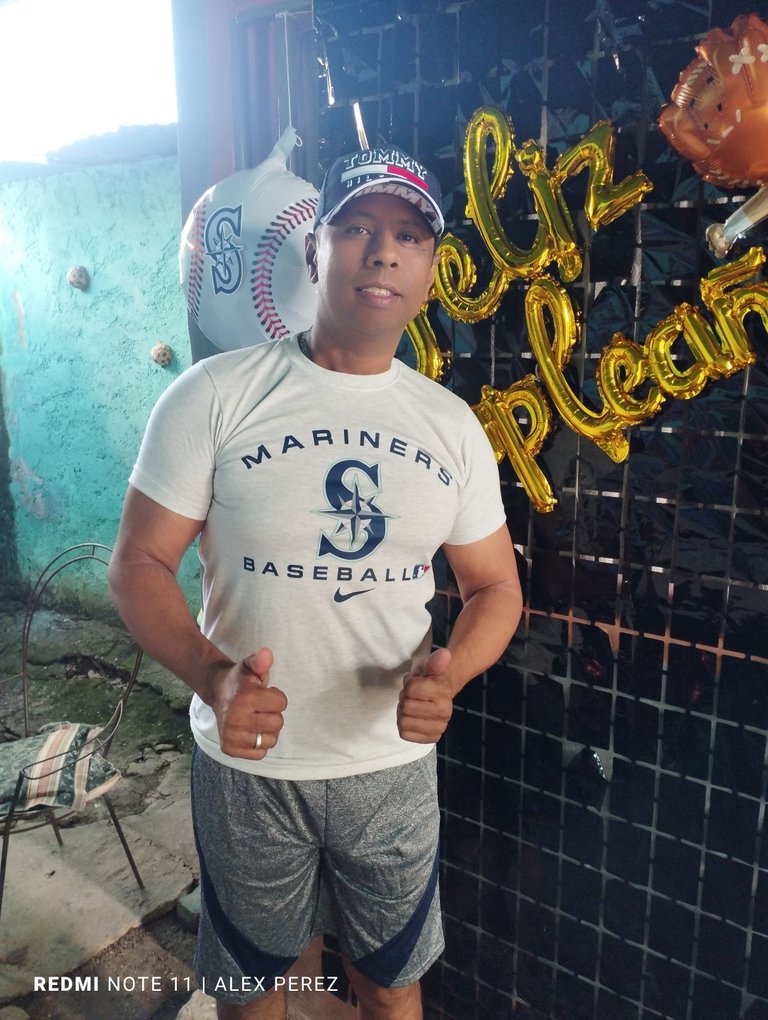 Aqui estrenando franela y short uno de mis regalos
La mañana del dos de septiembre, comenzó de una manera diferente, con la presencia de mi madre, padre, hermanos y esposa, con una gran cantidad de sorpresas muy agradables, entre un desayuno especial y regalos, entre los primeros regalos que recibí el día de mi cumpleaños destacan, unos monos deportivos, par de franelas y unos zapatos deportivos, en el desayuno tuve un exquisito plato de frutas y par de pasteles, sin dejar aun lado la decoración, en do resaltaba como motivo el béisbol.

The morning of September 2nd, began in a different way, with the presence of my mother, father, brothers and wife, with a lot of very pleasant surprises, between a special breakfast and gifts, among the first gifts I received on my birthday include sports overalls, a pair of flannels and sneakers, at breakfast I had a delicious plate of fruit and a couple of cakes, without leaving aside the decoration, in which baseball stood out as a motif.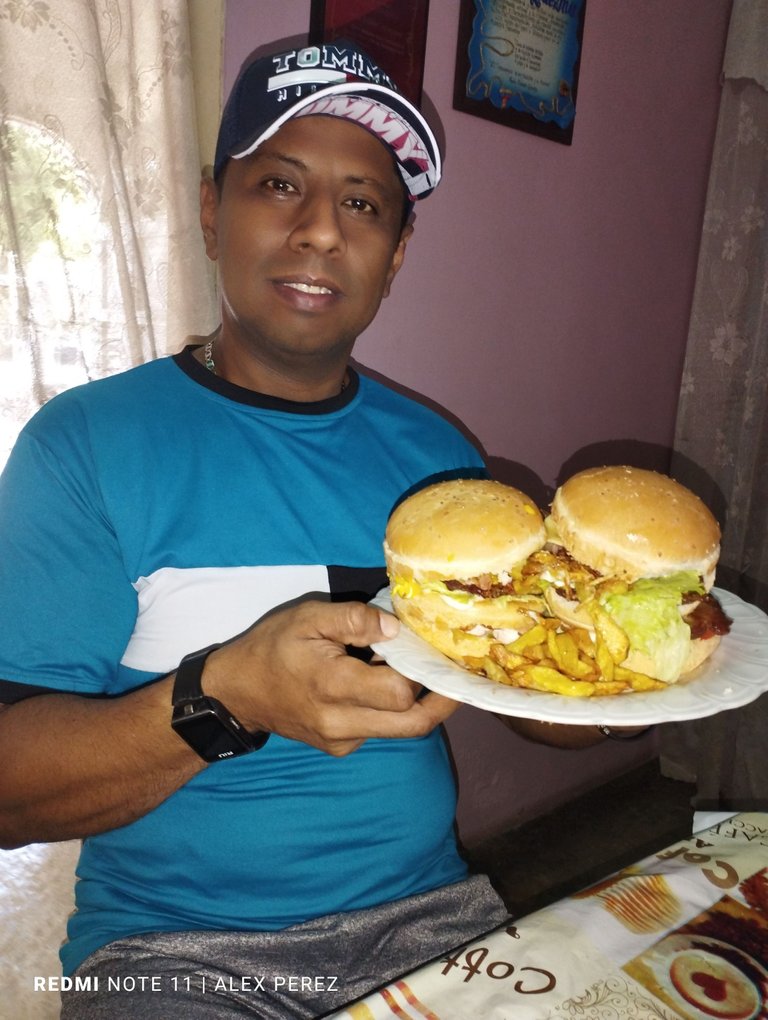 Par de hamburguesas como almuerzo de cumpleaños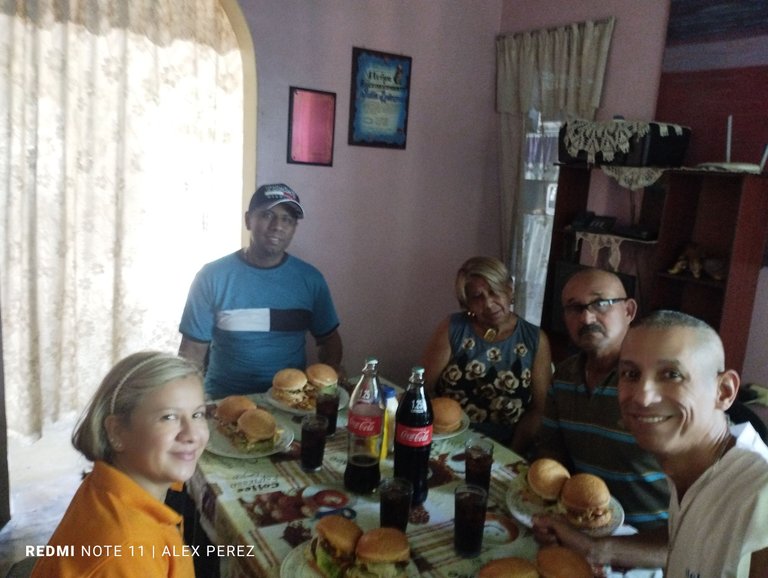 Almuerzo en familia
Otro de los grandes momentos vividos el día de mi cumpleaños, fue el almuerzo, allí mis familiares más cercanos se escaparon un momento de sus respectivos trabajos para poder estar presente y comer la hamburguesada que prepararon especialmente para el cumpleañero, o sea yo, creo que la imagen habla por si sola y notaran lo suculenta que se veían, les confieso que logre comerme ambas, creo que abuse un poco, pero eso no es todos los días y cuando toca hay que aprovechar.
Another great moment on my birthday, was lunch, there my closest relatives escaped for a moment from their respective jobs to be present and eat the hamburger that they prepared especially for the birthday boy, that is me, I think the picture speaks for itself and you will notice how succulent they looked, I confess that I managed to eat both, I think I abuse a little, but that is not every day and when it's time to take advantage of it.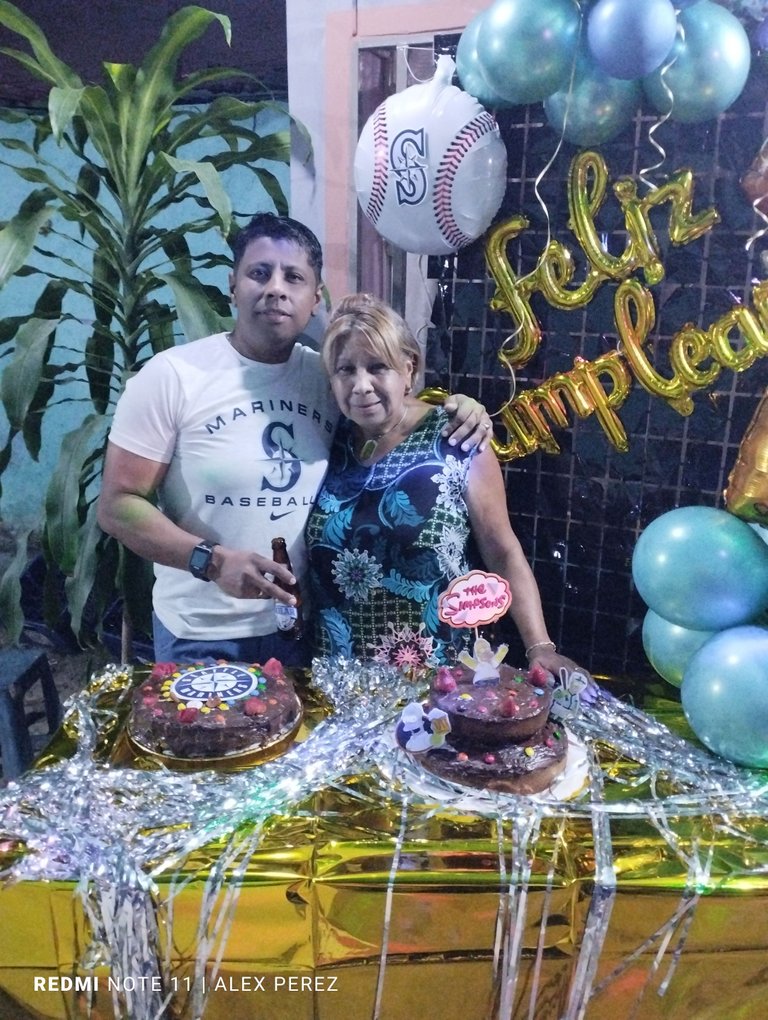 Una fotografía con mi madre con las dos tortas que tuve
Llegando la noche terminaron con la decoración, la imagen habla por si sola y podrán notar que quedo hermosa, con globos de color verde metalizados y dos tortas, siendo una de ellas de chocolate, las dos quedaron deliciosas y lo mejor que fueron hechas por las manos de mis familiares, nada se compró por fuera, esta es una de las fotos que más me gusta de las muchas que me tomaron ese día, realmente es algo que pasara de generación, en generación, como un gran recuerdo y de un momento que fue mágico y único al lado de tantas personas que me dieron una gran muestra de afecto.
Arriving at night they finished with the decoration, the picture speaks for itself and you will notice that it was beautiful, with metallic green balloons and two cakes, one of them being chocolate, both were delicious and the best thing was that they were made by the hands of my relatives, nothing was bought on the outside, this is one of the photos that I like the most of the many that were taken that day, it really is something that will pass from generation to generation, as a great memory and a moment that was magical and unique next to so many people who gave me a great show of affection.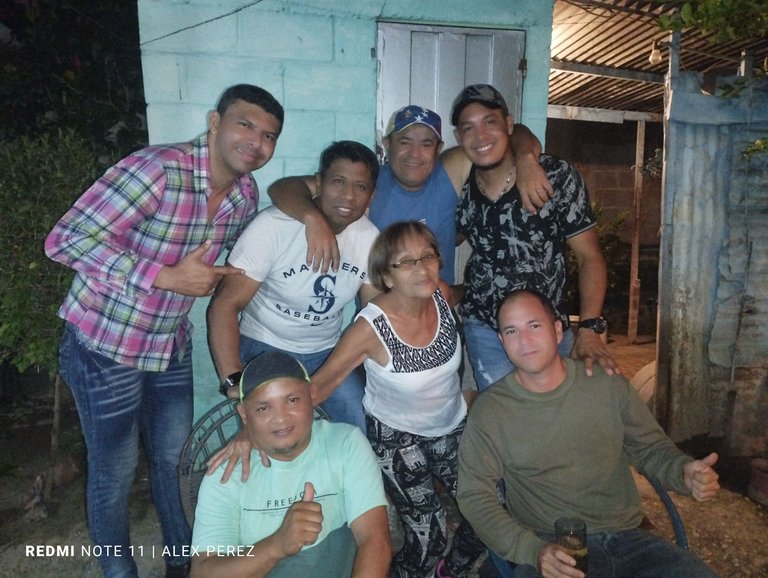 Con mi madrina y amigos de la infancia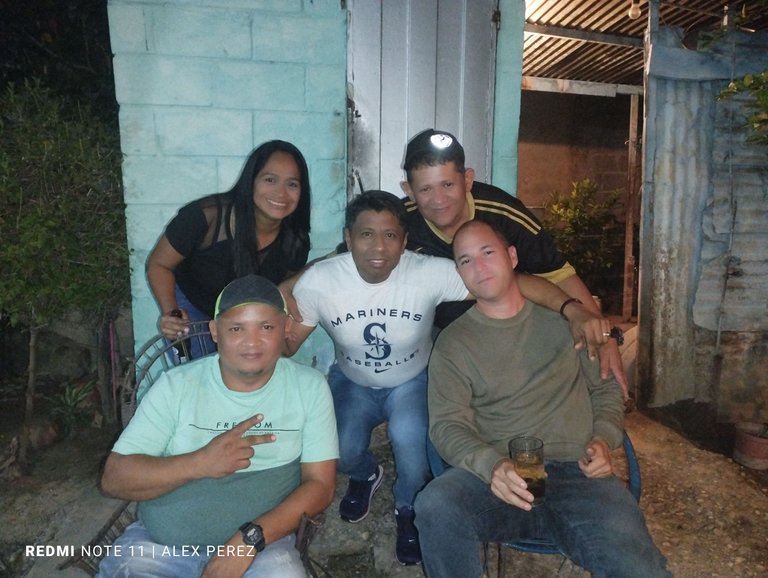 Con la prima y mis amistades
Con el paso de las horas, poco a poco, fueron llegando amigos, mucho de ellos de la infancia, no puedo negar que sentí gran emoción al verlos llegar, ya que luego que cada quien formo sus familias, nos hemos alejado y el compartir que era tan normal en la niñez y parte de la juventud, hoy en día es casi nulo, y con algunos no estamos juntos desde hace más de dos años, pero el día se prestó para que sin querer se hiciera una especie de reencuentro, entre risas, canciones y chiste la noche fue transcurriendo con completa alegría y fraternidad, fotos iban y venían, y entre las luces de la decoración y el flash de las cámaras, parecíamos presentes en una alfombra roja.

As the hours passed, little by little, friends arrived, many of them from childhood, I can not deny that I felt great excitement to see them arrive, because after each one formed their families, we have moved away and the sharing that was so normal in childhood and part of youth, today is almost nil, and with some of us we have not been together for more than two years, but the day lent itself to a kind of reunion, between laughter, songs and jokes the night went by with complete joy and fraternity, photos came and went, and between the lights of the decorations and the flash of the cameras, we seemed to be present on a red carpet.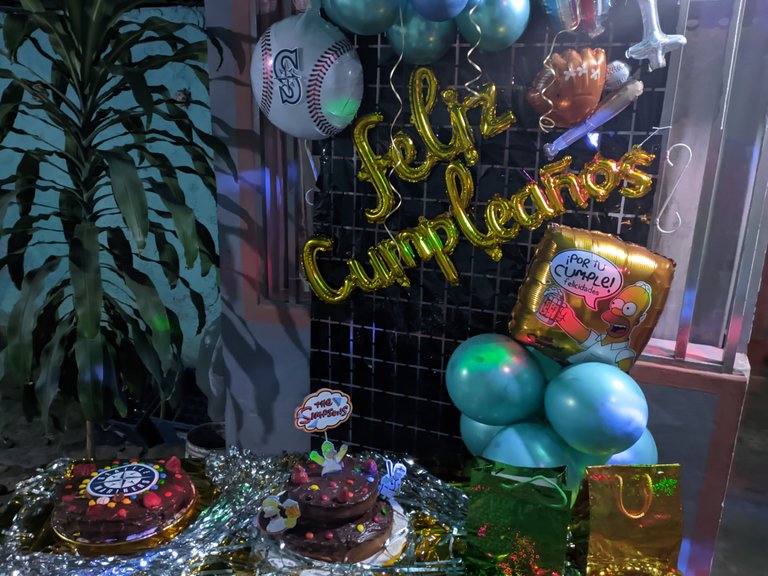 Decoracion completa de la fiesta de cumpleaños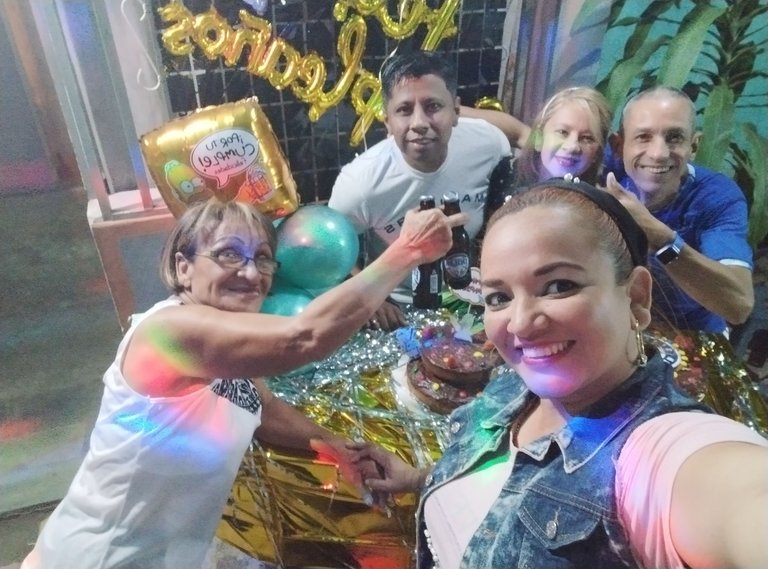 Familia divino tesoro
Una hermosa decoración creada por las manos maravillosas de mi esposa y mi hermana, en donde resalta el tema del béisbol y de un personaje infiltrado, como lo es Homero Simpson, realmente llamativo y alegre, antes de la media noche se procedió a cantar el cumpleaños feliz, en una sola voz mis amigos y familiares comenzaron a cantar y luego una lluvia de buenos deseos, besos y abrazos llegaron a mí de parte de ellos, fue un momento en donde llegaron los recuerdos de esas personas que lamentablemente ya no están en este plano con nosotros, pero en general fue un día completamente especial y llego de alegría, como tenía bastante tiempo sin vivirlo, no me puedo quejar solo agradecer a cada una de las personas que participaron en esta celebración, y esperemos que llegue el momento para una nueva festividad, y a ustedes los miembros de esta comunidad espero les guste mi historia de cumpleaños y mi primera publicación, nos leeremos en otra ocasión.
A beautiful decoration created by the wonderful hands of my wife and my sister, which highlights the theme of baseball and a character infiltrated, as is Homer Simpson, really striking and cheerful, before midnight we proceeded to sing happy birthday, in one voice my friends and family began to sing and then a shower of good wishes, kisses and hugs came to me from them, it was a moment where memories of those people who unfortunately are no longer in this plane with us, but in general it was a completely special day and came with joy, as I had a long time without living it, I can not complain just thank each of the people who participated in this celebration, and hopefully the time will come for a new holiday, and to you the members of this community I hope you like my birthday story and my first publication, we will read another time


---
---