[ESP/ENG] Rutina para la espalda con movimientos efectivos/Back routine with effective movements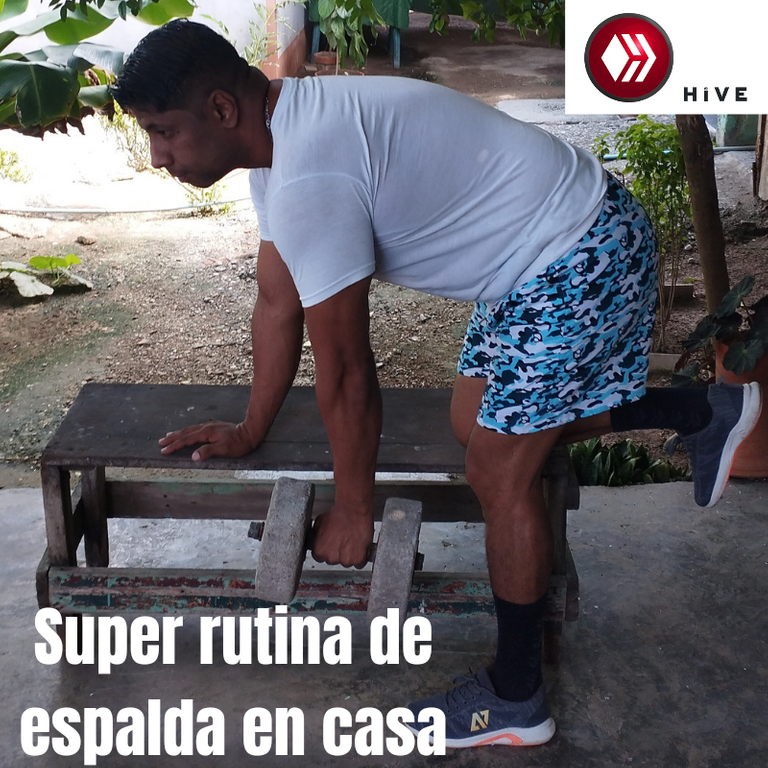 Luego de superar una seria lesión en mi rodilla izquierda, lo cual me alejo de los entrenamientos por más de dos meses, si lo pudieron notar durante todo ese tiempo no publique ningún tipo de rutinas, aunque no estoy al 100%, he comenzado a traer varias rutinas, sobre todo para el tren superior, hasta no estar recuperado por completo, no les podré explicar ejercicios que involucren las piernas, y para ser más específicos, las rodillas, pero ya les estoy armando unas rutinas explosivas para el tren inferior, el día de hoy les traigo una publicación en donde hago énfasis en el trabajo de la espalda, tanto baja, alta y los dorsales, son ejercicios que verdaderamente estan bastante sencillos de realizar, ya que son hechos en casa, como casi todas las rutinas que les he dejado por acá en los últimos meses, espero que les guste y disfruten lo que a continuación lo que explicaré.
After overcoming a serious injury in my left knee, which kept me away from training for more than two months, if you could notice during all that time I did not publish any type of routines, although I am not 100%, I have begun to bring several routines, especially for the upper body, until I am not fully recovered, I can not explain exercises that involve the legs, and to be more specific, the knees, but I'm already putting together some explosive routines for the lower body, today I bring you a publication where I emphasize the work of the back, both low, high and dorsal, are exercises that are really quite simple to perform, as they are done at home, like almost all the routines I've left here in recent months, I hope you like and enjoy what I will explain below. 

Remo con barra en plena ejecución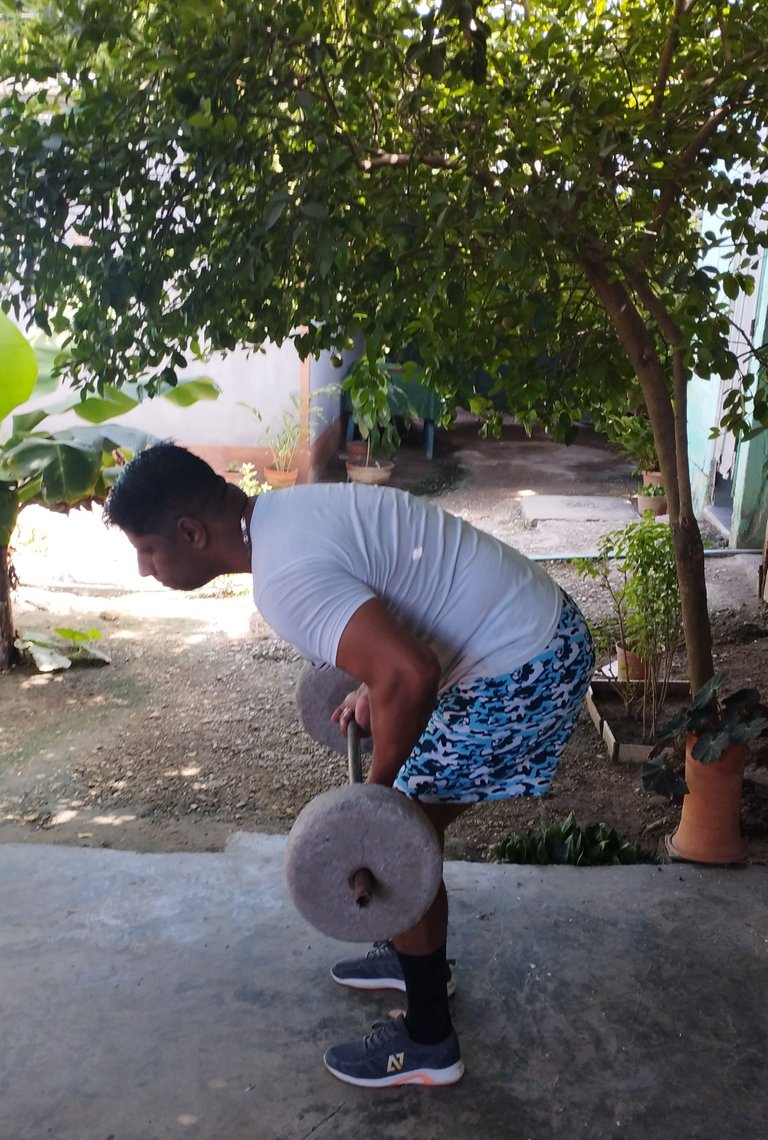 Remo con barra con visión de lado
Remo con barra es nuestro primer ejercicio que vamos a realizar, pero antes de todo, debemos hacer un estiramiento general y un calentamiento muscular, que nos deje a tono para poder hacer de la mejor manera esta rutina, una vestimenta fresca y adecuada para entrenar, y claro esta, el agua que no puede faltar en cada uno de las rutinas que hagamos, todo esto con el fin de mantenernos hidratados y de tener el mejor rendimiento posible.
Al comenzar con el remo, debemos cuidar la postura, todo esto con el fin de evitar lesiones en la zona lumbar, como podrán observar en las fotografías, el movimiento en continuo, mi recomendación es, que cuando vayan a incrementar el peso, usen de manera obligatoria el cinturón, son 4 series de 12 repeticiones respectivamente, el descanso recomendado es de máximo un minuto si el peso es mucho mayor, si estamos trabajando liviano, lo ideal sería unos 50 segundos de recuperación, entre series.

Rowing with barbell is our first exercise that we are going to perform, but first of all, we must do a general stretching and muscle warm-up, which leaves us in tone to do the best way this routine, a fresh and appropriate clothing to train, and of course, the water that can not miss in each of the routines that we do, all this in order to keep us hydrated and have the best possible performance.

When starting with the rowing, we must take care of the posture, all this in order to avoid injuries in the lower back, as you can see in the pictures, the movement is continuous, my recommendation is that when you are going to increase the weight, use a mandatory belt, are 4 sets of 12 repetitions respectively, the recommended rest is a minute maximum if the weight is much higher, if we are working light, the ideal would be about 50 seconds of recovery, between sets.

Remo con barra y agarre centrado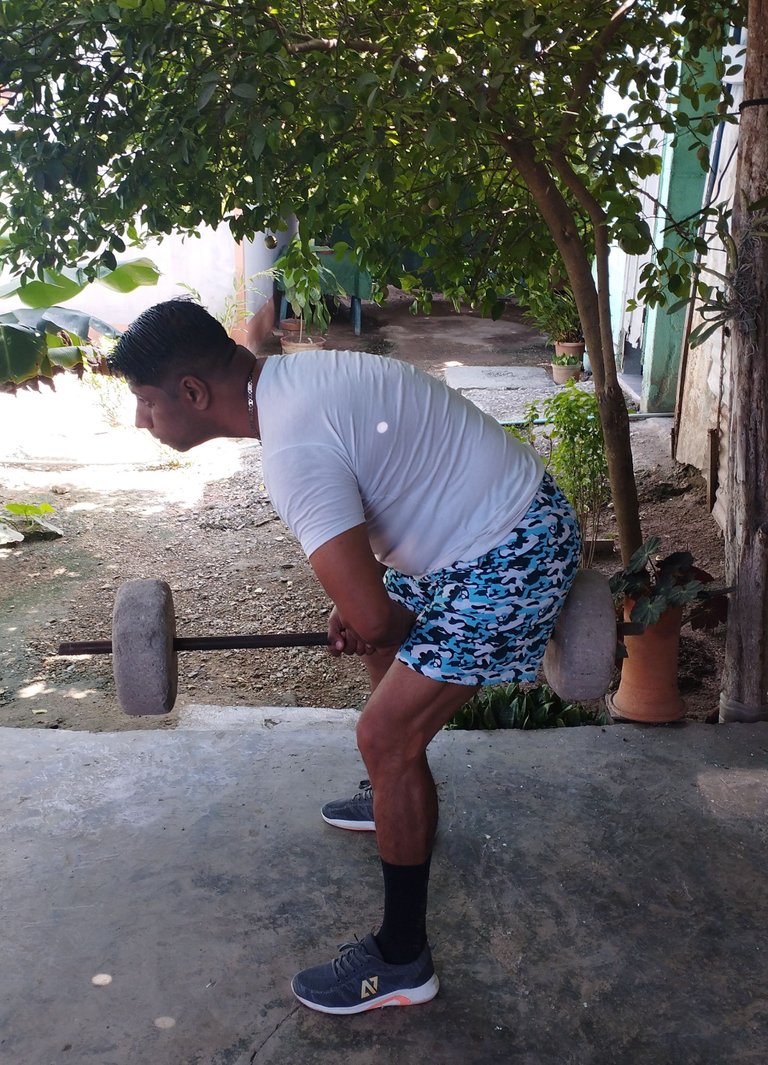 Nuestro segundo movimiento, es el llamado remo con agarre centrado, aquí haremos los movimientos muy parecidos a los del ejercicio anterior, con la salvedad del agarre de la barra, es un ejercicio que se debe hacer de manera adecuada y cuidando la postura de la columna, al igual que hicimos anteriormente, este remo en particular, es genial para el trabajo de los dorsales, ellos son los que hacen que nuestra espalda se vea amplia y con esa forma tan particular, son 5 series de 10 repeticiones lo que haremos a lo largo de este ejercicio número 2, descansos de 55 segundos para tomar agua y recargar energías.

Our second movement is the so-called rowing with centered grip, here we will do the movements very similar to those of the previous exercise, with the exception of the grip of the bar, is an exercise that should be done properly and taking care of the posture of the spine, as we did before, this particular rowing is great for the work of the back, they are what make our back look wide and with that particular shape, are 5 sets of 10 repetitions what we will do throughout this exercise number 2, 55 second breaks to drink water and recharge energy.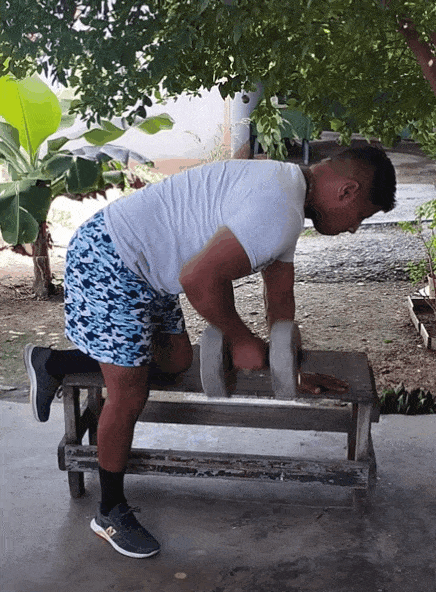 Remo con mancuernas, apoyado en un banco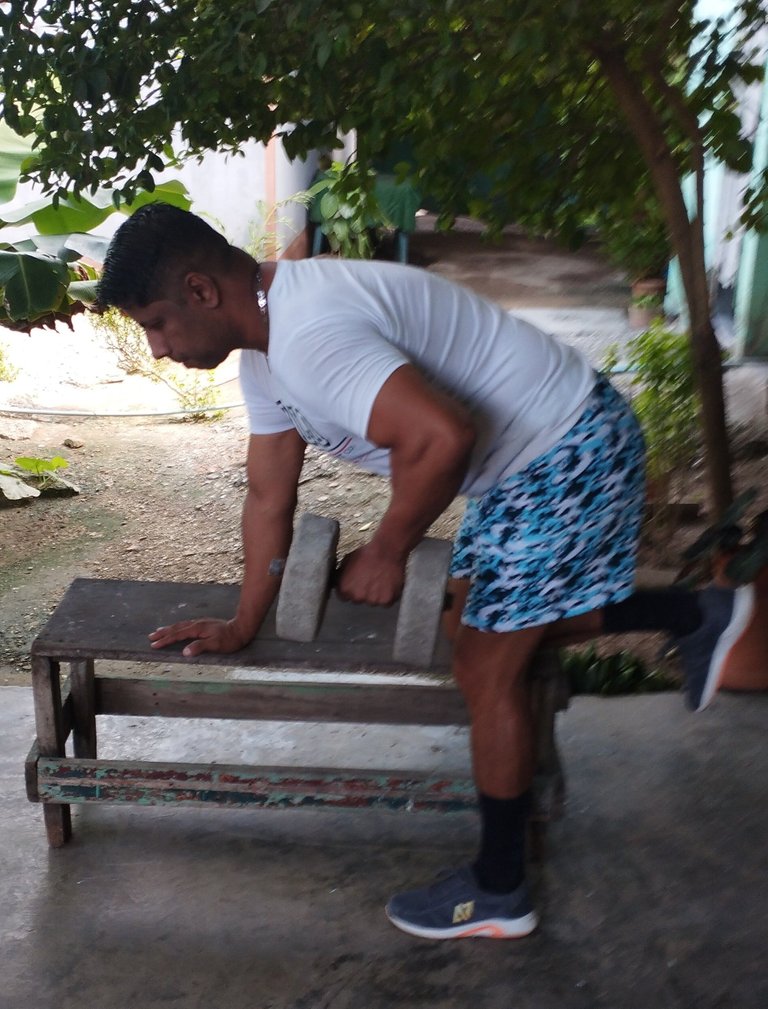 Fotografia de la ejecucion del remo con mancuernas
Hemos llegado a la mitad de la rutina, o mejor dicho, ya superamos la mitad de la rutina, ahora vamos a realizar el ejercicio tres, este es el conocido como remo con mancuernas, este es otro ejercicio efectivo para estimular y desarrollar los dorsales, la técnica es subir la mancuerna con concentración y apretar arriba, mientras que al bajar se debe sacar el dorsal y así crear tensión en dicho músculo, como se trabaja cada dorsal de manera individual, las series son 3, pero las repeticiones son 15, logrando de esta manera un bombeo mayor para esta zona de la espalda, el descanso luego de trabajar ambos lados es de 45 segundos.
We have reached the middle of the routine, or rather, we have already exceeded half of the routine, now we will perform exercise three, this is known as rowing with dumbbells, this is another effective exercise to stimulate and develop the dorsal muscles, the technique is to raise the dumbbell with concentration and press up, The technique is to raise the dumbbell with concentration and press up, while lowering the dorsal should be removed and thus create tension in the muscle, as each dorsal is worked individually, the series are 3, but the repetitions are 15, thus achieving a greater pumping for this area of the back, the rest after working both sides is 45 seconds.

Trabajo de espalda alta en banco inclinado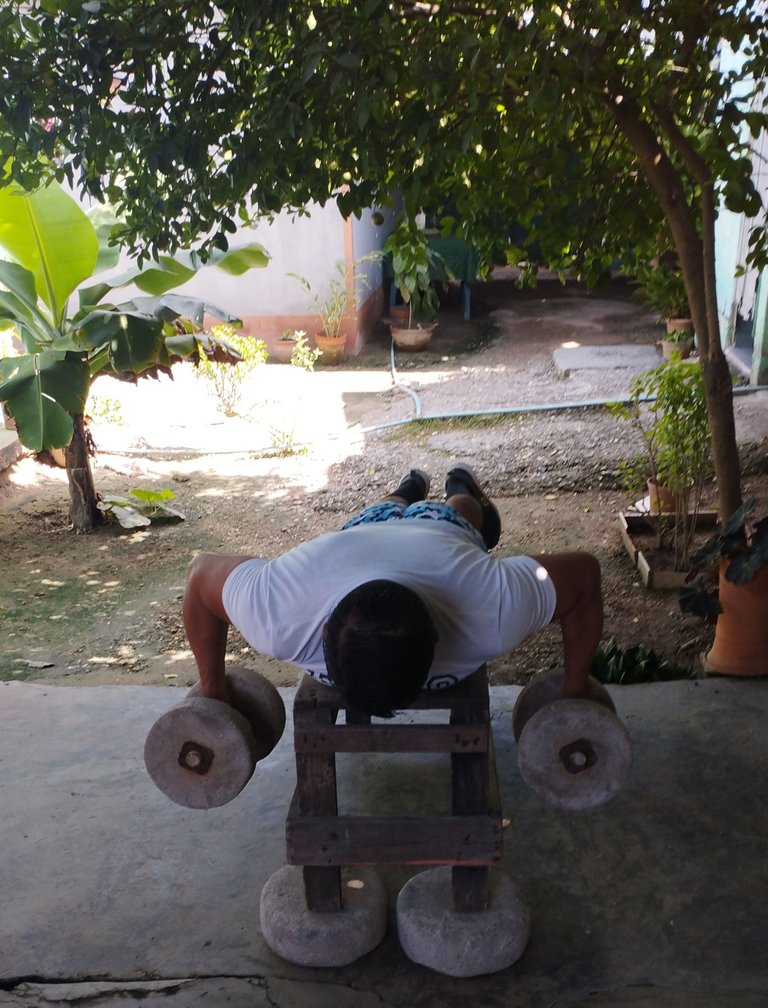 Fotografia del trabajo en el banco para la espalda alta
Llegamos al final de esta buena rutina, aquí vamos a trabajar la espalda alta y parte de los trapecios, con ayuda de un banco, buscamos la manera de inclinar el mismo, para poder hacer el ejercicio de la manera adecuada y que sea la zona que deseamos la que reciba el impacto del ejercicio, esta parte de la espalda poco se trabaja y por tal motivo les quise enseñar uno de los ejercicios que realmente funcionan para lograr su desarrollo, para el trabajo en este último ciclo de la rutina, vamos a hacer 4 series de 12 repeticiones respectivamente, con descansos de 1 minuto y de esta forma culminar de manera triunfante este trabajo de espalda, deseo que la puedan realizar y que ustedes mismos comprueben su efectividad, nos vemos en una próxima rutina.
We arrived at the end of this good routine, here we are going to work the upper back and part of the trapezius, with the help of a bench, we look for the way to tilt it, to be able to do the exercise in the right way and that is the area that we want to receive the impact of the exercise, this part of the back is little worked and for that reason I wanted to teach you one of the exercises that really work to achieve its development, for the work in this last cycle of the routine, we will do 4 sets of 12 repetitions respectively, with breaks of 1 minute and thus culminate in a triumphant way this back work, I hope you can perform it and that you yourselves check their effectiveness, see you in a future routine.


---
---