[ESP/ENG] Eugenio llevando a sus marineros a puerto seguro./Eugenio leading his sailors to safe harbor.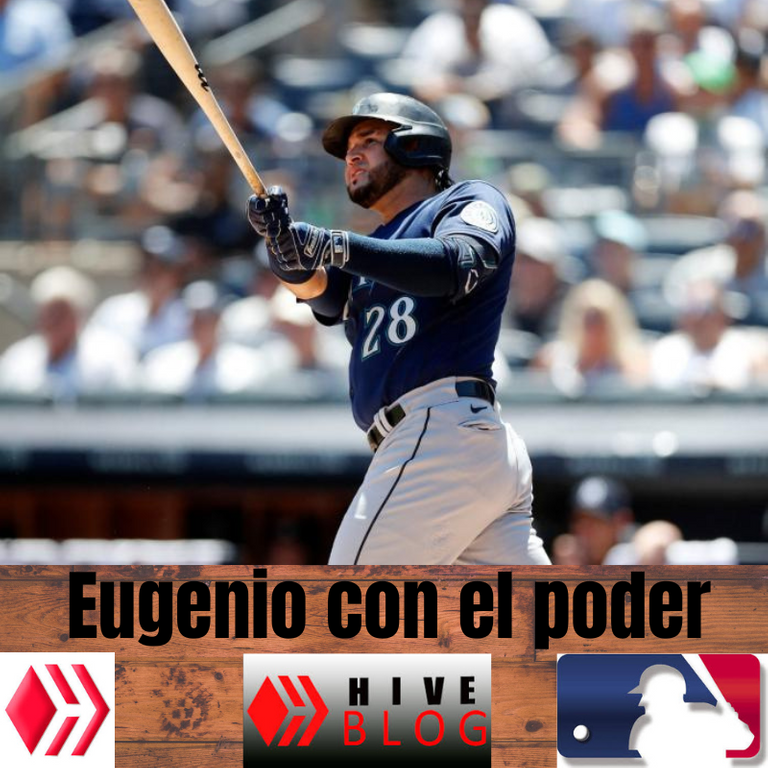 Fuente de la foto de la portada de esta publicación


La gran carpa vive su etapa culminante, y más emocionante, ya que se definen los 6 clasificados por cada liga, uno de los equipos involucrados en la lucha por un puesto a post-temporada, son los Marineros de Seattle, que están muy cerca de conquistar el boleto a el play-off.
Afortunadamente, para este equipo, pueden contar con un binomio realmente temible, y les hablo del Dominicano y principal candidato a obtener el premio novato del año de la liga Americana, se trata de Julio Rodríguez y del Venezolano Eugenio Suárez, este duo ha sido vital durante toda la temporada y los Padres de San Diego no escaparon de este letal par de jugadores, y el día miércoles cayeron ante los Marineros con marcador de 6 por 1, siendo esta la victoria número 80 de los navales.
El joven Dominicano y el fuerte artillero, Suarez, quien en Venezuela es ficha de los Leones del Caracas, dieron sendos cuadrangulares y de esta manera aportaron 3 carreras en un inig muy positivo para Seattle. Para Eugenio el Jonrón fue el 31 de la temporada, igualando de esta manera la cantidad de batazos de vuelta completa de la temporada pasada, lo que indica que en la actual zafra sus números mejoraran de manera significativa.
The big top is living its culminating and most exciting stage, as the 6 qualifiers for each league are defined, one of the teams involved in the fight for a post-season berth are the Seattle Mariners, who are very close to clinch the ticket to the playoffs.

Fortunately, for this team, they can count on a really fearsome pairing, and I am talking about the Dominican and main candidate for the American League Rookie of the Year award, Julio Rodriguez and Venezuelan Eugenio Suarez, this duo has been vital throughout the season and the San Diego Padres did not escape from this lethal pair of players, and on Wednesday they fell to the Mariners with a score of 6 - 1, this being the 80th victory of the Navy.

The young Dominican and the strong gunner, Suarez, who in Venezuela is a member of the Leones del Caracas, both hit homers and in this way contributed 3 runs in a very positive inning for Seattle. Eugenio's home run was his 31st of the season, equaling last season's number of round-trippers, which indicates that in the current season his numbers will improve significantly.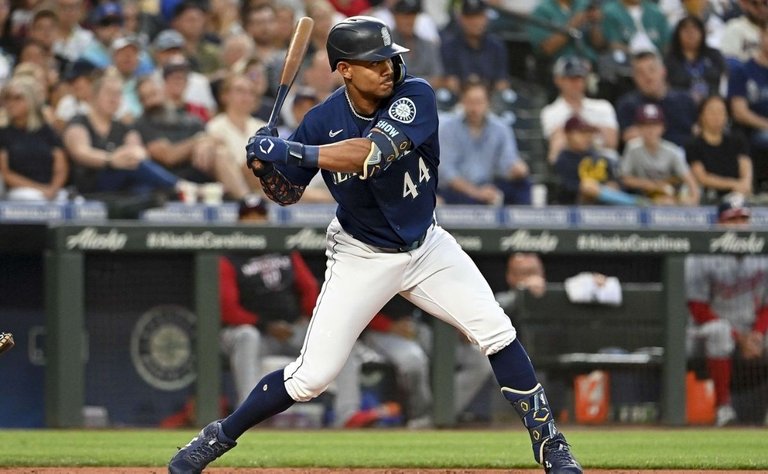 Fuente, Julio Rodriguez
Con el jonrón del miércoles, Eugenio se coloca como líder indiscutible entre los peloteros Nacidos en Venezuela en la temporada en curso, su más cercano rival es Antonhy Santander que acumula 27 estacazos de vuelta completa, lo del Guayanés desde el primero de agosto es impresionante, tiene en apenas mes y una semana, casi la mitad de la cifra que cuadrangulares que acumulo durante los primeros 4 meses de campaña, desde esa fecha lleva 15 de los 31 que totaliza.
El slugger es pieza vital de los Marineros, y el mismo pelotero ha dicho que con miras de su participación en la selección que representara a Venezuela en el Clásico Mundial de Béisbol, (CMB), tiene como objetivo jugar en la liga de invierno, es decir la LVBP, con su equipo, los Leones del Caracas, si todo sucede a lo planeado, lo más seguro es que su debut sea a mediados del mes de diciembre, eso le agregaría mayor atractivo a la liga local, que pinta muy bien, porque muchos peloteros grandes ligas han dejado saber su deseo de participar en el venidero campeonato.
With Wednesday's home run, Eugenio becomes the undisputed leader among Venezuelan-born players in the current season, his closest rival is Antonhy Santander who accumulates 27 complete round-trippers, the Guayana-born player since August 1st is impressive, he has in just a month and a week, almost half the number of home runs he accumulated during the first 4 months of the campaign, since that date he has 15 of the 31 that he totals.

The slugger is a vital piece of the Mariners, and the same player has said that with a view to his participation in the team that will represent Venezuela in the World Baseball Classic (WBC), his goal is to play in the winter league, that is to say the LVBP, with his team, If everything goes according to plan, it is most likely that his debut will be in mid-December, which would add more attraction to the local league, which looks very good, because many major league players have made known their desire to participate in the upcoming championship.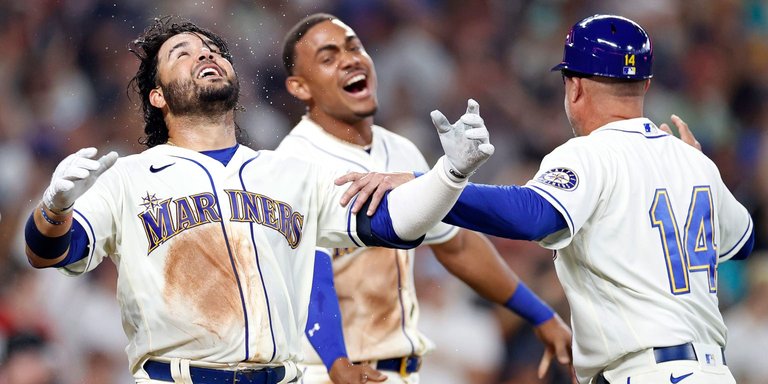 fuente
Por su parte el otro miembro de este duo explosivo, Julio Rodríguez, acumula números que prácticamente le están asegurando el premio al novato del año, hasta la fecha el recio toletero tiene,477 turnos legales, con 78 carreras anotadas, a eso le tenemos que sumar 136 imparables, 26 jonrones, 72 impulsadas y 25 bases robadas, y tiene en la mira entrar al club de 30/30, lo que es lo mismo 30 cuadrangulares y 30 bases robadas, tiene un promedio de 280 y un Ops de 851, esta estadística conjuntamente con la de Su compañero de equipo los convierte en uno de binomios ofensivos más temidos de las grandes ligas.
Ni los más optimistas esperaban que estos peloteros tuviesen una temporada con el nivel que están teniendo, primero Rodríguez está jugando apenas su primera temporada y Suárez llego hace menos de un año, por la vía del cambio desde los Rojos de Cincinnati, pero la realidad es que están con él time perfecto en su bateo, si llegan así a las series por los comodines, tienen toda la posibilidad de avanzar, es que si comparamos al posible campeón de la división central, es muy probable que Seattle se imponga ante los Guardianes.
Meanwhile the other member of this explosive duo, Julio Rodriguez, accumulates numbers that are practically assuring him the rookie of the year award, to date the hard-hitting slugger has 477 legal turns, with 78 runs scored, to that we have to add 136 hits, 26 home runs, 72 runs batted in and 25 stolen bases, 72 RBIs and 25 stolen bases, and he has his sights set on entering the 30/30 club, which is the same as 30 homers and 30 stolen bases, he has an average of 280 and an OPS of 851, this statistic together with that of his teammate makes them one of the most feared offensive duos in the big leagues.

Not even the most optimistic expected that these players would have a season with the level they are having, first Rodriguez is playing just his first season and Suarez arrived less than a year ago, by way of change from the Cincinnati Reds, but the reality is that they are with him perfect time in his batting, if they reach the series for the wild cards, they have every chance to advance, is that if we compare the possible champion of the central division, it is very likely that Seattle will prevail against the Guardians. 


---
---