[ESP / ENG] Rutina de piernas que estimula el trabajo cardio-vascular./ Leg workout that stimulates
---


Saludos cordiales a todos los usuarios de esta plataforma, quien les saludo su amigo Alexander Pérez, les da la bienvenida a un nuevo contacto con el satélite deportivo, es un espacio creado por esté servidor para ustedes que como yo son amantes del deporte en general, el día de hoy les traigo una muy buena rutina que combina actividad cardio-vascular y trabajo muscular, esta rutina está compuesta por 4 ejercicios para el trabajo muscular de las piernas y el llamado paracaídas sería el quinto que le daría un trabajo adicional a las piernas y estimularía el sistema cardio-vascular y circulatorio, los ejercicios a trabajar serian los siguientes, primero con sentadillas, luego sentadilla Búlgara, como tercer ejercicio tocarían las tijeras y el cuarto sentadillas para trabajar los aductores, para luego finalizar con el ejercicio llamado paracaídas para generar un alto impacto en las piernas y de esta manera finalizar esta rutina.

Warm greetings to all users of this platform, who greets you his friend Alexander Perez, welcomes you to a new contact with the sports satellite, is a space created by this server for you who like me are lovers of sport in general, today I bring you a very good routine that combines cardio-vascular activity and muscle work, this routine is composed of 4 exercises for the muscular work of the legs and the so-called parachute would be the fifth one that would give an additional work to the legs and would stimulate the cardio-vascular and circulatory system, the exercises to work would be the following, first with squats, then Bulgarian squat, as third exercise would play the scissors and the fourth squats to work the adductors, and then finish with the exercise called parachute to generate a high impact on the legs and thus end this routine.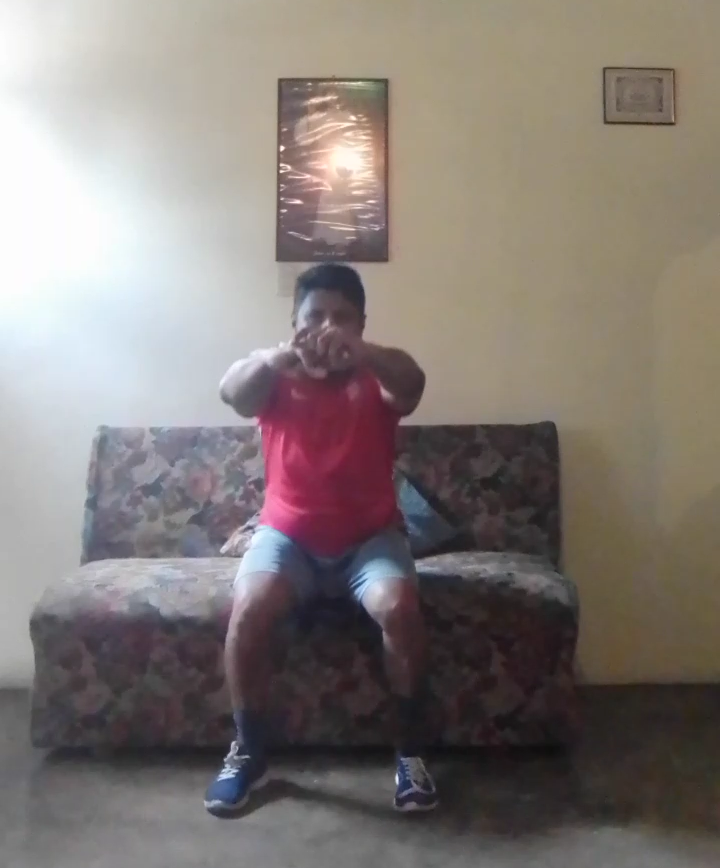 Sentadillas con ayuda del sofa
El primer ejercicio son sentadillas, para dicho ejercicio nos valemos del sofá, esto va dirigido sobre todo a quienes están comenzando y en sillón le puede servir como soporte, aquí haríamos 4 series de 10 repeticiones con descansos que no sean mayores a 50 segundos entre series.

The first exercise is squats, for this exercise we use the couch, this is aimed especially at those who are starting and the couch can serve as a support, here we would do 4 sets of 10 repetitions with breaks that are no more than 50 seconds between sets.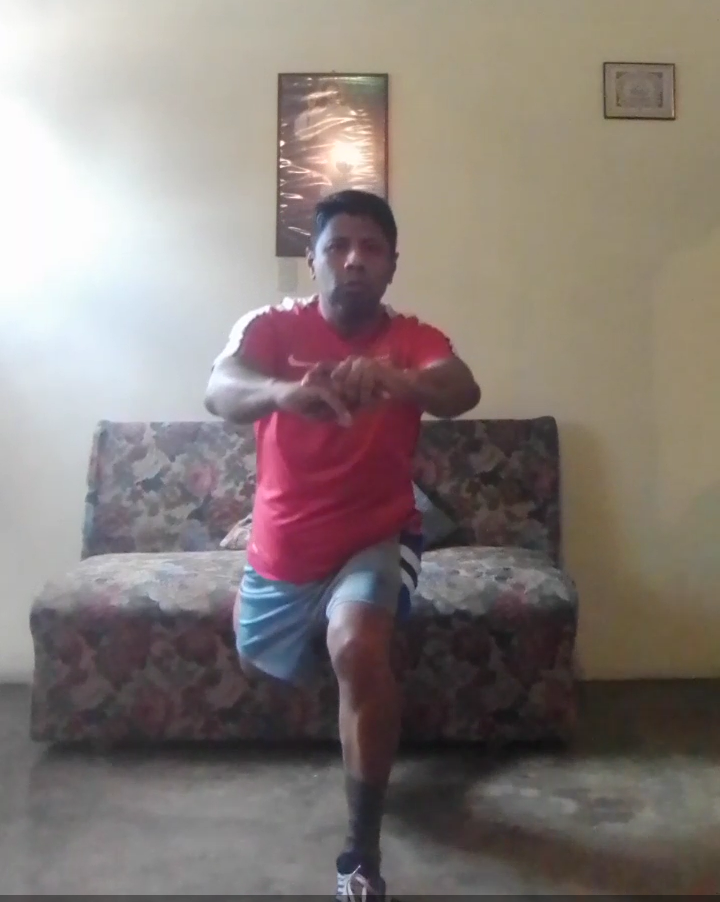 Sentadilla Bulgara
El segundo ejercicios es la llamada sentadilla Bulgara que es con un pie en el sofa y el otro de manera de apoyo para poder realizar de la mejor manera los movimientos, las serias de igual manera que el ejercicio anterior es de 4 series y de 10 repeticiones respectivamente, y el descanso es el mismo que el de las sentadillas.
The second exercise is the so-called Bulgarian squat which is with one foot on the couch and the other as a support to perform the movements in the best way, the series in the same way as the previous exercise is 4 sets and 10 repetitions respectively, and the rest is the same as that of the squats.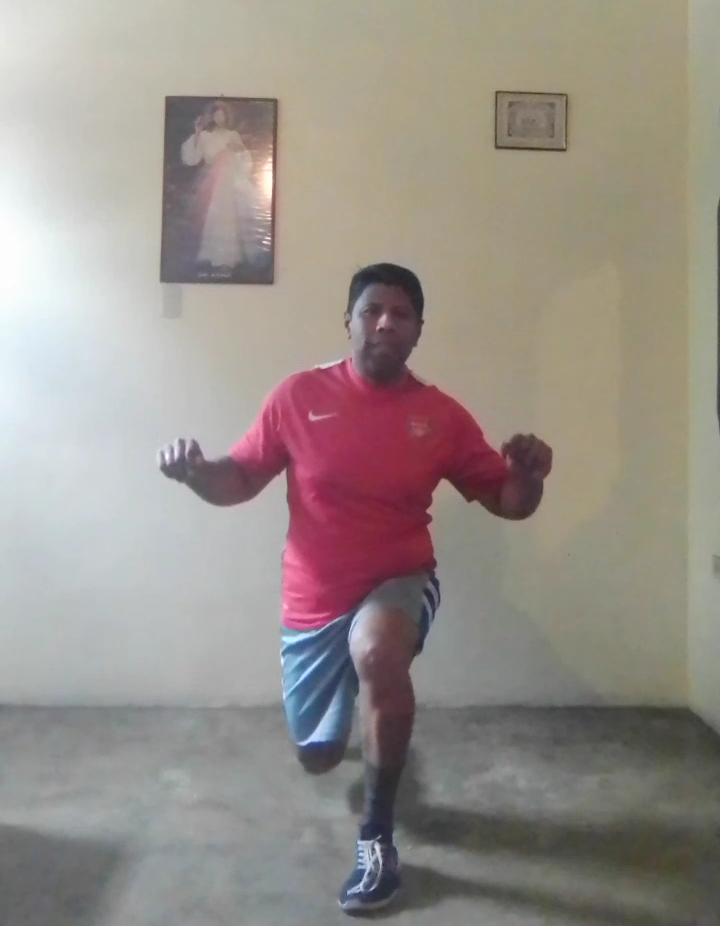 Tijeras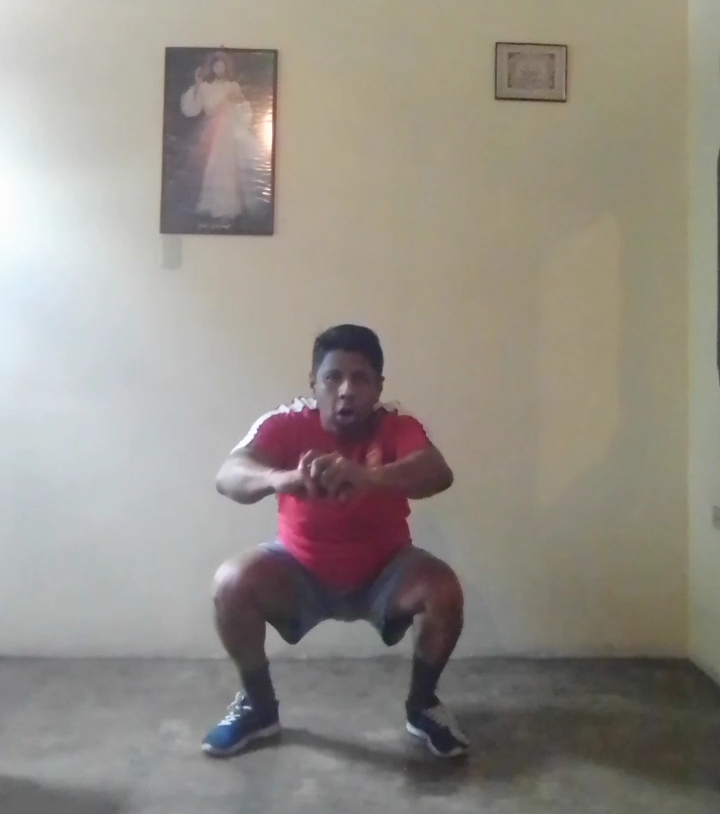 Sentadillas con angulo abierto para los aductores
El tercer ejercicio a realizar es el de tijeras que sirven para casi todos los grupos musculares de las piernas y los glúteos, aquí 4 series de 12 repeticiones son más que suficientes para lograr un buen trabajo que nos daría como resultados una grandiosa estimulación muscular y con ellos la hipertrofia que tanto buscamos, el descanso aquí pueden ser de un minuto, ya que venimos con muchísimo cansancio de los dos primeros ejercicios. El cuarto ejercicio sería el de las sentadillas con ángulo abierto con el fin de trabajar los aductores que son muy importantes para darle bonita forma y buen tamaño a las piernas, no terminamos ente ejercicios hasta que no hagamos las 4 series y las 10 repeticiones, el descanso que aquí vamos a aplicar va a ser el mismo que en el de las tijeras, con esto le damos paso al 5 ejercicio que es el paracaídas que nos ayudaría con el sistema circulatorio y cardio-vascular, repetimos igual que en los demás ejercicios 4 veces 10 movimientos para así finalizar de la mejor manera esta exigente rutina, antes de despedirme quiero mencionar que las fotos y vídeos fuero tomado desde mi celular, un Blu g6 y editadas en canva.com y en inshot, nos vemos en un próximo contacto con el satélite deportivo

The third exercise to perform is the scissors exercise that serves for almost all muscle groups of the legs and buttocks, here 4 sets of 12 repetitions are more than enough to achieve a good job that would give us as results a great muscle stimulation and with them the hypertrophy that we are looking for, the rest here can be one minute, as we come with a lot of fatigue from the first two exercises. The fourth exercise would be the squats with open angle in order to work the adductors that are very important to give nice shape and good size to the legs, we do not finish this exercise until we do the 4 sets and 10 repetitions, the rest that we will apply here will be the same as in the scissors, with this we give way to the 5th exercise which is the parachute that would help us with the circulatory and cardio-vascular system, we repeat the same as in the other exercises 4 times 10 movements in order to finish in the best way this demanding routine, before saying goodbye I want to mention that the photos and videos were taken from my cell phone, a Blu g6 and edited in canva. com and inshot, see you in a next contact with the sports satellite.


---
▶️ 3Speak
---
---