Rendevous mit einem Engel / Rendezvous with an angel

Hallo Freunde des Bieres,
am Wochenende habe ich mal wieder eine neue Biersorte probiert und dabei natürlich gleich an den #beersaturday von @detlev gedacht :)
Dies ist somit auch meine Teilnahme am Beersaturday Round 274.
Verkostet habe ich ein helles Engel Bier aus der gleichnamigen Engel Brauerei aus Crailsheim in der Region Hohenlohe-Franken.
Was die Flasche schon beim ersten Blick von anderen unterscheidet, ist der Schraubverschluss. Den sieht man bisher eher selten an Bierflaschen. An Weinflaschen hingegen hat er sich ja zum Teil schon durchgesetzt.
Bei Bierfaschen sieht man ihn meistens eher bei den billig-Biersorten an Plastikflaschen in den Discountern.
Daher finde ich es recht mutig von der Brauerei diese Art Verschluss zu wählen.
Hello friends of the beer,
this weekend I tried a new type of beer and of course I immediately thought of @detlev's #bbersaturday :)
So this is my participation in the Beersaturday Round 274.
I tasted a pale Engel beer from the Engel Brewery of the same name in Crailsheim in the Hohenlohe-Franconia region.
What distinguishes the bottle from others at first glance is the screw cap. Up to now, this has rarely been seen on beer bottles. On wine bottles, on the other hand, it has already become established to some extent.
With beer bottles one sees it mostly rather with the cheap beer sorts at plastic bottles in the Discountern.
That's why I think it's quite brave of the brewery to choose this type of closure.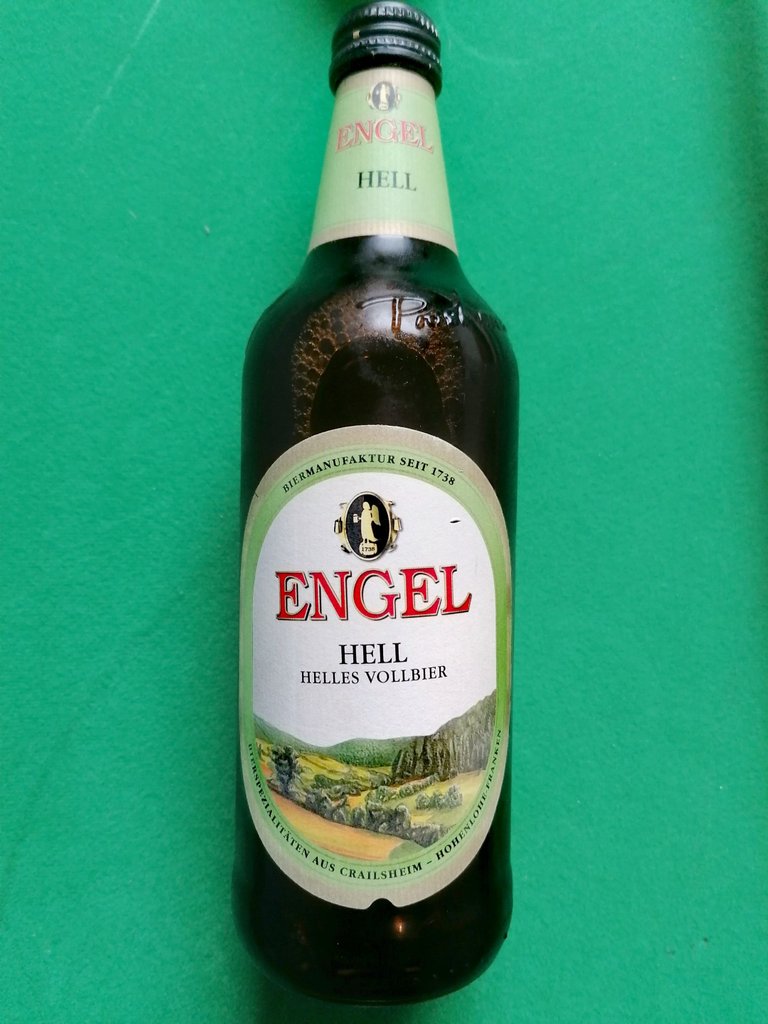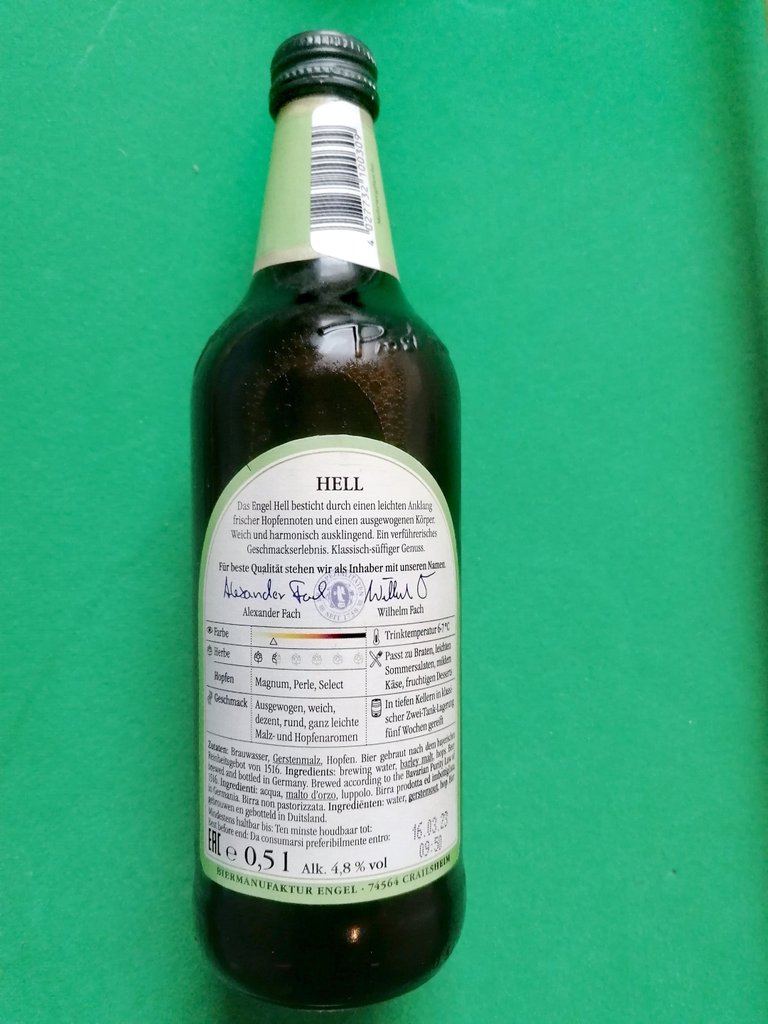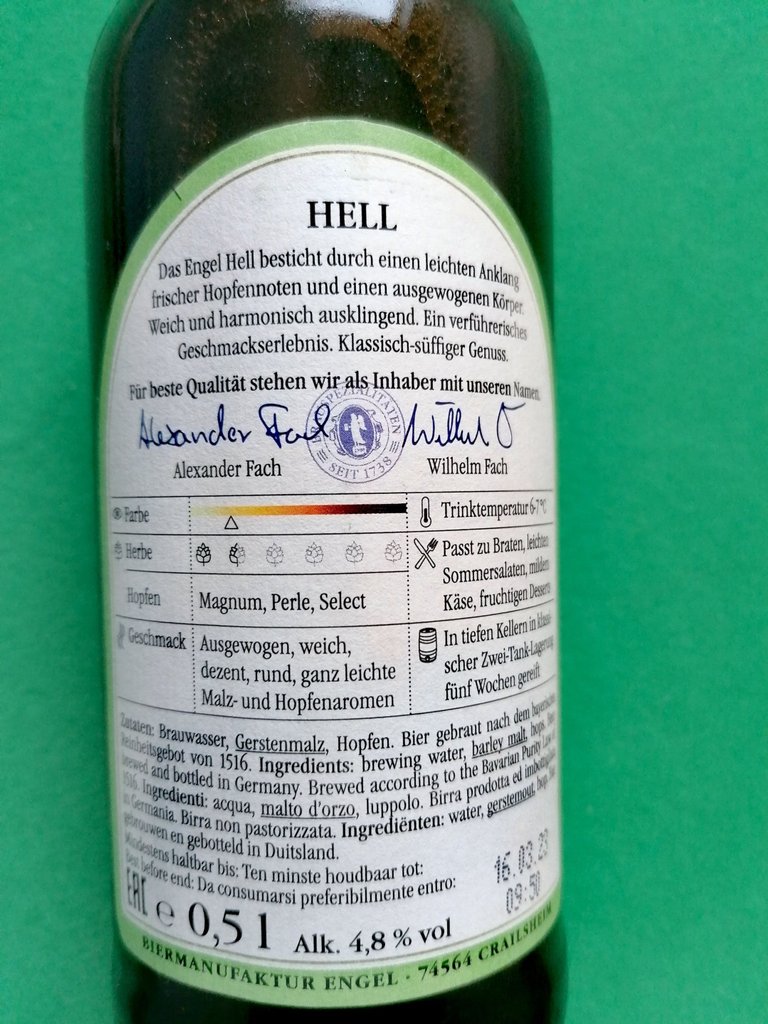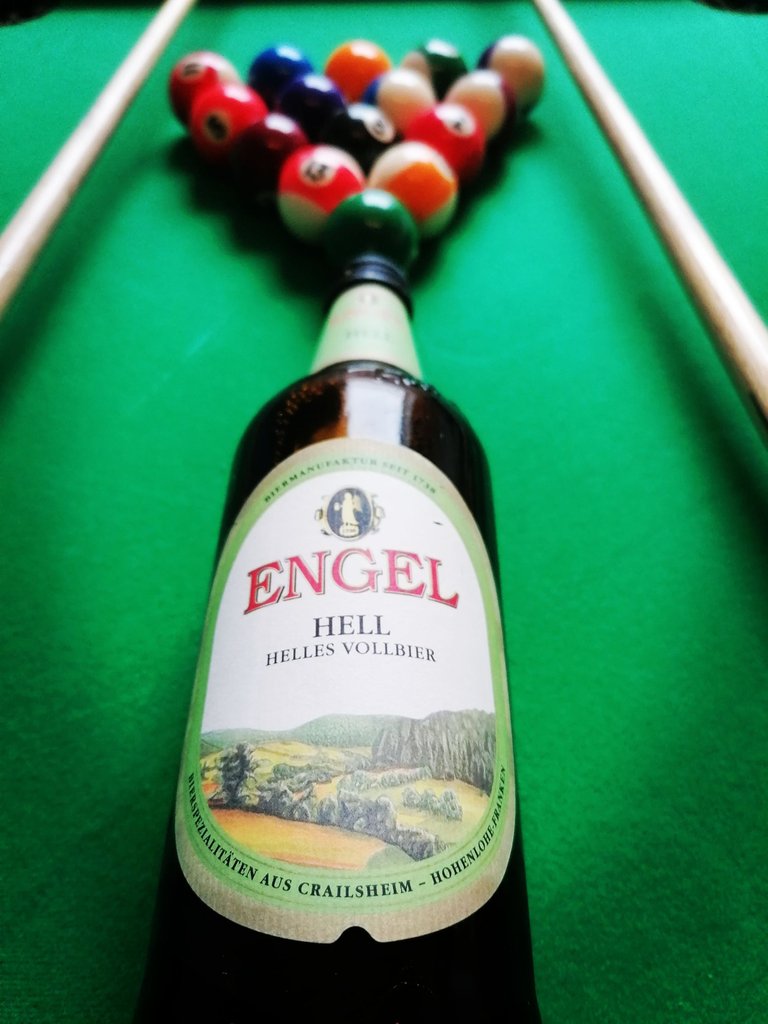 ---
Das Etikett zeigt eine malerische Landschaft (wahrscheinlich die Herkunftsregion des Bieres) und sieht mit den dezenten hellgrün Tönen irgendwie heimelig und gemütlich aus. Deswegen habe ich es wohl ausgesucht :) Den Namen Engel fand ich auch ganz schön, obwohl er im ersten Moment nicht unbedingt zu einem Bier passt.
The label shows a picturesque landscape (probably the region of origin of the beer) and looks with the subtle light green tones somehow homey and cozy. That's probably why I chose it :) The name Angel I also found quite nice, although it does not necessarily fit a beer.
---
Nun zu meiner Verköstigung: / Now about my tasting:
Ein besonderes Bier trinke ich auch gerne mal aus einem Weinglas. Dieses ist ja von der Form her auch kein großer Unterschied zu einer Biertulpe, abgesehen von dem filigraneren Stiel. Aber aus Ermangelung einer Biertulpe also heute das Weinglas :)
I also like to drink a special beer from a wine glass. This is also from the form of no great difference to a beer tulip, except for the more delicate stem. But for lack of a beer tulip so today the wine glass :)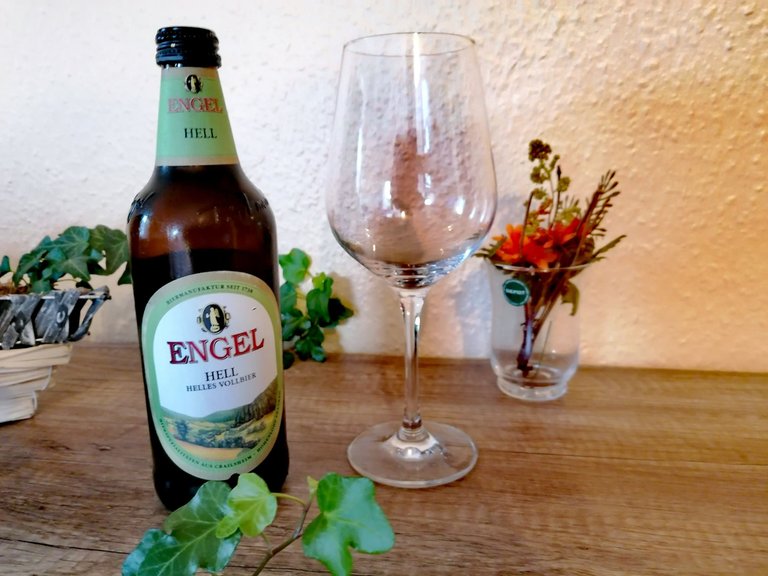 ---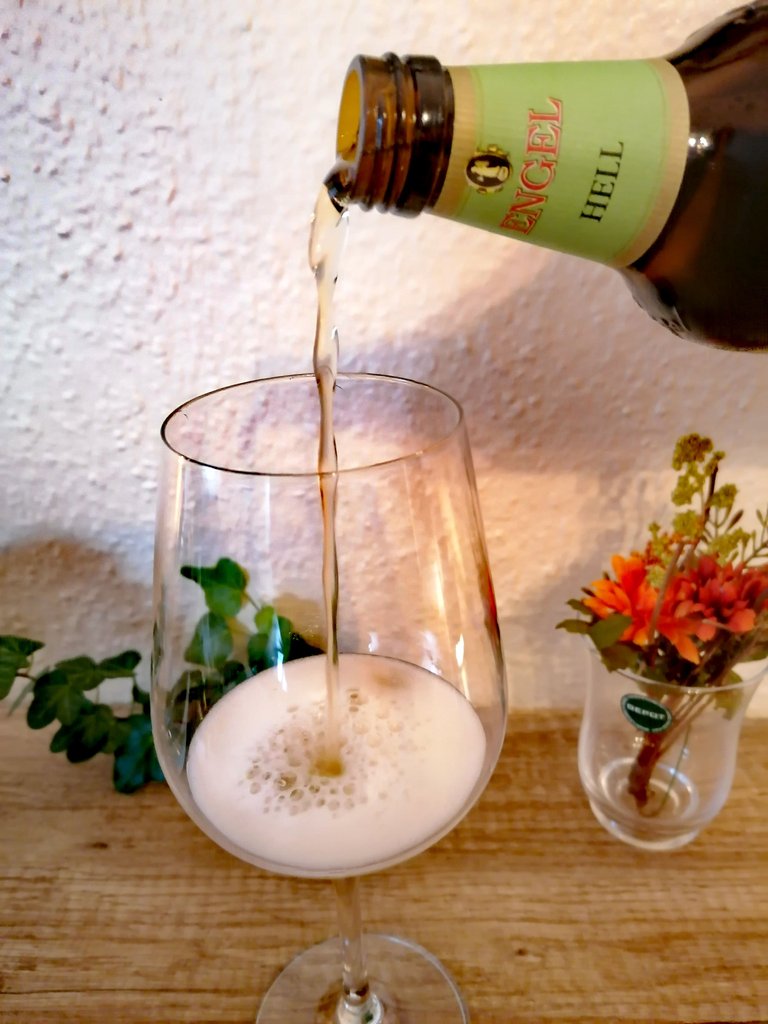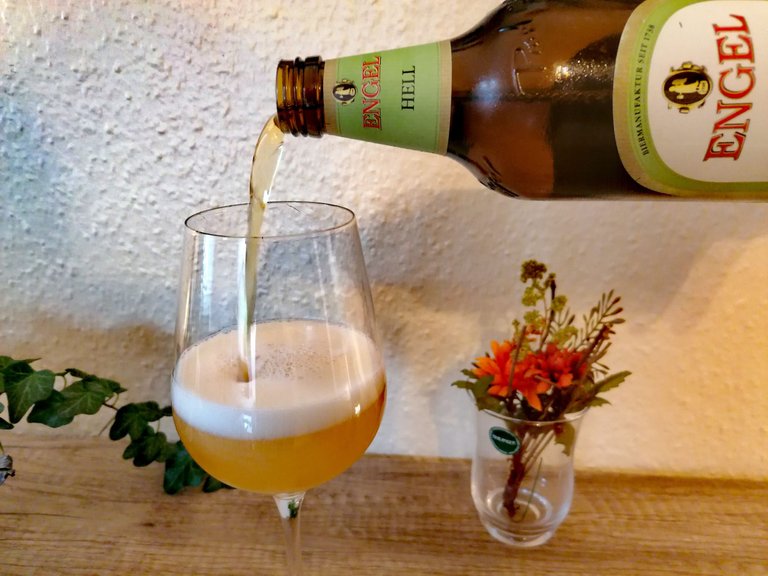 ---
Die Farbe des Engels ist wirklich schön hell golden, wobei der Bezug zum Namen ja direkt wieder hergestellt ist ;)
The color of the angel is really nice bright golden, whereby the reference to the name is directly restored ;)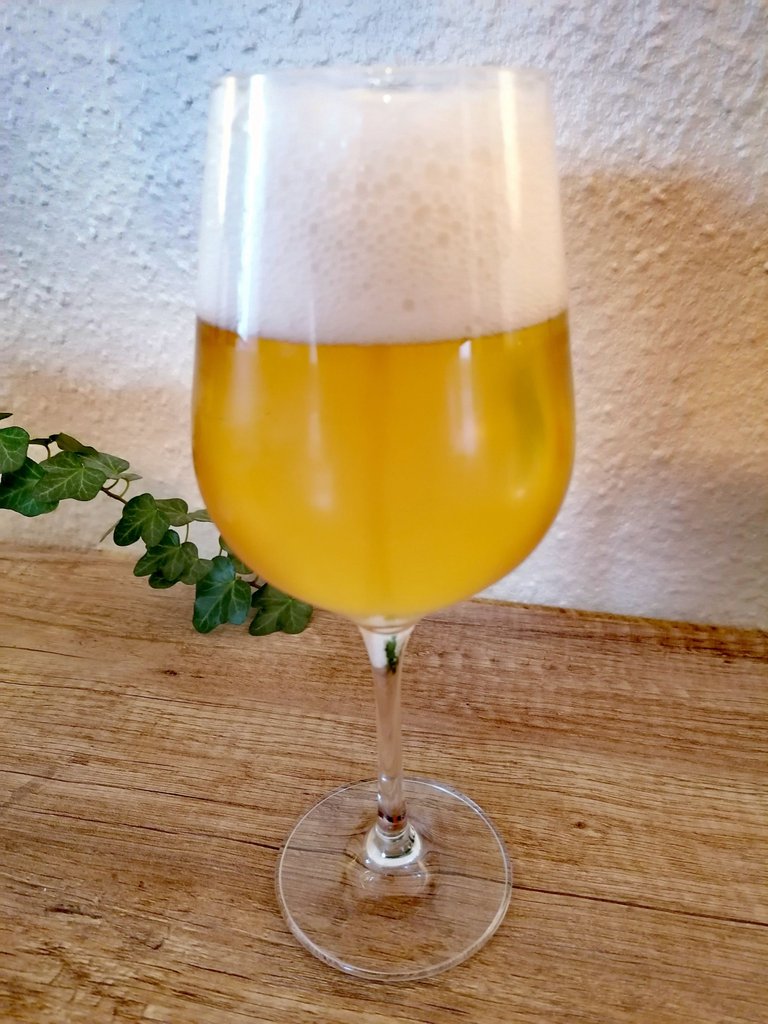 ---
Der Schaum war recht porös und nicht sehr standhaft, das kann jedoch auch an dem Glas gelegen haben.
The foam was quite porous and not very stable, but that may have been due to the glass.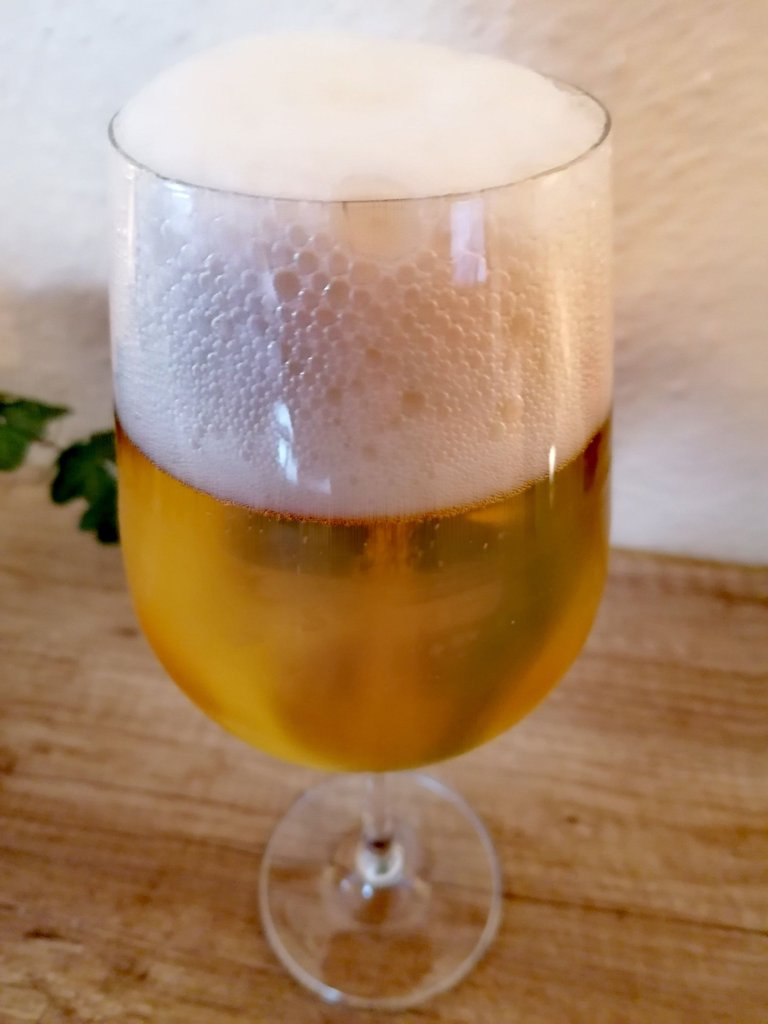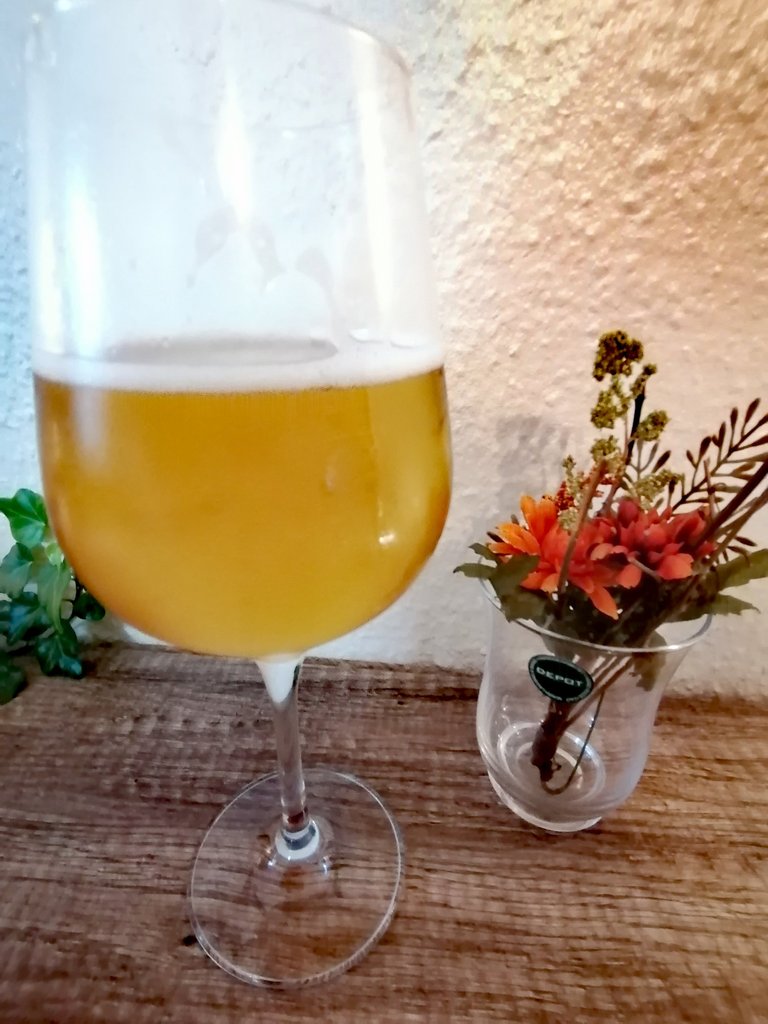 ---
Interessant war der ausgeprägte Kohlensäure Strudel im Bier, der gar nicht mehr nachzulassen schien.
Interesting was the pronounced carbonic swirl in the beer, which did not seem to subside at all.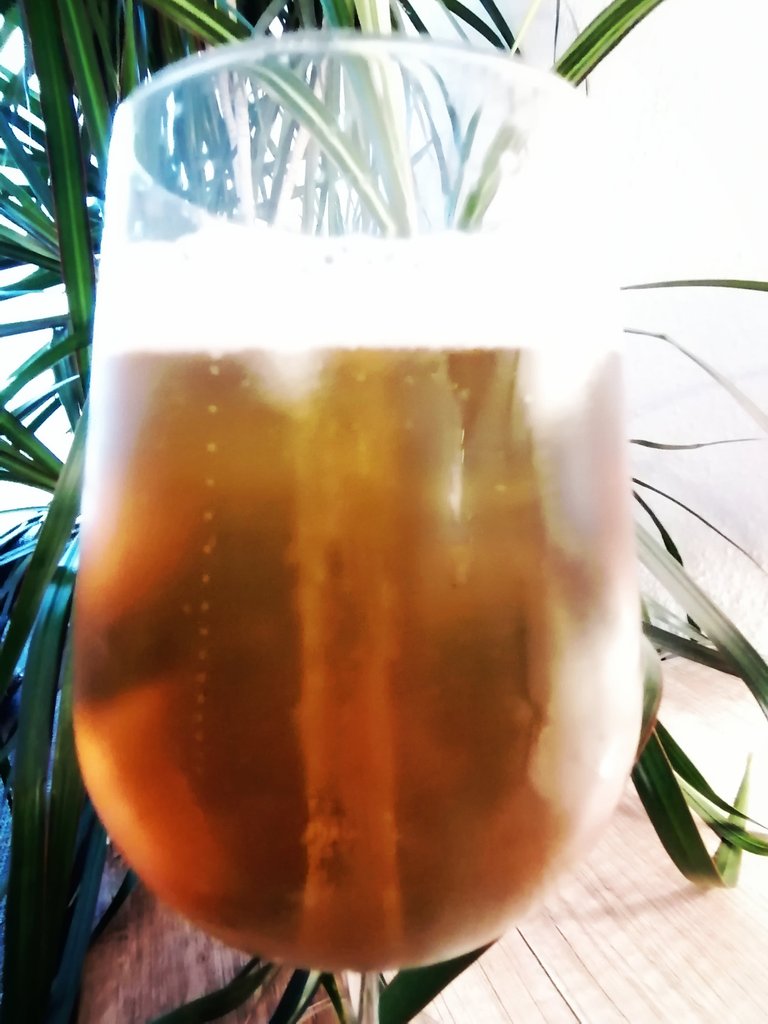 ---
Resümee:
Laut der Biermanufaktur Engel steht diese für "wahrhaft himmlischen Biergenuss der Extraklasse".
Das Bier hat mir sehr gut geschmeckt und ist auf jeden Fall ein Bier zum Genießen. Es hat einen ganz milden süffigen Geschmack und ist gar nicht herb oder säuerlich. Es schmeckt wirklich rund und ausgewogen. Ich werde es mir auf jeden Fall nochmal kaufen. Wenn Ihr milde Biere mögt, solltet Ihr es einmal probieren.
According to the Engel beer manufactory, this stands for "truly heavenly beer enjoyment in a class of its own".
The beer tasted very good to me and is definitely a beer to enjoy. It has a very mild, drinkable taste and is not at all tart or sour. It tastes really round and balanced. I will definitely buy it again. If you like mild beers, you should try it once.
---
Die Tradition: / The tradition
Schön ist auch die Tradition, welche die Brauerei uns nahelegen möchte: Man solle nicht nur mit den exzellenten Biere anprosten, sondern sich tief in die Augen schauen und sagen "Prost mein Engel!".
Dabei hängt es natürlich stark davon ab, wem man gerade zuprostet :)
The tradition that the brewery wants to spread is also beautiful: one should not only toast with the excellent beers, but look deeply into each other's eyes and say "Cheers my angel!".
Of course, it depends a lot on who you are looking at :)
Quelle: Homepage der Brauerei
---
Nach dem Bier /After the Beer:
Nach meiner Verköstigung gab es noch eine Runde Billiard mit meiner Familie ;) Wir haben von unserem Nachbarn einen kleinen Billiardtisch für das Spielzimmer geschenkt bekommen und es macht richtig Spaß ab und an eine Runde gegeneinander anzutreten!
Aber ich muss gestehen: Ich habe verloren :(
After my tasting there was still a round of billiards with son and husband ;) We got from our Nachbran a small billiard table for the playroom and it's really fun now and then a round to compete against each other!
But I have to admit: I lost :(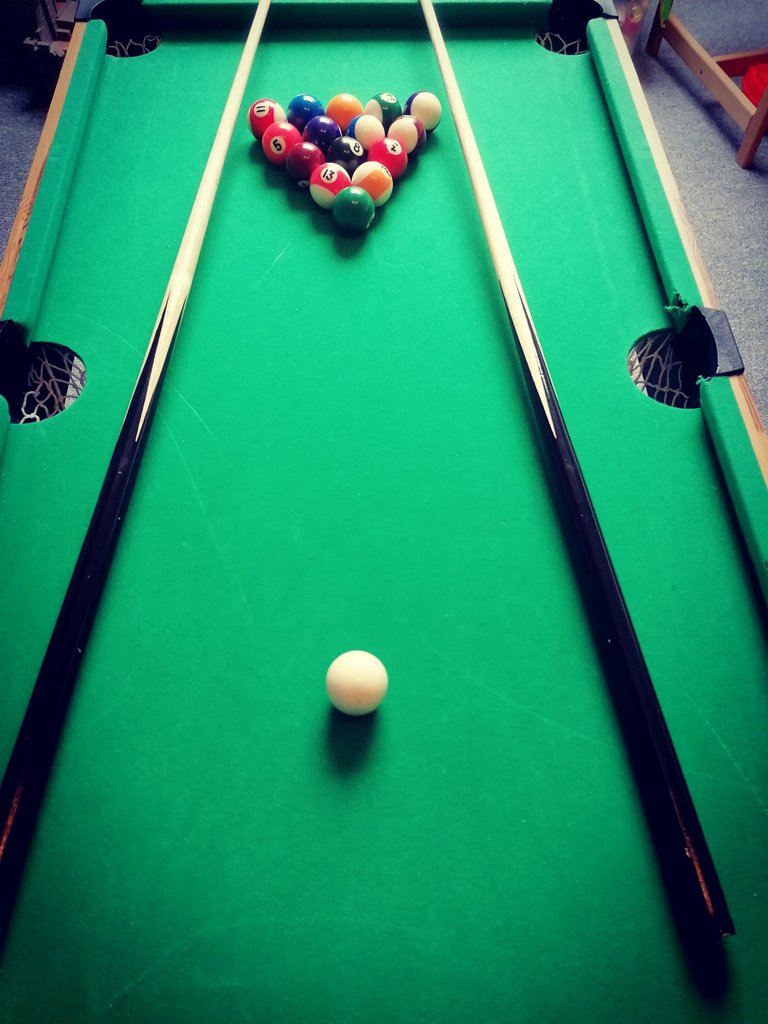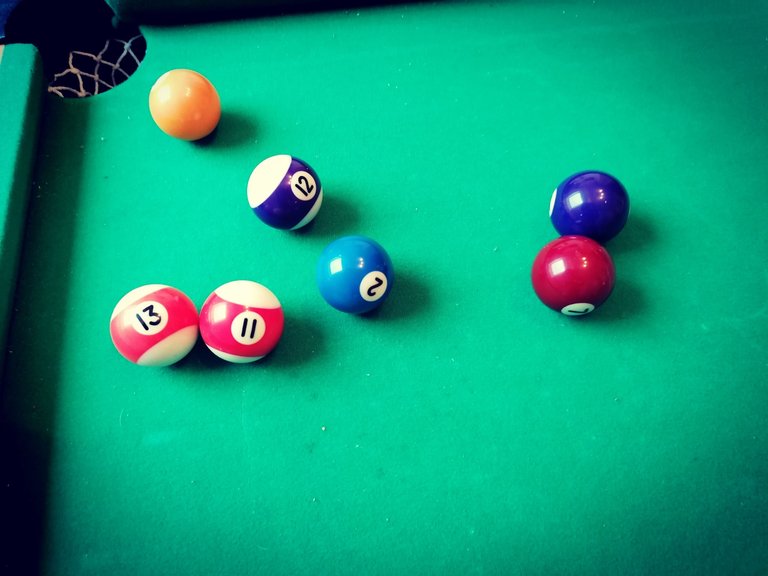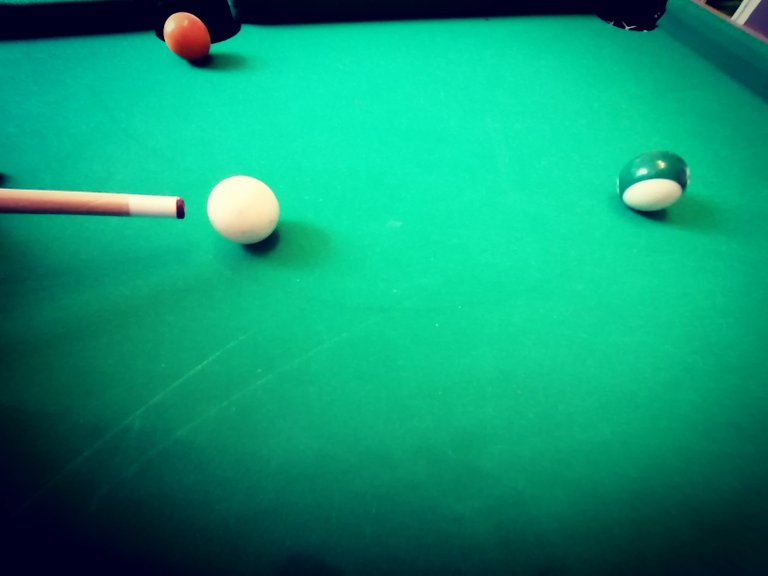 ---
So, das war es von meinem heutigen #beersaturday.
Ich durfte feststellen, dass der Begriff Engel bei der Brauerei Engel tatsächlich auch Programm ist.
In diesem Sinne: Viel Spaß beim nächsten Anstoßen und einen himmlischen Genuss ;)
So, that was it from my #beersaturday today.
I was able to discover that the term angel is actually also program at the Engel brewery.
In this sense: Have fun with the next toast and a heavenly pleasure ;)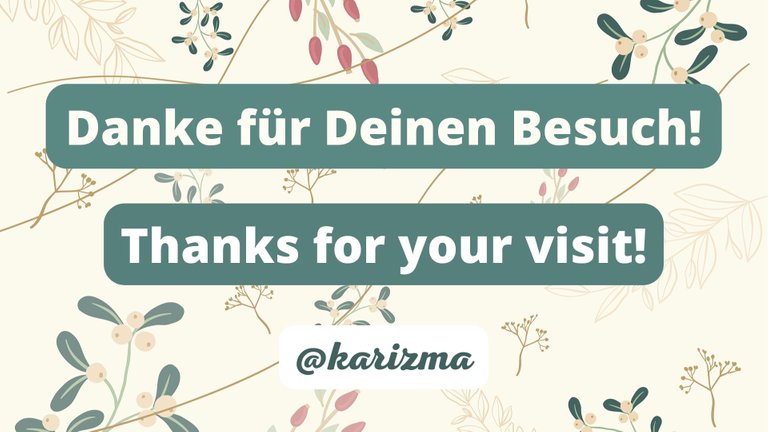 ---
---