Beersaturday - Grevensteiner Landbier aus dem Sauerland [GER/ENG]
Hallo zusammen,
Bier begleitet mich schon recht lange. Angefangen hat es auf den berüchtigten Abipartys der 90er Jahre, wo wir das Beer (was oft ziemlich wässrig schmeckte) aus großen Plastikbechern und in großen Mengen getrunken haben ;)
Dann kam mein Studium, welches ich mir mit meiner Tätigkeit als Barkeeperin finanziert habe. Während dieser Zeit habe ich gefühlte Millionen Biere gezapft. In dem Szene Lokal in dem ich arbeitete, gab es einige Großveranstaltungen mit Tausenden Besuchern. Da gingen schon etliche Fässer an Bier am Abend über die Theke.
Heute trinke ich lieber selber mal ein schönes Feierabendbier.
Und wenn wir unterwegs sind, ist es eigentlich schon ein Ritual, dass wir die lokalen Biersorten probieren.
Als wir vor ein paar Wochen im Sauerland unterwegs waren, fielen mir die vielen Grevensteiner Banner und Sonnenschirme auf.
Also habe ich mir direkt mal ein Grevensteiner besorgt und für den #Beersaturday im Rahmen der Challengevon @detlev verköstigt.
Hello all,
Beer has been with me for quite a long time. It started at the wild Abi parties of the 90's, where we drank the beer (which often tasted quite watery) from large plastic cups and in large quantities ;)
Then came my studies, which I financed myself as a bartender. During this time I have tapped what felt like millions of beers. In the scene pub where I worked, there were some big events with thousands of visitors. There were quite a few barrels of beer in the evening over the bar.
Today I prefer to drink a nice after-work beer myself.
And when we're on the road somewhere else, it's actually already a ritual for us to try the local beers.
When we were out and about in the Sauerland a few weeks ago, I noticed the many Grevensteiner banners and sunshades.
So I immediately got myself a Grevensteiner and tasted it for the #Beersaturday as part of the Challengeby @detlev.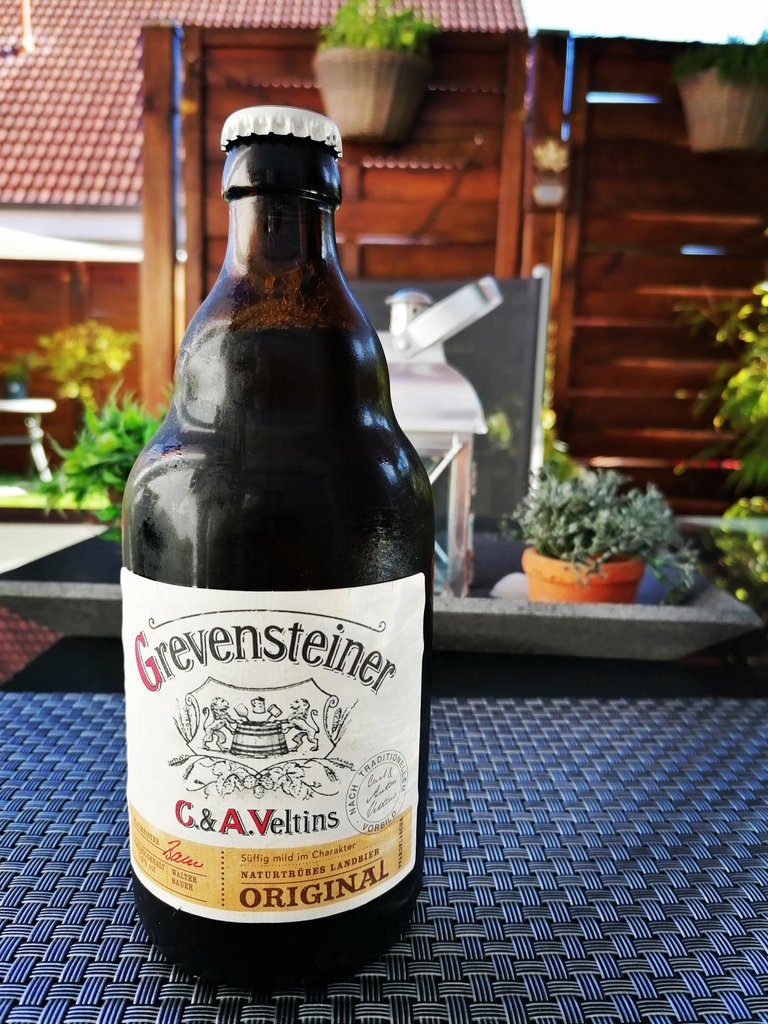 Das Grevensteiner Landbier kommt aus der Brauerei C & A. Veltins, welche in Meschede-Grevenstein angesiedelt ist. So, jetzt wissen wir auch woher der Name stammt und warum es im Sauerland überall Grevensteiner gibt ;)
Wenn man sich mit lokalen Biersorten beschäftigt, kann mal also auch noch ein wenig über die Geografie und die Historie der Region lernen. Denn die Veltins Brauerei hat im Jahre 1824 als kleiner Familienbetrieb begonnen und sich zu einer großen Privatbrauerei entwickelt.
The Grevensteiner country beer comes from the brewery C & A. Veltins, which is located in Meschede-Grevenstein. So, now we know where the name comes from and why there are Grevensteiner everywhere in the Sauerland ;)
If you deal with local beers, you can also learn a little about the geography and history of the region. This is because the Veltins brewery started out as a small family business in 1824 and has developed into a large private brewery.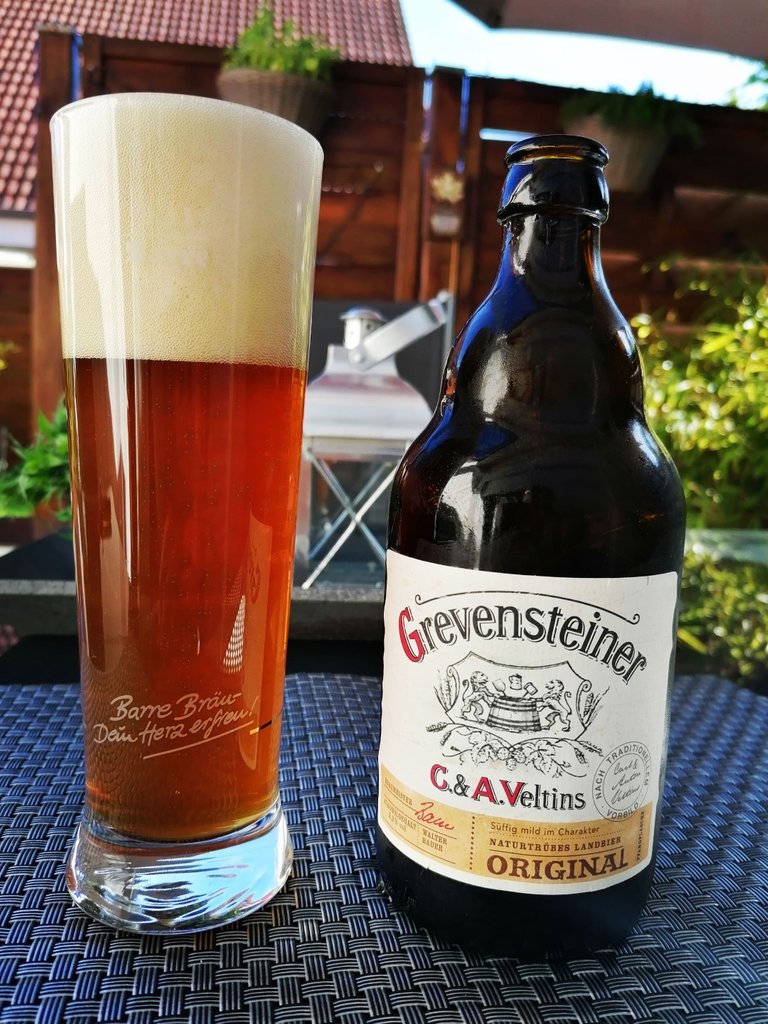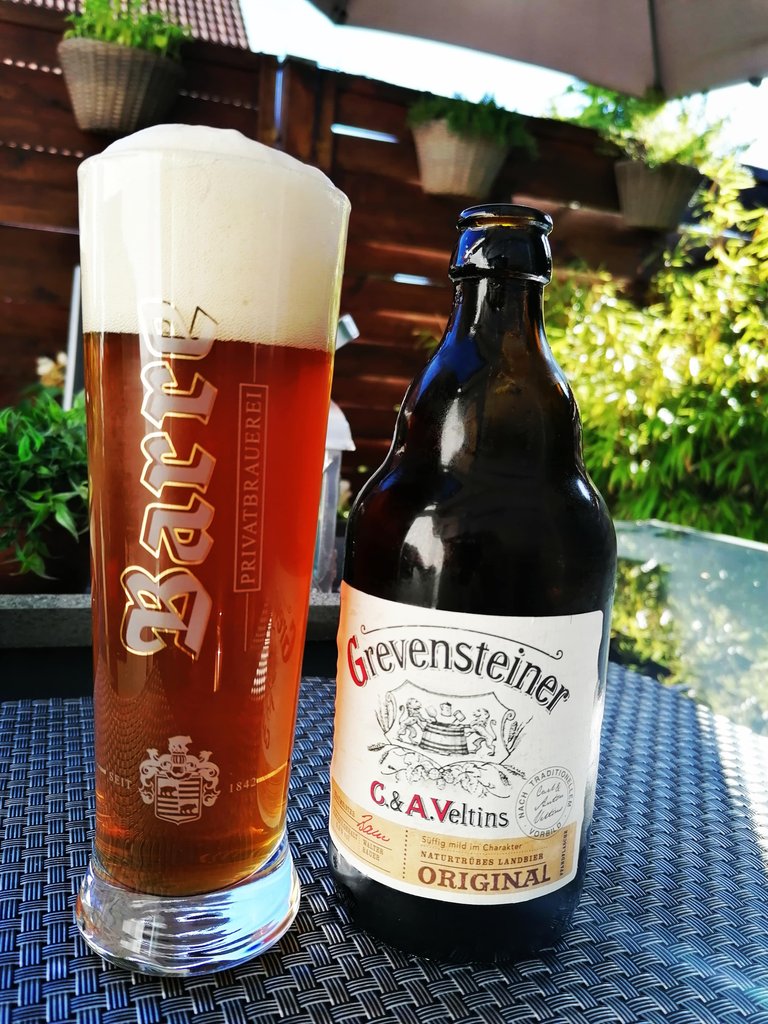 Die Farbe des Bieres ist richtig schön Bernsteinfarben...da hat die Beschreibung auf dem Etikett nicht zu viel versprochen.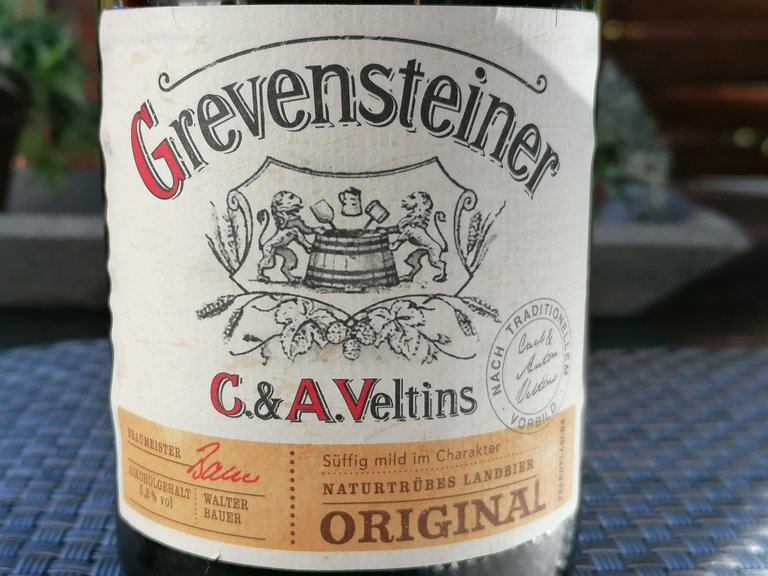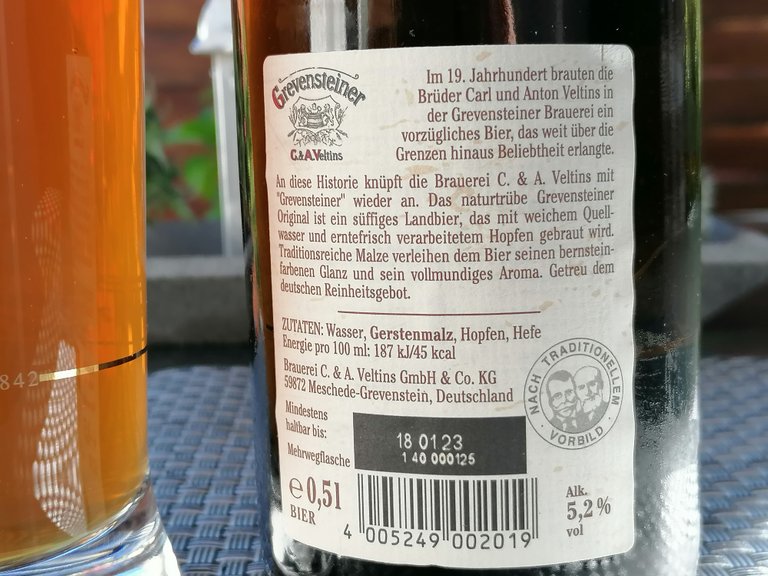 Der Schaum war schön fest und kompakt.
The foam was nice and firm and compact.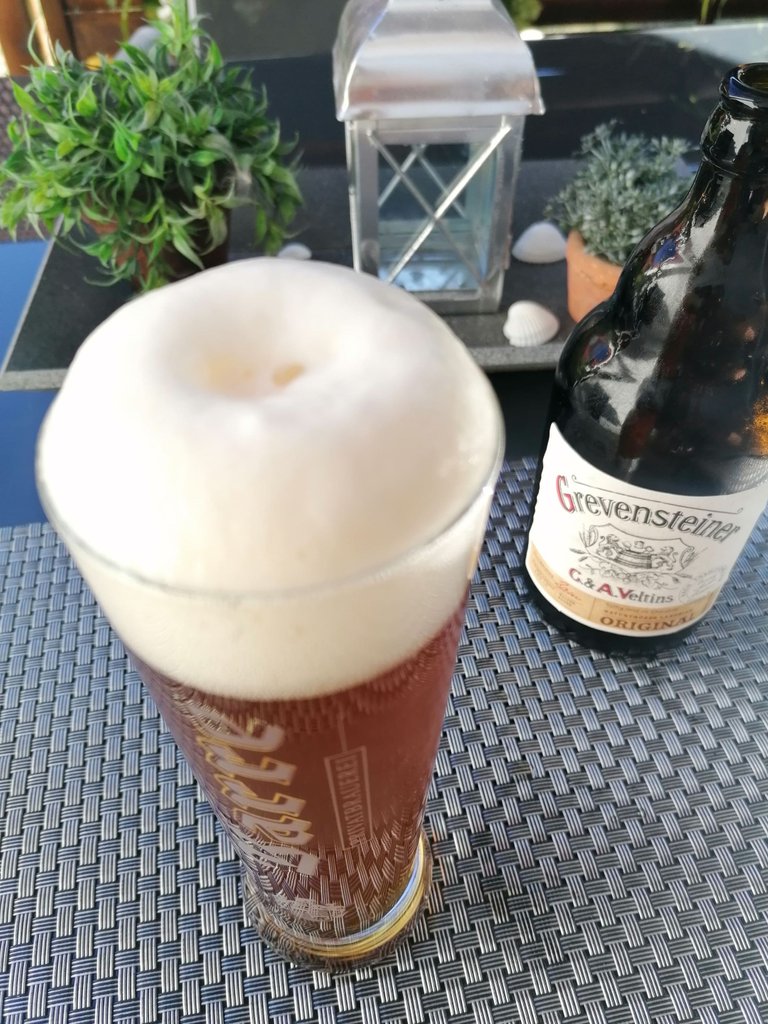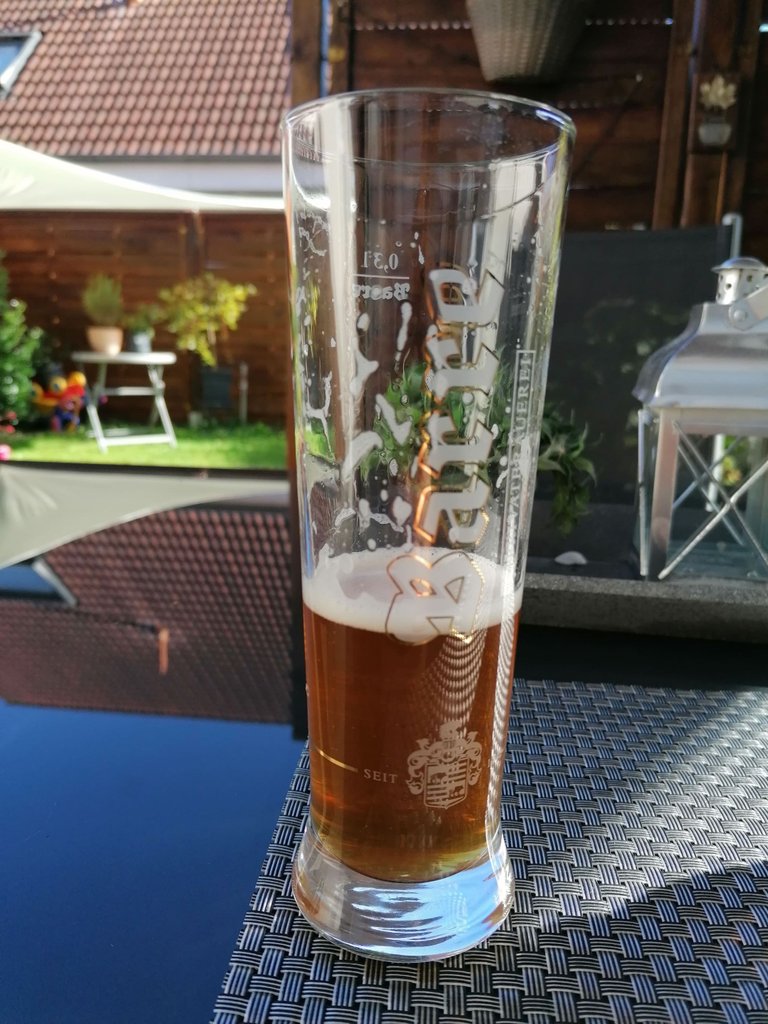 Das Grevensteiner ist wie auf dem Etikett beschrieben wirklich sehr süffig.
Es hat mir gut geschmeckt, aber ich würde es mir nicht unbedingt nochmal kaufen. Es ist durch den malzigen Charakter eher süßlich und fühlt sich somit sehr schwer und üppig an und ist nicht gerade zum Durst löschen geeignet.
Aber als Begleiter zu einer deftigen Brotzeit kann ich es mir sehr gut vorstellen. Für einen geselligen Abend mit Freunden, wo es auch mal ein Bier mehr sein darf, eher nicht ;)
Da mag ich lieber leichtere und frischere Biere.
The Grevensteiner is really very drinkable as described on the label.
It tasted good to me, but I wouldn't necessarily buy it again. It is by the malty character rather sweetish and thus feels very heavy and lush and is not exactly suitable for quenching thirst.
But as a companion to a hearty snack I can imagine it very well. For a social evening with friends, where it may also be a beer more, rather not ;)
Since I prefer lighter and fresher beers.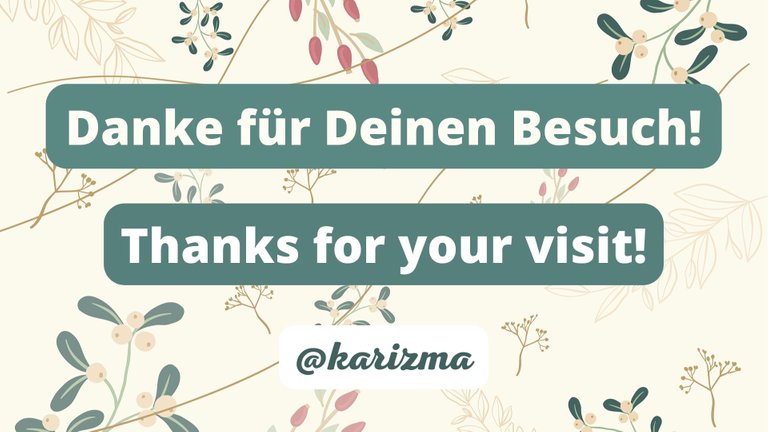 ---
---