SeaPhotography Contest • Week 164 🌊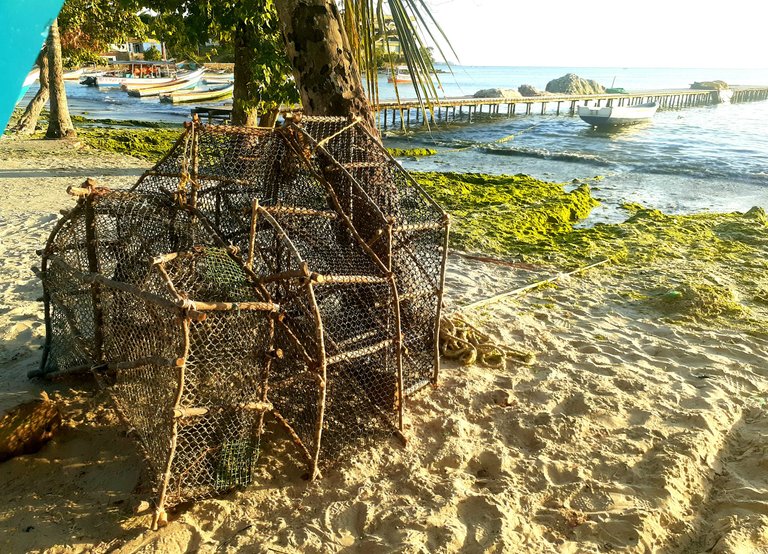 🇺🇸 Hello to all dear friends of the community. With this photograph I participate in the #SeaPhotography contest, this week's theme is free.
There are very few beaches on the Island of Margarita where you do not find fishermen, many of the inhabitants of this island live from fishing, therefore it is very common to find fishing nets and basket-type cages for lobster fishing, such as those that I had the opportunity to photograph in a small beach area arriving at "Punta Ballena" in the city of Pampatar.
I really like how you can see the sea in the background, with a pier and some boats, a very beautiful place without a doubt.
Thank you for joining me, visiting my blog, reading and supporting me. Have a wonderful day full of good energy!
Photo information
Author: @Karbea
Camera: Samsung Galaxy A20
Location: Margarita Island, Venezuela
English translation with Google Translator
---
🇻🇪 Hola a todos estimados amigos de la comunidad. Con esta fotografía participo en el concurso de #SeaPhotography, el tema de esta semana es libre.
Muy pocas son las playas en la Isla de Margarita en donde no encuentres pescadores, muchos de los habitantes de esta Isla viven de la pesca, por ende es muy común encontrar redes de pesca y jaulas tipo cestas para la pesca de langostas, como las que tuve oportunidad de fotografiar en una pequeña zona de playa llegando a "Punta Ballena" en la ciudad de Pampatar.
Me gusta mucho cómo se puede ver el mar al fondo, con un muelle y algunas embarcaciones, un lugar muy bonito sin duda alguna.
Gracias por acompañarme, visitar mi blog, leerme y apoyarme ¡Qué tengas un día maravilloso lleno de mucha buena energía!
Información de la fotografía
Autor: @Karbea
Cámara: Samsung Galaxy A20
Locación: Isla de Margarita, Venezuela
Traducción al inglés con Google Traductor.
---
---