Trees in my favourite temple.

I have not been to my old favourite temple located in the old city area for quite sometimes. This seemed rather unusual as I have been very dependent on the calming energy inside the main hall of this temple known as Wat Boworn. The disruptive energy in Bangkok these past few months was the result of sponsored protests which were started to get more aggressive and violent. The power-that-be has been trying to ignite widespread civil war here as they have been successful in Burma. Fortunately, some intelligence agency did a good job which made it possible to confiscate illegal arms and explosives destined for creating havoc during the protest. The protests often took place rather close to my favourite Wat Boworn so I had to postpone my visit several times. I have to resort to virtual visit by looking at my old photos of the temple. These tree photos seem to be waiting for me to present them in my post.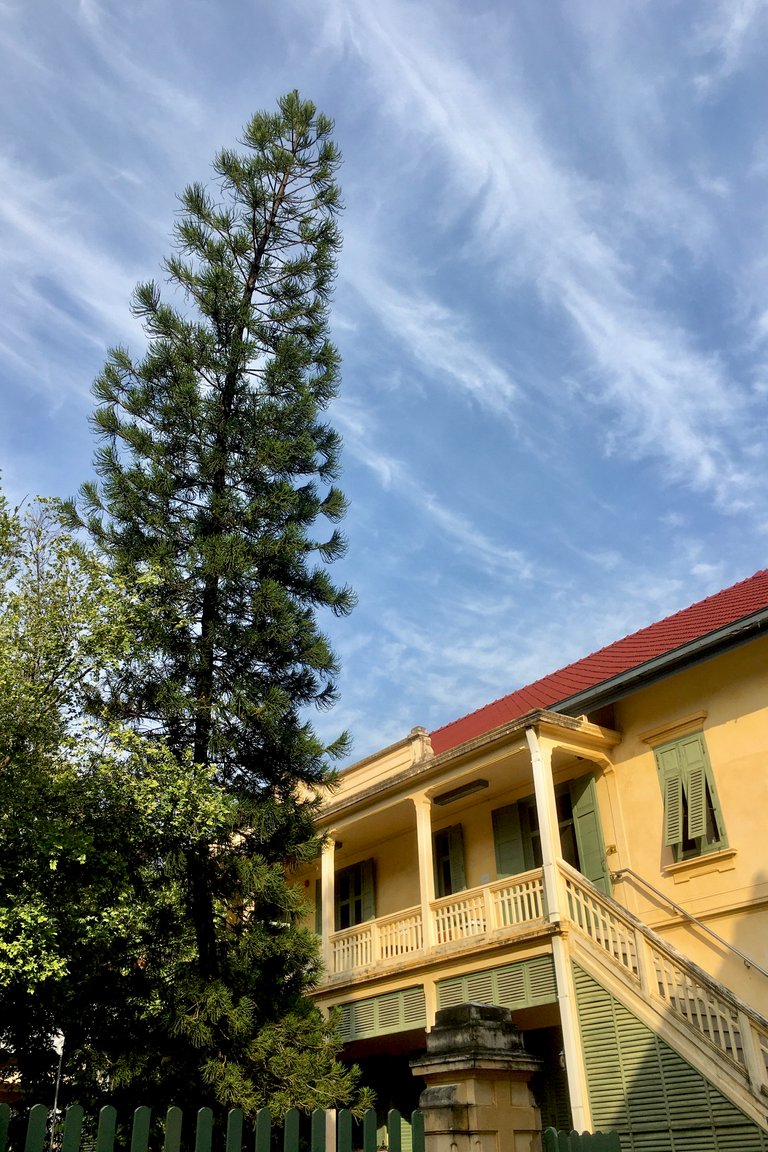 This pine tree has been steadily growing taller each year. Sometimes the strong wind and heavy rain made people very worried whether it would snap and fall onto the roof or people's heads. Luckily it seemed to be flexible enough to bend with the strong wind. I used to visit some friend who got ordained as a monk in this yellow building. This building was almost a hundred years old as it was built during the reign of King Rama V. There is so much history in this old temple and several spots of calm vibes.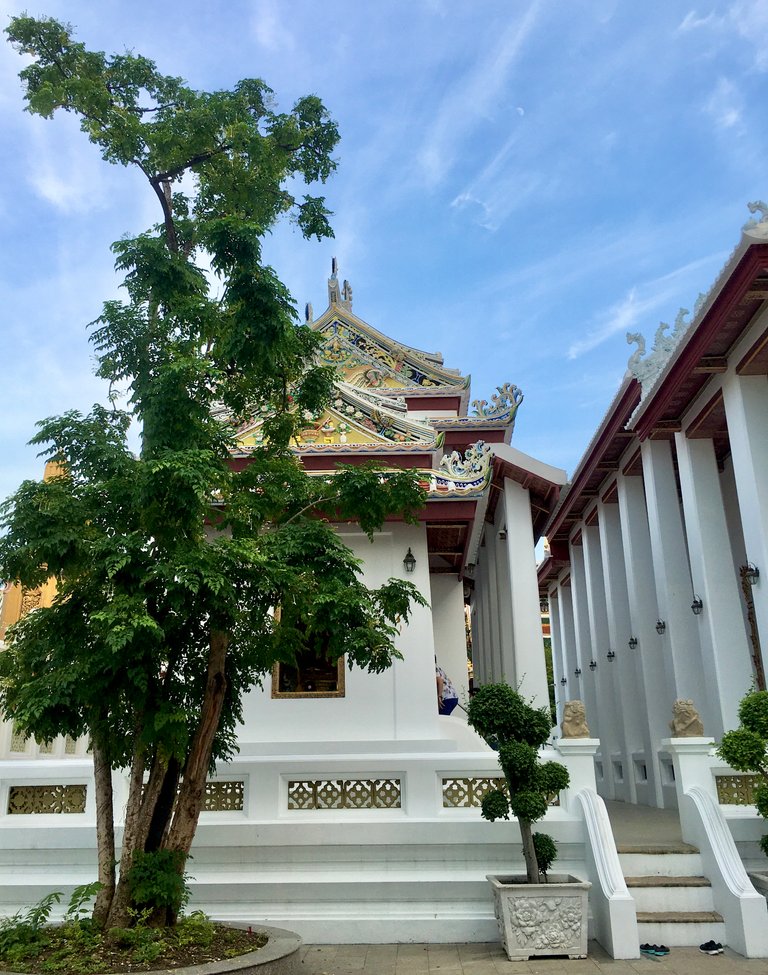 This tree is quite young comparing with other trees in this temple. The temple had a drastic renovation almost ten years ago; some old trees which did not look very healthy were cut down and new saplings were planted instead. The ground of this area used to be green lawn with walking path making the temple nice and cool on a sunny day. But the new marble floor covered where it used to be green lawn and all the bushes were gone too. I could not get the logic of turning nice soft ground into sizzling hot marble slaps in hot sunshine. The usual reason for most people's decision to cover the earthen area with cement or tiles is the ease of keeping the area clean and dry! Thus also saves the hassle of having to sweep the fallen leaves and walking on soggy earth.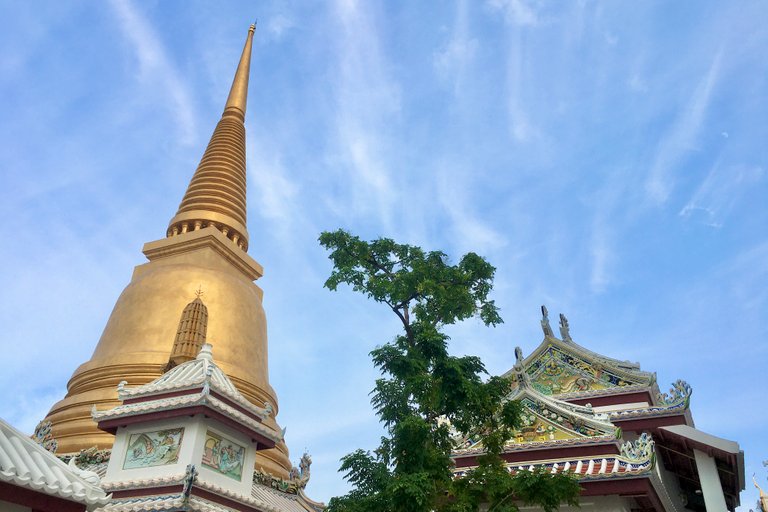 In most old temples in Bangkok, we would see many bonsais scattered around old Chinese statues of mystical animals from old Chinese stories or legends. These stone statues were imported from China during the reign of King Rama III during which trading with China was booming. Empty merchant ships had to place these heavy stone sculptures and statutes at the bottom of the ships to balance the ships on their journey back to Siam. These were then donated to temples for decoration while keeping bonsais was the popular hobby among the rich and royalties. So it became very fashionable to donate nice bonsai to prestigious temples.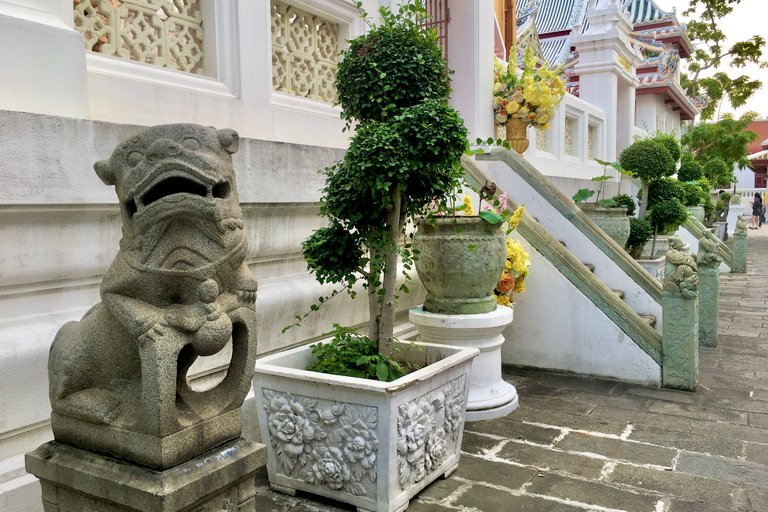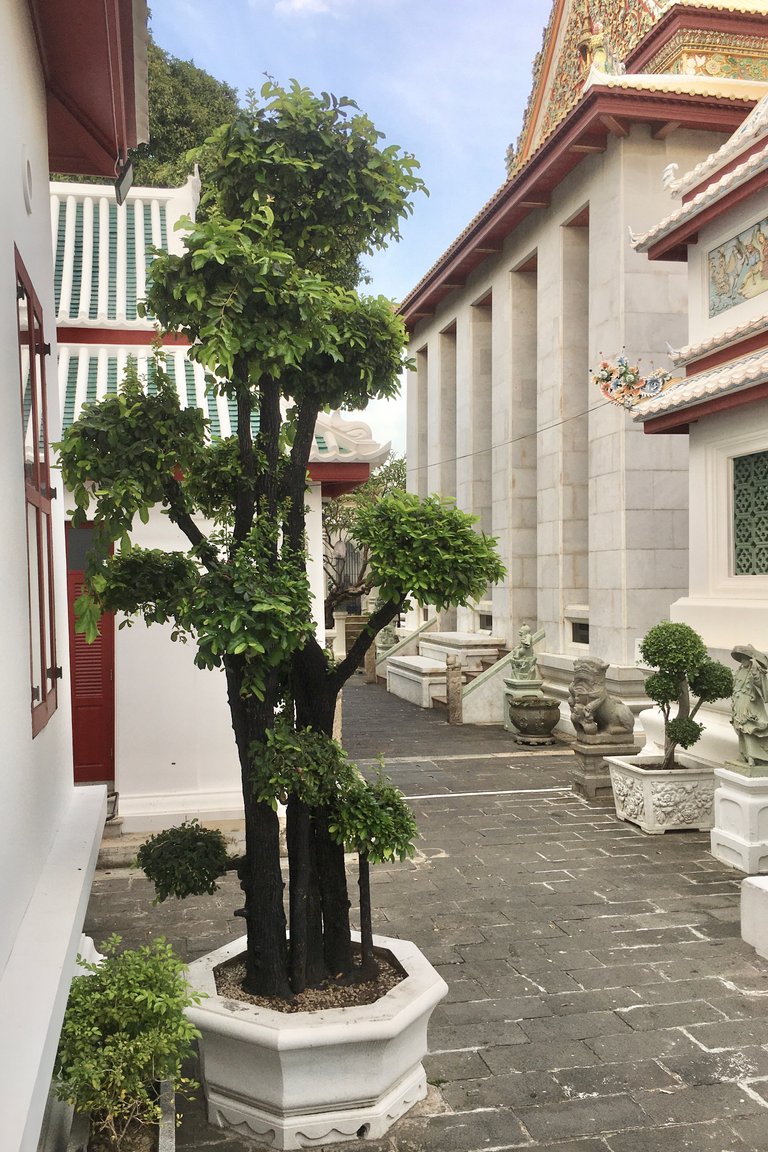 เราไม่ได้ไปกราบพระที่วัดบวรฯนานแล้ว ซึ่งก็น่าแปลกใจมากเพราะเราค่อนข้างจะติดใจพลังดีๆที่มีอยู่ตามจุดต่างๆที่วัดนั้น ส่วนหนึ่งคงเป็นเพราะมีการประท้วงหลายครั้งใกล้กับเส้นทางไปที่วัดบวร เราจึงต้องหลีกเลี่ยงการเดินทางไปที่นั่น เราคิดถึงการไปเดินเงียบๆที่วัดมาก เราจึงมาเปิดรูปเก่าๆดู เพื่อเป็นการเที่ยวทางใจแทน เราเห็นการเปลี่ยนแปลงที่วัดหลายอย่างตั้งแต่มีการปรับปรุงครั้งใหญ่เมื่อสิบปีที่แล้ว ต้นไม้ใหญ่หลายต้นถูกตัดไป ทางเดินที่เคยเป็นสวนและสนามหญ้าถูกรื้อทิ้ง และปรับเปลี่ยนเป็นการปูกระเบื้องและหินอ่อนเต็มพื้นที่ ทำให้ตอนที่แดดออกจัด บริเวณนั้นจะร้อนมาก ทำให้บรรยากาศที่เคยเย็นสบายกลายเป็นร้อนมาก เราค่อนข้างจะเสียดายของเก่าดีๆที่ถูกรื้อทิ้งไป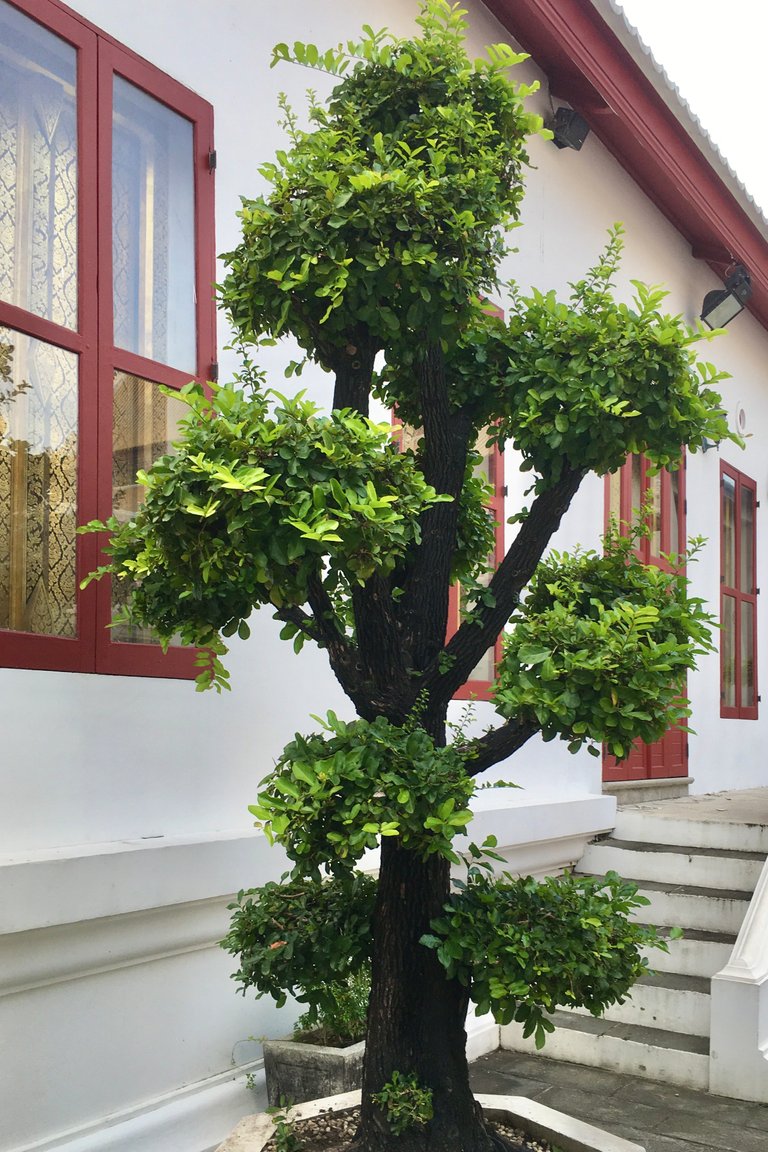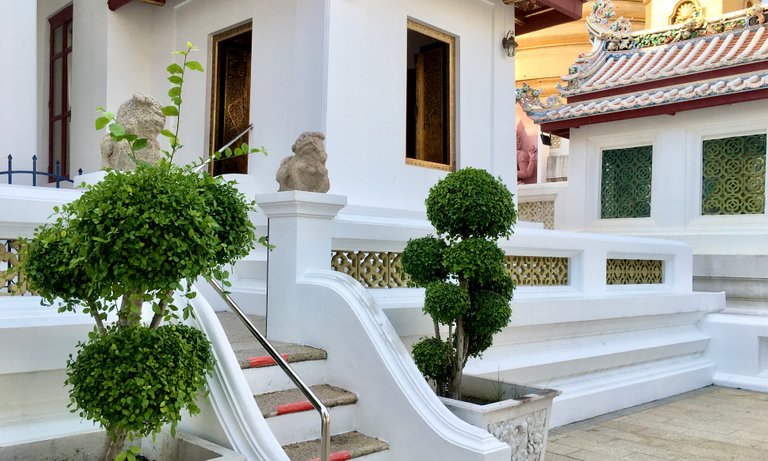 ต้นไม้ใหญ่บางต้นโชคดีมากที่ยังคงอยู่ได้ บางต้นก็สูงมากจนต้นเอียง เรากลัวว่าจะหักโค่นได้เวลามีลมพายุแรงๆ แต่ดูแล้วต้นไม้ใหญ่ก็เหลืออยู่ไม่มากนัก ต้นไม้ที่ปลูกใหม่เริ่มโตขึ้นมากในสิบปีที่ผ่านมา มีแค่ต้นบอนไซในกระถางที่โตช้ามาก ที่วัดบวรมีต้นบอนไซอายุมากหลายสิบต้น ตั้งตกแต่งรูปปั้นกินแกะสลักที่มีมาตั้งแต่สมัยรัชกาลที่3 รูปปั้นหินเหล่านี้นำเจ้ามาจากประเทศจีน โดยเรือสินค้าที่ขายสินค้าหมดแล้ว ต้องหาหินหนักๆมาถ่วงที่ท้องเรือเพื่อให้เรือเดินทางฝ่าคลื่นลมกลับมาเมืองสยามอย่างปลอดภัย เขาก็เอารูปปั้นมาบริจาคตามวัดบ้าง หรือขายให้คนรวยนำไปแต่งบ้านและสวน ส่วนการเล่นบอนไซก็เป็นงานอดิเรกของคนมีอันจะกินและบรรดาเศรษฐี บ้างก็นำไปถวายวัดเป็นของแต่งวัดเพื่อความสวยงาม เราจึงเห็นวัดหลวงในกรุงเทพมึดระถางบอนไซกัน เราคืดถึงบรรยากาศเงียบสงบที่วัดบวรมาก และอยากจะไปกราบพระในโบสถ์ในเร็ววันนี้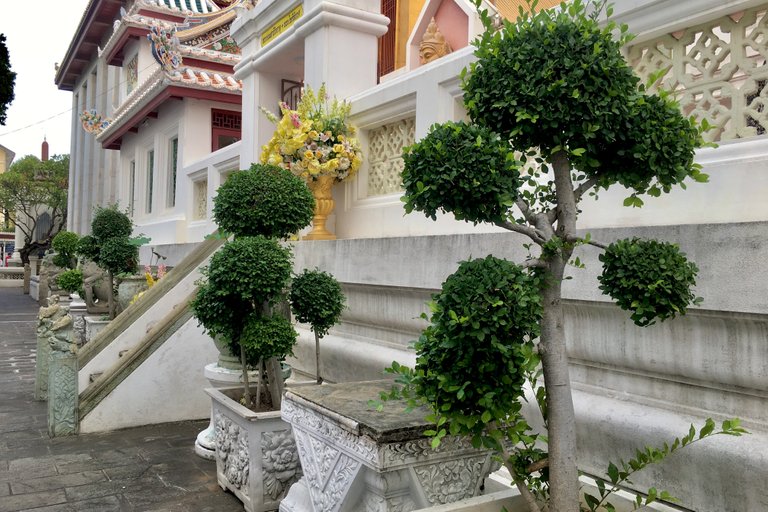 Wat Boworn has one of the most beautiful Buddha statue in Bangkok in the main hall and several ancient Buddha statues of almost a thousand years old. These were gathered from various temples in Ayutthaya after the war of independence. Some were taken from other important cities in the past such as Petchburi and Pitsanuloak. The constant Buddhist praying rituals and meditative ceremonies have somehow gathered lots of positive energies into these Buddha statues. We believe that each important Buddha statue would have some angels assigned as guardians of the statue. That's probably why I always get warm feeling and healing energy from these old Buddha images. Sometimes if I had been doing lots of charitable karma, the Buddha image would give me a very nice smile. On the other hand, when I had been angry with someone, the Buddha would give me a stern look which made me feel like a bad student at school. I had to apologize for being with negative energy and ask for some healing. The Buddha always understands our limitation and weakness; we just have to sit there quietly. People seemed to be doing the same thing; just sitting quietly and then leaving the hall with more composure and peaceful heart. I would probably be at Wat Boworn very soon.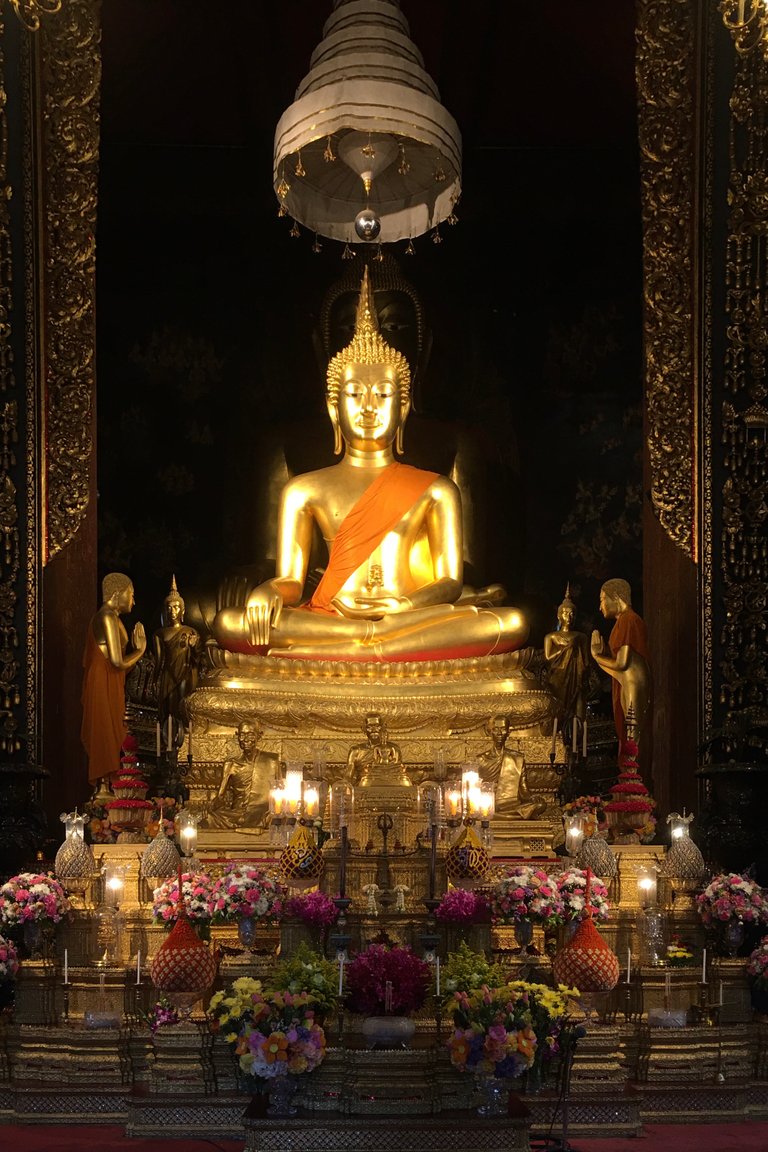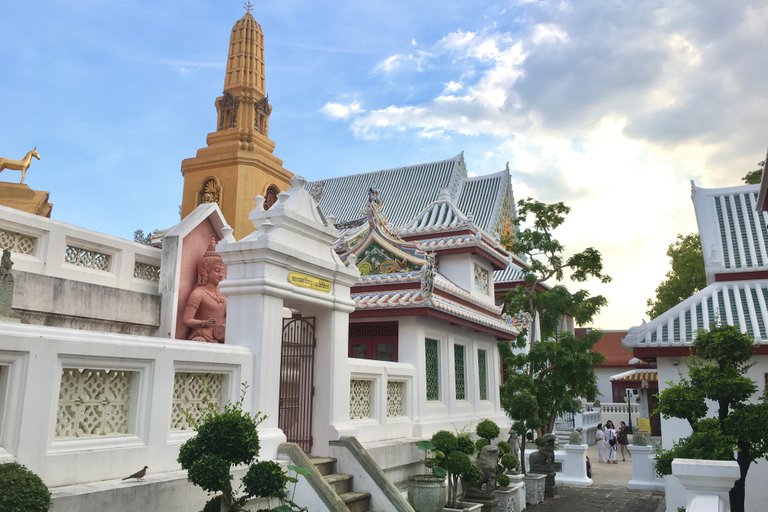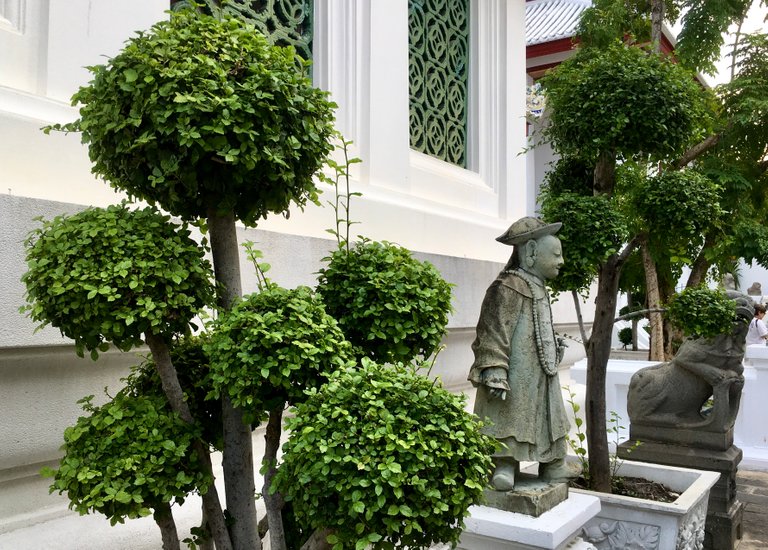 Wishing you peace, good health and prosperity.
Stay strong and cheerful.
---
---