Happy Caturday: feeding stray cats again,เลี้ยงแมววัด

Finally the long, useless and damaging lockdown has ended two weeks ago, so I could enter the temple without having to go through the checkpoint any more. That was quite a relief to me as I was afraid of quarreling with the temple staff. I have been going to feed the neglected stray cats twice a week. Some cats now could spot me from far away and they came running to me meowing for some food. I was wondering how these cats and kittens could recognise me as I wore a mask and a black cap to camouflage from being spotted by temple staff. I thought they could recognise how I walked or the sound of my steps.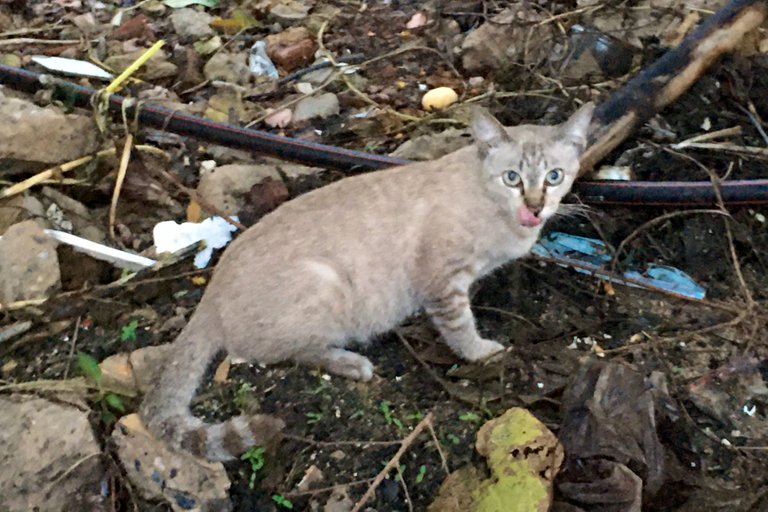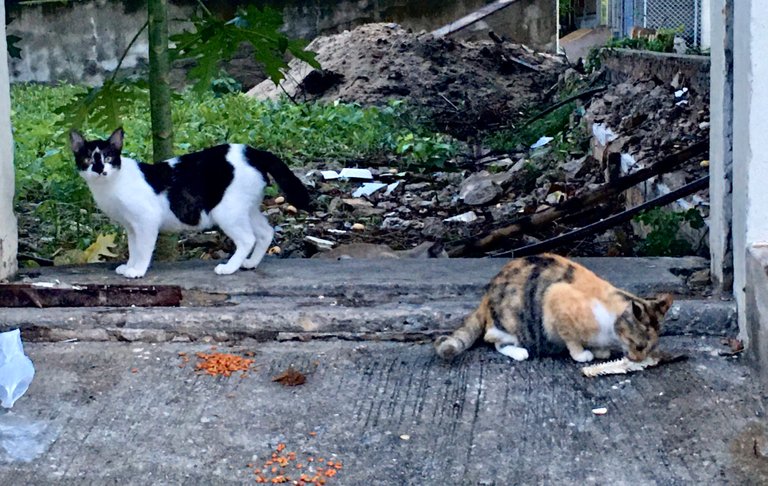 I tried to feed the stray cats near the big tree first in order to get them busy eating. Then I could walk to the other side to feed the lonely and timid cat who is always hanging around the small shelter on his own. I did wonder why he never fought back after being slapped by young aggressive kittens. Perhaps these young kittens were his offsprings. Samsi always let these kittens eat all his food that's why I have to invent a distraction for keeping these aggressive cats away from Samsi.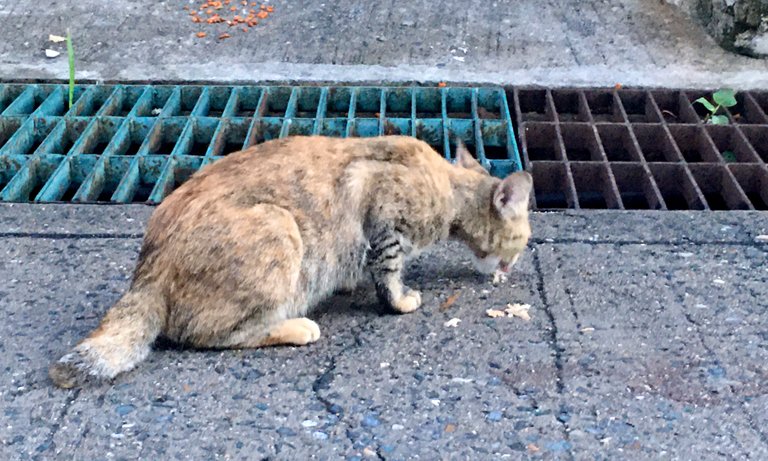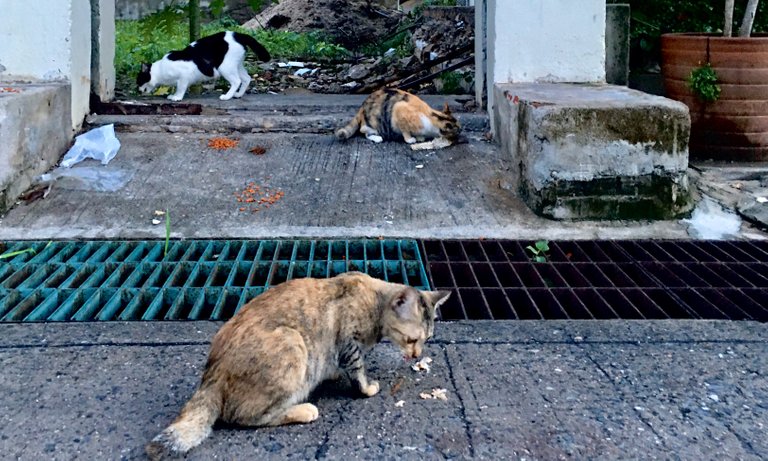 Some day I couldn't find Samsi at the shelter, so I left some dry food for him there hoping that he would come back later. The two gangster cats called Julia and Tommy kept following me around. I thought they were a bit envious of my attention for Samsi. Lately, they have stopped slapping Samsi as I told them to be kind and respectful of older relative. I tried to pay more attention to these two cats so they would feel equal treatment from me. I had no idea that cats could be so sensitive and emotional.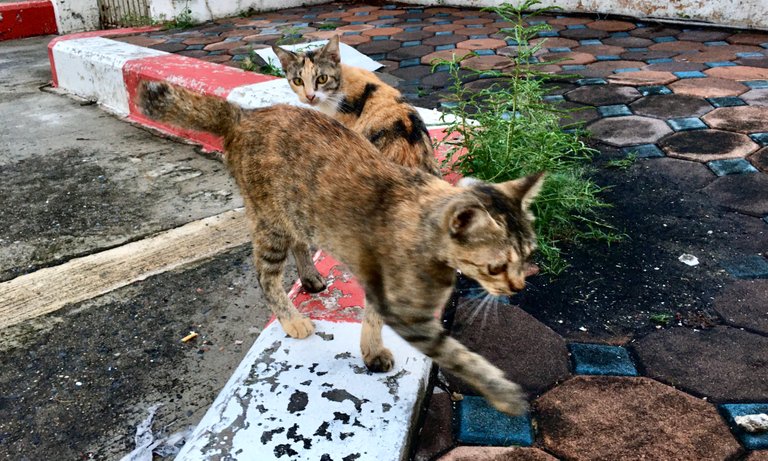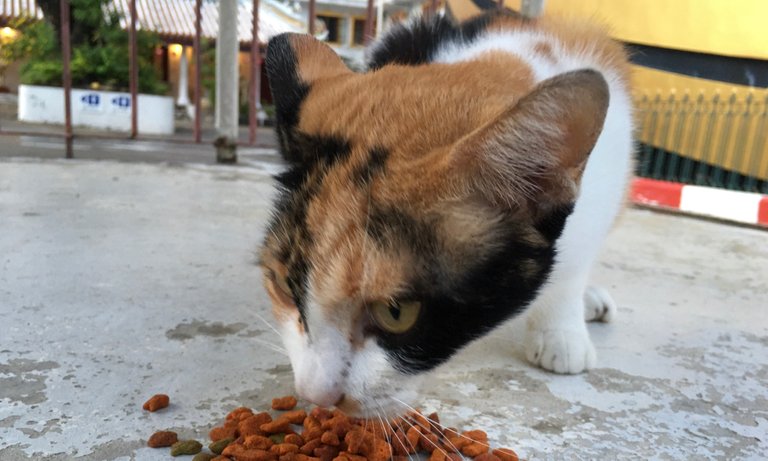 Now that these cats have started to trust me more, I could pick them up and carry them around just as I please. Their unconditional trust began to scare me as it meant I had to be more responsible in my actions. Twice, Samsi could spotted me from the other side of the temple and he ran half way towards me to cry out for my attention. It seemed he was saying "why don't you come to see me first, I am very hungry!" So, I had to run to see him then he started meowing normally like a child. This cat is too smart and he could sense my presence in the temple. I wondered what would happen to him when I had to move away one day.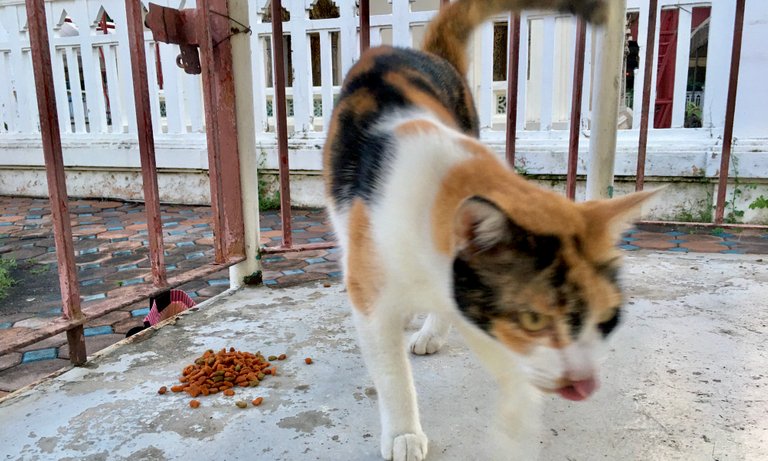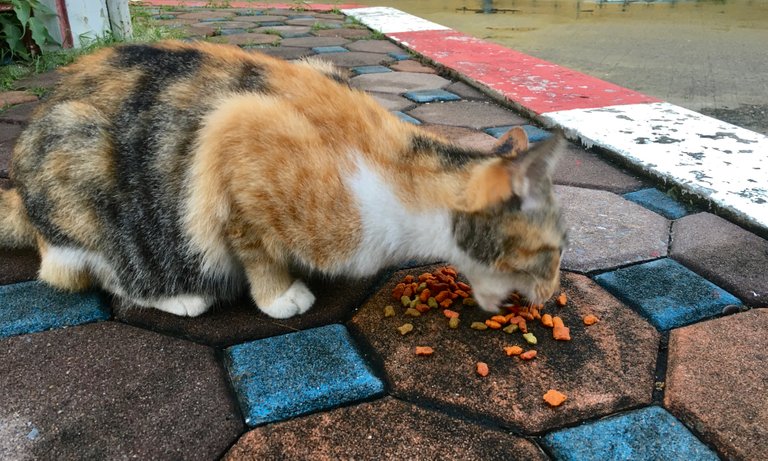 Last week, I didn't find him at the shelter so I started calling out for him loudly. He answered my call from far away. In two minutes I saw him running towards me. He was very hungry and skinny. It seemed he was a bad hunter! He seemed to depend on the food I gave him twice a week. No wonder, his stomach was very fast and he was too skinny for a tall cat. I wonder if I had made some cats too dependent on me! I had to sneaked away while Samsi's eating the last portion of food. Sometimes he caught me walking away quietly. He just stood there staring at me until I turned the corner. I told him to hunt for himself and I would be back in a few days.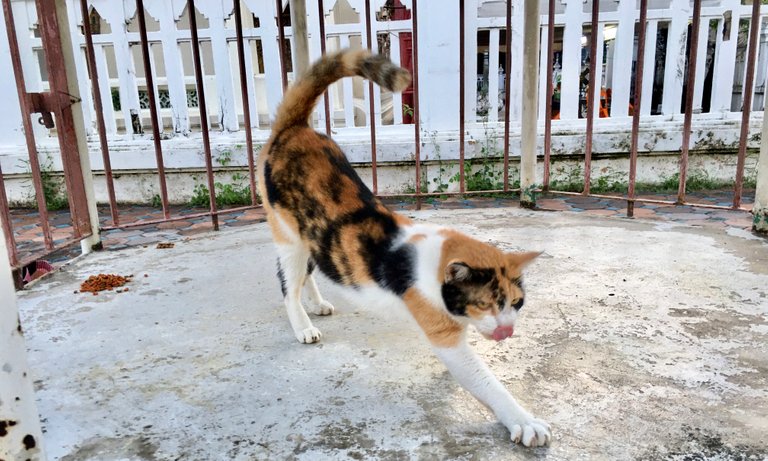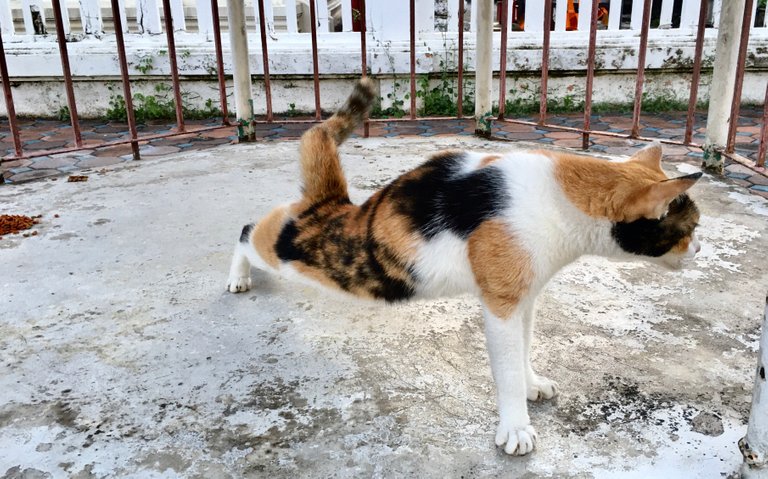 Afterwards, I would check out on Mister Bean, an old stray orange cat adopted by a hair salon. The young girl fed Mister Bean on the footpath and he wasn't allowed inside the premise. He was very wary of strangers and he slept on the street that's why his fur was always blackened. Then, I had to feed the two remaining cats up in the car park.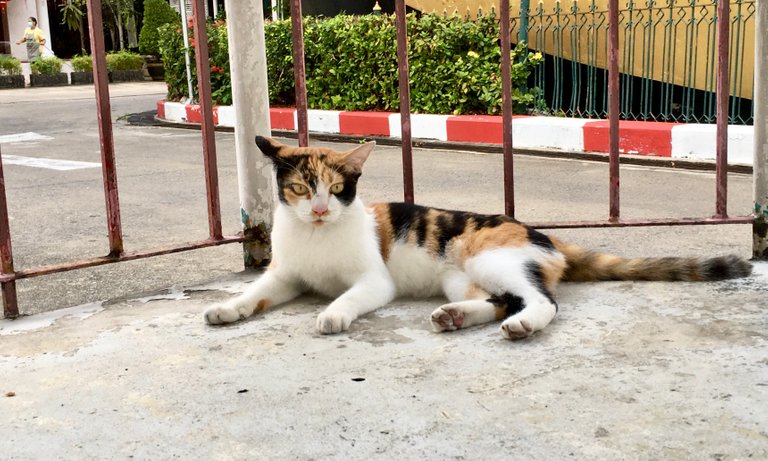 Lately, I noticed that Sandy had been waiting for me on the car park. As soon as I parked my car, Sandy and sometimes Tiger would be seen running from the farther end of the car park to reach my car. These cats must be able to read the car plates! Perhaps they could remember the sound of my car's door. For whatever reason, I was caught unprepared twice by their risking the coming cars in order to reach me. Sandy has started to meowing softly, she is still very timid and jumpy. So I gave her a comfortable distance while she was eating. I was glad that she had Tiger to keep her company. But the other twin of Tiger had disappeared for two months. I was afraid he was dead because of some illness otherwise I should have seen him again. Still I don't know how to help these two cats or how to get them down to the ground level. I hope that there will be some solution to this stalemate one day.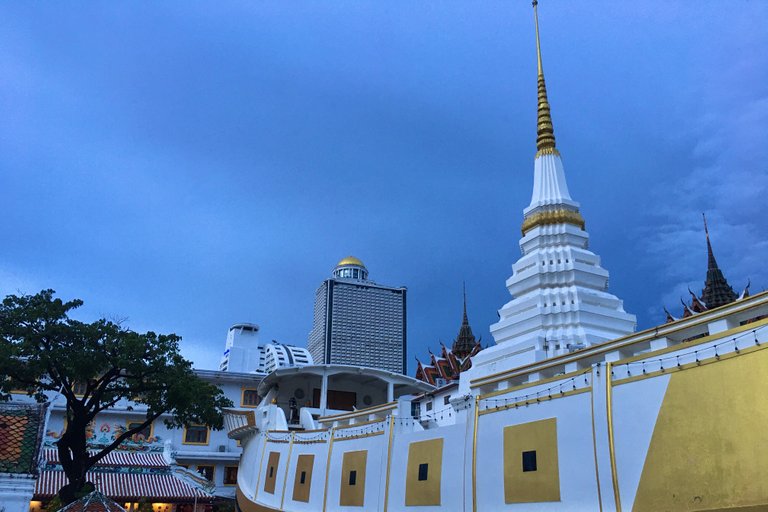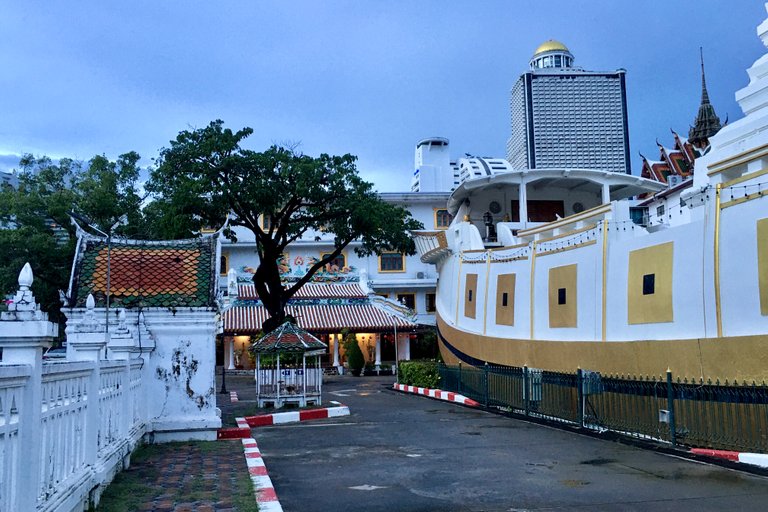 ตอนนี้เราเดินเข้าไปในวัดยานนาวา เพื่อไปเลี้ยงอาหารแมวแมวได้อย่างสบายใจแล้ว พอเขาเลิกล็อกดาวน์ ก็ไม่มีด่านตรวจคนที่ประตูเหมือนเดิม เราดูไปเลี้ยงแมวสัปดาห์ละสองครั้ง เราต้องตคนอาหารแมวไว้ในรถยนต์ตลอด เวลาต้องให้อาหารแมวจะได้ใช้ทันที แมวบางตัวที่วัดเริ่มจำเราได้ ขนาดเราใส่หน้ากาก และหมวกเพื่อพรางตัวจากพนักงานที่ประตูในวัด. เราคิดว่าแมวคงจำท่าเดินของเราได้ หรือไม่ก็วิธีการเดินของเรา พอเราไปถึงจะมีแมวสองตัวรีบวิ่งออกมาหาเรา และร้องขออาหารทันที เราก็พยายามเลี้ยงอาหารแมวกลุ่มที่ชอบอยู่แถวต้นไม้สามต้นก่อน แมวพวกนี้จะได้ไม่วิ่งตามเราไปที่ฝั่งตรงข้าม ซึ่งเป็นที่ซ่อนตัวของแมวสามสีที่เราชอบนิสัยมันมาก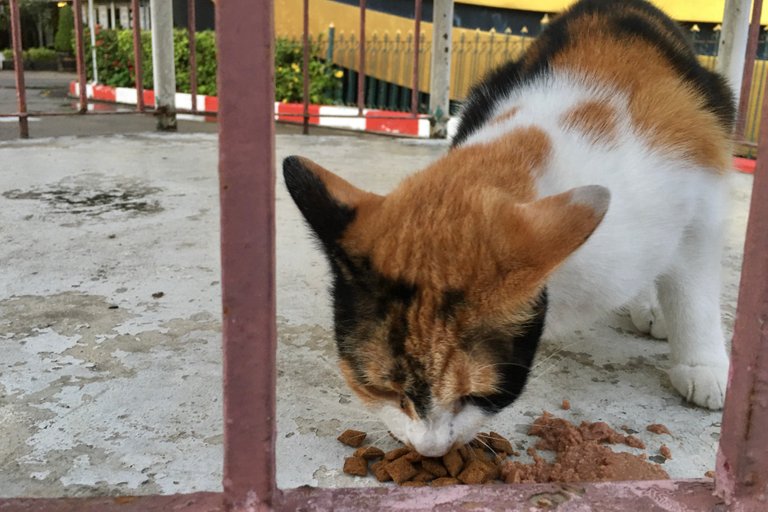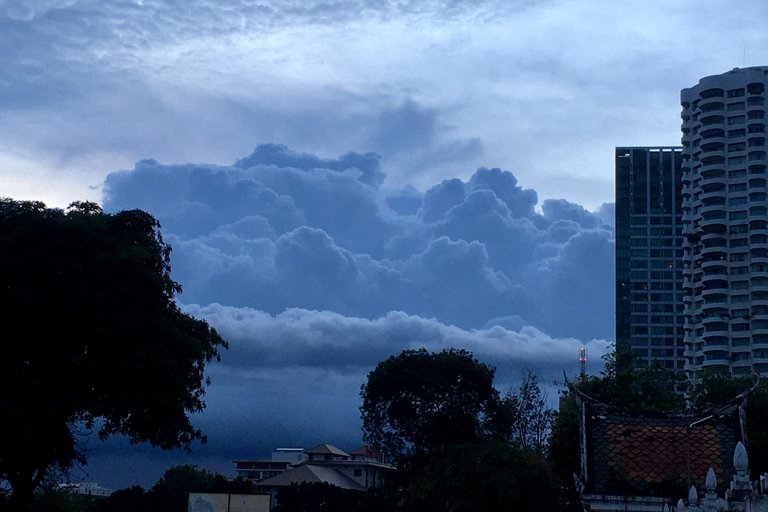 เราแปลกใจที่เจ้าสามสีเริ่มจำเราได้ และพอมันได้ยินเสียงของเราแต่ไกล สามสีก็จะวิ่งออกมาจากที่ซ่อนตัว และวิ่งมาที่ถนนเพื่อมาเรียกเราไปหามัน สามสีพูดกับเราด้วยภาษาแมว ทำเสียงเหมือนอู้อูในการเรียก แต่พอเราเดินไปหา มันจัร้องเหมือนแมวที่บ้านเราเวลาขออาหารกิน เหมือนบอกว่า หิวแล้ว หิวแล้ว แย่แล้วขอกินข้าวหน่อย เราก็เทอาหารแห้งให้มันกินก่อน แล้วตามด้วยอาหารเปียก ตอนนี้แมวที่เราเลี้ยงทุกตัวเชื่องมาก ยอมให้เราลูบตัวเล่น และให้เราอุ้มไปมาด้วย เราทดสอบแล้ว แมวไว้ใจเรามากว่าเราจะไม่ทำร้ายมัน เวลาเราจับแมวมาอุ้ม มันจะไม่กางเล็บออกเลย พอรู้ว่าแมวไว้ใจเราขนาดนี้ เราก็ยิ่งต้องมีความรับผิดชอบต่อแมวมากขึ้นด้วย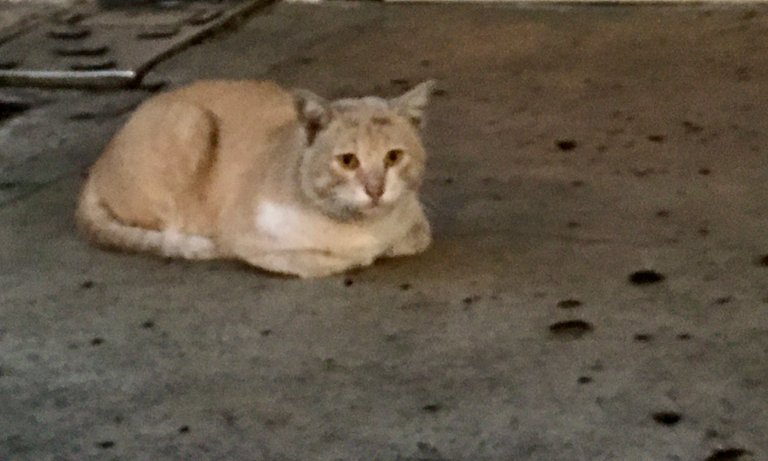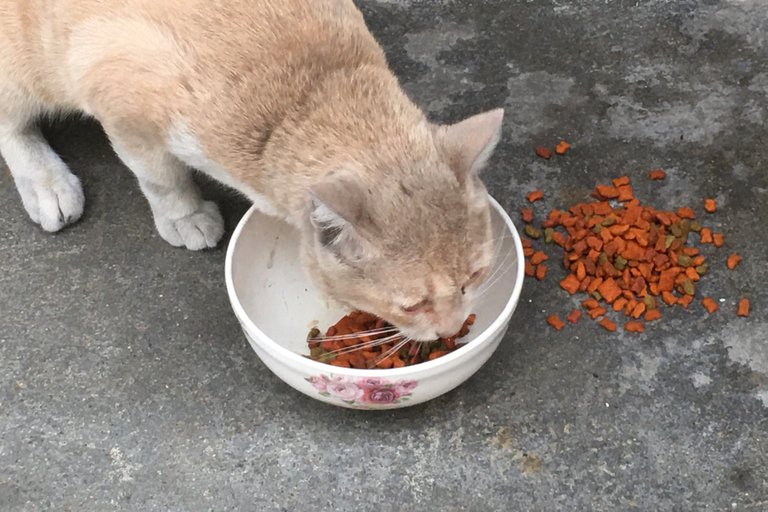 ตอนนี้ลูกแมวอายุประมาณเก้าเดือนสองตัว เริ่มโตขึ้นมาก และเริ่มทำตัวดีขึ้น. เลิกเป็นแมวมาเฟียเหมือนแต่ก่อน ที่คอยไปตบแมวสามสี เพื่อแย่งอาหารกิน เราคิดว่าแมวมีความรู้สึกว่าน้อยใจ และอิจฉาได้เหมือนคนเลย เราจึงพยายามให้เวลและความสนใจกับลูกแมววัยรุ่นสองตัวนี้. ทำให้ตอนนี้สองตัวนี้เลิกไล่ตบเจ้าสามสีแล้ว ตัวหนึ่งจะคอยกินอาหารที่เหลือจากสามสี เพราะมันมีกลิ่นอาหารเปียกด้วย เราต้องแอบเดินหนีกลับบ้านตอนสามสีกำลังกินอาหารรอบสอง เรารูสึกว่าสามสีไม่เจ้าใจว่า ทำไมเราต้องจากไป เราก็ไปแวะดูแมวเร่ร่อนที่ชื่อมิสเตอร์บีน แล้วค่อยไปเลี้ยงแมวเร่ร่อนที่ติดอยู่ในที่จอดรถยนต์ชั้นสาม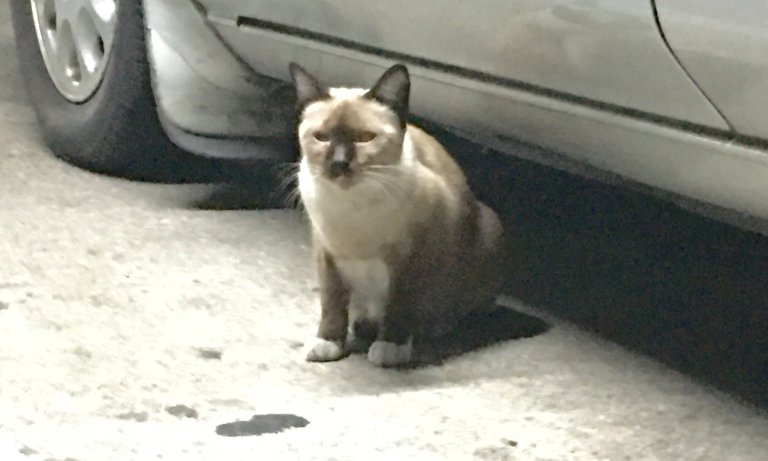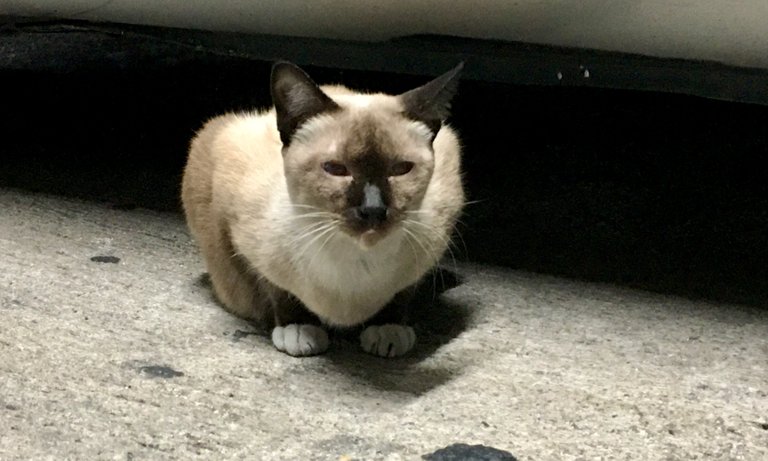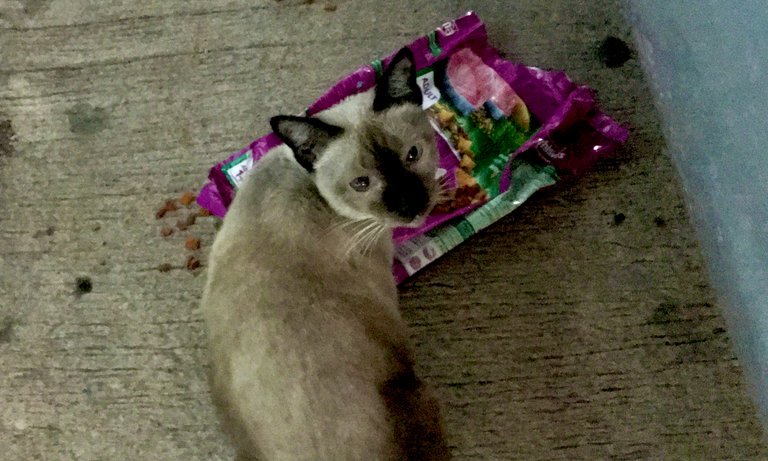 เจ้าทรายเริ่มคุ้นกับเรามากขึ้น และพูดกับเราบ้างแล้ว. ปกติมันจะเงียบกริบ นี่มันยอมตอบโต้กับเราแล้ว. แต่เจ้าเสือเพื่อนของมันยังขี้กลัวคนมาก แมวจะมาคอยดูรถยนต์ ว่ารถของเราเข้ามาจอดหรือยัง พอเราจอดรถไม่ถึงสิบวินาที แมวก็วิ่งข้ามถนนมาถึงตัวเรา เราจึงต้องเลี้ยงอาหารมันทันที ท่าทางมันคงมานั่งคอยเราทุกเย็น นี่ถ้าเราไม่อยู่เมืองหลวงนานๆ แมวคงอดอยากแน่ เราอยากให้มีคนมาข่วยแมวสองตัวนี้ที่ติดอยู่บนนั้น พวกมันไม่มีทางออกไปโลกภายนอกได้เลย เราคงต้องสวดมนต์ภาวนาให้มีคนมาช่วยแมวด้วย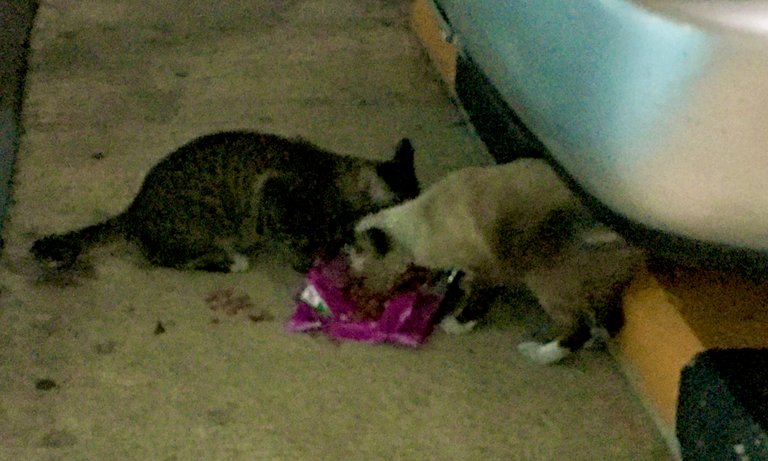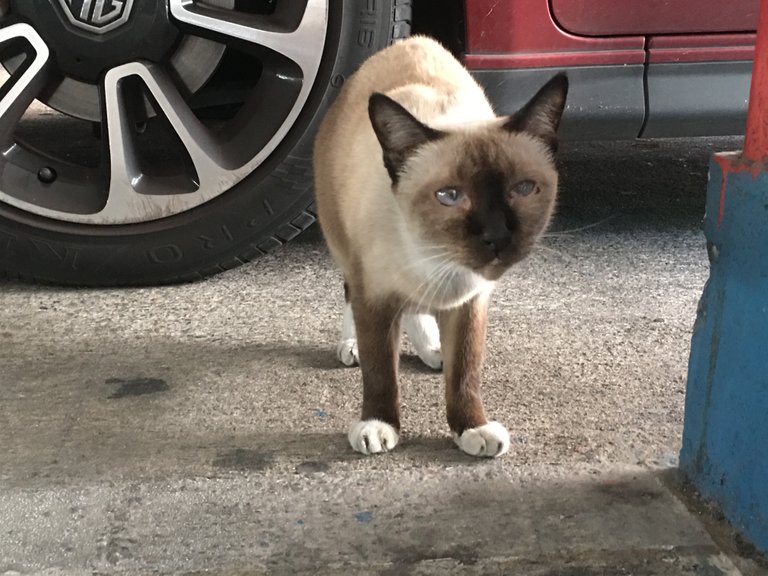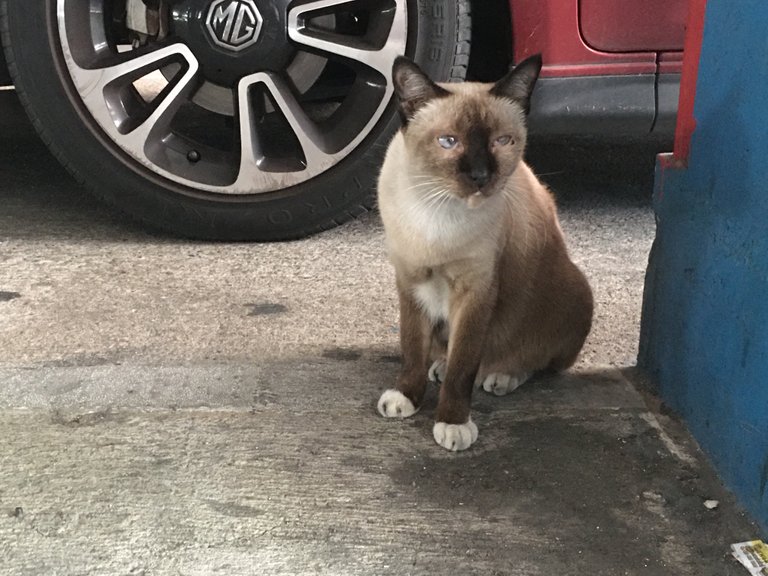 Wishing you peace, good health and prosperity.
Stay strong and cheerful.
---
---