A Day of Deliciousness ~ bacon and eggs, beef stew, and apple slice!
Being a "Kitchen Wench" is an in-joke my partner and I have had for 15 odd years now. Back in the day, I used to visit him and his grandma who he was caring for and I would declare their kitchen mine and transform myself into a kitchen wench.
My Facebook Memories are full of statements like, "Time to go be a kitchen wench!" or "Mmmm, chicken nachos! I'm the best kitchen wench!"
Some people might consider it derogatory, calling myself a "kitchen wench," but it's just our humour and all in good fun.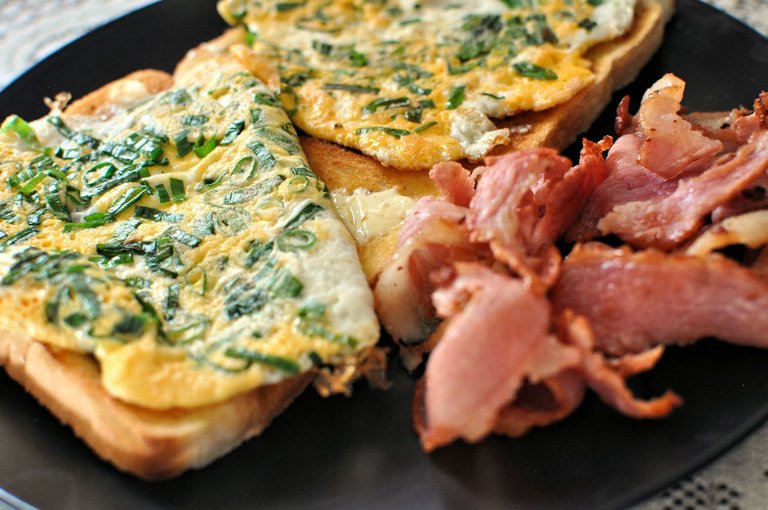 On the menu today, my partner and I had bacon and eggs for breakfast, prepared in the only manner I eat eggs these days...
I used to love runny yolk; nowaways, I deliberately break my egg yolk and throw it all over the white so that there's plenty of flavourful yolk all over the egg. A bit of salt and pepper. And a lot of spring onion cooked into it.
Mmmmm! I don't eat it any other way!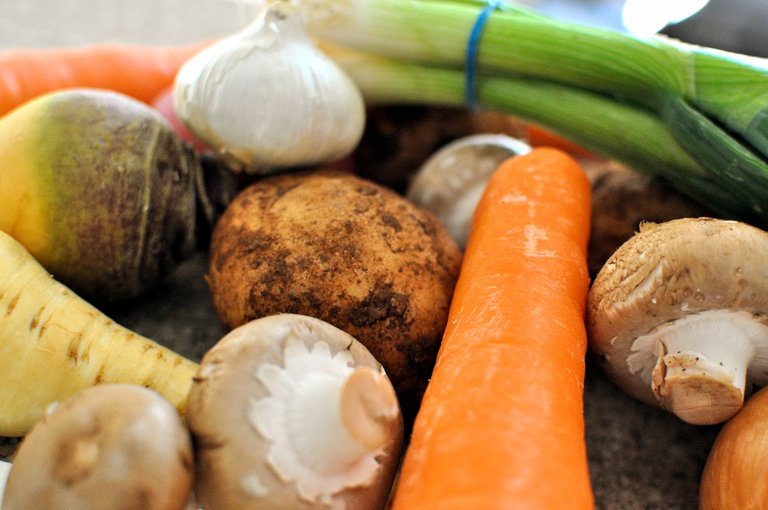 Next up, it was time to prepare the stew.
I only have two smaller pieces of oyster blade steak, but that's okay. My stews are mostly about the vegetables anyway.
In today's stew we have:
3 carrots
3 onions
1 swede
1 parsnip
1 celery stick
half a garlic bulb
4 potatoes
250g punnet mushrooms
and the two oyster blade steaks which I browned in delicious buttery butter.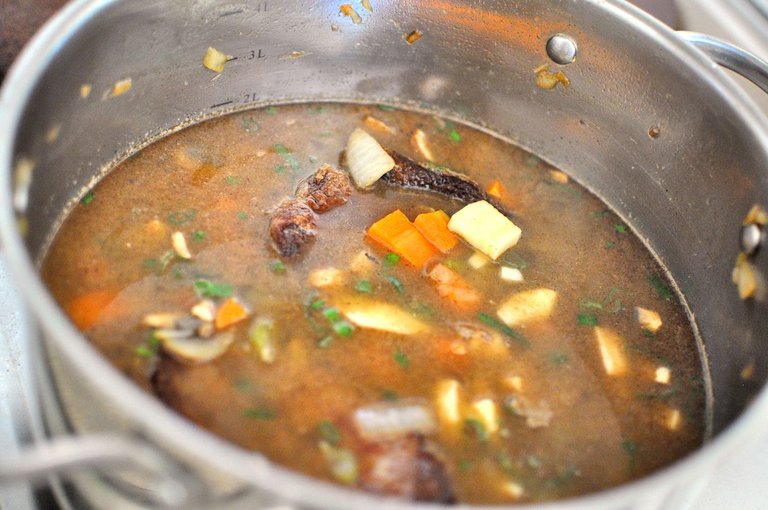 I love cooking my stews all day and I continually add vegetables to it all day. Some people thicken up their stews with flour. Not me. I thicken up my stew with more and more vegetables. By the end of the day, it's a mass of dissolved vegetables with more recent vegetable chunks.
 

 Today's is basically the same as the one linked, just, beef instead of lamb!
To finish up a day of good ol' kitchen-wenching, we needed a dessert for after dinner.
I had a bunch of granny smith apples waiting to be eaten, so I decided to throw them into dessert and make an nice, appley, cinnamony, slice.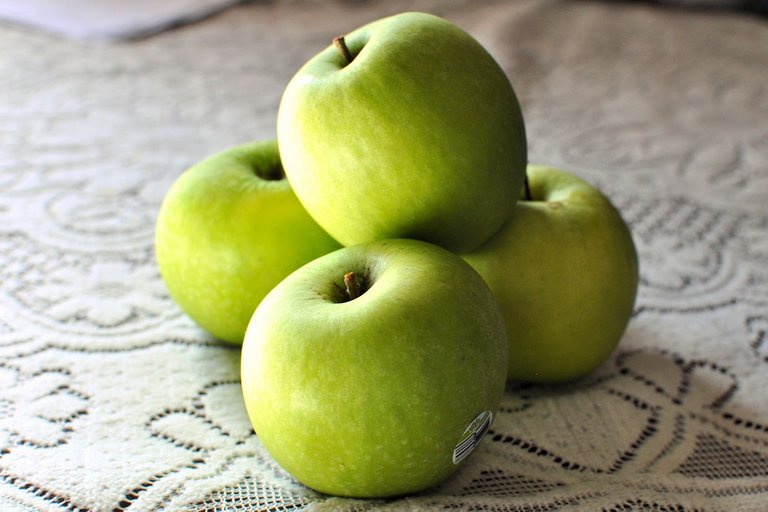 I was looking up various recipes to play around with, because normally my go-to is to make an apple tea cake, and I found this one:
⭐️ Easy Apple Slice by VJ Cooks -- and decided to give it a go.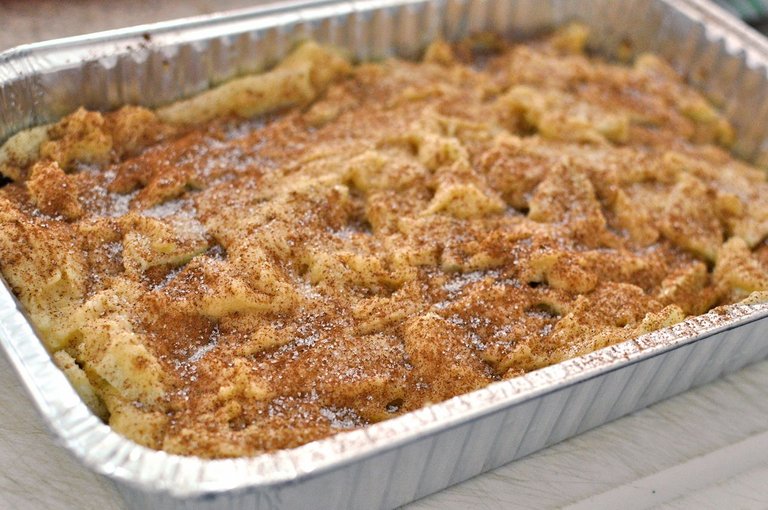 While following the recipe however, it was pretty clear I had to adjust it to my own specifications. I ended up using 2 eggs instead of one, and added a splash of milk. The mixture was just too dry without my changes.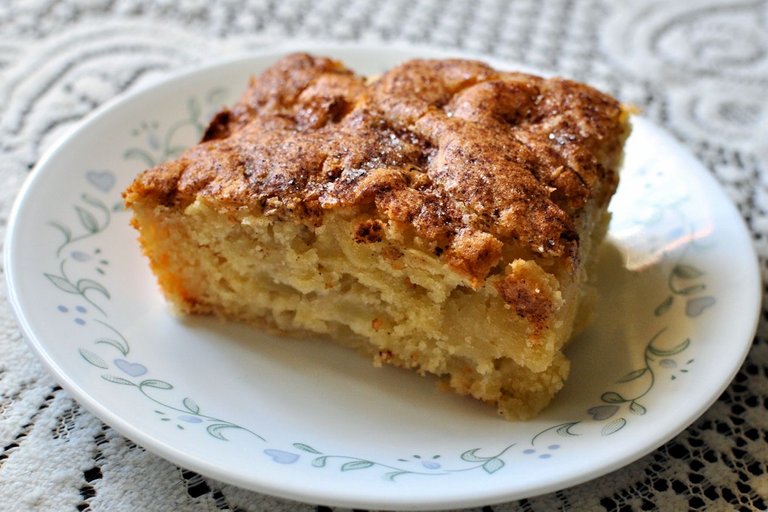 It seems to have worked out well.
A pity we don't have custard to go along with it, and being winter it's way too cold for ice-cream at the moment, so we'll just have it as is. If I was feeling extra fancy I could whip up some caramel sauce or something to go with it... but we're trying to lose weight here. We shouldn't even be having dessert. 🤣 But my partner is very insistent about dessert and at least it's like, appley, and not chocolatey... right?
Anyway, that concludes my Day of Deliciousness; another day of Kitchen Wenching. 😊
Until next time! 🍷
---
All photos in this post are courtesy of me, @kaelci and were taken with a Nikon D5000 and 35mm lens.
---
---