Usos versátiles y mágicos de la escoba
Saludos querida comunidad.
Greetings dear community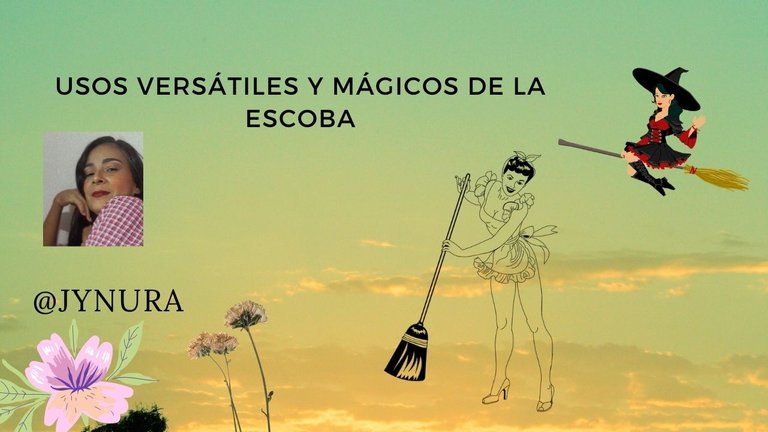 Hoy les voy hablar de las escobas y sobre una leyenda que se originó hace mucho tiempo en un pueblito andino, cuenta las abuelitas que en su época las escobas eran muy apreciadas, ya que ellas representaban al hombre y a la mujer, el palo representaba el aparato reproductor masculino (pene) y la fibra de la escoba representaban el aparato femenino por lo que la escoba en buen estado reflejaba el vigor de sus órganos sexuales en toda su plenitud.
Today I am going to talk about brooms and about a legend that originated a long time ago in a small Andean town, the grandmothers say that in their time brooms were very appreciated, since they represented the man and the woman, the stick represented the male reproductive system (penis) and the fiber of the broom represented the female system so that the broom in good condition reflected the vigor of their sexual organs in all its fullness.
El aspecto de una escoba podría decir mucho de cómo estaba cualquiera de los órganos en el hombre se creía que si el palo se torcía, se doblaba, o tomaba cualquier figura, eso también ocurriría al pene, de igual forma pasaba con la base de escoba si tenía mal aspecto también la vagina sufriría las consecuencias ya sea por enfermedades o la estética de las mismas.
The appearance of a broom could tell a lot about how any of the organs in the man was believed that if the stick was twisted, bent, or took any figure, that would also happen to the penis, similarly happened with the base of broom if it looked bad also the vagina would suffer the consequences either by disease or the aesthetics of the same.
Por lo que era de suma importancia mantener las escobas con buen aspecto, y muchos de los maridos y esposas cuidaba de la escoba como una prenda especial que no solo servía para barrer y mantener limpios los hogares, sino como un arte porque era el reflejo de su sexualidad.
Therefore, it was of utmost importance to keep the brooms looking good, and many husbands and wives took care of the broom as a special garment that not only served to sweep and keep homes clean, but as an art because it was a reflection of their sexuality.
Inclusive había hogares donde se le asignaba esta labor a una persona, la que se le daba la responsabilidad de la limpieza y el sumo cuidado para mantener la escoba en buenas condiciones. Se dice que la escoba utilizada era elaborada de una planta que contenían fibras naturales como: yute, junco, fique, palma y mijo entre otras variedades de acuerdo a las regiones.
There were even homes where this work was assigned to a person, who was given the responsibility of cleaning and taking the utmost care to keep the broom in good condition. It is said that the broom used was made from a plant that contained natural fibers such as: jute, reed, fique, palm and millet among other varieties according to the regions.
La escoba es un símbolo en cuanto a leyendas se refiere con muchos mitos desde tiempos remotos nos han acompañado como parte de la imaginación y de la idiosincrasia de cada lugar siendo fiel acompañante de esas preciosas brujas.
The broom is a symbol as far as legends are concerned with many myths since ancient times have accompanied us as part of the imagination and idiosyncrasy of each place being faithful companion of those precious witches.


---
---