INSIDE MY SOUL (a poem) to Accompany | My Nvidia Gaugan IA Digital Art Drawing

Image created by @justclickindiva utilizing Nvidia GauGAN
Today, the digital art scene I drew took a thoughtful look into the dark part of the soul. I wanted to include in this drawing dark clouds that portrayed the inner part our feelings in the upper body when at a low point.
The only other feature I wanted in my drawing was water. This was to reflect the emotional turmoil below the chest.
The image turned out exceptionally dark and dramatic that I felt the urge to release the emotion I was feeling in a poem once I saw the finished drawing.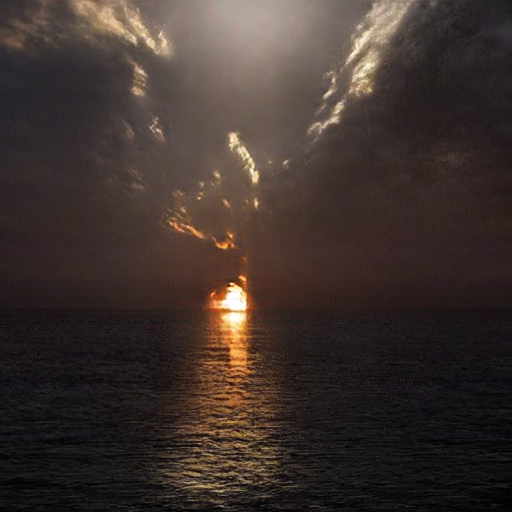 Image created by @justclickindiva utilizing Nvidia GauGAN

The black covers me like a sheath,
enveloping my burdens and sorrows to keep.

I grab hold of my innards
and feast on the disappointments.
I gorge on the despair.

The blow was swift.
From above, your words' flail pierces deep.

My spirit now split, mangled and torn.
Racked, my soul bleeds hurt,
oozing from the open wound.
Tears of blood slowly seep.

The hurt won't release its strangle,
digging in, desperate to find a string.
Catch me for I want to rise.

Behind me lies the bottomless chamber.
Beside me lies the leeches of companions
desperate to hang onto my despair.
Above me lies a glimmer of hope.

You say rid yourself of this misery
shake it off like dirt pouring into your resting place.

Do I dare reach out?

Suddenly, I cast off my cocoon and rise,
from just beneath the water's skin,
The ripples meander, leaving me
drifting with the ebb and flow.

No feeling exists as I lie in wait.

Only the revelation I have no one.

The faint sound of door opening above
reveals a presence.
Perhaps a portal to redemption or
another path to destruction
How can I decipher?
The weight is unbearable.

Either stay here and submit,
allowing the drudge to consume me,
or take a chance to float upward towards the light.

I know not what lies in wait for me beyond.

Has the world, not tolerable of misery and pain,
pretending I'm among the minority,
moved on from me,
tired to the bone, waiting for sense to return?

But I have to take a chance on finding solid ground.

It can't be any worse than my right now,
inside my dying soul.

I created this drawing using using the software, Nvidia GauGAN. The software generates photorealistic imagery from basic brush strokes. You can add various elements, i.e. buildings, grounds, landscape, and plants with the tools provided. The program takes your basic drawing strokes and apply them to a blank canvas.
The basic strokes you apply to your blank canvas will look weird until the program interprets them. Below is the image of my basic brush strokes for the winter scene.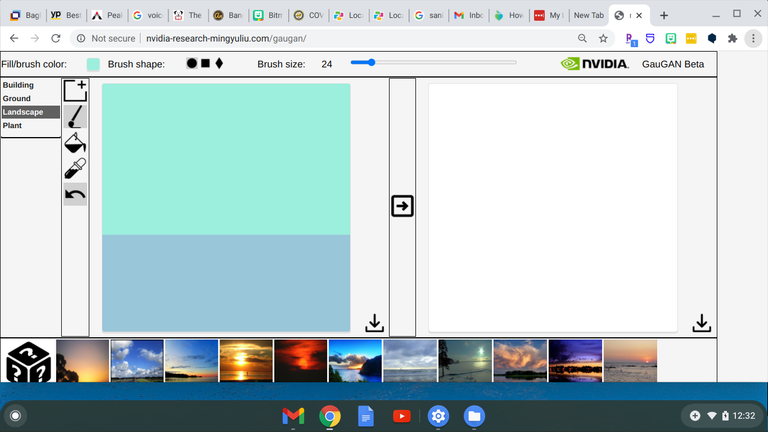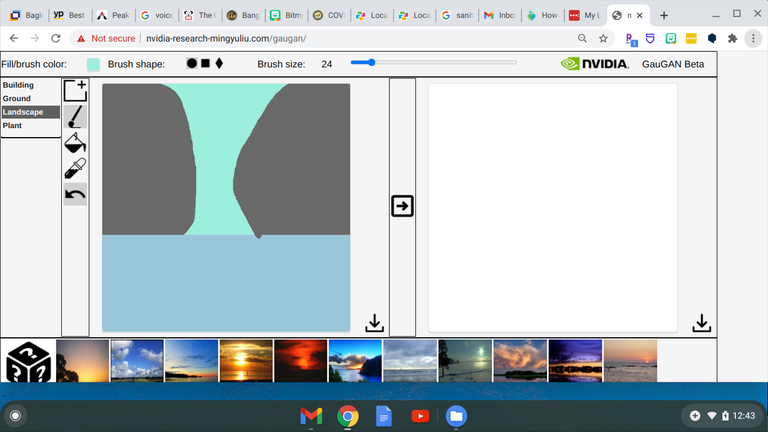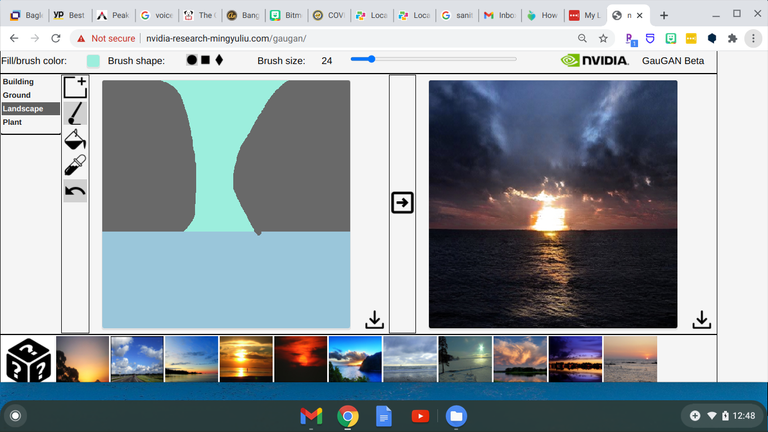 Above images created by @justclickindiva utilizing Nvidia GauGAN
Once you've finished your brush strokes and apply your various background filters and effects, the program then creates a drawing based upon those brush strokes from its massive inventory.
You can then download your finished images. Remember to save your brush strokes and each image your produce before moving to the next filter and effects.
Below is another version of my drawing.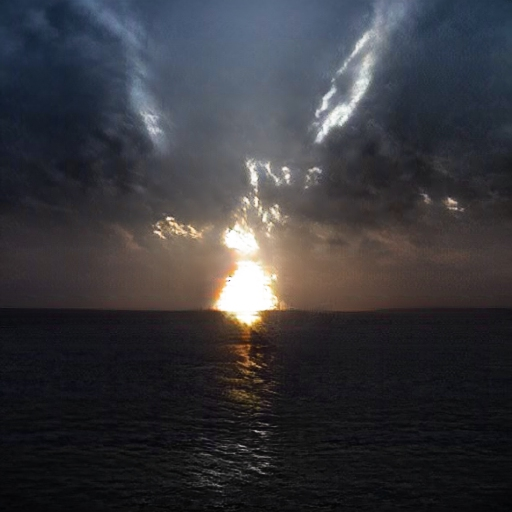 Let me know what you think about my poem that I chose to accompany my Gaugan IA digital art.

@flaxz initiative @iamalivechallenge: (Created a post for my blog this day)

Thanks,
@justclickindiva
Happy rest of the week everyone with whatever your endeavors.


SOURCES:
a) JustClickindiva's Footer created in Canva utilizing its free background and images used with permission from discord admins.
b) Unless otherwise noted, all photos taken by me with my (i) Samsung Galaxy 10" Tablet, (ii) Samsung Phone, & (iii) FUJI FinePix S3380 - 14 Mega Pixels Digital Camera
c) Purple Butterfly part of purchased set of Spiritual Clip Art for my Personal Use
d) All Community logos, banners, page dividers used with permission of Discord Channel admins.
e) Ladies of Hive banner used with permission of and in accordance with the admin's guidelines.

Your Personal Terminal Discord Invite

![Copy of Copy of Decorative Shape Facebook Cover1.gif](

---
---