Inappropriately dressed (Day 731: 5 Minute Freewrite: Monday Prompt)

https://steemit.com/freewrite/@mariannewest/day-731-5-minute-freewrite-monday-prompt-inappropriately-dressed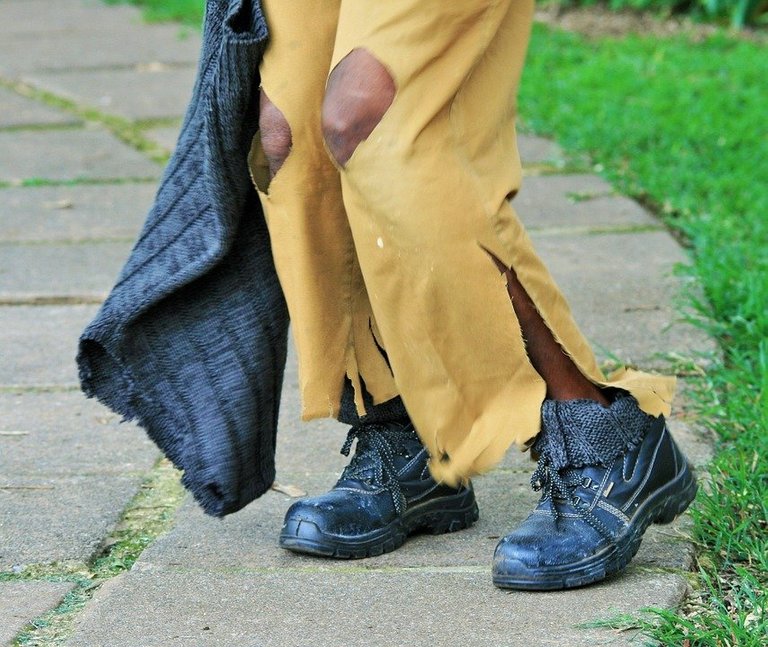 Image by PublicDomainPictures of Pixabay
Cars drove by honking their horns. But I don't quite remember the sound they made or how the cars looked. I don't even remember what day it was. You see, this memory comes from another place and time.
As I sat on the edge of the driveway, I tucked my dress between my legs mom had taught me. I gently dropped my head between my folded arms. Then rested both on my knees. That much I can remember. Why? Because I have always dropped my head in this manner.
And why did I feel comfortable sitting on a curb on a city block and didn't think twice about it? It was the sign of the times. Neighbors knew each other. You could leave your doors open, everyone was friendly. We did it every day.
The tears started rolling down my cheek until my arms and dress were wet and cold. "Why me?" I sobbed out loud, "Why me? Why can't I be like everyone else? I'm never going back there. They can't make me. I'm not going to school with moccasins on."
My plan was to sit there all day until time to go home. They'd never know I didn't go to school.
You see, the day before, I showed up with torn shoes where you could see my white socks through the holes. The kids laughed at me and said I was poor. I told my teacher I felt sick and wanted to go to the nurse. I thought she would understand and defend me. But she gave me a slip of paper and told me to go to the counselor's office.
Once there, the stout older lady beckoned me to hurry in and close the door. She took the note from my hand and read out loud, "Inappropriately Dressed." I started crying so hard that she let me stay in her office until the bell rang to go home.
When I got home, my mom greeted me smiling with a pair of moccasins in her hand. "I found you some shoes," she said. "And they don't have holes in them. "Remember," she said, 'fine shoes and clothes don't make a person who they are."
I looked at her in disbelief. I didn't want to hear that. The kids would laugh at me with moccasins on. Later I lay in bed staring at those brown things with strings everywhere, crying, wiping my eyes, crying, until I fell asleep.
Next morning I got dressed and put on those moccasins. I tried to think of every excuse not to go to school. In the end, I left out the door with books and lunch kit.
About a block from home I got that great idea. So there I was sitting on the curb. After what seemed like about the time school was to let out, I started to get up. I was startled when a voice called out to me, "Child, are you alright? You've been sitting on my curb for an hour. Is something wrong"?
"No, ma'am" I said wiping my face as I turned towards the old lady.
"Are you hungry? Do you want something to drink?" She insisted.
I accepted a glass of water. I remember taking a small sip because I didn't want to have to go to the bathroom. While drinking the water, I thought to myself, "It's only been an hour. Darn."
I had to make a decision. And did I make it!
You see my parents always told me that I was going to go far. I was going to be somebody someday. But how could I do with without going to school. And how was I going to school without shoes.
I got up and went back to the old lady's door. She didn't even wait for me to knock before opening it. You see, she said she was "keeping an eye on me". Then she said, "everything will be alright, child. It's not as bad as you think."
I turned around, ran down the steps, and headed home. I waited on my own porch and played in my yard the rest of the day until my mom arrived home.
I woke up the next morning to get dressed. I had decided to wear the moccasins to school. I looked in my closet to get my moccasins. There sat a pair of shiny new black and white Oxford shoes. I thought to myself, "I'll show them."
When I grew up I used to drive by the corner to see if the house with the old lady was still there. The house was still there, but I doubt the old lady was still alive. But I'll never forget her kind words and gestures.
When I think about it now, I know that all I didn't have was material things.
And I've never looked at another person who I can obviously see is in a different place than me, and say that person is "inappropriately dressed".

!


---
---