Unforgettable Most Expensive Tea Experience and Maokong Street Foods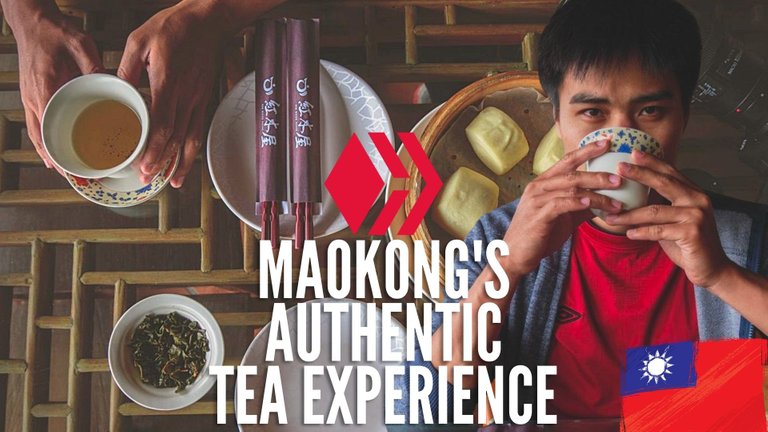 Arriving in Maokong, we were told that this quaint place is known for their authentic Taipei Tea, they even have a tea promotional center. It is therefore considered as the Tea Town of the city. But as soon as we got out of the Maokong Station, we easily spotted street vendors. I was interested with what they were grilling.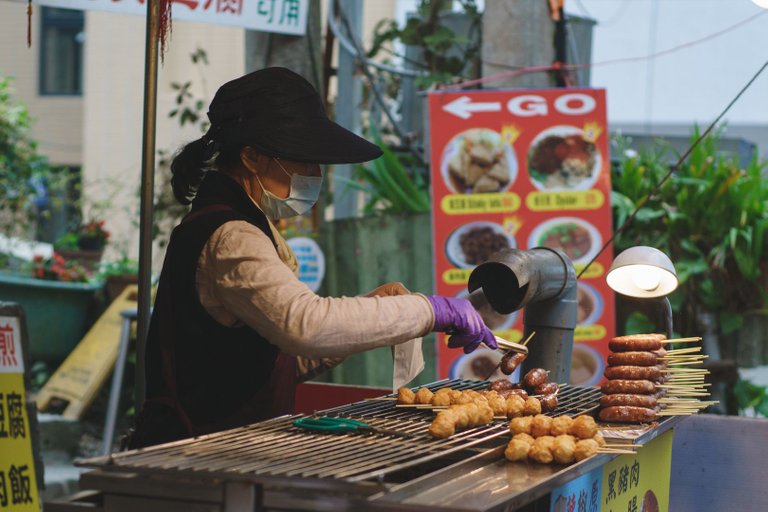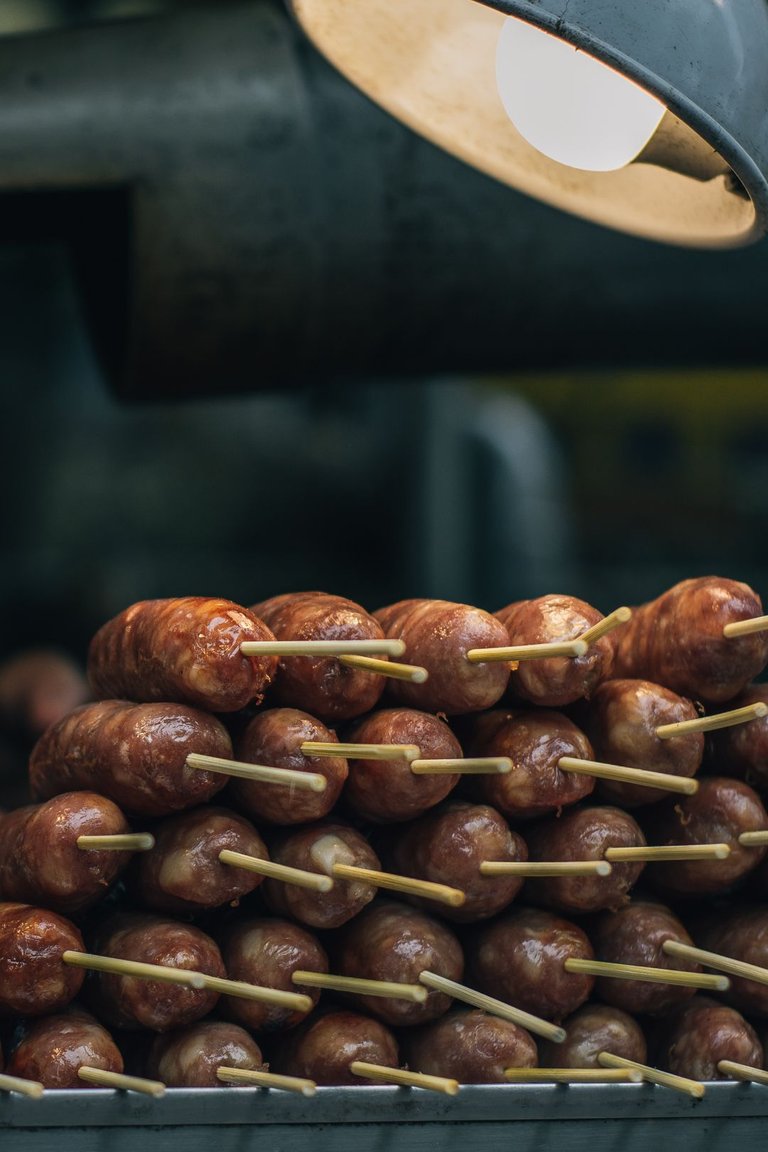 These sausages looked surely appetizing, unfortunately, I forgot how much a stick would cost but street foods are always affordable. My husband and I tried almost everything that was on display.
The sausage was really good! I can't give you an exact description of how it was but definitely, it was something that is not to be missed out when in Maokong, perhaps this is also available in other night market too.
We ordered one and it was time to try out other ones on the glass display. We were quite excited with the sweet potato fries! There's also potato fries and we have to skip that instead because we are already area how that tastes, there's even mushroom fries!
The sweet potato sticks are served in small paper bags which were handy when we were soaked in the rain upon going back to the station after our stroll in the area. We bought two more bags of it because they were truly delicious! There's something in the powder, it was sweet and salty at the same time but they were just right. I can't explain it!
And yet there was another one that caught our attention, these chorizo looking ones being displayed in upright position. In Cebu or Bohol, we don't usually display street foods in this way, most of the time, they are just going to be piled on the plate but this one right here were on an upright position which I believe is just right because it is easier choose your preferred stick.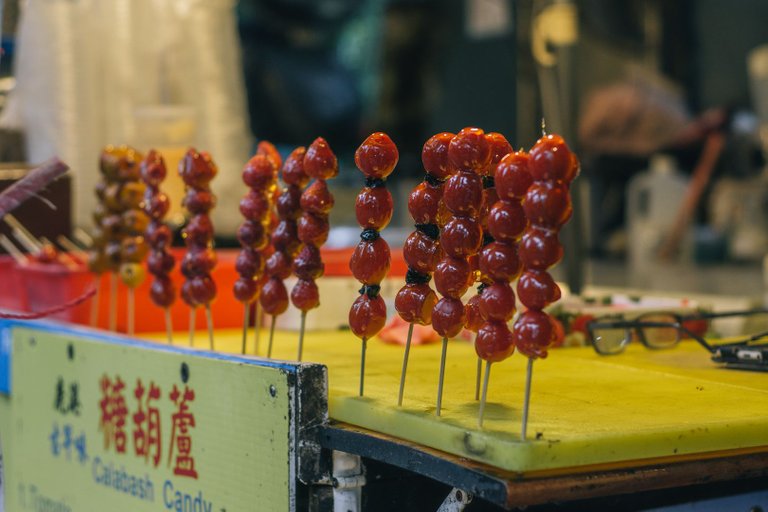 So this kept us wondering, what are these made of? I bet they are made of meat, like fish balls, maybe meat balls. The sign says Calabash Candy and I was not aware at that time what Calabash means. According to Google, "Calabash" refers to the snack's slight resemblance to the shape of a bottle gourd and that it is candy because it is covered with sugar.
I didn't think this is sweet at first glance! But we ordered one stick and figured these were cherries! It's sweet and really nice that I regret ordering just one and went on our way. We ate it while walking towards the Maokong area.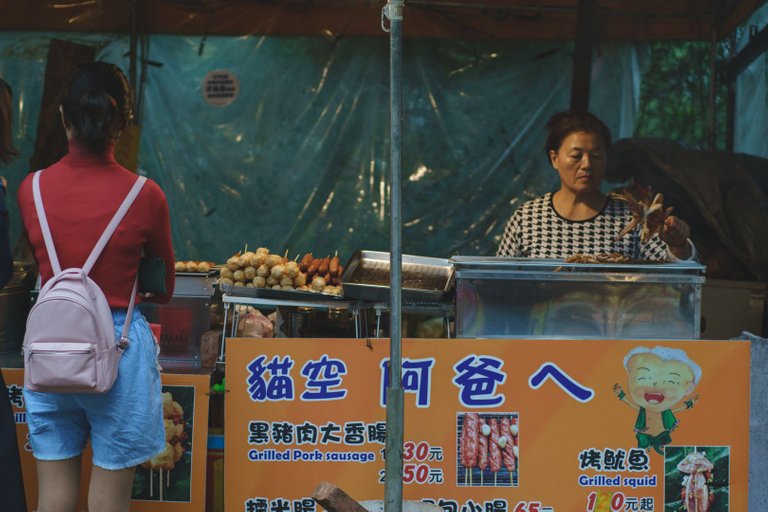 Other foods available were grilled squid which we didn't order. I do like squid for dinner but not as snacks.
Then we explored Maokong, we found several stores selling tea and other stuff. There were even restaurants and tea shops, coffee corners too! We passed by some temples too and then we reached the end of the road where there were no more people around. We thought we should go further but then it started to rain.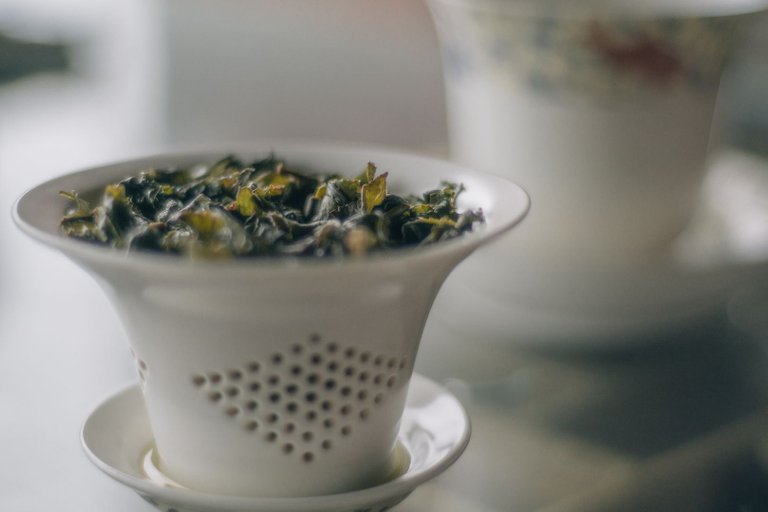 My husband suggested we go back instead. His colleagues were out of sight already and it seemed like the area was already very quiet. The rain poured a little harder so we decided to stop by the restaurant where there were cherry blossoms.
We took photographs and while we were just about to go, a staff approached us and offered that we try their tea. The approach was somehow a little demanding and we politely agreed thinking that the tea would only cost a few Taiwanese dollars.
The restaurant's name was Red Wood Tea House and it has a lower ground and while it is in the lower part of the building, it still has a good view of the gondola plus the restaurant has a distinct beauty, almost vintage, they even use old type of kettles.
As we looked into the menu, we figured this is not the same as the street foods we had earlier that day. We have to just choose the most affordable ones in the menu. I tried searching online for Red Wood Tea House's menu but I couldn't get any lead, if my memory serves me right, the tea set costs more or less Php 800. That is not cheap tea! I am used to having those which only costs around Php 300 in the Philippines and that's a box of 15 tea pouches already.
Unfortunately, I forgot what kind of tea was ordered but I do remember the soft buns. It only took a few minutes of waiting, the lady staff served it immediately, the tea pot can be refilled and the staff was quick in refilling it.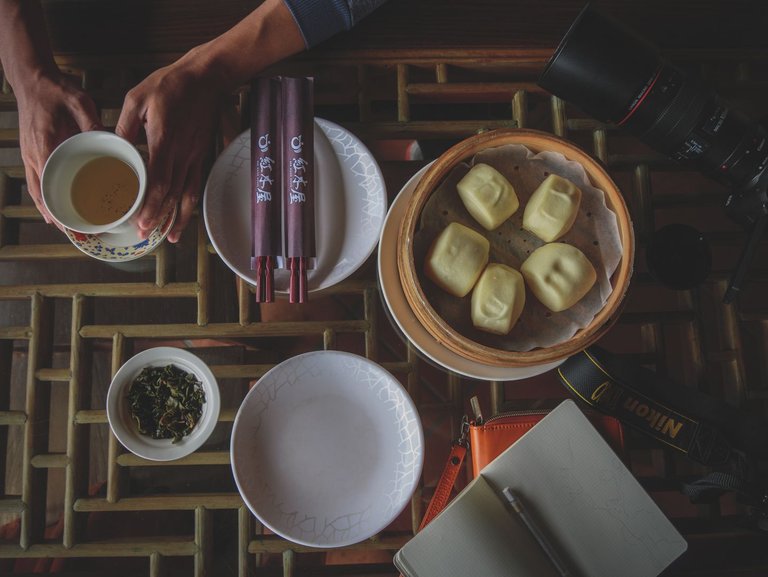 I must admit that the buns were surely tasty, it was the first time that I had tried such soft kind of buns, I love soft buns but in our place back in Cebu or in Bohol, I had never anything like this.
My husband agreed with me and we shared the five pieces of buns and the tea while watching the gondolas move. It was a little hazy due to the rain and then we received some messages from their group that they were already in Taipei Zoo!
We finished our tea, the buns vanished in sight without us knowing, and we walked back to Maokong Station but we made sure we drop by the street food vendors again and bought another set of sweet potato sticks.
This tea experience at Maokong was one that we will always remember because it was the most expensive tea we ever had.
---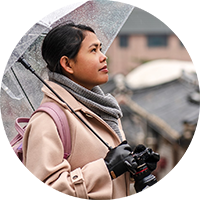 J U N E B R I D E
Boholana | Cebu | Philippines | Travel | Photography Enthusiast | Calligraphy | Art
• • •



---
---