My brief experience with MindsEye AI Part 1: BOB ROSS JELLO

Last week I applied to be a beta tester of a new AI art project called MindsEye (@midjourney on twitter which is slightly confusing). They ended up releasing a public link so I hopped on and started experimenting. It's a text to image program that creates some really incredible results and requires no knowledge of code, you just click a few buttons and it creates an applet interface for you!
Correction, thanks to @kaliyuga and @speakerjohnash I realize I am in fact using mindseye and not midjourney, I thought they were the same thing, midjourney is still beta and only in a discord server ATM. I guess I guess it was crashing for me because I reached daily limits for google collab or something!
---
OK back to the art:
One of the prompts I gave it was : BOB ROSS JELLO
I notice that it seems to interpret prompts pretty accurately and does textures well!
I did two iterations and these are how they came out: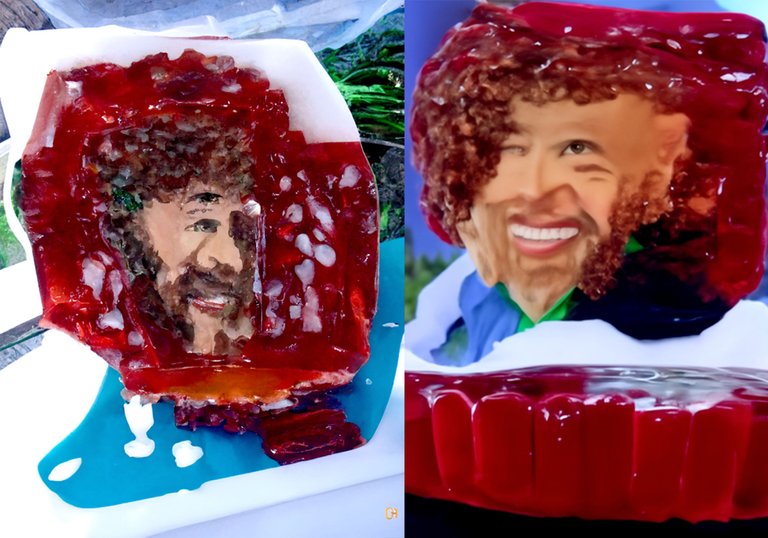 I prefer the one on the left as it came out quite painterly (and has extra eyes) but they are both pretty cool! The one on the right has that old school jello mold style.
---
I was able to play around with it for a few hours before the app started losing connection, I later found out that since they released the link publicly the servers got smashed so they are already looking to go to a pay to use model which sucks but it's understandable :) I am not sure if I will pay to use it or not, I can see a lot of applications for using these elements in my collages but we shall see!
I was able to launch the app today but it quit after 7% and I got a pretty blurry image, so it is still working but obv can't keep up with demand.
I can't get into their server or find out what's going on since the public invite link has expired, I am guessing they don't want more people in there atm.
Maybe someone else has used it too and can give some insight? @kaliyuga maybe?
>>>>>>>>>>>>>₳ⱠłɆ₦ ⱧØ₦ɆɎ<<<<<<<<<<<<<
Visit my gallery on NFT Showroom
Join the Alien Art Hive community and come get some Alien Honey!

To follow on twitter, personal account, Alien Community account <3

---
---