The Essentiality Of Plant Nutrition To Crops, The Need To Take Great Care
Like Humans, Crops needs nutrients to grow, carry out their daily activities and maintaining their structure. It's obvious that crops can't survive without nutrients. Weeds growing at certain places are different. These weeds are accustomed to the adverse weather conditions and hence, we might be wonder why Cedar, milk bush and centrosema are able to survive all time even when they are overcrowded and competing with each other but crops which are intended grown can't survive with little competition of weeds for the same nutrients. The weeds too have developed a mechanism with test of time to be resistant to certain unfavourable conditions like drought, flooding and excessive sun.
---
Plant nutrients are therefore chemical elements either naturally produced or intended made supplied to the soil to supplement the growth of crops on the field. Ideally, plant nutrients have to be naturally produced to anchor the good growth of crops. In the natural way, that's what God made the soil to be. The leaves, debris and dead living organisms either micro or macro organisms, when they die, they decompose and mixes with the soil turning into humus to be up take by plants or crops on the field. These decomposed dead matter emits elements such as nitrogen and phosphorus into the soil to be used by plants. The potash of burnt plant residual products produce great potassium that's needed by plants.
---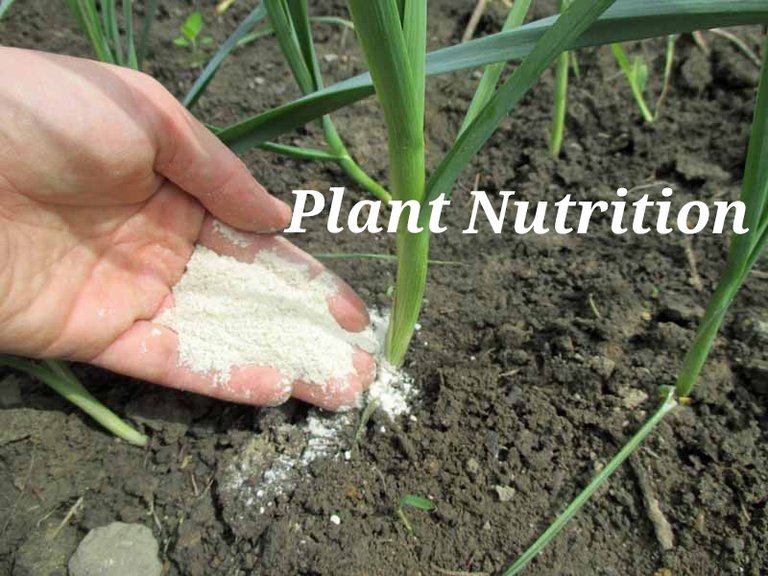 source
---
Some gases like oxygen are produced during photosynthesis used by plants for respiration. Other nutrients like cobalt, iron, zinc are embedded in the soil that crops are able to used directly.
---
Due to over increase in human populations around the Globe, most farm lands become used up and no longer support crop growth as we know it to be. Hence I has become necessary to supplement the soil with some of the essential plants nutrients, at least the major ones like Nitrogen, phosphorus, potassium, calcium, magnesium and sulphur. Even though in its natural way, they produce by natural means, but their supply to the crops are minimal. That drew the attention to the Agronomic unit to produce some of these essential nutrients to support good growth of plants.
---
At the Agrochemical shops, there are sales of fertilizers like NPK and urea (Nitrogen fertilizer) to supplement the fast growth of crops and early maturation of produce to feed the large population Globally.
---
Per my observation as a Farmer, major deficiency of nutrient in most farm lands is Nitrogen. This is from the fact that it's the major nutrient that crops need it for the initiation of growth and production of good fruiting or produce. For instant, where cereals like maize and rice are cultivated, the major nutrient that is mostly used is the NPK fertilizer and Urea which is purely Nitrogen fertilizer used as top dressing for higher yield. These nutrient contents ensures cellulose build up and enzymes production in crops. They are also good for crops maintenance structure,repairing worn out tissues especially where stunted growth have taken place for longer time.
---
Even though some trace elements or micro nutrients like molebdenum, iron, zinc , cobalt and copper can't be ignored. They are needed by crops in smaller quantities. They aren't scarce compared to macro crop elements which crops make use of them so fast and with little time, they become use up. In most cases, crops tap more Nitrogen than any other nutrients. That's why Nitrogen has become keen factor for crops development especially producing bigger tubers, higher grains in maize and fruiting in tomatoes, peppers and egg plants.
---
It's about time we pay attention to some of these essential nutrients and find good way of maintaining them. It's clear that their deficient can cause great harm to crops.
---
---
---