Life Leech and Cripple | Deadly combo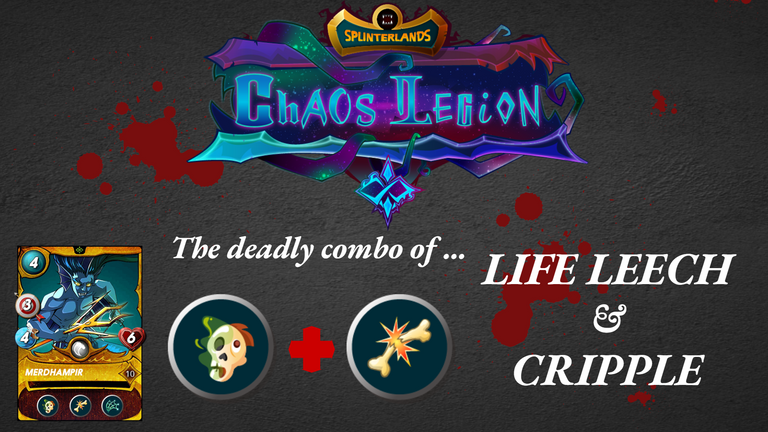 Recently, Splinterlands released a new set of reward cards in the game and if you haven't collected or used them, I highly suggest you check those cards as they might gain value overtime. And on this post, I want to just shed some light to the abilities which gains some popularity as more and more cards get these abilities.

LIFE LEECH
| | Monster's health increases each time it damages an enemy Monster's health in proportion to the damage dealt. |
| --- | --- |
The health added from using this ability is computed as half of the damage, rounded up to a whole number. This added health will be reflected on your current health and max health. One of the greatest effect of Life Leech is that it increases your max health depending on the damage you dealt to the monster. This means that abilities which depends on the max health will have a greater effect when combine this ability. So far, only healing abilities like HEAL, TANK HEAL and TRIAGE are dependent on the max HP. Maybe in the future releases of newer cards, we can see abilities that damages the monsters based on their max HP. The famous combos with Life Leech and Tank Heal combination are Kitty + Black Dragon and Kitty + Ancient Lich
One way to counter the Life Leech ability is to reduce the damage to zero. For melee and ranged, we can use SHILED ability and Armor to block the damage. While for magic damage, we can use VOID and VOID ARMOR abilities. As long as you are not dealing damage to enemy, LIFE LEECH will not trigger.
Another ability that we need to look at if we want to maximize the effect of LIFE LEECH is the BLAST ability. With BLAST, monsters adjacent to the target monster will also be affected by your attack. Although the blast damage is lower compare with the direct hit, the LIFE LEECH will still gains some heatlh from the blast damage.
One common denominator from Monsters with Life Leech ability is their low HP (basically to make the game balance). This is also one of their weakness. You need to kill them as fast as possible while they haven't accumulated health yet.
Monsters with Life Leech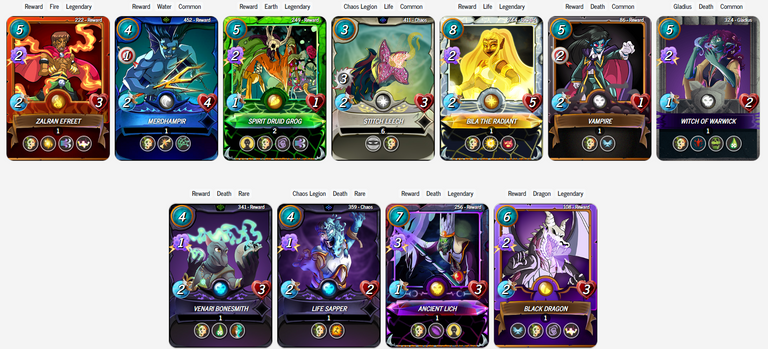 image from https://splintercards.com
Zalran Efreet is the only monster from Fire splinter that has the Life Leech ability. There are also few monsters with Tank Heal ability from the Fire splinter so it is rare to see the Life Leech and Heal combo from Fire splinter.
For Earth splinter, there is also one card that has this ability. Spirit Druid Grog is a legendary monster with magic damage.
For Life splinter, we have Bila the Radiant and Stitch Leech. Life Splinter has a lot of monsters with Tank Heal abilities so you may see a lot of those Life Leech and Tank Heal combo. My favorite from this two is Bila the Radiant since magic damage dealt direct damage regardless of enemy's armor.
For Death splinter, it seems the Life Leech is their mastery. Although they have a very few monsters with Tank Heal ability, you can still pair them with Byzantine Kitty as the Dragon summoner. The most famous combo for Byzantine Kitty is Life Leech when going with Death splinter.
For Dragon splinter, we have Black Dragon which is also a fan favorite for partnering with Byzantine Kitty.

CRIPPLE
| | Each time an enemy is hit by a Monster with Cripple it loses one max health |
| --- | --- |
Cripple, on the other hand, reduces the max health when hitting a target. This means that the healing effect will gradually be less effective as the monsters's max health is reduced after every hit.
Once a monster is successfully hit by a monster with Cripple ability, the max health will be reduced regardless if that monster has armor to protect if from direct damage, or abilities like Shield and Void that can reduces the damage to zero. This means that an attack with Cripple will always secure a 1 HP damage to target monster.
As Cripple is still a negative status, it can be easily countered using CLEANSE and IMMUNITY ability. Although right now, only the first position monster can receive the Cleanse effect. This means that monsters at the backline can only rely on Immunity ability to negate the effect of Cripple.
Monsters with Cripple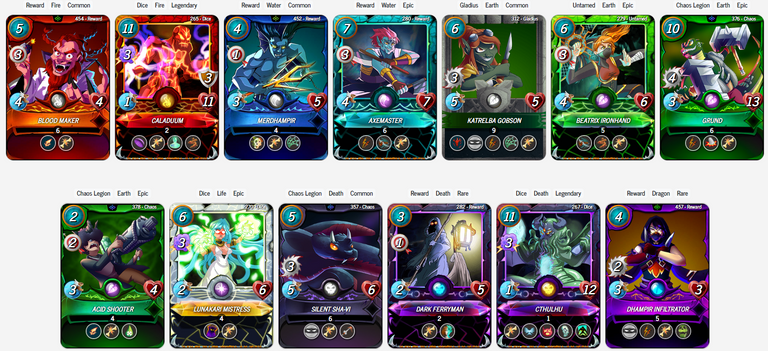 image from https://splintercards.com
Axemaster (Water - Range), Grund (Earth - Melee), Dhampir Infiltrator (Dragon - Melee), and Katrelba Gobson (Earth - Melee - Gladius) are monsters with Cripple and Double Strike abilities. Each attack from Double Strike will trigger the Cripple effect, that means that the target monster will lose 2 max health per round from these monster.
We also have Cripple and Scattershot combination for Blood Maker and Acid Shooter. Although there's not much chemistry between these two abilities when combine.
Cripple and Sneak attack is something to check as well since we have three monsters which has these two abilities namely Silent Sha-vi from Death, Dhampir Infiltrator from Dragon and Katrelba Gobson from Earth-Gladius. This Cripple and Sneak combo can be a great counter against the combo of Llama+Golem+Kron. With this, we can easily eliminate backline monsters and reduced their healing capabilities. Although Scarred Llama has the Cleanse, this will only trigger after every round. Depending on the attack order, we may still be able to reduce the healing capability of the monster if we can attack first.
Life Leech and Cripple combo
I had mentioned some abilities we can combine with Life Leech, or with Cripple. Below is the table showing the recap or summary of what I have explained earlier.
Life Leech
Cripple
Effect to max health
Increased the max health.

Variable - the increased max health is proportional on the damage dealt. If the health of the target monster is lower than the computed health gain from Life Leech, the HP gain from this attack will be equal to the health of the monster.
Decreased the max health

Constant - the reduced max health is always 1 regardless of the damage dealth
Activation
Triggers when dealing damage to enemy.
Triggers on successful hit to the enemy monster regardless if base damage is zero. This attack will bypass armors and abilities like SHIELD and VOID.
Nullification
Effects cannot be removed by DISPEL ability. Using Dispel won't removed the added max health to the monster. Even with Affliction status, monster can still gain HP per damage dealth.
Effects can be removed by CLEANSE ability. Using Cleanse will return the lost max HP of the monster.
Now, let's move on to the combination of Life Leech and Cripple abilities. In terms of the effect to the max health, it will still remain for both the attacking monster and the targeted monster.
The most important change when this two abilities combine is in terms of the activation or triggering of Life Leech effect. With Life Leech alone, aside from hitting the target, we also need to deal atleast 1 damage in order for us to gain some health. Hitting an armor or attacking with 0 damage (due to Shield, Void or other abilities) will not give us health. But with the addition of Cripple ability, we only need to secure a hit on the target monster and Life Leech effect will be triggered as well.
As an example, if our monster with Cripple and Life Leech ability attacks but the damage is absorb by the armor of the targeted monster, the Cripple ability will still trigger and will deal 1 damage to the targeted monster. And since we dealt a damage to the monster from Cripple effect, the Life Leech effect will now be triggered from this giving us 1 additional max health.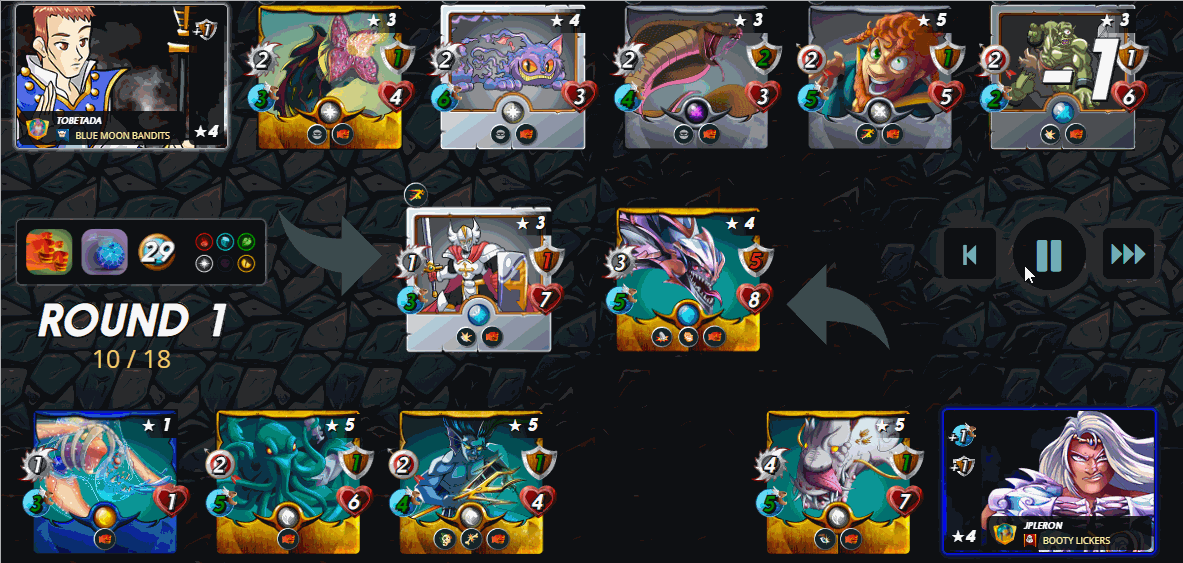 Let's now give some brief introduction to the only monster in the game (as of the moment) that has the Life Leech and Cripple combo ability.
MERDHAMPIR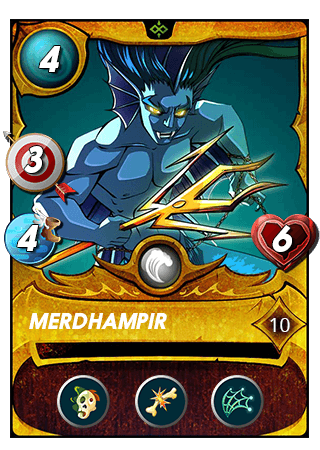 Merdhampir is one of the newest reward cards you can obtain in the game. It is a ranged monster with only 4 mana requirement. If maxed out, it has three abilities, Life Leech, Cripple, and Snare.
---
Sample Battle
https://splinterlands.com?p=battle&id=sl_887094be413ccd1d644b3ff307a6c7f7&ref=jpleron
Battle Rules
Heavy Hitters
All monsters have the Knock Out ability
This ability will deal double damage against monsters that are stunned. Unfortunately, we do not have monsters on our deck that has Stun ability so it is not applicable for us.
Lost Magic
Monsters with Magic attack may not be used in battles.
This ruleset will restrict our line-up to either melee and ranged monsters. So far, I deployed atleast two ranged monsters with melee monsters capable of attacking from the backline
Our enemy focuses on using Sneak attacks. Having Torrent Fiend at the backline works as a decoy to absorb some damage, while placing Merdhampir at the middle position gives us some time to build up its max health.
---
https://splinterlands.com?p=battle&id=sl_7b4956acc774b8f7e60a854ed8f1af8b&ref=jpleron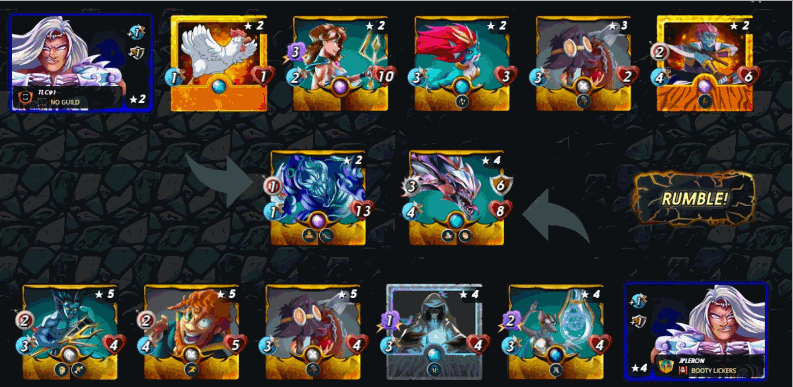 Battle Rules
Weak Magic
Magic attacks hit Armor before reducing Health.
This is similar to having all monsters with the VOID ARMOR ability.
In order to fully utilized this ruleset, I used monsters with high armor. I also used the Summoner Kelya to give ll our monsters 1 armor while Venari Wavesmith gives plus 2 armor to all our monster.
Lost Legendaries
Legendary Monsters may not be used in battles.
This limits the cards that we can used in battle to only Common, Rare and Epic cards.
This is an example battle were we can dominate against monster line-up with Tank Heal and Armor Repair. Assuming the target monster will not be damage due to its armor, the Cripple ability will slowly reduced the max health of the target monster, making the Tank Heal less effective each time it will be used on that monster.

Final Thoughts:
For me, this new card Merdhampir is really a great addition to Splinterlands card collections. Those two abilities can greatly help against line-up with a lot of healing abilities or even armor repairs since the Cripple will directly damage the targeted monsters. Feel free to try this card as well ang i guarantee you will enjoy using it as much as I do.
---
If you want to know more about the game, you can visit their website at https://splinterlands.com?ref=jpleron
Splinterlands is a digital, collectible card game built on blockchain technology. It is similar in concept to games like Magic the Gathering and Hearthstone where you build up a collection of cards, which all have various different stats and abilities, and use them to battle other players in skill-based matches. By using blockchain technology, players can buy, sell, and trade their digital assets freely just as if they were physical cards, and all transactions are recorded publicly and immutably.
Use my referral link to register and I will give you some cards to help you start your own Splinterland journey. https://splinterlands.com?ref=jpleron
---
---