Complications and second dose of the Vaccine (Eng-Esp)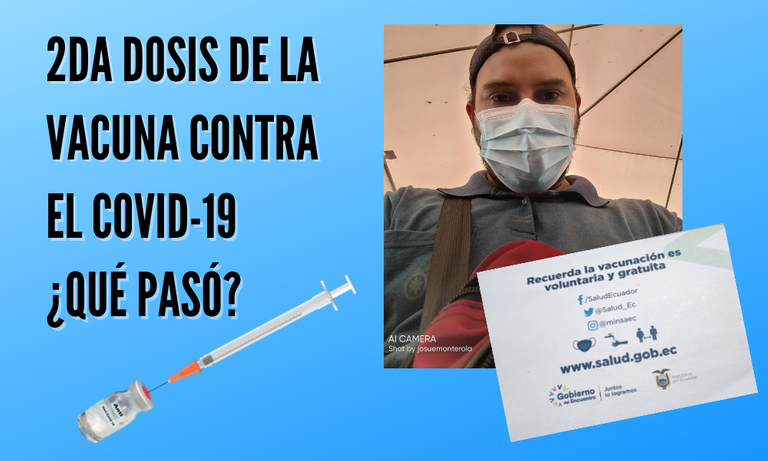 Hola ¿qué tal?
(Esta publicación puede tener imágenes fuertes para algunos)
Hoy, quiero contarles que ya me puse la segunda dosis de la vacuna Pfizer contra el covid-19. Hace dos semanas atrás tenía la fecha para vacunarme pero no pude porque sufrí un inconveniente en mi rodilla izquierda, me salió un nacido, forúnculo o acceso.
Hace 2 semanas atrás fui a un centro de salud que queda al lado de mi casa (como ya les había comentado), recuerdo que fue un martes y después de varias horas me atendieron me recetaron una inyección de penicilina y paracetamol hasta el viernes, cumplí mi tratamiento, pero nacido era peor. El sábado no podía caminar, me dio fiebre en la madrugada y tuve que ir al hospital donde me hicieron una pequeña incisión y me drenaron todo el pus.
Hello, how are you?
(This post may have strong images for some)
Today, I want to tell you that I got the second dose of the Pfizer vaccine against covid-19. A fortnight ago I had the date to get vaccinated but I couldn't because I suffered a problem in my left knee, I had a boil or access.
Two weeks ago I went to a health centre next to my house (as I had already told you), I remember it was a Tuesday and after several hours they treated me and prescribed me an injection of penicillin and paracetamol until Friday, I complied with my treatment, but it was worse. On Saturday I couldn't walk, I got a fever in the early morning and had to go to the hospital where they made a small incision and drained all the pus.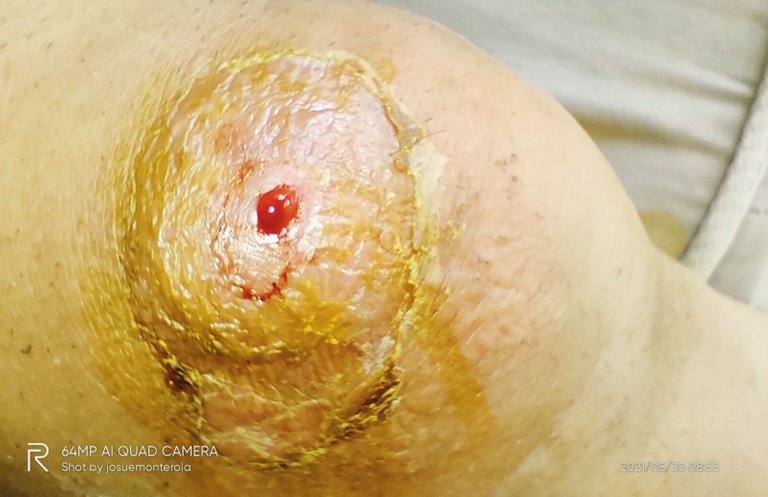 Fue una experiencia muy dolorosa, el doctor me explicaba que no podía ponerme anestesia porque estaba infectada, me dijo no te voy a mentir esto te dolerá mucho jeje y bueno me arme de valor y le dije doctor haga lo que tenga que hacer, ya que la verdad no podía ni afincar la pierna.
Cuando empezó a hacer la incisión, ya no quería que me tocará más la rodilla, pero ni modo tuve que aguantar ese dolor hasta que saliera todo el pus. En fin, por tal motivo no pude ir a la fecha a vacunarme, ya que estuve tomando antibióticos y me recomendaron esperar.
It was a very painful experience, the doctor explained to me that he couldn't give me an anaesthetic because it was infected, he told me I'm not going to lie to you, this is going to hurt a lot hehe and well, I plucked up my courage and told him doctor, do what you have to do, because the truth is I couldn't even bend my leg.
When he started to make the incision, I didn't want him to touch my knee any more, but I had to put up with the pain until all the pus came out. Anyway, for that reason I couldn't go to the vaccination date, as I was taking antibiotics and they advised me to wait.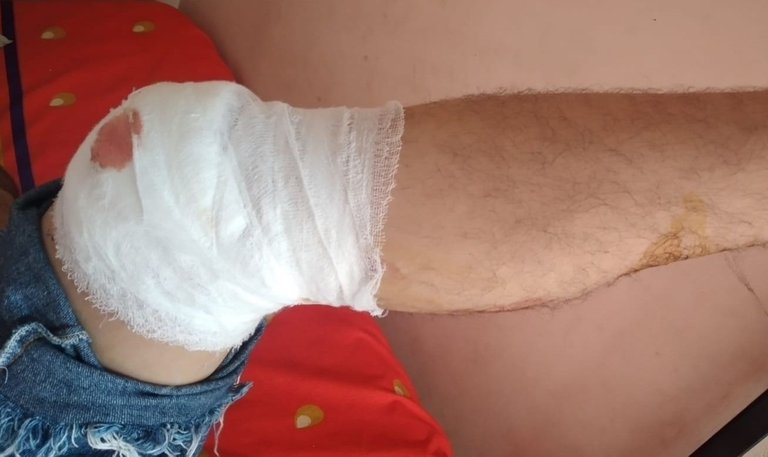 Gracias a Dios ya me recupere y pude ir a vacunarme. Salí de mi casa en la mañana, fui a mi trabajo y de mi trabajo como a las 10:00 a.m fui al sitio donde están vacunando, que es el centro principal de vacunación en la ciudad donde actualmente vivo.
Afortunadamente estaban poniendo la Pfizer, que es la vacuna que me tocaba, ya que esa fue la que me puse en la primera dosis, esperé un par de horas hasta que llegó mi turno y me pusieron la segunda dosis.
Thank God I recovered and was able to go to get vaccinated. I left my house in the morning, went to work and from work at about 10:00 a.m. I went to the place where they are vaccinating, which is the main vaccination centre in the city where I currently live.
Fortunately they were giving me the Pfizer, which is the vaccine I was supposed to get, because that was the one I got in the first dose, I waited a couple of hours until it was my turn and they gave me the second dose.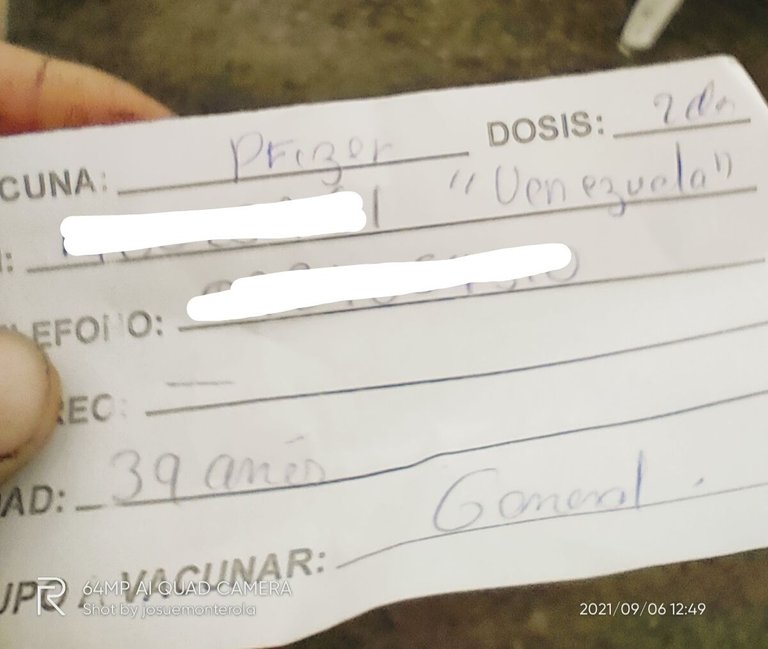 Hasta los momentos no siento ningún malestar, he podido trabajar y seguir mi rutina diaria, de igual manera me tomé una pastilla de paracetamol para evitar cualquier malestar. Espero que haya tomado la mejor decisión con referente a vacunarme.
Hasta la fecha nadie en mi familia ha sufrido esta enfermedad, al menos no que sepamos, gracias a Dios, pero igual decidimos vacunarnos mi esposa y yo, para evitar correr riesgos.
Sea cual sea la decisión que tomen ustedes referente a si vacunarse o no, recuerden que nadie puede obligarlos y que a la final cada uno es responsable de sus actos y las consecuencias de los mismos, tanto para bien, como para mal.
So far I don't feel any discomfort, I have been able to work and go about my daily routine, and I took a paracetamol tablet to avoid any discomfort. I hope I have made the best decision regarding vaccination.
So far no one in my family has suffered from this disease, at least not that we know of, thank God, but my wife and I decided to get vaccinated anyway, to avoid taking any risks.
Whatever decision you make about whether or not to get vaccinated, remember that no one can force you and that in the end everyone is responsible for their actions and the consequences of those actions, both for good and for bad.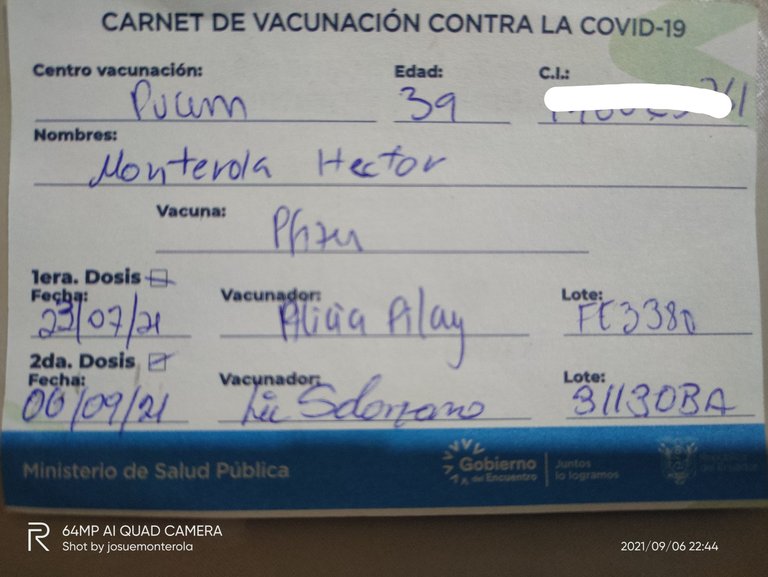 Todas las fotografías fueron tomadas por mí. la imágen principal fue editada en canva.
All photographs were taken by me. The main image was edited in canva.

---
---