La Voz Cantante # 27 - "Tómalo" - Acapella @josueelinfame
---
¡¡¡¡Mis amigos del PUKUMUNDO!!!! casi no presento, pero aquí ando.
Hace años no asisto a una iglesia, pero recuerdo que la última vez que fui escuche este tema de Hillsong. Así que he decidido cantar este rock cristiano llamado "tómalo".
Hago la invitación a todos realizar este concurso.
My friends from PUKUMUNDO!!!! I hardly present, but here I am.

I haven't been to church in years, but I remember the last time I went I heard this Hillsong song. So I've decided to sing this Christian rock called "take it."

I invite everyone to take part in this contest.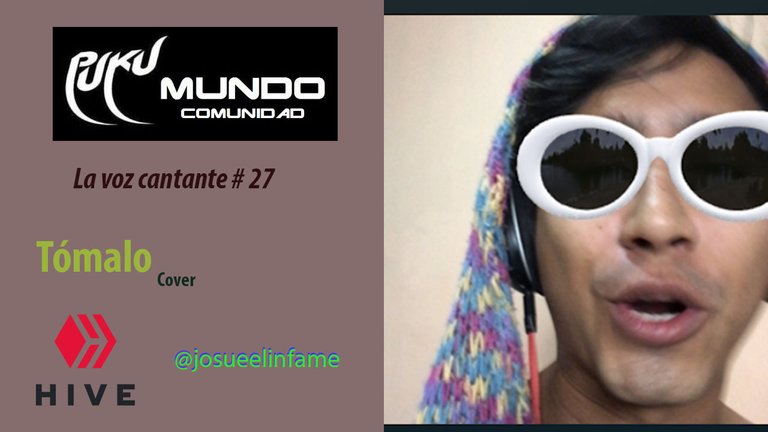 ---
De todo lugar los perdidos vendrán
En libertad a ti clamarán
Llevaste la cruz, por eso hoy vivo estás
Mi Dios, a ti mi vida te daré
Enviaste a Jesús por mi salvación
Por la eternidad en ti tengo perdón
Busqué la verdad y te encontré a ti
Mi Dios, a ti mi vida te daré
Jesús, por ti yo viviré
De ti nunca me avergonzaré
Te doy todo lo que soy
Toma, tómalo, toma, tómalo
Enviaste a Jesús, por mi salvación
Por la eternidad en ti tengo perdón
Busqué la verdad y te encontré a ti
Mi Dios, a ti mi vida te daré
Jesús, por ti yo viviré
De ti nunca me avergonzaré
Te doy todo lo que soy
Toma, tómalo, toma, tómalo
Jesús, por ti yo viviré
De ti nunca me avergonzaré
Te doy todo lo que soy
Toma, tómalo, toma, tómalo
Eres el que vista al ciego das
Brillas en la oscuridad
La salvación del mundo en tus manos está
Eres el que vista al ciego das
Brillas en la oscuridad
La salvación del mundo en tus manos está
Jesús, por ti yo viviré
De ti nunca me avergonzaré
Te doy todo lo que soy
Toma, tómalo, toma, tómalo
Jesús, por ti yo viviré
De ti nunca me avergonzaré
Te doy todo lo que soy
Toma, tómalo, toma, tómalo
Jesús, por ti yo viviré
De ti nunca me avergonzaré
Te doy todo lo que soy
Toma, tómalo, toma, tómalo
Toma, tómalo
Video Original


---
▶️ 3Speak
---
---