La Voz Cantante # 30 - "Snow" - Acapella @josueelinfame
---
Mi querido PUKUMUNDO, aquí estoy una semana más.
Esta semana me divertí mucho, el tema elegido fue un tema de RHCP llamado "Snow". Al no hablar inglés fluido, me hizo cantar este tema como un trabalenguas hehe.
Invito a todos que se una a este concurso.
My dear PUKUMUNDO, here I am one more week.

This week I had a lot of fun, the chosen theme was an RHCP theme called "Snow". Not speaking fluent English, he made me sing this song like a tongue twister hehe.

I invite everyone to join this contest.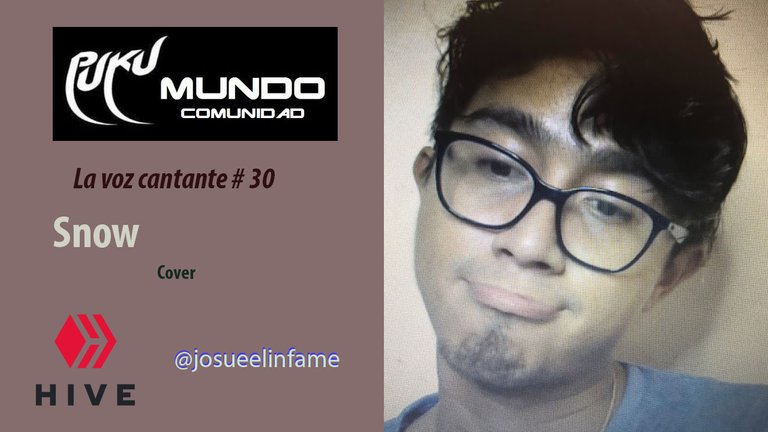 Come to decide that the things that I tried
Were in my life just to get high on
When I sit alone
Come get a little known
But I need more than myself this time
Step from the road to the sea to the sky
And I do believe that we rely on
When I lay it on
Come get to play it on
All my life to sacrifice
Hey oh
Listen what I say, oh
I got your hey oh
Now listen what I say, oh
When will I know that I really can't go
To the well once more time to decide on?
When it's killing me
When will I really see
All that I need to look inside
Come to believe that I better not leave
Before I get my chance to ride
When it's killing me
What do I really need
All that I need to look inside
Hey oh
Listen what I say, oh
Come back and hey oh
Look here what I say oh
The more I see, the less I know
The more I like to let it go
Hey oh, whoa, whoa, whoa
Deep beneath the cover of another perfect wonder
Where it's so white as snow
Privately divided by a world so undecided
And there's nowhere to go
In between the cover of another perfect wonder
And it's so white as snow
Running through the field where all my tracks will be concealed
And there's nowhere to go
When to descend to amend for a friend
All the channels that have broken down
Now you bring it up
I'm gonna ring it up
Just to hear you sing it out
Step from the road to the sea to the sky
And I do believe what we rely on
When I lay it on
Come get to play it on
All my life to sacrifice
Hey oh
Listen what I say, oh
I got your hey oh
Listen what I say, oh
The more I see, the less I know
The more I like to let it go
Hey oh, whoa, whoa, whoa
Deep beneath the cover of another perfect wonder
Where it's so white as snow
Privately divided by a world so undecided
And there's nowhere to go
In between the cover of another perfect wonder
Where it's so white as snow
Running through the field where all my tracks will be concealed
And there's nowhere to go
I said hey, hey, yeah, oh yeah, oh yeah, tell my love now
Hey, hey, yeah, oh yeah, tell my love now
Deep beneath the cover of another perfect wonder
Where it's so white as snow
Privately divided by a world so undecided
And there's nowhere to go
Deep beneath the cover of another perfect wonder
Where it's so white as snow
Running through the field where all my tracks will be concealed
And there's nowhere to go
I said hey oh yeah, oh yeah
Tell my love now
Hey, yeah, yeah, oh yeah
Video Original


---
▶️ 3Speak
---
---