Hive Open Mic semana # 154 - "Optimista"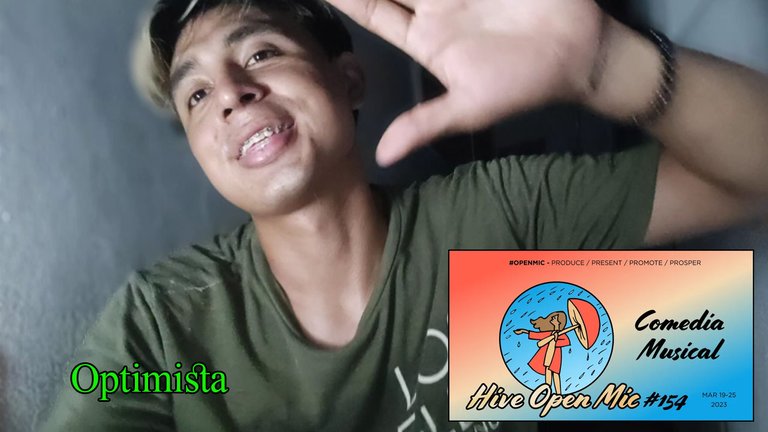 ---
Hola saludos a todos, es mi primera participación y estoy algo nervioso, elegí esta canción porque no hay que tener cosas materiales para sentirse completos y cada quien puede ser feliz como lo desee. La verdad el ritmo en si de esta canción me hace sentir feliz al cantarla.
Esta es la semana # 154 de Hive Open Mic y el tema es "Comedia Musical".
Adjunto link de la publicación.
Hive Open Mic
Hi, greetings to everyone, it's my first participation and I'm a little nervous, I chose this song because you don't have to have material things to feel complete and everyone can be happy as they wish. The truth is that the rhythm itself of this song makes me feel happy when I sing it.
This is Hive Open Mic week #154 and the theme is "Musical Comedy".
Attached link of the post.
Hive Open Mic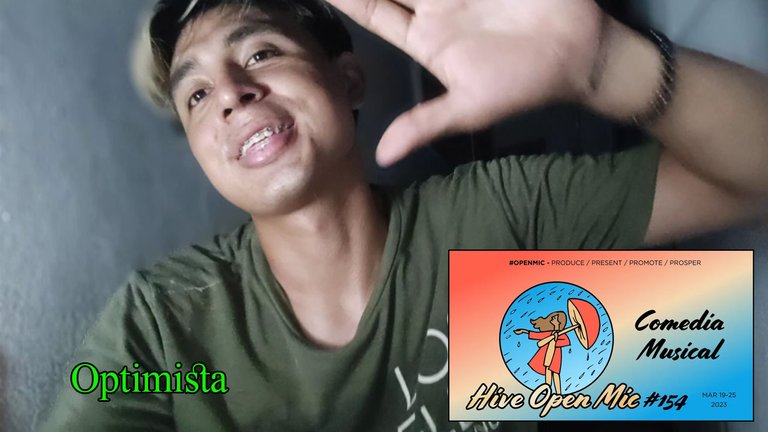 Fortuna es lo que siento
Soy feliz con lo que tengo
La dicha está en el universo
Amanecí pa' disfrutar
Y es que el sol me pone bien
Me gusta que me pegue el viento
Serotonina al nivel natural
Y el té me encanta respirar
Todo bien al 100
Calma en mí para poder ver
Y reconocer bendiciones en mi poder
En mi poder
Despierto y agradezco
Todos los días son perfectos
Uno decide cómo verlos
Hay que saber seleccionar
Somos polvo cósmico
Tratando de entender al tiempo
Y pronto poner en mi realidad
El sueño de experimentar
Todo bien al 100
Calma en mí para poder ver
Y reconocer bendiciones en mi poder
En mi poder
Todo bien al 100
Calma en mí para poder ver
Y reconocer bendiciones en mi poder
En mi poder
Todo bien al 100
Calma en mí para poder ver
Y reconocer bendiciones en mi poder
Todo bien al 100
Calma en mí para poder ver
Y reconocer bendiciones en mi poder
Todo bien al 100
Calma en mí para poder ver
Lyrics
Fortune is what I feel
I am happy with what I have
Happiness is in the universe
I woke up to enjoy
And the sun makes me feel good
I like that the wind hits me
Serotonin at the natural level
And tea I love to breathe
All good at 100
Calm in me to be able to see
And acknowledge blessings in my power
In my power
wake up and appreciate
every day is perfect
You decide how to see them
You have to know how to select
we are cosmic dust
trying to understand time
And soon put in my reality
The dream of experimenting
All good at 100
Calm in me to be able to see
And acknowledge blessings in my power
In my power
All good at 100
Calm in me to be able to see
And acknowledge blessings in my power
In my power
All good at 100
Calm in me to be able to see
And acknowledge blessings in my power
All good at 100
Calm in me to be able to see
And acknowledge blessings in my power
All good at 100
Calm in me to be able to see
---
---