Crypto Update 4/22/2022 | FLUX Node Fluxing, FIRO Firoing, Horizen Horizening, New Server Strong Like Bull
FLUX Node Spitting Out Rewards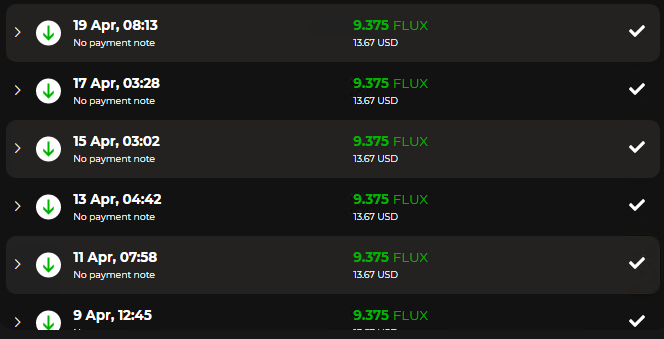 So my Nimbus node is spitting out $13.67 USD every other day, which is about $2.5K USD per year at current prices. I'm pretty happy with this. Better still, selling my extra FLUX bought and paid for a Bitcoin miner which will come on line at the end of next month. I learned a little bit more about what the project actually does, it's a distributed compute network or decentralized cloud if you will. You can basically run services and protocols within the FLUX network as these include other nodes.

FIRO

I'm also happy to report my FIRO node is now backup and running. I was having a lot of issues with it prior, which I described in previous posts. I suspect it was an disk I/O issue with the VPS provider I was using (Contabo). Now that makes two happy nodes!

HORIZEN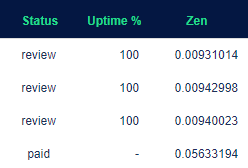 I also took the opportunity to migrate my ZEN node off of Contabo. Since there was nothing left running on that VPS, I was able to cancel it. I am no longer their customer. If you desire any disk I/O performance I wouldn't recommend them, though they seem fine for compute.

My Interserver Bare Metal Server
So far I've had a good result from my server provider.
In case you are interested, here are the stats:
Mainboard.......: X470D4U
CPU.............: AMD Ryzen 9 5900X 12-Core Processor
Memory..........: DDR4 3200MHz 64GB
Disk 1..........: Samsung SSD 980 1TB SN: S64ANS0T111440B
RAID............: No RAID
OS..............: Ubuntu 20.04.4 LTS
Control Panel...: No Control Panel
IPs.............: 1 Vlan IP (/30)
Bandwidth.......: 150Tb (1Gb Port
The server costs $125/month, which is spendy compared to a VPS. But I think that it's worth it.
I have 3 nodes running on it, and barely a dent on CPU. RAM is only 30%, so I'm not having to swap to disk very much.



Speaking of disk, the 1TB NVME is looking healthy as well.


I should be able to run quite a bit more stuff on this puppy!
If you're interested in going with them, feel free to use my referral link: https://www.interserver.net/r/810683
Posted Using LeoFinance Beta
---
---