Panic causes you to sell at the bottom, and greed causes you to buy near the top
"Panic causes you to sell at the bottom, and greed causes you to buy near the top.". Stan Weinstein
Hello community, good start of the week to all, my best wishes. I want to talk about something very particular that in general terms I can see in many people who enter the world of cryptocurrencies, largely attracted by the desire to "make quick and easy money ", which leads them rather to lose money, which is the opposite of what they expected when entering this financial ecosystem.
When we have some years in the world of cryptocurrencies we know that the price rises and falls sharply are normal, it is one of the main features, it is what is called volatility.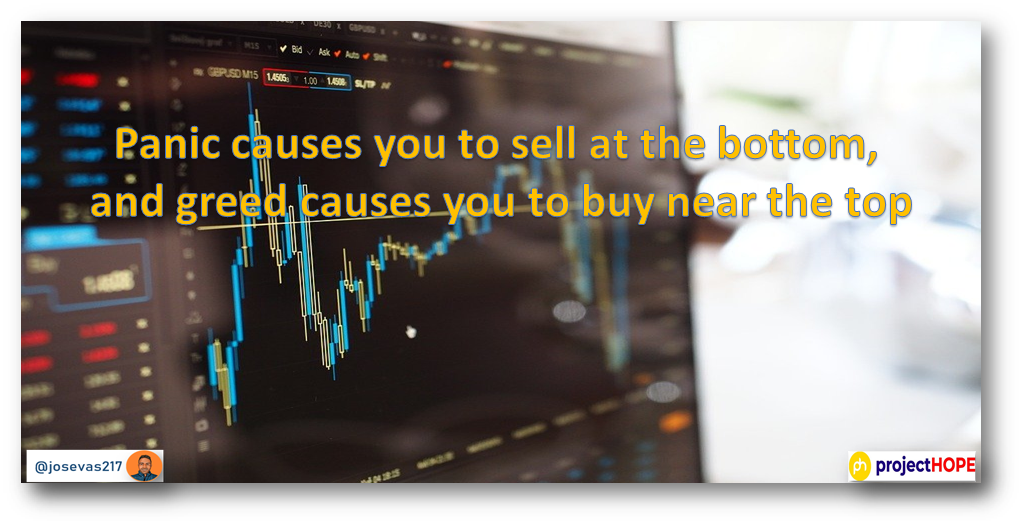 Edited in Power PointSource
Well, it is very important to know this, to know that it is a reality of cryptos, to avoid making the mistake of wanting to buy when it is at the highest price, and sell when there is any drop in price, which both are what can lead us to losses.
And it is easy to visualize this scenario, the price of a cryptocurrency starts to rise, very quickly starts to rise in price and attracts the attention of many people who buy when the price has already risen a lot, and thinking that it will continue to rise, some people make investments, buy wildly and the price begins to fall, well below what they have bought, panic and sell.
This is something that happens very frequently, unfortunately. The issue in these cases is that the volatility expressed in these sudden price movements, often make the less experienced, assume a setback or "correction " as something that will not stop its decline, which makes me think, from my little experience that simply this trading is not for everyone.
Much less if we consider that most people are accustomed to the traditional, in which the values of the different currencies do not vary with such intensity. However, and fortunately, more and more people are joining the cryptographic world, which will allow that in the near future, all this that is currently complex to understand for some, will cease to be so.
Before investing we must always study well what we are going to buy, the project behind each coin, and know that not always the profits can be green from one day to the next....
Thank you very much for reading my post.


I authorize the use of this banner to everyone who wants to do it.

---
---