Pessoa ante el espejo (microficción) | Pessoa in front of the mirror (microfiction)

Fernando Pessoa es uno de los principales autores de la poesía occidental del siglo XX. Portugués, nacido el 13 de junio de 1888, escribió una obra poética en verso y prosa, aparte de reflexiones ensayísticas, textos biográficos, etc., casi todos ellos dados a conocer póstumamente, gracias a la labor de investigadores que lograron reunir sus textos sueltos.
Quizás el aporte fundamental de Pessoa a la literatura es la incorporación de los heterónimos, que supone la creación de "escritores" con vida y obra propia, no seudónimos, como el mismo Pessoa indicó. Entre los principales están Alberto Caeiro, Álvaro de Campos, Ricardo Reiss y Bernardo Soares. Sobre los heterónimos en Pessoa existen lúcidas elaboraciones intelectuales en español, como las de Ángel Crespo, Octavio Paz, Francisco Rivera, entre otros.
Hace un año aproximadamente hice un post en homenaje a Pessoa que consistió en un poema, participante en Club de Poesía, que titulé Un café para Pessoa. Esta vez me propuse escribir una microficción que jugara con una relación ficcional entre el ortónimo y sus heterónimos, al modo de un monólogo dramático con apariencia de diálogo.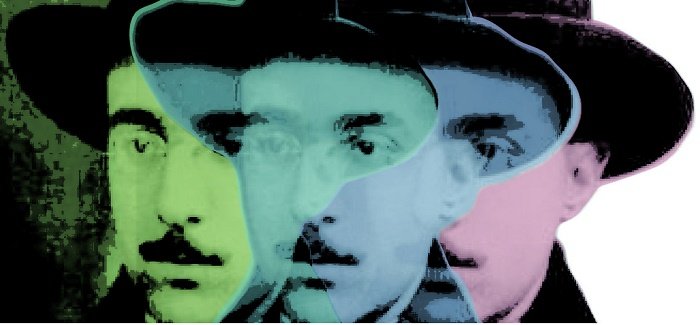 Fuente | Source
Fernando Pessoa is one of the main poets of the western poetry of the 20th century. Portuguese, born on June 13, 1888, he wrote a poetic work in verse and prose, as well as essayistic reflections, biographical texts, etc., almost all of which have been made known posthumously, thanks to the work of researchers who managed to gather his loose texts.
Perhaps Pessoa's fundamental contribution to literature is the incorporation of heteronyms, which implies the creation of "writers" with their own life and work, not pseudonyms, as Pessoa himself indicated. Among the main ones are Alberto Caeiro, Álvaro de Campos, Ricardo Reiss and Bernardo Soares. On heteronyms in Pessoa there are lucid intellectual elaborations in Spanish, such as those of Ángel Crespo, Octavio Paz, Francisco Rivera, among others.
About a year ago I made a post in homage to Pessoa that consisted of a poem participating in Poetry Club, which I entitled A coffee for Pessoa. This time I set out to write a microfiction that would play with a fictional relationship between the orthonym and his heteronyms, in the manner of a dramatic monologue with the appearance of a dialogue.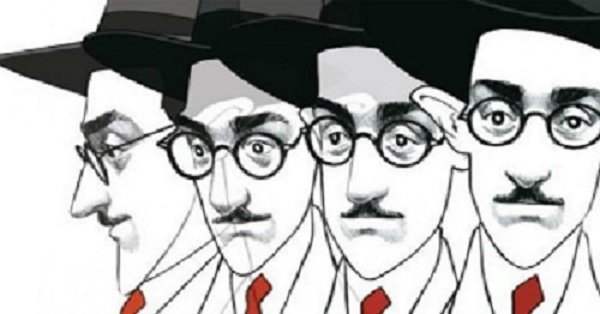 Fuente | Source
"El poeta es un fingidor", dijiste Fernando. Por eso nos creaste; a mí, a Alberto Caeiro, a Ricardo Reiss, y hasta a Bernardo Soares.
Mi querido Álvaro de Campos, siempre tan inquisitivo… Ustedes fueron quizás mi verdadero yo: un espejo fragmentado, roto, donde cada quien era una persona diferente en mí.
"Personas inventadas", expresaste para definirnos, y yo llegué a sentirme tan real como tú.
Así fue, apreciado Ricardo. No sé ya quién fue más real: Fernando Pessoa o cada uno de ustedes. Recuerdo algo que escribí para tratar de interpretarme: "Me siento múltiple. Soy como una habitación con innumerables espejos fantásticos que deforman en reflejos falsos una única realidad anterior…".
Espera, espera… ¡A ver! ¿Existimos o no? Yo siempre me sentí siendo eso que decía, y mi palabra me asentía en mi vida sencilla.
¡Sí, mi caro, Alberto! Eras y seguirás siendo en tu palabra, aunque yo no exista (si es que existí en algún momento). Y te seguirán leyendo en tus límpidas imágenes.
Nogueira Pessoa eran tus apellidos, ¿y por qué te identificaste con el Pessoa?
Tenías que ser tú quien me interpelara sobre eso, Bernardo, a quien he legado mis papeles del desasosiego*. No digo nada nuevo: "pessoa" en portugués es "persona", que tiene en su origen griego la máscara del teatro. Curiosamente, en francés "personne" significa "nadie".
¿Y qué significa para ti el espejo, Fernando?
Álvaro, en algún momento escribí: "El creador del espejo envenenó el alma humana". Hoy creo más bien que el espejo nos permite existir, aunque sea solo como imagen vacua. ¿Es qué somos otra cosa?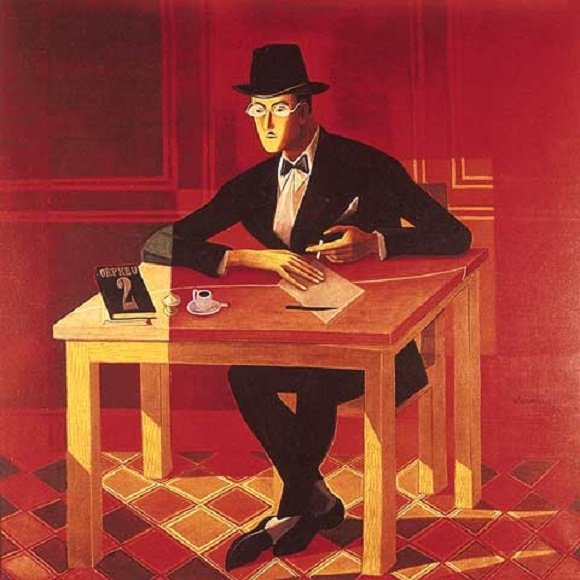 Retrato de | Portrait of Fernando Pessoa (1954), de | by José de Almada Negreiros - Fuente | Source
"The poet is a feigner," you said Fernando. That is why you created us; me, Alberto Caeiro, Ricardo Reiss, and even Bernardo Soares.
My dear Álvaro de Campos, always so inquisitive...You were perhaps my true self: a fragmented, broken mirror, where everyone was a different person in me.
"Invented persons" you expressed to define us, and I came to feel as real as you.
That's how it was, dear Ricardo. I don't know anymore who was more real: Fernando Pessoa or each of you. I remember something I wrote to try to interpret myself: "I feel multiple. I am like a room with innumerable fantastic mirrors that deform into false reflections a single previous reality...".
Wait, wait... Let's see! Did we exaggerate or not? I always felt I was what I was saying, and my word was settling me in my simple life.
Yes, my dear Alberto! You were and will continue to be in your word, even if I do not exist (if I ever existed). And you will continue to be read in your limpid images.
Nogueira Pessoa was your surname, and why did you identify yourself with Pessoa?
You had to be the one to question me about that, Bernardo, to whom I have bequeathed my papers of uneasiness*. I am not saying anything new: "pessoa" in Portuguese is "persona", which has in its Greek origin the mask of the theater. Curiously, in French "personne" means "nobody".
And what does the mirror mean to you, Fernando?
Álvaro, at some point I wrote: "The creator of the mirror poisoned the human soul". Today I believe rather that the mirror allows us to exist, even if only as an empty image. Is it that we are something else?

Referencias | References
Paz, Octavio (1972). Cuadrivio (3ª ed.). México: Edit. Joaquín Mortiz.
Pessoa, Fernando (1981). Obra poética (Tomos I y II). España: Libros Río Nuevo.
Rivera, Francisco (1981). Inscripciones. Caracas: Fundarte.
https://es.wikipedia.org/wiki/Fernando_Pessoa
https://en.wikipedia.org/wiki/Fernando_Pessoa
https://hablardepoesia.com.ar/2018/05/09/fernando-pessoa-un-hombre-lleno-de-gente-2/

Gracias por su lectura | Thank you for reading.
Translated with www.DeepL.com/Translator (free version)



Gif diseñado por @equipodelta
---
---