Las chicas volátiles de Degas (microficción) | The volatile girls of Degas (microfiction)
El gran pintor francés Edgar Degas, fallecido el 27 de septiembre de 1917, dedicó gran parte de su esfuerzo como artista a pintar danzarinas, tema casi obsesivo en su obra. Cuántas veces nos hemos deleitado observando (solo en reproducciones impresas en mi caso) tantas de sus pinturas de este género. Pensando en ese atractivo filón de su arte, escribí este ejercicio de microficción.
The great French painter Edgar Degas, who died on September 27, 1917, devoted much of his efforts as an artist to painting dancers, an almost obsessive theme in his work. How many times we have delighted in observing (only in printed reproductions in my case) so many of his paintings of this genre. Thinking about this attractive vein of his art, I wrote this microfiction exercise.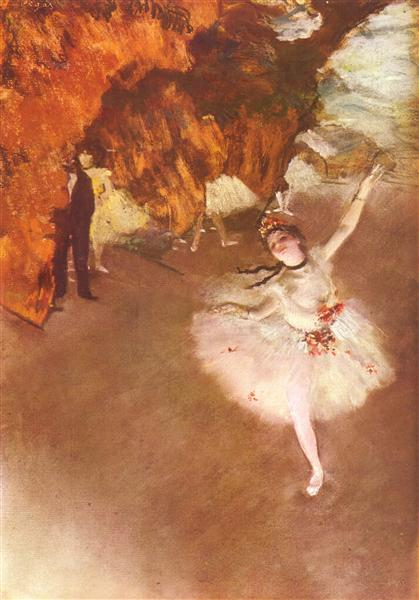 "The Star (Dancer on Stage)", por Degas (c. 1878) - Fuente - Dominio público | Public Domain
No podía dejar de impresionarse por aquellos delgados y delicados cuerpos. Desde aquella primera vez que cuando joven asistió a la gala de ballet promocionado por su liceo, su visión quedó prendada de esas hermosas figuras, que, como libélulas o mariposas, casi volaban.
Se transfiguraban en su imaginación, que las registraba y estudiaba en sus gráciles movimientos. Las quería transparentes como la luz en los cristales, convertidas en colores vivos, moviéndose como si retaran el aire, con su belleza inasible. Las amaba así: intocadas e intocables, casi santas en su inocencia, de casta sensualidad.
Era la danza del cuerpo y del espíritu lo que quería inmortalizar en sus pinturas, aproximándose a "esa cosa liviana, alada y sagrada" que es la poesía, en palabras de Platón.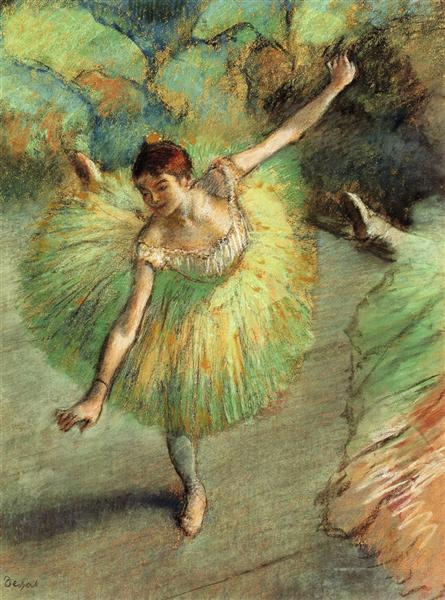 "Dancer Tilting", por Degas (c. 1883) - Fuente | Source - Dominio público | Public Domain
---
He could not help but be impressed by those slender and delicate bodies. From that first time as a young girl when she attended the ballet gala promoted by her high school, her vision was captivated by those beautiful figures, which, like dragonflies or butterflies, almost flew.
They were transfigured in his imagination, which registered and studied them in their graceful movements. He wanted them transparent as light in crystals, turned into vivid colors, moving as if challenging the air with their elusive beauty. He loved them like that: untouched and untouchable, almost holy in their innocence, of chaste sensuality.
It was the dance of the body and the spirit that he wanted to immortalize in his paintings, approaching "that light, winged and sacred thing" that is poetry, in Plato's words.


Gracias por su lectura | Thank you for reading.
Translated with www.DeepL.com/Translator (free version)



Gif diseñado por @equipodelta

Vote la-colmena for witness by @ylich

---
---