Imágenes de Van Gogh (poema) | Images of Van Gogh (poem)

Vincent van Gogh, uno de los grandes transformadores de la pintura moderna, nació el 30 de marzo de 1853. Será siempre uno de los artistas y pintores más queridos por mí. El año pasado escribí una microficción en su honor (pueden verla aquí) y en esta fecha he querido dedicarle un texto de intención poética.
Nota: Las cursivas en el poema son expresiones literales de Van Gogh.
---
Vincent van Gogh, one of the great transformers of modern painting, was born on March 30, 1853. He will always be one of the most beloved artists and painters to me. Last year I wrote a microfiction in his honor (you can see it here) and on this date I wanted to dedicate a poetic text to him.
Note: The italics in the poem are literal expressions of Van Gogh.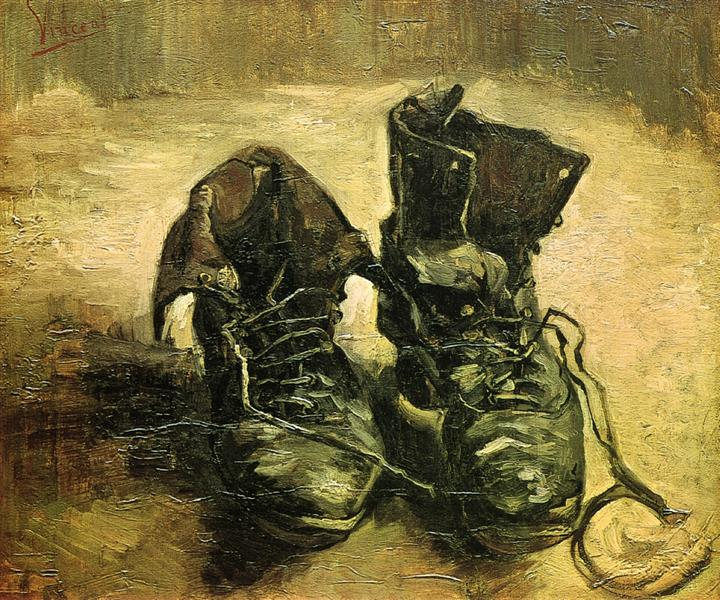 "Un par de zapatos" | "A pair of shoes" , de | by Van Gogh (1886) - Fuente - Dominio público
Un par de zapatos,
golpeados por el camino,
arruinados por la vida.
La miseria no tiene fin.
Theo escucha la agonía
Descubrir el color, la luz…
Los girasoles y los trigales
incendiados de amarillos,
los viñedos y sus trabajadores
invadidos de rojo,
los almendros en flor
de una japonería deseada,
la calma del río bajo el puente
y ese enorme cielo.
Yo no quiero pintar cuadros, quiero vida,
lee Theo en la carta.
La noche taciturna de París
y sus cafés frenéticos,
las noches estrelladas
en los círculos centelleantes
de la deriva y el destino,
unos cuervos moteando
el paisaje del trigal,
amores perdidos,
una oreja cortada,
un revólver no un pincel.
Quizá no sea la muerte lo más difícil
en la vida de un artista.
Theo cierra su diario.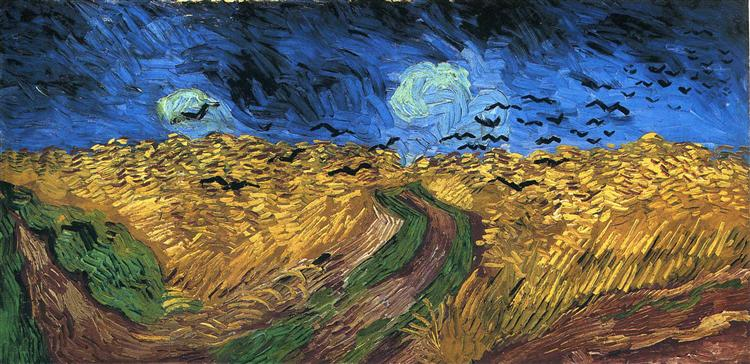 Campo de trigo con cuervos | Wheatfield with Crows (1890) -Fuente
A pair of shoes,
beaten by the road,
ruined by life.
There is no end to the misery.
Theo listens to the agony
Discovering the color, the light....
Sunflowers and wheat fields
set ablaze with yellow,
the vineyards and their workers
invaded with red,
the almond trees in bloom
of a desired japonería,
the calm of the river under the bridge
and that huge sky.
I don't want to paint pictures, I want life,
reads Theo in the letter.
The taciturn night of Paris
and its frenetic coffees,
the starry nights
in the sparkling circles
of drift and destiny,
a few crows speckling
the landscape of the wheat field,
lost loves,
a severed ear,
a revolver not a paintbrush.
Perhaps death is not the most difficult thing
in the life of an artist.
Theo closes his diary.


Gracias por su lectura | Thank you for reading.
Translated with www.DeepL.com/Translator (free version)



Gif diseñado por @equipodelta
---
---