Auden: la poesía contemporánea en resistencia ética | Auden: contemporary poetry in ethical resistance

Hace 50 años —el 29 de septiembre de 1973— fallecía W. H. Auden (quien así se firmaba y ha sido conocido de ese modo), considerado uno de los tres más importantes poetas de habla inglesa del siglo XX, junto a Yeats y Eliot, sus máximas referencias. Además de poeta, fue dramaturgo y ensayista.
Nacido en Inglaterra en 1907, obtuvo la nacionalidad estadounidense en 1946, una vez se residenciara en ese país en 1939, aunque volvió a su tierra natal en 1972. Viajó y vivió en países como Italia, España, China, Japón, Austria, donde murió.
***
Fifty years ago -on September 29, 1973- W. H. Auden (who thus signed himself and has been known that way) died, considered one of the three most important English-speaking poets of the 20th century, together with Yeats and Eliot, his maximum references. In addition to being a poet, he was a playwright and essayist.
Born in England in 1907, he became a U.S. citizen in 1946, once he resided in that country in 1939, although he returned to his homeland in 1972. He traveled and lived in countries such as Italy, Spain, China, Japan, Austria, where he died.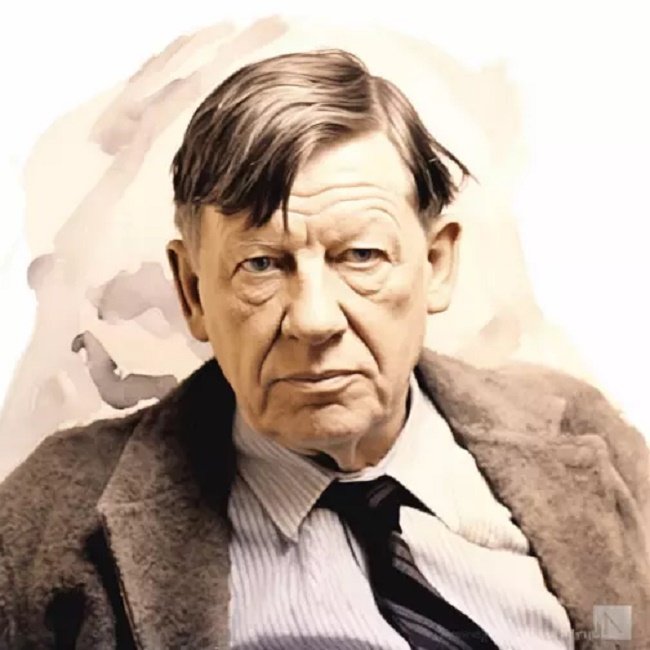 Fuente | Source
Auden fue muy controversial en su tiempo. Siempre asumió su homosexualidad, lo que no era bien visto entonces; también sus posiciones políticas fueron inicialmente de izquierda, aunque luego se distanció de estas y asumió actitudes no identificadas con sectores político-ideológicos.
Su obra poética está configurada por rasgos estilísticos y técnicos muy novedosos; hizo una poesía no sujeta a la métrica, pero sí manteniendo algún juego con la rima y mucho ritmo interior, usando los versos largos. En su factura poética los críticos advierten la presencia de la tradición de las canciones populares, así como la influencia de la literatura occidental, desde Dante, Shakespeare hasta Hölderlin y Rimbaud.
Su temática nunca dejó de estar habitada por la naturaleza (contraria a la racionalidad, y expresada en el cuerpo), el amor personal –en la fragilidad y la fugacidad–, la religión –pese a sus contradicciones, un refugio– y la moral política, es decir, ciudadana.
***
Auden was very controversial in his time. To begin with, he always assumed his homosexuality; also his political positions, initially leftist, although later he assumed attitudes not identified with ideological sectors.
His poetic work is configured by very novel stylistic and technical features; he made a poetry not subject to the metric, but maintaining some play with rhyme and a lot of inner rhythm, using long verses. In his poetic workmanship critics notice the presence of the tradition of popular songs, as well as the influence of western literature, from Dante, Shakespeare to Hölderlin and Rimbaud.
His subject matter never ceased to be inhabited by nature (contrary to rationality, but expressed in the body), personal love -in its fragility and transience-, religion -despite its contradictions, a refuge- and political morality, that is to say, civic morality.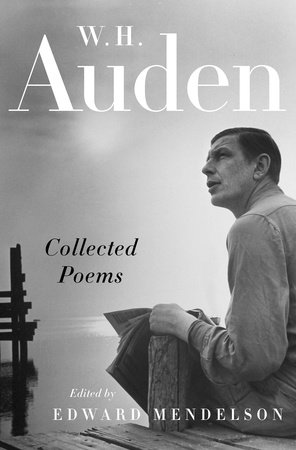 Fuente | Source
A este gran poeta llegué en la década de los años 90, luego de haber leído a Eliot y Yeats. La poesía inglesa contemporánea (aunque no leída en su versión original) ha sido una de mis fuentes para la escritura poética, pues es portadora de gran renovación, sobre todo en el uso del prosaísmo, con lo cual me identifico.
Seguidamente, reproduzco dos poemas de Auden (podrían ser muchos más, pero no quiero abusar), de los que más me gustan, tanto en español como en su versión original, de diferentes años. Trataré de comentarlos brevemente.
***
I came to this great poet late in the 90's, after having read Eliot. Contemporary English poetry (although not read in its original version) has been one of my sources for poetic writing, as it has been the bearer of great renewal, especially in the use of prosaism, with which I identify.
Below, I reproduce two poems by Auden (there could be many more), of the ones I like the most, both in Spanish and in their original version, from different years. I will try to comment briefly on them.
Blues para el funeral
Que se paren los relojes, que se que corte el teléfono,
que el perro a un hueso jugoso ya no le ladre,
que se callen los pianos y con redobles en sordina
venga el ataúd y entren los dolientes.
Que los aeroplanos que gimiendo dan vueltas en lo alto
escriban en el cielo el mensaje: "Él ha muerto",
que pongan pajaritas de papel en los cuellos blancos de las palomas,
que los policías se pongan guantes negros.
Era mi norte, mi sur, mi este y mi oeste,
toda mi semana y mi día de descanso,
mi mediodía, mi medianoche, mi plática, mi canción.
Pensé, y estaba equivocado, que nuestro amor duraría siempre.
Ya no quiero las estrellas. Que las apaguen,
que empaquen la luna y desmantelen el sol.
Que sequen el océano y barran los bosques
porque ya nada de lo que venga habrá de ser bueno.
(Versión de José Luis Justes Amador)
Funeral Blues
Stop all the clocks, cut off the telephone.
Prevent the dog from barking with a juicy bone,
Silence the pianos and with muffled drum
Bring out the coffin, let the mourners come.
Let aeroplanes circle moaning overhead
Scribbling in the sky the message He is Dead,
Put crêpe bows round the white necks of the public doves,
Let the traffic policemen wear black cotton gloves.
He was my North, my South, my East and West,
My working week and my Sunday rest
My noon, my midnight, my talk, my song;
I thought that love would last forever, I was wrong.
The stars are not wanted now; put out every one,
Pack up the moon and dismantle the sun.
Pour away the ocean and sweep up the wood;
For nothing now can ever come to any good.
(1936)
Un poema amoroso sobre la ausencia o la pérdida, de un grato carácter irónico con imágenes muy atrevidas y hermosas. | A love poem about absence or loss, of a pleasingly ironic character with very bold and beautiful imagery.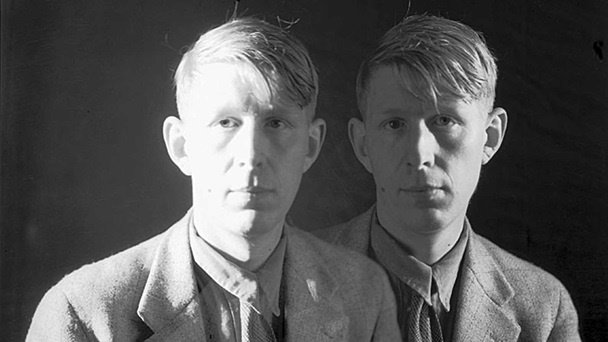 W. H. Auden by Cecil Beaton - Fuente | Source
En memoria de W. B. Yeats
III
Acoge, tierra, a un huésped honorable:
William Yeats recibe sepultura.
Que el ánfora irlandesa
descanse vaciada de su poesía.

En la pesadilla de las tinieblas
ladran todos los perros de Europa,
y las naciones vivas aguardan,
secuestradas en su odio cada una.

La deshonra intelectual
mira desde cada rostro humano,
y en cada mirada están bloqueados y congelados
los mares de la piedad.

Sigue, poeta, sigue derecho
hacia el fondo de la noche,
convéncenos aún de celebrar,
con tu voz que no obliga;

con el cultivo de un verso
haz de la maldición una viña,
canta sobre el fracaso del hombre
en un rapto de angustia;

deja fluir la fuente que cura
en los desiertos del corazón,
en la prisión de sus días
enseña al hombre libre la manera de alabar.
(Versión de Gerardo Gambolini)
In Memory of W. B. Yeats
III
Earth, receive an honoured guest:
William Yeats is laid to rest.
Let the Irish vessel lie
Emptied of its poetry.

In the nightmare of the dark
All the dogs of Europe bark,
And the living nations wait,
Each sequestered in its hate;

Intellectual disgrace
Stares from every human face,
And the seas of pity lie
Locked and frozen in each eye.

Follow, poet, follow right
To the bottom of the night,
With your unconstraining voice
Still persuade us to rejoice;

With the farming of a verse
Make a vineyard of the curse,
Sing of human unsuccess
In a rapture of distress;

In the deserts of the heart
Let the healing fountain start,
In the prison of his days
Teach the free man how to praise.
(1939)
Rinde Auden en este poema, del cual reproduzco sólo su última parte, un sentido homenaje no sólo a uno de sus maestros anglosajones (irlandés), a distancia (Yeats vivió casi 50 años antes), sino a uno de los grandes poetas del siglo XX. En esta parte, además de su sensible reconocimiento a la trascendencia de la poesía de Yeats, encontramos en su último verso una visión de la función de la poesía, tan cara a Auden: "enseña al hombre libre la manera de alabar".
Referencias | References:
Auden (1981). Poemas escogidos. España: Visor.
Auden, W. H. (2006). Canción de cuna y otros poemas. España: Lumen.
http://www.materialdelectura.unam.mx/index.php/poesia-moderna/16-poesia-moderna-cat/35-010-wh-auden?showall=1
https://poets.org/poem/memory-w-b-yeats
https://patriciadamiano.blogspot.com/2016/03/w-h-auden-en-memoria-de-w-b-yeats.html
https://poemaseningles.blogspot.com/2006/05/w-h-auden-funeral-blues.html

Gracias por su lectura | Thank you for reading.
Translated with www.DeepL.com/Translator (free version)



Gif diseñado por @equipodelta

Vote la-colmena for witness by @ylich

---
---