Splinterlands' End Of The Season's Reward: In-Game Or Dollar Value?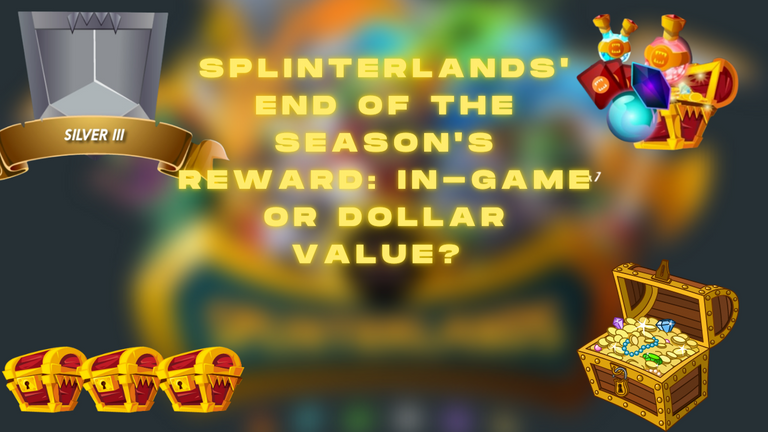 ---
---
It's been over 3 days of the end of the splinterlands' season and it's my fourth time consecutively playing in Silver III. There's this disappointment I get whenever the season's about to end, the disappointment of going down to Bronze II, but then I'm always excited at the prospect of getting to Open my rewards, weigh the monetary (dollar) and deck value.
Sometimes the rewards for the end of a season can turn up in two ways for me, sometimes the rewards can improve my gameplay, sometimes it only brings dollar value, and in some other situations, it can bring both, but this is rare. In splinterlands, climbing up the ranks means having assets with enormous collection power.
---
Worth The Chaos?
A card might be expensive but it may not carry the weight of having a reasonable collection power. This is why it's important to have a deck, that boasts of really good collection power in other to transition from league to league so I'm always happy when my loot helps my gameplay because it spoils me for choices.
One of the main reasons why I chose to buy 117 packs even with my financial constraints was because I needed resources to play and compete. Firstly I was buying cards before chaos legion but after the release of chaos legion,
I saw that buying the packs will allow me to earn SPS, increase the depth of my deck from the untamed monsters I already have them I can hold the rest to sell for profit, futuristically, talking about killing three birds with one stone.
---
The Learning Curve
The past season has been great, learning and improvising have been the biggest highlights. The best part was competing with people who has expensive decks and managed to come out tops. my priority we earning more DEC through my gameplay which could simultaneously increase my SPS drops.
While I've not managed to achieve this, I've managed to improvise on my strategies. Using the Life Splinter used to be very difficult, but over time, I've come to understand how to use splinters quite effectively. I used to love playing the earth splinter when I was starting and this was because there were some solid magic monsters, coupled with the ever-powerful unicorn mustang.
This beast was one of the first monsters I bought when I started playing splinterlands, but when I got higher, I started playing water 🌊 splinters, but now, I'm currently in love with death and life. They're the splinters where I have speedy monsters.
---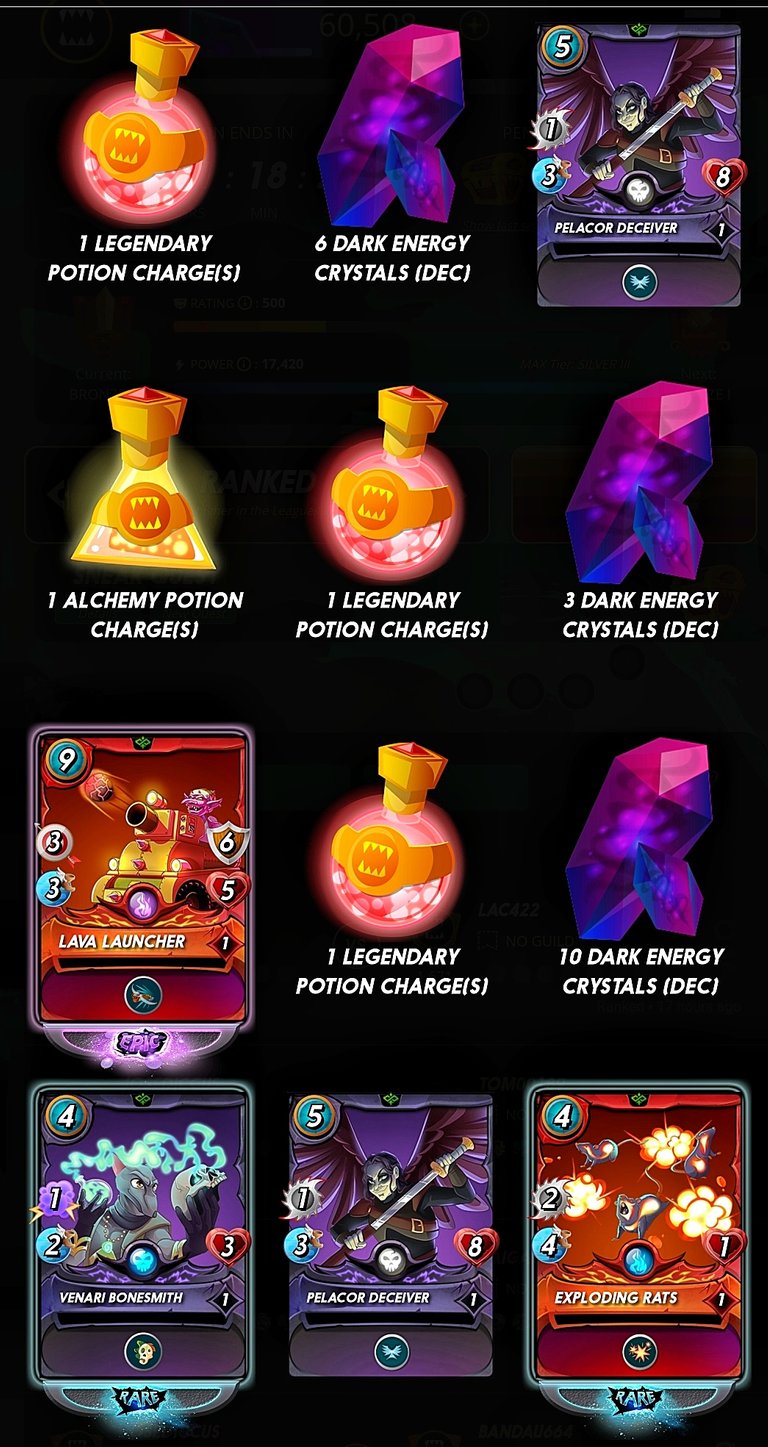 ---
During the season. I fell in love with opportunity monsters, they're usually useful especially if the game rules say no sneak and snipe are allowed. However, the best part was being able to predict the lineup of your opponents from the list of elements they're eligible to choose from.
For example, when there's death and earth splinter as the only elements that are eligible for a battle, I'll rather choose death, because the earth splinter is known for its powerful magic monsters.
But death has a summoner that reduces this magic attack and of course, has a melee attack monster with Thorn ability. However, to defeat earth splinter, you'll need sneak. This is to exactly take out the magic monster, that's healing the unicorn mustang in front with the +10 health. There are different other scenarios.
For example, I'll play water over life, even if life has speedy range monsters and this is because the quality of my water deck is the most expensive. Which automatically makes it quality on paper, but then it's invincible when you play it against death, life or earth. The only problem is that, it's difficult to be very expressive with one's selection, especially on limited MANA
---
Worth The Cash Or Worth The Skill?
Back to the rewards, while the reward of this week is just about okay, I don't think it's exciting as much. But getting one epic and two rare is the highlight of it all. The remaining were regular. It's textbook end of the season's reward with nothing spectacular.
However, I've never come across the exploding rat before, with such speed and such limit in its health force, coupled with the fact that it's a blast monster, I think I'm going to enjoy using this one.
So from an in-game perspective, I think I'll explore the fire element more in this new season. I've not gotten any card that's price worthy in the past 4 months, from playing in the leagues, I'm hoping one of the ends of the seasons to come, I can get some really good cards that can fetch some really good money. If not, then a man will continue to dream big.
---
---
---
Interested in some more of my works?
---
---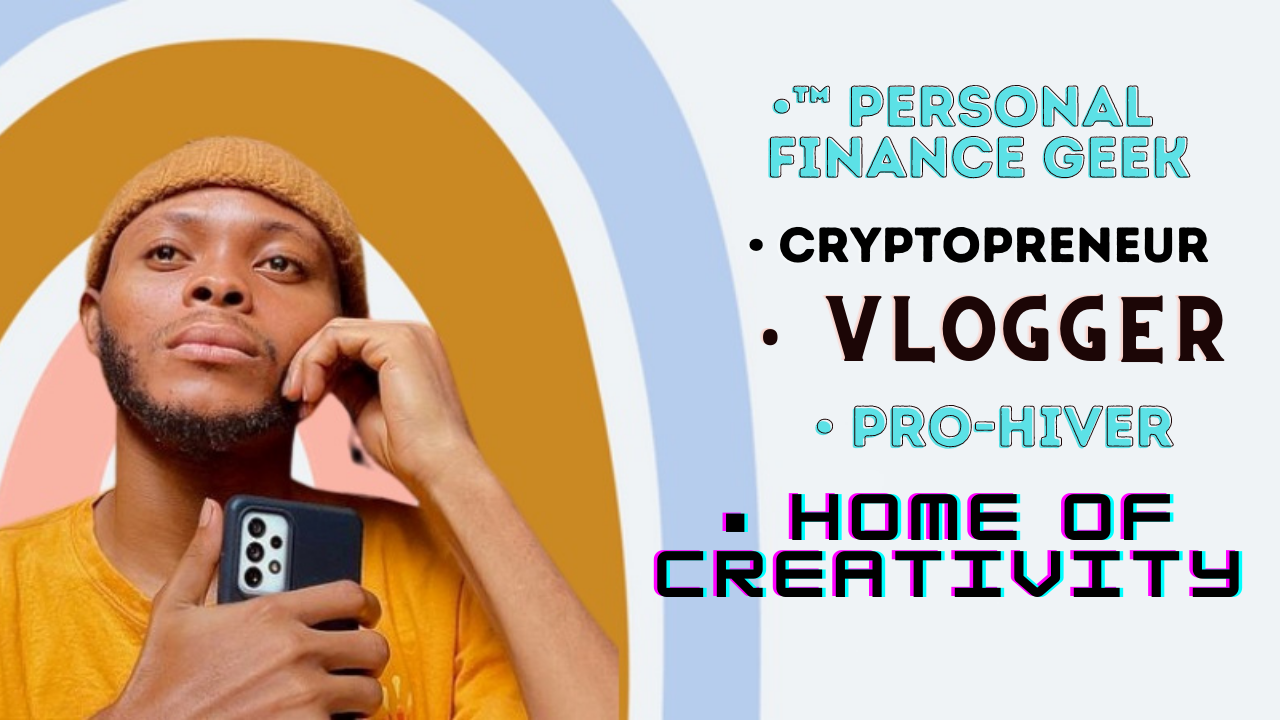 ---
@Josediccus, your brother-in-pen & heart
---
I'm hoping to reach more people who are broken at heart and spirit, so share on any platform or reblog
---
L
Posted Using LeoFinance Beta
---
---