El mundo acaba contigo/The World Ends with you The Animation (Reseña/Review)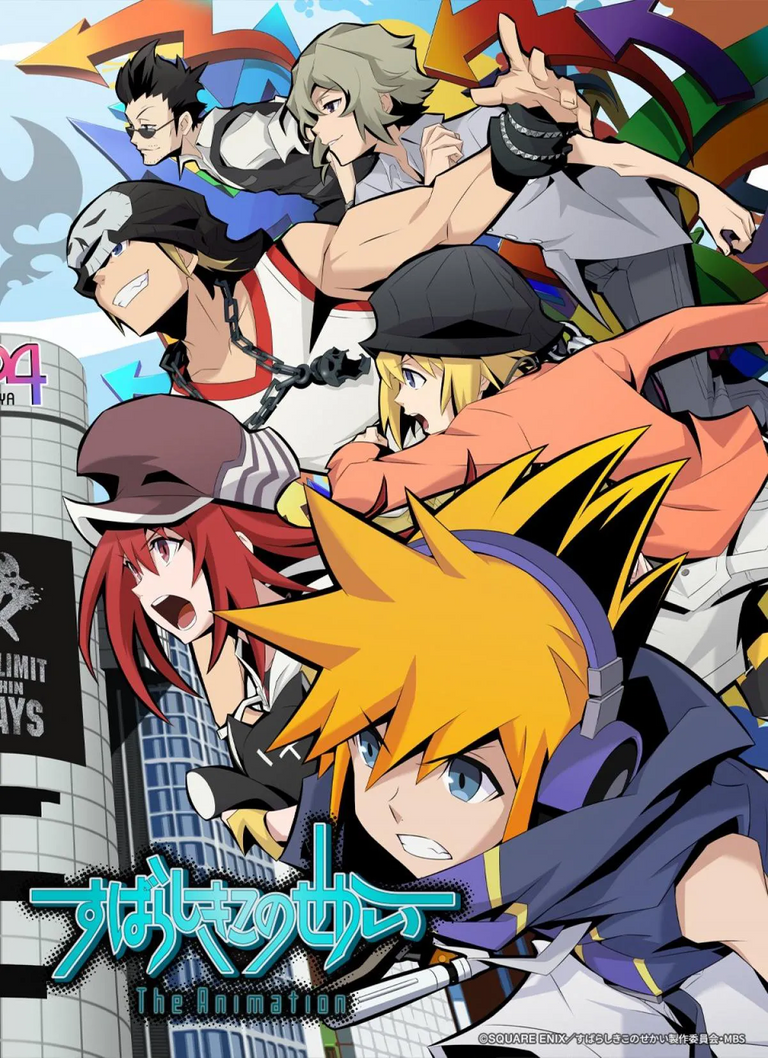 hobbyconsolas.com
SINOPSIS
Neku Sakuraba es un chico que se la pasa con audífonos todo el tiempo para evitar escuchar el ruido de Shibuya, apartándose de todo y de todos, pero un día, despierta en medio de la calle, sin poder hablar con nadie, siendo atravesado por las personas que ahora no tienen color, en su confusión por no saber que sucede es atacado por bestias que nunca había visto, ahora, Neku se tiene que enfrentar a un nuevo mundo al que no sabe como entro, llamado el submundo, siendo ahora un jugador del juego de los cegadores.

SYNOPSIS
Neku Sakuraba is a boy who spends his time with headphones all the time to avoid hearing the noise of Shibuya, moving away from everything and everyone, but one day, he wakes up in the middle of the street, unable to talk to anyone, being crossed by the People who now have no color, in their confusion for not knowing what is happening, is attacked by beasts that he had never seen, now, Neku has to face a new world that he does not know how he enter, called the underworld, being now a player from the game of the reapers.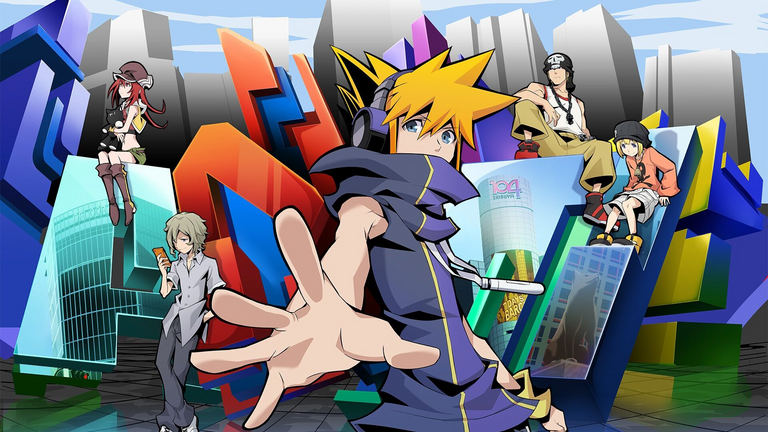 nintenderos.com
PERSONAJES
Neku: Chico con pocas habilidades sociales.
Shiki: Chica con una gran pasión por la moda.
Beat: Apasionado por el skate, busca ser el mejor skater del mundo.
Rhyme: Compañera de Beat, sensible y amable.
Joshua: Chico que carga con muchos misterios y respuestas.

CHARACTERS
Neku: Boy with few social skills.
Shiki: Girl with a great passion for fashion.
Beat: Passionate about skateboarding, he seeks to be the best skateboarder in the world.
Rhyme: Beat's partner, sensitive and kind.
Joshua: Boy who carries many mysteries and answers.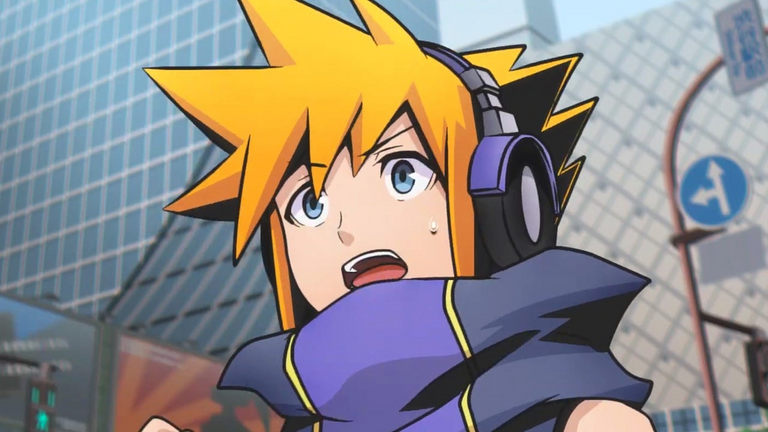 nintendoenthusiast.com
OPINIÓN
The World Ends with you es un videojuego para la consola DS que salió hace muchos años, nunca tuve esta consola pero si el emulador en mi computadora, recuerdo haberlo jugado solo porque el protagonista salía en el Kingdom Hearts DDD y necesitaba saber de su historia, era todo un fan de los videojuegos. Al ver que hicieron una animación del juego solo pude esperar a que salieran todos los capítulos para devorarme este anime de una sola vez, y así fue.
La historia es la misma del juego, con los mismos personajes y demás, el estilo de dibujo puede estar más limpio que en el videojuego pero sigue teniendo su toque único, no me gusta a veces la animación 3D y eso fue un fallo que le conseguí, los Ruidos son las bestias del anime y son hechas en 3D, aunque algunos se ven bien, otros se ven raros, con brillos excesivos y un raro movimiento, no soy fan de esa animación.
En la serie animada pasan por alto muchas cosas, como la presentación de uno de los personajes principales en el juego, tal vez porque en el juego se presenta mientras te ayuda en batalla, aquí aparece de la nada como si ya lo conocieran y no muestran su encuentro, aparte de no explicar el sistema de poderes que tiene el Juego de los Cegadores, cada participante tiene pines que los utiliza para defenderse de los Ruidos, cosa que no parece tener relevancia y solo sacan poderes del fondo de su corazón.
También sentí muy rápido todo, solo para completar con el mínimo de 12 capítulos, allí se reduce toda la historia que tiene varios fallos, no lo digo solo por jugar el videojuego, lo digo como espectador al ver que no explican algunas cosas. La historia principal es buena, puede atraparte y necesitar saber la verdad, pero sin tantos detalles en la animación, creo que puede ser aburrida para muchos y poco atrapante.
Una de las cosas que me encantaba del juego y lo tiene la animación es la banda sonora, la música compuesta para el juego y la animación es increíble, queda cada escena perfecta con la música, he llegado a buscar las canciones solo para colocarla de fondo mientras hago cualquier cosa. El anime esta hecho para fans, para aquellos que jugaron el juego y tienen conocimiento sobre esos pequeños detalles que se saltaron en la animación, del resto, puede no llamar la atención de nadie y eso es triste. Si desean verla, pueden hacerlo, aunque pueden perder detalles se puede entender la historia, y si quieren saber más, tal vez haya algún video explicando las pequeñas cosas que se saltaron.

OPINION
The World Ends with you is a video game for the DS console that came out many years ago, I never had this console but the emulator was on my computer, I remember playing it only because the protagonist was in Kingdom Hearts DDD and I needed to know his history, I was a huge fan of video games. Seeing that they made an animation of the game, I could only wait for all the chapters to come out to devour this anime in one go, and it was.
The story is the same as the game, with the same characters and others, the drawing style may be cleaner than in the video game but it still has its unique touch, sometimes I don't like 3D animation and that was a failure that I got, the Noises are the beasts of the anime and they are made in 3D, although some look good, others look strange, with excessive brightness and a strange movement, I am not a fan of that animation.
In the animated series they overlook many things, such as the introduction of one of the main characters in the game, perhaps because in the game he presents himself while helping you in battle, here he appears out of nowhere as if they already knew him and did not show their encounter, apart from not explaining the system of powers that the Game of the Reapers has, each participant has pins that they use to defend themselves from the Noises, which does not seem to have relevance and they only draw powers from the bottom of their heart.
I also felt everything very quickly, just to complete with the minimum of 12 chapters, there the whole story that has several failures is reduced, I do not say it just for playing the video game, I say it as a spectator when I see that they do not explain some things. The main story is good, it can catch you and you need to know the truth, but without so many details in the animation, I think it can be boring for many and not very engaging.
One of the things that I loved about the game and the animation has it is the soundtrack, the music composed for the game and the animation is incredible, each scene is perfect with the music, I have come to look for the songs only to place it in the background while doing anything. The anime is made for fans, for those who played the game and have knowledge about those little details that were skipped in the animation, of the rest, it may not attract anyone's attention and that is sad. If you want to see it, you can, although you can lose details you can understand the story, and if you want to know more, maybe there is a video explaining the little things that were skipped.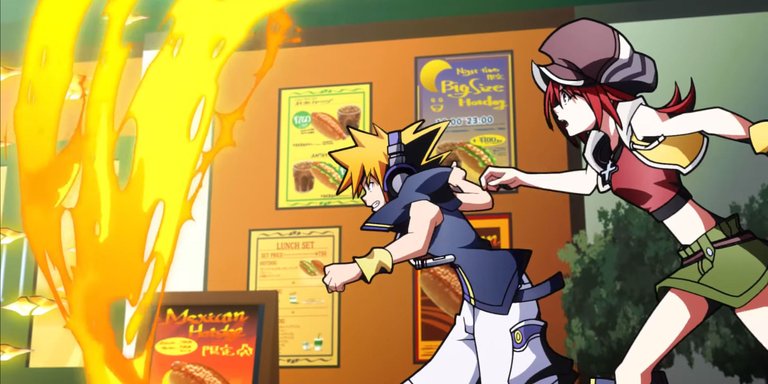 beahero.gg
Espero les haya gustado el post y le den una oportunidad a esta animacion, sin más que decir, nos leemos luego.
I hope you liked the post and give this animation a chance, without more to say, we will read later.
SÍGUEME/FOLLOW ME
Instagram
Hive
Twitter
---
---