Dulce Hogar/Sweet Home (Reseña/Review)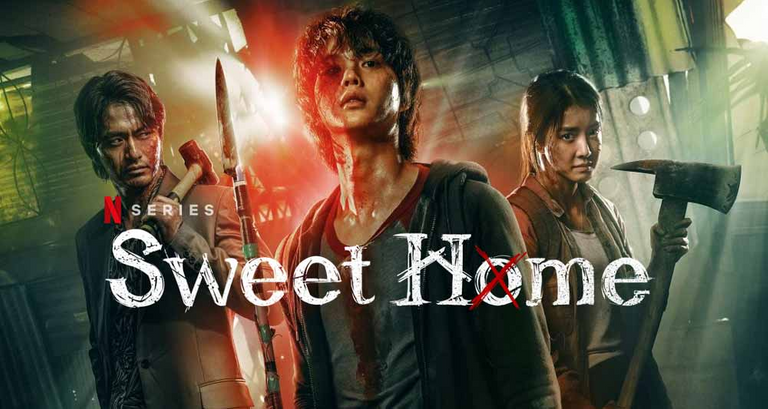 k-magazinemx.com
SINOPSIS
Un estudiante de preparatoria se muda a un edificio algo descuidado, buscando empezar su vida desde cero, o tal vez acabar con ella en ese lugar. Extrañamente, empiezan rumores de personas con sangrado en la nariz que se convierten en monstruos después de ese síntoma, los residentes del edificio Verde Hogar se ven atrapados intentando sobrevivir a los monstruos del exterior, teniendo miedo de que alguno de ellos se convierta ¿Quiénes son los verdaderos monstruos?

SYNOPSIS
A high school student moves into a somewhat neglected building, seeking to start his life from scratch, or perhaps end it there. Strangely, rumors begin of people with nosebleeds turning into monsters after that symptom, the residents of the Green Home building are caught trying to survive the monsters outside, fearing that one of them will become. Who are the real monsters?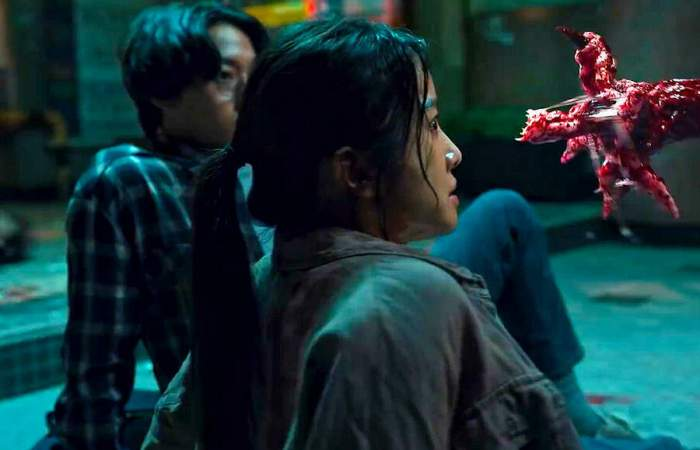 finde.latercera.com
PERSONAJES
Cha Hyun-soo: Estudiante que empieza a vivir solo.
Seo Yi-kyung: Una ex bombero que vive en el edificio.
Lee Eun-hyuk: Estudiante de medicina, líder nato.
Pyeon Sang-wook: Hombre misterioso con una cicatriz.
Jung Jae-heon: Cristiano que sabe portar espadas.
Yoon Ji-soo: Una bajista que empieza a hacer música comercial.

CHARACTERS
Cha Hyun-soo: Student who begins to live alone.
Seo Yi-kyung: A former firefighter who lives in the building.
Lee Eun-hyuk: Medical student, born leader.
Pyeon Sang-wook: Mysterious man with a scar.
Jung Jae-heon: Christian who knows how to carry swords.
Yoon Ji-soo: A bassist who starts making commercial music.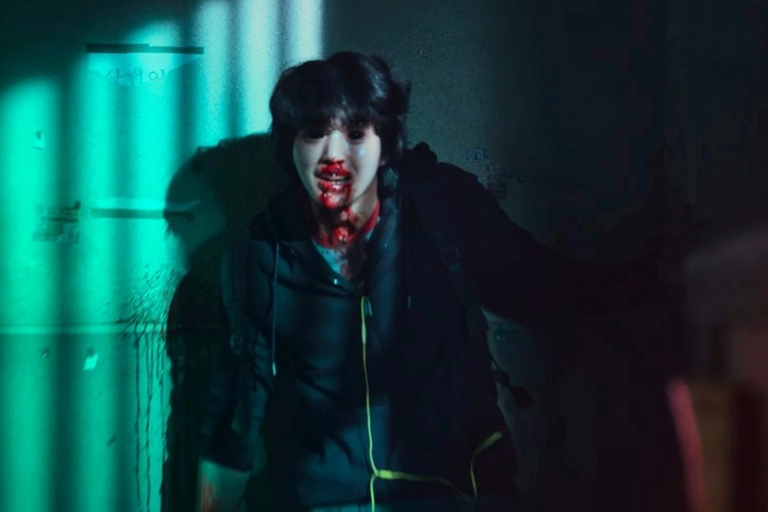 finde.latercera.com
OPINIÓN
Dulce Hogar es una serie Coreana que he tenido en la mira desde hace un tiempo, para ser honesto al ver el primer capitulo me aburrió pero decidí terminarla para saber a donde podía ir, que más podía ofrecer, dure casi un mes viéndola por capítulos por no terminarme de gustar pero aquí vengo con mi humilde opinión, de un enamorado del entretenimiento que le gusta mantenerse entretenido.
La serie cuenta una historia que bastante hemos visto, unos sobrevivientes de un apocalipsis, con la diferencia de que no son zoombies sino monstruos que salen del deseo de las personas, llega a manifestarse cuando las personas sienten demasiado una emoción, como el enojo, la preocupación, la ansiedad, se convierten en cosas que tanto anhelan pero perdiendo el sentido común y la conciencia misma, pudiendo regenerarse y ser casi inmortales, no comen, no beben, solo viven.
La historia es buena, tiene un punto a su favor porque, aunque ya hemos visto varias producciones de refugiados, en esta ocasión es una maldición que ronda por todo el país o quizás todo el mundo, siendo cualquier una victima de la enfermedad que puede matar a los demás, teniendo como detonante las emociones, se escucha bien, y lo es. El problema que pude ver y que quizás por eso no me termino de gustar, era la incoherencia de algunas situaciones, como el hecho de ser un edificio lleno de habitantes y no todos bajaron para saber que sucedía, que aun existieran monstruos en algunos pisos teniendo ellos la capacidad de bajar y subir escaleras, entre otras cosas pequeñas.
Los monstruos aunque parecen indestructibles tienen un punto clave, que es antes de que se convierta en monstruo y empiece el sangrado, deben matar a la persona. Me gusto esa parte de la historia porque genera más incertidumbre de como pueden actuar los protagonistas. Hace un tiempo, vi en la televisión una serie donde contaban que, cuando no estaban seguros de que su monstruo se veía bien, usaban tomas rápidas, sin enfocar, dando el sentimiento de "adrenalina" y para mi, en ese entonces lo vi horrible, en la actualidad los sigo viendo horrible y más cuando lo usan en una producción hecha por Netflix en el 2020.
A parte de las escenas borrosas, con movimientos de cámaras brusco y sin enfoque, tenemos el mal CGI, puedo entender que algunos casos el CGI no puede ser perfecto, pero para ser tan avaricio al pensar que pueden hacer algunas cosas que quedarían mejor con un disfraz, siento que se querían lucir o dar un sentimiento a Anime en la serie por ser ficticia.
La serie cuenta con 10 capítulos, duración de 50 y tantos minutos como cualquier otra serie, esta disponible en Netflix, pueden llegar a verla para sorprenderse en el ultimo capitulo o esperar la segunda temporada para saber si mejora un poco.

OPINION
Sweet Home is a Korean series that I have had my eye on for a while, to be honest seeing the first chapter bored me but I decided to finish it to find out where it could go, what else could it offer, it lasted almost a month watching it by chapters per I do not finish liking it but here I come with my humble opinion, of a lover of entertainment who likes to keep entertained.
The series tells a story that we have seen quite a bit, some survivors of an apocalypse, with the difference that they are not zoombies but monsters that come out of people's desire, it manifests itself when people feel too much of an emotion, such as anger, Worry, anxiety, they become things that they long for but losing common sense and consciousness itself, being able to regenerate and be almost immortal, they do not eat, they do not drink, they only live.
The story is good, it has a point in its favor because, although we have already seen several refugee productions, this time it is a curse that haunts the whole country or perhaps the whole world, with anyone being a victim of the disease that can kill to others, having emotions as a trigger, it sounds good, and it is. The problem that I could see and that perhaps for that reason I did not like it, was the incoherence of some situations, such as the fact that it was a building full of inhabitants and not everyone came down to know what was happening, that there were still monsters in some floors having them the ability to go down and up stairs, among other small things.
The monsters, although they seem indestructible, have a key point, which is before it turns into a monster and the bleeding begins, they must kill the person. I liked that part of the story because it generates more uncertainty about how the protagonists can act. Some time ago, I saw on television a series where they said when they were not sure that their monster looked good, they used fast shots, without focusing, giving the feeling of "adrenaline" and for me, at that time I saw it horrible, Today I still see it horrible and more when they use it in a production made by Netflix in 2020.
Apart from the blurry scenes, with abrupt and unfocused camera movements, we have bad CGI, I can understand that some cases the CGI cannot be perfect, but to be so greedy when thinking that they can do some things that would be better with a costume, I feel like they wanted to show off or give a feeling to Anime in the series for being fictional.
The series has 10 chapters, duration of 50 and as many minutes as any other series, it is available on Netflix, you can see it to be surprised at the last chapter or wait for the second season to see if it improves a little.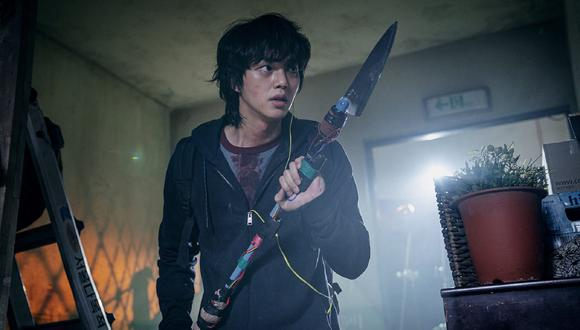 mag.elcomercio.pe
Espero les haya gustado, sin más que decir, nos leemos luego.
I hope you liked it, without more to say, we will read later.
SÍGUEME/FOLLOW ME
Instagram
Hive
Twitter
---
---