Anker PowerCore Select 10000 | Carga adicional en cualquier momento [ES][EN]
En estos tiempos, contar con batería extra es vital, sobre todo porque dependemos mucho de los equipos electrónicos y el tiempo que pasamos utilizándolos es bastante. Cuando pasamos mucho tiempo fuera de casa, se interrumpe el servicio eléctrico o simplemente necesitamos cargar o conectar algún artefacto, como los aros de luz, contar con una batería porteril es una de las mejores opciones.
In these times, having an extra battery is vital, especially because we depend a lot on electronic equipment and the time we spend using it is quite a lot. When we spend a lot of time away from home, the electric service is interrupted or we simply need to charge or connect some device, such as light rings, having a portable battery is one of the best options.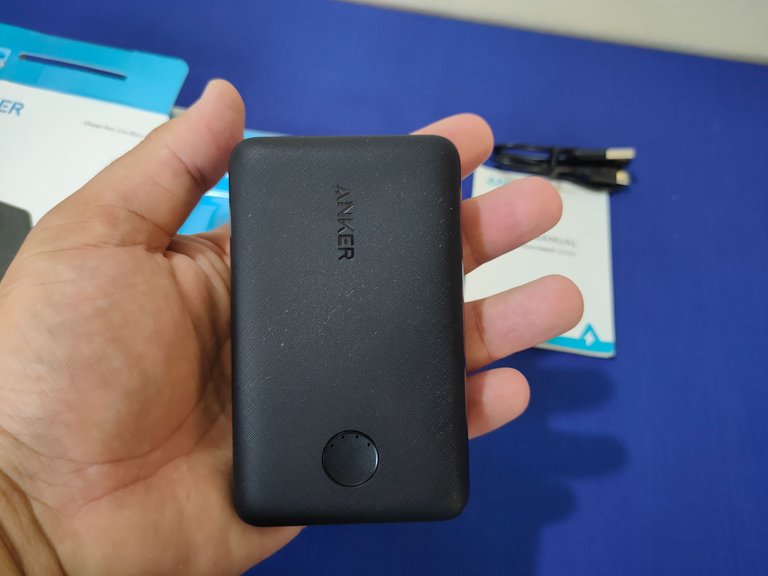 Existen muchísimas marcas en el mercado y otras que ni marcas tienen y terminan siendo una pésima adquisición. He leído buenas reseñas sobre los power bank de Xiaomi, pero en las tiendas oficiales siempre se agotan, y ya había comprado un power bank sin marca y fue una total decepción. Seguí buscando opciones y sin pensar en esta marca, ni haber preguntado por ella en ninguna tienda, me he encontrado con una batería portátil de la gente de Anker y sin pensarlo dos veces, adquirí uno.
There are many brands on the market and others that do not even have brands and end up being a lousy acquisition. I have read good reviews about Xiaomi power banks, but in official stores they are always sold out, and I had already bought an unbranded power bank and it was a total disappointment. I kept looking for options and without thinking about this brand, nor having asked about it in any store, I have come across a portable power bank from the people of Anker and without thinking twice, I purchased one.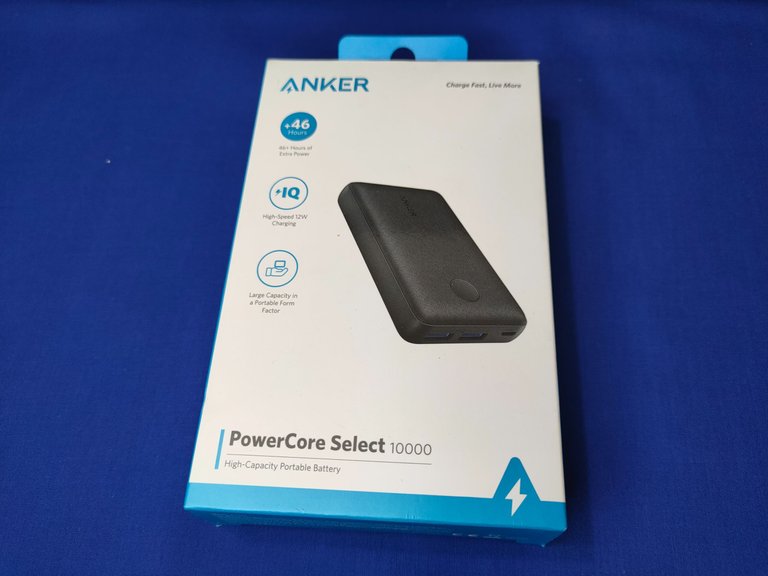 Anker es una compañía conocida por su calidad a la hora de crear dispositivos de este estilo, su trayectoria, la calidad de sus equipos y las buenas opiniones de los usuarios, hacen que se confié en esta marca, si estas buscando adquirir una batería portátil. Este dispositivo me costo 20$ y cuenta con una capacidad de 10.000mAh.
Anker is a company known for its quality when creating devices of this style, its history, the quality of their equipment and good user reviews, make you trust this brand, if you are looking to buy a portable battery. This device cost me 20$ and has a capacity of 10.000mAh.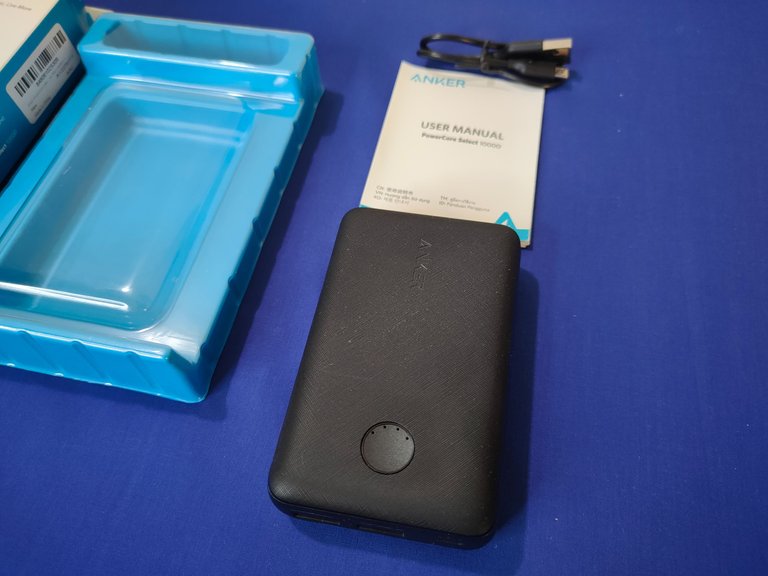 En la caja de este dispositivo solo encontramos la batería portátil, un cable micro USB-USB A y una guía rápida de uso. Este dispositivo tiene un peso de 200 gramos aproximadamente, cuenta con 2 puertos USB de carga rápida a 12w o 2.4A como máximo y tiene una entrada micro usb para cargar el dispositivo, que soporta carga a 10w o la equivalente a 2A. Adicional, tiene un botón de estado, que sirve para verificar el estado de la carga de la batería mediante 4 indicadores led, que no resaltan mucho y es perfecto, en mi caso, para no llamar tanto la atención.
In the box of this device we only find the portable battery, a micro USB-USB A cable and a quick guide for use. This device weighs approximately 200 grams, has 2 USB ports for fast charging at 12w or 2.4A maximum and has a micro USB input to charge the device, which supports charging to 10w or the equivalent of 2A. Additionally, it has a status button, which is used to check the battery charge status through 4 led indicators, which do not stand out much and is perfect, in my case, to not draw so much attention.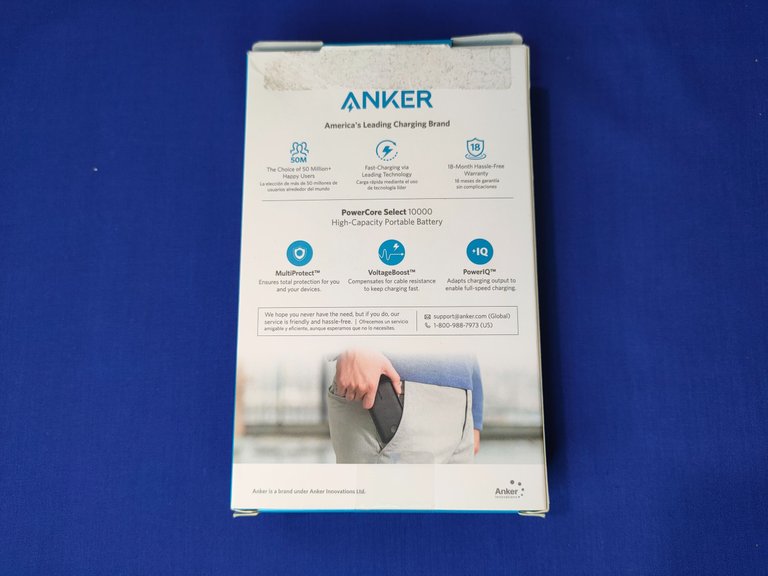 El diseño de la caja me encanta, en la parte azul tiene textura, se nota en relieve el dispositivo y algunos otros elementos que hacen referencia a la carga. Debo mencionar que viene cargado al 50%, un punto positivo por si estas en la calle y compras este dispositivo y necesitas cargar la batería.
I love the design of the box, in the blue part it has texture, you can see in relief the device and some other elements that refer to the charge. I should mention that it comes charged to 50%, a positive point in case you are on the street and you buy this device and need to charge the battery.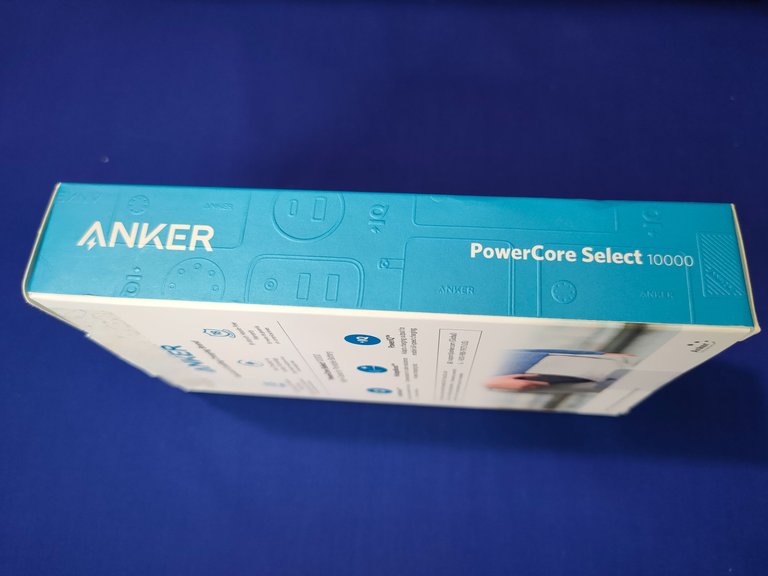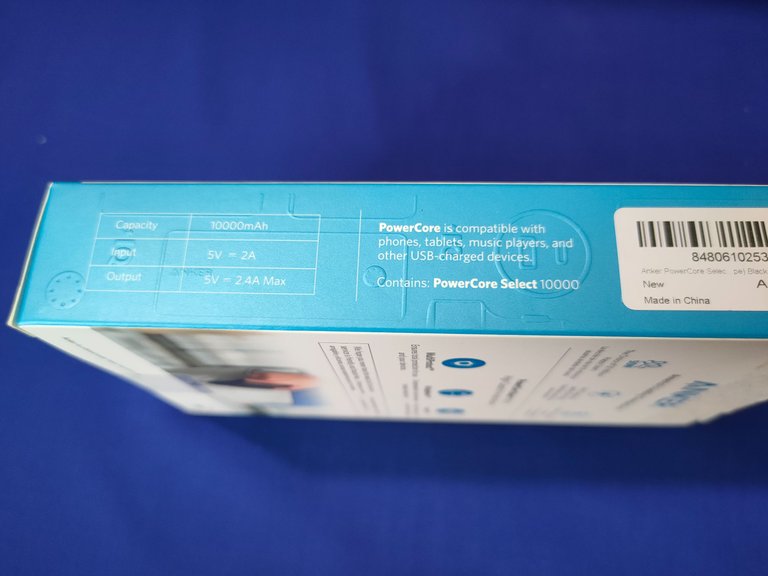 Una de las características de dispositivo de Anker es que cuenta con una tecnología llama power IQ que realmente lo que haces es detectar si el dispositivo soporta la carga rápida máxima ofrecida por el powercore y dársela, independientemente del puerto que se este utilizando. Esto realmente me encanta porque no debo estar pendiente de que puerto debo usar para tener carga rápida, simplemente conecto y dejo que el dispositivo decida que hacer.
One of the features of the Anker device is that it has a technology called power IQ that actually what you do is detect if the device supports the maximum fast charge offered by the powercore and give it to it, regardless of the port that is being used. I really love this because I don't have to worry about which port to use for fast charging, I just plug it in and let the device decide what to do.
En cuanto al diseño es bastante compacto, cabe en mi mano tranquilamente, permitiendo que se pueda llevar hasta en el bolsillo o un bolso sin que ocupe gran espacio o peso. Es de material plástico, pero se siente de calidad al tacto, sobre todo en la parte frontal que cuenta con un texturizado anti resbalante que hace que tengas un mejor agarre.
As for the design it is quite compact, it fits in my hand quietly, allowing you to carry it even in your pocket or purse without taking up much space or weight. It is made of plastic material, but it feels quality to the touch, especially on the front that has a textured anti-slip that makes you have a better grip.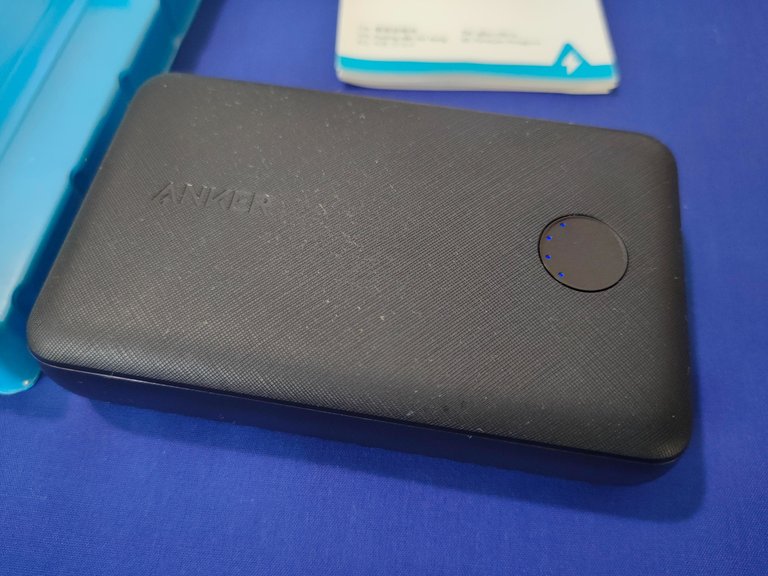 Si, quizás en este punto te estés preguntando que porque no compre un powercore de mas capacidad o con mayor capacidad de carga rápida. Lo primero es que mi móvil solo soporta dos tipos de carga o rápida a 12w o carga dart a 65w. Esta ultima carga recién se esta haciendo popular y no es fácil conseguir una batería portátil con esa capacidad. Comprar aquellos que tienen carga rápida a 33w seria un desperdicio de dinero para mi, porque no aprovecharía esa capacidad, así que este en particular me queda perfecto, que me fuese encantado que tuviera puerto USB tipo C.
Yes, maybe at this point you are wondering why not buy a powercore with more capacity or with greater capacity for fast charging. The first thing is that my phone only supports two types of charging or fast charging at 12w or dart charging at 65w. The latter charging is just becoming popular and it is not easy to get a portable battery with that capacity. Buying those that have fast charging at 33w would be a waste of money for me, because I would not take advantage of that power, so this particular one is perfect for me, which I would love if it had a USB type C port.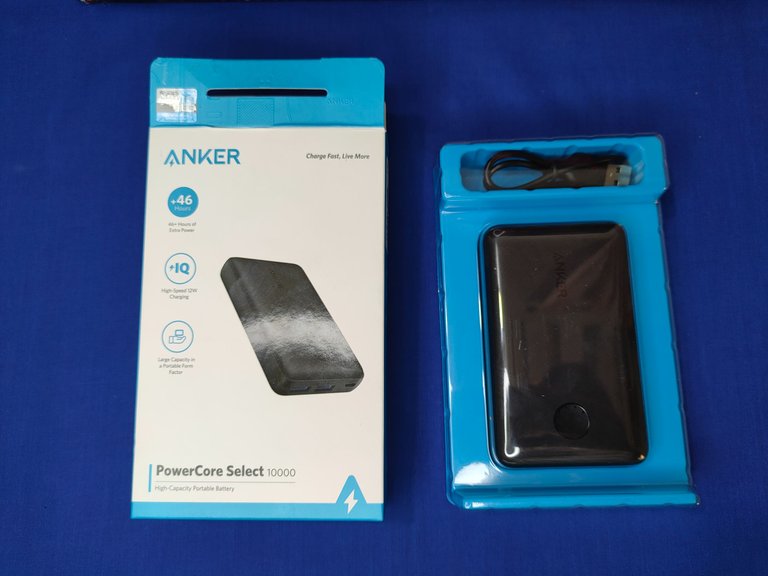 Mi móvil tiene una batería de 4.500mAh y con este powercore puedo cargarlo 2 veces y para mi esta mas que bien, aunque poder cargar mas veces nunca esta mal. Tener una batería portátil de estas no solo sirve para cargar el móvil, también sirve para alimentar el aro de luz cuando no se tenga acceso a un tomacorriente o inclusive alimentar el control de alguna consola de juegos sin tener que conectar a la consola, sobre todo con los mandos de Xbox y la ruina con sus baterías.
My cell phone has a 4,500mAh battery and with this powercore I can charge it 2 times and for me this is more than fine, although being able to charge more times is never bad. Having a portable battery of these not only serves to charge the mobile, also serves to feed the light ring when you do not have access to a power outlet or even feed the control of a game console without having to connect to the console, especially with the Xbox controllers and the ruin with their batteries.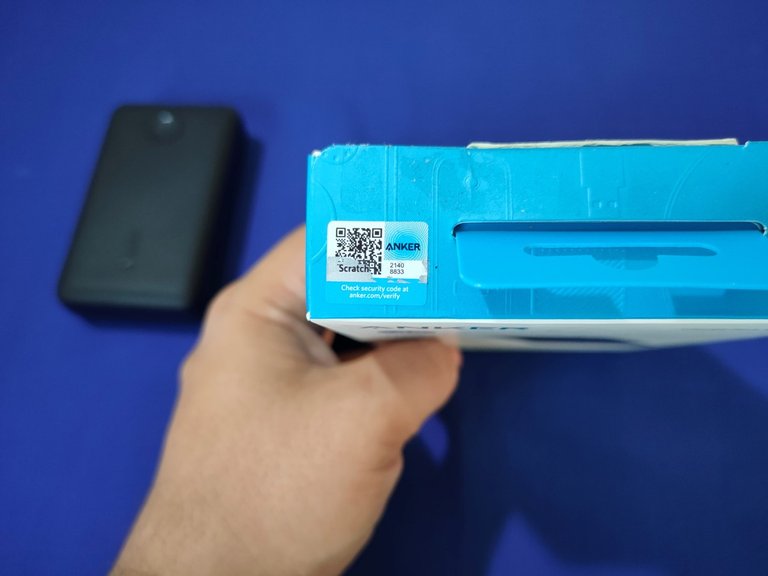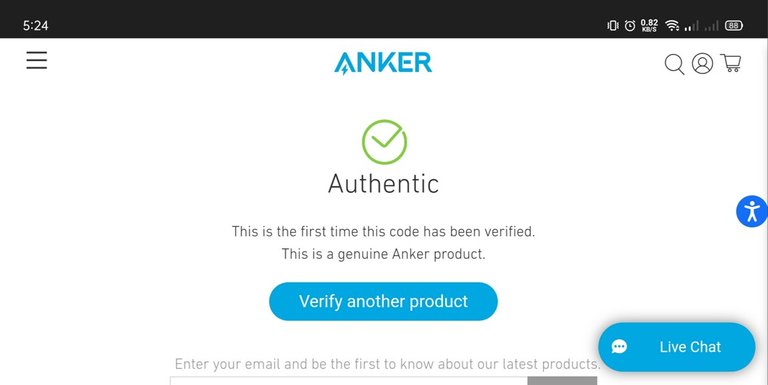 Me encanta que la gente de Anker coloque un código que debemos raspar para verificar que el producto sea original. Al ingresar el código en la pagina, te certifica que adquiriste un producto original de la compañía. Siempre muy pendiente de eso, para evitar comprar productos imitación y terminar decepcionados.
I love that the people at Anker put a code that we have to scratch off to verify that the product is genuine. When you enter the code on the page, it certifies that you purchased an original product from the company. Always keep an eye out for that, to avoid buying imitation products and ending up disappointed.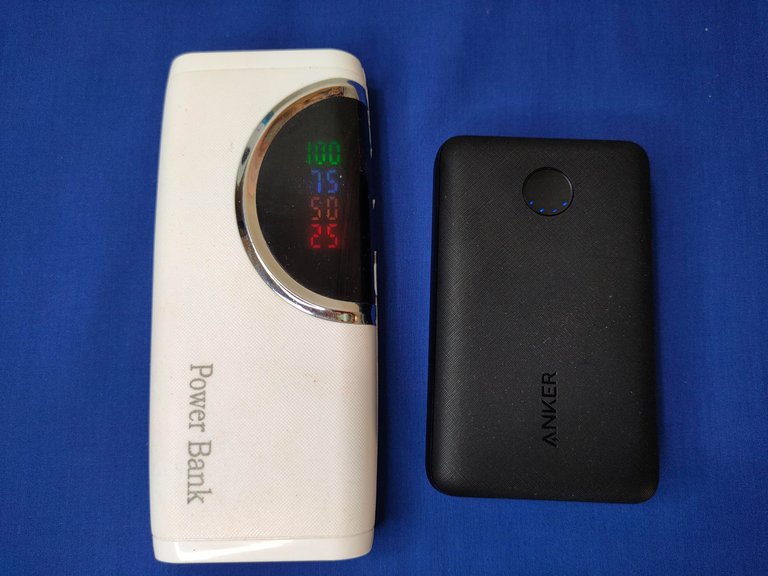 Estoy feliz con mi compra, me encanta cuando encuentro un buen producto y con una marca que de calidad, que me permitirá disfrutar por un bue tiempo de carga extra en mis dispositivos que lo requieran. En el pasado compre un dispositivo imitación y de muy baja calidad que aunque dice tener 20000mAh, no logra cargar mi móvil por encima del 80% de batería. Cuando se trata de baterías o equipos que van a suministrar alimentación eléctrica, buscar dispositivos de marca Anker, Adata o inclusive Xiaomi, están entre las mejores opciones.
I am happy with my purchase, I love when I find a good product and with a quality brand, which will allow me to enjoy a good extra charge time in my devices that require it. In the past I bought an imitation device and very low quality that although it claims to have 20000mAh, fails to charge my phone above 80% battery. When it comes to batteries or equipment that will supply power, look for Anker, Adata or even Xiaomi branded devices, they are among the best options.
---

Las fotografías fueron tomadas con un Realme 7 pro, al igual que la captura de pantalla. Si quieres mas información sobre los productos de Anker, puedes visitar su pagina web.
The pictures were taken with a Realme 7 pro, as well as the screenshot. If you want more information about Anker products, you can visit their website.
---
---