The celebration of Our "VIRGEN DEL ROSARIO" and education in the faith [Esp-Eng]
Saludos estimados amigos de #Motherhood hoy quiero compartir con ustedes una bonita celebración que de acuerdo a nuestra fe hemos celebrado en familia como lo fue, la celebración de la visita de la Virgen del Rosario patrona de mi municipio al colegio donde estudia mi hija.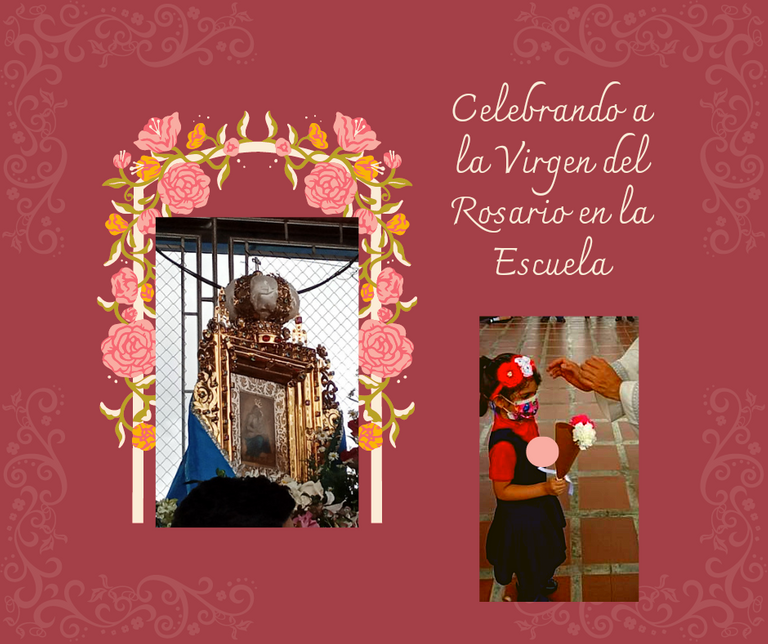 Imagen propiedad del autor y editada con Canva
En el marco de las celebraciones de la Virgen del Rosario, me pareció muy positivo que en la escuela tengan esos valores.
Entiendo que mucha gente no comparte los valores católicos pero en mi caso y mi familia si lo somos y me parece bonito que los niños tengan esa referencia sobre valores y que sea complementado en la institución, claro como padres debemos estar atentos a las actividades.
Desde mi punto de vista los valores de la iglesia han servido durante muchos años como puntos de partida para la vida en sociedad, y muchos países así como su cultura se definen por la religión que tienen.
Pero volvamos a la actividad, el día de ayer mi pequeña llegó a la casa muy contenta comentando de la actividad y la maestra nos informó que los niños podían llevar una ofrenda floral para la virgen que no fuese muy grande (una o dos flores por niño, ya que son pequeños) por lo cual planificamos que mientras mi esposa fuese a llevarla al colegio yo comprara la flor, lo cual hicimos, mi hija estaba muy contenta pero a la vez a la expectativa que pudiese llegar con la flor, así que temprano me acerque a una floristeria para poder comprar la flor, para mí sorpresa no era el único representante, varios estábamos en el mismo plan, lo más bonito era la posibilidad de asistir a la actividad.
Así que le compré estás flores que me parecieron bonitas para la virgen, y rápidamente fui a la actividad donde encontré a mi pequeña con dos amigas que ya tenían su ofrenda por lo cual ella se contento mucho al entregarle la suya.
Las flores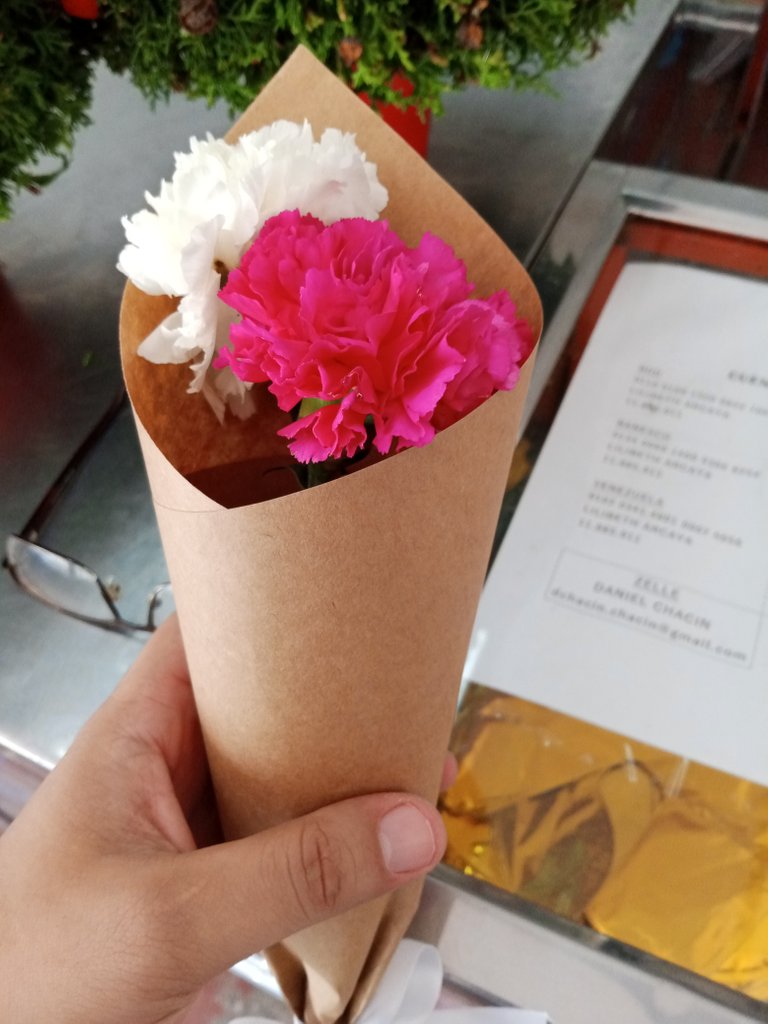 Imagen propiedad del autor y editada con Canva
Luego todos, representantes, profesores y alumnos esperamos la llegada de la imagen de la Virgen mientras un grupo de gaitas tocaban canciones relacionadas con la Virgen del Rosario.
Y llegó el momento, la Virgen llegó a lo que los presentes tuvimos la oportunidad de verla de cerca, se realizaron unos rezos unas canciones para la virgen, las ofrendas y peticiones por la institución.
Esperando a la Virgen con mi esposa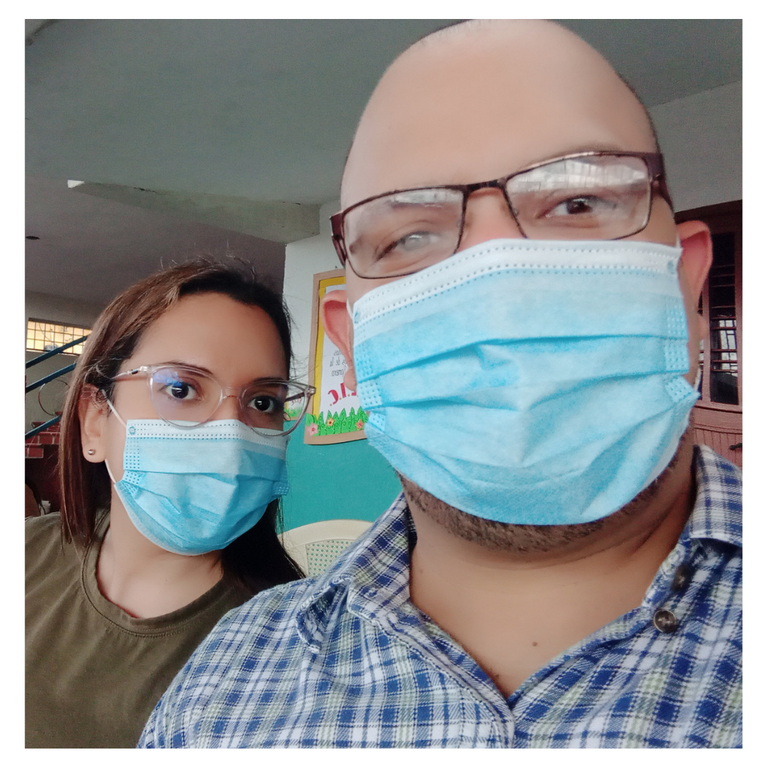 Imagen propiedad del autor y editada con Canva
En lo particular me recordó a mis tiempos escolares pues yo también estudie en un colegio en el cual nos enseñaban a rezar y también recibíamos la Virgen, actividad que permite salir de la cotidianidad de las clases y compartir de otras formas.
Porque me parece bien que las instituciones puedan tener una orientación católica, pues lo resumiría en los siguientes puntos:
Los valores de la religión sirven para complementar la educación de nuestros hijos, además de las reglas ciudadanas tener el elemento de la religión ayuda a que ellos comprendan nuestra fe.

Pueden existir instituciones educativas que estén orientadas a otras religiones y eso está bien, hay libertad para que los niños que lo deseen estudien en ambientes relacionados a su religión y costumbres.

Entiendo que la educación pública quizás no tenga ese elemento de religión pero en las privadas puede estarlo y los representantes escojer el mejor sitio para el estudio de sus hijos o representados que como comenté en el apartado anterior se identifique con sus costumbres y valores de la casa.
Mi hija entregando su ofrenda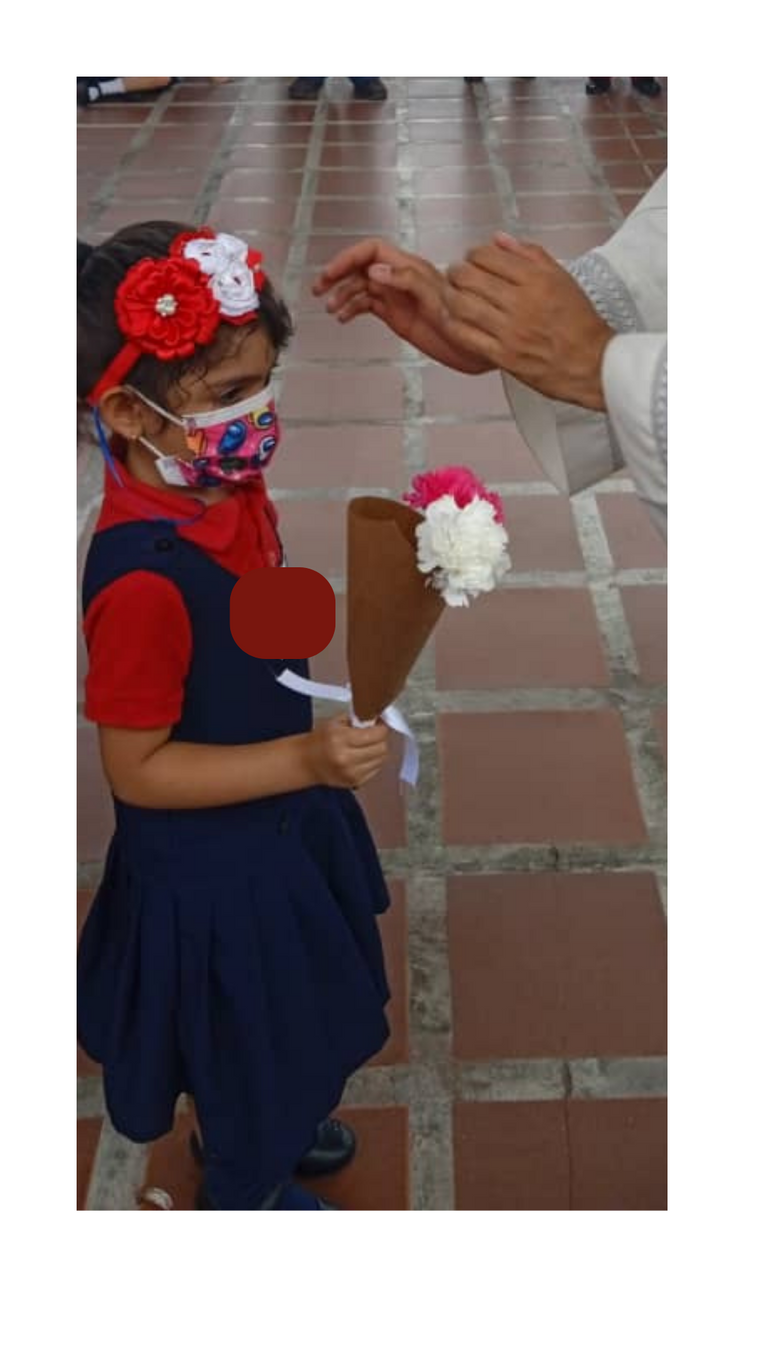 Imagen propiedad del autor y editada con Canva
Para concluir la actividad fue muy bonita y positiva, espero que estás permitan nuestra participación en lo posible porque como he comentado antes me parece muy bueno el estar observando las interacciones de los niños en la escuela.
Muchas gracias por leer!

ENGLISH
Greetings dear friends of #Motherhood today I want to share with you a beautiful celebration that according to our faith we have celebrated as a family as it was, the celebration of the visit of the Virgin of the Rosary patron saint of my town to the school where my daughter studies.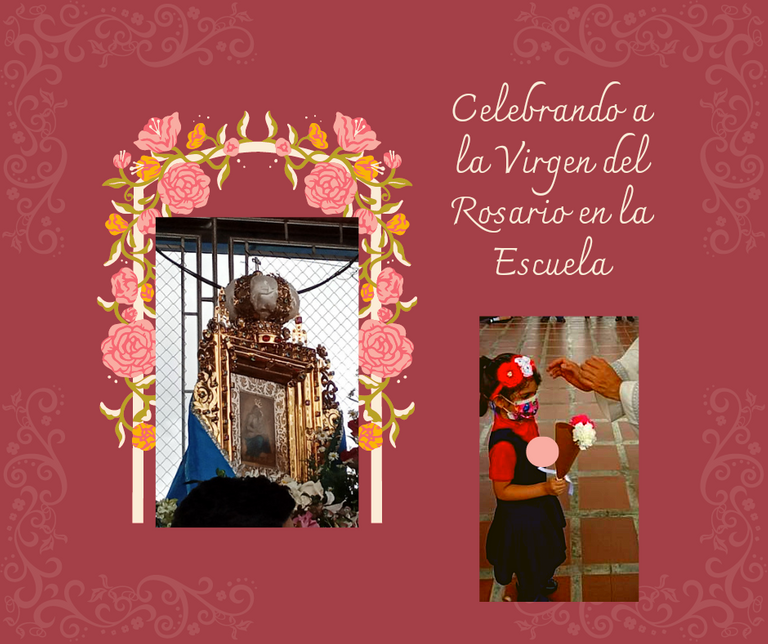 Image property of the author and edited with Canva.
In the context of the celebrations of the Virgin of the Rosary, I found it very positive that in the school they have these values.
I understand that many people do not share the Catholic values but in my case and in my family we are and I think it is nice that the children have that reference on values and that it is complemented in the institution, of course as parents we must be attentive to the activities.
From my point of view the values of the church have served for many years as starting points for life in society, and many countries as well as their culture are defined by the religion they have.
But let's go back to the activity, yesterday my little girl came home very happy talking about the activity and the teacher informed us that the children could bring a flower offering for the virgin that was not too big (one or two flowers per child, since they are small) so we planned that while my wife went to take her to school I would buy the flower, which we did, my daughter was very happy but at the same time she was waiting for the flower, so early in the morning I went to a florist to buy the flower, to my surprise I was not the only representative, several of us were in the same plan, the most beautiful thing was the possibility of attending the activity.
So I bought these flowers that I thought were beautiful for the virgin, and quickly went to the activity where I found my little girl with two friends who already had their offering so she was very happy to deliver hers.
The flowers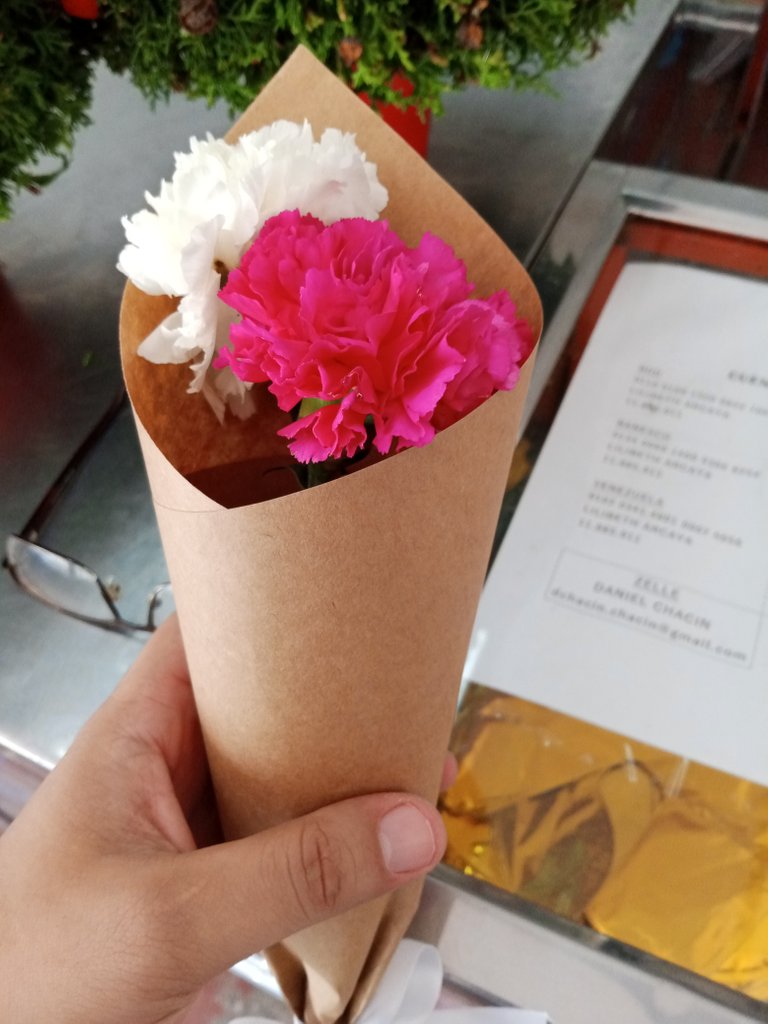 Image property of the author and edited with Canva.
Then everyone, representatives, teachers and students waited for the arrival of the image of the Virgin while a group of bagpipes played songs related to the Virgin of the Rosary.
And the moment arrived, the Virgin arrived and those present had the opportunity to see her up close, some prayers, songs for the Virgin, offerings and petitions for the institution were made.
Waiting for the Virgin with my wife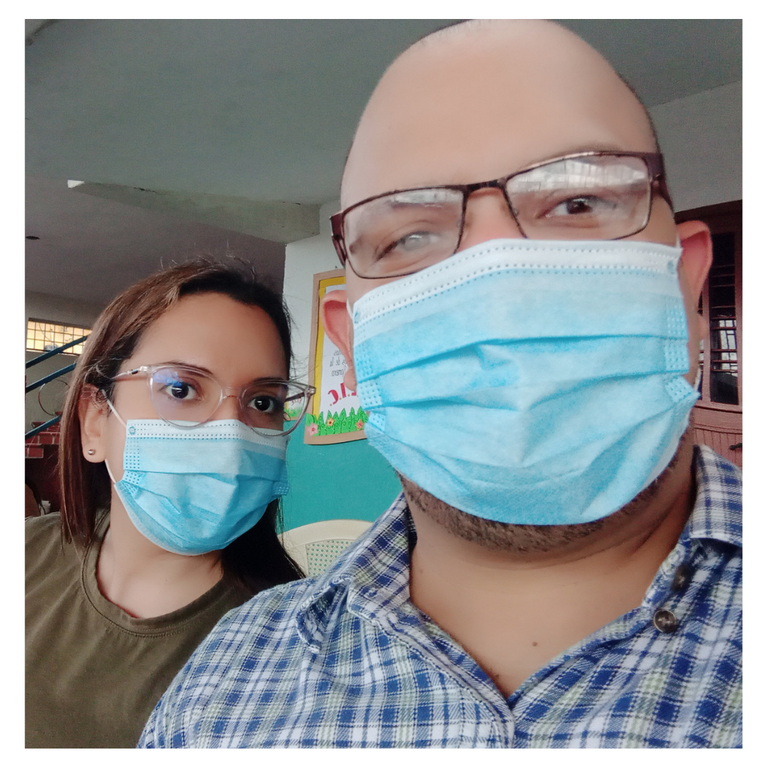 Image property of the author and edited with Canva.
In particular it reminded me of my school days because I also studied in a school in which we were taught to pray and we also received the Virgin, an activity that allows us to leave the daily routine of the classes and share in other ways.
Because I think it is good that the institutions can have a Catholic orientation, I would summarize it in the following points:
The values of religion serve to complement the education of our children, in addition to the rules of citizenship having the element of religion helps them understand our faith.

There may be educational institutions that are oriented to other religions and that is fine, there is freedom for children who wish to study in environments related to their religion and customs.

I understand that public education may not have that element of religion but in the private ones it can be and the representatives can choose the best place for the study of their children or represented that as I commented in the previous section is identified with their customs and values of the house.
My daughter delivering her offering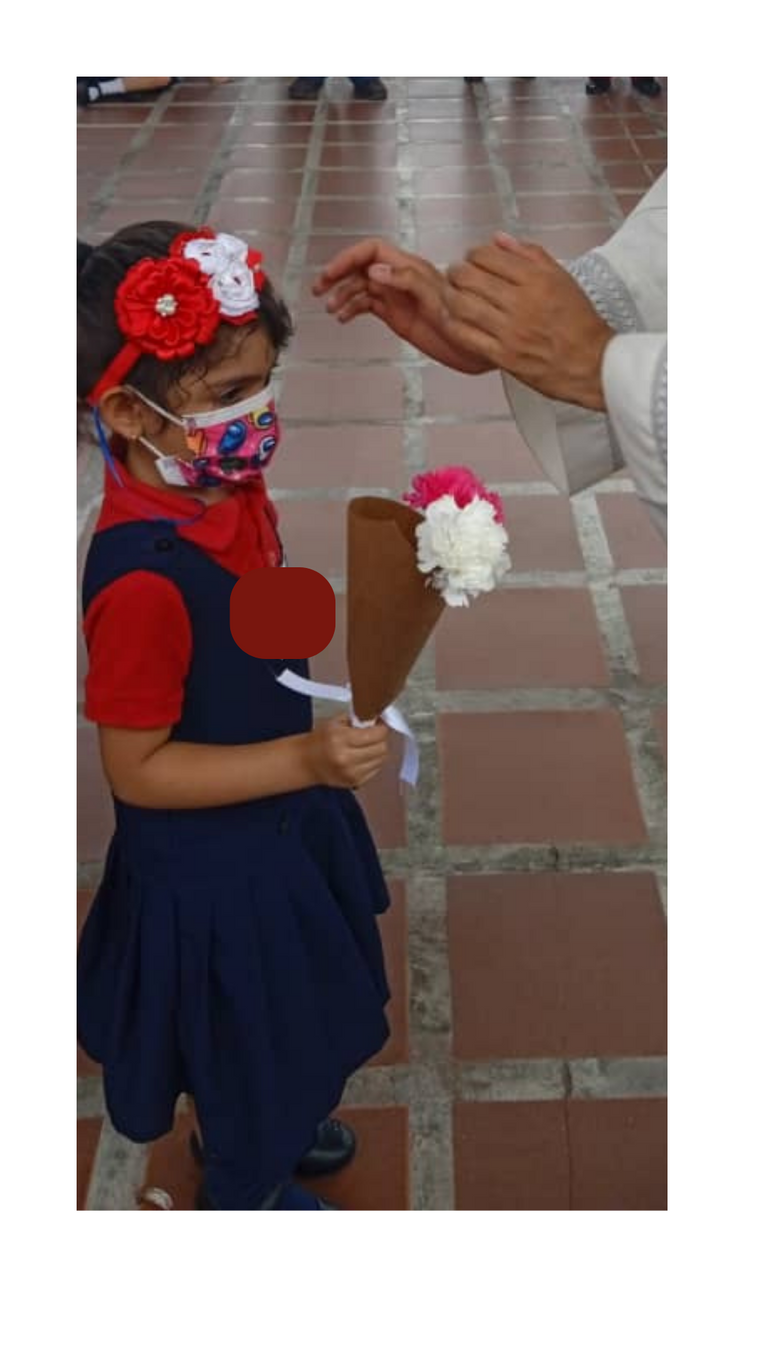 Image property of the author and edited with Canva.
To conclude the activity was very nice and positive, I hope that you are allowing our participation as much as possible because as I said before I find it very good to be observing the interactions of the children in the school.
Thank you very much for reading!

Translated with www.DeepL.com/Translator (free version)
Al pictures were taken with my cellphone Alcatel1/todas las fotografías fueron tomadas con mi telefono celular Alcatel1
---
---