Why Mothers are Heroes: Appreciation Post on National Hero Day (Shoutout: Happy Birthday to my Mama!)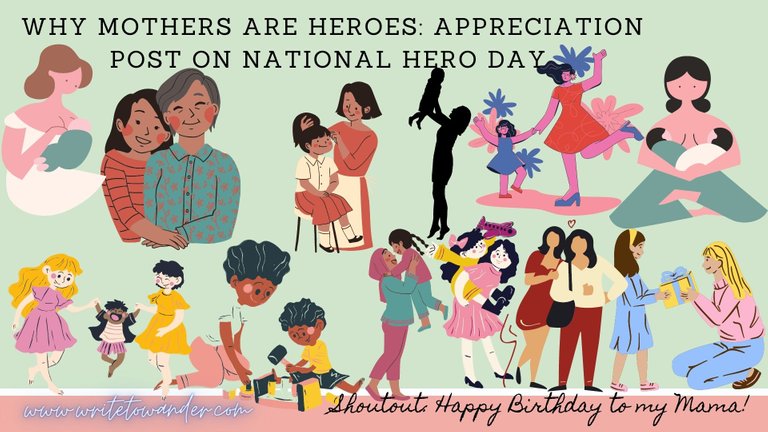 There is a cliche that reads: Mothers know best. It has been used and referenced in so many books, films, movies, songs, poems, and memes even. There must be a reason why it is what it is. Do they really know what is best? I have pondered on that for many moons now, and I have come to a conclusion, that, yes they do, they know what's best, they may not be perfect but they certainly do know what is best for their children.
In light of today's NATIONAL HERO DAY as published in the National Day Calendar website, I wrote an article about why I consider all mothers heroes. 💕 #NationalHeroDay 💛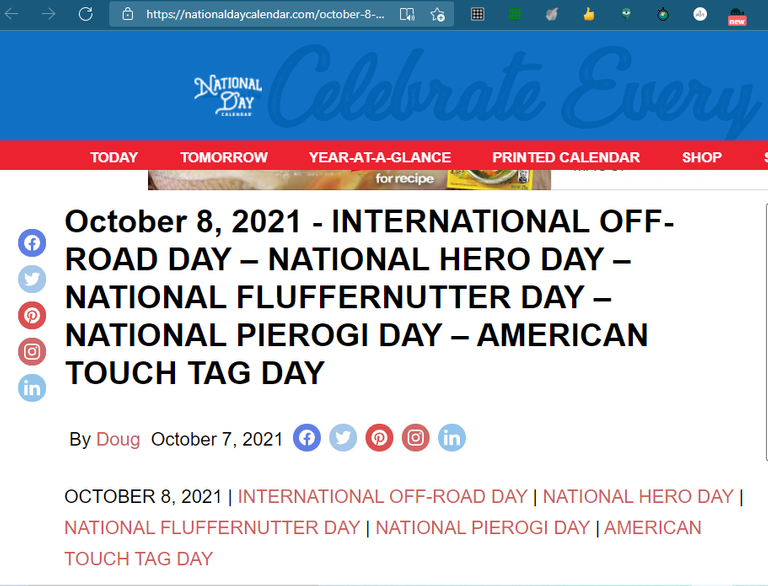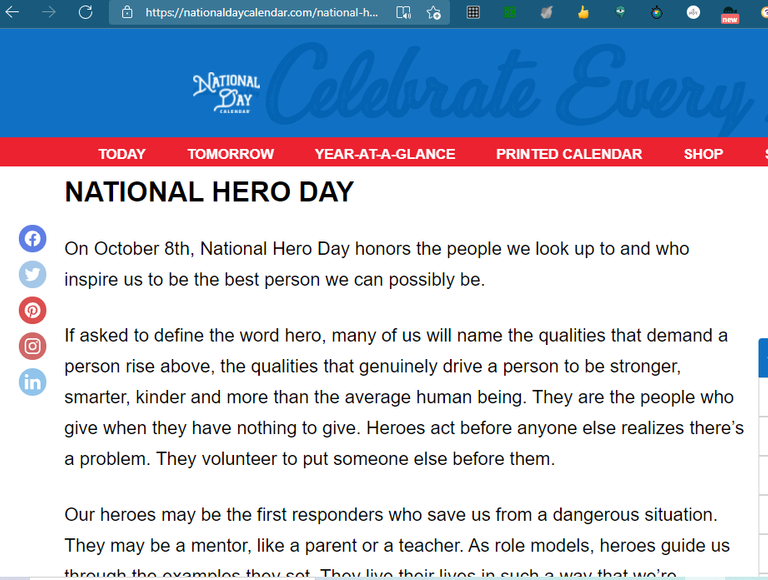 ---
Why Mothers are Heroes
Appreciation Post to all Loving Moms in the World
---
Here are a few of the billion reasons why our mothers are heroes, in no particular order:
They (mothers) accepted changes in their bodies so that we can have our first homes.
We all know how we, women, value our bodies that is why we take good care of them. We make sure to maintain a healthy weight, we exercise and eat healthy, too. Now imagine when a woman gains weight and changes the curves of her body so that she can grow a baby inside it! Many first-time mothers are afraid that their bodies are going to change due to pregnancy. BUT amidst that fear, mothers CHOOSE to face all of these changes, because of their LOVE for the BABY.

They (mothers) chose to accept to nurture child/children.
(I mean, they can choose not to grow the baby but they did so because they wanted and loved to. Our mothers chose to have us and they were delighted we were growing in their wombs.)

They (mothers) endured the long, winding and arduous road of pregnancy.

Even though giving birth is excruciatingly painful and such a burden, they (mothers) managed to come out victorious.

They (mothers) feed us and take care of us lovingly when we were children even when there is a chance of us rebelling against them when we reach our teenage and adult years.

Our mothers always think about the health and well-being of their children. They sometimes lose themselves in order to save their babies.

Mothers endure life's sticks and stones just so that their children could live better and much comfortable lives than what they used to have.

Many mothers choose to give up some of their dreams and goals in life because they choose their child/children over them.

Mothers may be full-time housewives or working women but all of them never fail to nurture their children so passionately and lovingly. There are so many times that they overdo this, but sadly, they do not usually get credit for this.

Many mothers have given up, traded, and sacrificed so much of their physical, emotional, and mental well-being as they take care of their growing children. They go through distress before and after giving birth (postpartum health issues) and for the rest of their lives so long as they continue to be mothers to their children.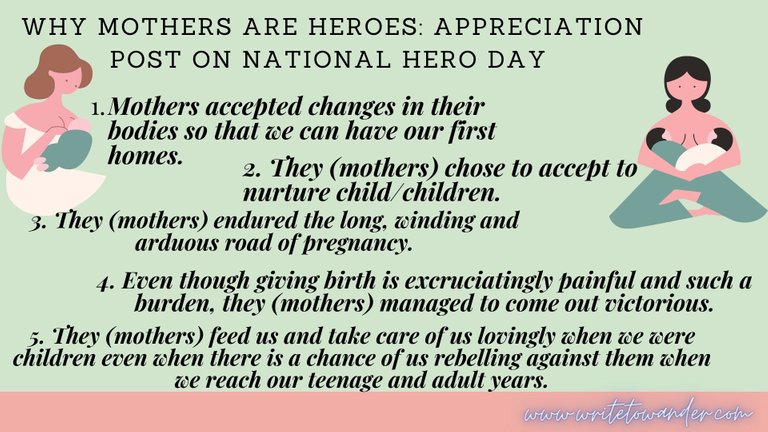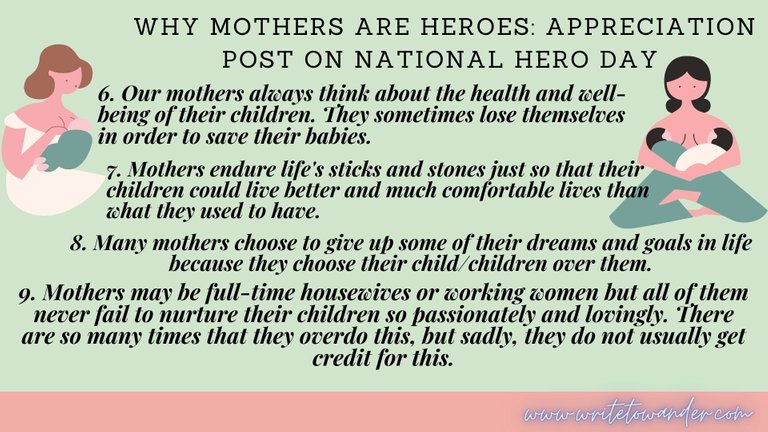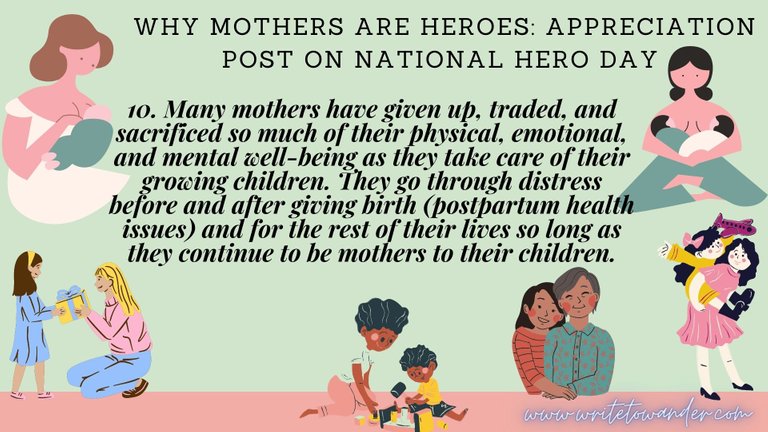 There are a billion more on the list, but as I am a terribly limited individual, these are the things I have come up with. I am not a mother so that may be the reason I cannot share so much about motherhood.
But I do know how INCREDIBLY HEROIC all mothers are. 🤧😍 They have put up with so many things and faced all kinds of problems starting from pregnancy, to labour, to giving birth, to taking care of infants, to taking care of teens until they mature and become adults--WHAT A TIRESOME WORK ALL THESE ARE!
So, to all the teenagers and young people reading this, here is my message: YOUR MOTHER HAS CHOSEN YOU AND HAS GONE THROUGH A LOT IN ORDER TO HAVE YOU AND RAISE YOU IN THIS GLORIOUSLY WILD WORLD-- PLEASE LOVE HER WITH EVERYTHING THAT YOU CAN AND YOU HAVE AND TAKE GOOD CARE OF HER! WE ONLY GOT ONE MOTHER IN THE WORLD. THERE'S NO ONE LIKE HER. Please.
To all mothers in the world: I SALUTE YOU FOR YOUR STRENGTH AND LOVE. 🤧😭💖 YOU HAVE SURELY MADE THIS EARTH A BETTER PLACE, THANK YOU SO MUCH! GRATITUDE WOULD BE AN UNDERSTATEMENT BECAUSE YOU ALL HAVE MADE SACRIFICES BEYOND OUR IMAGINATION JUST SO YOU CAN RAISE YOUR CHILDREN.
Statues should be made to honour all of you, sweet mothers.
To awesome mothers who are here in Hive, I greet you a #NationalHeroDay as well! You brave women are so loved~! 🤗😘 @gwenfinity @sassycebuana @purepinay
Here's a challenge for you, dear passionate readers: COMPLETE THE SENTENCE👇
"I AM GRATEFUL FOR MY MOTHER BECAUSE...." C'mon and let's show some love to our dear sweet angel-mothers~!😘 Comment down your answers🤗😘 Or a simple ❤️ will do.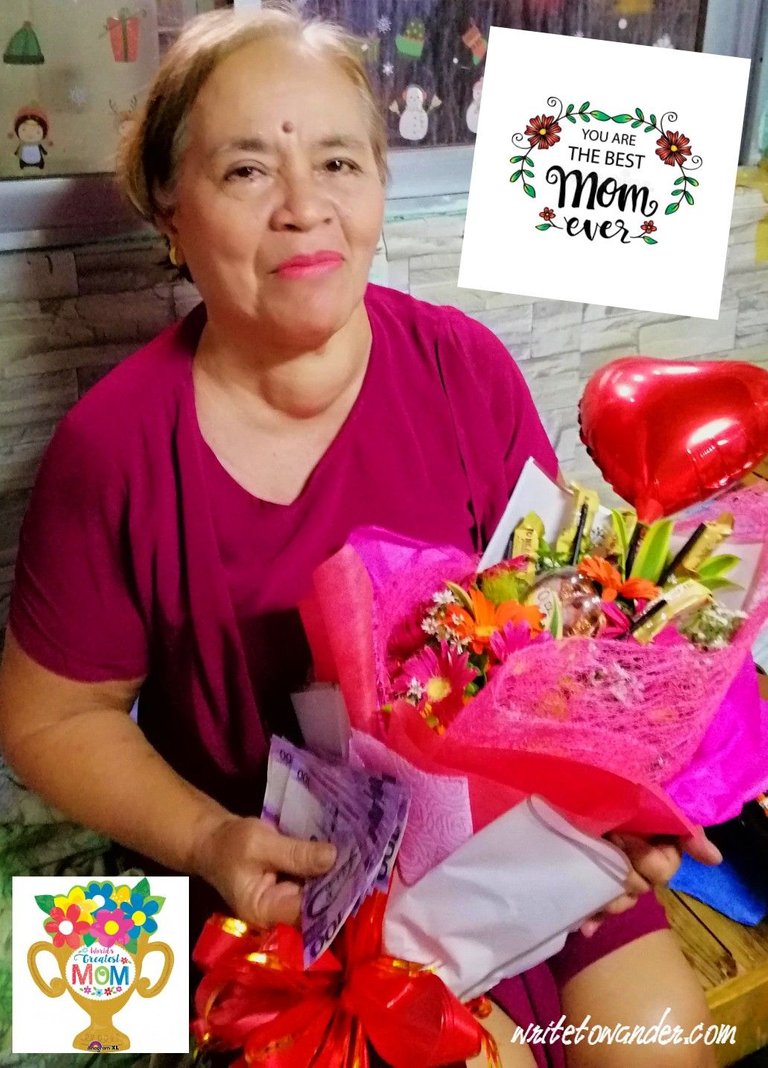 My blushing Mama on Valentine's Day 2021, as she received a bouquet from our Papa.😊
---
HAPPY BIRTHDAY, MAMA~!
I love you beyond words.
---
I AM GRATEFUL FOR MY MOTHER BECAUSE SHE HAS DONE SO MANY THINGS IN ORDER TO RAISE EIGHT CHILDREN.🤧🥰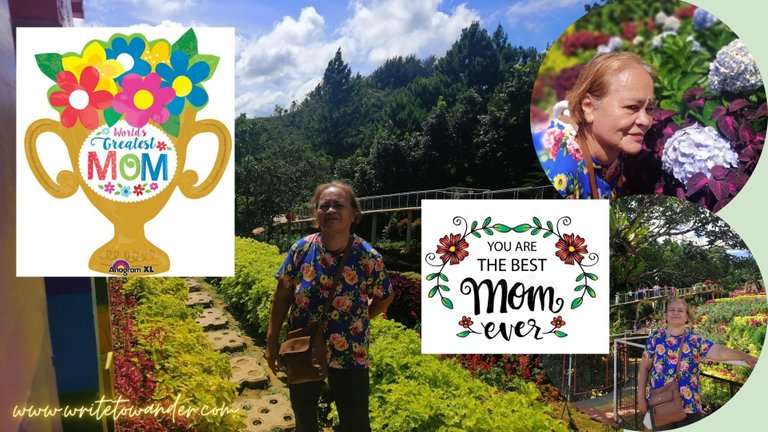 To show my gratitude, I wrote a prose poem (this was written last 2018) for my Mama's birthday (which is on the 9th of October). I never got to read this out loud for her. I hope I can read this aloud for her on her special day.😊 Here is the rather lengthy poem: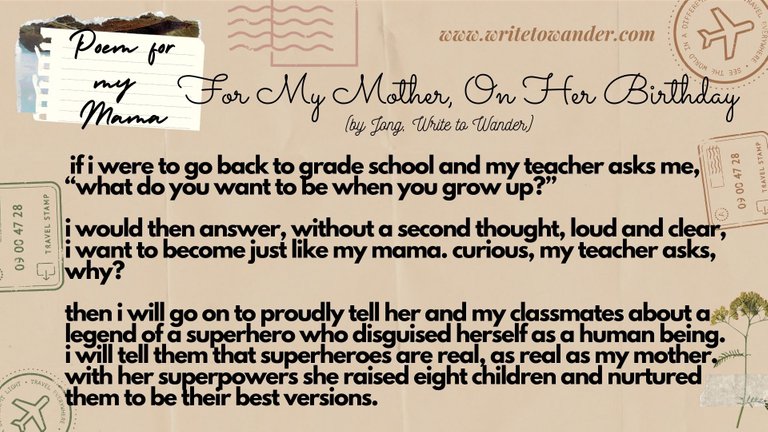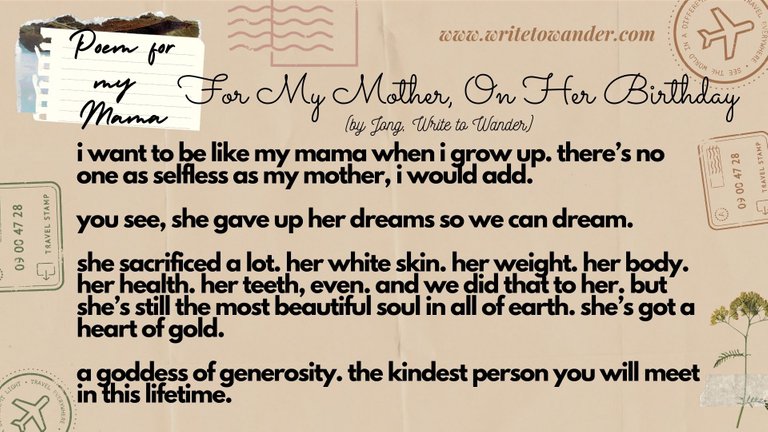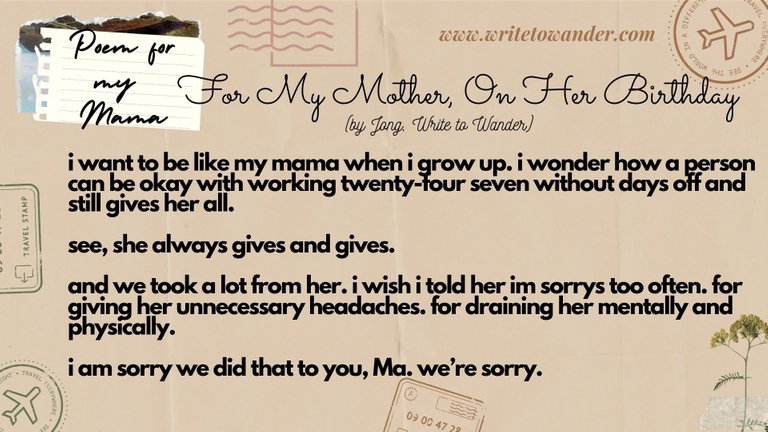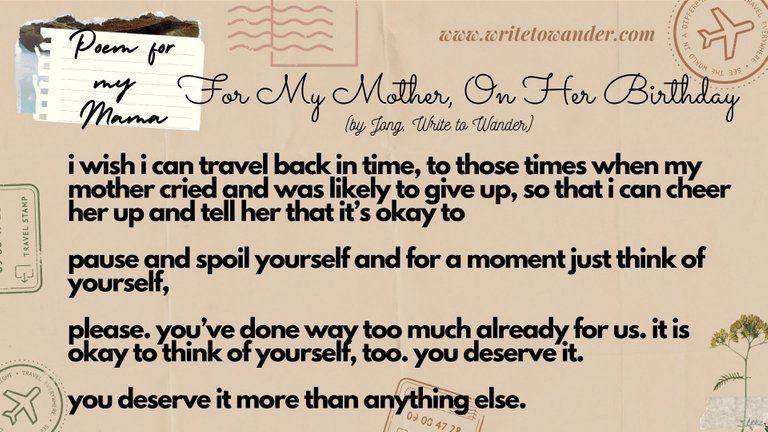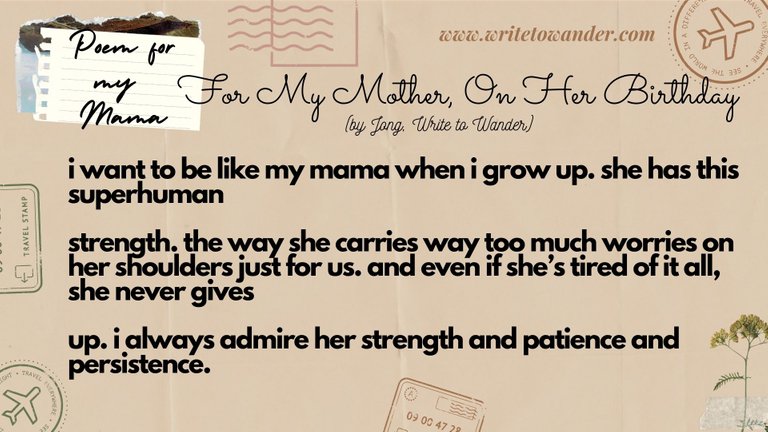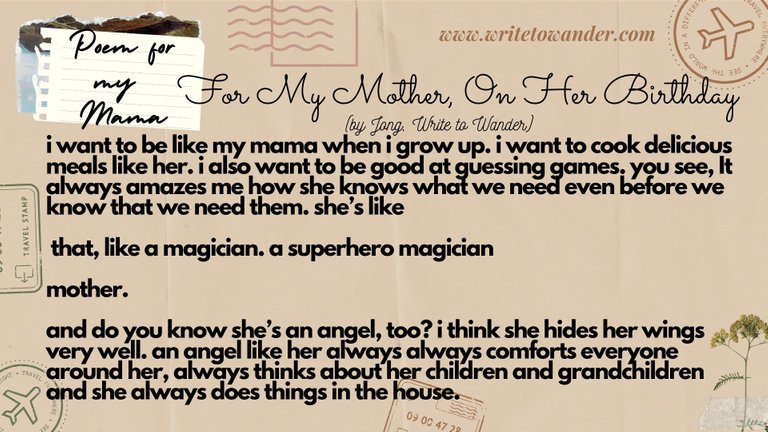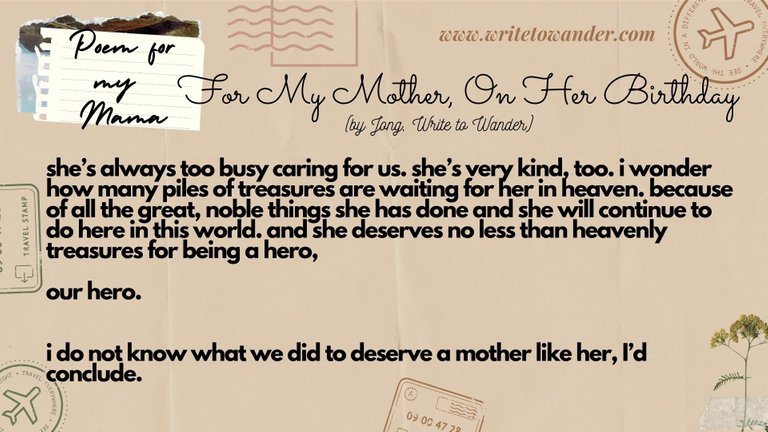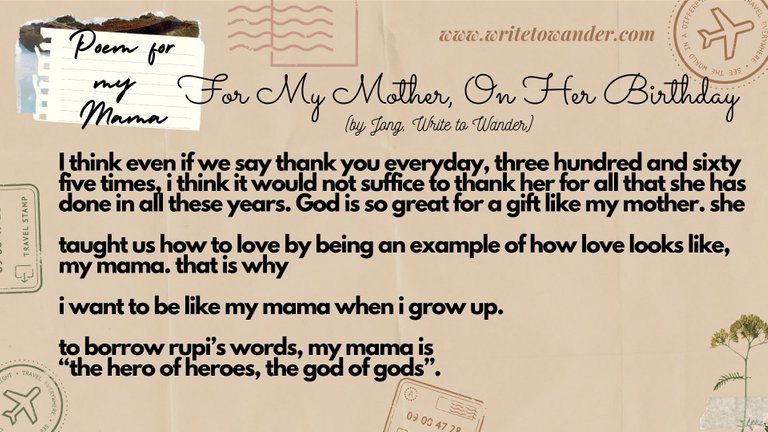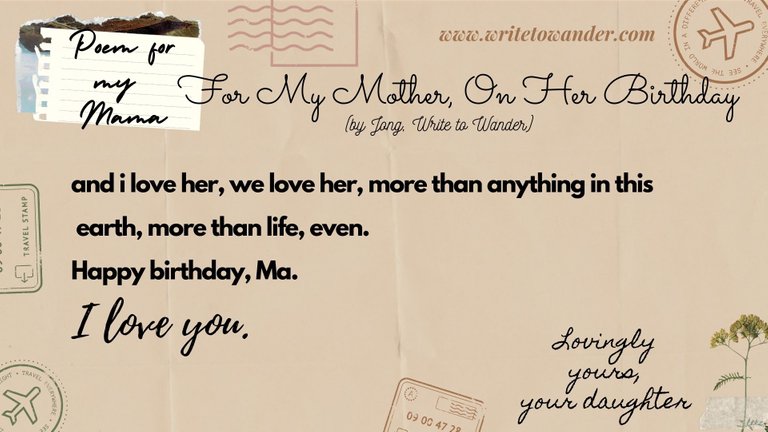 Here is another poem I wrote for my Mama Girlette last Mothers' Day 2017: 😘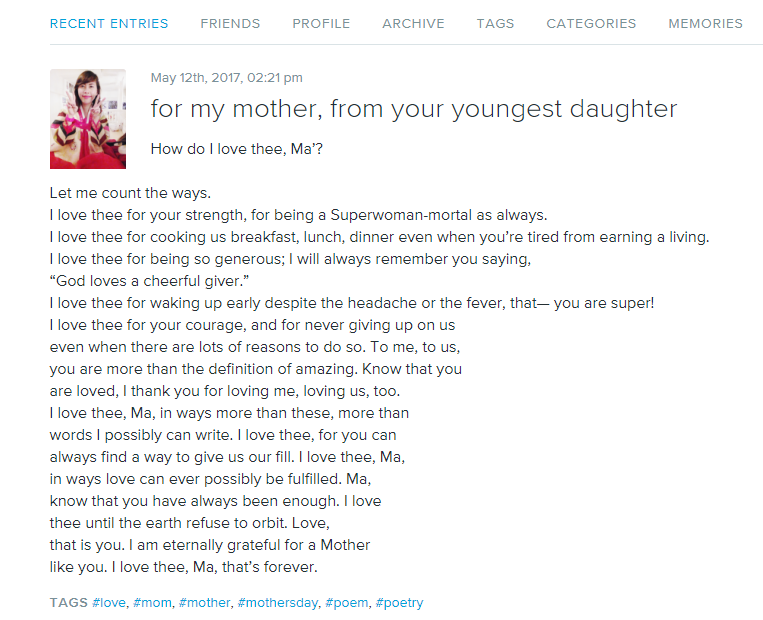 This poem was inspired by Browning's How Do I Love Thee.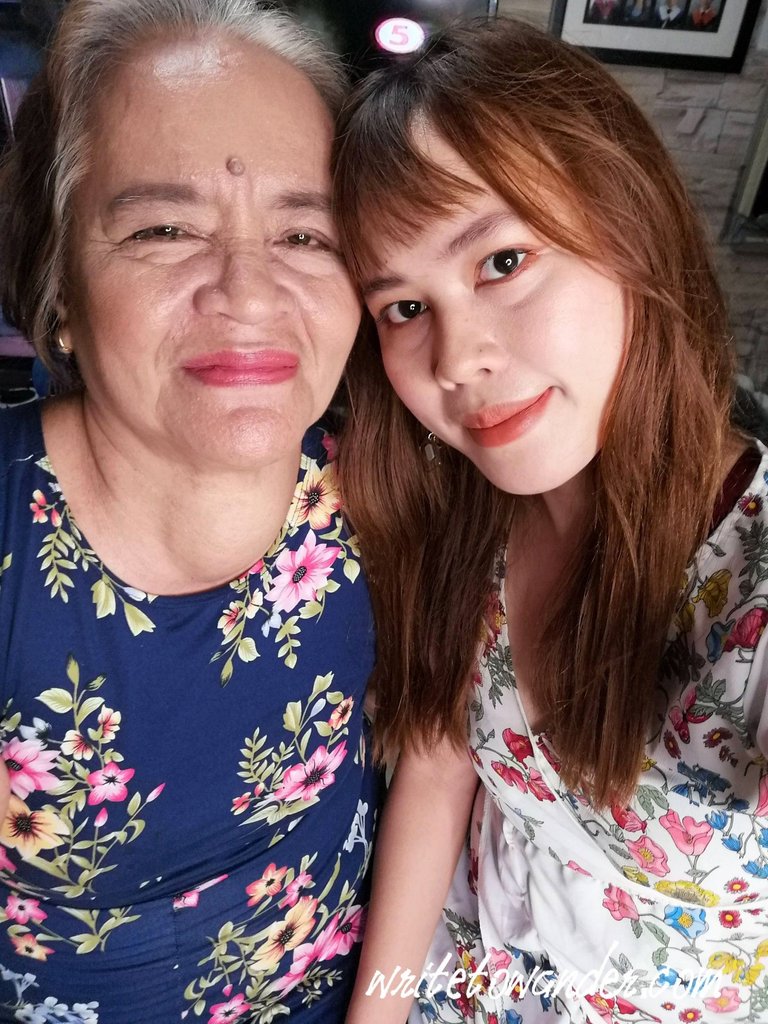 With my Mama, my hero🥰
INDEED, ALL MOTHERS ARE HEROES. 😊 We do not know what we'd do without you, our Mama/ Inay/ Nay/ Mommy/ Mom/ Mum/ Mudra/ Mother/ Omma 😘
'Til the next post, hivers! Remember that you are loved beyond borders and beyond time & space. Okay? Okay. 💛❤️ Ciao for now! 🤗
This original article is written by Jong, the blogger and owner of writetowander.com. All photos are hers, too.
---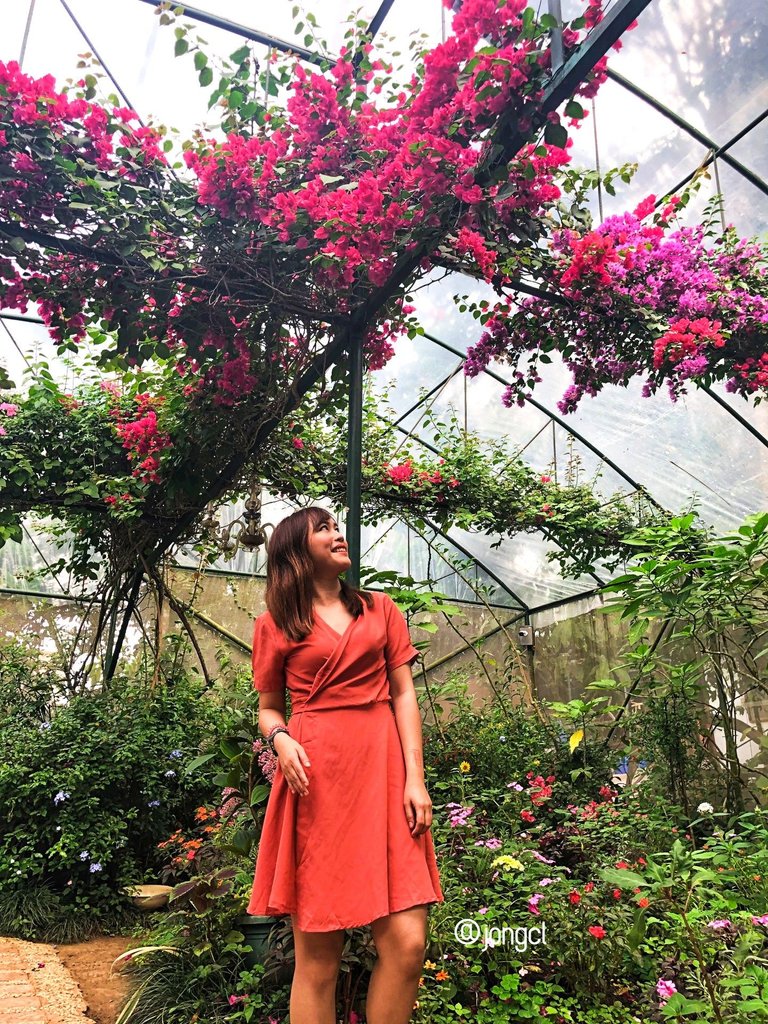 Jong CL
Hive-llo, everyone! Welcome to Jong's little buzz-y corner in Hive. Jong believes that every person she meets can teach her a thing or two (or three, or more) about life. She shares her love for life here-- the captivating beauty of life! To be more specific, but not necessarily in this order, she's interested in: wisdom, love, poetry, single life, books, travel, health&fitness, fashion, gratitude, unspoken hurts, heartbreaks and healing. Lastly, she loves Jesus.
Do you like her content? Make sure to upvote, then! Drop some love by leaving a comment-- she really appreciates listening to your thoughts! 💛 Feel free to reblog if her post resonated with you. Kindly follow her to not miss a post! Happy hiving, loves! 💛

---
---