Weekend-Recap Wednesday: Wedding of Paulene and Jose in Carcar City, Cebu (Four Girlfriends and Their Bestie's Wedding) | What Can You Expect in a Modern Filipino Wedding Reception? Learn Filipino Culture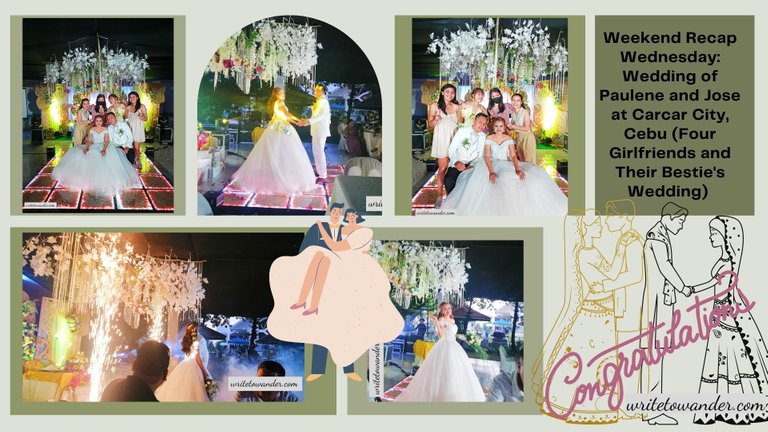 Last weekend, I set out for Carcar City to attend the wedding of my dear friend and bestie Paulene (Pau). I rode the bus together with three of Pau's close friends, two of whom were friends of mine and one was a newfound friend. We agreed to meet in Cebu City's South Bus Terminal. At around 11 A.M., our bus headed to the south. Yay!
I always find bus trips enjoyable because I like looking outside and the lush green trees always comfort me and somehow give me a bit of peace. I also like to talk to my bus seatmate lol. I was seated next to Daryl during the entire ride and I was glad to catch up with her. See, I know her because we were high school batchmates and college schoolmates, too. She's also a social butterfly like me so we get along. We shared a lot of reminiscing high school and college moments, with laughter on the side. 😂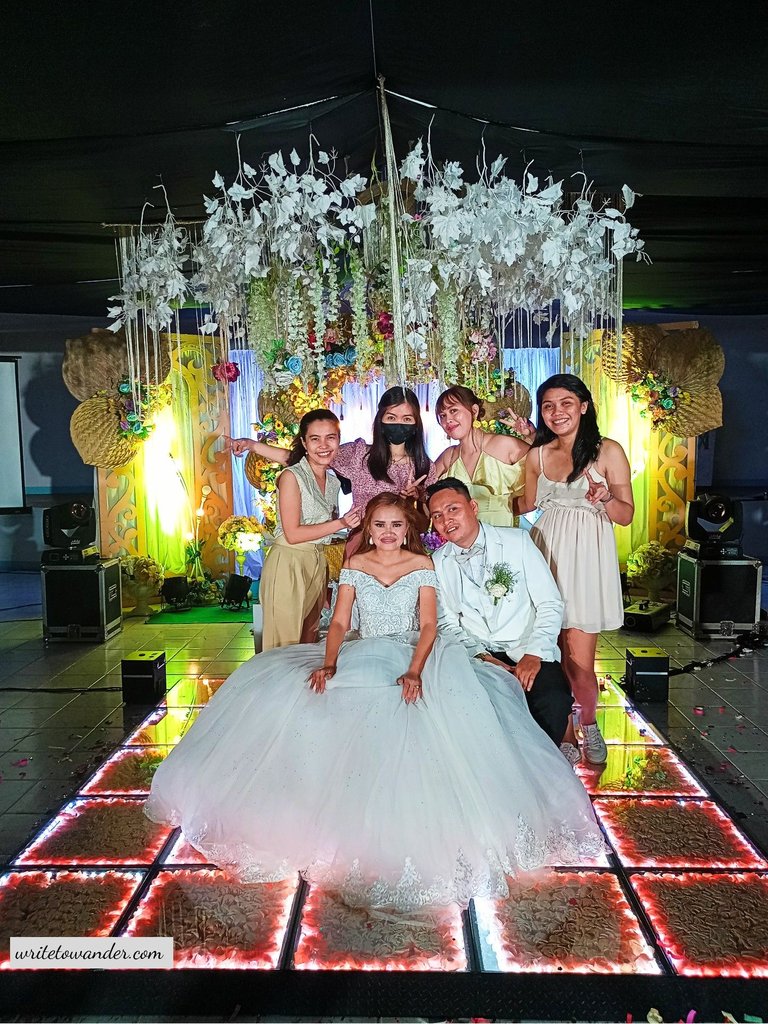 Here is a photo of the four of us with the newlyweds! 💑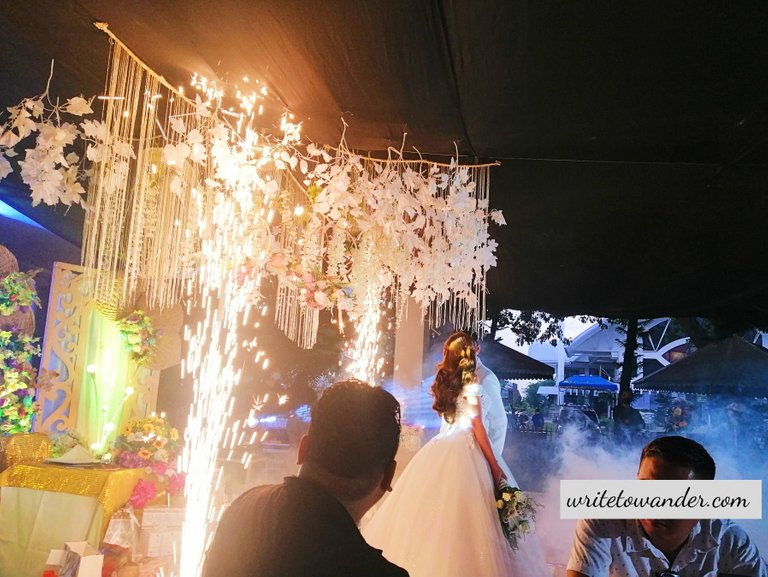 This is the first official dance of the bride and groom.😍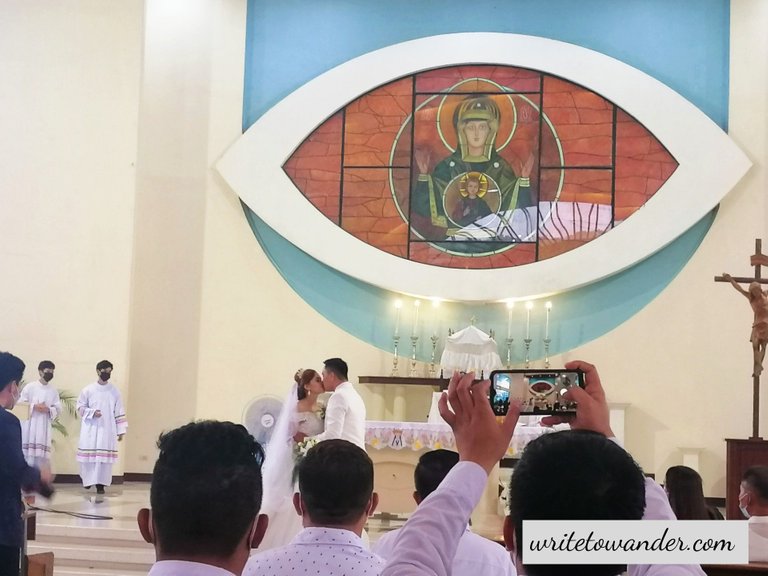 I now pronounce you husband and wife. You may now kiss the bride.😚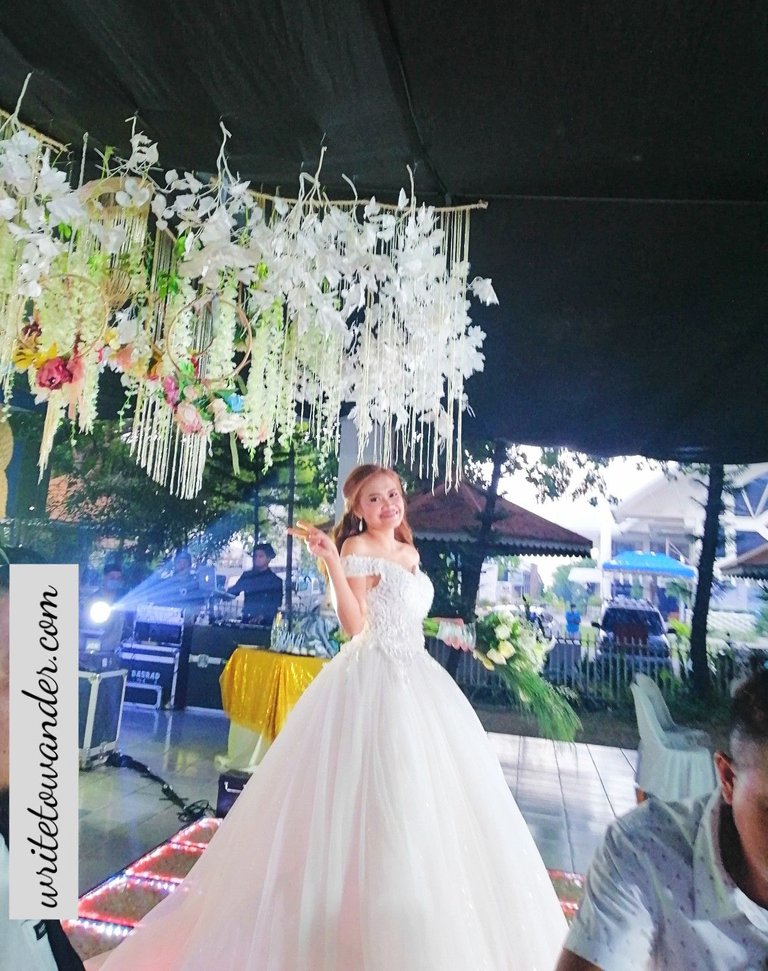 Our lovely friend Pau who is a blushing bride! 👰🥰✨
The backstory of our Friendship:
I met Pau in 2017 when I worked as a part-time ESL teacher. I only stayed in the company for three (3) short weeks because I got a job offer that I was rooting for. I never knew that we will develop our friendship! I thought that she's just one of the "friends you meet at work and when you don't work there anymore you are no longer friends" kind of people. Looking back, I am always amazed how our friendship grew stronger! I think one of the factors why we remained friends all these years is that from time to time, we always communicate and we often see each other and talk over coffee and cake or milk tea and fries. We used to jog together on weekends, too. We both have the same easygoing personality that's why we got along, I guess. Moreover, we're both on the same boat: single department boat lol. Her wedding was a SURPRISE to me and to all her friends because she's been single since birth and she just met the man this year (2021) March. Nevertheless, we are happy for Pau!
I am so happy for her because I know how she waited long for this wedding moment and waited long enough for her husband. 🎊😍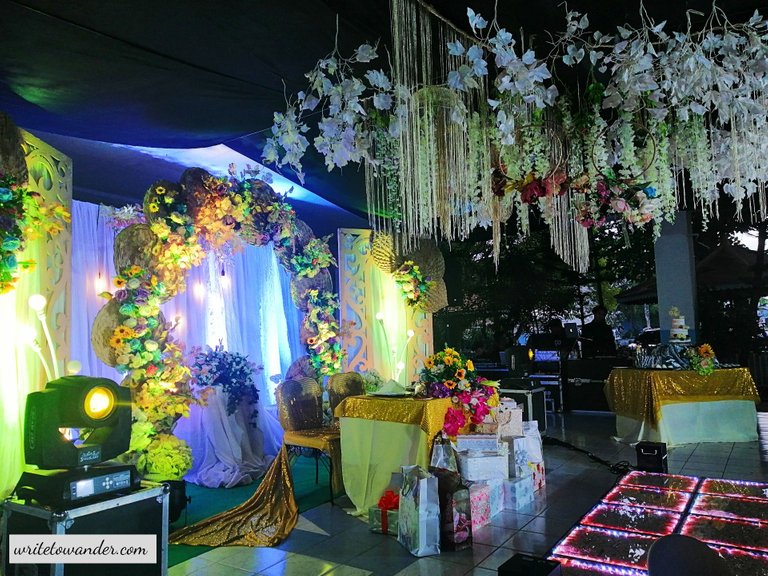 I personally like the stage decoration.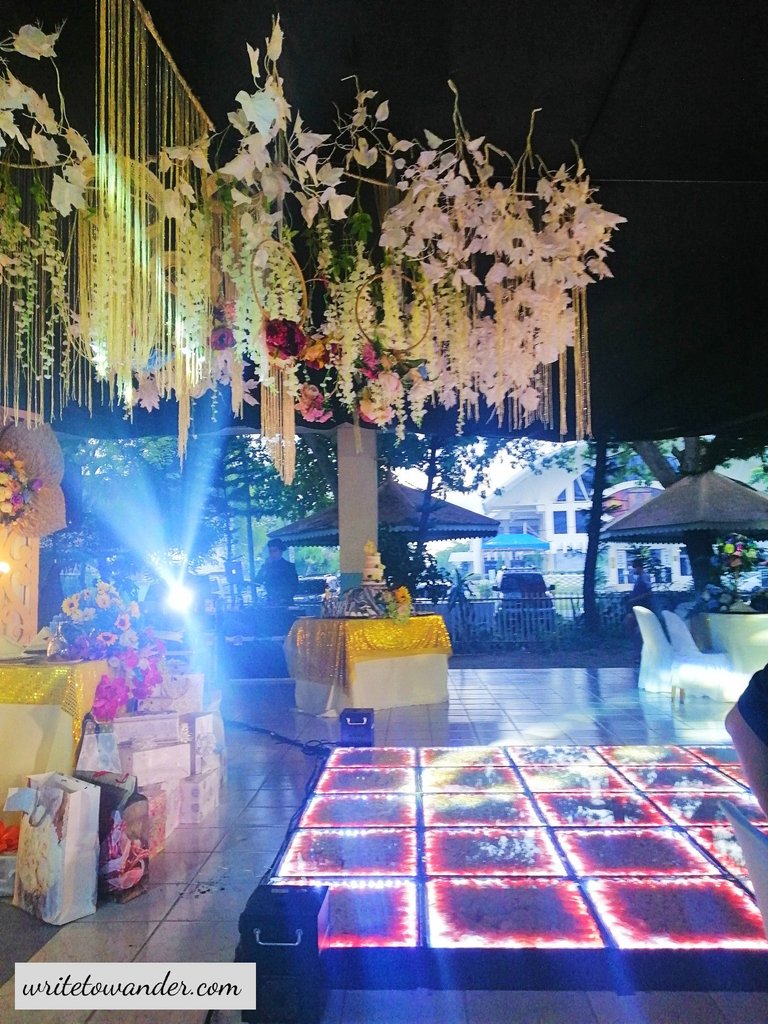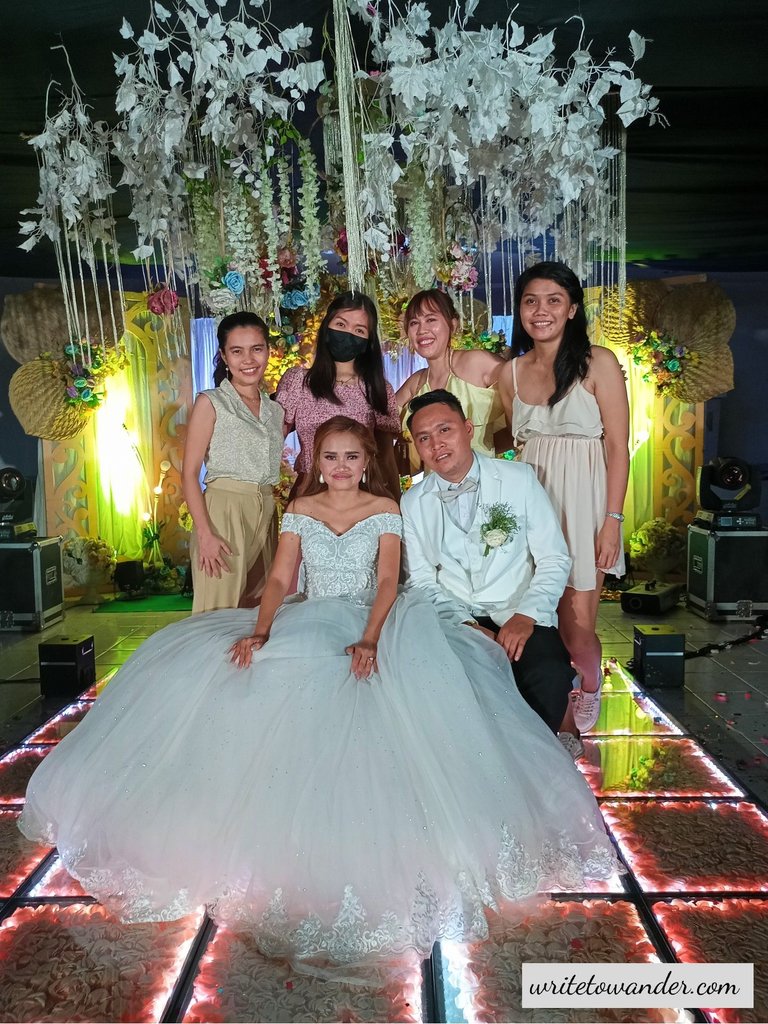 Paulene and Jose--the newlyweds, together with Shang, Mai, Daryl and I.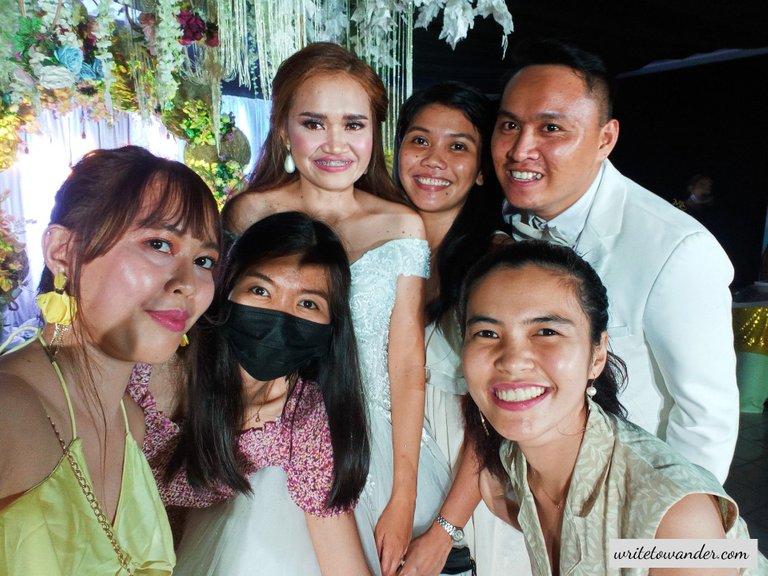 It's a selfie moment haha
WHAT CAN YOU EXPECT IN A MODERN FILIPINO WEDDING RECEPTION? ✨ Learn Filipino Culture 🤗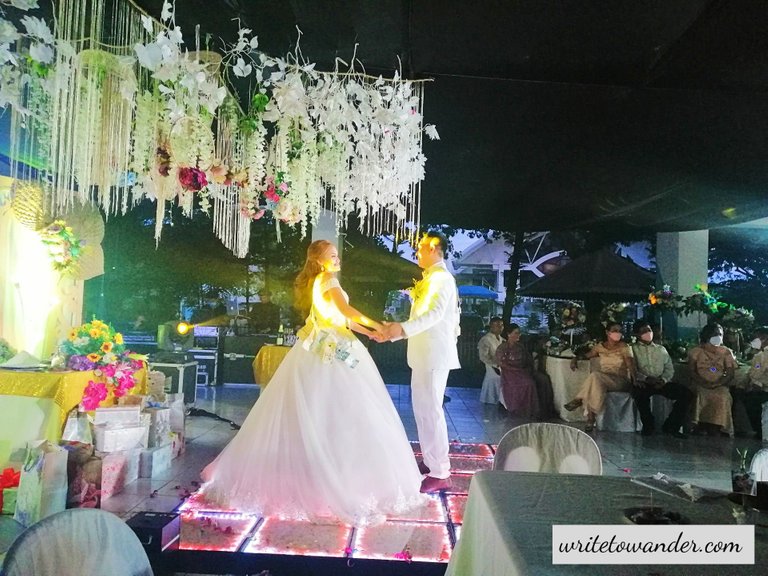 👉MONEY DANCE or also called PROSPERITY DANCE
I have been to, and witnessed, eight weddings to date. At all these weddings, this part of the program is always present. Many Filipinos say that this is one of the important parts of the wedding reception because the money that the couple can get from this Dance would be used by them to start their married life. Many also believe that this brings good fortune to the couple for the rest of their married life.
How does this work? Basically, the couple will dance to their love song and the guests, one by one, will pin paper bills (money) onto the dress of the bride and/or the tuxedo of the groom. As for Pau and Jose, they chose to wear white sashes so that it's convenient and their clothes won't be ruined by the pins. 💜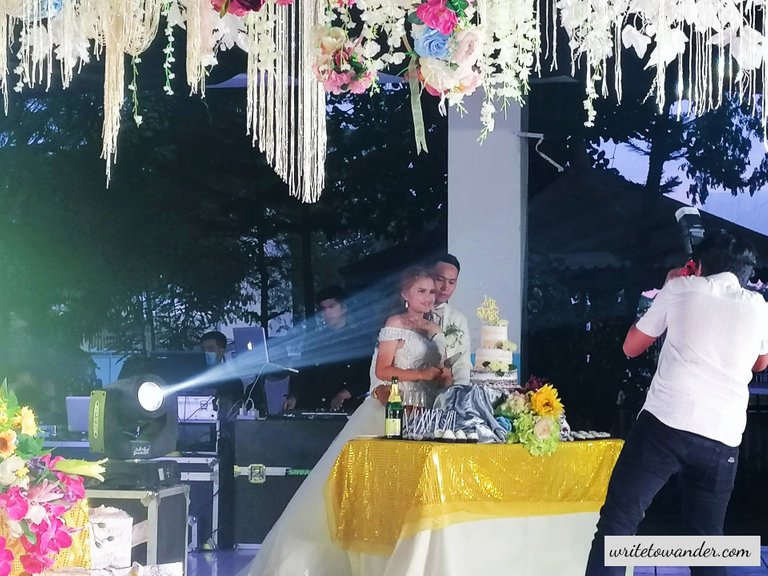 👉SLICING OF CAKE and WINE TOAST
I recently learned the meaning of this part of the wedding reception. It is because the host made it clear why such activity is always part of Filipino weddings. The cake symbolizes fertility and the couple should slice the cake together. After cutting a big enough slice, the bride and groom then eat a bite--but with a twist. They should fork a big piece from the cake slice and take turns in handing over the food to one another--the bigger the piece of cake, the bigger your "patience" is for your spouse.
The newlyweds drink wine together first before the rest of the guests can drink. The wine symbolizes the love of the couple--the older the wine is, the better it tastes. So does the love of the groom and bride: the older they become as a couple the sweeter their relationship gets. 💓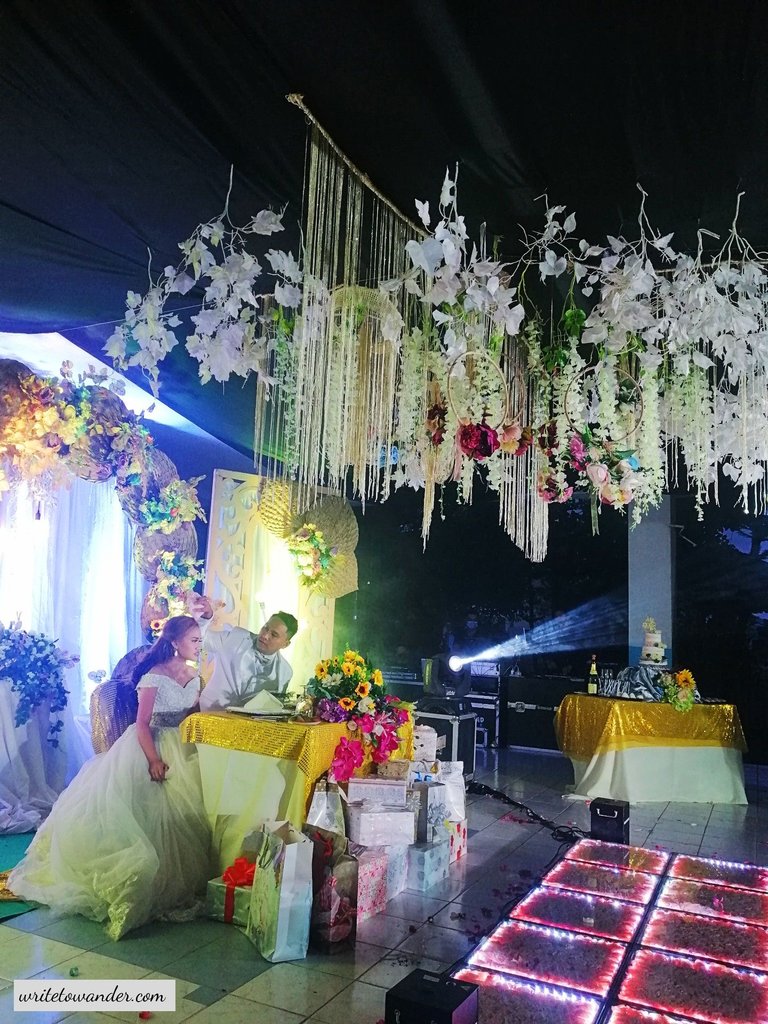 👉Opening of Wedding Presents
This is an optional part of the wedding reception program. This will depend on the couple. Some couples only open a few presents in order to not consume so much time. This is also the part wherein the couple can give their thank you speech to all the invited guests who were able to celebrate with them on their special day. As for Pau and Jose, they did not proceed with the opening of gifts because the Bride was already feeling uneasy because it was a bit hot in the place, as there was no air conditioning. If you can closely see, the groom was so gentlemanly when he wiped the sweat forming on his wife's face.💛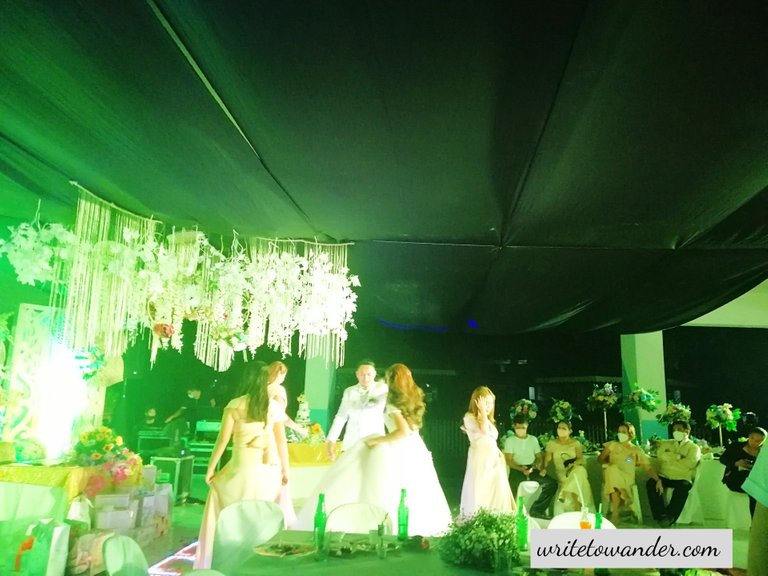 👉SURPRISE NUMBER from either the Bride or the Groom
Nowadays, it seems that Filipino millennial weddings require this portion lol. I think it is because of the "wedding trend" in the Philippines, and also because of the high influence of social media. As for Jose and Pau's wedding, this special number was from the Bride and her Squad: the Bride and her Matron of Honor and Bridesmaids danced a popular Tiktok dance. Then, the Bride invited the Groom to dance with her. It was a lot of fun~!💕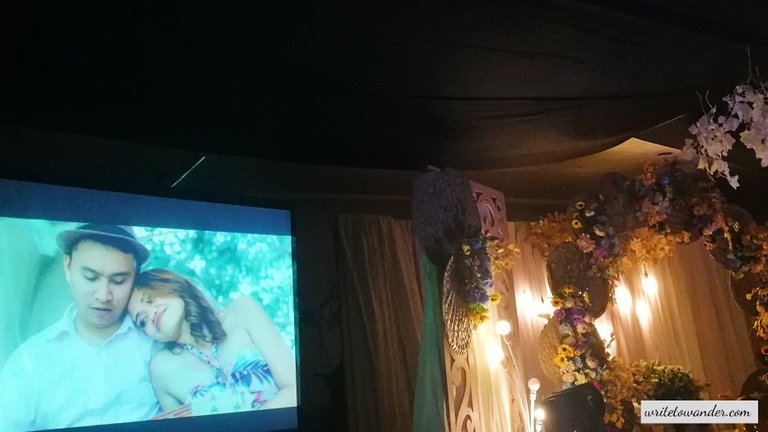 👉PowerPoint Slides and Videos of the Prenup Photos AND PowerPoint Slides and Videos of the Wedding (via SDE or Same Day Edit)
👉Another Important Part of a Wedding Reception: Throwing of the Bride's Boquet and the Groom Getting the Bride's Garter
There was no photo taken for the Throwing of the Bride's Boquet and the Groom Getting the Bride's Garter because (1) there was no throwing of bouquet for this wedding and (2) the part of getting the garter was so fast and I went to the Powder Room when it occurred huhu.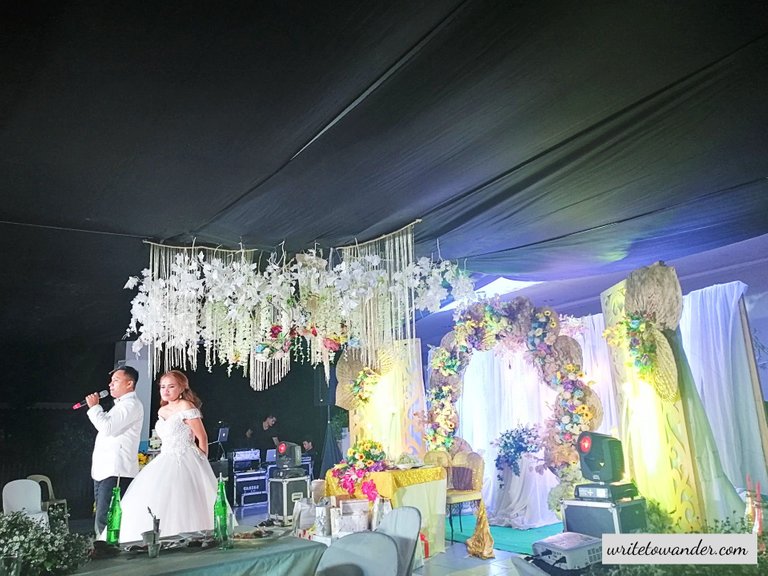 👉The Closing Remarks and Thank You Speech of the Groom and the Bride 🎉
👉That's it! Those are the important parts of a typical millennial/ modern Filipino wedding! Now you know. 😘
More Photos and Deets of the Event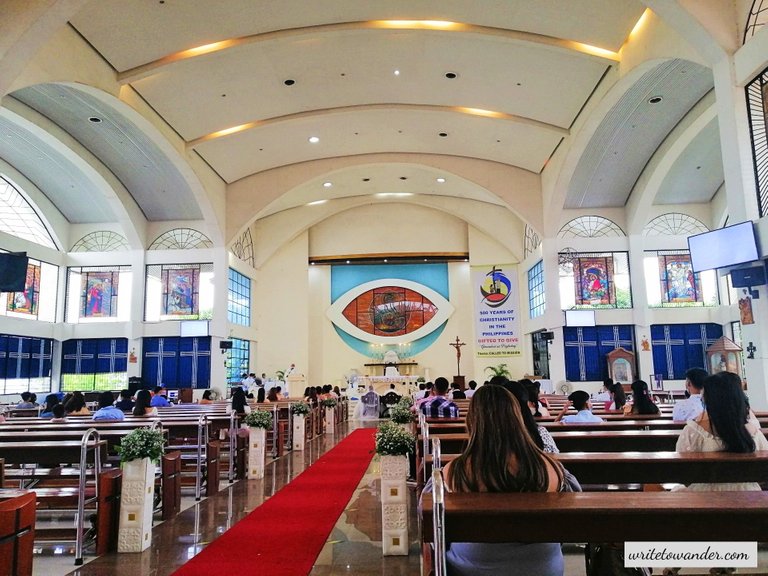 The sacrament of marriage was consecrated in Theotokos Shrine in Carcar City.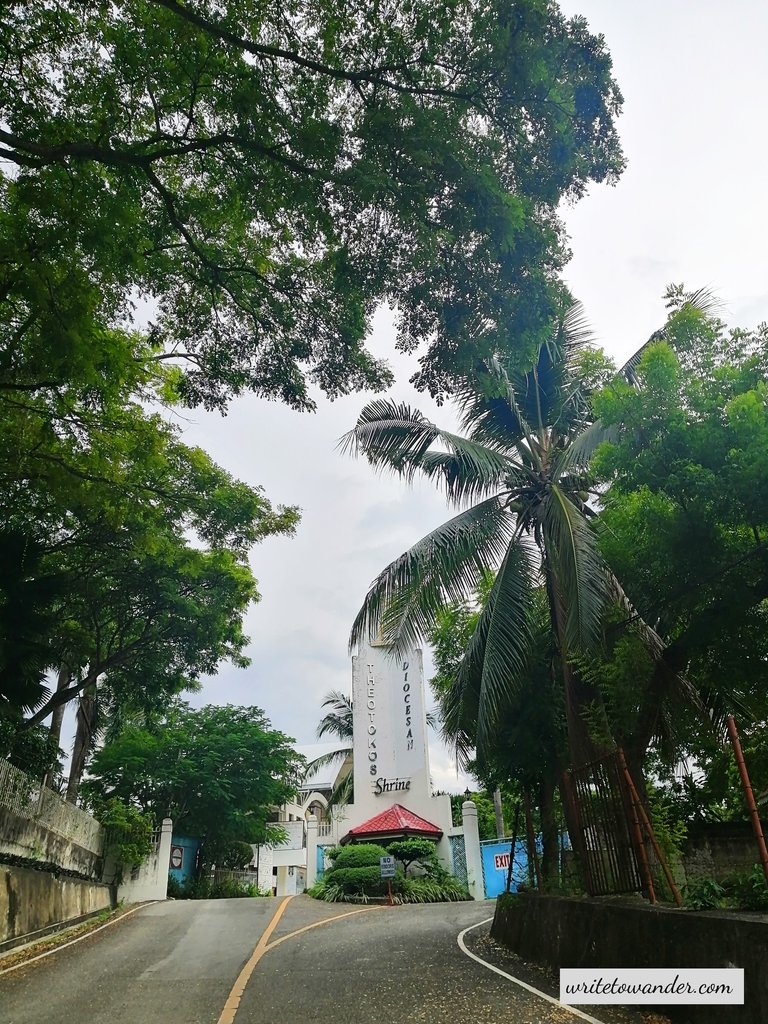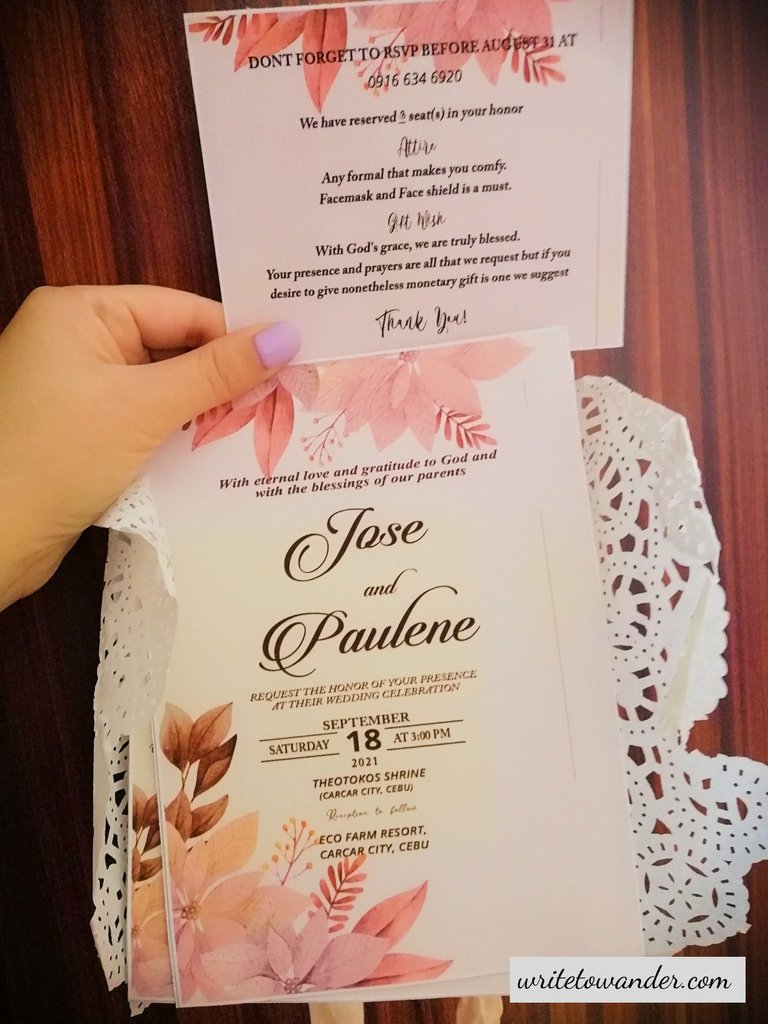 This is their lovely wedding invitation.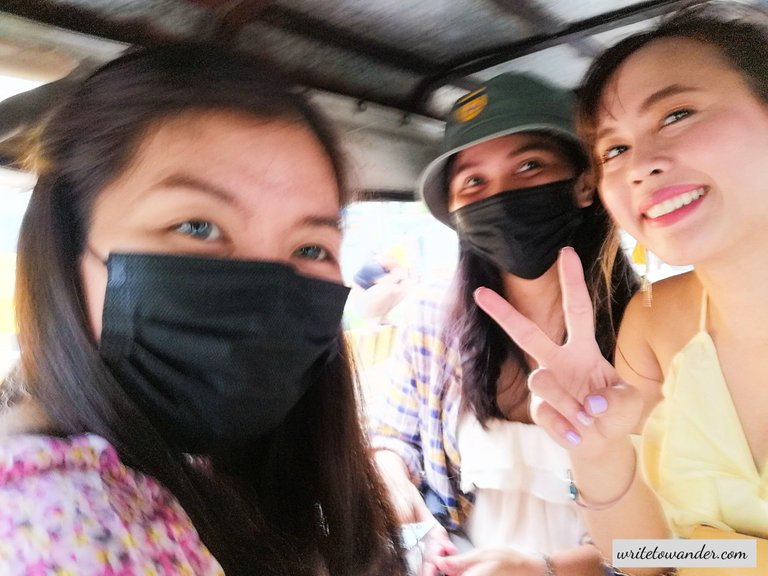 This is Mai, Daryl and I riding a "tricycle" from our airBnB place to the Church. 😅✌️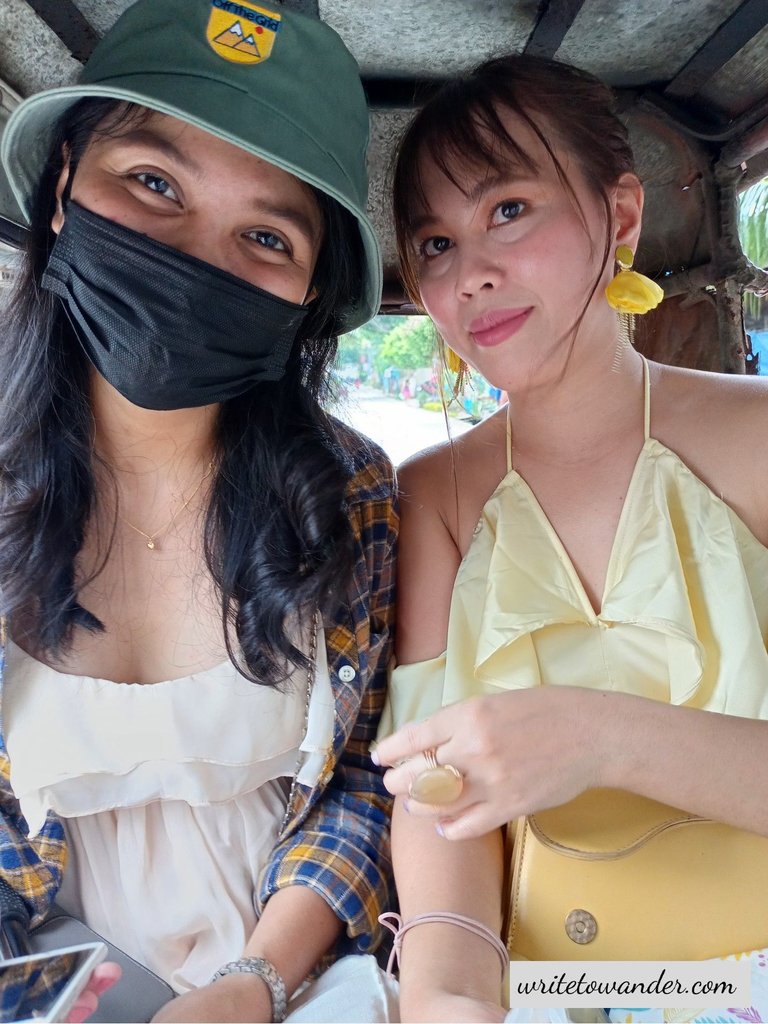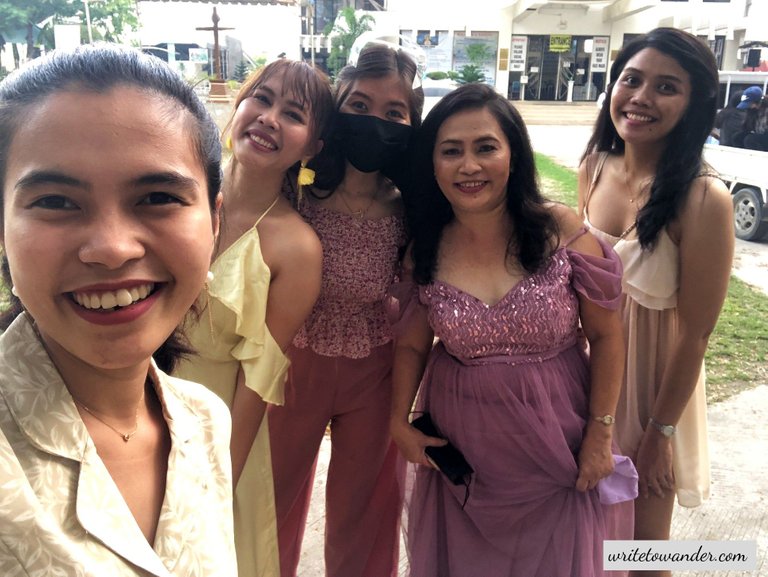 A photo of us with Pau's gorgeous Mama 💜


A fun photo of us while waiting for the post-wedding pictorials of the wedding entourage 🤣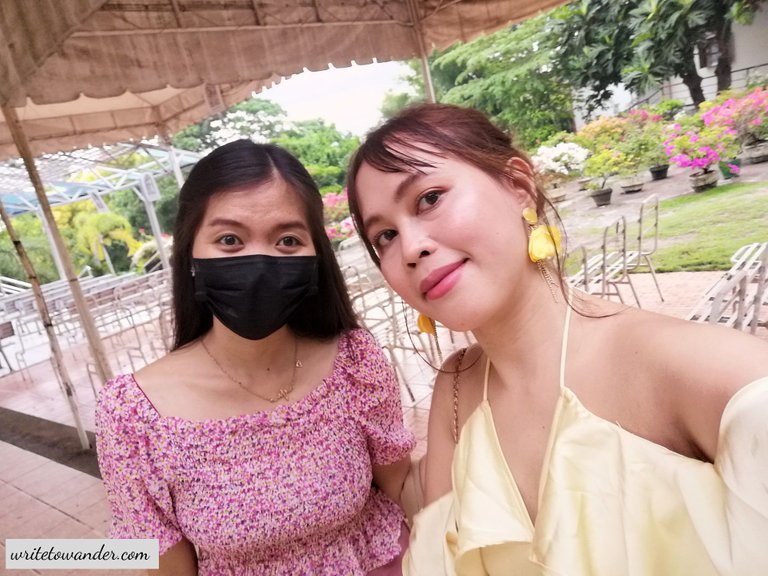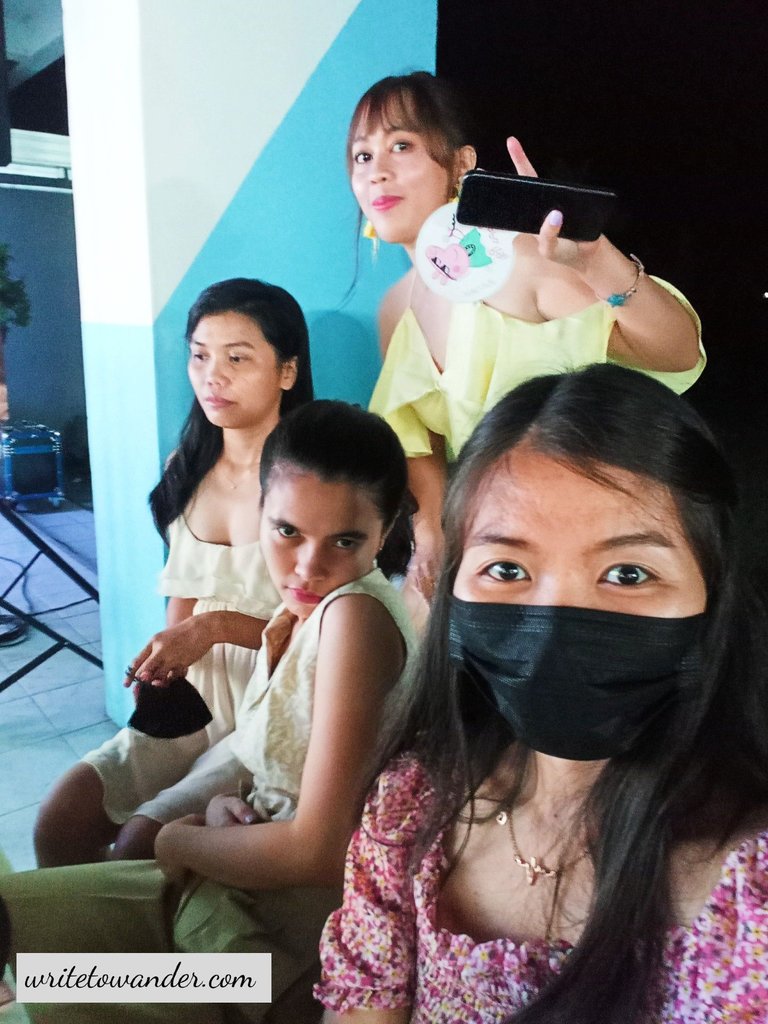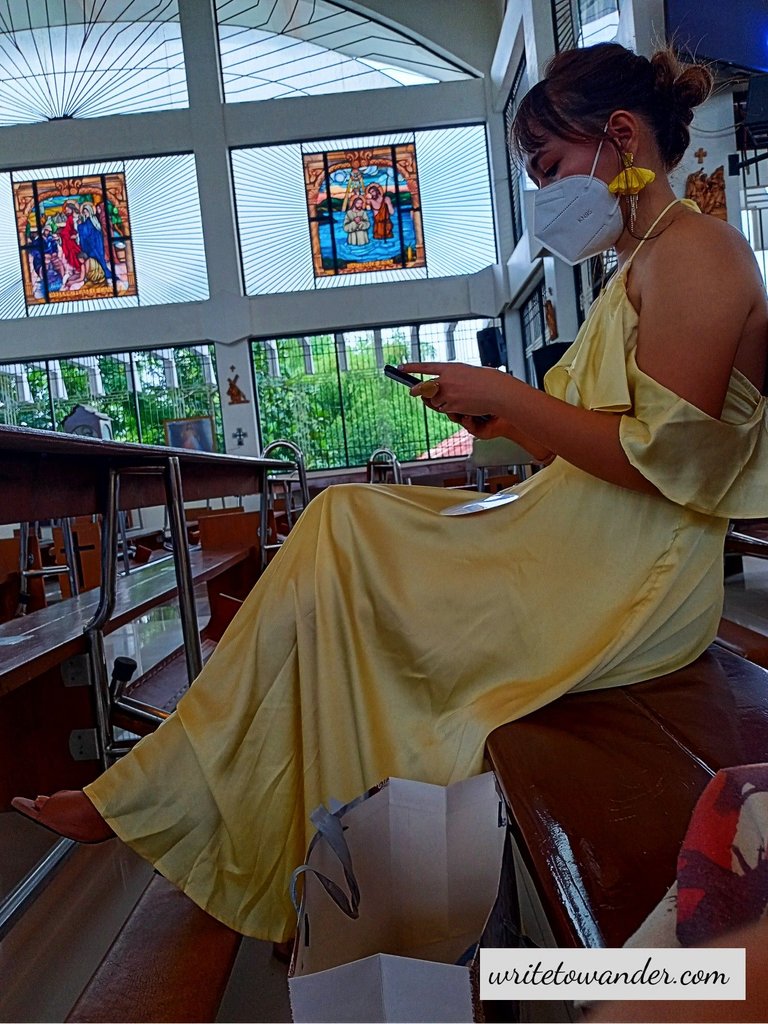 Mask is a must when attending weddings 😷
Me when attending weddings: I do not know what is in weddings but every time I attend one, I always get teary-eyed. Maybe it is the hopeless romantic in me. Maybe it is the joy of seeing my loved ones finally fulfill their happy-ever-afters. Maybe it is the "unexplainable" magical air in weddings that move us to tears. Or maybe the fact that true love actually exists and it's not just found in fiction books I read lol. But whatever is the real cause, I am glad that I get to feel this "teary-eyed moment" at weddings. I just hope that it does not ruin my mascara HAHAHAA.
Seriously though, I am happy for my bestie Pau, that her Jose found her at the right time at the right place at the right moment. They met around March 2021, became a couple in April 2021, got engaged in June 2021 and finally got married this September. Both of them said it was destiny for them to meet. I wish for them a strong, healthy, and happy marriage and as many kids as they want! CONGRATULATIONS TO THE NEWLYWEDS PAULENE AND JOSE! BEST WISHES~! 🎊🥰😍✨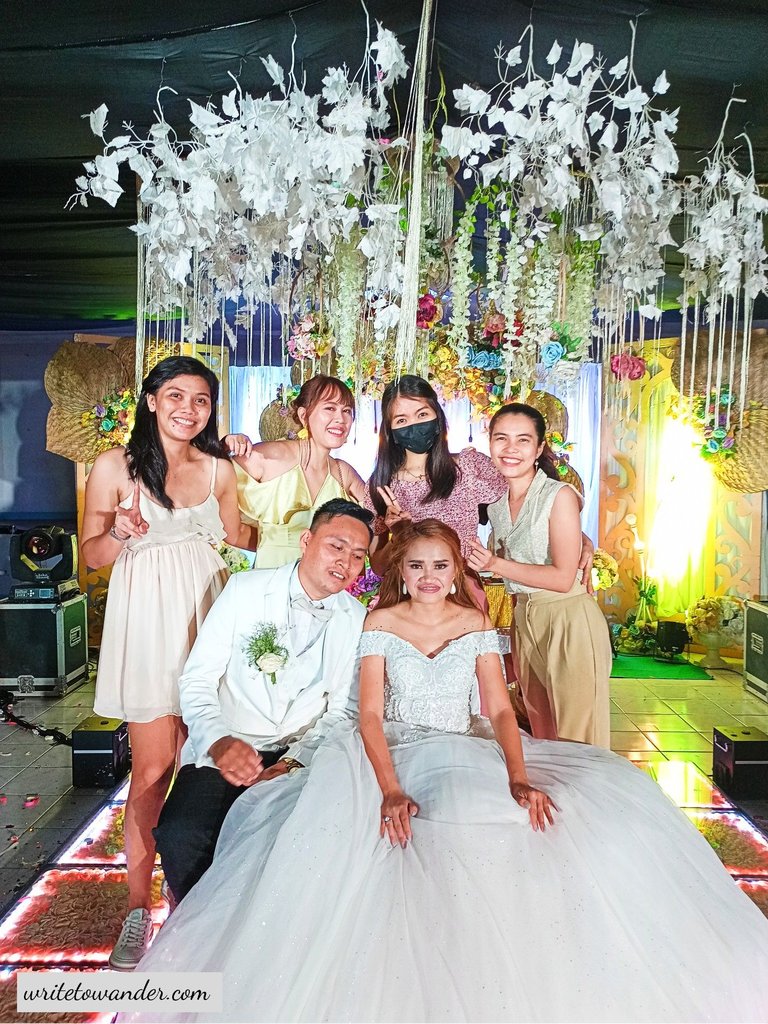 'Til the next post, hivers! Remember that you are loved beyond borders and beyond time & space. Okay? Okay. 💛❤️
Ciao for now! 🤗🥰
This original article is written by Jong, the blogger behind writetowander.com. All photos are hers, too.
---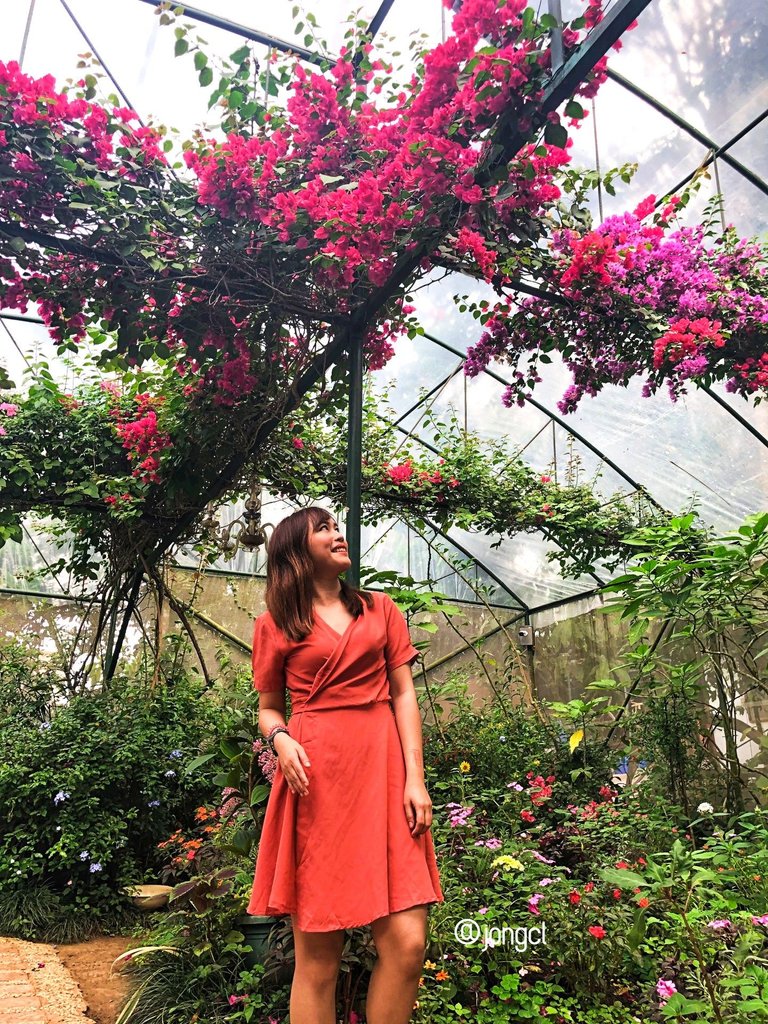 Jong CL
Hive-llo, everyone! Welcome to Jong's little buzz-y corner in Hive. Jong believes that every person she meets can teach her a thing or two (or three, or more) about life. She shares her love for life here-- the captivating beauty of life! To be more specific, but not necessarily in this order, she's interested in: wisdom, love, poetry, single life, books, travel, health&fitness, fashion, gratitude, unspoken hurts, heartbreaks and healing. Lastly, she loves Jesus.
Do you like her content? Make sure to upvote, then! Drop some love by leaving a comment-- she really appreciates listening to your thoughts! 💛 Feel free to reblog if her post resonated with you. Kindly follow her to not miss a post! Happy hiving, loves! 💛

---
---