Tamp Cafe Cebu and their One Peso ($0.020) Cake Slices! | Why It's Worth It to Visit This Cafe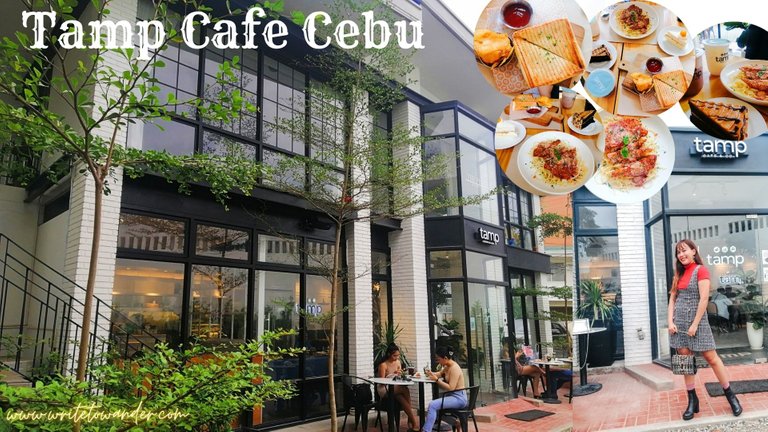 I FINALLY WAS ABLE TO VISIT TAMP CAFE! This cute cafe opened last December 2020 in the midst of the lockdown. I was supposed to visit last June 2021 on my birth month but sadly it was not pushed through. Yesterday my sister @swaycanete and I decided to pay a visit to this cute cafe which seemed to be "trending" here in Cebu for the past few months because of their Instagrammable location and their famous one peso cakes!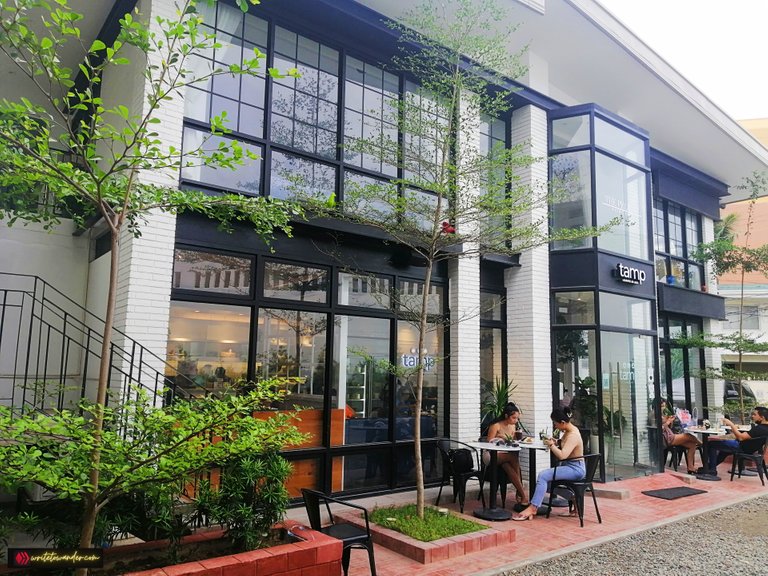 Offering unique flavours and dishes inspired by worldly eats, TAMP Cafe & Co. invites everyone to dive into a new gastronomic adventure, bringing in excitement to familiar flavours, comfort food, specialty coffee and delectable cakes & pastries from their Facebook page😊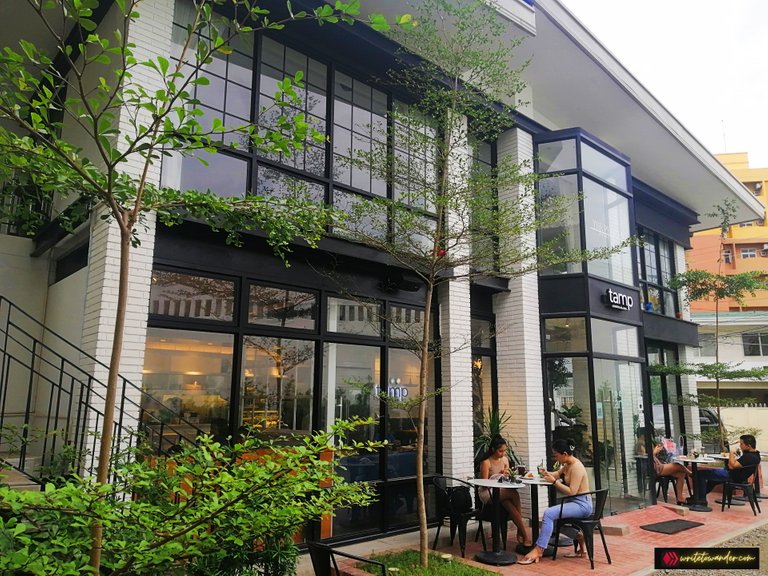 Don't you like the exterior of this cafe?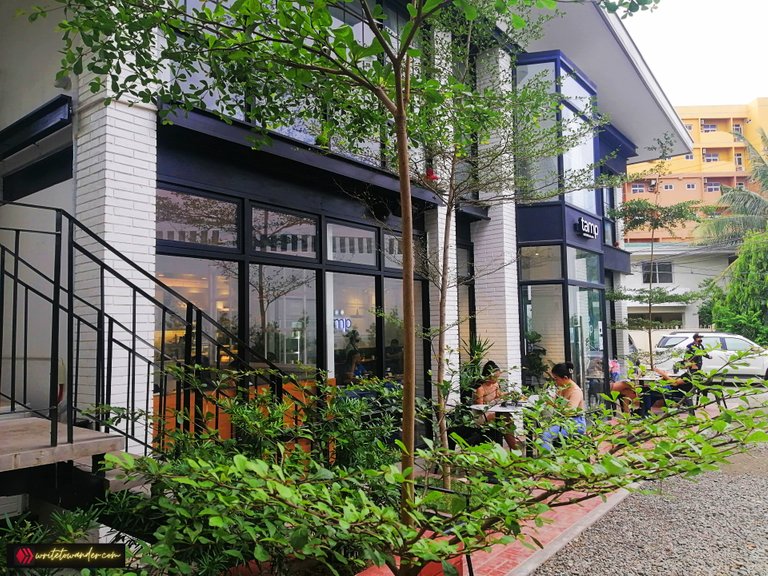 They are open from 9:30 a.m. to 9 p.m. (Monday to Sunday) and you may call them via this number 0919-096-5707.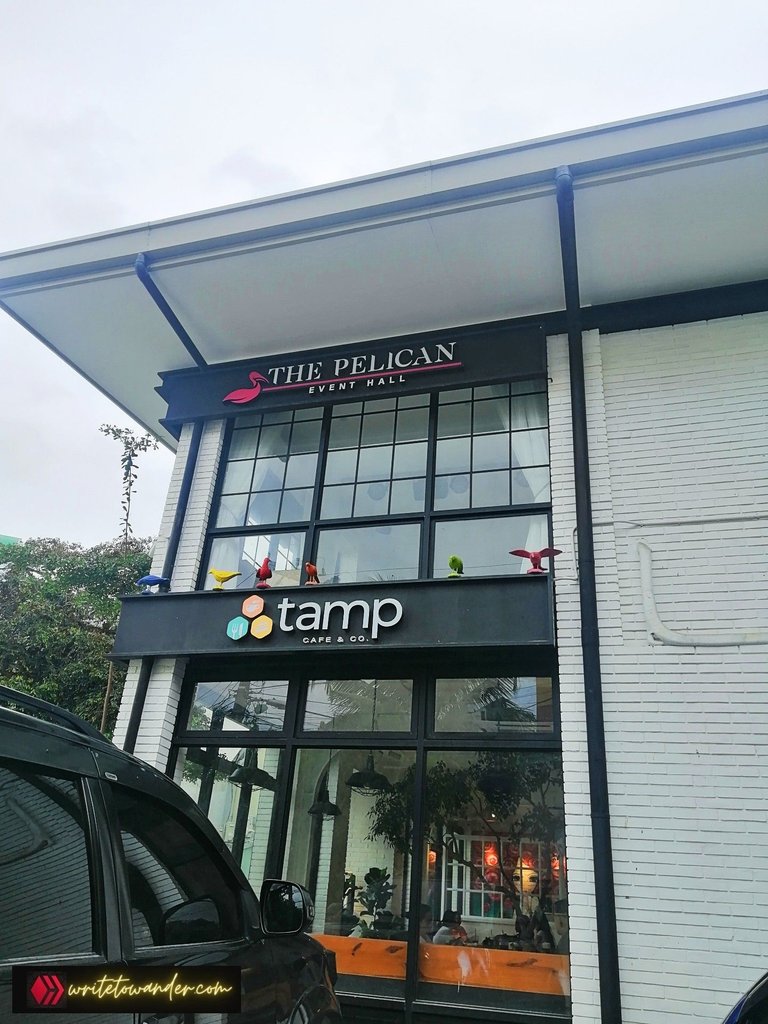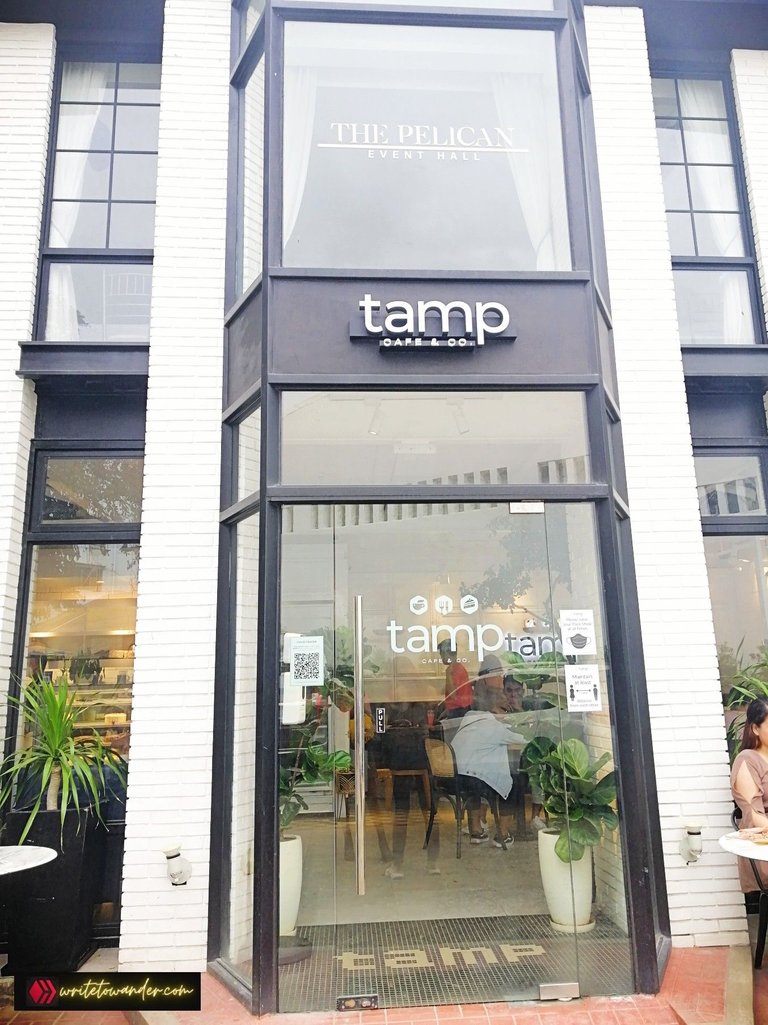 ---
Why It's Worth It to Visit TAMP CAFE
Based on My Experience
---
Here are ten (10) reasons why it is worth it to come and visit Tamp Cafe based on my dining and coffee experience:
The interior and exterior of the cafe are both beauty to the eyes.
Sometimes, all you need is a change of scenery to give your mood a much-needed boost—which is why hanging out at a café (specifically one with visually pleasing interiors!) does wonders for the soul as mentioned in Spot PH!
It is so accessible as it is located near the heart of Cebu City. LOCATION: 12 President Aguinaldo Street, Kasambagan, Cebu City

The staff and crew were so friendly and quick to assist us so two thumbs up!

The pasta and sandwich we ordered tasted so good. Moreover, they have large servings of their food that one meal can be good for two people! In fact, we were unable to eat our cake slices because we were so full with our meals. It is worth the price!

Their iced coffee does not disappoint as well. My order peppermint mocha was what I was expecting--tasted so refreshingly cool.

They have alfresco seats for those who want to dine and chill in "much safer spaces".

The price is reasonable. It may be a bit "pricy" as compared to other cafes, but it is definitely reasonable.

They have so many items on their menu so they have all that you possibly crave!

The vibes of the cafe can be a "breath of fresh air". It's a wonderful experience.

THEIR ONE PESO ($0.020) CAKE SLICES! (They are the only cafe in Cebu with this offer!) We were able to eat the cake at home, and their cake slices are not bad for 1peso!
I will surely go back to Tamp and try the other items on their menu! 😘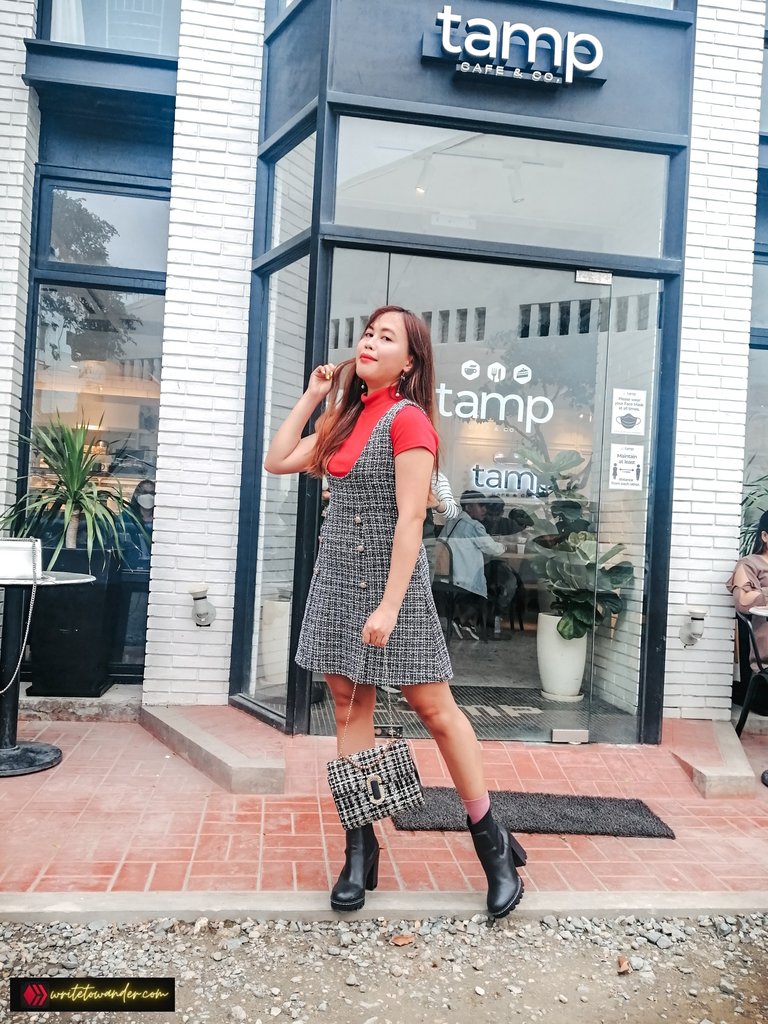 Me posing outside the cafe.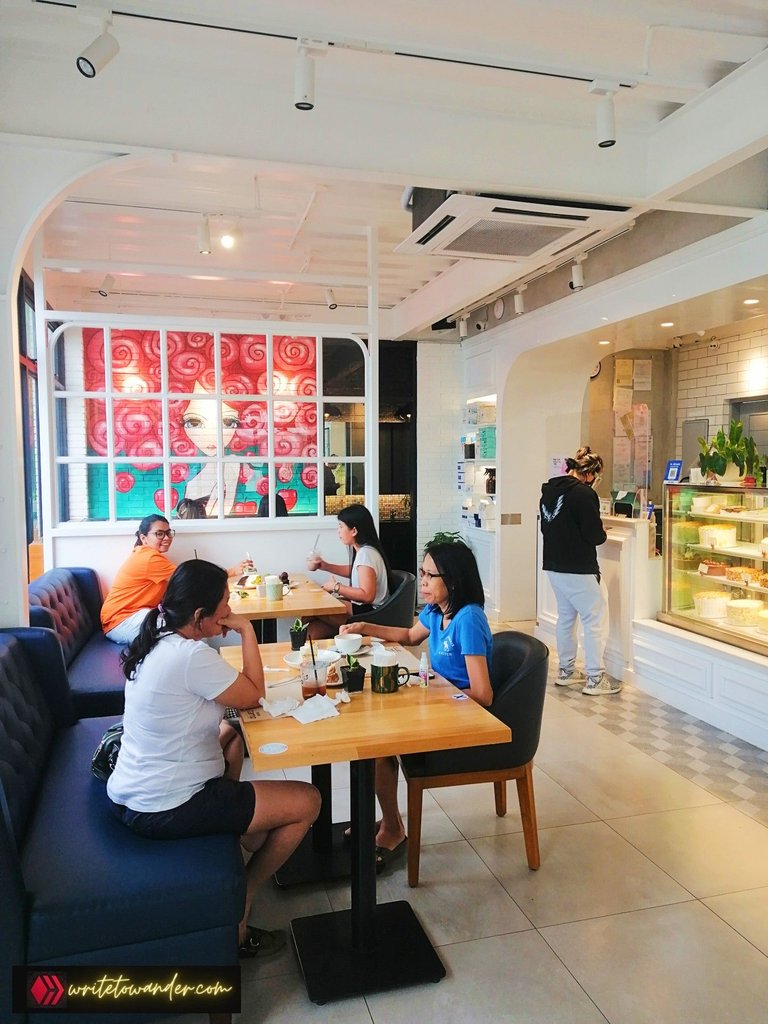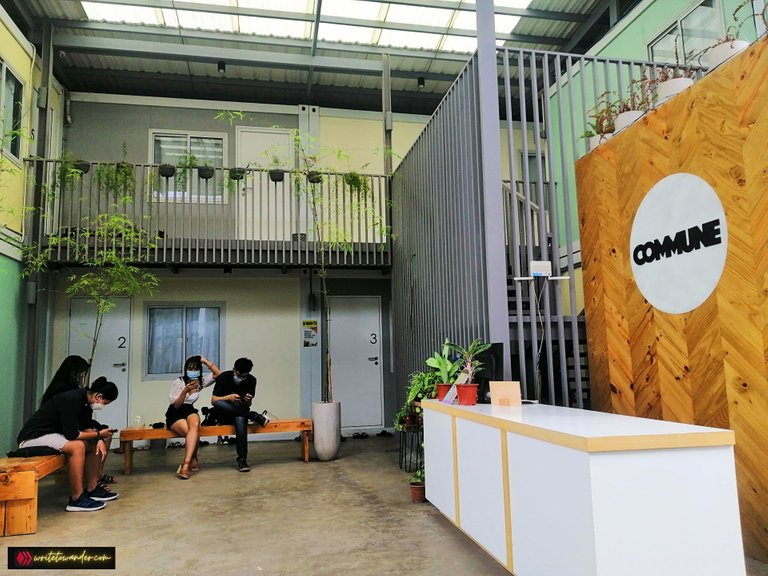 This is the Waiting Area for the customers.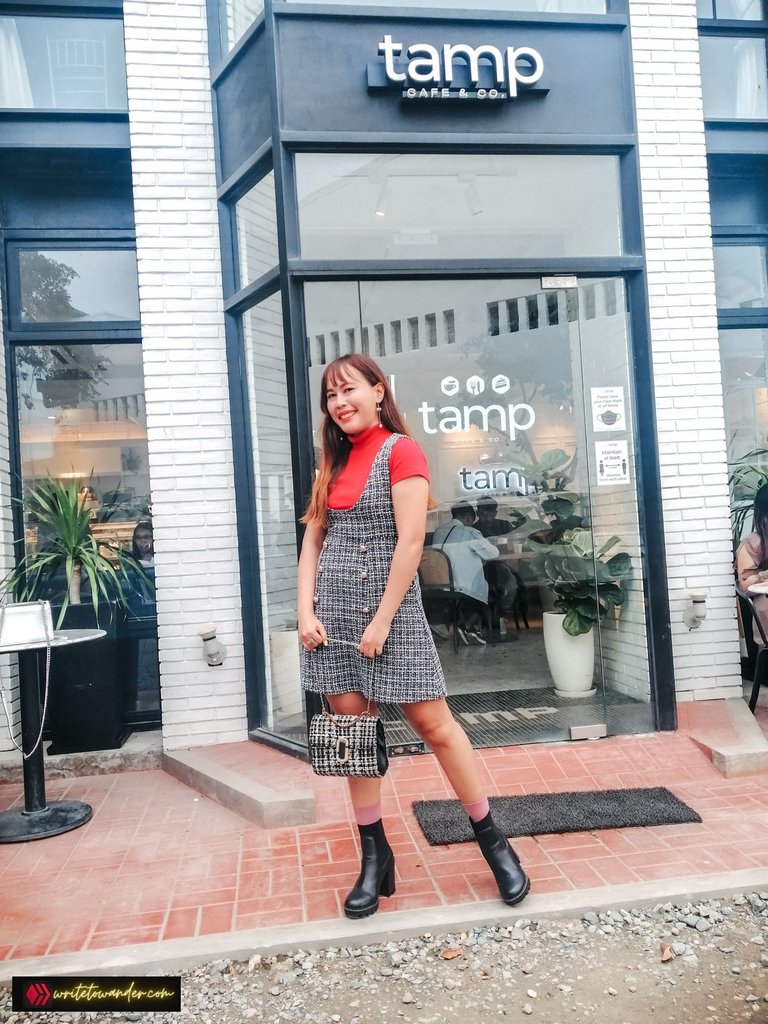 Tweed OOTD for the beautiful coffee shoppe.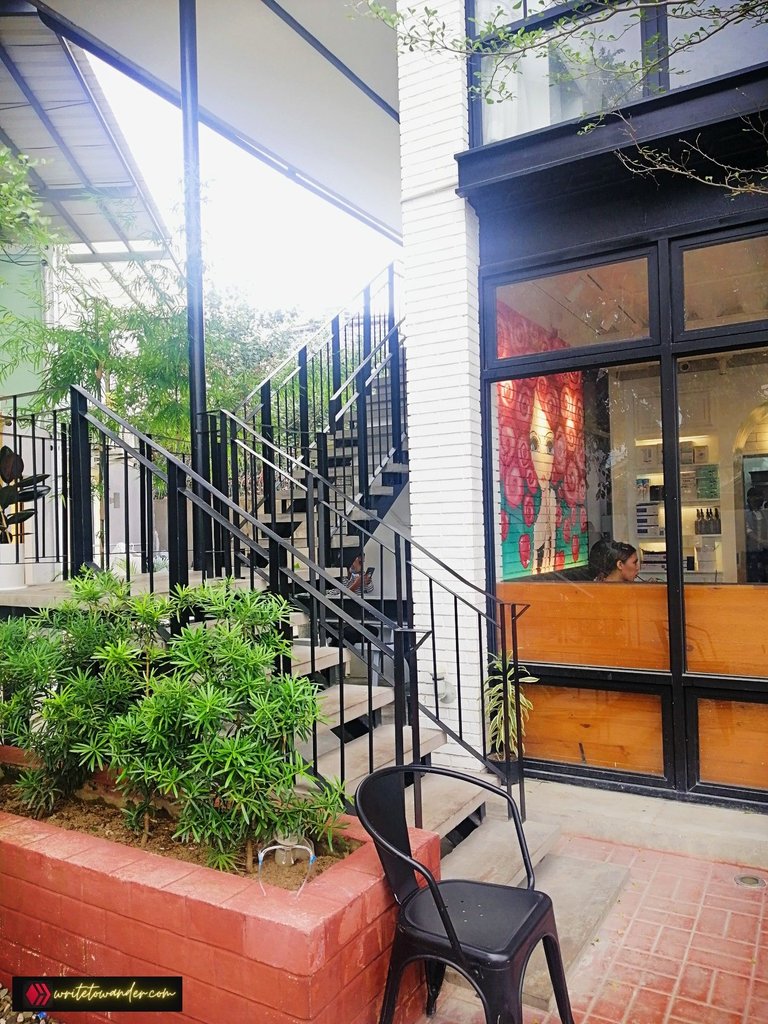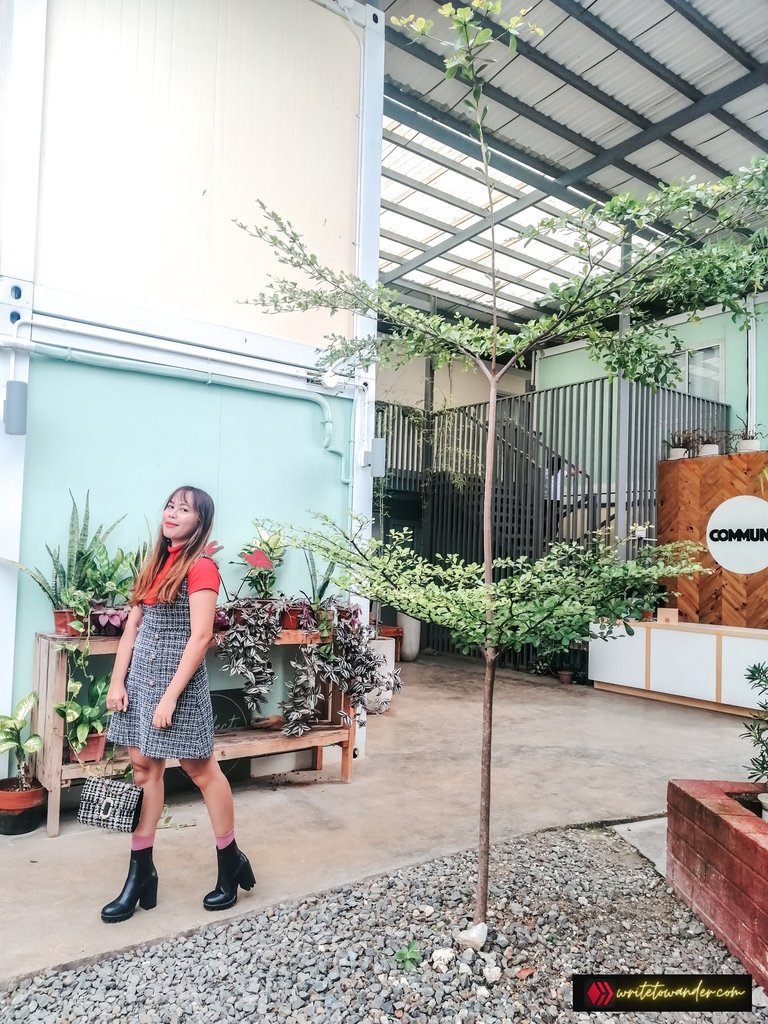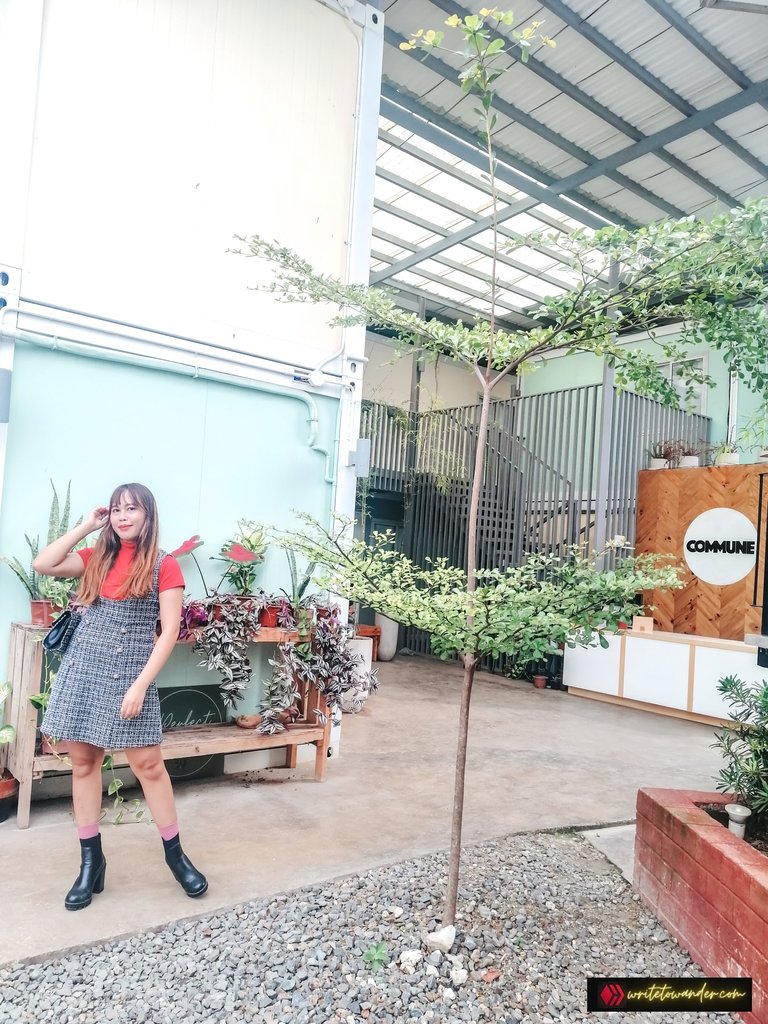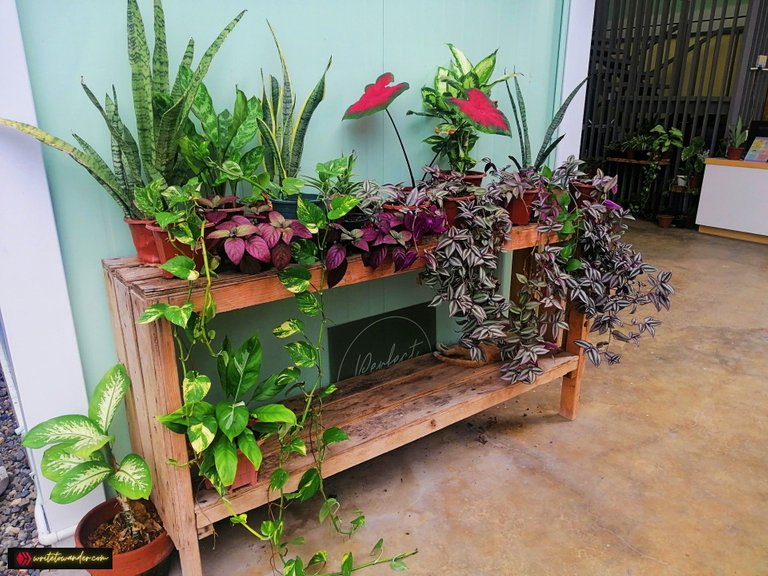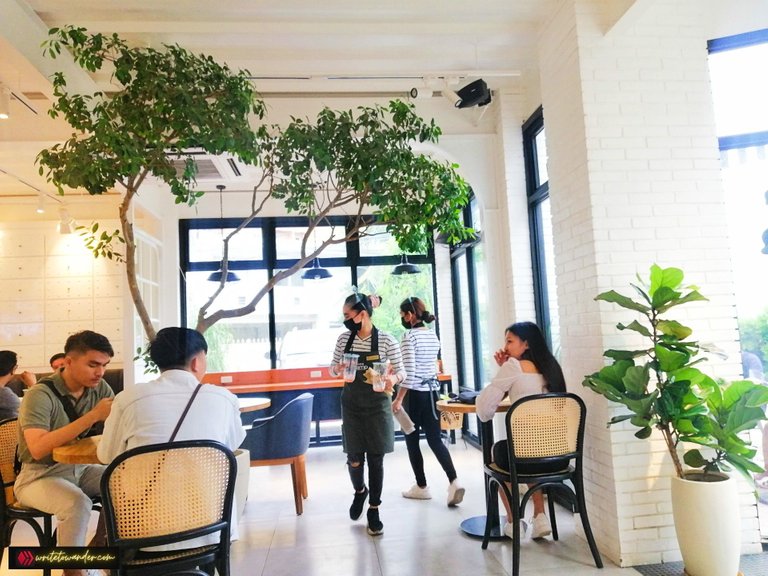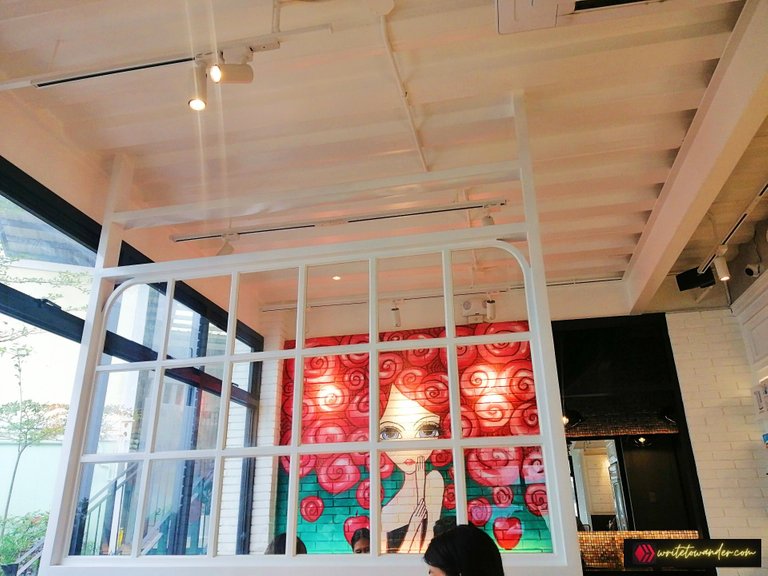 Oh. The red-haired girl reminds me of Anne of Green Gables.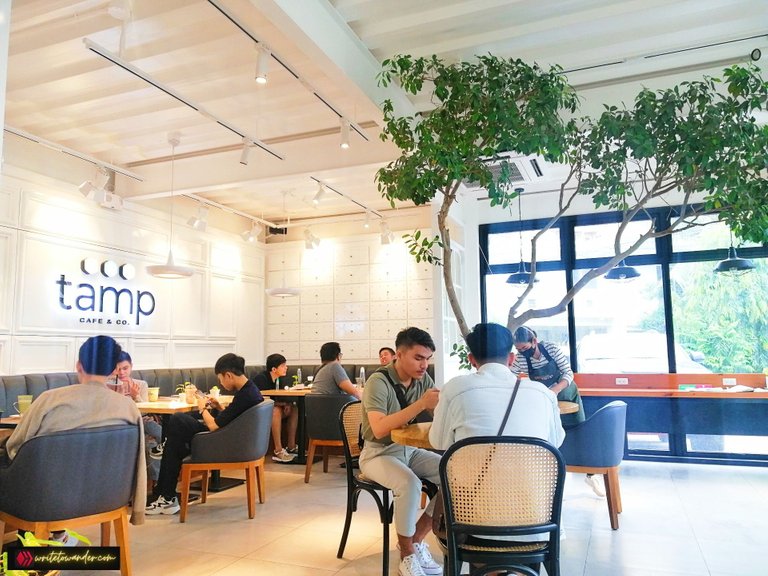 The interior of the cafe is a sight to behold.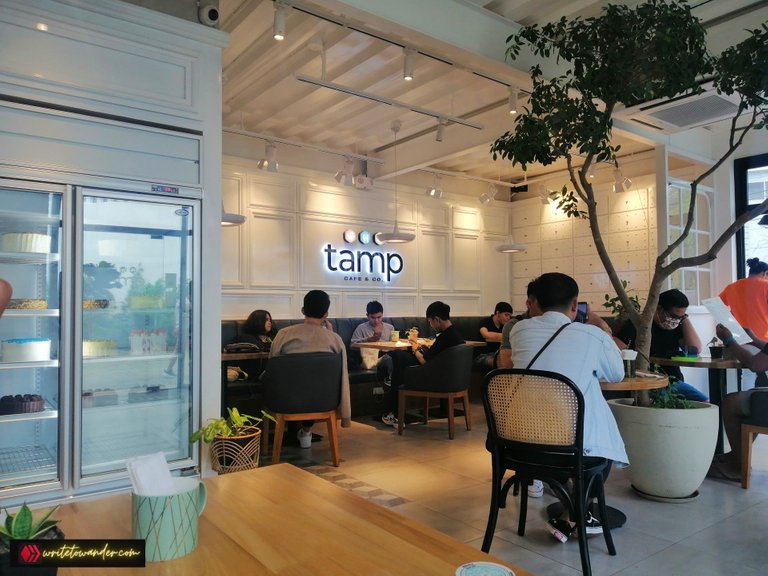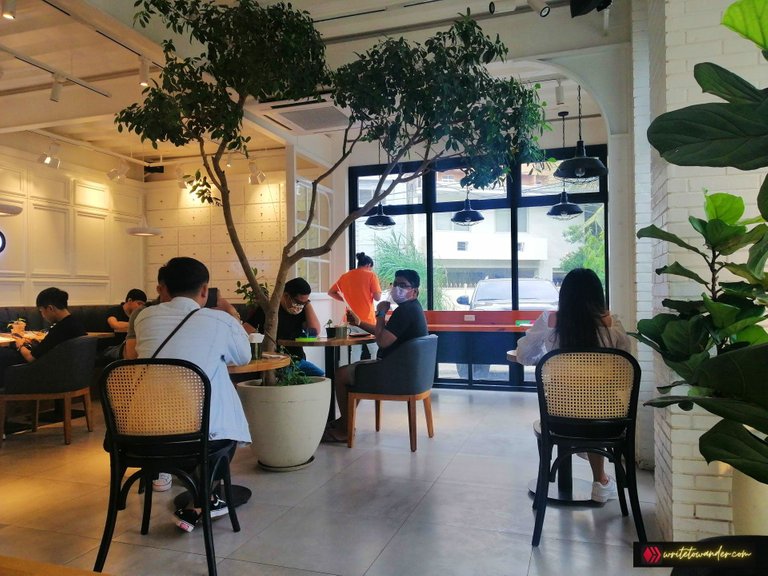 I love the tree inside the cafe! Don't you?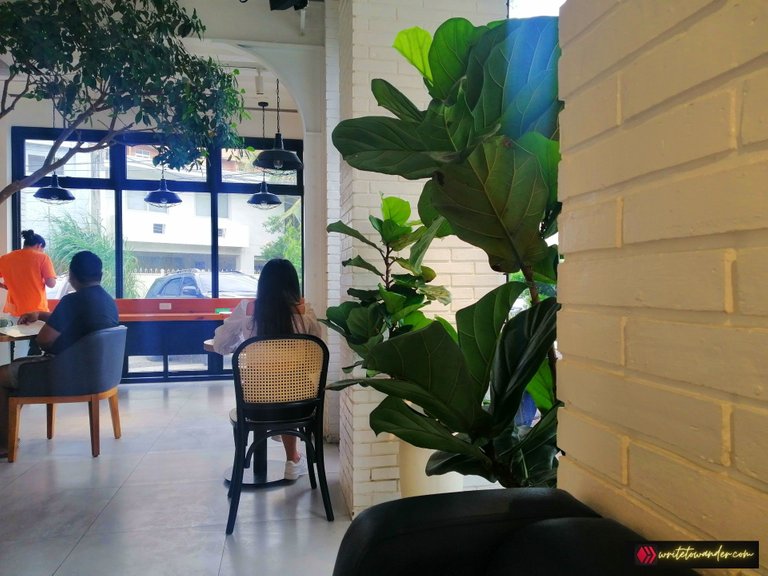 The greens of the plants in contrast to the white paint of the interiors: such a vibe!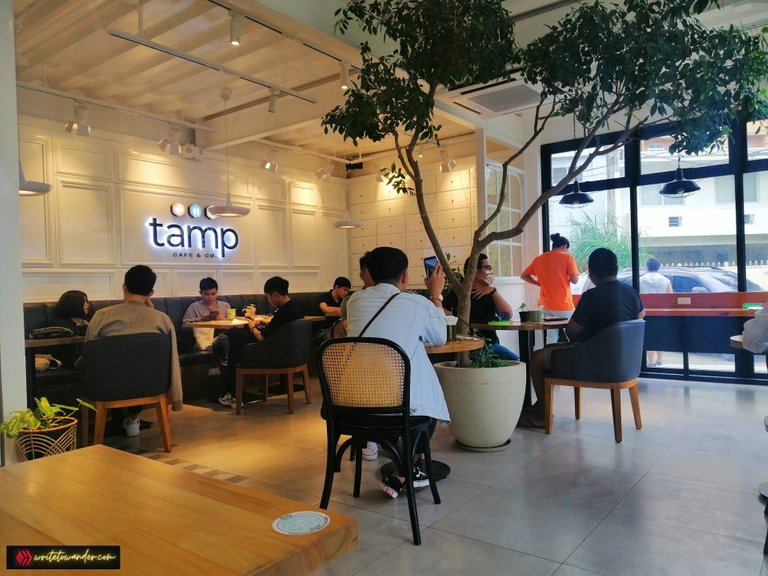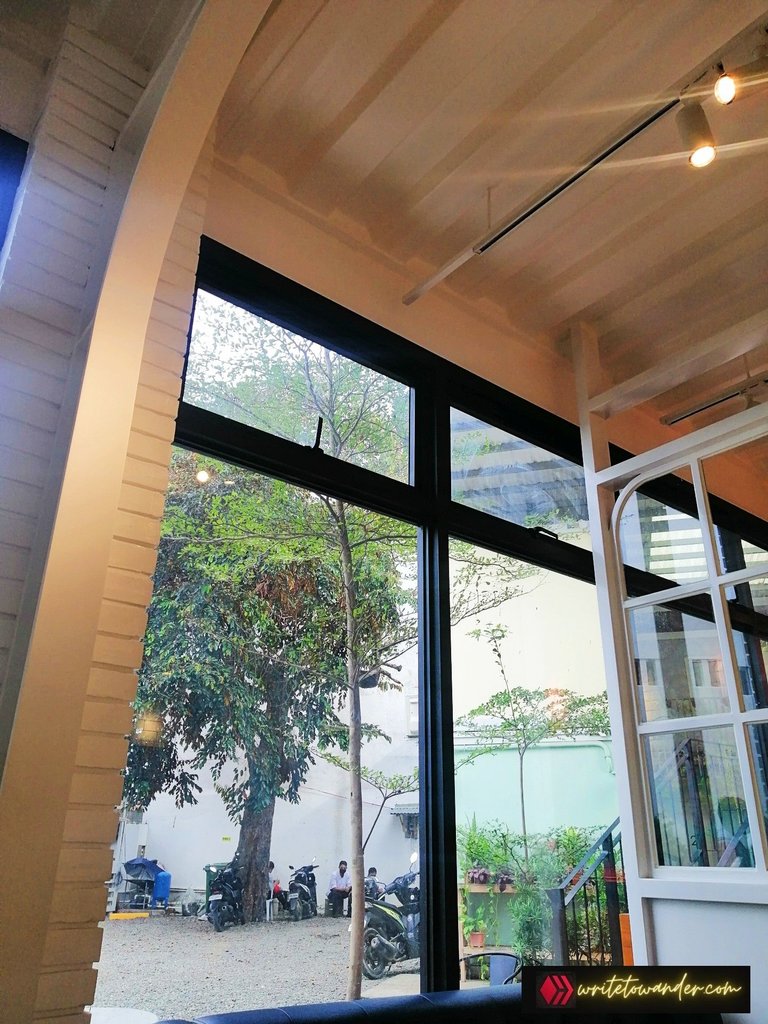 Looking through the window.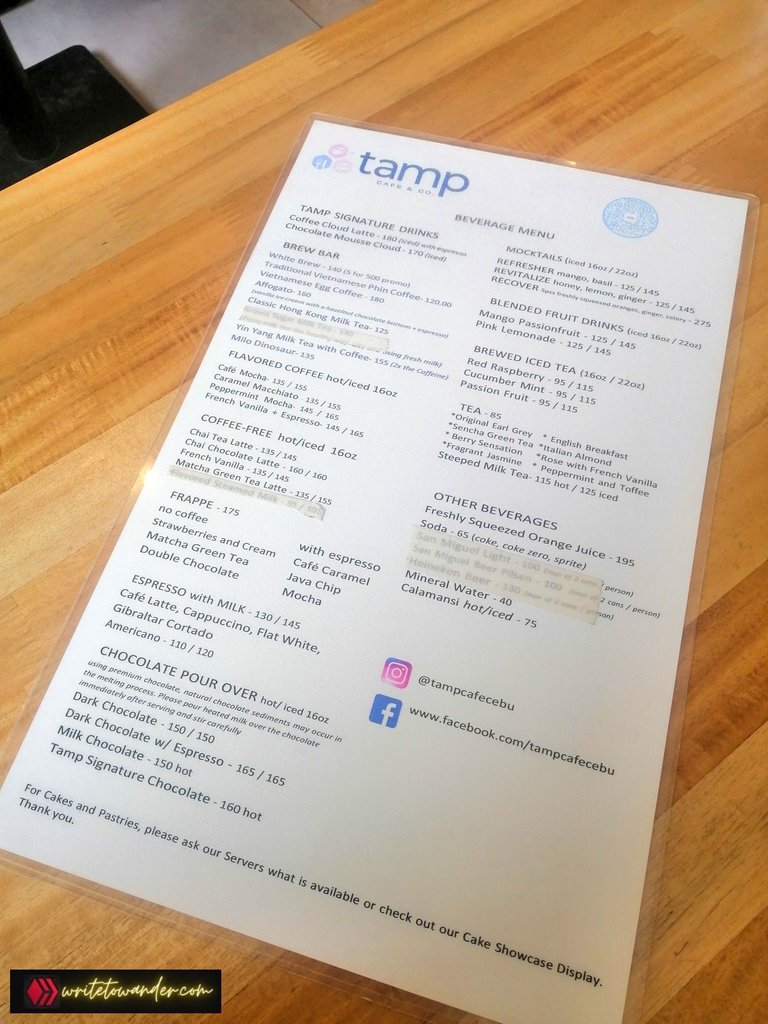 MENU ALERT
Tamp Cafe & Co. also prides itself on its food, which they say is "inspired by worldly eats" and lets you try out "unique flavors". Sure, you can go for Western classics like Chicken Parmigiana (P295) or Angus Beef Cheesesteak (P295)—but also Asian comfort eats like the Korean Sticky Chicken Bibimbap (P295), Shrimps in Thai Street Cilantro Sauce (P290), and Crab Omelette (P340). Source: www.spot.ph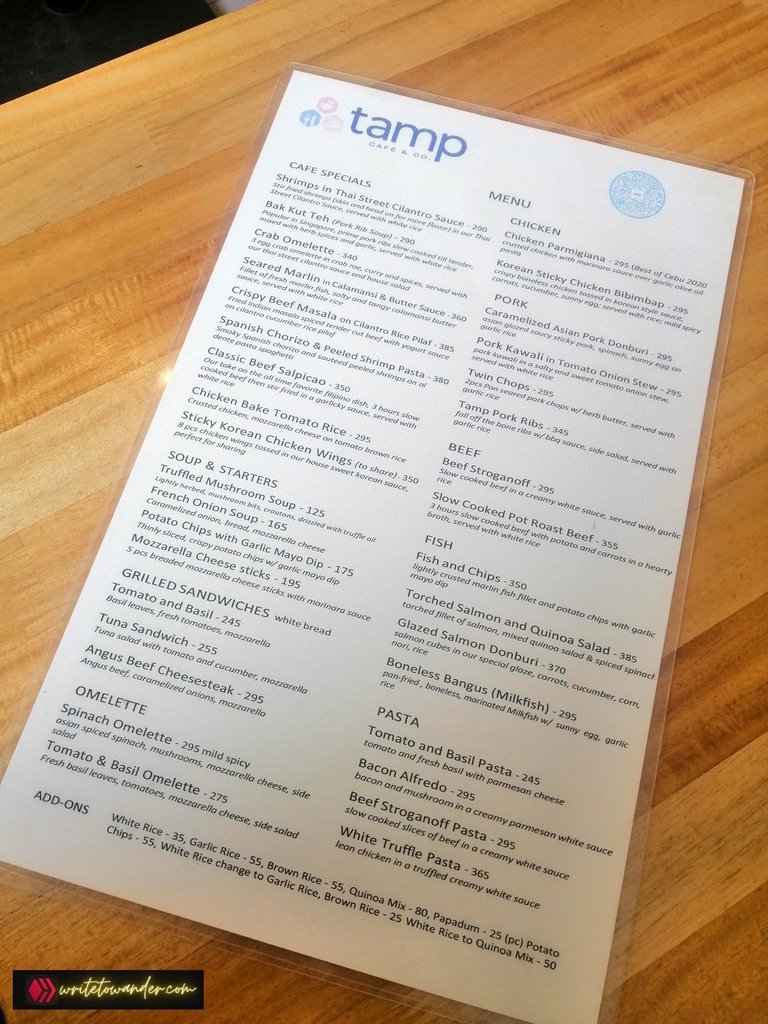 MENU ALERT
For coffee, they've got all the essentials—including the Cappuccino (P130/hot, P145/iced), Flat White (P130/hot, P145/iced), and Cafe Mocha (P135/hot, P155/iced). They've also got teas like the Original Earl Grey (P85) and Rose with French Vanilla (P85). Save room for their signature drinks, like the frothy Coffee Cloud Latte (P180/iced) and Chocolate Mousse Cloud (P170). They've also got more beverages like the Vietnamese Egg Coffee (P180) and Classic Hong Kong Milk Tea (P125), for a different way to get your coffee or tea fix. Source: www.spot.ph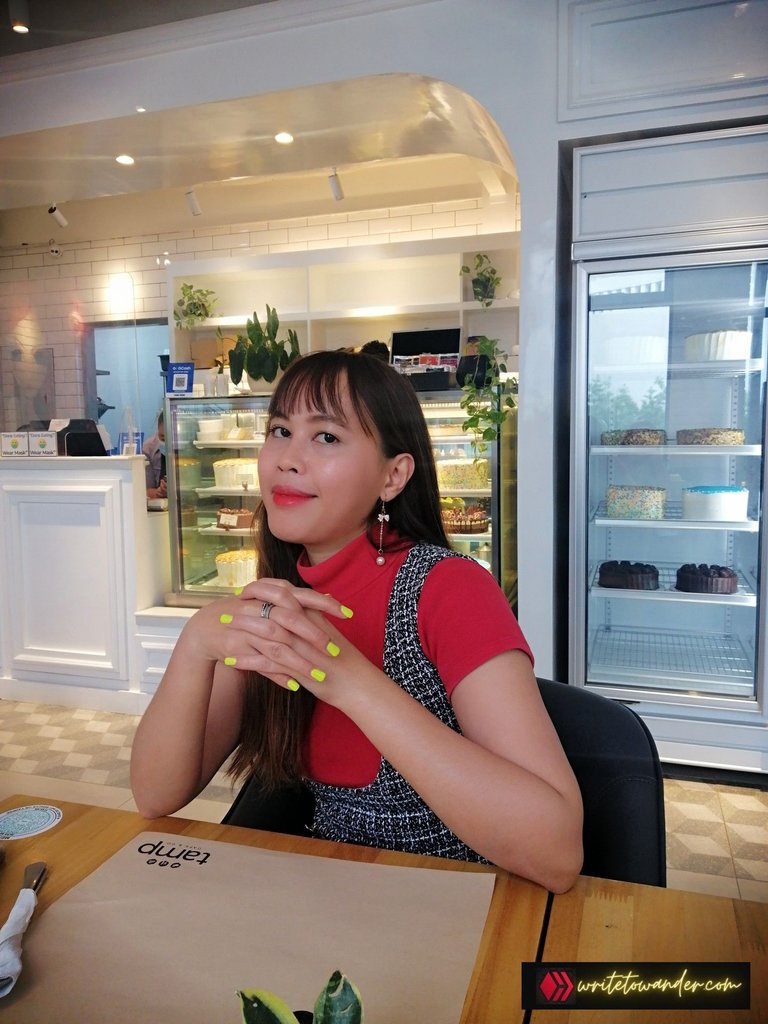 Subtly flexin' my neon nails as I pose while waiting for our orders to be served.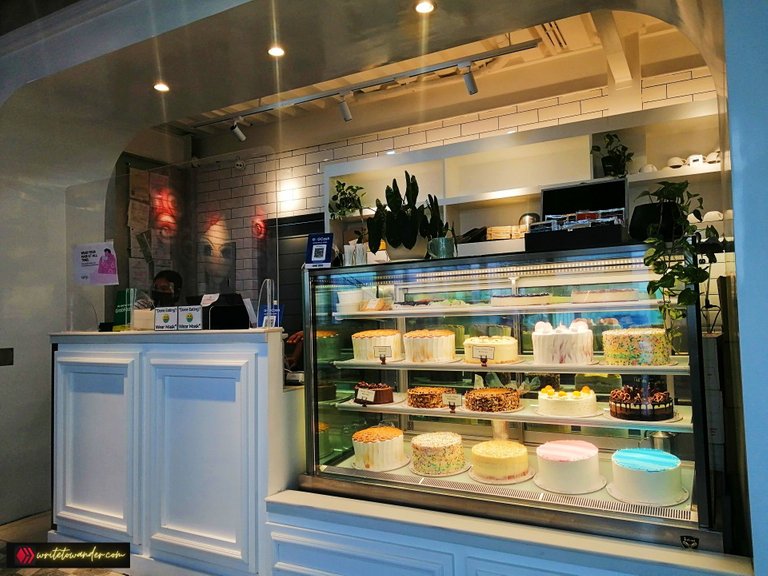 Look at all the cakes, omg, sweet rush alert!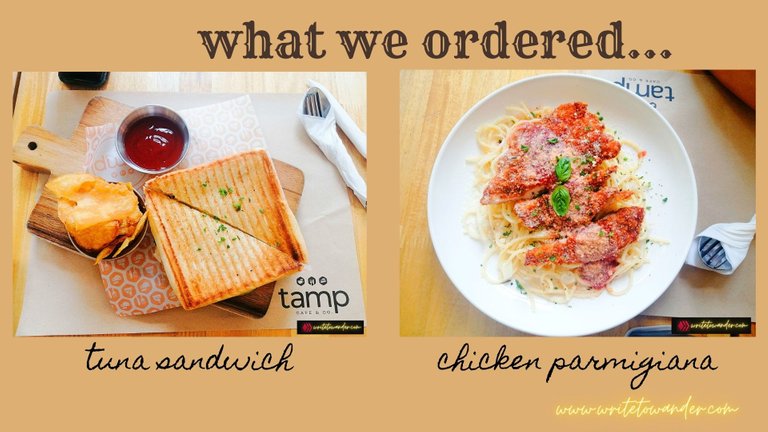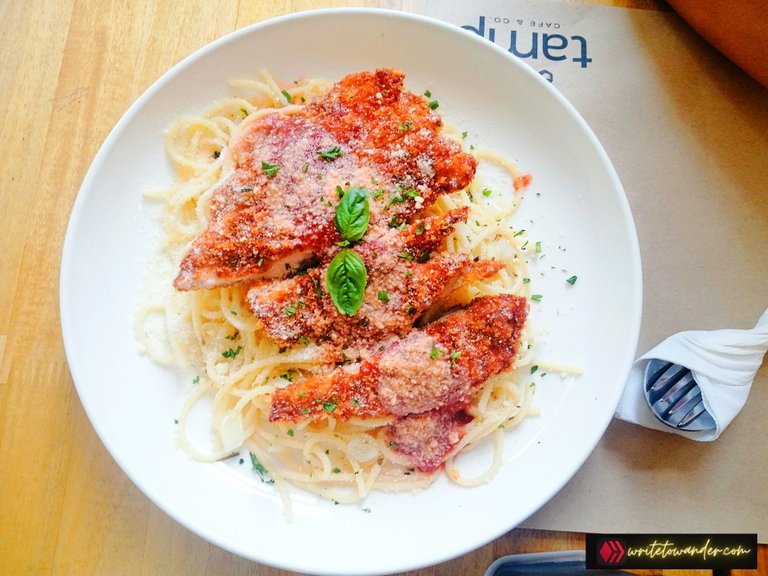 CHICKEN PARMIGIANA Crusted chicken with marinara sauce over garlic olive oil pasta for PHP 295.00 ($5.83)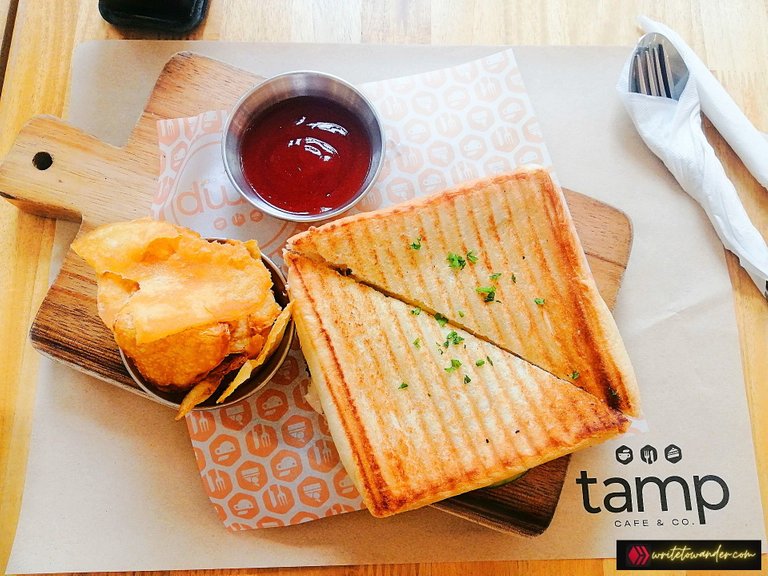 GRILLED TUNA SANDWICH Tuna salad with fresh tomatoes and cucumber and mozzarella for PHP 255.00 ($5.03)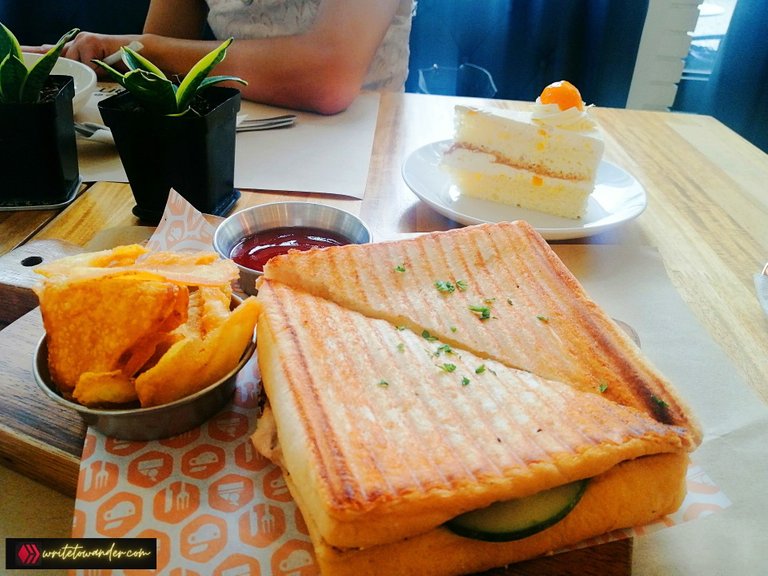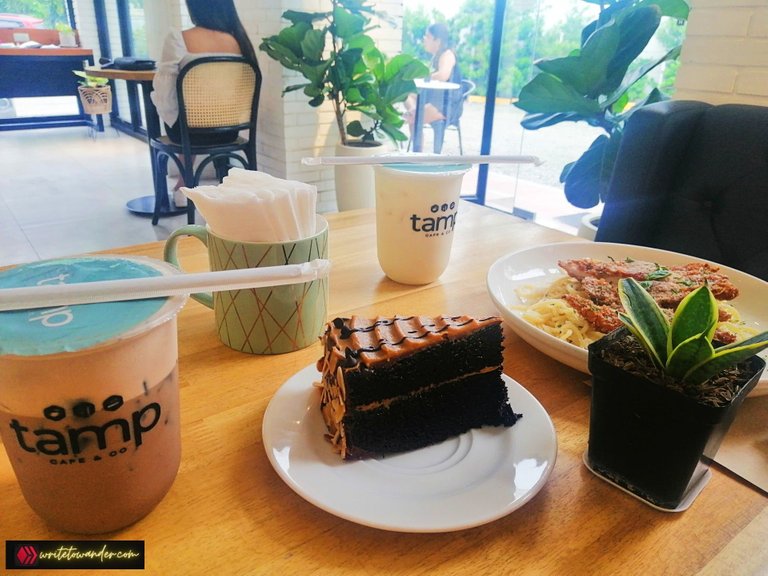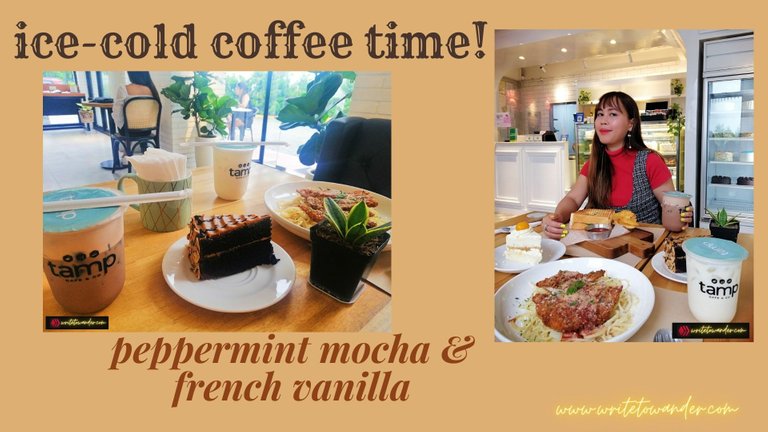 ICED PEPPERMINT MOCHA (16oz) for PHP 165.00 ($3.26)
ICED FRENCH VANILLA (16oz) for PHP 165.00 ($3.26)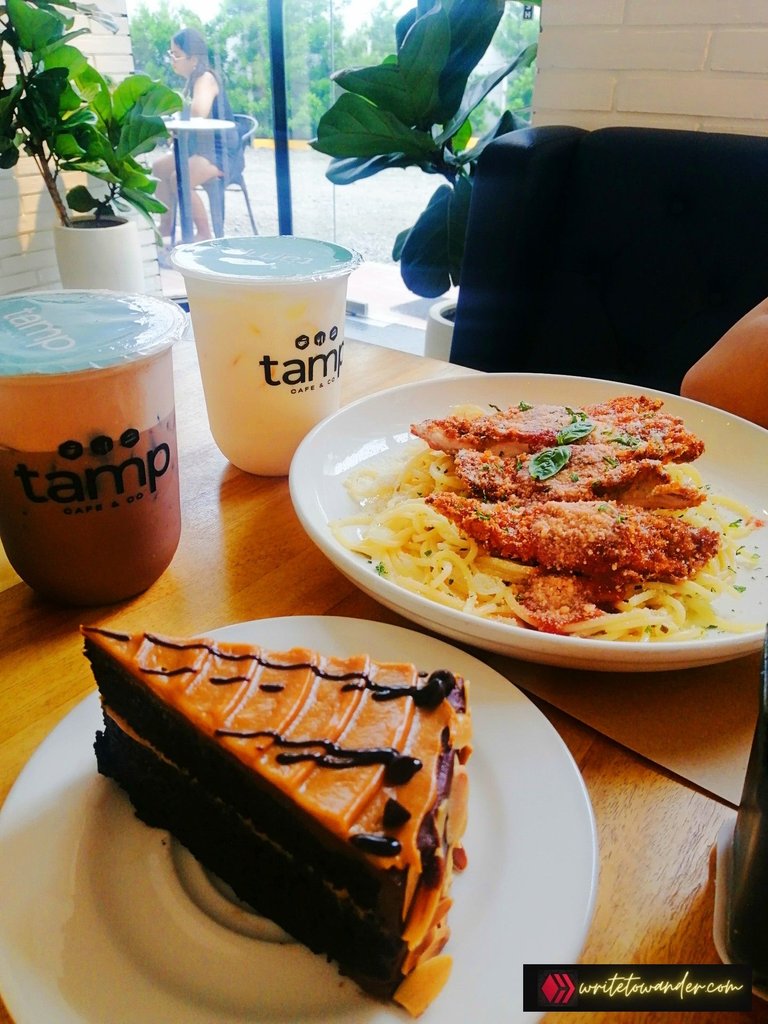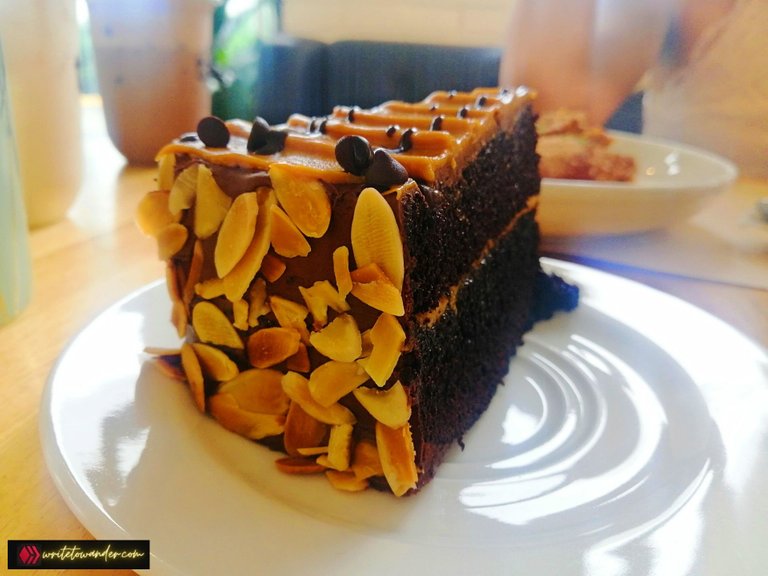 CARAMEL CAKE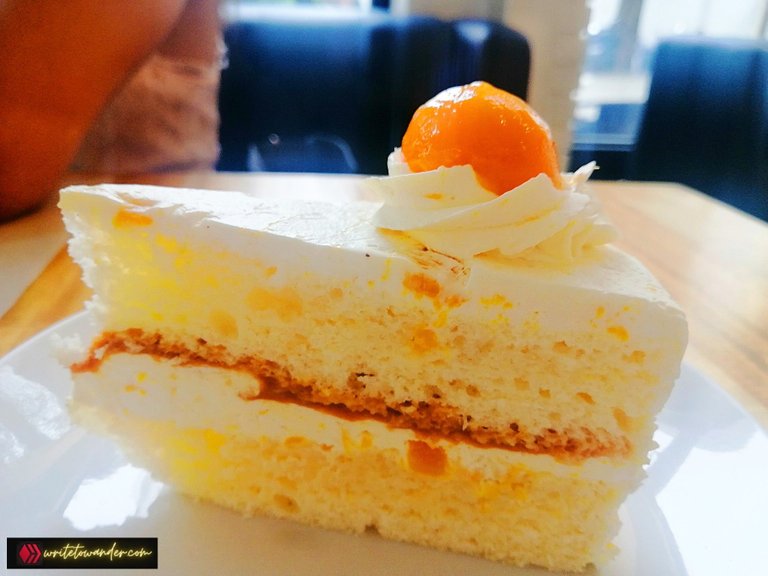 MANGO CAKE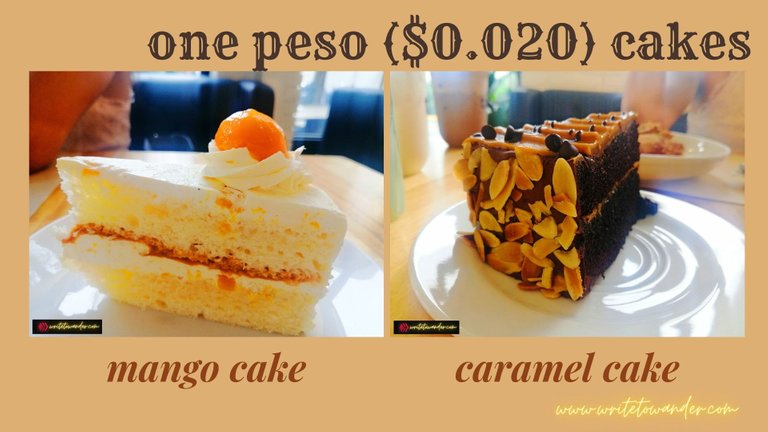 Yummy ONE PESO cakes~omg!😍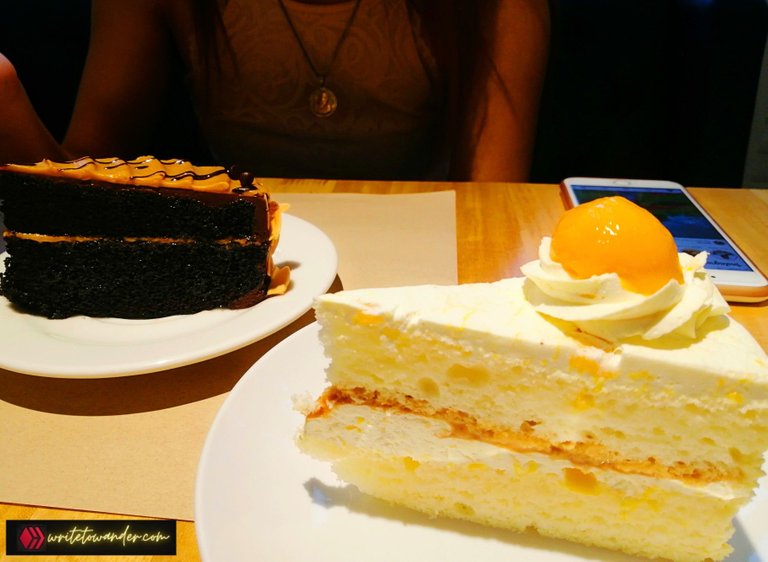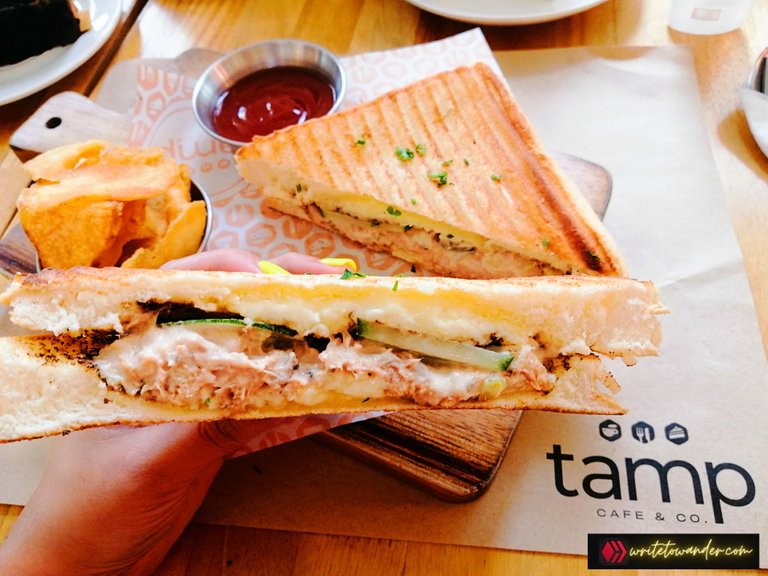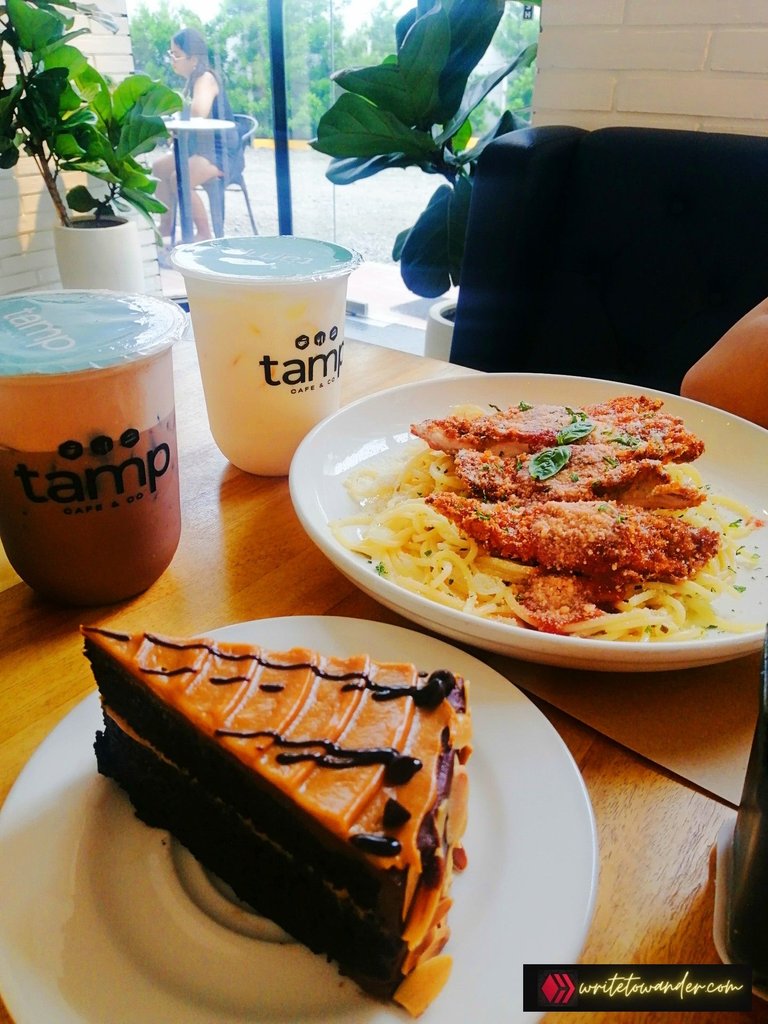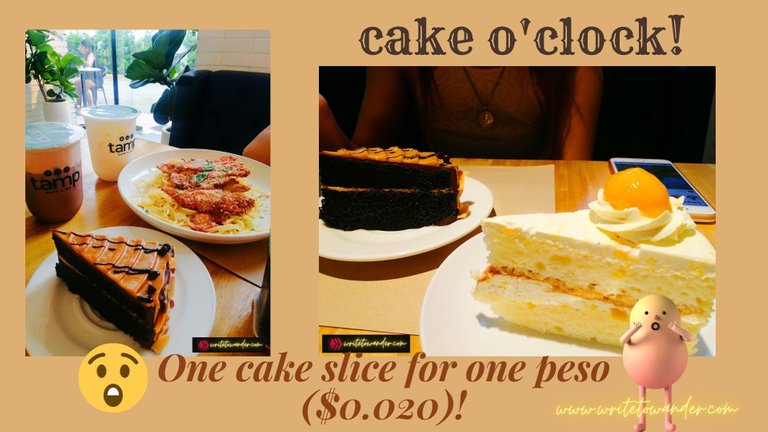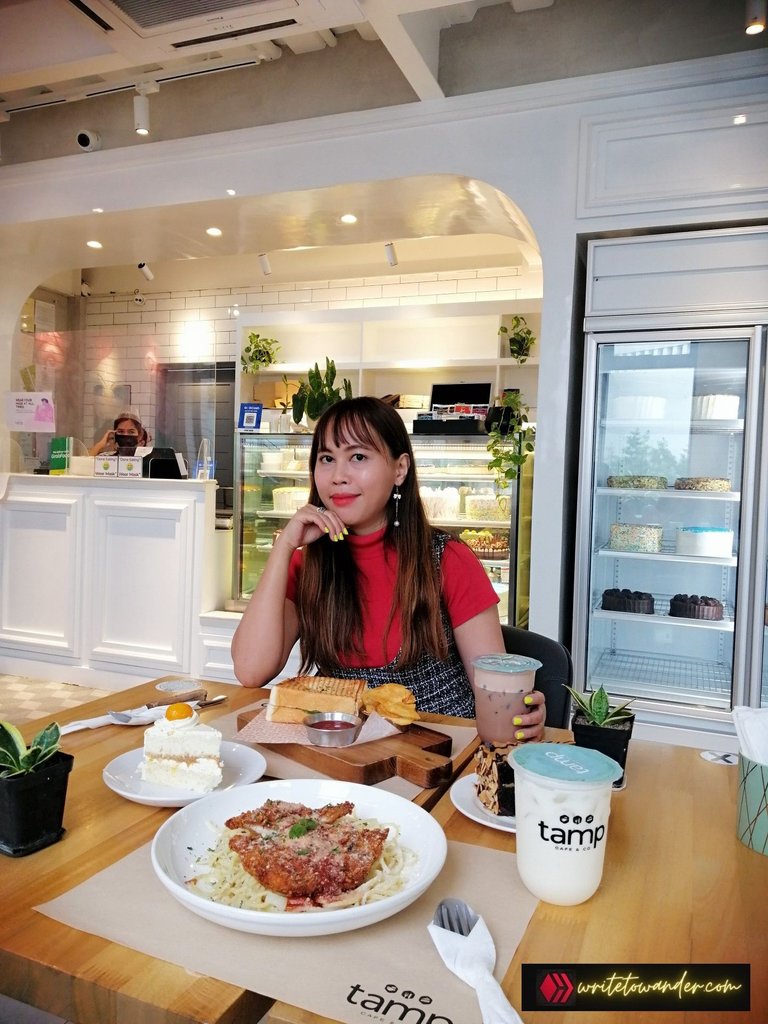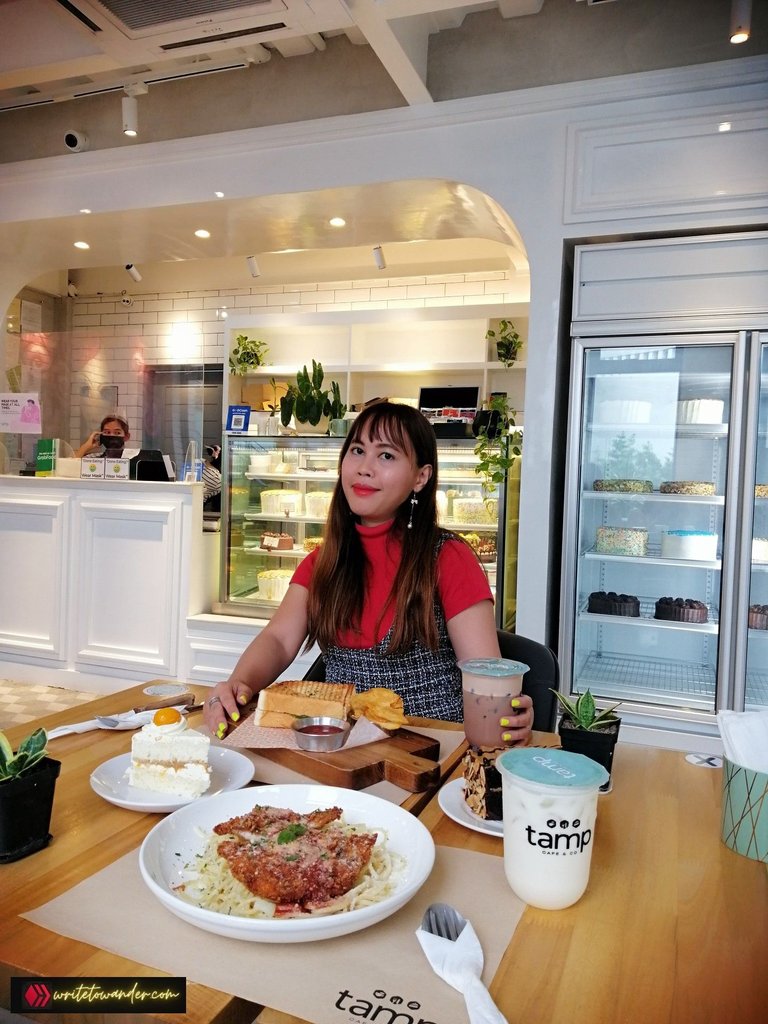 ---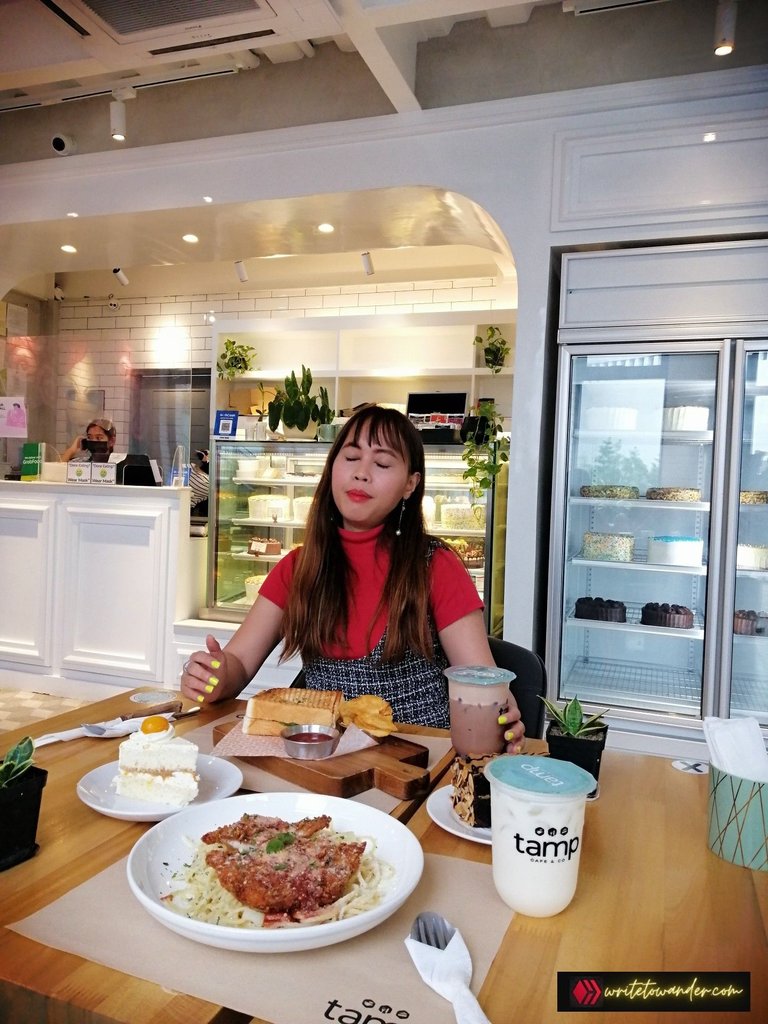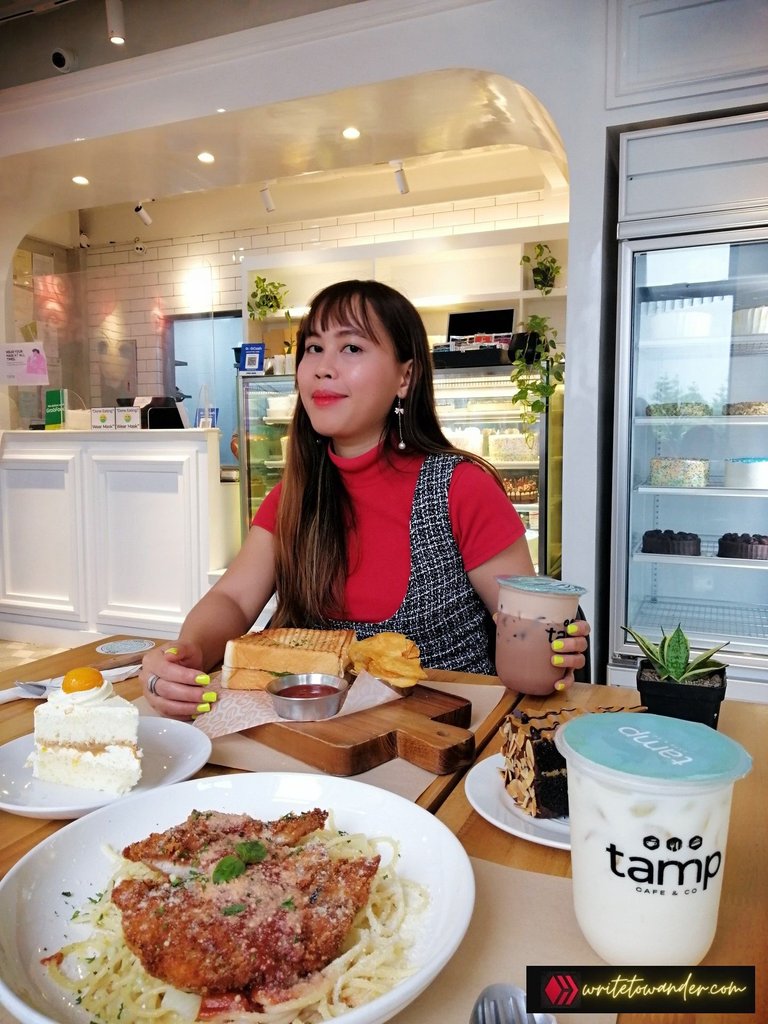 ---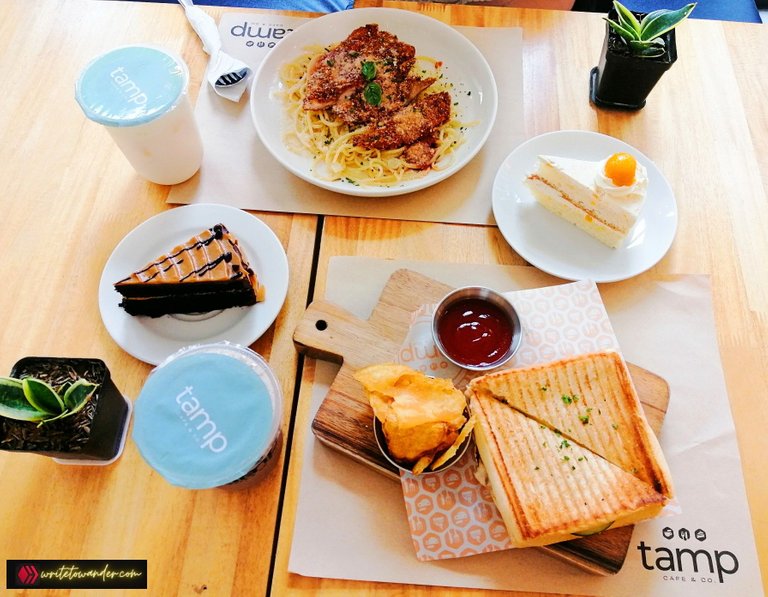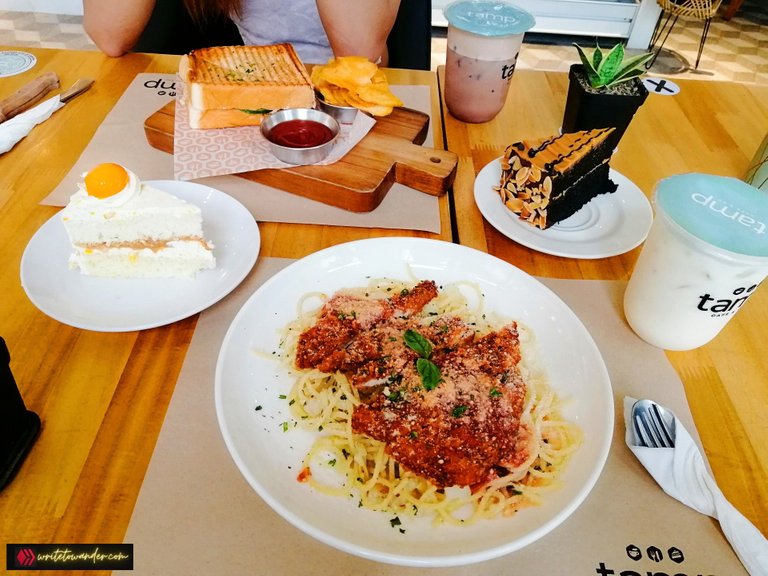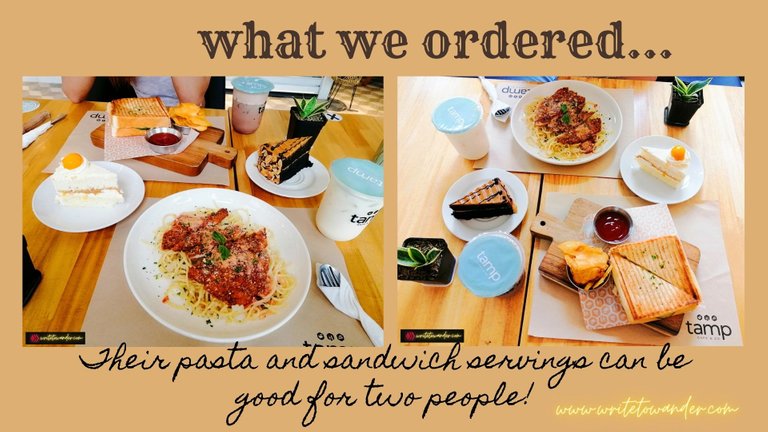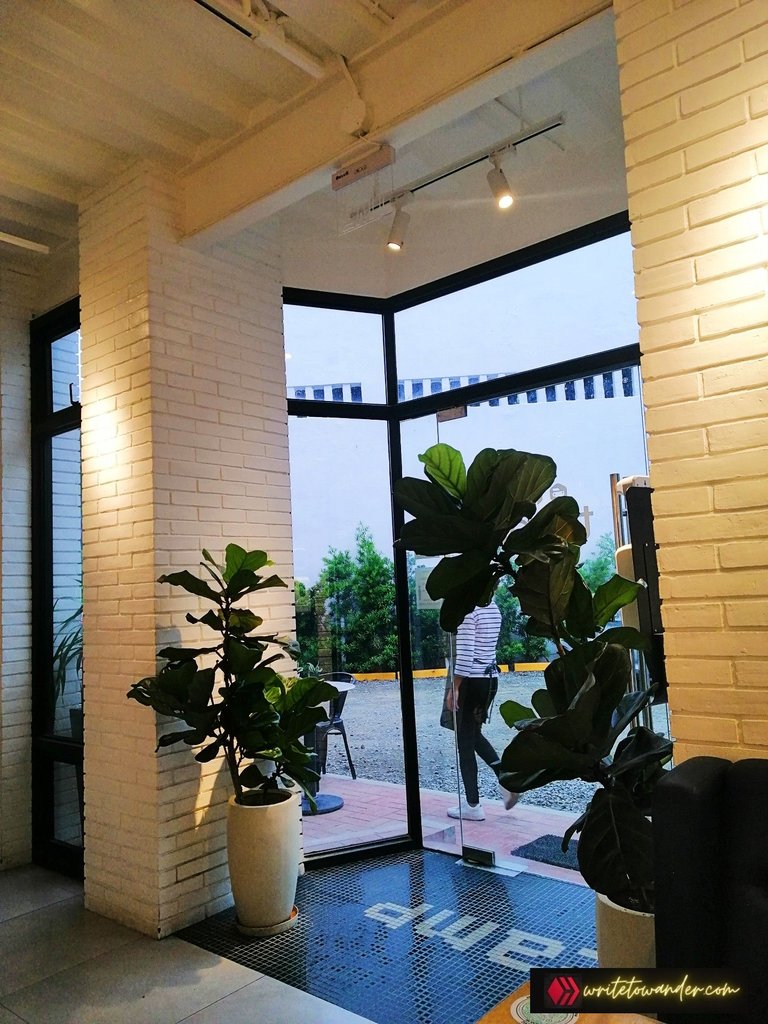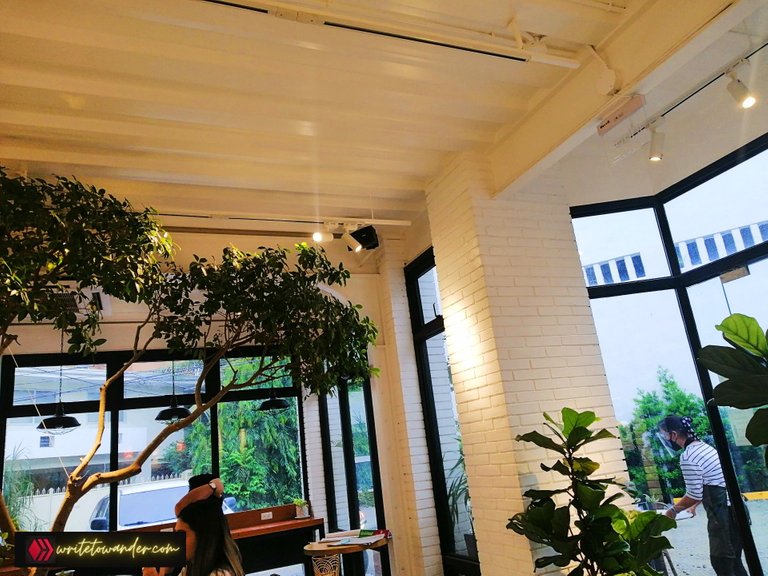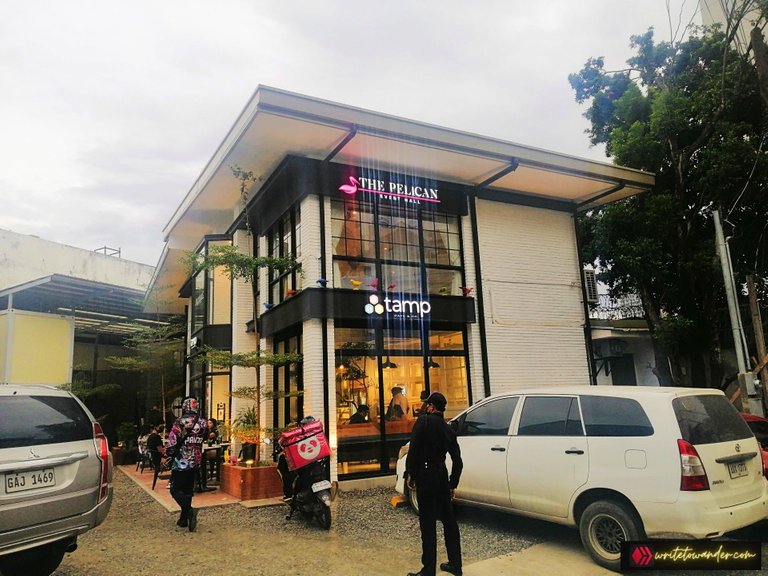 I had delight with my Tamp Cafe experience and I will definitely come back! How about you, have you been to Tamp? How was it? You may check their Facebook Page for more details if you haven't visited and you want to do research and consider visiting. Have a blessed week, all~!💛
'Til the next post, hivers! Remember that you are loved beyond borders and beyond time & space. Okay? Okay. ❤️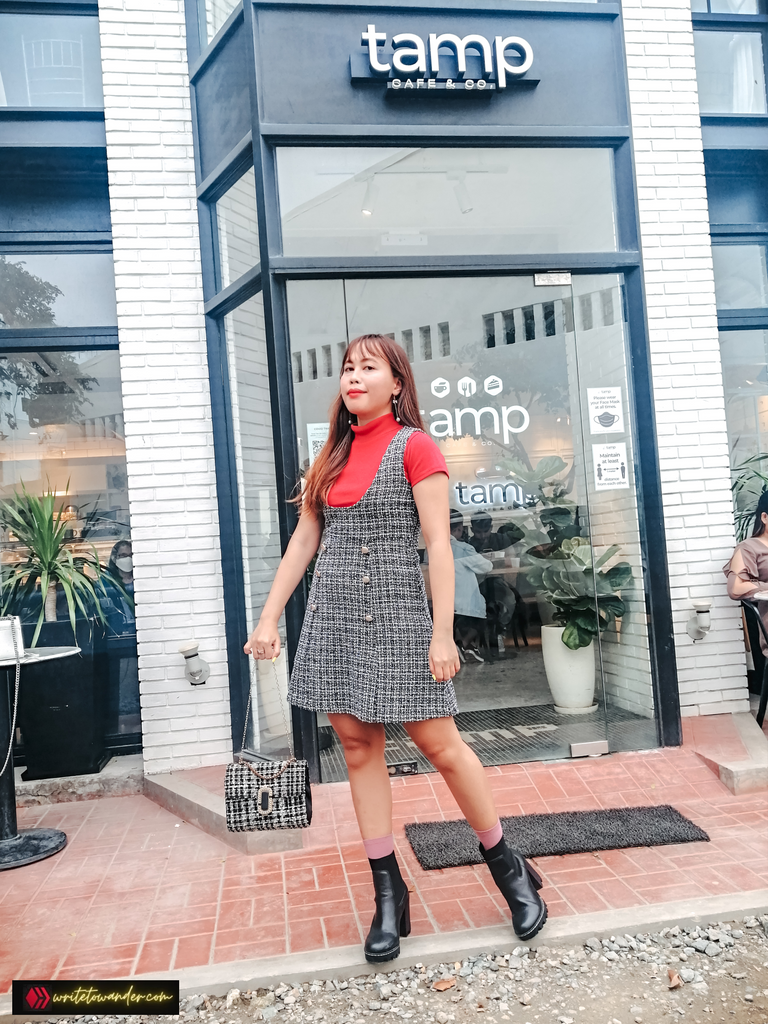 Ciao for now! 🤗🥰
This original article is written by Jong, the blogger behind writetowander.com. All photos are hers, too.
---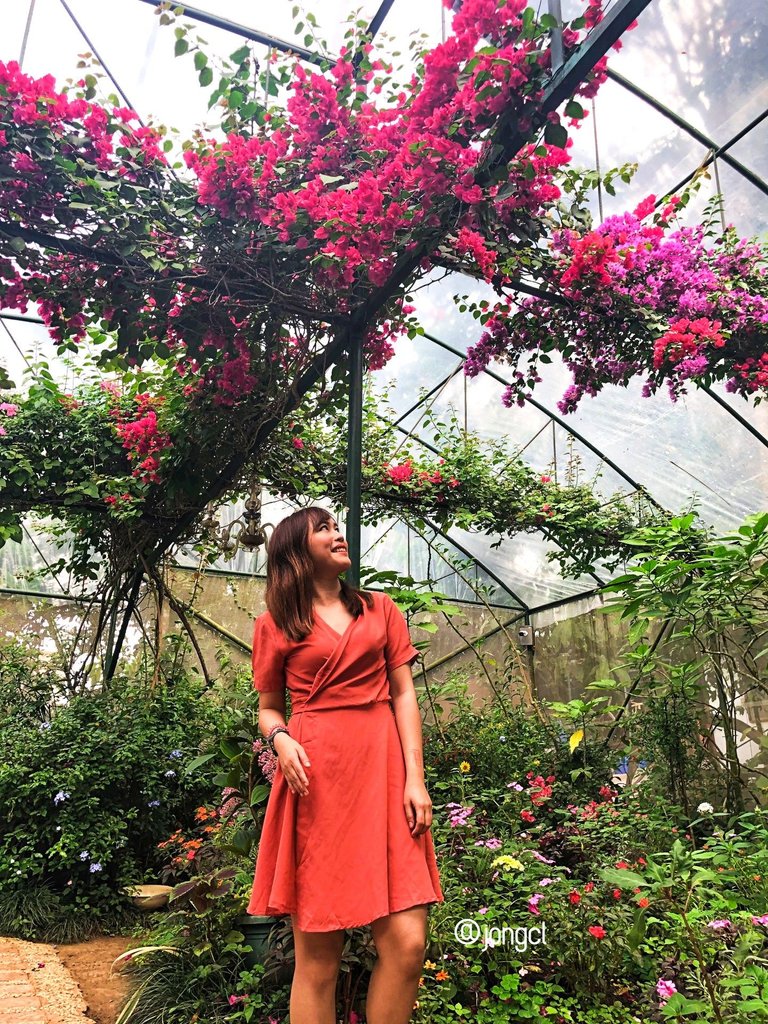 Jong CL
Hive-llo, everyone! Welcome to Jong's little buzz-y corner in Hive. Jong believes that every person she meets can teach her a thing or two (or three, or more) about life. She shares her love for life here-- the captivating beauty of life! To be more specific, but not necessarily in this order, she's interested in: wisdom, love, poetry, single life, books, travel, health&fitness, fashion, gratitude, unspoken hurts, heartbreaks and healing. Lastly, she loves Jesus.
Do you like her content? Make sure to upvote, then! Drop some love by leaving a comment-- she really appreciates listening to your thoughts! 💛 Feel free to reblog if her post resonated with you. Kindly follow her to not miss a post! Happy hiving, loves! 💛

---
---