RAINBOW MERMAID TAIL For A Birthday Celebrant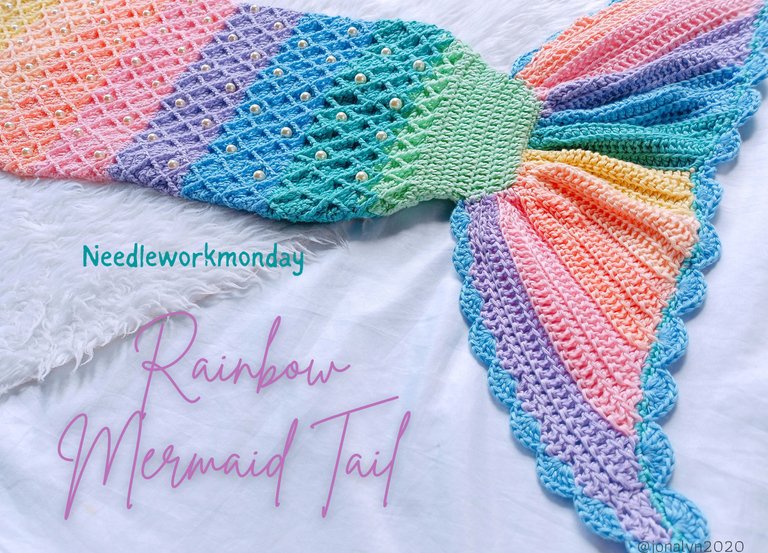 (Edited in Canva)
It's been a long time since I received a crocheted mermaid tail. I think it was 6-7 years ago. And I forgot already how to make it. But I was happy that after many years, now someone wanted to order this kind of costume for her grandchild that will be having a birthday this week.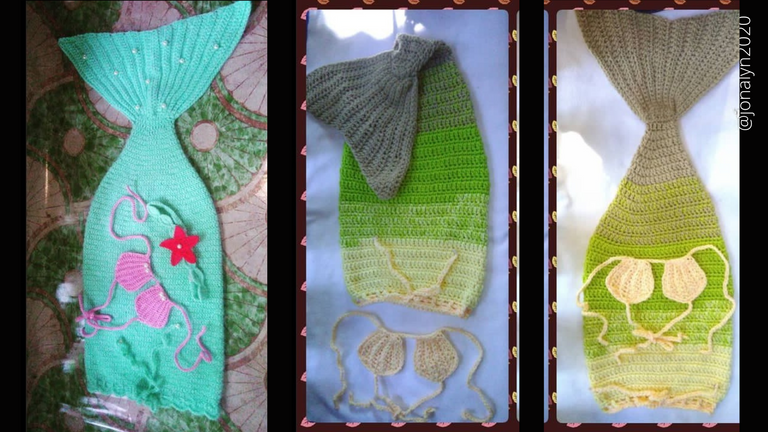 These are the pictures I have on my 2 crocheted mermaid tail in the past.
The grandma, who happened to be my husband's boss had requested a rainbow-colored mermaid tail last month for Martina, her apo (or grandchild). Since I have to finish that crocheted 3rd jump short, the one I shared with you last time, this one had to wait for a little while.
CHOOSING THE SHADES OF COLOR
I chose pastel rainbow colors, as they comprise a softer look than the original shades. These amazing colors provide a calming, peaceful, and soothing vibe to the clients.
Now, that I still have two weeks left before Martina's birthday, I decided to stop working the 3rd jump short because my husband keeps on reminding me to finish it ahead of time. He knows the attitude of her boss and doesn't want to hear negative feedback about the delay as it will affect his work.
So I prepared all the colors for the rainbow effect. Fortunately, almost all the needed colors were available in my stash and only 2 colors were lacking which I already ordered online a week ago. So I'm expecting it to arrive a day or two after I started this part. 👇
THE PATTERN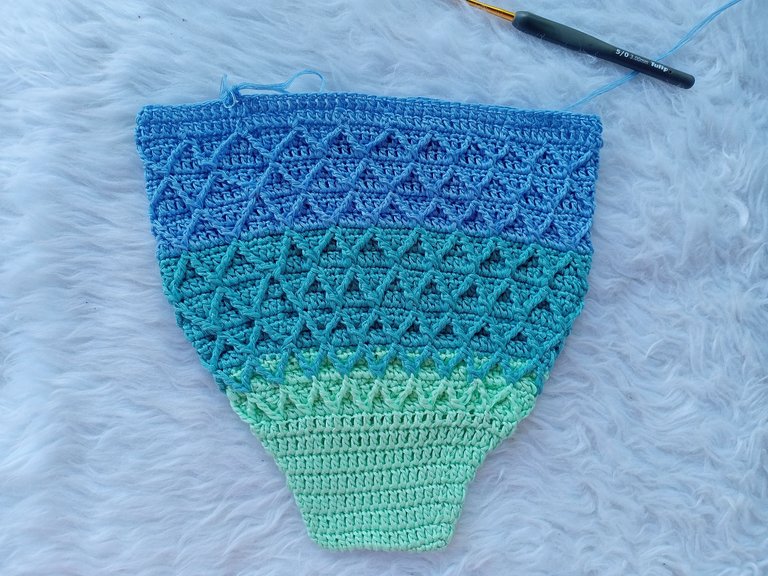 IMG20221003104906.jpg
When I accept this order, I was only thinking of using some basic stitch which is the double crochet. But when I started making this one, after I was done with the 1st color, I thought that it would just be a plain mermaid tail if I pursue that plan. So I began to look for designs on the internet.
There I saw some beautiful designs using crocodile stitch and shell stitch. I was about to undo my work but I realized that using the crocodile stitch will consume more time and more yarn. And since I have only 2 weeks and the jump short was still waving, for me to finish it, I only have the shell stitch left as an option for the design. But then I feel like I wanted to be different. Something that will make my project unique.
And I remember my Tanya crochet bucket hat pattern that I also shared here a long time ago. If you want to know about it, click here.
THE PROCESS
After deciding on the final stitch to be used, I then continue my work. I was enjoying while making this project as I loved all the colors.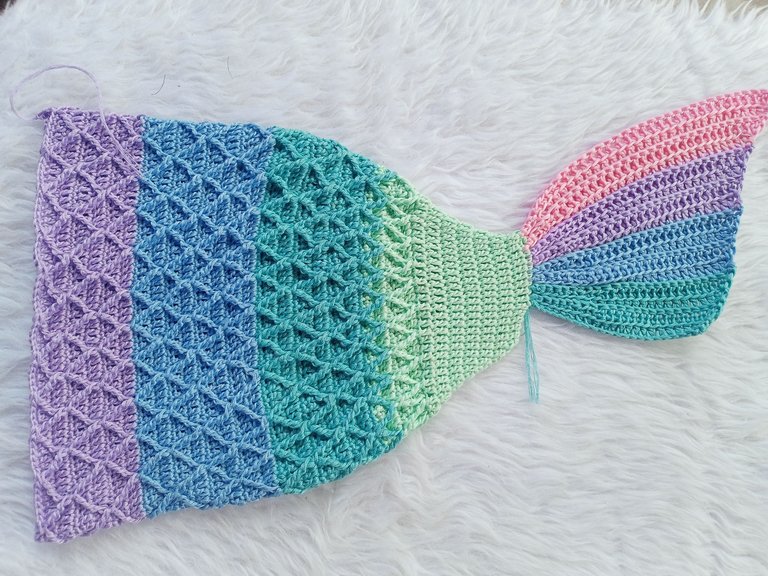 IMG20221004145131.jpg
At this point, I was so excited to try doing the caudal fin even if I'm not finished yet with the body. But then realized that it was not properly divided into two. So I undo it after and decided to finish first the body part.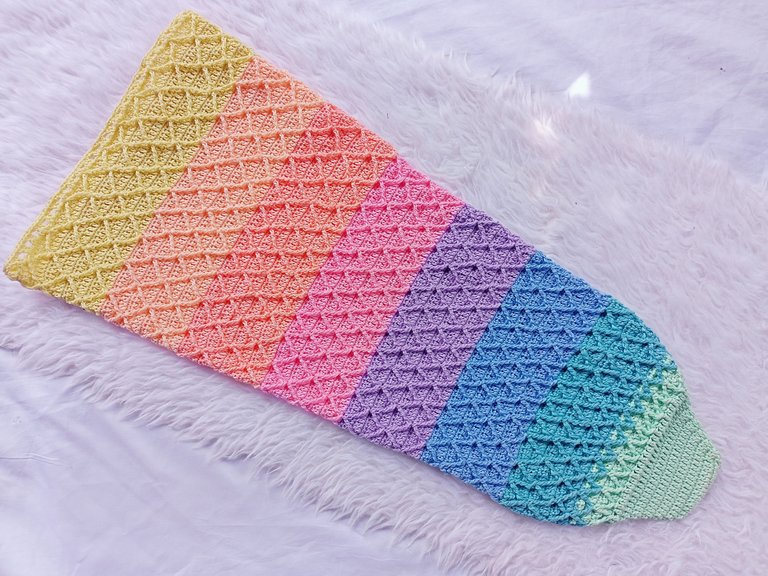 IMG20221011141112_01.jpg
Here, it was all done except the bottom part. I know now how to do it as I already had ideas after that trial I made.
But another idea had popped into my mind. Pearls! That would add to the beauty of my mermaid tail. I was also thinking of some silver sequins, which I don't have.😅
As I was looking at my stash, I only have these medium size pearls. I wanted to choose the smaller one yet it won't be enough as they were only a few. So I have no choice but to use the bigger one.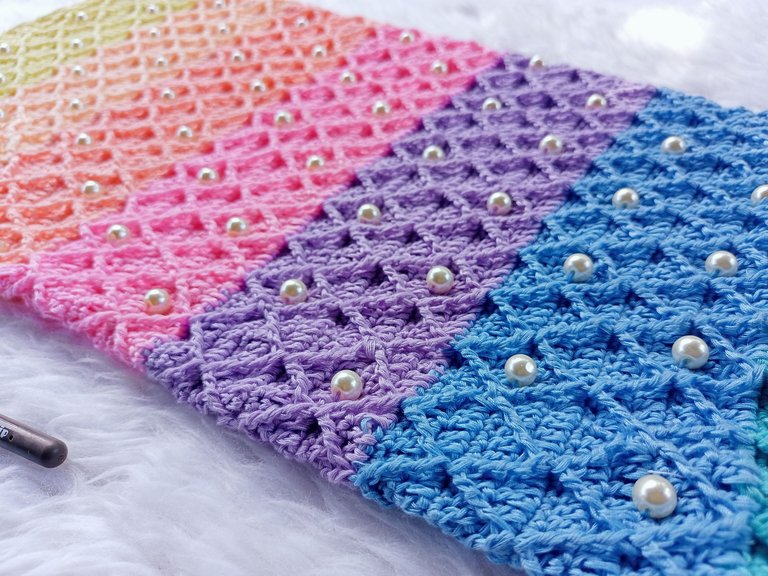 IMG20221011141220_01.jpg
I preferred to sew it instead of sticking it with a glue stick. It will give a cleaner look plus it will last longer.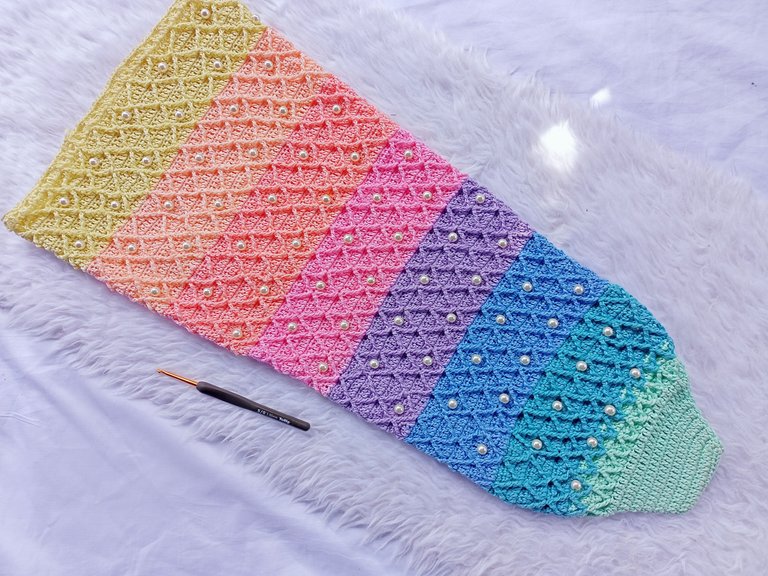 IMG20221011141227.jpg
Next was the caudal fin. I started at the middle part which was the yellow and green colors. Then the color blue is attached to the green color while the peach is to the yellow color and so on.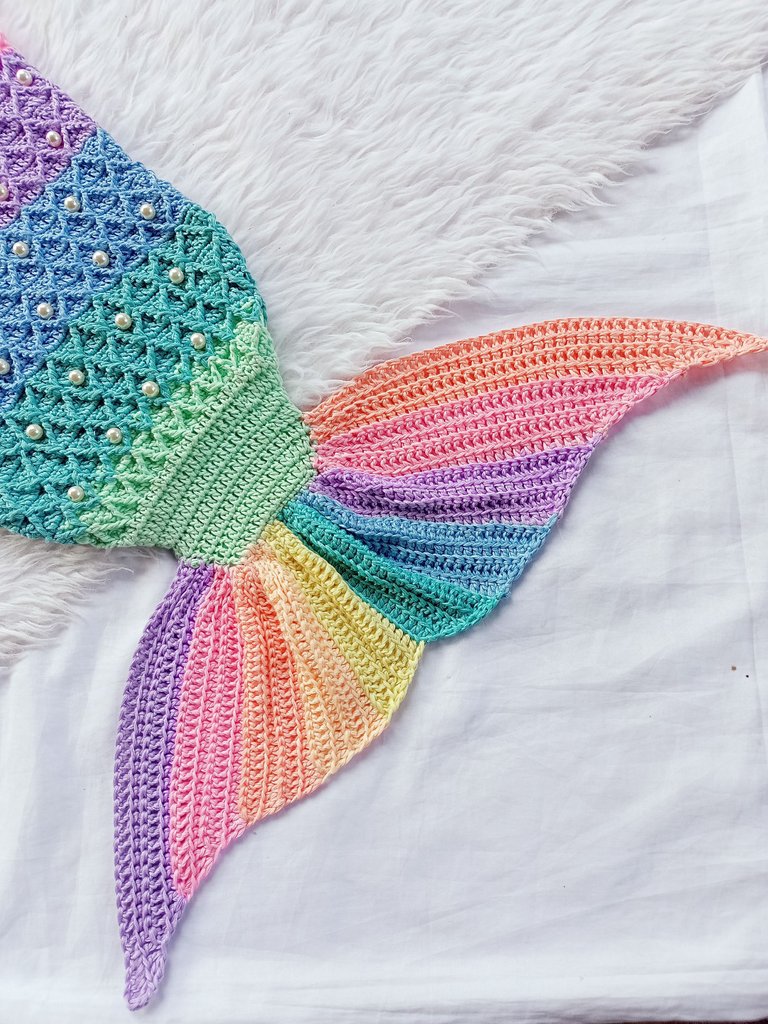 IMG20221012060030_01.jpg
Once I'm done, I realized that it looked shorter. It should be a little longer but I really have to finish it.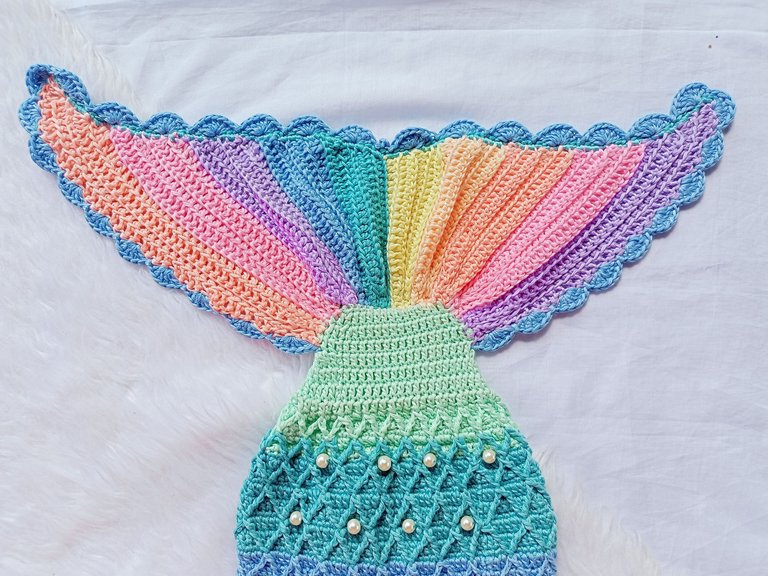 IMG20221012123346.jpg
So I decided to add some outline, and some shell stitch on the end to lengthen it more.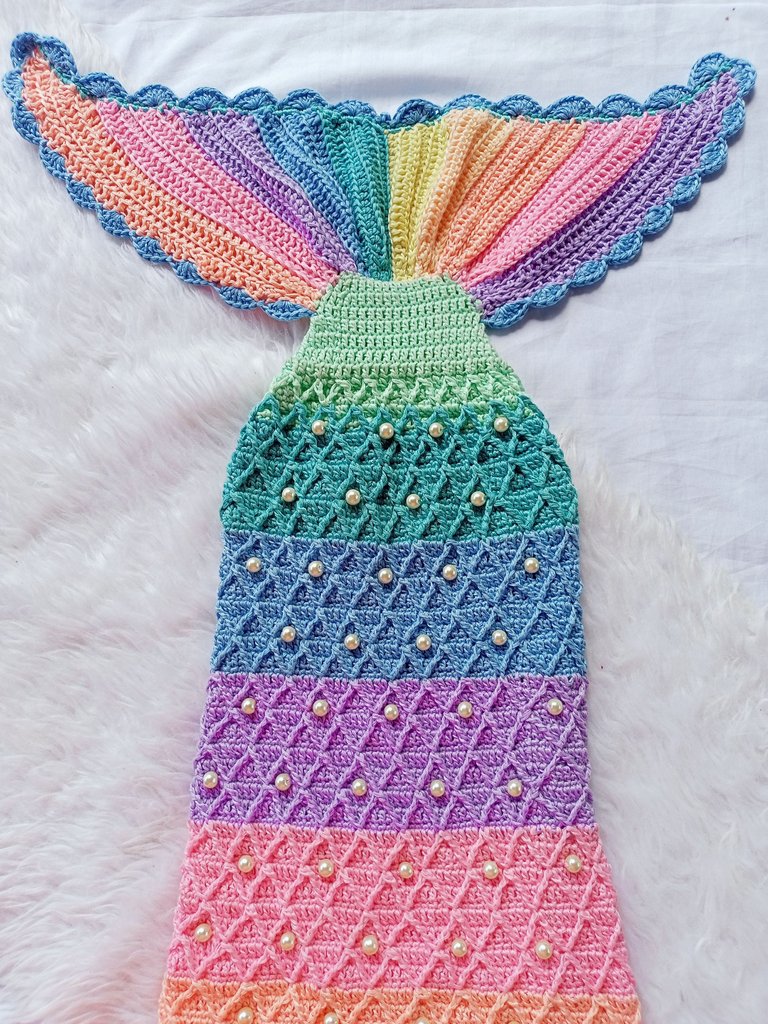 IMG20221012123354_01.jpg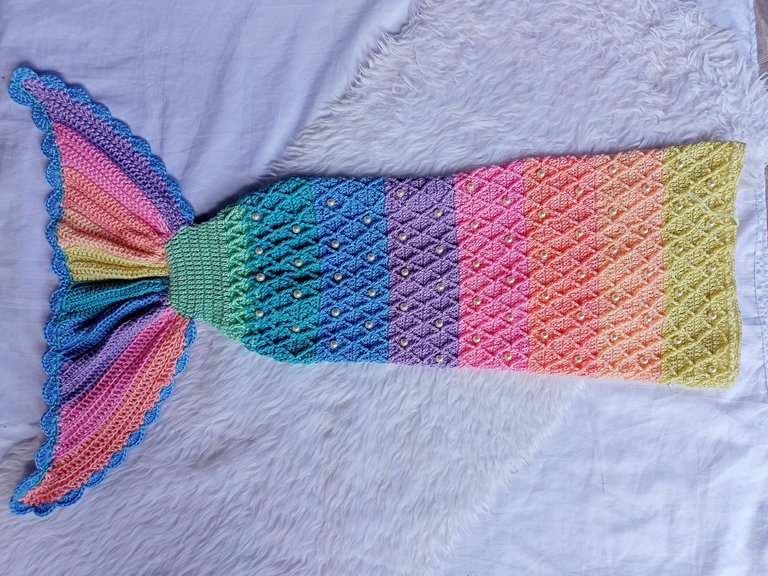 IMG20221012123209_01.jpg
Now I'm satisfied with the outcome. I just hope Martina will like it as I do.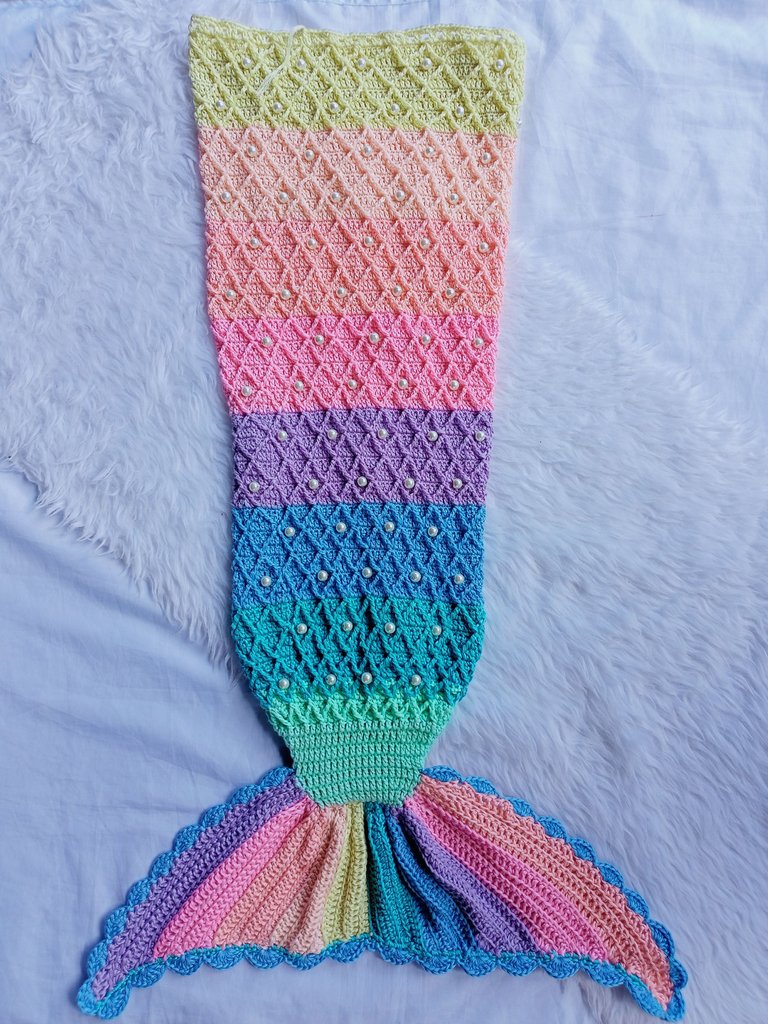 IMG20221012123223_01.jpg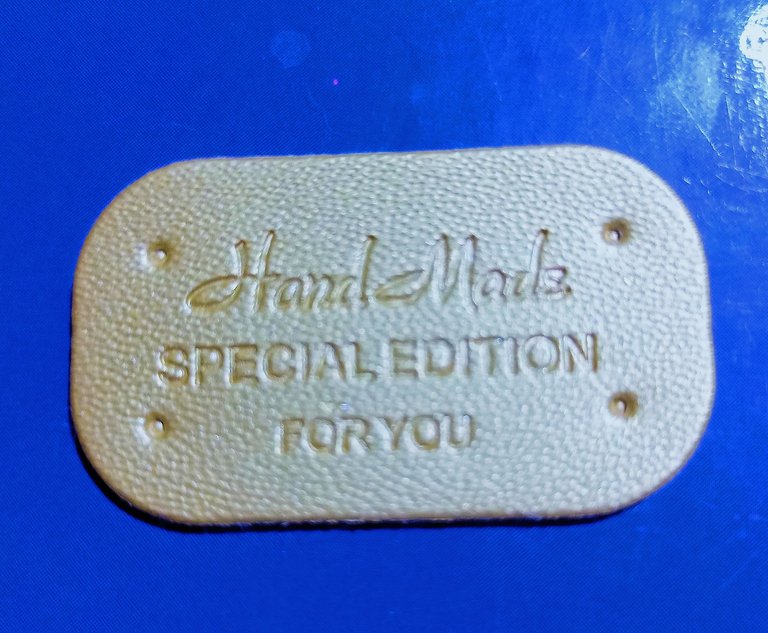 IMG_20221018_052908.jpg
For the final look, I made a blue-colored tie in the waist area and put some gold labels with the name "Handmade" on them.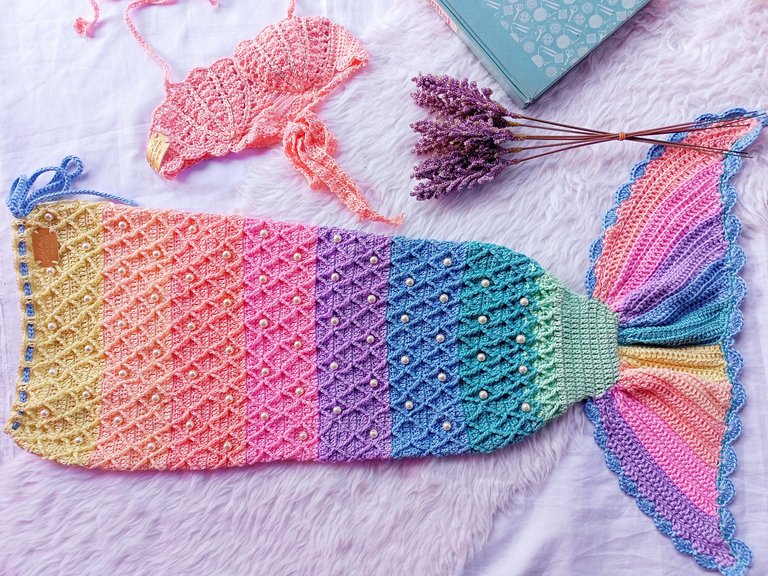 IMG20221013072221_01.jpg
I crocheted a top also to complete Martina's costume, decorated with small beads.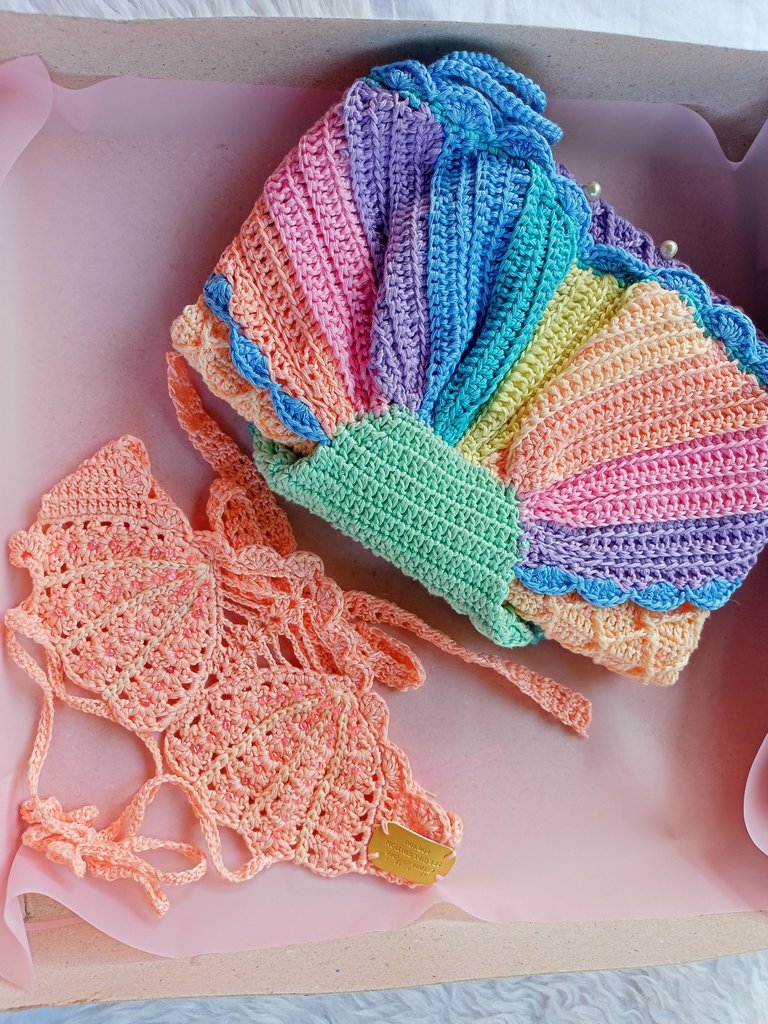 IMG20221013071952_01.jpg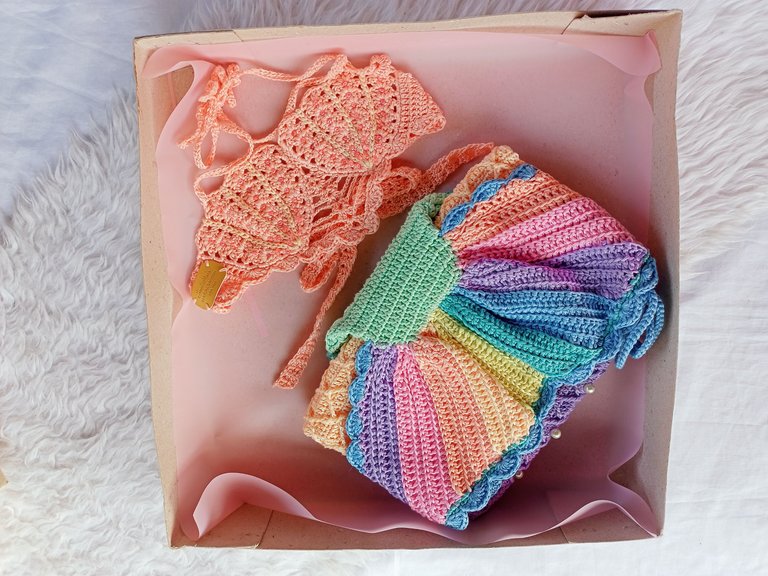 IMG20221013071939_01.jpg
Here, I packed it in a box, ready to deliver.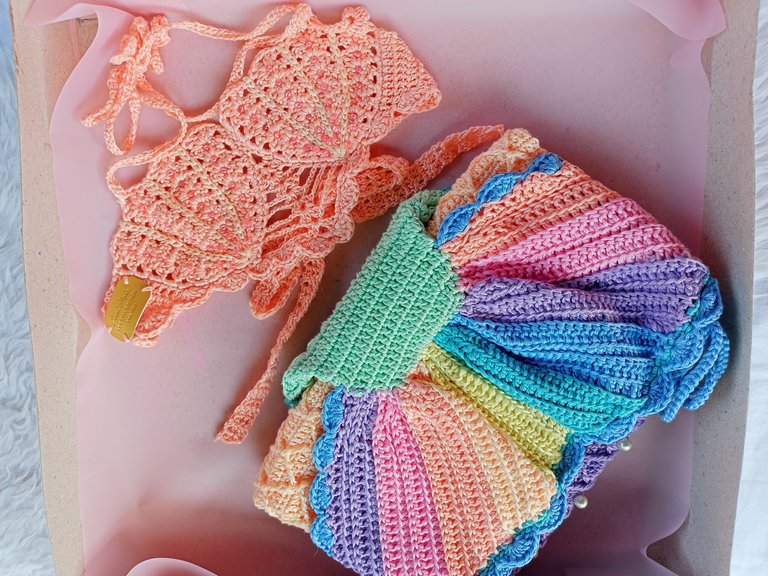 IMG20221013071952_01.jpg
I heard feedback from my husband that they all loved it, especially when Martina tried to fit them. Her grandma said that she doesn't want to take it off. 😅
Hope you like my version of the mermaid tail too. God bless everyone.
Love lots,
@jonalyn2020

To God Be The Glory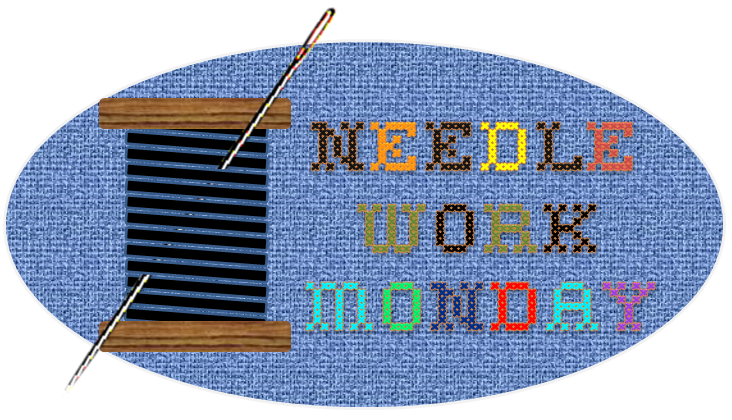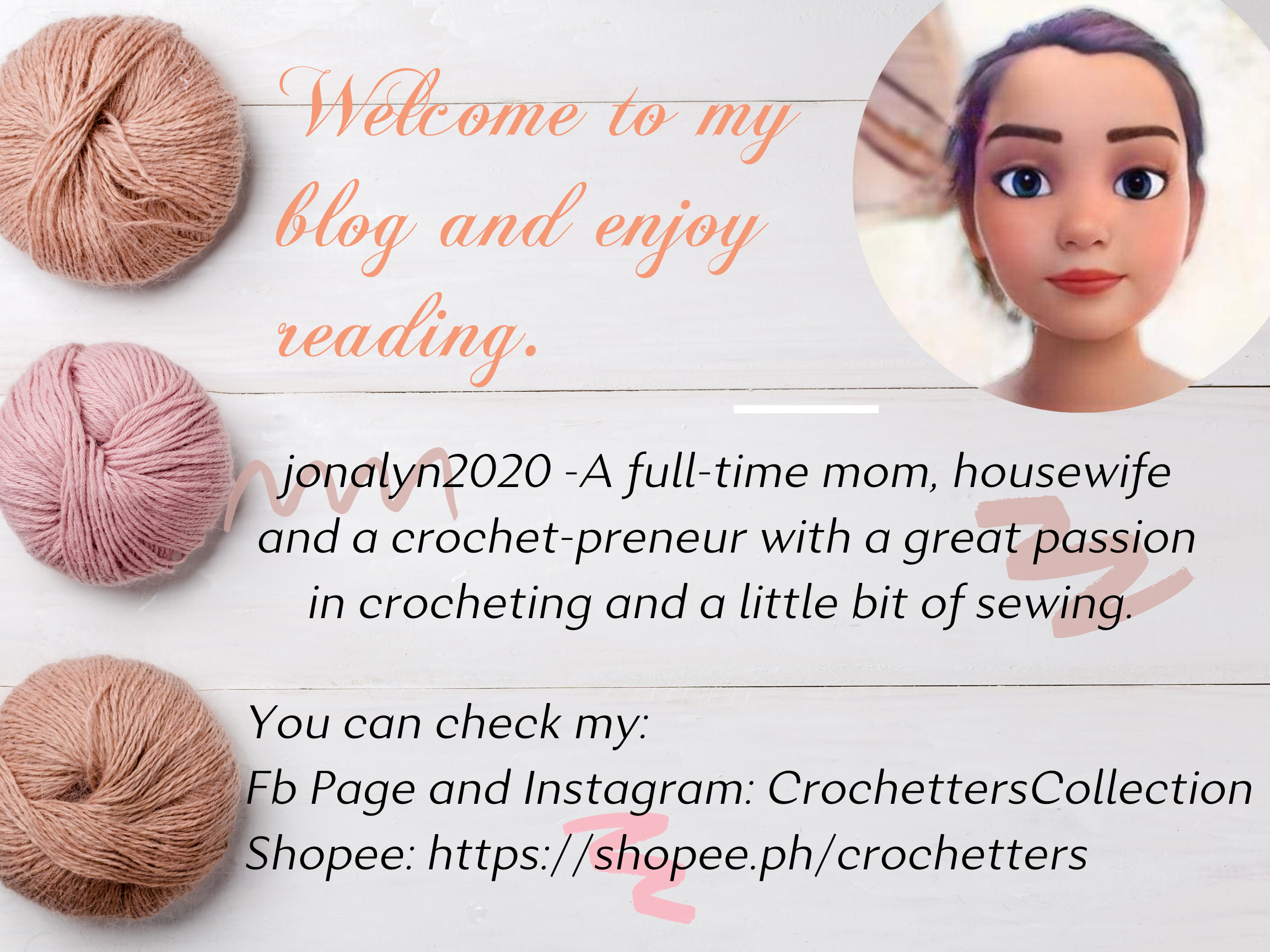 ---
---