NEEDLEWORK YOUR KITCHEN CONTEST! | A Sunflower Coaster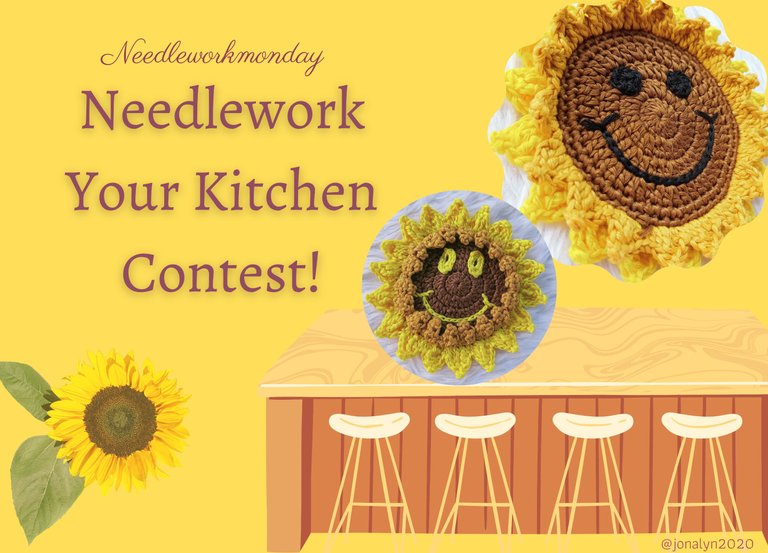 Edited on Canva
Another CONTEST in the NEEDLEWORKMONDAY community is being organized by @kattycrochet!
Wow! 😍
I was so excited when I learn this. Excited yet I wasn't sure if I could be able to join and post my entry here as I am still working on the 3rd jump Short that I was talking to you on my previous post. I was also not sure what kind of project I will be making for the kitchen. But time has run so fast that I just realize that today is the last day for the submission of entries!
Gosh, I had never started anything yet! Worse, I don't have any idea what will be my entry like. But I really wanted to join. So I think of something small and easy to crochet. Yes, a coaster will do. It's just small and will take lesser time. Maybe if I can make it in just an hour or less, I can still make it to the contest.
Now, what design should I make?
I cannot make a plain color doily like crochet that is made only of dc. I want it to be colorful, and fun even if it is small.
And I'm thinking of a flower.
I can't make a coaster tulip. Daisy is nice, but I think a sunflower would be best, with a smiley face. 😊 It would be nice to have a hot chocolate or milk early in the morning with this smiling coaster. Why not coffee? Because coffee upset my stomach.
Anyway, let's get to work, as I have only a little time left for this contest.
So I immediately gather all the necessary materials.
yarns
2.5mm crochet hook
scissor/cutter

Now let's begin!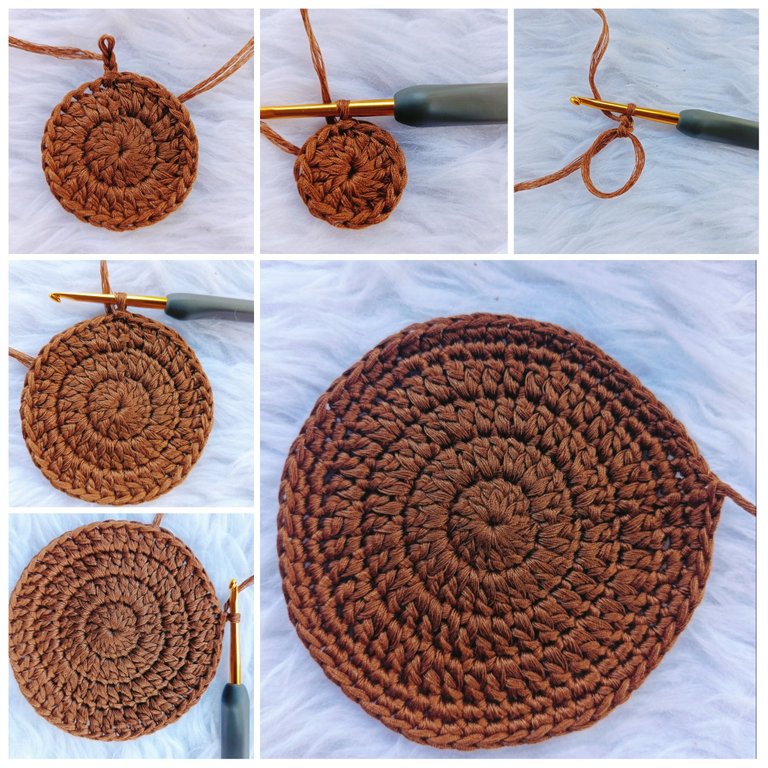 1665409132800.jpg
First, I made this crochet circle using double crochet in 4 layers, and single crochet on the last 2 layers.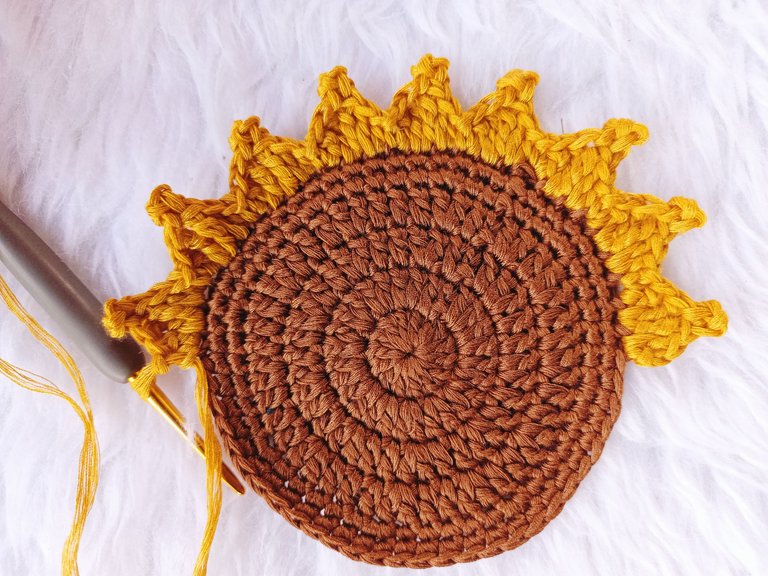 IMG20221010153252_01.jpg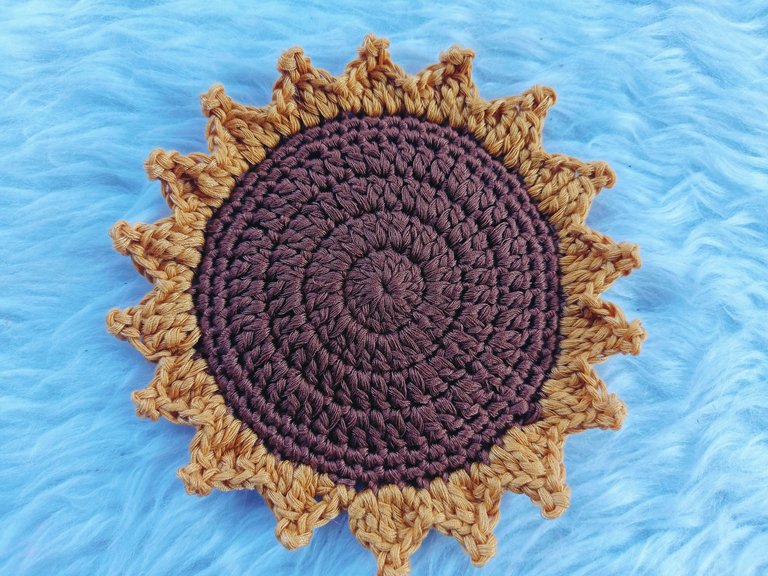 IMG20221010154214_01.jpg
Second, I made these mustard-colored petals on the front loop stitch only.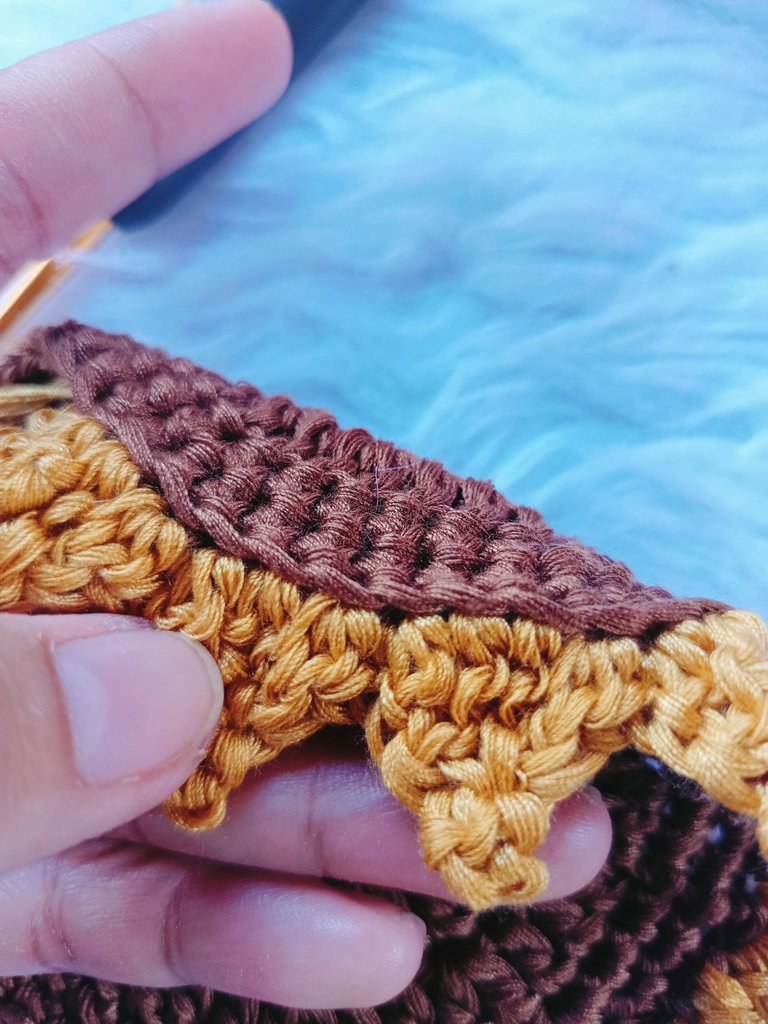 IMG20221010153303_01.jpg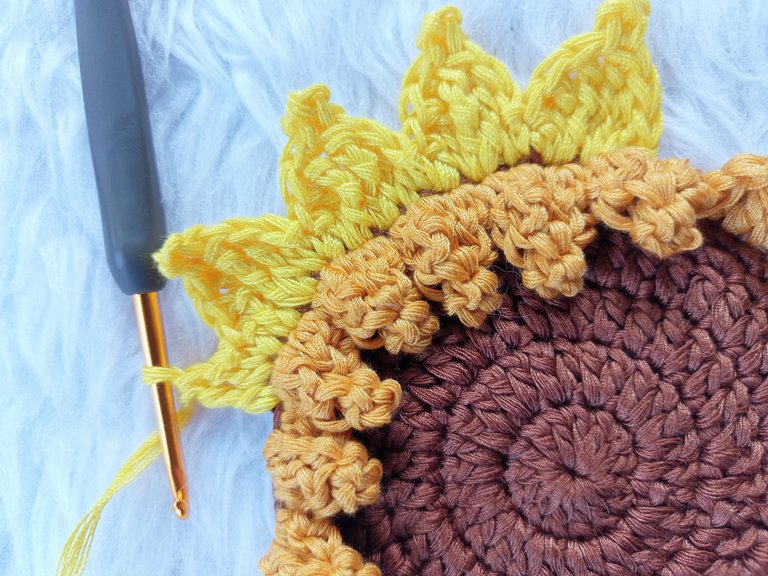 IMG20221010154804.jpg
Then I make another bigger petals with golden yellow yarns on the back loop stitch to look like this.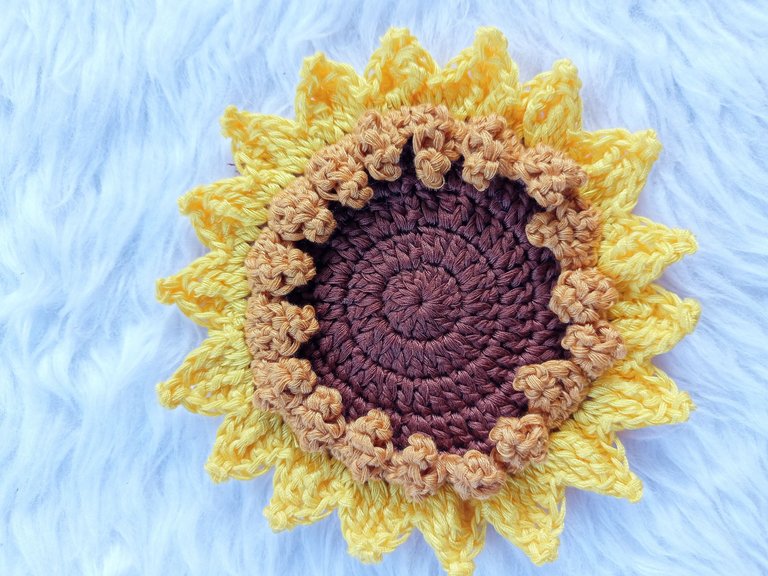 IMG20221010160856_01.jpg
I am satisfied with how it looks like so let's proceed to the smiley face.
IMG20221010160917.jpg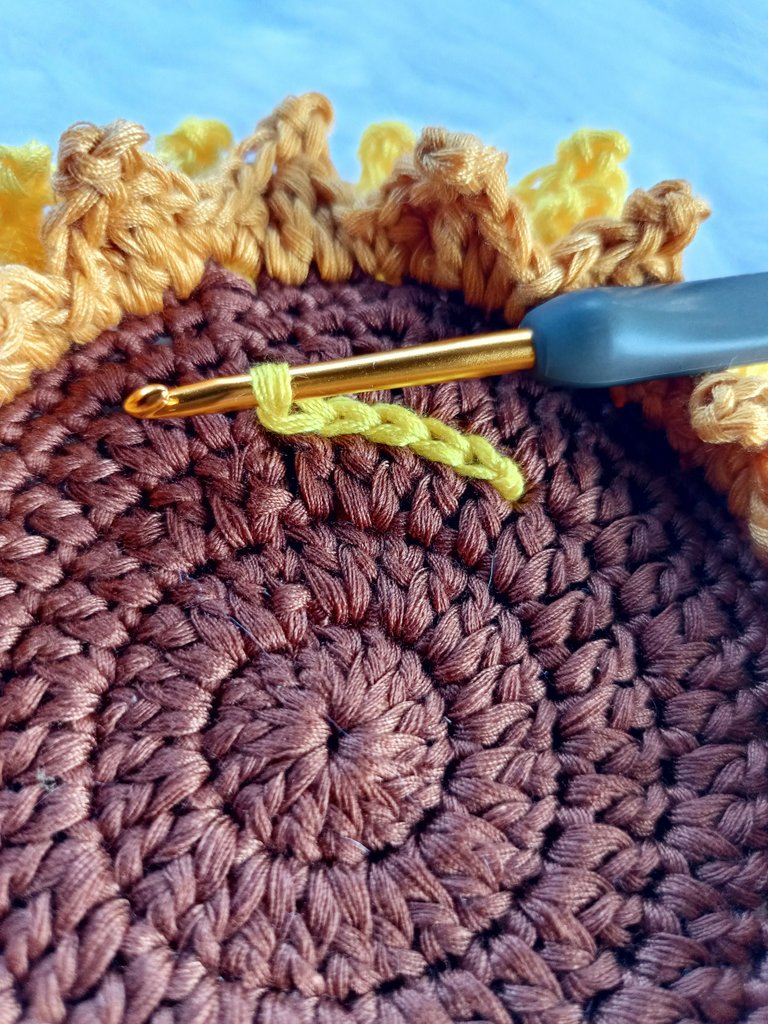 IMG20221010161147.jpg
I just crochet it's mouth by making single crochet (pulling the yarn from the back of my sunflower, just the way I did in this picture) following the double crochet layers of the circle.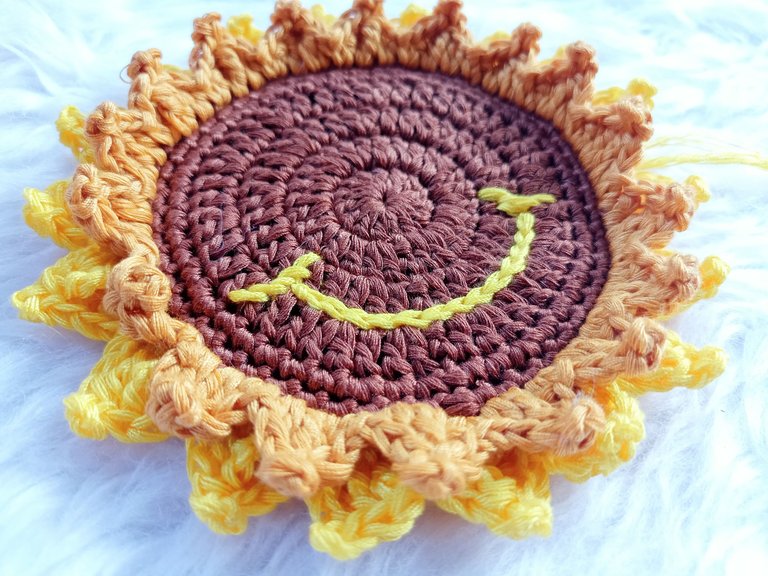 IMG20221010162313.jpg
When suddenly my son saw me working on this. And he was complaining that the color of the mouth should be in black so as the eyes.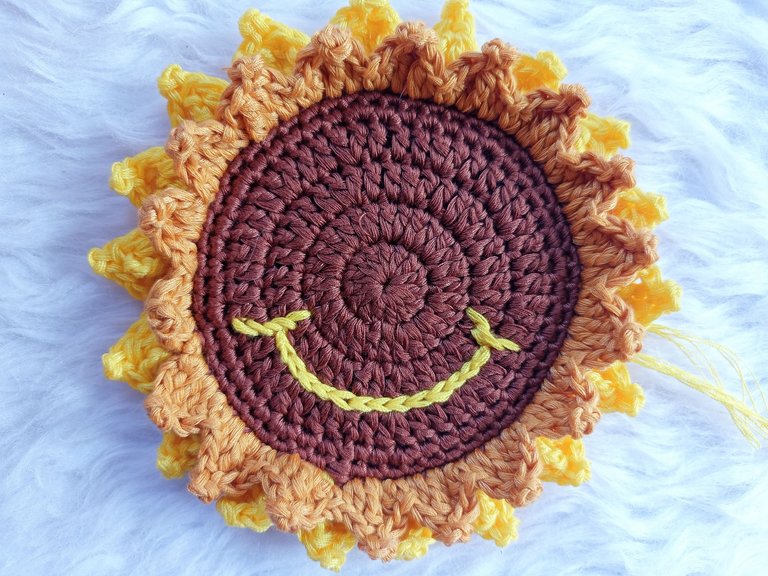 IMG20221010162304.jpg
Should it be in the black? I began to question myself. 😅 Then I started to look on the internet some smiley sunflower and confirmed that it was really in black! And my son wanted me to eliminate that golden yellow mouth. But I was running out of time.
So I continued on the eyes using the golden yellow yarn. He was sleeping when I was making the eyes and for sure he wouldn't like it.😅 Well, I just wanted to see its golden yellow, maybe it will be okay as I have to finish it quickly.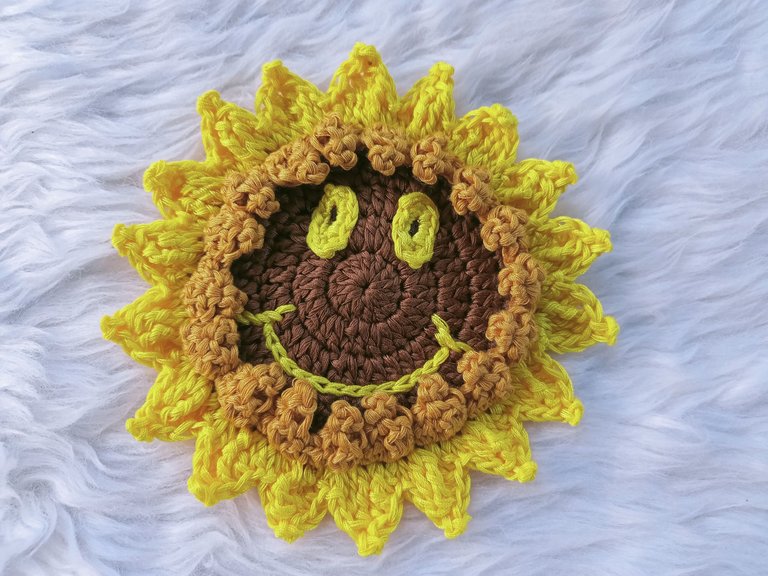 IMG20221011060002_01.jpg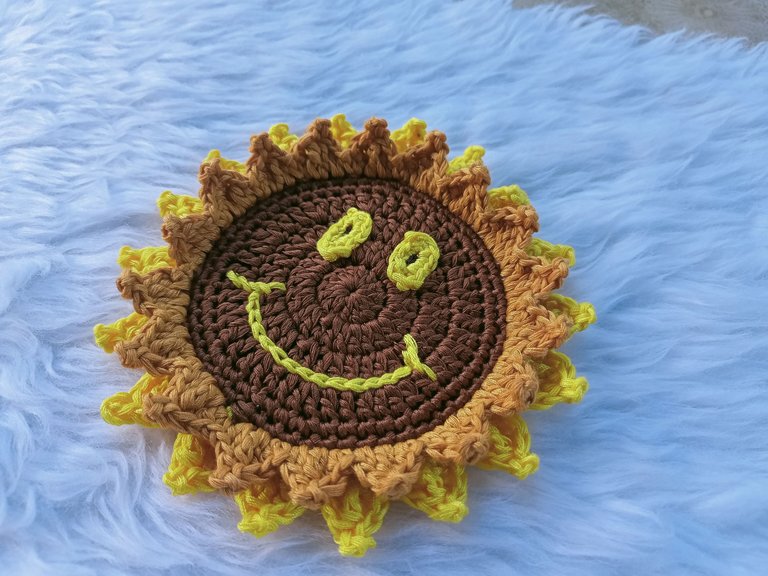 IMG20221011060029_01.jpg
Ah, it looks weird. Maybe I really should change it to color black. All right, I have to undo this very quickly, as I am running out of time.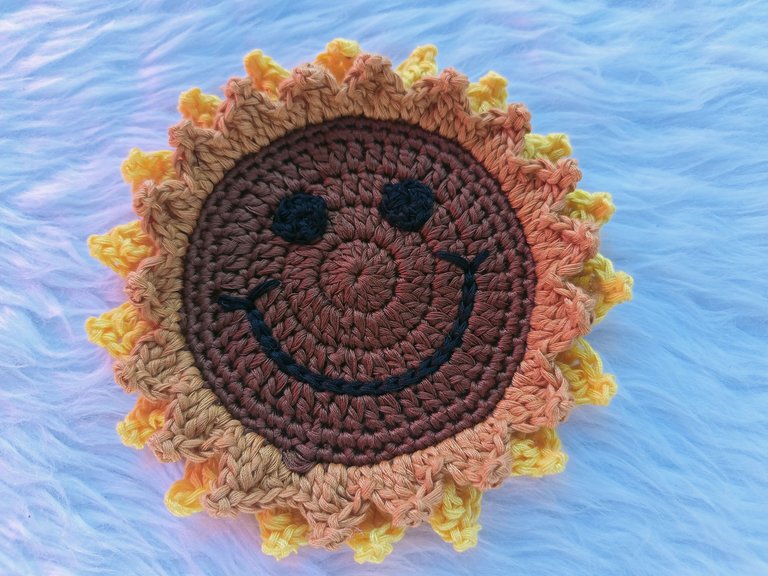 IMG20221011073529_01.jpg
And voila!😍 Now, I'm satisfied with it. But I think there's something lacking in it. I just can't figure it out what but for now, I'll be contented with what it looks like.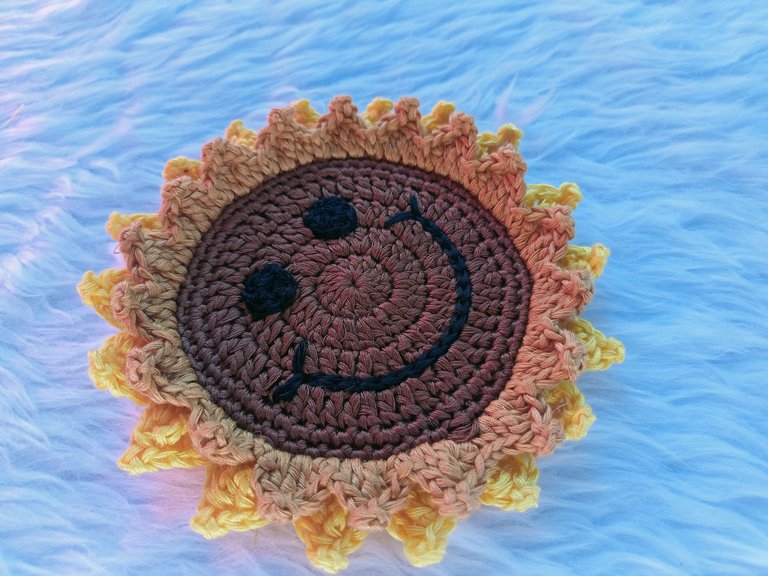 IMG20221011073537_01.jpg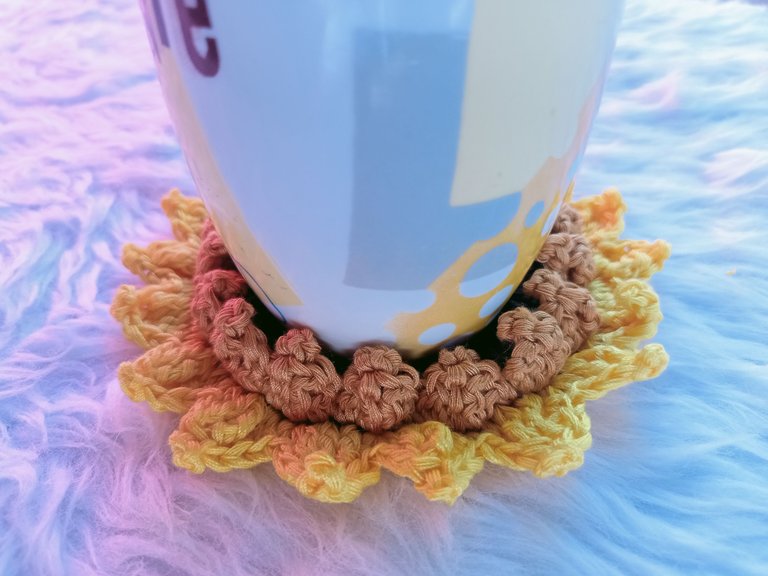 IMG20221011073718_01.jpg
So here's the final output of my crocheted sunflower coaster with a smiley. It would be nicer if I made placemats that look like this also but I don't have any time now. So here's my entry in the said contest. Hope you all like it. 🥰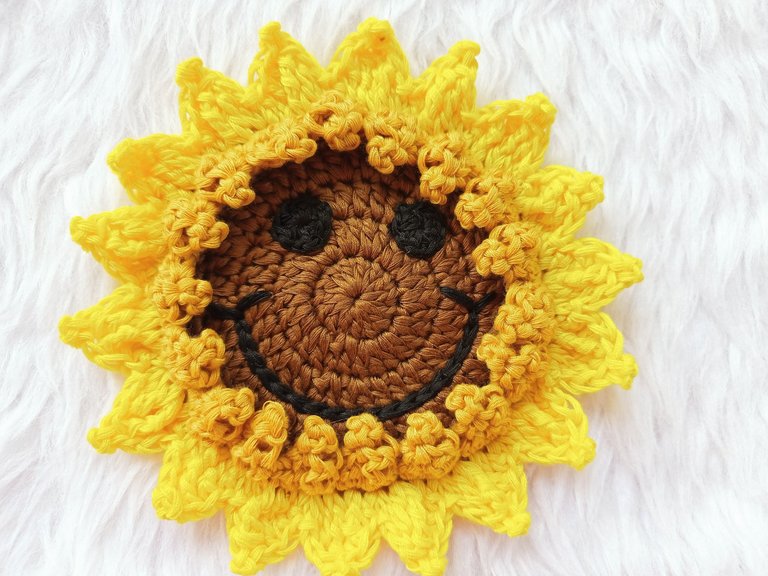 IMG20221011101909_01.jpg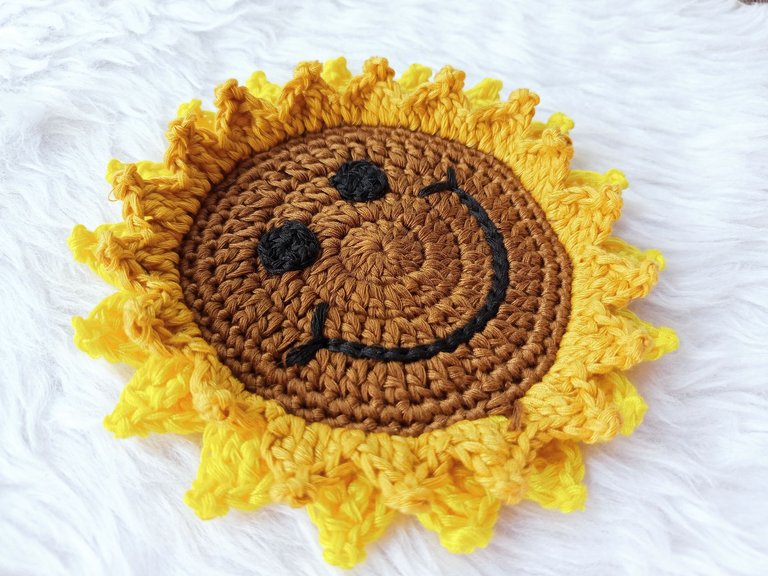 IMG20221011101938_01.jpg
For more information about the contest, just click this link: Needlework Monday Contest!
God bless everyone.
Love lots,
@jonalyn2020

Shopee
To God Be The Glory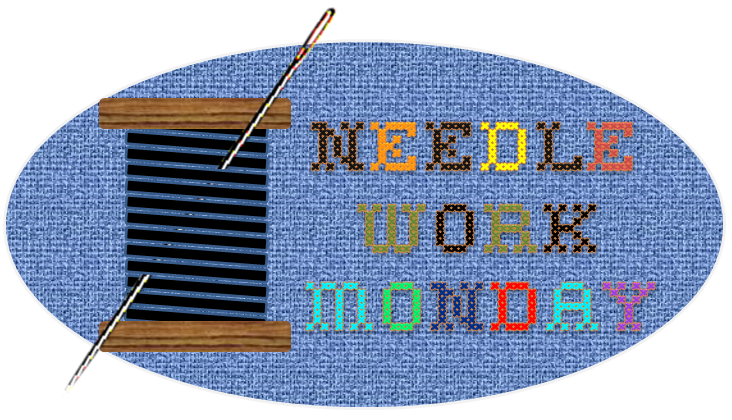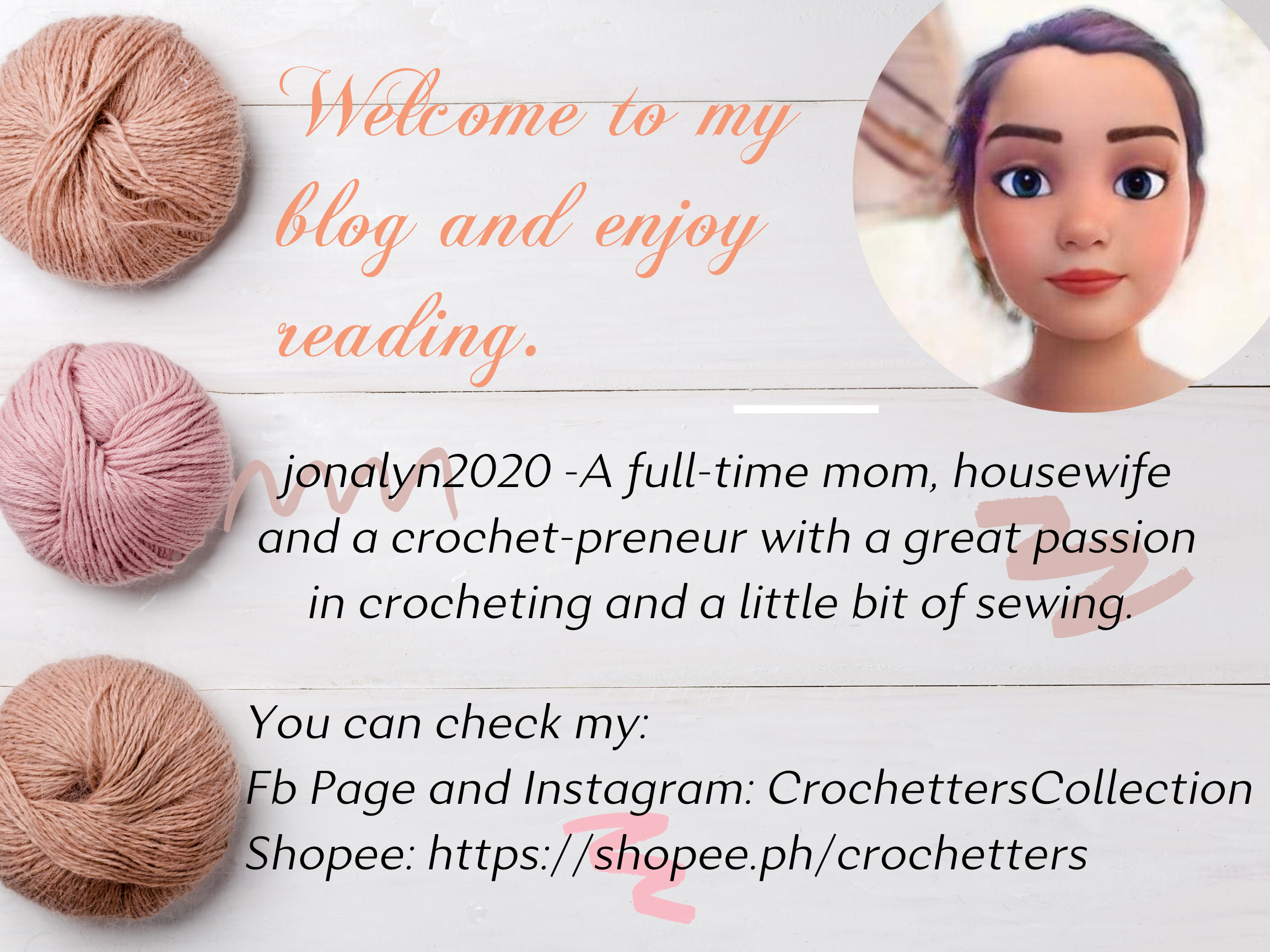 ---
---