My 50 PCs Bouquet Goal For The Year 2023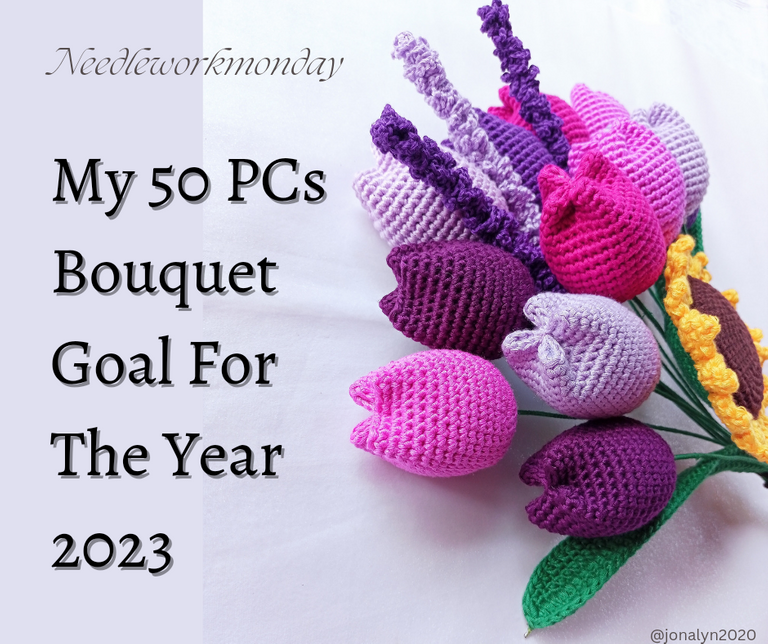 (Edited on Canva)
Part of my goal this year is to focus in making crocheted flower bouquet for my business. I already tried making of atleast 4 bouquets last year. 2 of them were given to the teachers of my 2 kids during "teacher's day", one for my mother in law during her birthday, and the other one was a commissioned project from my friend that I was able to share here.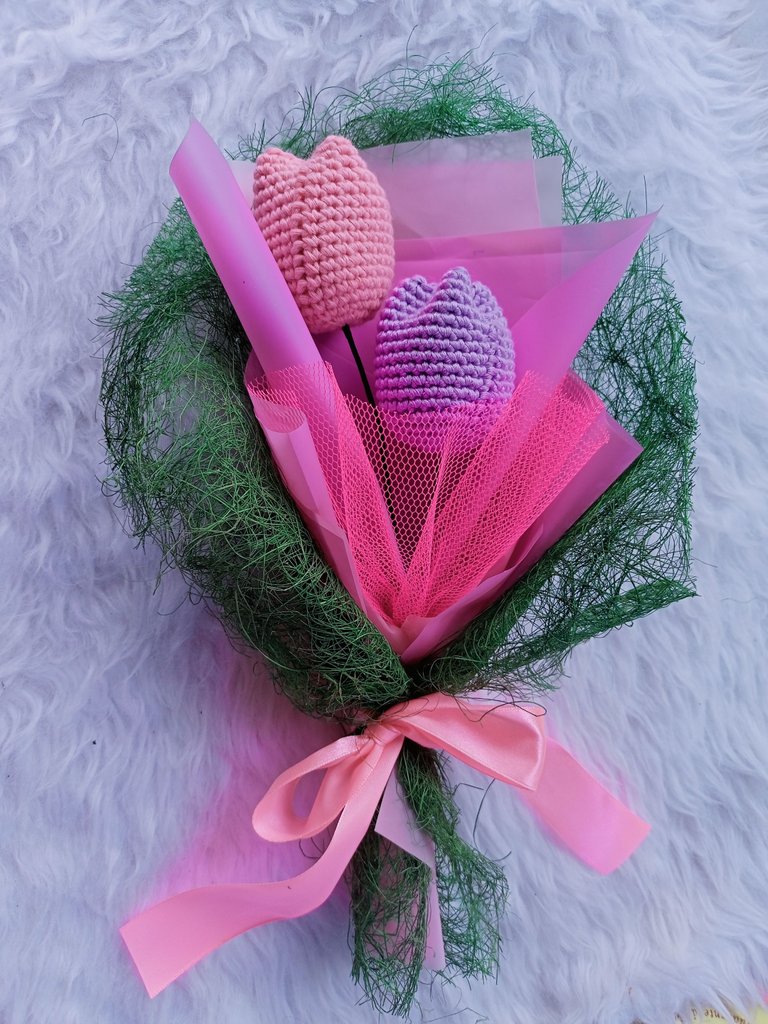 (2 of these kind were given to the teachers)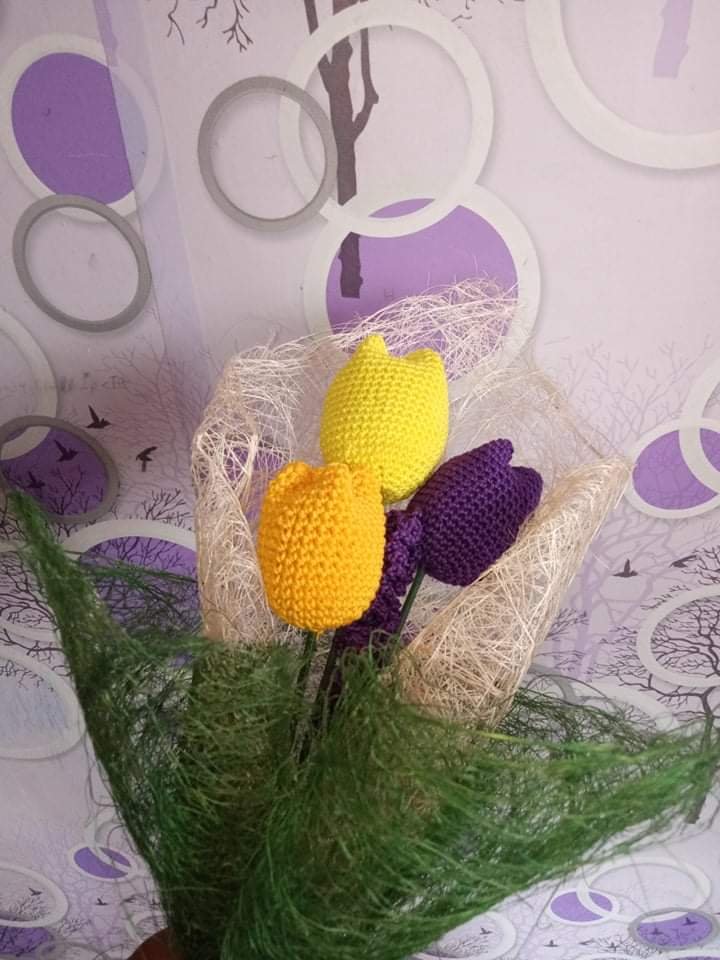 This was given to my mother-in-law.)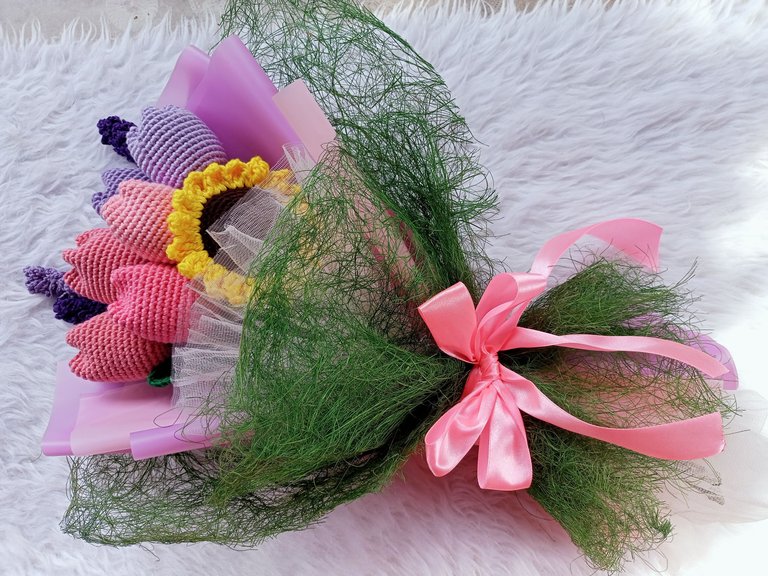 (A commissioned project for a friend.)
I did promote a crochet flower bouquet last year but those pictures were taken from the internet for inspiration only. I never tried making my own because I was too busy doing all the orders.
As I have said in my previous post on My 2023 Goals, I stated there that I want to create more and enhance my crochet skills in making crocheted flower bouquets and be able to sell flower bouquets as part of my teenage dream.
Crochet offers a wide variety of items that you can make from wearables, earrings, pouches, water bottle covers, hats, and many more. So now, for this year I'll be focusing on making crocheted flower bouquets.
Actually, it was not really a plan. I just come to realize that maybe this time I would cater to things that are new to me. Plus, a random customer had ordered a crocheted flower bouquet from my Facebook page. And I guess, it was the sign.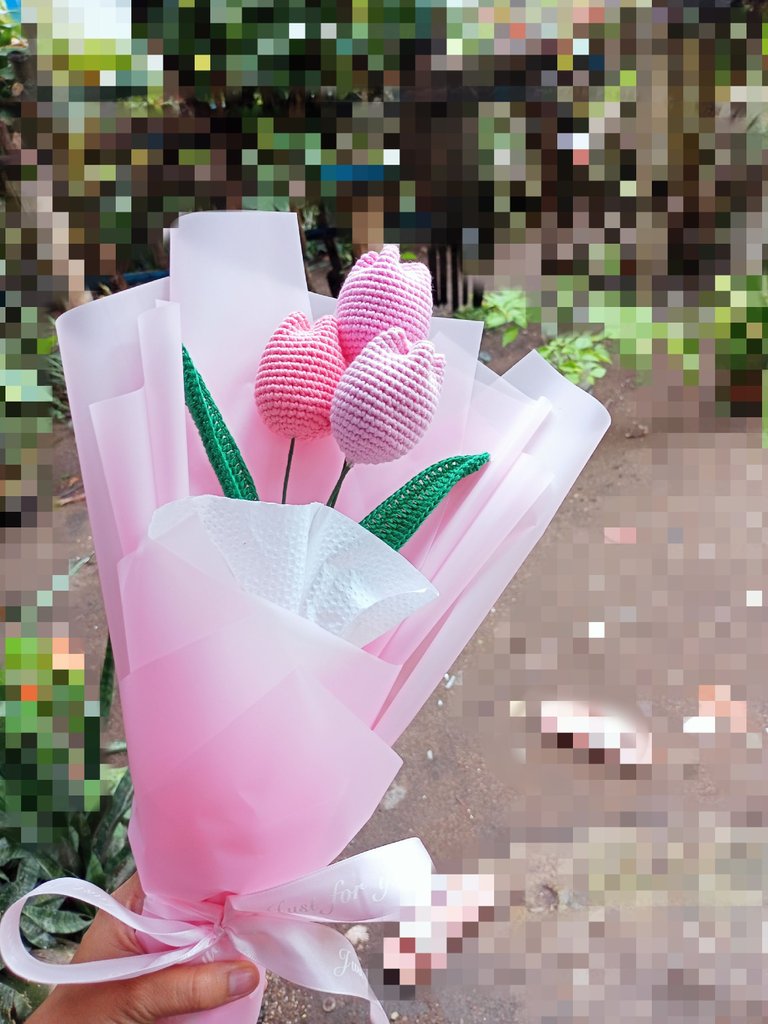 IMG_20230110_055831
This was the first crocheted flower bouquet that I made last week. I was having a hard time wrapping this bouquet as I was not used to it. I think I tried 3 times until I settled on this final look. And I was so happy with the outcome and the customer expressed his great appreciation and promised to order again in the future. I sold this one for P500.00 pesos (est. $9).
Days after I posted this photo on my social media, I received another 4 flower bouquets coming from 2 customers.
One of my customers is the husband of my sister-in-law. He ordered 12 pieces of tulips (in purple shades) and a sunflower. Later on, I decided to add 3 more lavenders for free.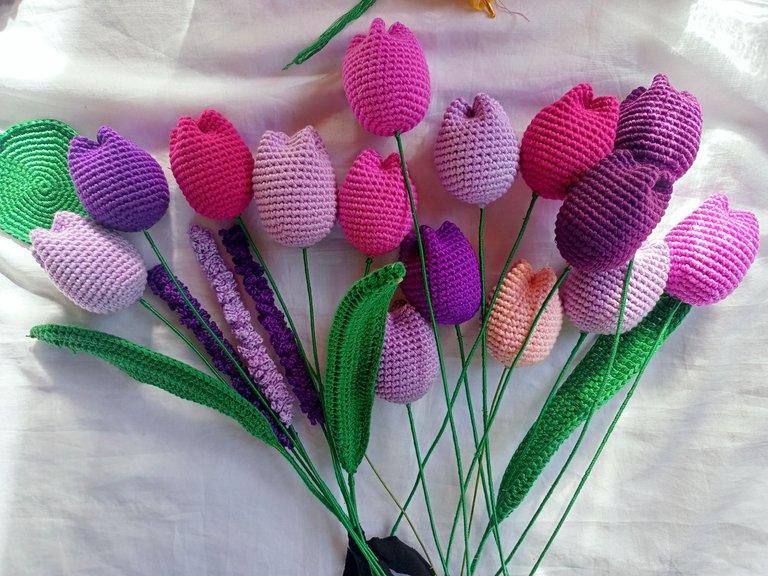 IMG20230107080658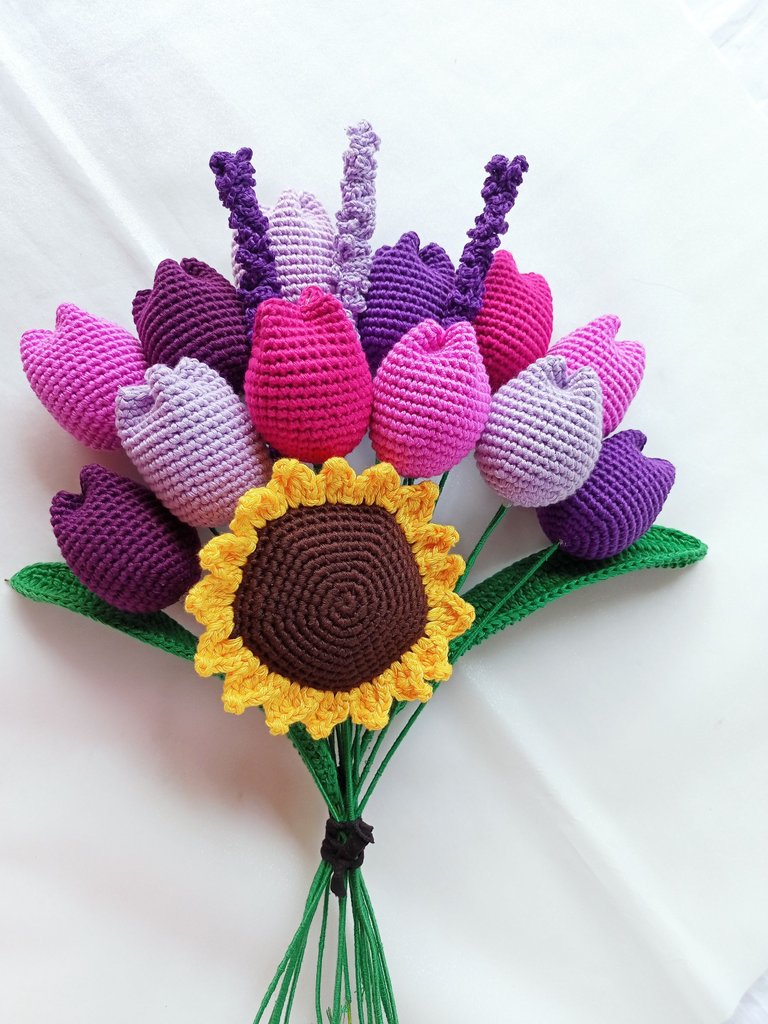 IMG20230107100936_01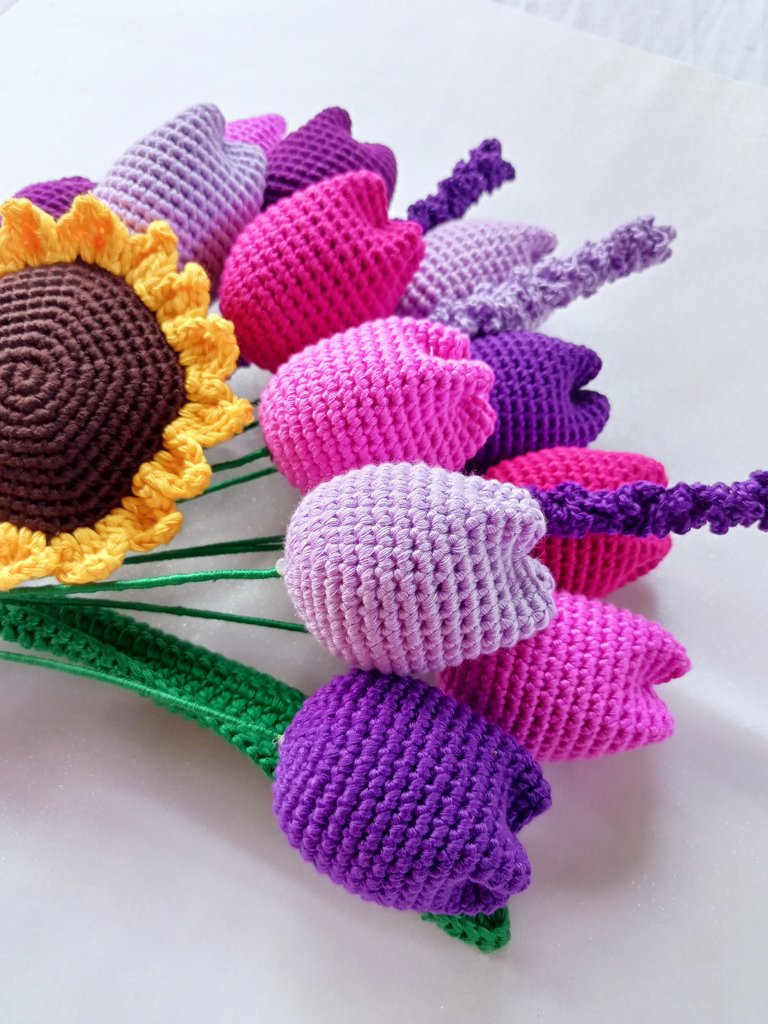 IMG20230107101015
I have no problem doing the crochet process but when it comes to wrapping the flower bouquet, it is really a great challenge for me.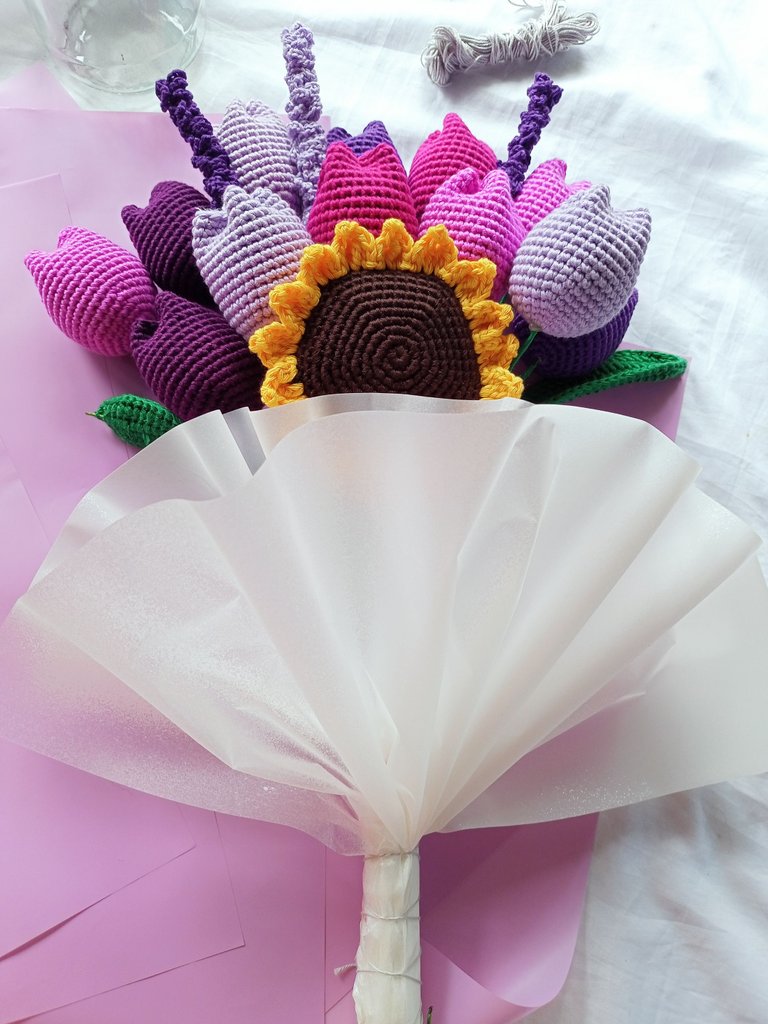 IMG20230107102625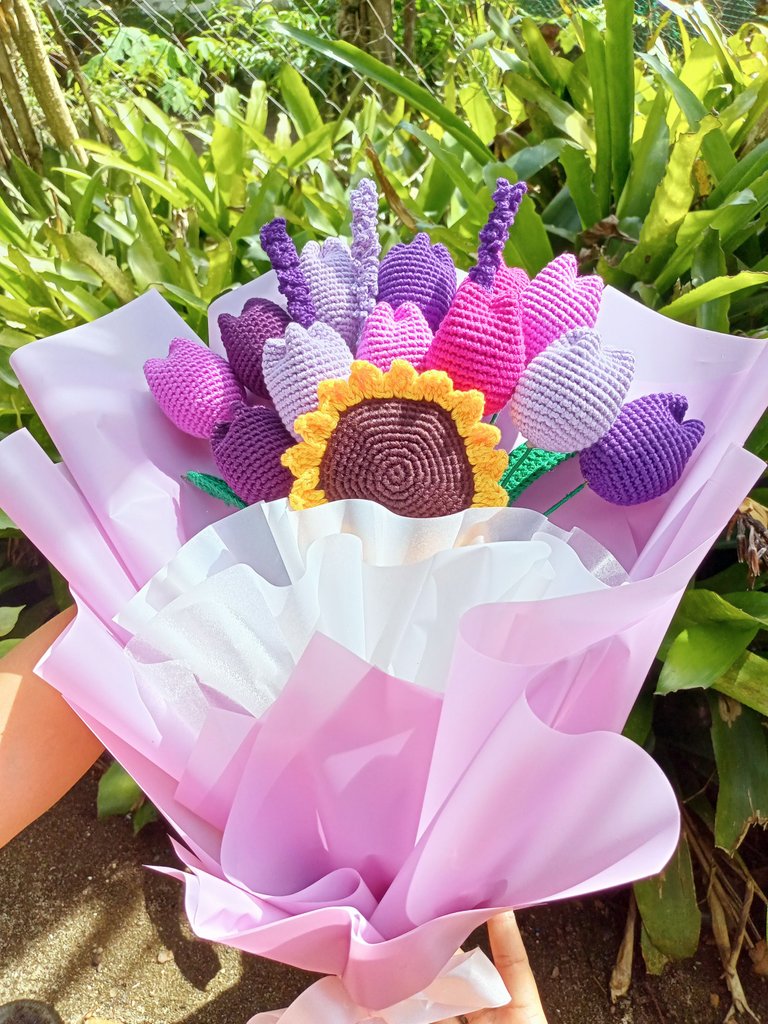 IMG20230107104945_01
This was my first attempt at wrapping this flower bouquet. It didn't look good so I decided to undo it.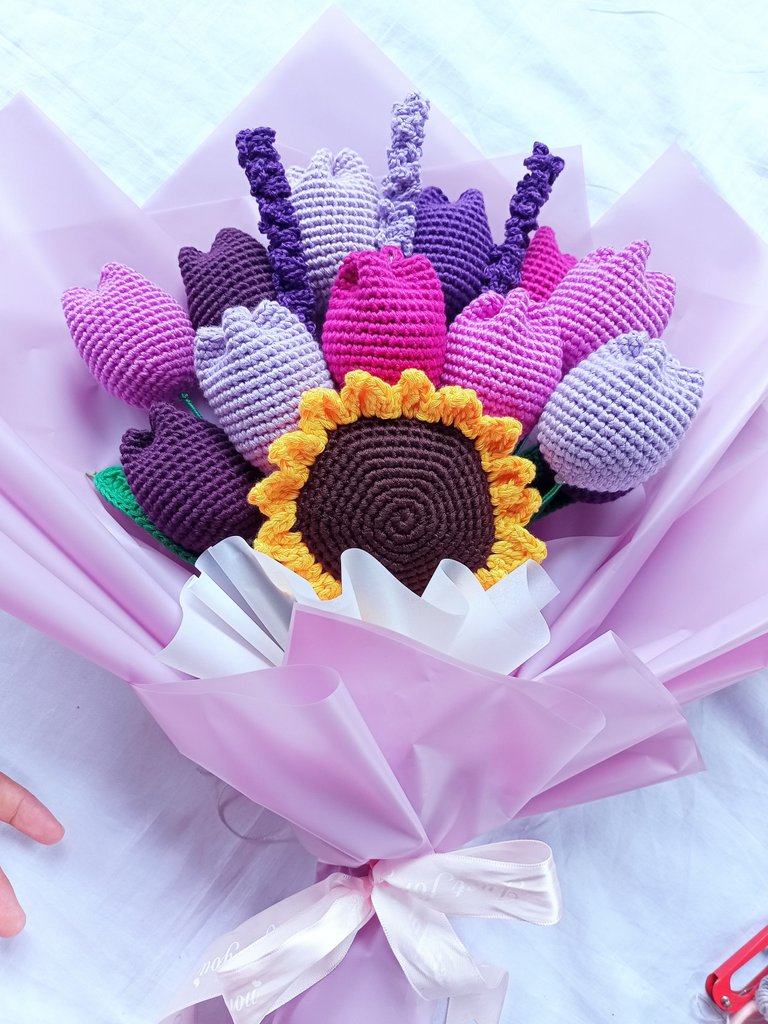 IMG20230108091651
Here, I tried to lessen the wrapper on the front area but was thinking that there was still lacking.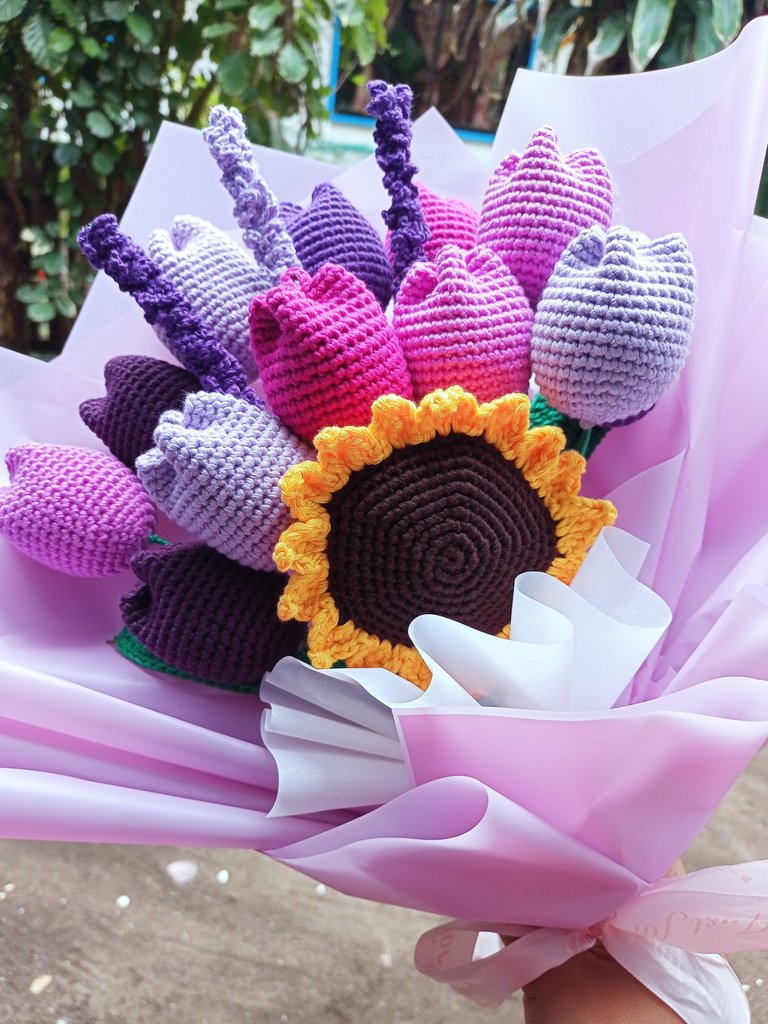 IMG20230108092238_01
Then I remembered to add a soft mesh fabric and made it a bow. Good thing that it was lavender in color which matches the wrapper and the tulips.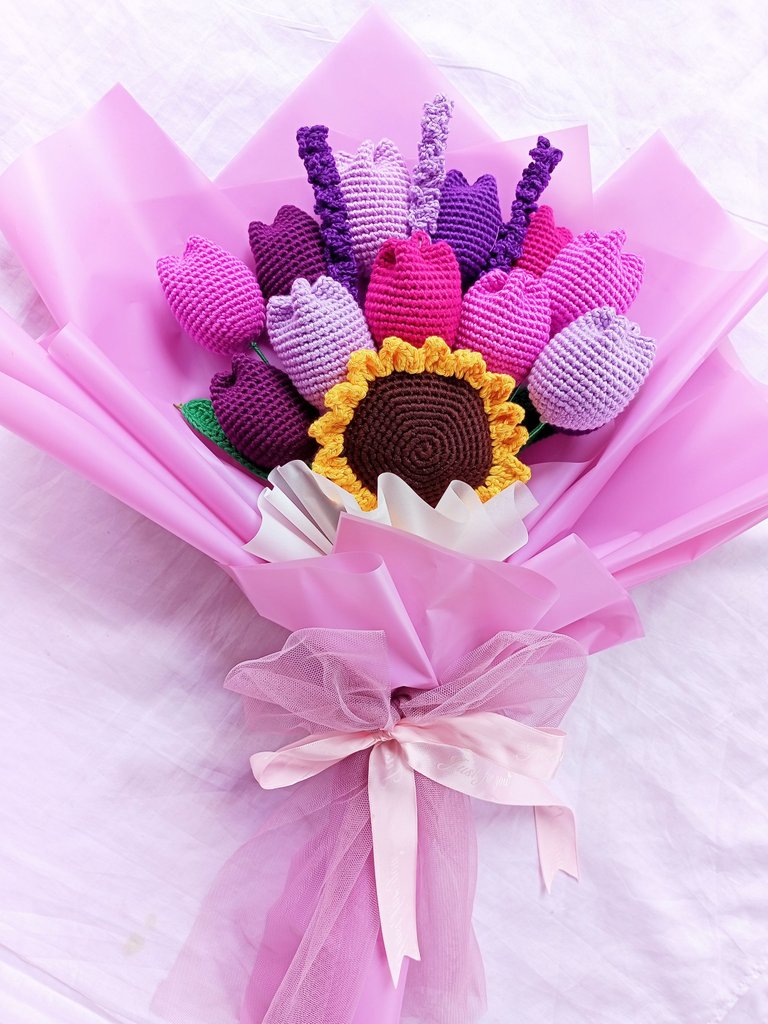 IMG20230108122724_01
I was then so happy and contented with the outcome. It looks so beautiful, isn't it?
I charged it for P2000.00 pesos (est. $37).
That time, I decided that I have to set my goal of making 50 pieces of bouquets for this year 2023. I already made one last week, this one is the 2nd, and the 3rd, 4th, and 5th will be next in line.
As of now, I received another 3 flower bouquet reservations for valentines day and I'm planning on making some extra bouquets on hand.
Note: If you're planning to make these kinds of flower bouquets, and sell them on Valentine's day, make sure to practice now. Be sure to post your best flower bouquet online and don't settle for a blurry one. First impressions last. 😘
God bless everyone.
Yours truly,
@jonalyn2020
😘😘😘




Kung nagustuhan mo ang aking sinulat ngayon, pakipusuan mo naman. 😍😉

For orders, please message me.
To God Be The Glory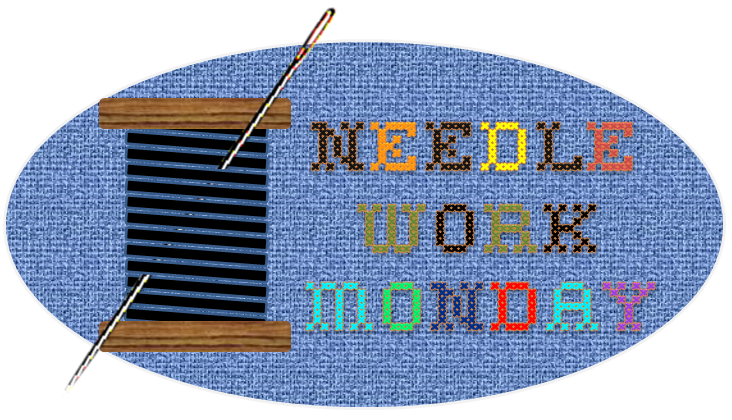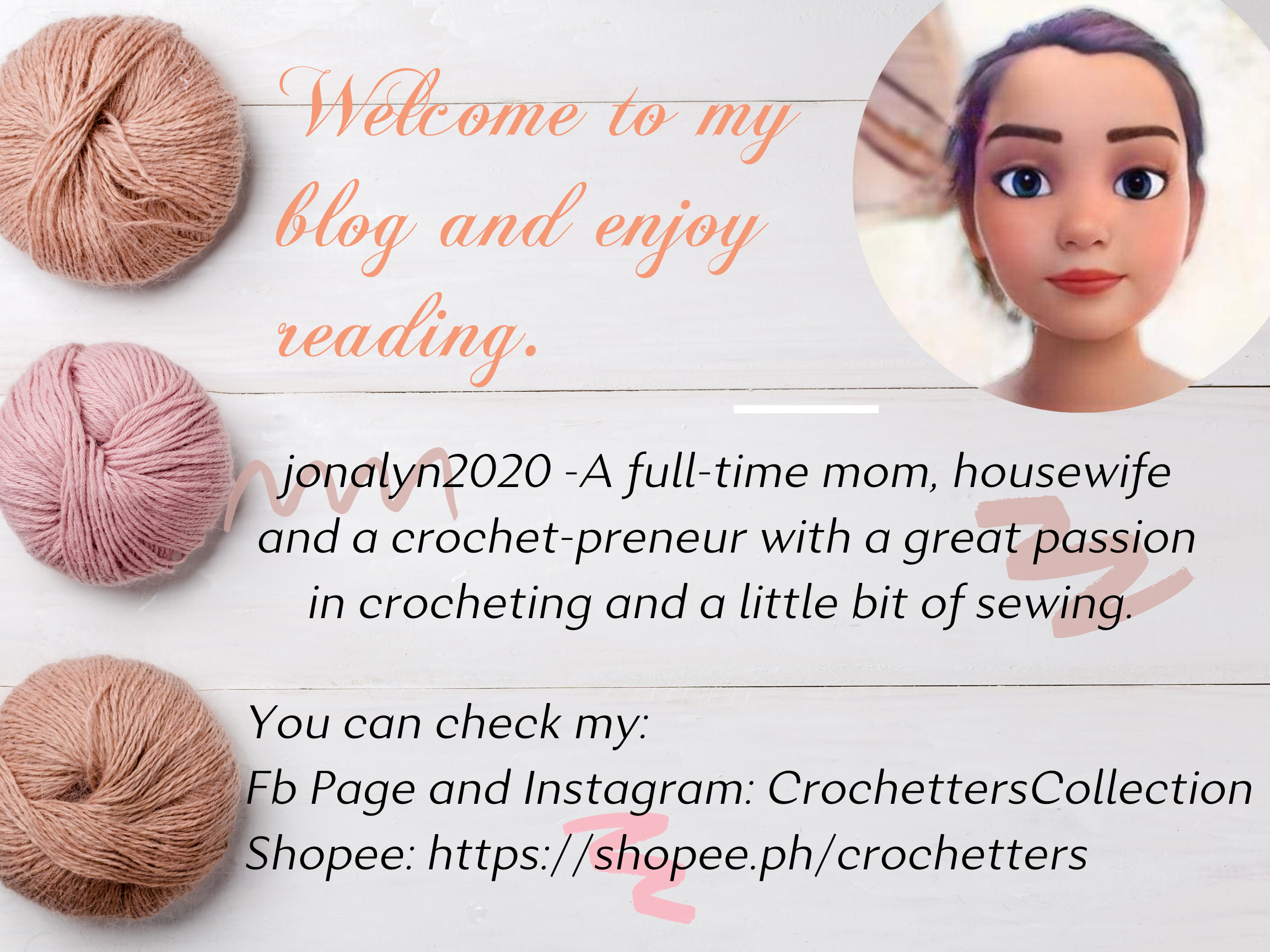 ---
---