CONSTRUCTION AND DESTRUCTION ON THE HOMESTEAD

STONE PALACE-HERE WE COME
I'll start off with the construction aspects going on down at the farm as they are much more exciting then the destruction event that took place.
If you saw my most recent affirmation post you'll know I was hoping to be able to start on the prep for the stone house next year. But being the busy beavers we are, we actually got ahead of the schedule for once.🎉🎊😁 This last weekend we began preparing for the building of our stone house. We cleared and leveled a road to where the homesite will be. We will first use it this fall for getting materials back to build the concrete dam at the spring. Speaking of that, I have pictures for you all of the clay liner being done.😁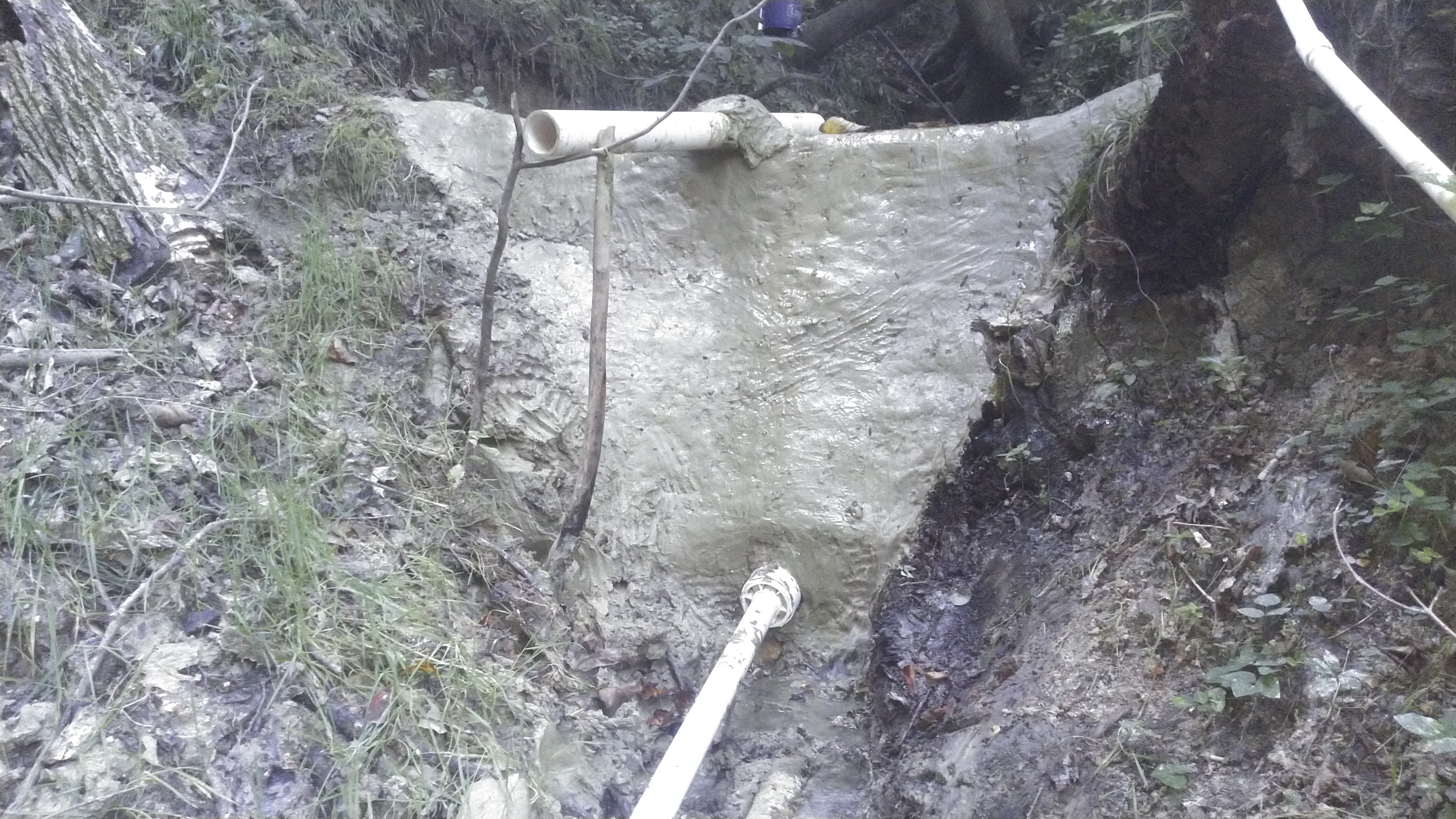 *A noble beginning.
---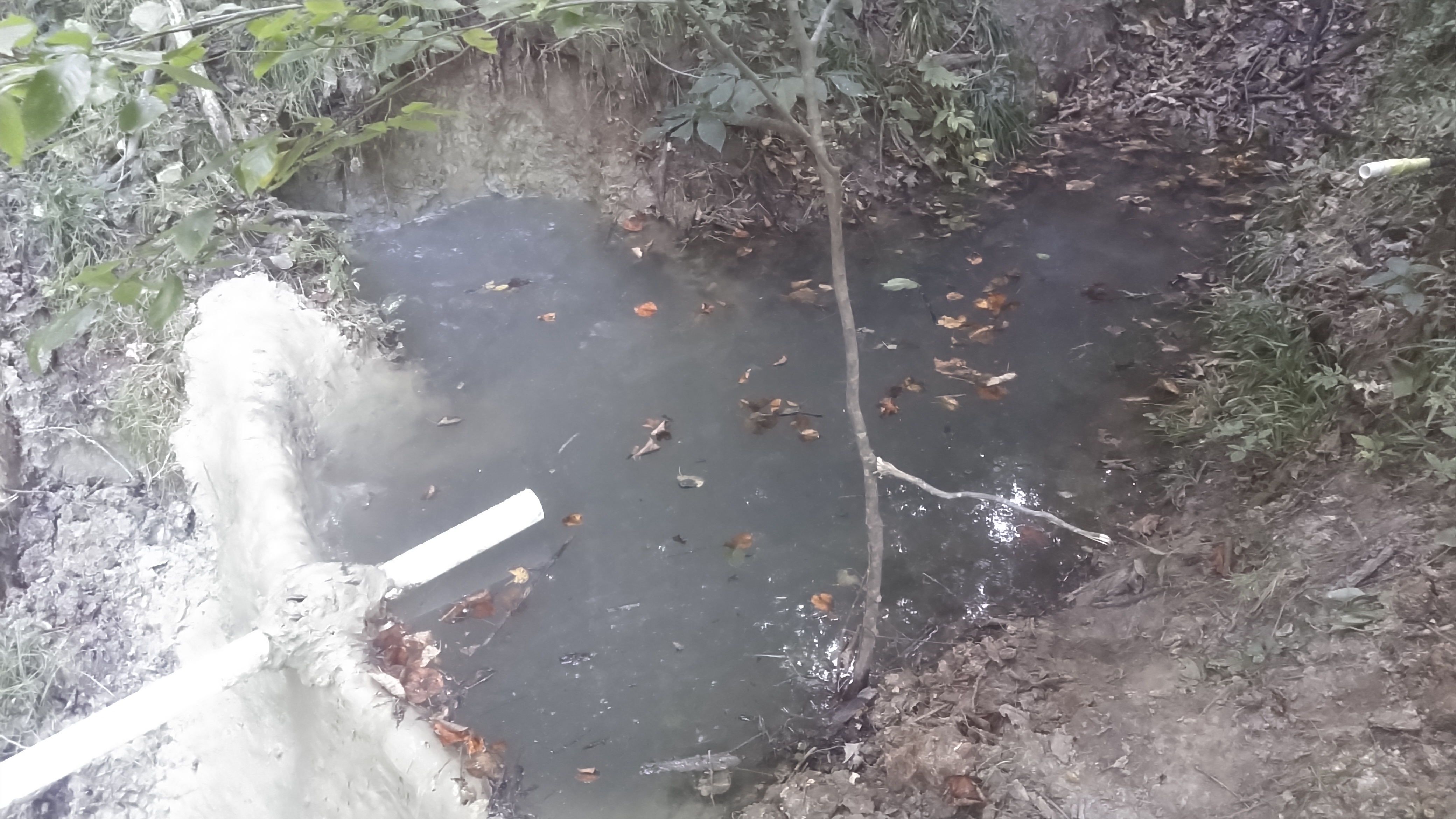 *The heart shape pool I dug. Still needs more refining.
So in the coming weeks the dam should be finished and I will begin clearing our homesite of trees and underbrush in preparation to begin leveling the terrain.
These are some photos of the work we completed using the Bobcat over the weekend.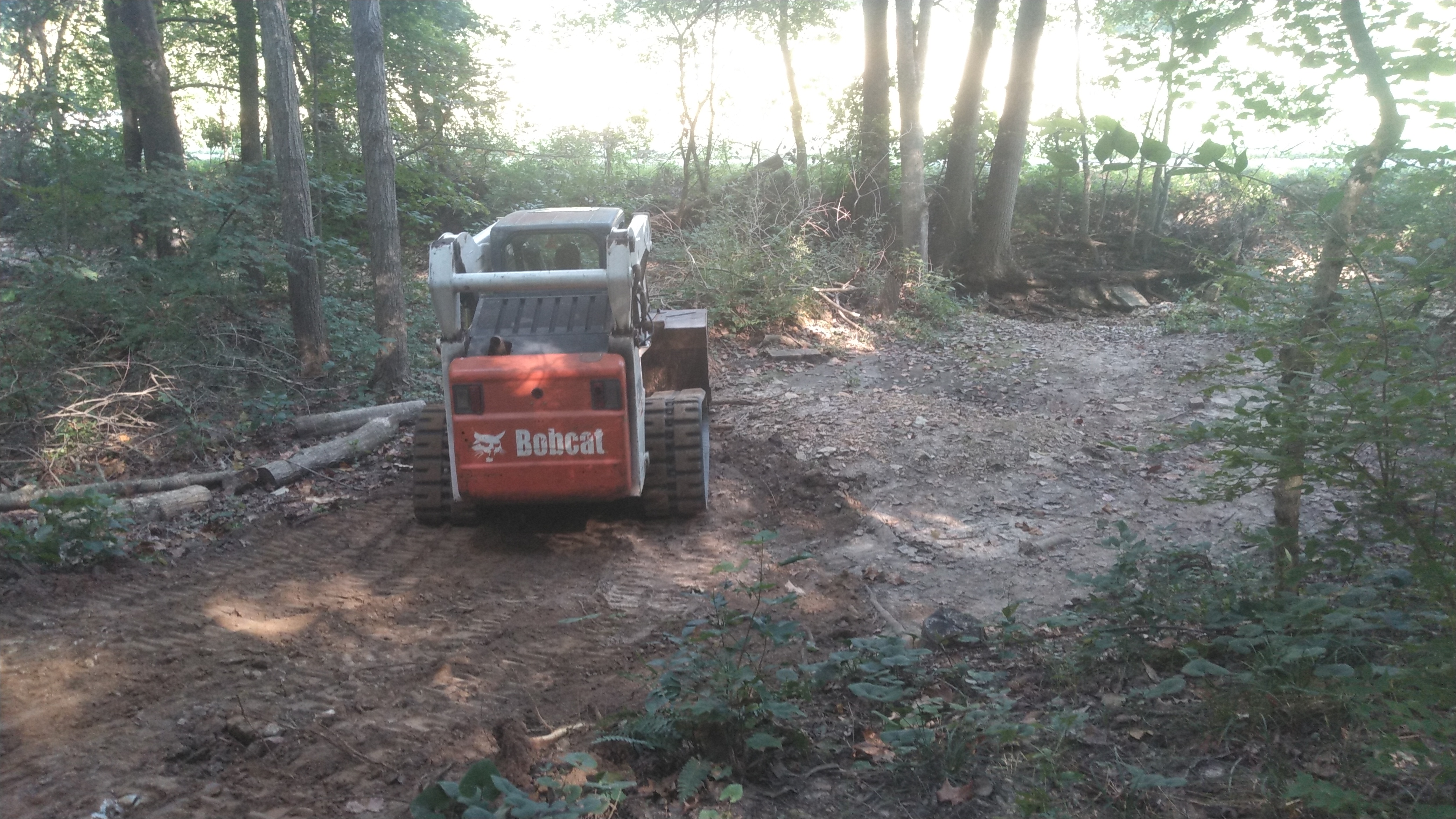 *First we flattened out the first part of the path just past the creek.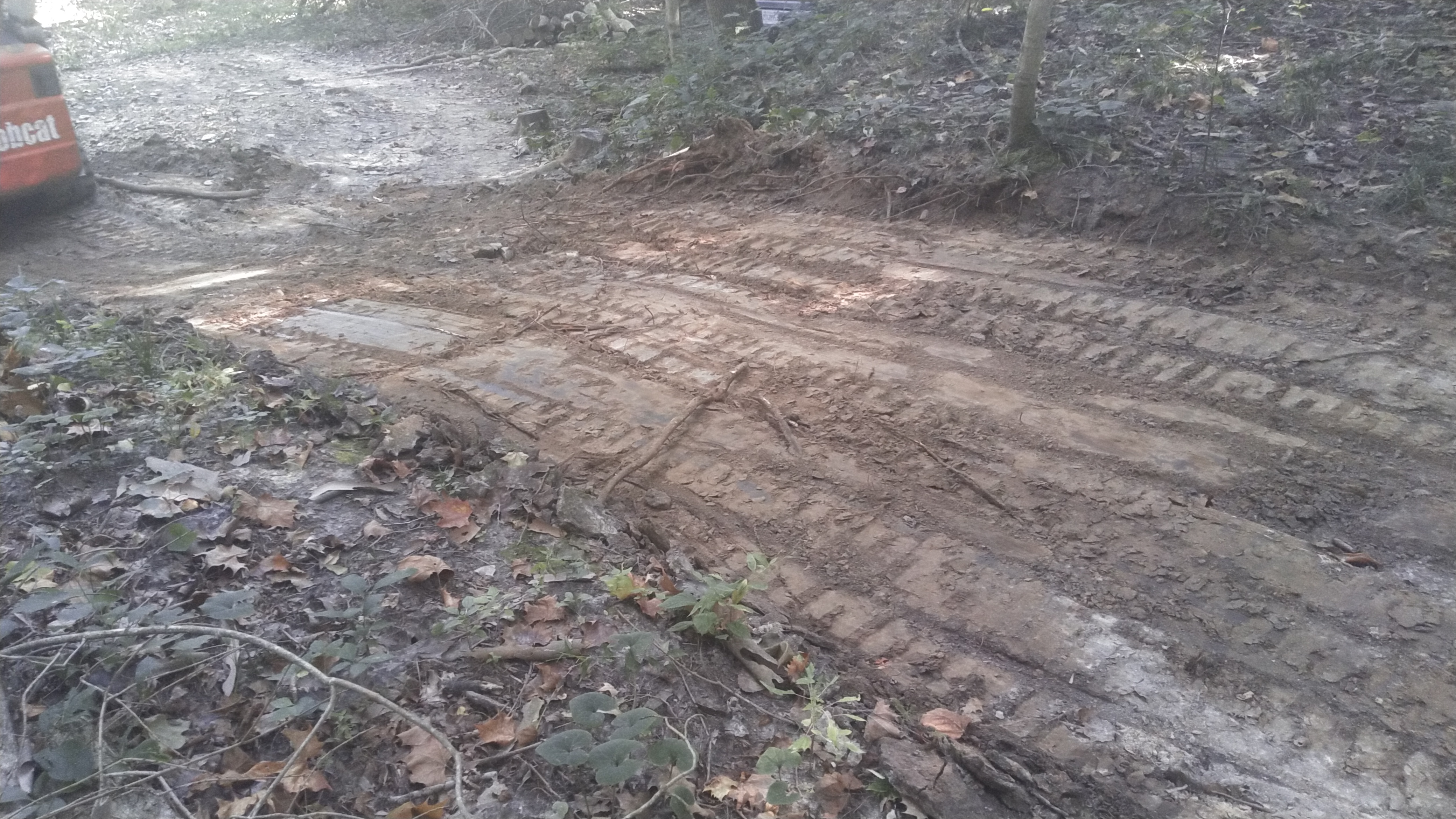 *Nice and smooth.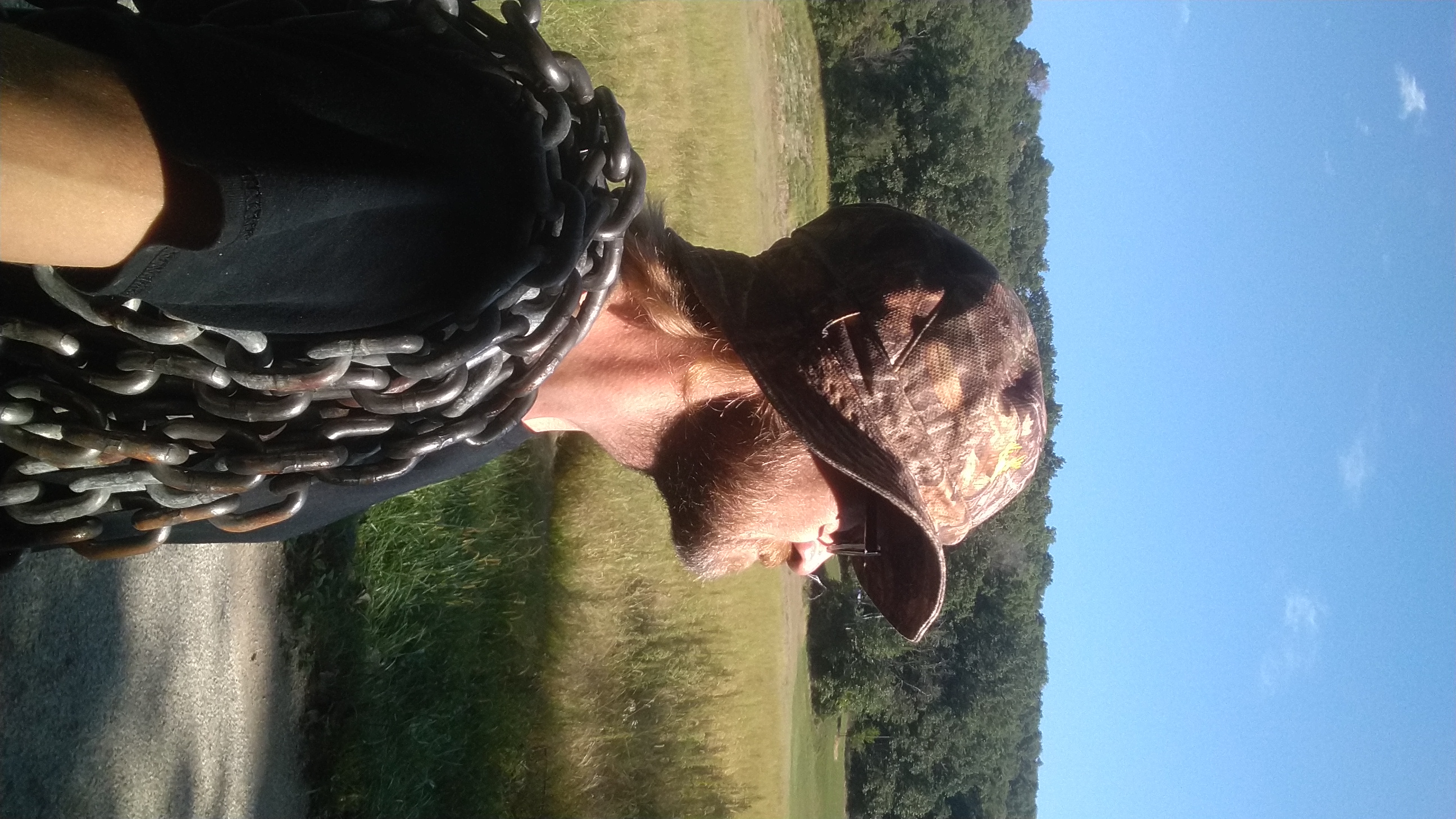 *EEEEK!!!! A WILD FOREST OGRE!!!😂😂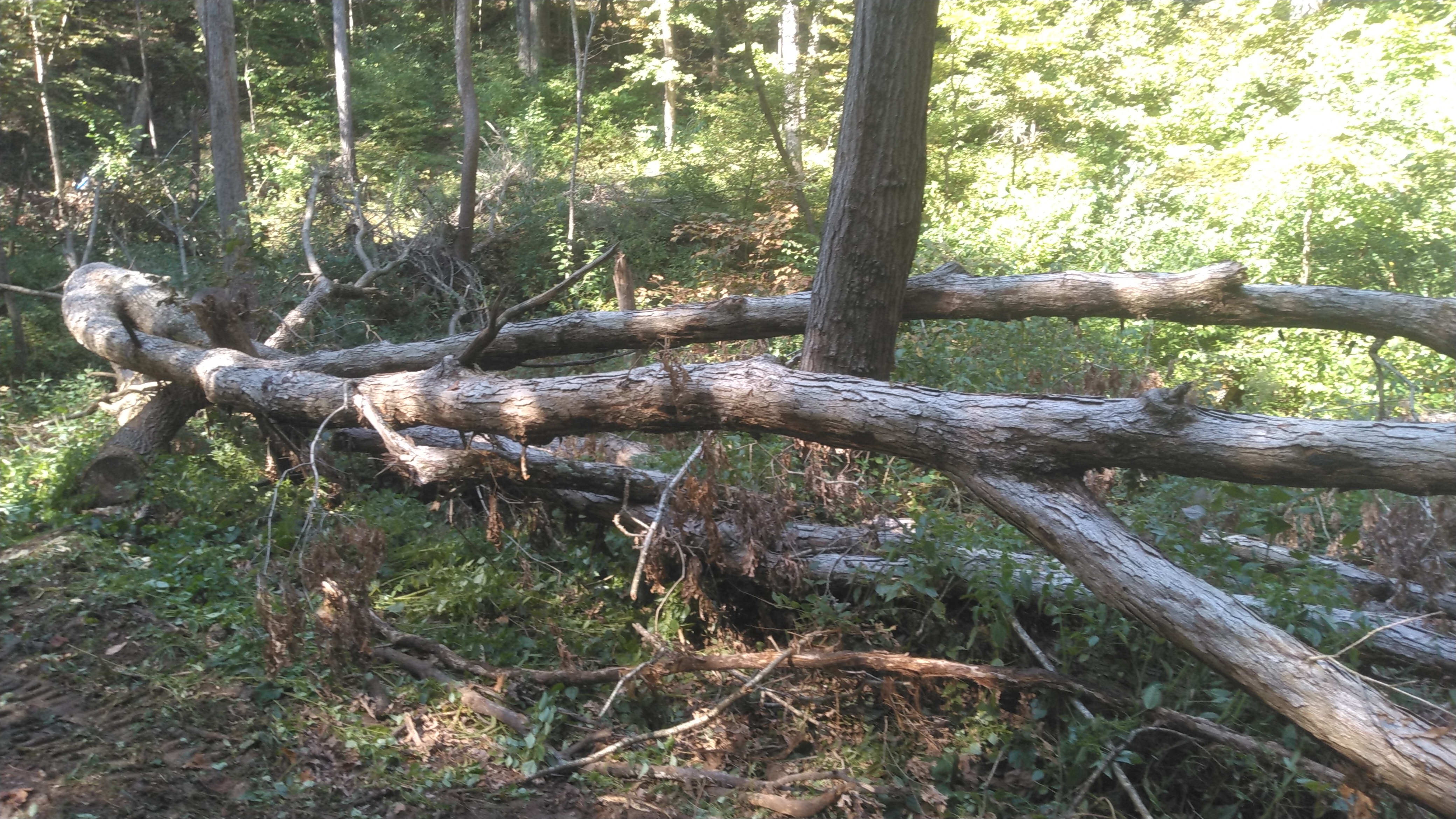 *Tree in the way?....not after this day!!!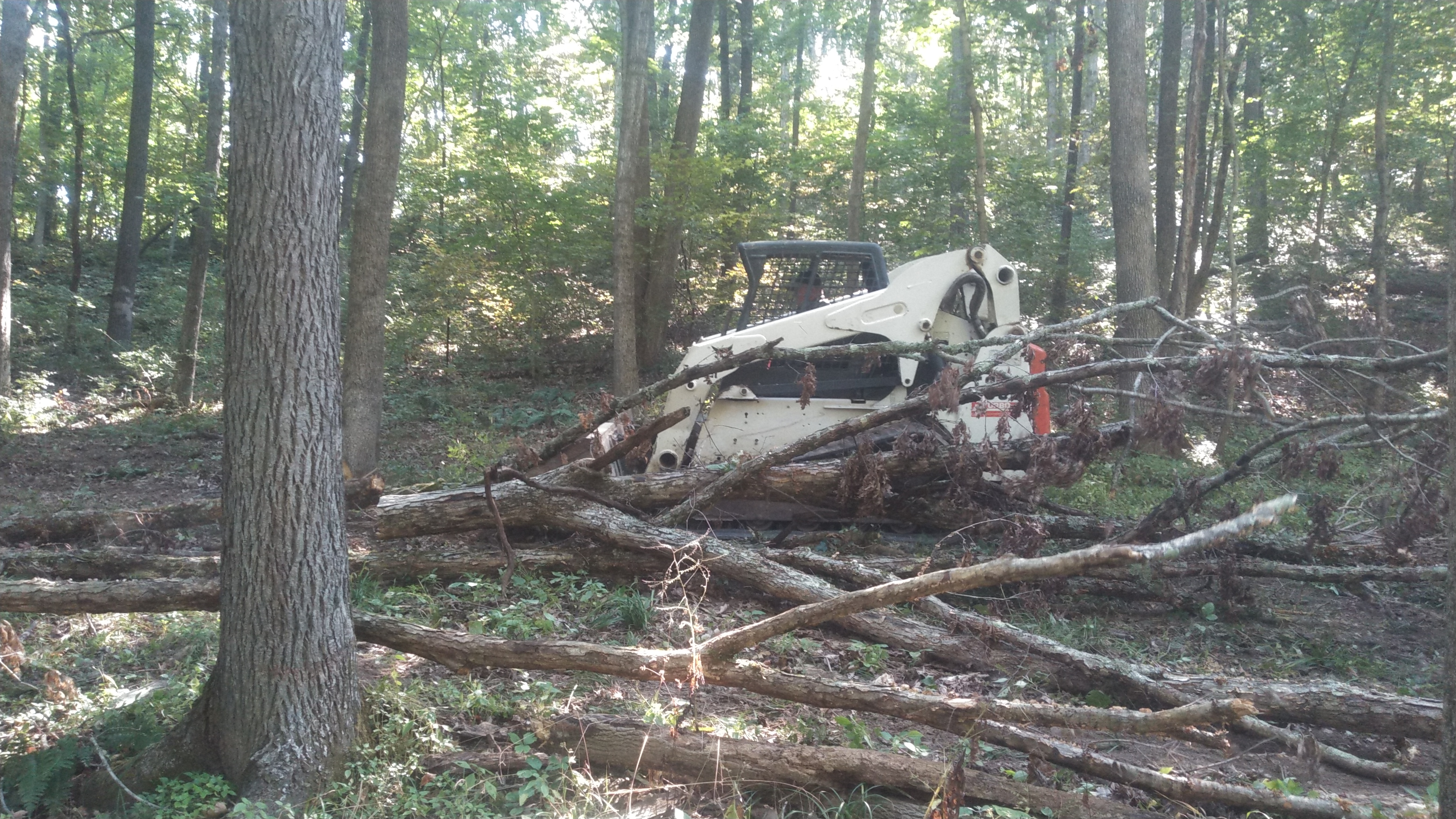 *It would have taken two months to accomplish as much work as we got done in one day with a machine!💪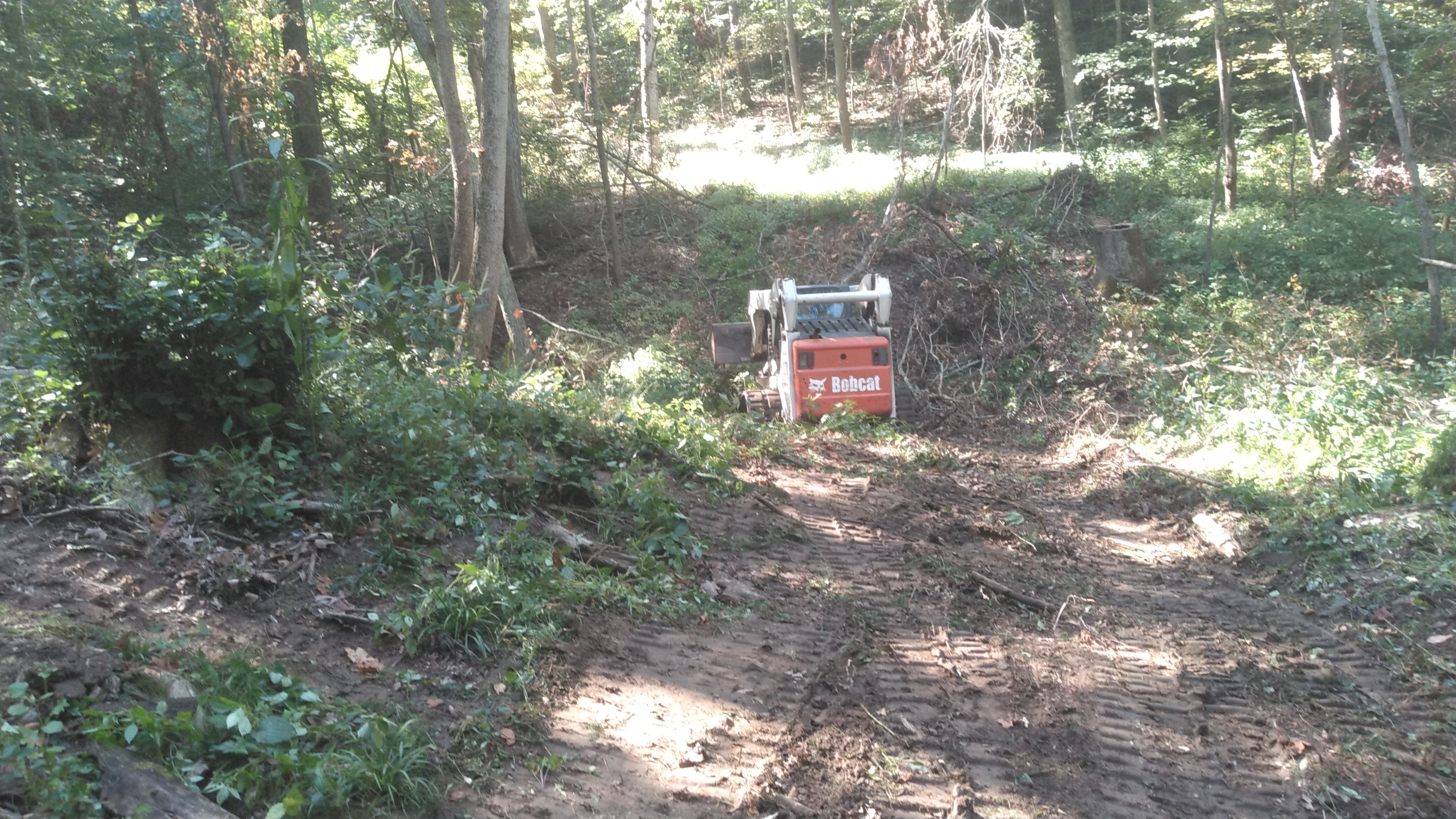 *The path mostly cleared. This will be part of the driveway to the Stonehouse in the future.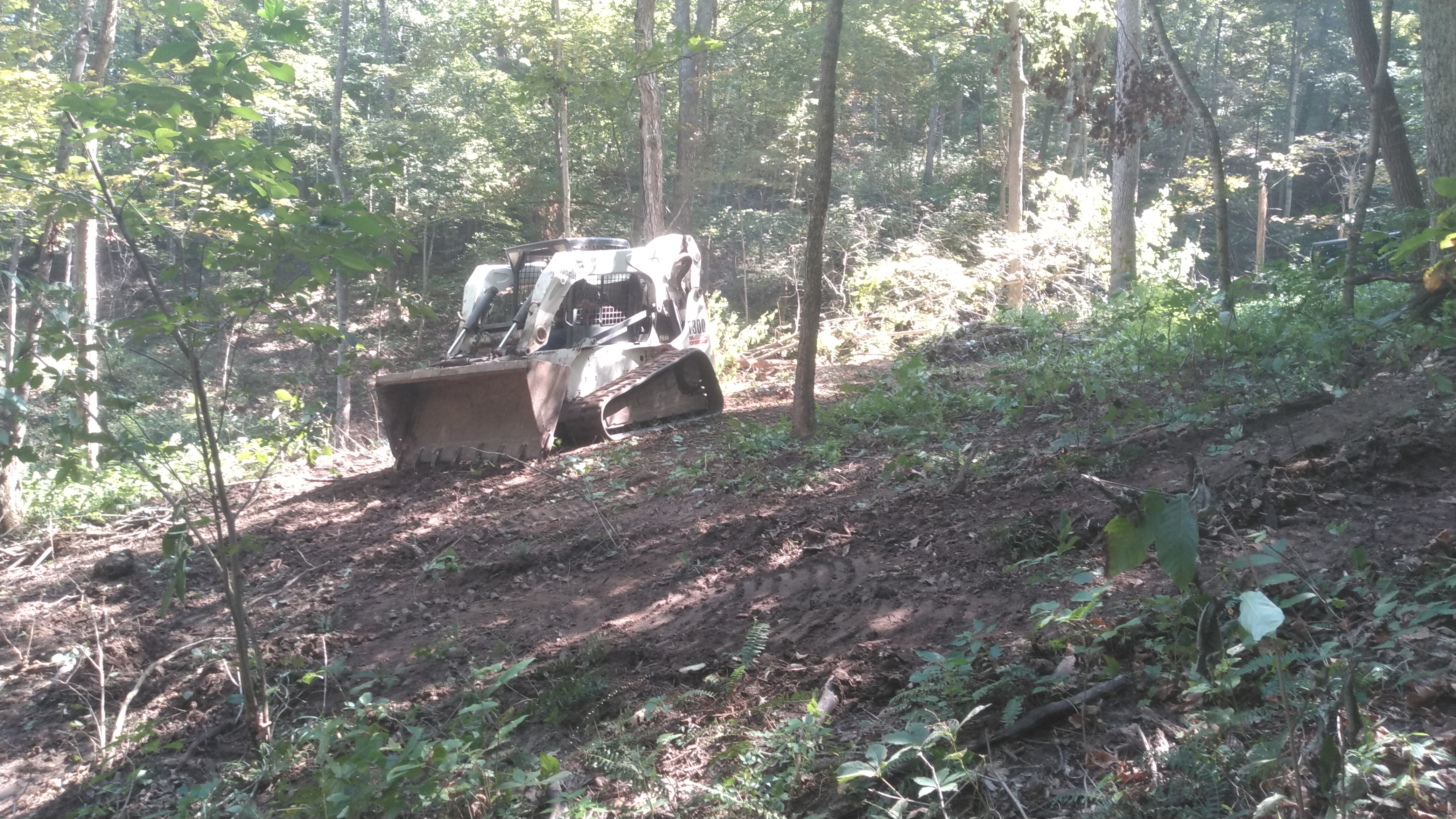 *This section being cleared will be the front yard...for now, it is the staging area where we will store dry goods for building the dam and the Stonehouse.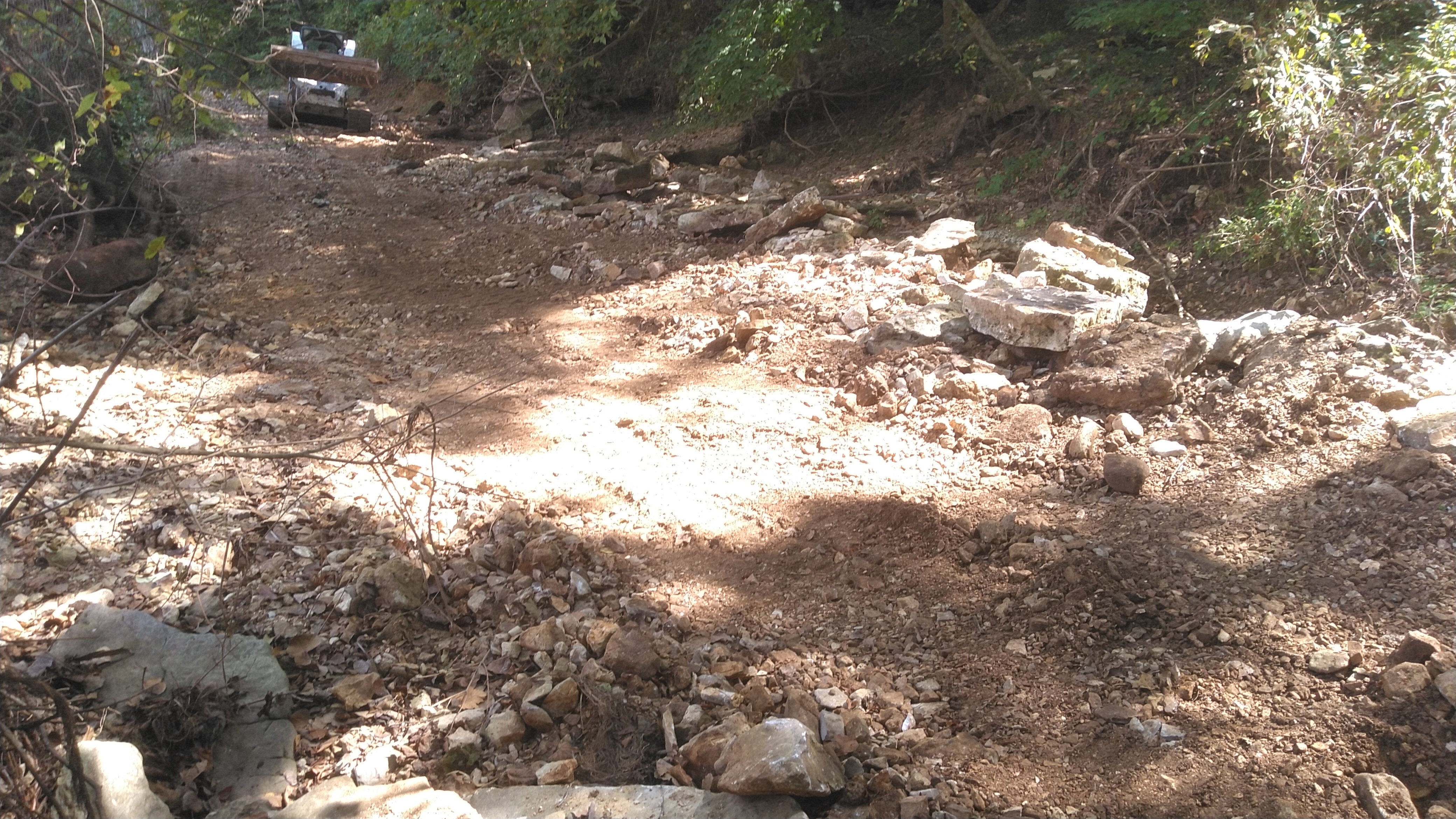 *Fixing the creek crossover. After a 4" rain came down in 20 minutes we had a major washout 3 feet wide by 3 feet deep, 12 feet long.

*We moved a bunch of large stones to one side to protect the ramp we built coming out of the creek bed.

*Smooth as can be. And I've already drove it a few times in the little Ranger truck...it really is nice.
CABIN CONSTRUCTION
Lumber prices have come back down to the level I said I would start buying at again so work has resumed on the cabin. I'm putting up our wood sheathing on the inside walls. Once I get it all up, I'll be applying polyurethane to make it even prettier.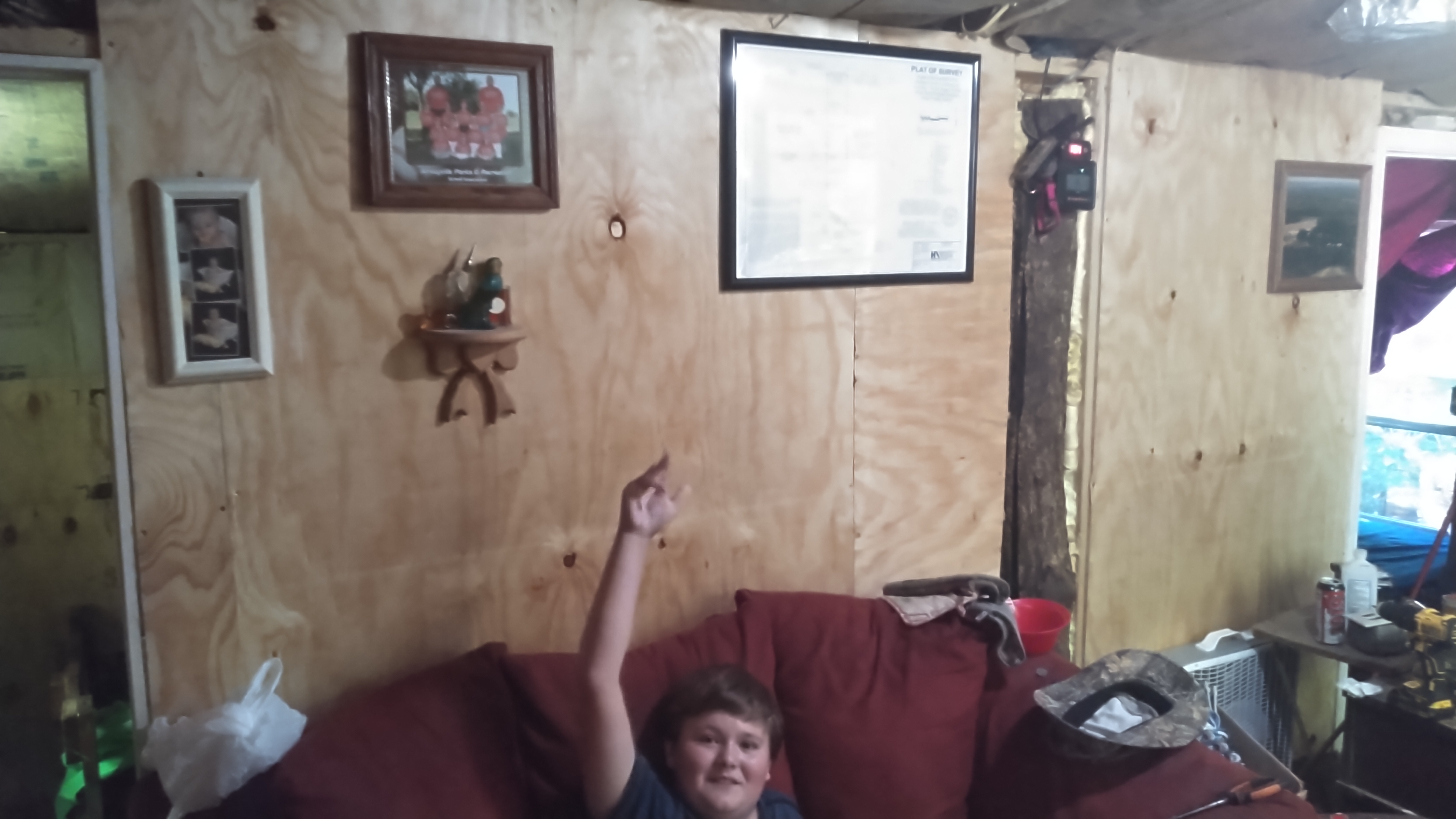 *Living room wall is looking good... excuse the mess, everything gets pushed from one side of the room to the other as I work.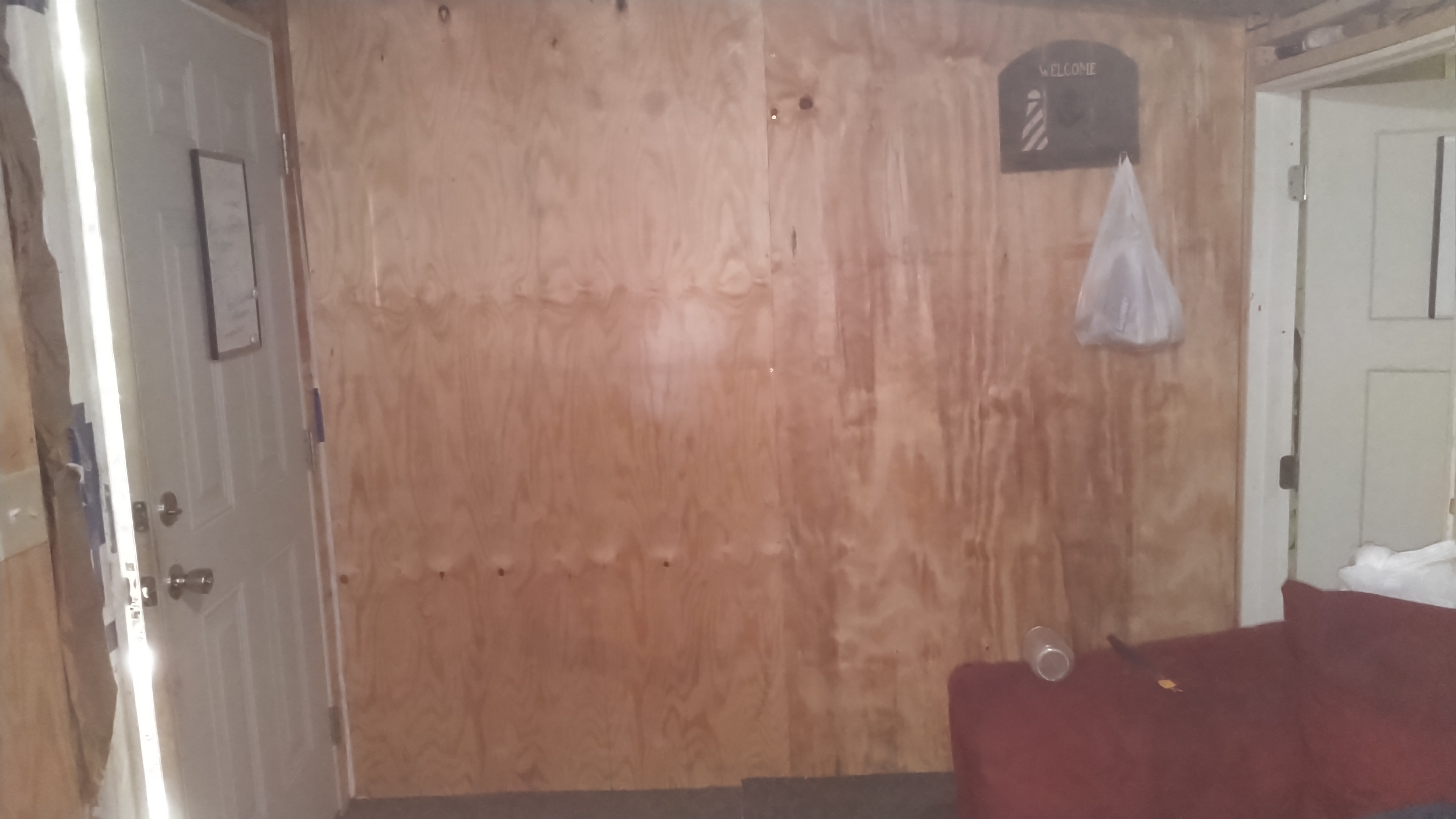 ---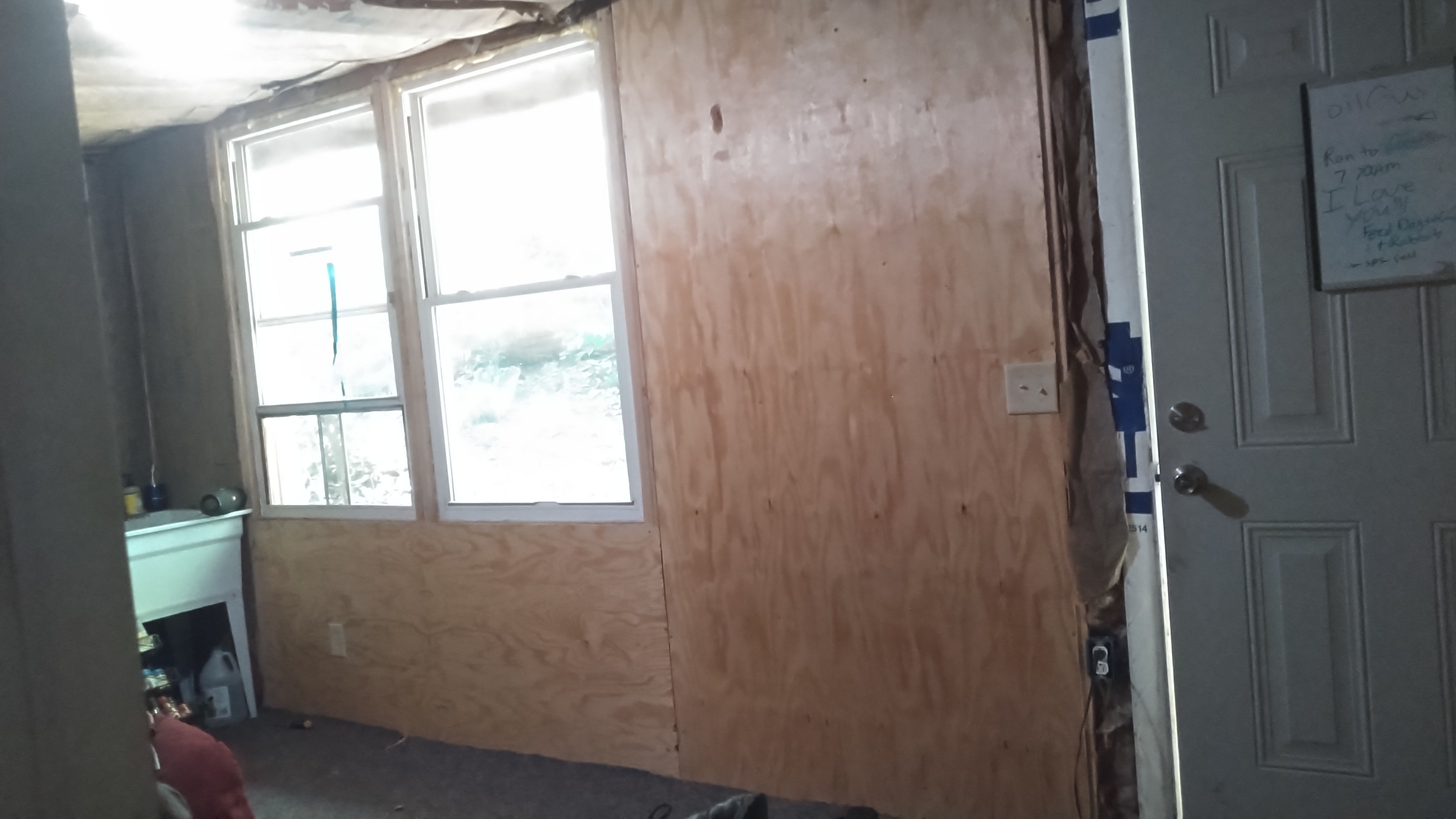 *Just missing a few coats of some shiny polyurethane.
I also was able to get two sheets onto the ceiling as well, but forgot to take pictures.😂🤣🤦
DESTRUCTION TIME!!!!😱😱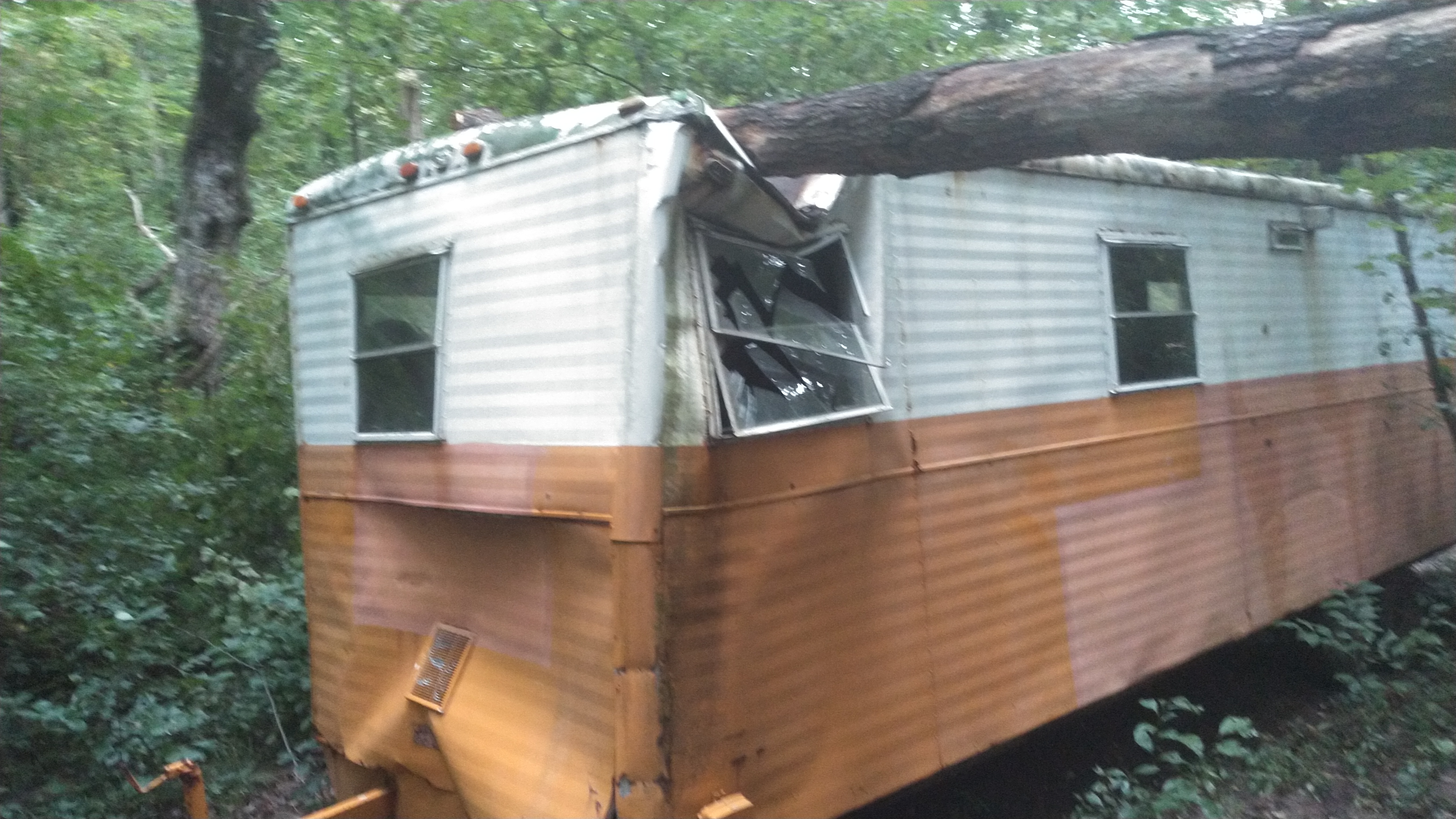 We recently received quite a storm and the universe decided it would an awesome time to test the strength of our storage trailer. It did pretty well I think. This was an oak branch that was about 35 feet (11.5 meters) long and probably weighed 3,000 pounds(1360 kilograms). The fact it didn't cut the poor thing in half is amazing to me!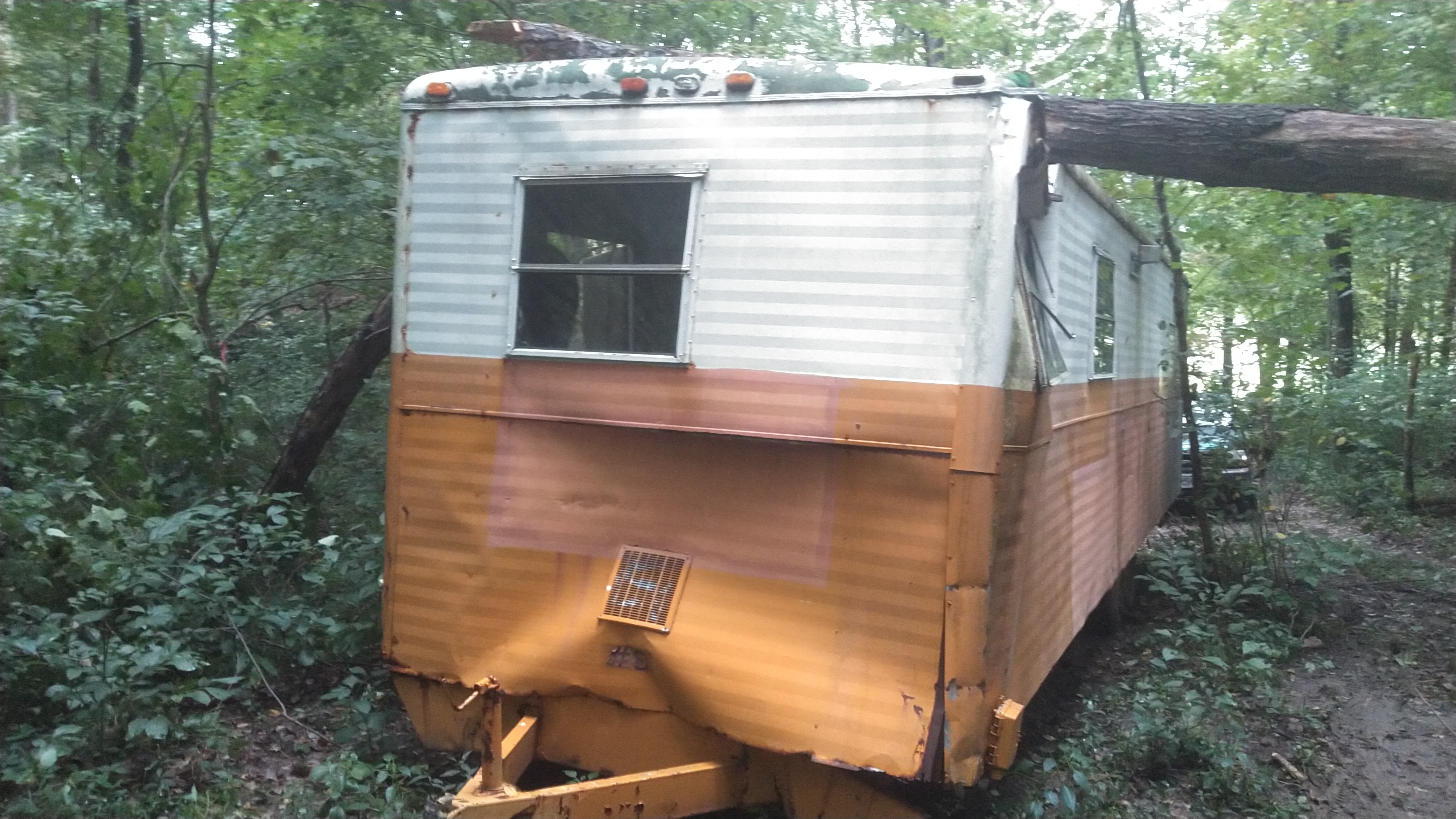 ---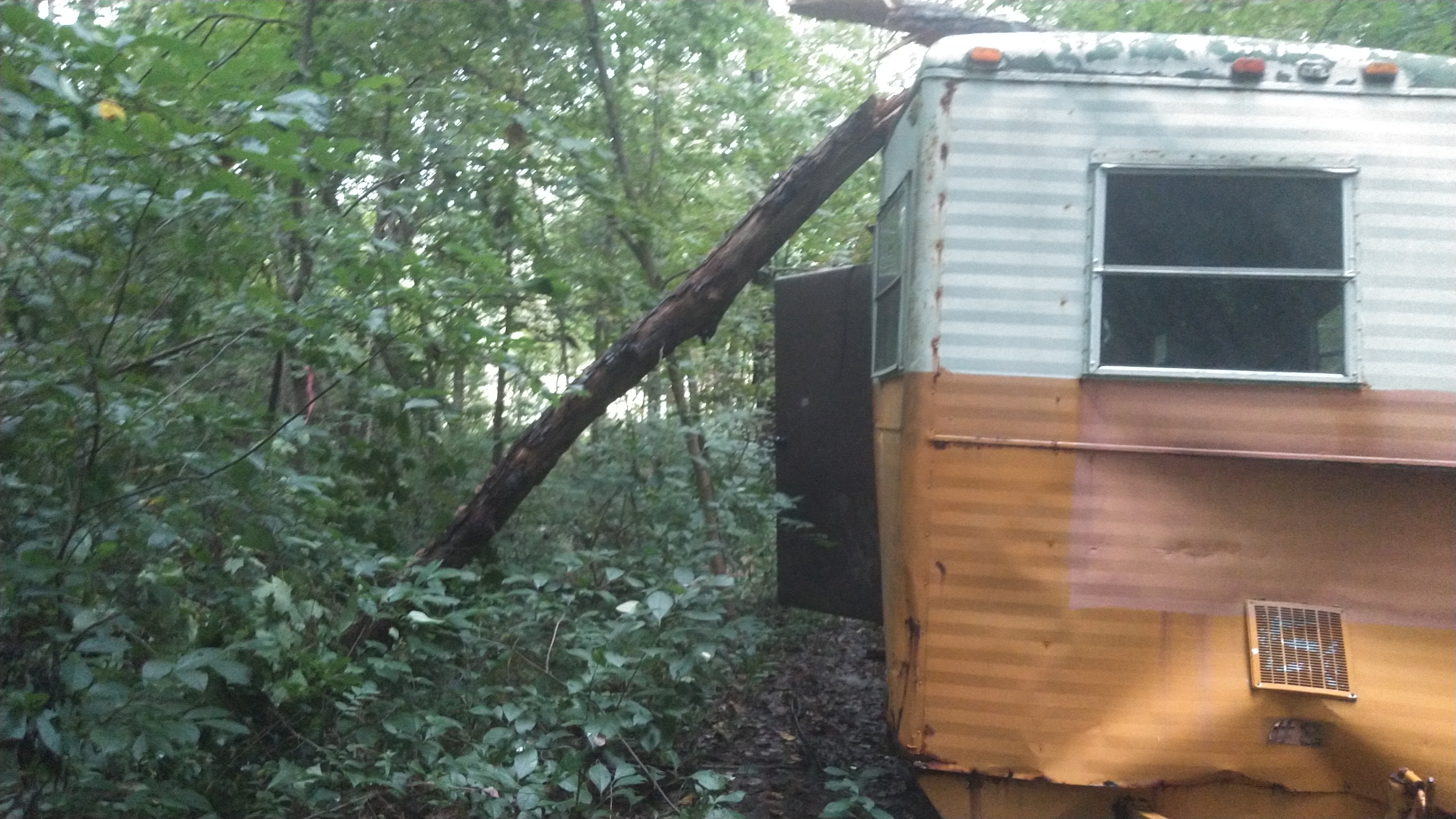 *See, the trailer didn't go down without a fight. It snap the tree in half.😂😂
It's been tarped up for now, and will work for the time being, but I'm looking for a new storage facility now. I'm thinking maybe a con-ex container as they are very tough and relatively cheap.
---
---
Till next time, my dear friends! I hope that you all are doing well and your week is going great! We send our love and happiest vibrations out to you all. And of course a million thanks to all you great friends and lived ones who follow us along on our journey.
---
---
*##### All photos are my own, taken with my Kyocera DuraforcePro 2 phone.
---
---
---
---
ABBY, AALIYAH, EVAN, AND LITTLE SAMUEL TOO...I LOVE YOU ALL SO MUCH. YOU EACH HAVE MADE MY WORLD AND LIFE SO SPECIAL IN YOUR OWN LITTLE WAYS. YOUS LIGHT UP MY SOUL WITH HAPPINESS AND FILL MY HEART WITH LOVE.
---
---