"Waiting for"... (A story about photography and myself) ✍📷 || ENG-ESP || (11 Pics)

Hello #Hive friends!!!... Sometimes I don't go out on the streets to take photos, but rather I get up very early and go for a walk long before the sun appears on the horizon.... Then I get to the hills in the west of my town and wait there for the sun....
¡Hola amigos de #Hive!... A veces no salgo a las calles a hacer fotos, sino que me levanto muy temprano y salgo a caminar mucho antes de que el sol aparezca en el horizonte... Entonces llego a las colinas al oeste de mi pueblo y espero allí al sol...
---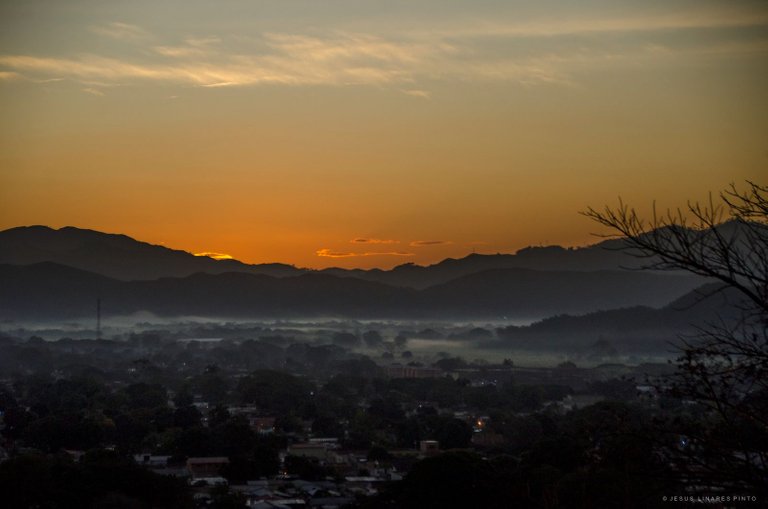 📷 Nikon D7000 | F/5.3 | 1/2500s | 75 mm | ISO 320
It is a charming place, especially in the early hours, when there is very little noise coming from the town and even less from the mountains... Then almost the only thing you can hear is the soft breeze among the bare branches of the trees started to become bare due to the drought...
Es un lugar encantador, especialmente en horas tempranas, cuando el ruido que llega desde el pueblo es muy poco e incluso el de las montañas también... Entonces casi lo único que se escucha es la brisa suave entre las ramas desnudas de los árboles comenzado a desnudarse debido a la sequía...
---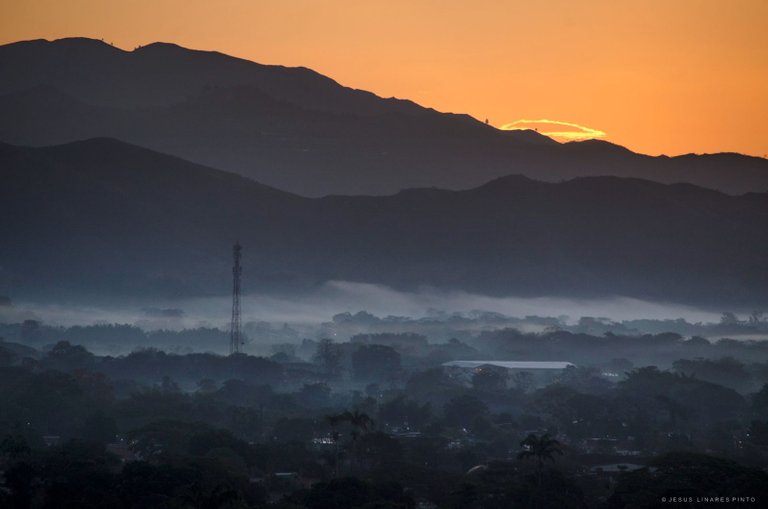 📷 Nikon D7000 | F/6.3 | 1/800s | 200 mm | ISO 320
From above you can see the glow and I can also see the areas of the town where gouges of mist are placidly stationed in the streets... Those are the mists that I love so much... Those are the mists that I use to take street photos full of timeless mysteries... But today, as I am beyond those mists of the valley, today I climbed up here to look at them from above and think about many things...
Desde lo alto se puede observar el resplandor y también puedo ver las zonas del pueblo en donde están gajos de neblinas plácidamente apostados en sus calles... Esas son las neblinas que tanto amo... Esas son las neblinas que me sirven para hacer fotos callejeras repletas de misterios atemporales... Pero hoy, yo estoy más allá de esas neblinas del valle, hoy subí hasta aquí para mirarlas desde arriba y cavilar sobre muchas cosas...
---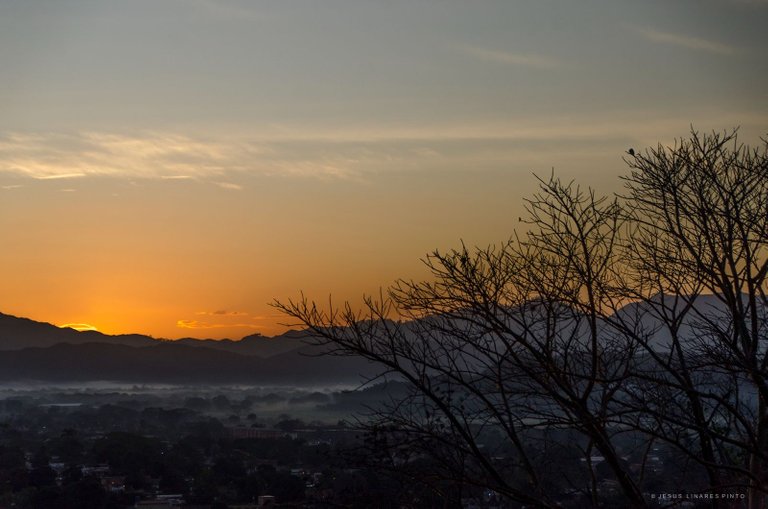 📷 Nikon D7000 | F/5.3 | 1/2500s | 62 mm | ISO 200
Photography is not just about getting here and starting to take pictures... No... Photography is also looking at the light and understanding it, being able to capture as much as possible with the gadget of the camera, but making what you observe look like how you appreciate it from the bosom of your own psyche... Because not all of us look in the same way, then photography applies to expose to others the way we have to look at something in particular... That happens with everything that we consider an artistic manifestation...
La fotografía no es solo llegar aquí y comenzar a hacer fotos... No... La fotografía es también mirar la luz y entenderla, poder captar lo más posible con el artilugio de la cámara, pero haciendo parecer lo que observas a como lo aprecias desde el seno de la propia psiquis... Porque no todos miramos de la misma manera, entonces las fotografía aplica para exponer ante los otros la manera que tenemos de mirar algo en particular... Eso sucede con todo aquello que consideramos una manifestación artística...
---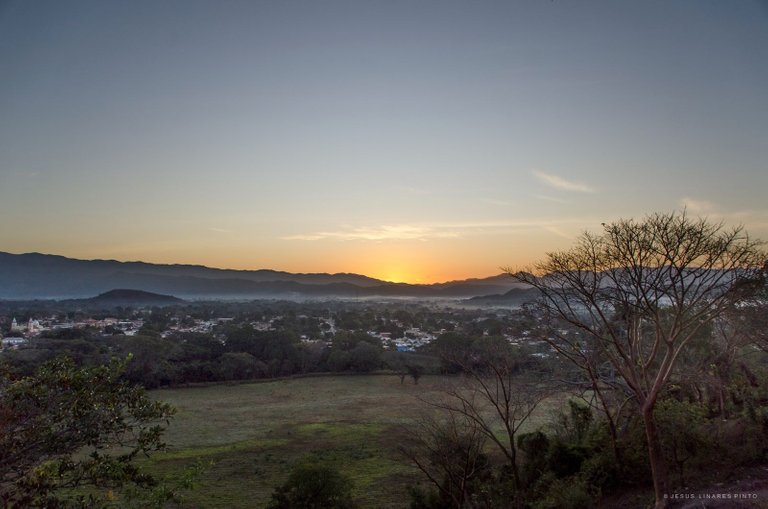 📷 Nikon D7000 | F/6.3 | 1/1000s | 18 mm | ISO 200
"We make photographs to understand what our lives mean to ourselves." - (Ralph Hattersley).
"Hacemos fotografías para comprender lo que nuestras vidas significan para nosotros mismos." - (Ralph Hattersley).
---
I always put this quote from R. Hattersley at the end of my posts, but today I wanted to put it here, because this post is about that.... "Understanding ourselves through what we do".... That's something we all may need, at least from my point of view...
Siempre coloco esta frase de R. Hattersley al final de mis publicaciones, pero hoy quise ponerla aquí, pues esta publicación es acerca de eso... "Entendernos a través de lo que hacemos"... Eso es algo que todos quizás necesitemos, cuando menos desde mi punto de vista...
---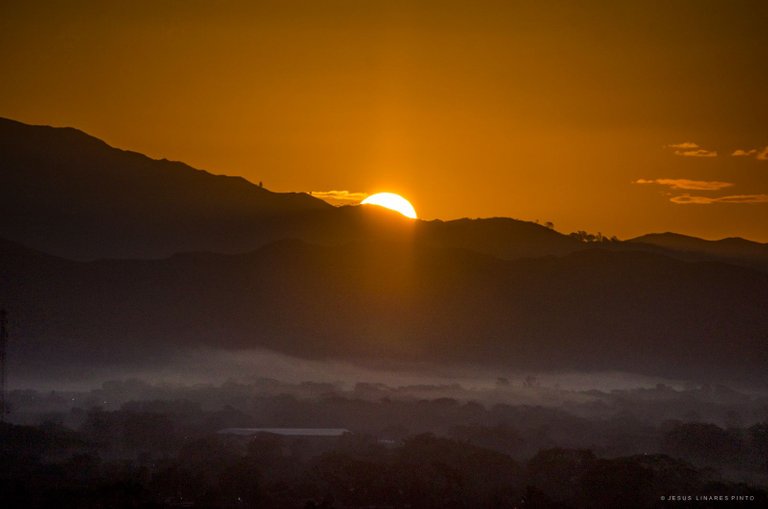 📷 Nikon D7000 | F/7.1 | 1/8000s | 200 mm | ISO 100
When I come here and look at the sun appearing impetuous on the horizon, those days of my life come to my mind when I resolved to "kick the table" and change my way of living... When I left behind my job in a company, when I left behind the social, financial and related commitments... When one fine day I decided to dedicate myself to simplify my life in a drastic and sincere way, without harming anyone, but always trying to live what made me feel better? And heck, now I'm here on a Monday at 6AM taking pictures on a hill while breathing fresh air and the cool breeze accompanies me!... It couldn't have turned out better!...
Cuando vengo aquí y miro al sol apareciendo impetuoso en el horizonte, se me vienen a mi me mente aquellos días de mi vida en los que resolvía "dar una patada a la mesa" y cambiar mi forma de vivir... Cuando dejé atrás mi trabajo en una Empresa, cuando dejé atrás los compromisos sociales, financieros y afines... Cuando un buen día decidí dedicarme a simplificar mi vida de manera drástica y sincera, sin perjudicar a nadie, pero siempre procurando vivir lo que me hacía sentir mejor... ¡Y caray, ahora estoy aquí un día lunes a las 6AM tomando fotos en una colina mientras respiro aire fresco y la brisa fresca me acompaña!... ¡No podía haber salido mejor!...
---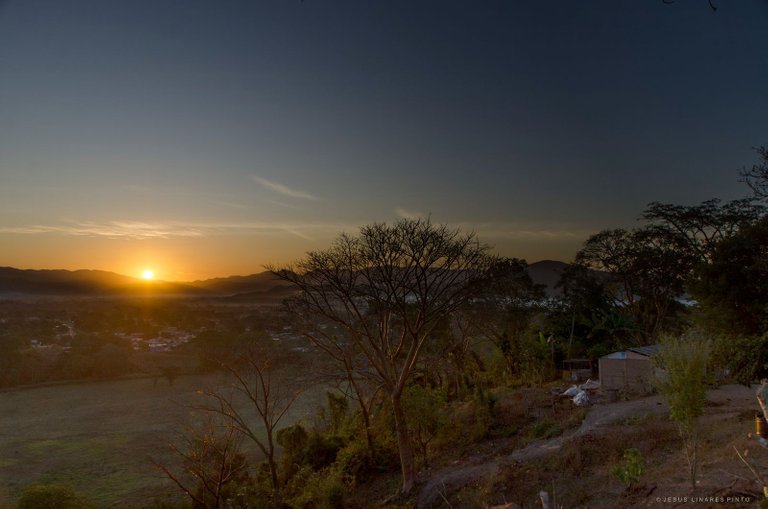 📷 Nikon D7000 | F/8| 1/1000s | 18 mm | ISO 100
So I consider that "the sun rises for me" when I made the decision to leave behind my established paradigms and listen to myself (as I believe we all have an "I" that is right, but to which we almost never pay attention and much less are willing to follow).... But, in whatever way, I don't want to get too philosophical.... It's just that... I just wanted to say that exercising our creative nature can sometimes change us for the better...
Entonces considero que así "el sol salió para mi" cuando tomé la decisión de dejar atrás mis paradigmas establecidos y escucharme a mi mismo (pues creo que todos tenemos un "yo" que está en lo correcto, pero al cuan casi nunca prestamos atención y mucho menos estamos dispuestos a seguir)... Pero, de la manera que sea, no deseo ponerme demasiado filosófico... Solo es eso... Solo quería decir que ejercitar nuestra naturaleza creativa a veces puede cambiarnos para bien...
---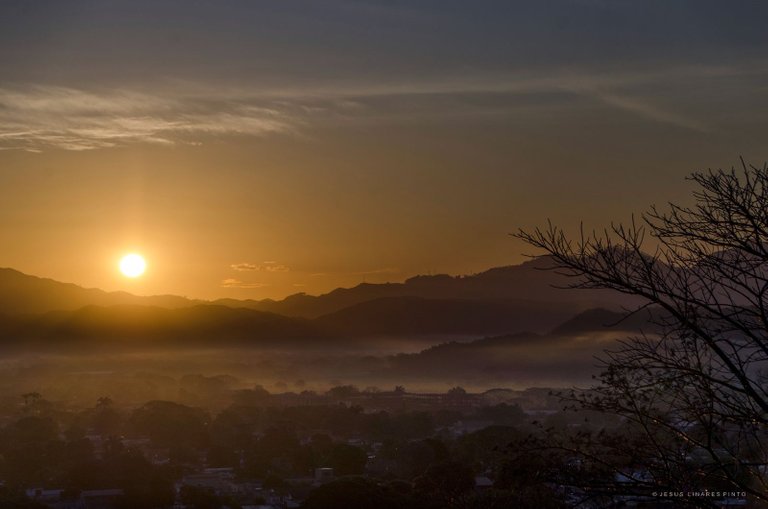 📷 Nikon D7000 | F/8| 1/2000s | 75 mm | ISO 100
Looking at things "from above" is a good thing it seems to me.... Because in this way we can understand that perhaps everything in which we are entangled and complicated, in reality does not belong to us and is not an integral part of ourselves... Then we understand that we can be different and fly a little bit.... Not too high, it is not necessary to fly so high, but simply to "fly"...
Mirar las cosas "desde arriba" es algo bueno según me parece... Porque así podemos entender que quizás todo aquello en donde estamos enmarañados y complicados, en realidad no nos pertenece ni es parte integral de nosotros mismos... Entonces entendemos que podemos distintos y volar un poco.... No muy alto, no es necesario volar tan alto, sino simplemente "volar"...
---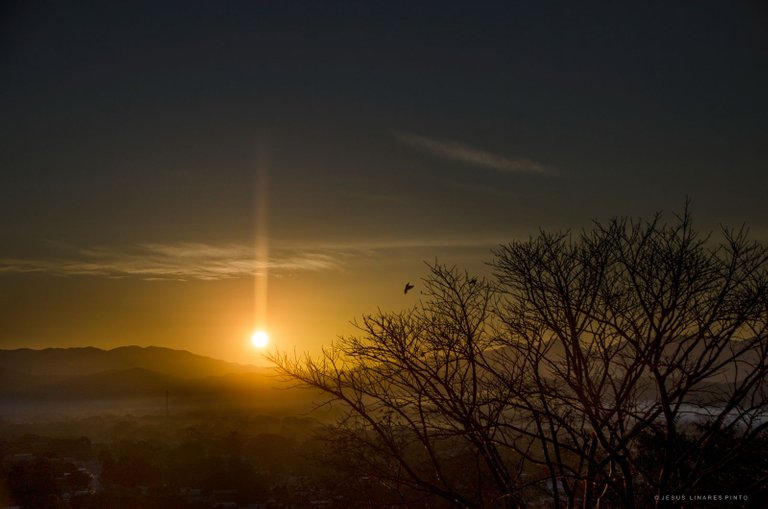 📷 Nikon D7000 | F/8| 1/8000s | 46 mm | ISO 100
It is cold (In January the temperature is low for us, although never less than 15°C at this altitude) But soon the sunlight will start to warm everything... Even some birds have started to fly and perch on the branches of the leafless tree... Because that usually happens when our sun is shining... "We fly...
Hace frío (En enero la temperatura es baja para nosotros, aunque nunca menos de 15°C a esta altura) Pero en breve la luz solar comenzará a calentar todo... Inclusive algunas aves han comenzado a volar y se posan en las ramas del árbol deshojado... Porque eso suele suceder cuando nuestro sol brilla... "Volamos"...
---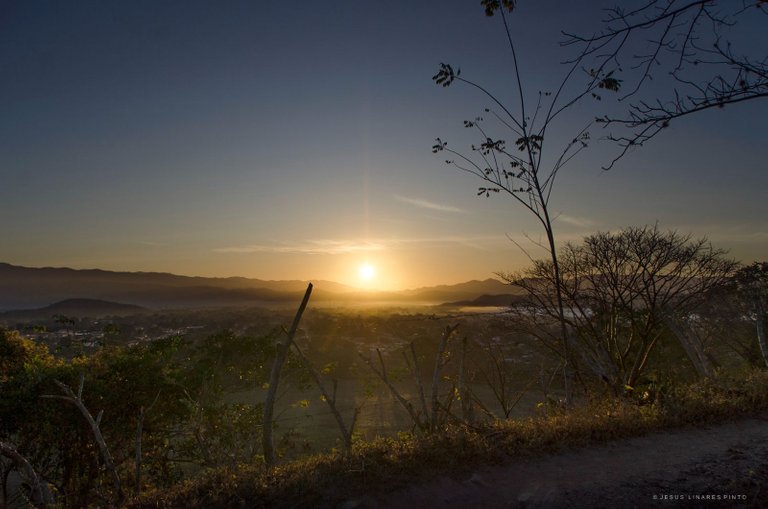 📷 Nikon D7000 | F/8| 1/1600s | 18 mm | ISO 100
The town below is also starting to wake up, some noises start to come from there.... Then I start my descent, but not before stopping somewhere on the road and shooting some more pictures... My old Nikon D7000 is wearing a Sigma 18-200 zoom lens, they are old friends and they know each other very well... They know how to work together...
El pueblo abajo también comienza a despertarse, algunos ruidos comienzan a llegar desde allí... Entonces yo comienzo mi descenso, no sin antes detenerme en alguna parte del camino y disparar otras fotos... Mi vieja Nikon D7000 lleva puesto un lente zoom Sigma 18-200, ellos son viejos amigos y se conocen muy bien... Saben trabajar juntos...
---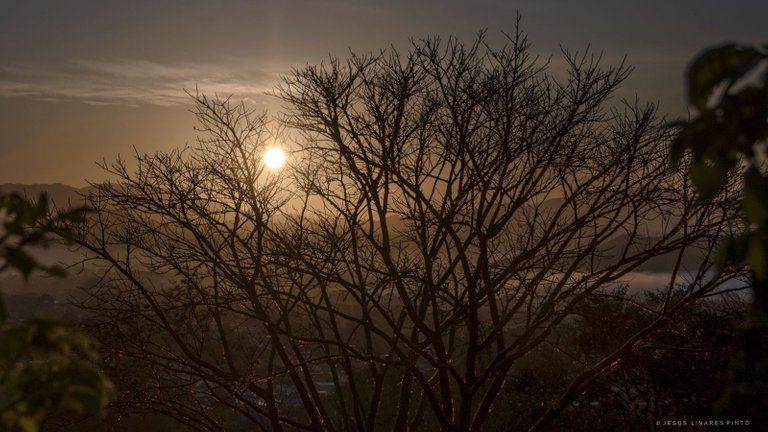 📷 Nikon D7000 | F/8| 1/5000s | 75 mm | ISO 100
At this hour and on a Monday fifteen years ago I would have been in the middle of city traffic, trying to get to my office to start shouting orders!... Instead I'm here talking out loud to myself!... ha ha ha ha.... Things sure have changed a lot!...
¡A esta hora y siendo Lunes quince años atrás hubiese estado sumergido en pleno trafico citadino intentando llegar a mi oficina para comenzar a vociferar ordenes!... ¡En cambio estoy aquí hablando en voz alta conmigo mismo!... ha ha ha... ¡Las cosas sí que han cambiado bastante!...
---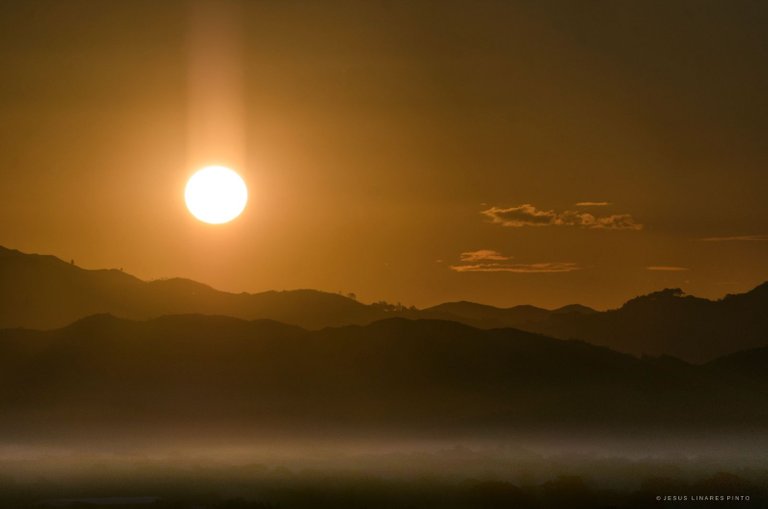 📷 Nikon D7000 | F/8| 1/8000s | 100 mm | ISO 100
I leave you with this picture of our friend the Sun and my wishes that he always shines for everyone!.... A hug everyone, thank you very much for stopping by and reading... You are loved a lot!
¡Os dejo con esta fotografía de nuestro amigo el Sol y mis deseos de que él siempre brille para todos!... Un abrazo todos, muchas gracias por pasar por aquí y leer... ¡Se les quiere un montón!
---

It's a community whose focus is to incorporate photographers from different parts of the world, so that they can share quality content for the #Hive community, both professional and amateur users, because there are no limits in this sense, regardless of whether you are a professional or not, as well as if you use a professional camera or even a smartphone.
Es una comunidad cuyo enfoque es incorporar fotógrafos de distintas partes del mundo, con la finalidad de que puedan compartir contenido de calidad para la comunidad #Hive, tanto de usuarios profesionales como de aficionados, porque no existen limites en éste sentido, independientemente sí eres profesional o no, como también si utilizas una cámara fotográfica profesional o incluso un smartphone.
We emphasize not only to share our best photographic works, but also to learn among all that informative data about photography, such as its history and evolution, reviews and techniques of renowned photographers, technical aspects in the language of photographic composition among other items.
Hacemos hincapié no solo en compartir nuestros mejores trabajos fotográficos, sino también en aprender entre todos de esa data informativa sobre la fotografía, como su historia y evolución, reseñas y técnicas de reconocidos fotógrafos, aspectos técnicos en el lenguaje de la composición fotográfica entre otros ítems.
---
HP Delegation / Delegación de HP
If you want to support our community you can do so by subscribing, sharing your content with us and through the Hive Power (HP) Delegation.
Si quieres apoyar nuestra comunidad puedes hacerlo suscribiendote, compartiendo tu contenido con nosotros y por medio de Delegación de Hive Power (HP)
Any amount of Hive Power (HP) you can delegate is a great help. These delegations will serve us for post cures to authors in our community and beyond, as well as help us grow a lot.
Cualquier cantidad de Hive Power (HP) que puedas delegar es de gran ayuda. Éstas delegaciones nos servirán para curaciones de posts a autores en nuestra comunidad y fuera de ella, así como también nos ayudará mucho a crecer.
---
END / FIN
---

Camera: Nikon D7000 | Lens: Sigma 18-200mm f3.5-6.3 II DC OS HSM
Cámara: Nikon D7000 | Objetivo: Sigma 18-200mm f3.5-6.3 II DC OS HSM
Montalbán, Carabobo, Venezuela.
---
---