"TOWN IN COLOURS" - 31OCT22 - "WHAT THE WALLS SAY" || ENG-ESP || (16 Pics)

---
Hello dear #HIVE people!... Here in my town (Montalbán, Carabobo, Venezuela) we don't have street artists... Or at least I don't know any, nor have I seen any works on the walls that can be attributed to any of them... But that doesn't mean that I have run out of walls to photograph!... Here our unfortunate walls are the victims of decades and decades of useless and misleading political propaganda... They also serve to publish the spite and other delusions of passion of people mentally affected by one thing or another!... That, coupled with the costly cost for the average citizen to buy facade paint, has turned many walls into quite abstract demonstrations of what can happen when they are used for such irrational purposes... :-)
Hola querida gente de #Hive... Aquí en mi pueblo (Montalbán, Carabobo, Venezuela) no tenemos artistas callejeros... O cuando menos yo no conozco a ninguno, ni he visto obras en las paredes las cuales puedan atribuirse a alguno... ¡Pero eso no quiere decir que yo me haya quedado sin ninguna pared para fotografiar!... Aquí nuestras desafortunadas paredes son victimas de décadas y décadas de inútil y engañosa propaganda política... ¡Además sirven para publicar los despechos y otros delirios pasionales de personas mentalmente afectadas por una u otra cosa!... Eso, unido a lo caro que resulta para el ciudadano promedio comprar pintura para las fachadas, ha convertido a muchas paredes en verdaderas demostraciones bastante abstractas de lo que puede suceder cuando se usan para tan irracionales fines... :-)
These are then some of the photographs that I have taken of the "collapsed" walls of the town... I have to confess that they arouse mixed feelings in me, as it is difficult not to regret the untidy aspect they offer, but on the other hand, I am a "photographic obsessive" and I love having these walls at hand!...
Estas son entonces algunas de las fotografías que suelo hacer a las "colapsadas" paredes del pueblo... Tengo que confesar que despiertan e mi sentimientos encontrados, pues es difícil no lamentar el aspecto desprolijo que ofrecen, pero por otra parte, yo soy un "obseso fotográfico" y ¡amo tener estas paredes a la mano!...
---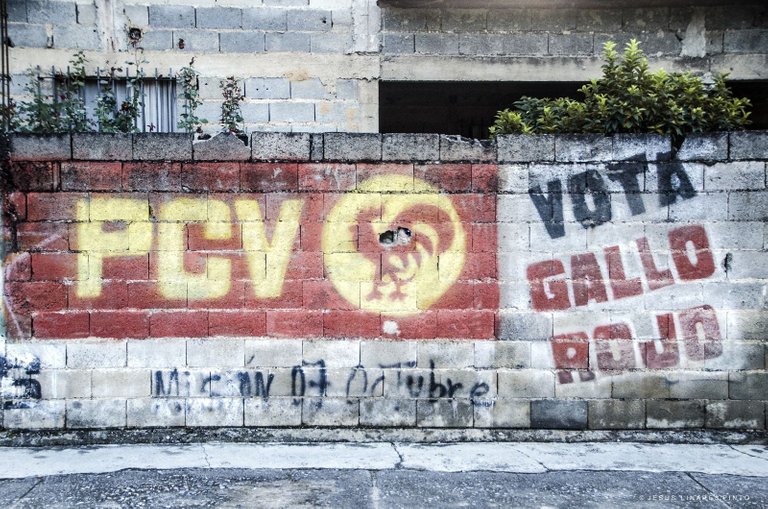 "Red Rooster"... Some walls had not even been coated or painted when they suffered the onslaught of feverish political propaganda, so the nakedness of the bricks provides a canvas for paint to penetrate and can last for years...
"Gallo Rojo"... Algunas paredes ni siquiera habían sido recubiertas o pintadas cuando sufrieron el embate de la propaganda política febril, entonces la desnudez de los ladrillos ofrece un lienzo en donde la pintura penetre y puede durar años...
---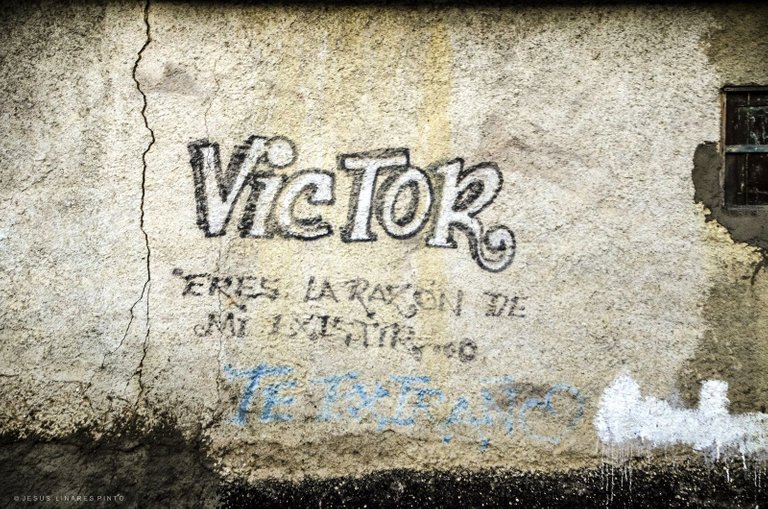 "Victor"... Who the hell is this Victor...? Anyway, I can tell that someone must be missing him... But I'll never understand why this has to be made public!... ha ha ha :)... And much less on other people's walls!...
"Victor"... ¿Quien demonios será el tal Victor?... De manera que sea, se nota que alguien lo debe estar extrañando... ¡Pero nunca entenderé porqué hay que hacer publico esto!... ha ha ha :)... ¡Y mucho menos en las paredes de otros!...
---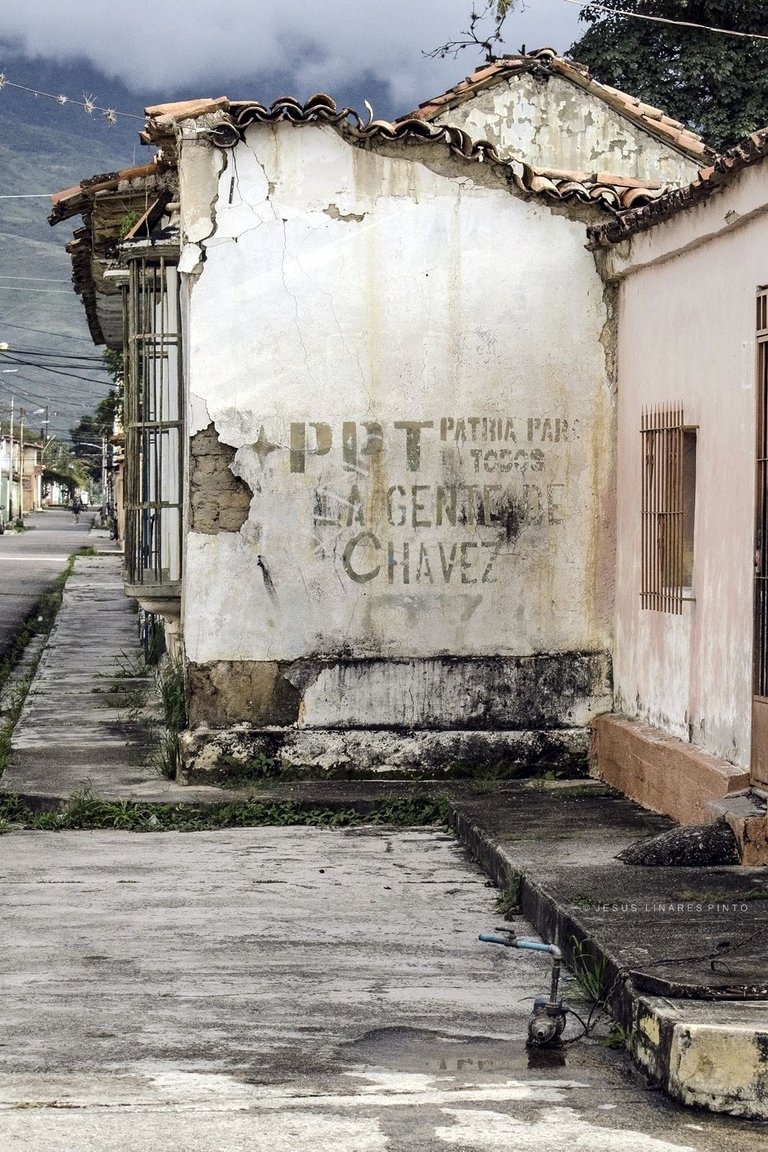 "All right"... Sometimes houses start to die and look quite precarious and on the verge of falling down... The same happens with some political proposals that were painted on their old walls... Ironies of life!...
"De acuerdo"... A veces las casas comienza a morir y lucen bastante precarias y a punto de caer... Lo mismo sucede con algunas propuestas políticas que fueron pintadas en sus viejas paredes... ¡Ironías de la vida!...
---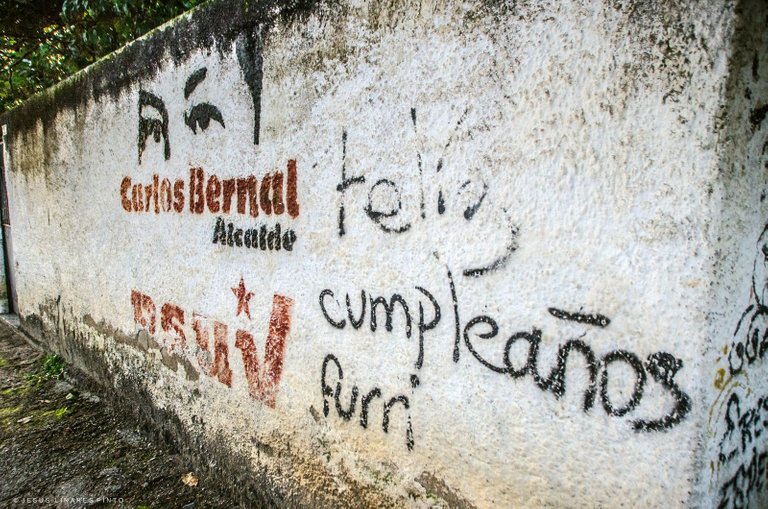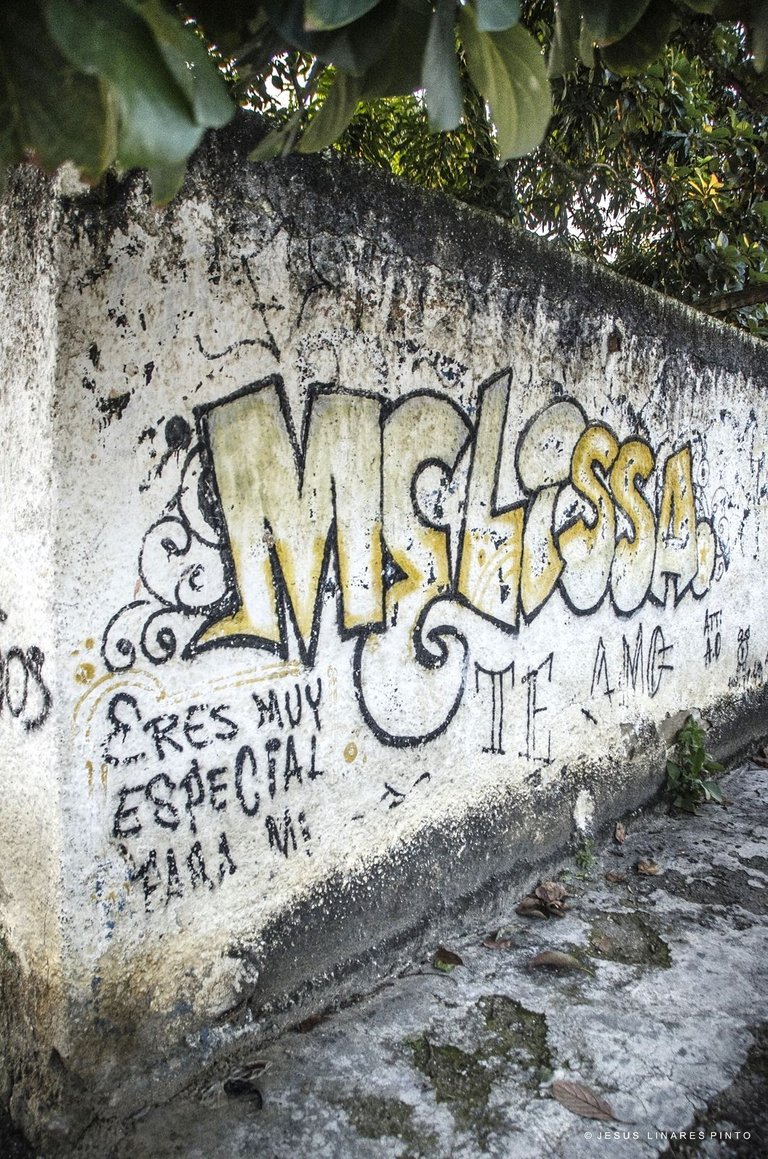 "Full service"... Wow, this corner wall is something interesting... There's political propaganda, congratulations for a birthday and a declaration of love for a certain Melissa... All on the same wall and very few meters!... :)
"Servicio completo"... Wow, esta pared en esquina es algo interesante... Hay propaganda política, felicitaciones por un cumpleaños y una declaración de amor para una tal Melissa...¡Todo en una misma pared y muy pocos metros!... :)
---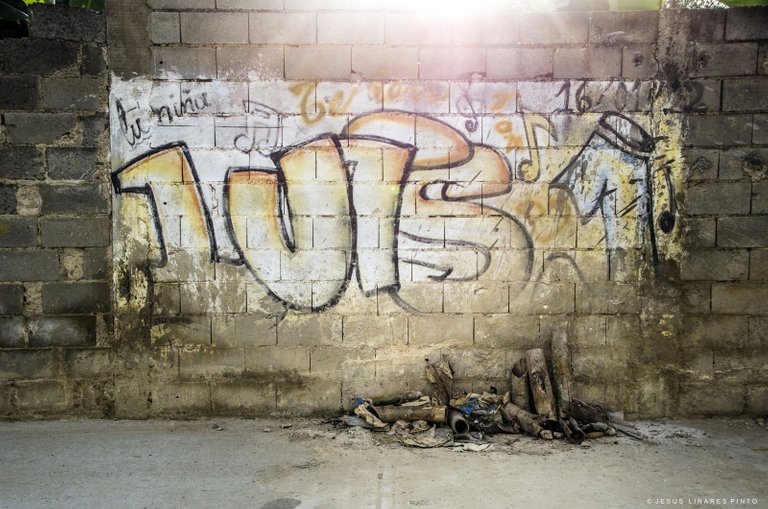 "Luis1"... Obviously I don't have the slightest idea who "Luis1" is... But I have to confess that I loved this sign on the bare wall, the rubbish with the remains of bamboo pieces... What the fuck did they use that for?... Ah!... But the best thing of all was the sunlight shining from behind!... It's like watching a scene from a Game of Thrones presentation, made by some late night teenager in the third world!... :)
"Luis1"... Obviamente no tengo la menor idea de quien es "Luis1"... Pero tengo que confesar que me ha encantado este letrero sobre la pared desnuda, la basura con restos de trozos de bamboo... ¿Para que carajos usaran eso?... ¡Ah!... ¡Pero lo mejor de todo ha sido la luz solar iluminando desde atrás!... ¡Es como ver una escena de una presentación de Juego de Tronos hecha por algún adolescente trasnochado en el tercer mundo!... :)
--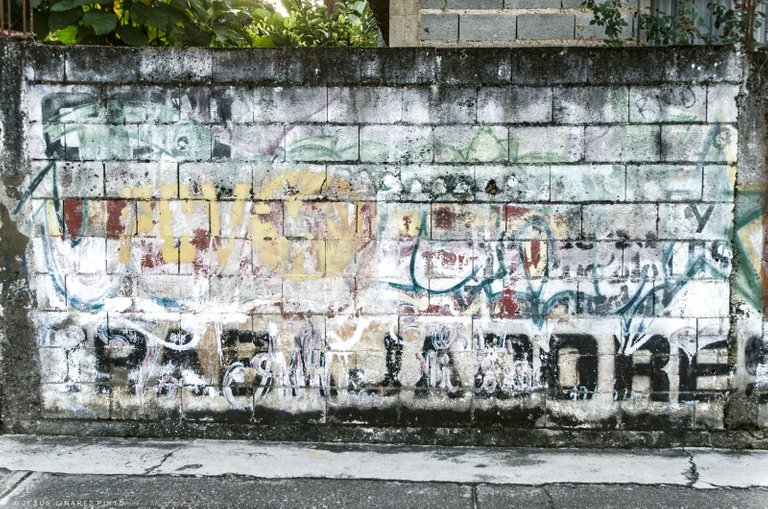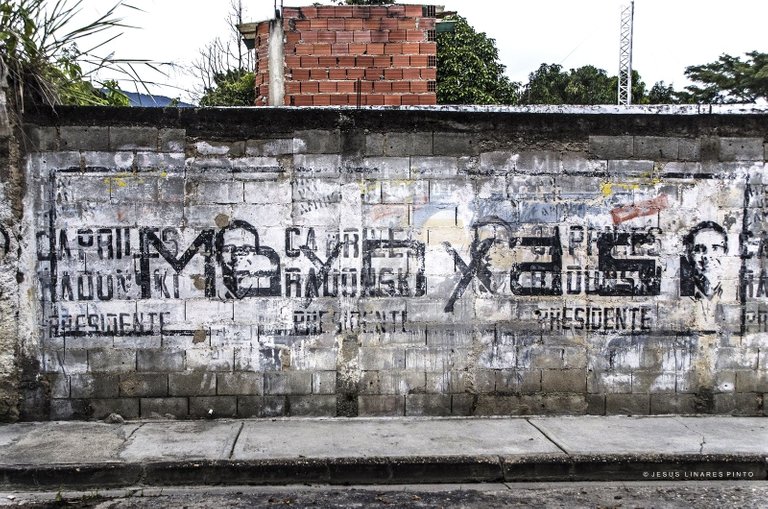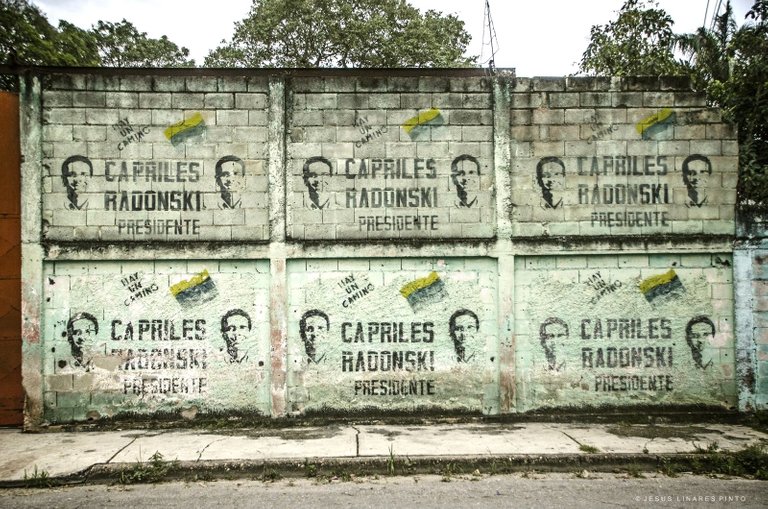 "The canvases"... I have to confess that sometimes I can last several minutes looking at the walls plagued with paintings... I tend to go back and forth in front of them, almost always wearing shorts and with a camera in my hand... I tend to take my chin in my hand and talk to those walls, as if they were canvases in an art exhibition, as if I wanted them to let me see all the abstraction of lines and colours that they enclose... Then, after several minutes of doing this... I notice that there are several people around me looking at me strangely! .... ha ha ha ha ha... The crazy man with the camera is talking to a wall!... :)
"Los lienzos"... Tengo que confesar que a veces puedo durar varios minutos observando las paredes plagadas de pintas... Suelo ir y venir en una y otra dirección frente a ellas, casi siempre usando bermudas y con una cámara en mi mano... Suelo tomar mi barbilla con la mano y hablar con esas paredes, como si fuesen lienzos en una exposición, como queriendo que me dejen ver toda las abstracción de lineas y colores que encierran... Entonces, después de varios minutos haciendo esto... ¡Me percato de que hay varias personas alrededor mirándome con extrañeza!.... ha ha ha... ¡El señor loco de la cámara está hablando con una pared!... :)
---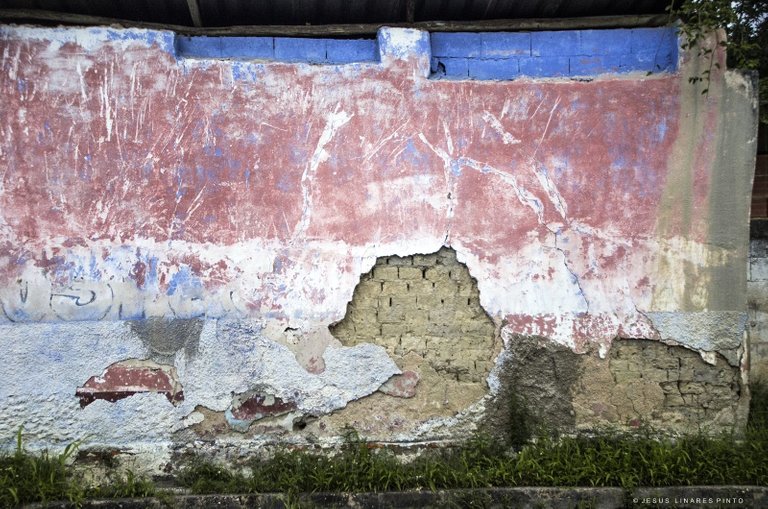 "Basic"... Not every wall has to have letters painted on it to tell its story... Some are a tale of decay, crisis and times spent in misery... I love to observe this kind of walls...
"Básico"... No todas las paredes tienen que tener letras pintadas para contar su historia... Algunas son un en sí misma un relato de deterioro, crisis y tiempos pasados en miserias... Amo observar este tipo de paredes...
---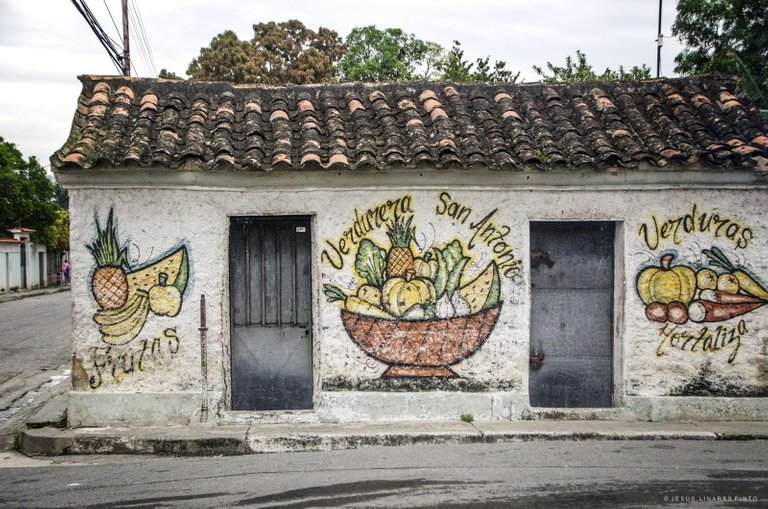 "Fruits and vegetables"... The economic crisis is a "huge, hungry monster" whose favourite victims are optimistic people... Taking this photo brought me back to the moment when the owners of this old house started their business selling vegetables... They looked cheerful and optimistic about it as they decorated the walls with these beautiful pictures... Unfortunately, the business went bankrupt just a couple of months later due to a shortage of fuel needed to fetch the vegetables... Only the beautiful drawings were left there, slowly fading away...
"Frutas y verduras"... La crisis económica es un "monstruo enorme y hambriento" cuyas víctimas preferidas son las personas optimistas... Hacer esta foto me trajo a colación el momento en el que los dueños de esta vieja casa emprendieron su negocio de venta de vegetales... Se les veía alegres y optimistas al respecto mientras decoraban las paredes con esos bonitos dibujos... Lamentablemente, el negoció se fue a la quiebra apenas un par de meses después debido a la escasez de combustible necesario para ir a buscar los vegetales... Tan solo quedaron allí los hermosos dibujos, difuminándose lentamente...
---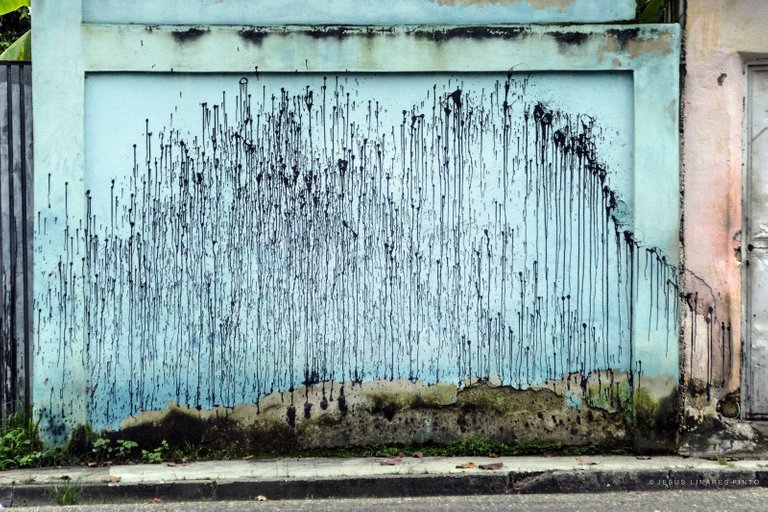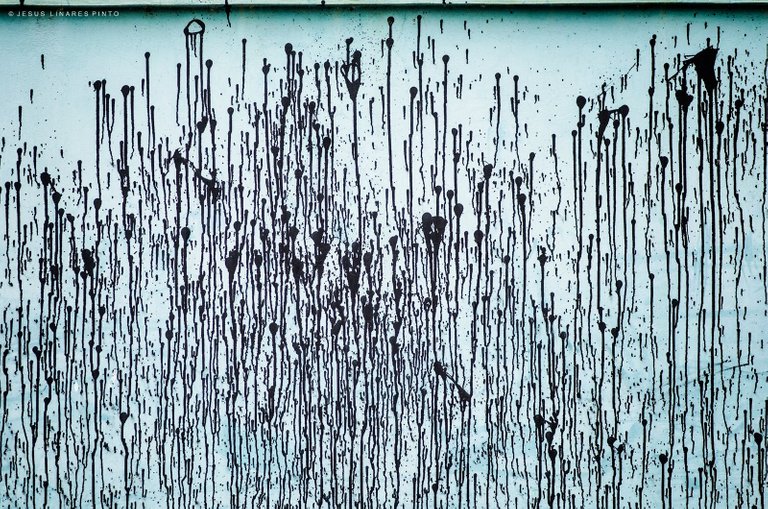 What about this ?... I need to ask someone how some madman seems to have passed by and thrown liquid asphalt on a blue wall!... Or is it that we do have street artists in this town after all?... ha ha ha ha :))... He must be a very avant-garde one and the wall must be his own property!.... Anyway... It was worth taking photos of this strange work!...
¿Y esto que?... ¡Necesito preguntar a alguien como es que algún desquiciado parece haber pasado por aquí y lanzado asfalto liquido a una pared azul!... ¿O será a acaso que, después de todo sí tenemos artistas callejeros en esta pueblo?... ha ha ha... :)) ¡Ha de ser uno muy de vanguardia y la pared debe ser de su propiedad!... De la manera que sea... ¡Valió la pena hacer fotos de esta extraña obra!...
---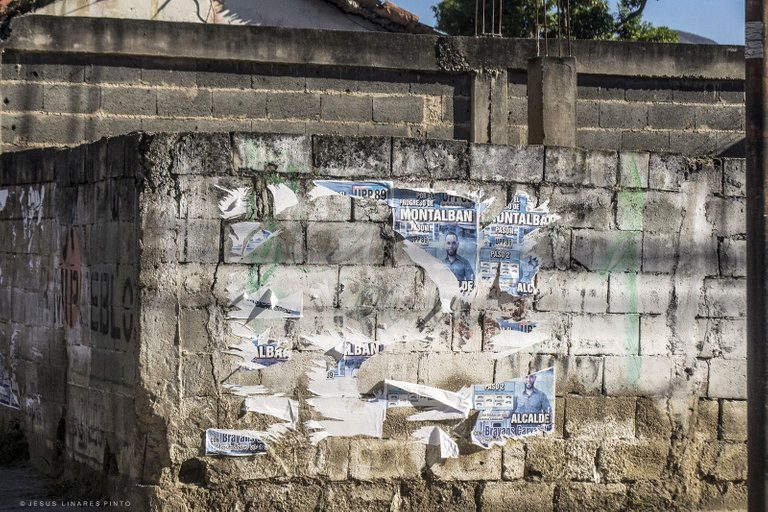 "Ephemeral"... Some political candidates here, just appear out of nowhere, make a sea of noise and fill the walls with posters with their photo and name, nobody takes notice of them and they disappear as if by magic!.... Only the traces of their incomprehensible ambition remain on the walls.
"Efímeros"... Algunos candidatos políticos aquí, simplemente aparecen de la nada, hacen un mar de ruido y llenan las paredes con carteles con su foto y nombre, nadie les toma en cuenta y ¡Desaparecen como por arte de magia!... Solo quedan las huellas de su incomprensible ambición en las paredes.
---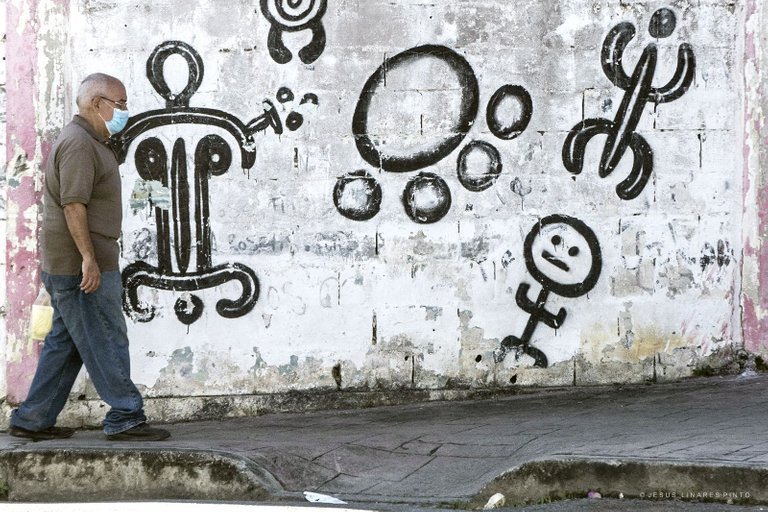 "Glyphs"... Not everything is politics, publicity, amorous spite or chaos on these walls of my village... Some (as in this photo) contain figures alluding to the petroglyphs that can be found in the rocks of the nearby mountains, with historical heritage of the region, made by the natives since time before the colony...
"Glifos"... No todo es política, publicidad, despecho amoroso o caos en estas paredes de mi pueblo... Algunas (como en esta foto) contienen figuras alusivas a los petroglifos que pueden encontrarse en las rocas de las montañas cercanas, con herencia histórica de la región, hechos por los nativos desde tiempo antes de la colonia...
---
"Relic"... Hummm... That circle on the right of this photo, was the emblem of a political party called "COPEI" back in the 60's... So it's possible that it's been painted there for six decades... What impresses me the most is that nobody has ever painted anything on it... This is a town where everything happens very slowly!....
"Reliquia"... Hummm... Ese circulo que se observa a la derecha de esta foto, era el emblema de un partido político llamado "COPEI" allá por los años 60... Así que es posible que eso esté allí pintado desde hace seis décadas... Lo que más me impresiona es que nadie haya pintado nunca nada encima... ¡Este es un pueblo donde todo sucede muy lento!...
---
Well, I've finished for today with these photos of "Walls saying things"... I love this theme, although it's not the kind of photography I do most often... Thank you very much to all who have passed by and appreciated, see you soon again with more photos and stories in between... Greetings to all.
Bien, he terminado por hoy con estas fotos de "Paredes diciendo cosas"... Amo esta temática, aunque no es el tipo de fotografía que hago con mayor frecuencia... Muchas gracias todos los que han pasado y apreciado, nos veremos pronto de nuevo con más fotos e historias de por medio... ¡Saludos a todos!.
---
END / FIN
---
"We make photographs to understand what our lives mean to ourselves." - Ralph Hattersley.
"Hacemos fotografías para comprender lo que nuestras vidas significan para nosotros mismos." - Ralph Hattersley.

Camera: Nikon D7000 | Lens: Sigma 18-200mm f3.5-6.3 II DC OS HSM
Cámara: Nikon D7000 | Objetivo: Sigma 18-200mm f3.5-6.3 II DC OS HSM
Montalbán, Carabobo, Venezuela.
---
---